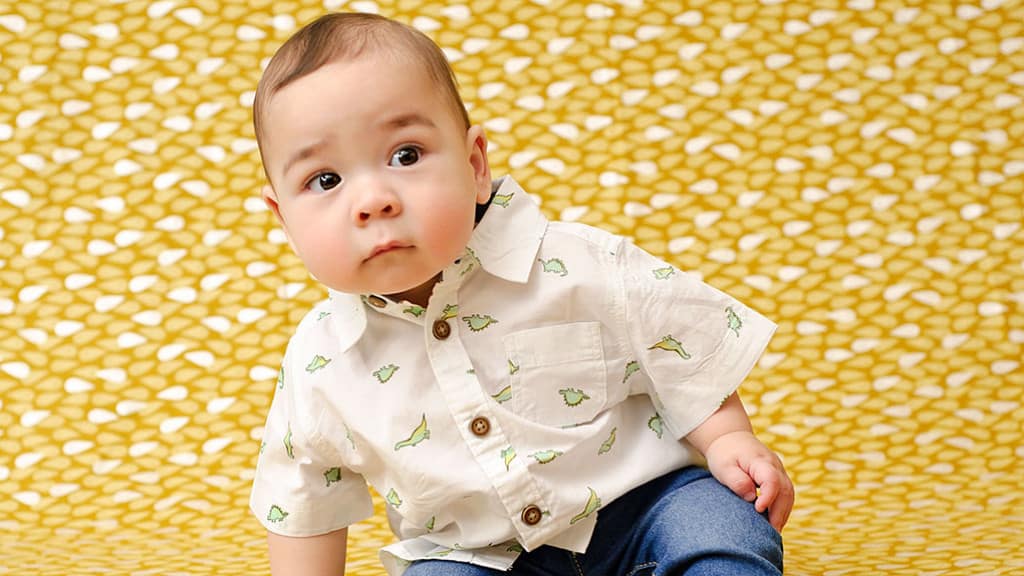 A baby's development at 9-Month-Old Baby is rather filled with surprise than monotonous. We are sure that as soon as you brought the little one home, you have been waiting for them to call you 'mama' and 'dada' with their little cute mouth. Guess what! The wait is finally over as this month marks the verbal strides and the development of the language skills. Exciting enough?
Nonetheless, if your baby hasn't spoken a word, you need not worry as they would soon. Each baby develops and grows at its own pace, so will your 9 months old baby. On the other hand, if the child hasn't got onto their fours yet, you can expect it to happen this month around. To know what else you can expect from your toddler this month, make sure to read on!
Your 9-month-old baby milestones and growth
1. Sleeping hours and patterns
Expect 9 months old babies to sleep for about 11 hours during the night. Also, at this age, they may also take 2 quick naps up to three to four hours each during the day, after a meal or play.
With the increase in the baby's development, you can expect them to consume about ¼ to ½ cup of grains, fruit, and vegetables each with about ½ cup of dairy foods, and ¼ to ½ cup of protein foods in a 24 hours period. Nonetheless, they can also drink up to 24 to 30 ounces of breastmilk/formula in a day.
Pro tip: Make sure that the baby has a bib around their neck while feeding to avoid stains on their comfortable clothes. Also, if they happened to be stained, make sure to use baby-safe detergent to wash the stains out.
3. Your 9-month-old baby's weight
The average weight of a 9-month-old baby girl is 18.2 pounds and 19.10 for baby boys. If more or less, make sure to consult your doctor.
4. Your baby's bowel movements
A nine-month-old baby is expected to be able to pull themselves up, sit without support, crawl, and scoot while holding onto the furniture in the house. Therefore, if you haven't baby-proofed your house as yet, this is the best time to do so and avoid any danger to the child. You could also install baby gates for stairs and doorways to prevent the little explorer from moving around the places that aren't safe for them, be it at 6 months, 12 months, or even at  18 months of age.
As the baby develops their brain and muscles this month, it is the best time to give them sensory toys that will help enhance the development of their senses.
What to expect from your 9-month-old baby's doctor visit?
Here's what you can expect from your 9-month-old baby's doctor visit:
The doctor's visit this month for your babies will be quite relaxing as there are no shots scheduled ( only if there are no shots pending from the previous visits). Perhaps, this is the best time for you to talk about the children and their social skills, their first words, the development of the motor skills, their latest milestones, and most importantly, their health. Talk about the eating habits and sleeping patterns too!
2. The visit to a dentist?
The best time to have scheduled an appointment for your baby to a dentist was around six months or whenever their first tooth sprouts or emerges. But don't worry, this early visit will be fairly quick as the dentist would only make sure that the tiny gums and teeth are spurting in good health.
3. Are insect repellents safe for a baby to use?
These repellents come in different forms, ranging from aerosols to sprays and liquids, creams, or even sticks. But the question remains, are they safe for your little toddler? There are bug sprays that are specifically made for the little ones, and we recommend you use them to prevent any biting insects with a 10 percent DEET.
Taking care of your 9-month-old baby: Quick tips and tricks
As your baby grows in their activities, crawling, and develops certain skills, there is a lot of caring that the baby might look forward to. Here are a few for parents to go through:
1. Your baby's communication skills
Even if the baby isn't babbling words just yet, you can expect them to gesture indicating or pointing at objects they wish to have, and imitate certain actions that they observed.

The other way the baby might communicate is through signs. Where food is indicated using their finger pointing to their mouth or them tapping for "more."

Expect the words 'mama's and 'dada' from the tiny mouth, we're sure it's going to be emotional

They may also learn important gestures with their hands, like waving bye-bye or clapping.
2. Toys for the little one
As and when the baby completes a year and many more years, the only thing that would stay constant for at least a few years are

toys

, and what better time to get them one when they are learning important skills?

Choose to buy a child's toy that would work just great for a 9-month-old baby and work well to develop and

enhance their skills

. These could include, soft toys,

sensory toys

,

water tables

,

train sets

,

stacking toys

, etc.  
Postpartum changes and pro tips:
Here are a few pro tips to help you in the postpartum months:
1. Understand a drive with your baby
If you are choosing to travel or go on a long drive with your 9-month-old baby, keep in mind to assign pit stops in between or when it's mealtime.

The other thing you must make sure of is to carry a

diaper bag

with everything needed for the drive. This includes

baby bottles

,

wipes

,

diapers

, a

stroller

,

sunscreen

, extra

clothes

, etc.

Also, before finalizing your trip, keep in mind to install a

baby car seat

that will help them sit comfortably and keep them safe in the whole journey.
2. Sleep regression in babies
Did your baby change their sleep pattern only when you finally thought things were in place?
This is known as a

sleep regression

and it is quite common in babies of the age 8 months to/and 10. However, there are many factors that could have affected the sleep cycle of the infant, including the change they are going through, the development of skills, muscle strength, increase in the brainpower, development of gestures and language, etc.

Firstly, parents during this time must be patient as the little ones themselves are going through a lot of changes. You can try to

sleep train

them, put a

night lamp

and/or a

monitor

near them, and also try co-sleeping to provide comfort and assurance.

In case the regression doesn't seem to get better, you must make sure to consult the baby's doctor.
A 9-month-old baby is observed to build on certain developments and learn or attempt to speak. Perhaps, while they are on it, it is our duty to always encourage their first or even if it's a recurring movement. It is understandable for the move to get a little trying after a point, but encouragement helps the little one boost in some energy and the curiosity to learn something different to get your attention and praise yet again!
Perhaps, it is necessary for parents to also take some time off and get a breather once in a while. Parenting could at times be a little tiring and getting yourself a break is completely ok.
9-Month-Old Baby FAQs
1) What is normal development for a 9-month-old?
Nine months old babies are expected to develop a quick change in their position, that is, from being on their back to their tummy to be able to sit upright. Your baby is now able to push up into a crawling position and sit after picking their favorite toys.
2) What should my 9 months old be saying?
Expect a nine-month-old baby to babble a lot this month as they attempt to imitate you when you talk, and as and when they learn to, expect a 'mama' or 'dada' from them too.
3)What are the 5 developmental stages?
Cognitive development
Emotional and social development
Language and speech development
The fine motor skills development
Gross motor skill development