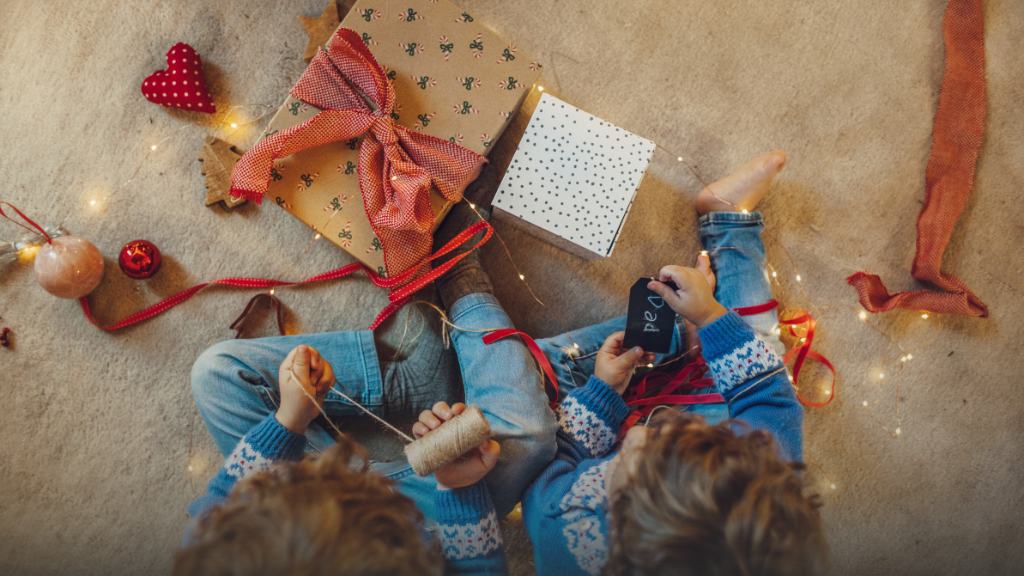 Parenthoodbliss selects the best products based on real-life testing conducted by our staff, members of our user community, the contributors, as well as through research and feedback by experts; here's more about our product review process. The details and prices are accurate as per the publishing date and we may earn commissions through the shopping links on this blog.
New Year is around the corner and your kids are awaiting their favorite time of the year. So what have you planned to gift them this 2023? We know you must have something they need or have asked for and it adds to that we have brought to you a list of the best new year gifts. We'd ask you to not stick with the same old toy idea but to explore better stimulants that can keep them engaged and entertained.
Here are a few new year gift ideas according to your child's age. We need to give them age-appropriate and age-specific gifts so that they maintain their interest in it and it helps them grow.
New Year's Gift for 5 to 10-year-olds
1. Kiwi crate
2. Indoor play tents
3. Color your own mug set
4. Cutebot
New Year's Gift for 10 to 15-year-olds
1. Make your own jewelry
2. Video games
3. Rick Riordan books
New Year's Gift for Kids Above 15 Years
1. Polaroid cameras
2. DJI Phantom 4
3. Phone cases
4. Electronic devices
Take a look at The Top 5 New Year's Gifts for Kids!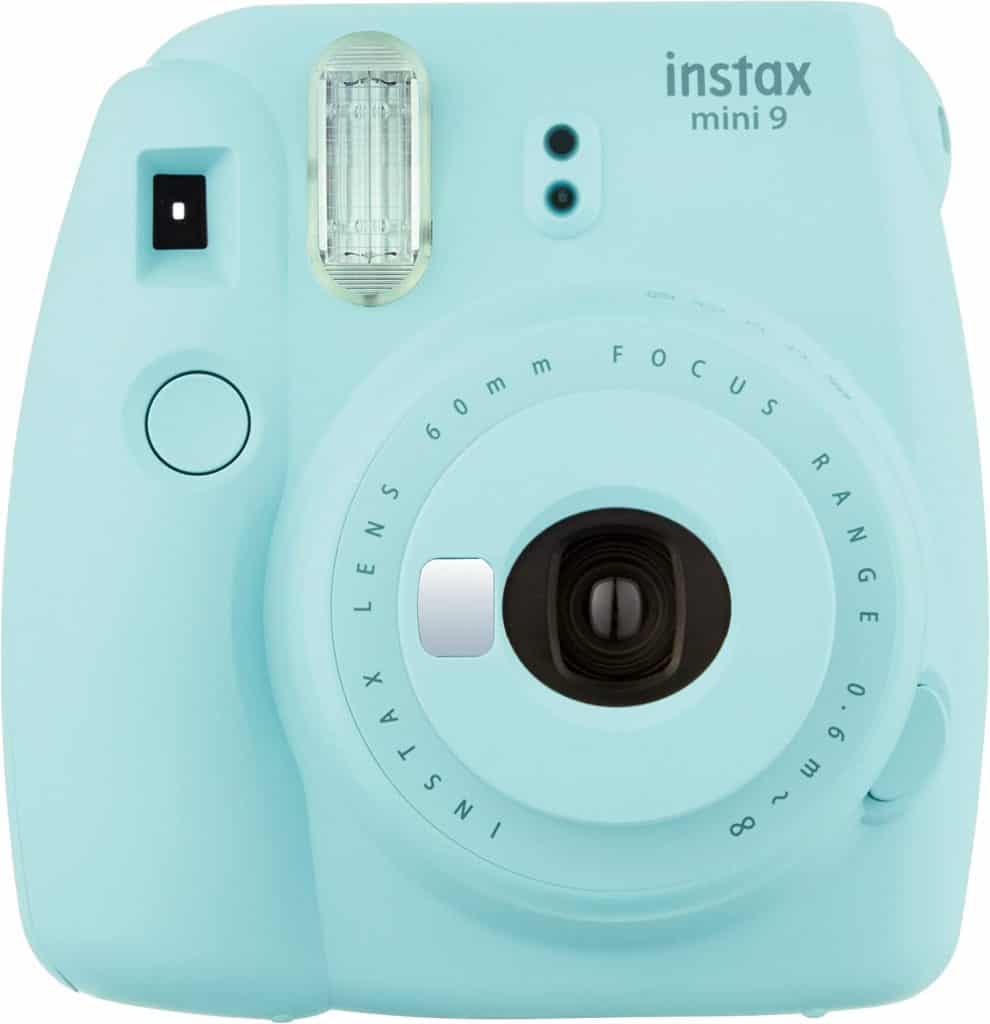 These cameras are a great new year's gift for children over 8 years old. We are sure they'd be busy clicking memories once they get the hang of it. That makes a memory portfolio for you! They come in plenty of cool colors, are durable, and are easy to use. Oh not to forget: these are perfect for adults too. Being cute, easy to carry, handle, and learn, instant cameras are everyone's best friend (just second to smartphones).
this product was very cute, as well as being received in perfect condition. pleased with the way the pictures turn out, and the easily understandable way it is operated, it makes a cute gift for anyone aged probably 12 and up with an early interest in starting photography, or using it for scrap booking or photo albums.
This really takes me back to old fashioned camera days, the film that comes out also makes it look vintage. Good quality, and really easy to use. No mess, no steps, very simple.
For more product reviews visit Amazon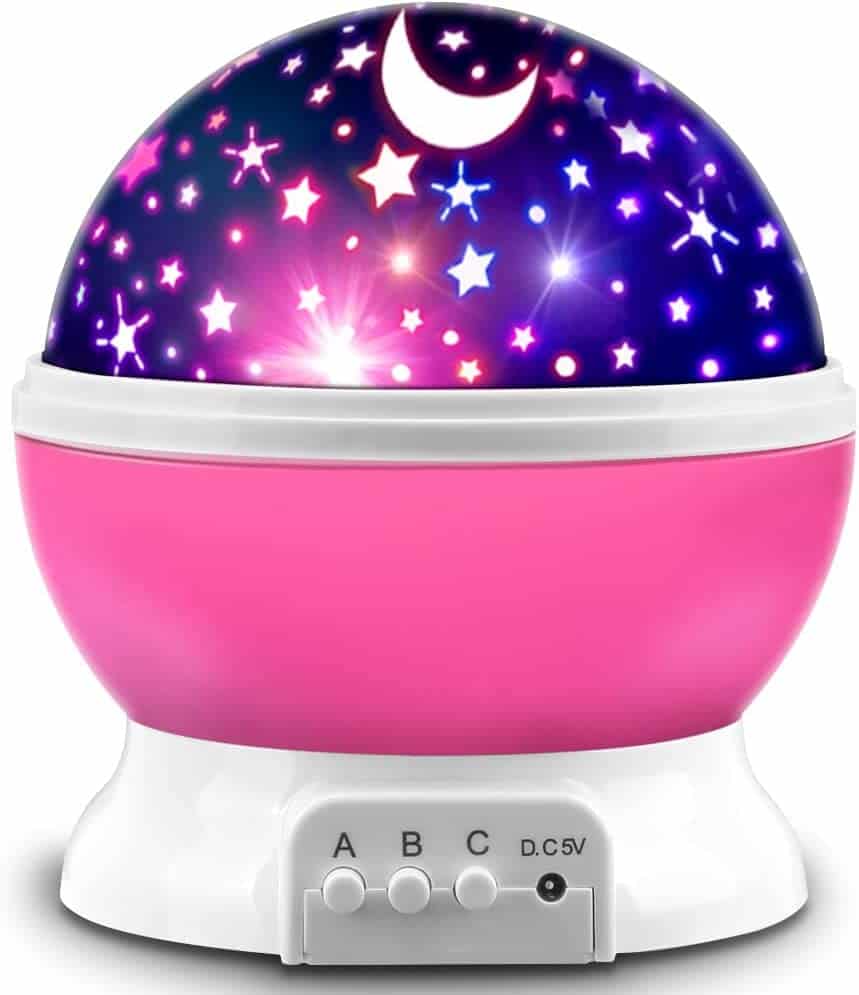 Projector toys are amusement for kids aged between 4 to 6 years. The lights and patterns projected by these lamps are not easy to bore you or forget. It may not be an active sports gift but it's definitely a thing you need in your house to keep your young ones entertained. The project stars and moons in warm light (meaning they could also act as night light). Grab yours now!
My toddler has a hard time falling asleep when its completely dark in her room. So I bought her this and she absolutely loves it. You can change the colors of the stars as well as change the spinning of it. It projects brightly on the walls and ceiling but doesn't give off too much light. Its a perfect night light.
Baby girl was having a rough time not being distracted at bedtime, so we thought maybe this projector would give her something to focus on. We've been using it every night for a week, and she is completely mesmerized! It can turn or not, has quite a few different color options and is small enough to put anywhere! We love it!
For more product reviews visit Amazon
Who is not crazy about slime? Okay, even if you may not want to touch it, you definitely love those ASMR slime-making videos. Get one such slime-making kit for your kid as a new year's gift and enjoy watching them while those tiny hands are at consistent work. Restless children in the house? Give them a slime kit. You can make at least 15 slimes out of one kit. Do you know the bigger attraction? These kits even have glitter in them. If you are worried about the chemical influence of such kits, you may get edible slime kits too.
Warning: Do not give this to a kid less than four years of age.
This is one of the best Slime kits. The slime actually isn't sticky and is so much fun to play with. Very easy for my 8 year old to make by herself.
– Krystin
It came with a lot of stuff for slime for a pretty good price it lasted long and was nice to play with although it's pretty messy it's a really great product I suggest not to make the slime in a room with carpet.
For more product reviews visit Amazon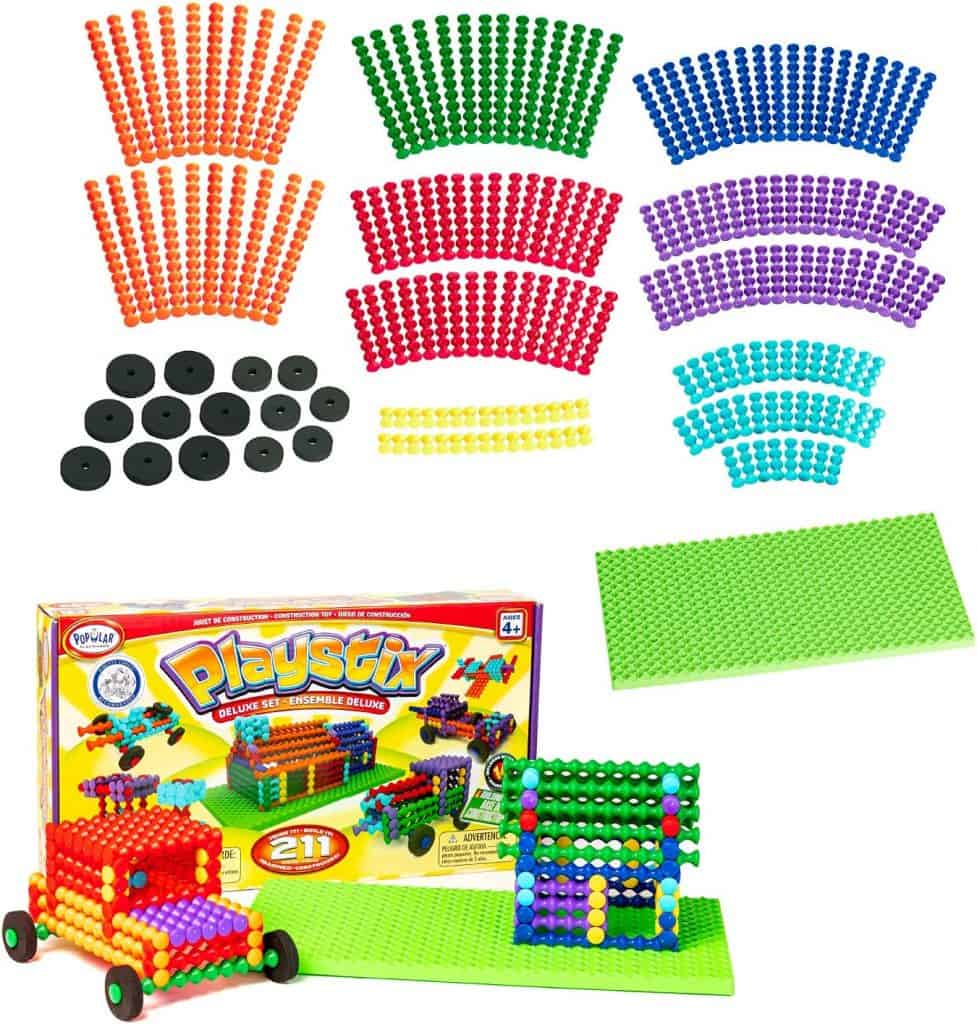 Similar to blocks and stacking cups, get your little one play sticks. They will love mounting them on one another and will not be bothered if they fall to the ground. They won't because of their snap and lock feature and they could build just about anything, from towers to simple squares.
Here are some of the best stacking toys for babies!
I love that the opportunities of what you can create with these are endless. My five year old and three year old both are able to create designs. They remind me of Lincoln logs but more appealing colors and textures. I also like that they can be easily cleaned and durable. My son also loves building legos but these are a nice option too since they are bigger pieces. (We have a baby)
– Ck
My first graders LOVE playstix so I had to buy this set to supplement so the group of 4 had enough to play together. I use this as "explore tubs" instead of traditional morning work. Our school is 100% free and reduced breakfast/lunch, so we have breakfast in our classrooms to start the day. This is a great way for students to get their brains started at the beginning of the day, and it encourages them not to linger on breakfast!
– E Hoke
For more product reviews visit Amazon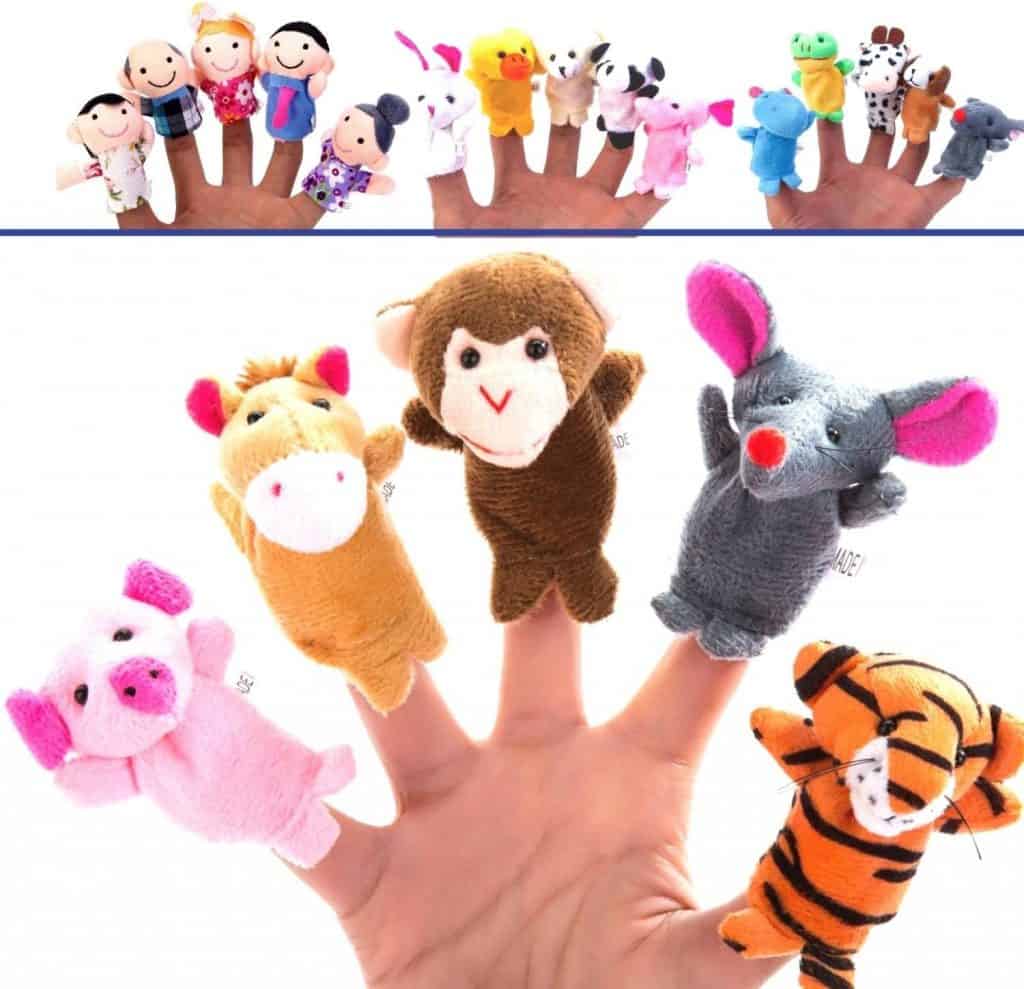 You could make these at home from all those DIY YouTube videos. Typically these do-it-yourself ideas use fingers from old gloves or socks to create puppets. This could even be a bonding activity for you and your child. Sounds too much? Children below the age of 6 will love store-bought finger puppets as their new year gifts.
I used these to put in plastic Easter eggs as a gift. My daughter was so happy and still is months later.
These are a great item. Nice details and a great variety of people and animals. I bought two more for gifts after getting these for my granddaughter. You'll just need to get a nice and fun zip bag to keep them in.
For more product reviews visit Amazon
Which is The Best New Year Gift for Kids of All Ages?
We'd ask you to get storybooks or something that they always wanted. But if they have nothing particular in mind or if you are following the 4 gift rule then we have a list of 5 unique new year gifts for you to consider:
Instant cameras
Finger puppets
Play sticks
Slime-making kit
Projector lamps
And it's not the end, you could give them a few things from the following items too:
Playbooks
Stuffed animals
Playstations
Drawing books
Color pencils
Audiobooks
Skaters, and more
New Year Gift Ideas for 2023 FAQs
1. What do you get a kid turning 1?
The best new year gift for a kid turning one is open-ended toys like stacking cups and blocks. These can be turned into countless games that activate their creative sides and introduces them to different shapes, and colors, coordination, (the plausibilities are endless), motor development, and sensory exploration.
2. What is the best gift in the new year?
Here are a few unique new year gifts for 2023:
Chocolates
Personalized gifts
Candles and diffusers
Beauty and spa hampers
Potted plants
Preserved roses
Greeting cards
3. What is the 4 gift rule?
That's a rule infamous on social media these days. The 4 gift rule is where parents pledge their children four gifts:
Something to read
Something to wear
Something they need
Something they want
4. What are lucky gifts to give?
Fengshui recommends the following things as the luckiest gifts ever. What best time to put them to use than the new year, right? Take a look:
Keyrings
Bamboo
Indoor plants
Pendants
Jewelry
Figurines or idols
Home decor accessories
5. What are needed gifts?
Need gifts are one of the perfect choices for a new year's gift. It's something the other person will use and enjoy. For kids, it may be something that helps them think or learn something different without it being a big deal or unexpected.