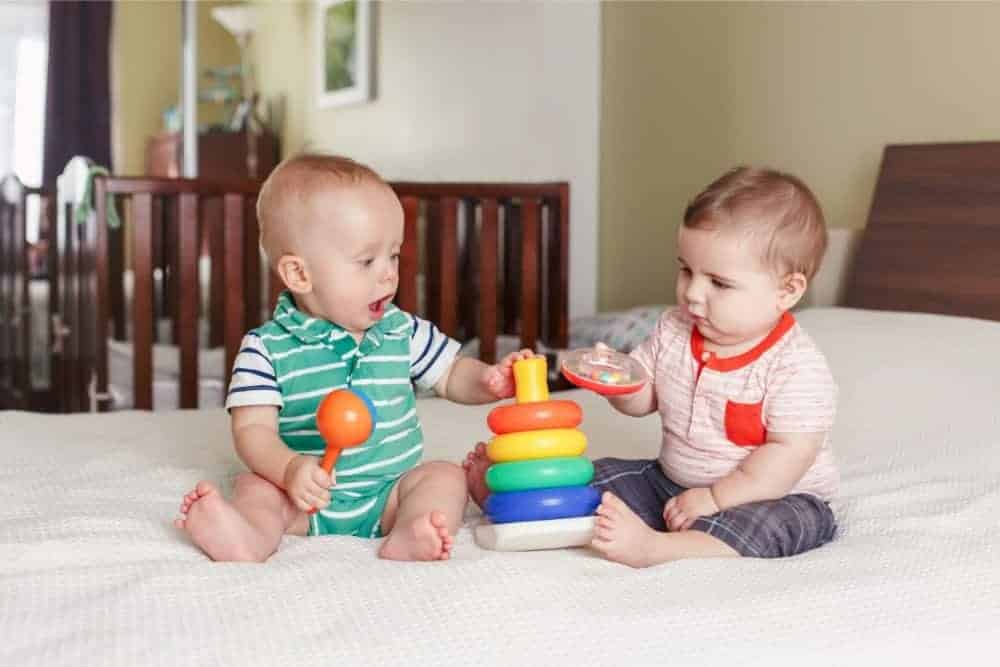 The best Stacking toys for babies, more than just being toys that can entertain your little one, offer so many developmental benefits to babies. From developing their hand-eye coordination to encouraging fine motor skills development and early problem solving, stacking toys for babies are the best kinds of toys you can pick for your toddler.
Stacking and organizing are natural abilities of a person, also cardinal to a baby's overall development. The manual sorting and sifting as a part of stacking toys are also activities often analyzed by child psychologists to understand what is happening in a baby's mind. Babies, as tiny little human beings, tend to be naturally curious and spend most of their time trying to figure out how things move in general. Stacking toys and blocks, hence, act as fascinating objects.
8 Best Stacking Toys for Babies
1) Fisher-Price Rock-a-Stack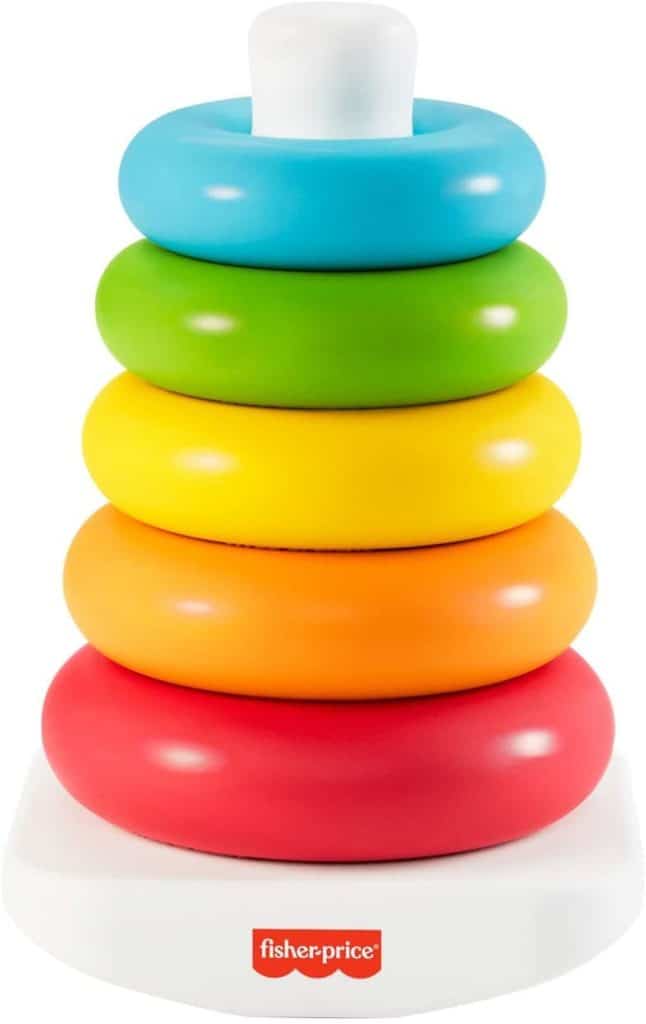 Child safety guidelines and recommendations-
Ideal for babies 6 months old+
Dimensions: 4.9″ x 5.1″ x 8.3″
The Fisher-price rock-a-star is the ultimate economical classic stacker toy you can get your hands on. Made with fat, vibrant rings, this toy may come across as a heavy and difficult-to-handle stacking toy, but it, in fact, is one of the most lightweight yet sturdy stacking toys in the market today. At the top of the stack comes a vibrant, transparent stacking ring which allows the toddlers to see through the rattling balls inside. It further has a rocking base that encourages the kids to push, pull and bat at the stacked tower and test their curious strength levels.
2) Block Party Baby Blocks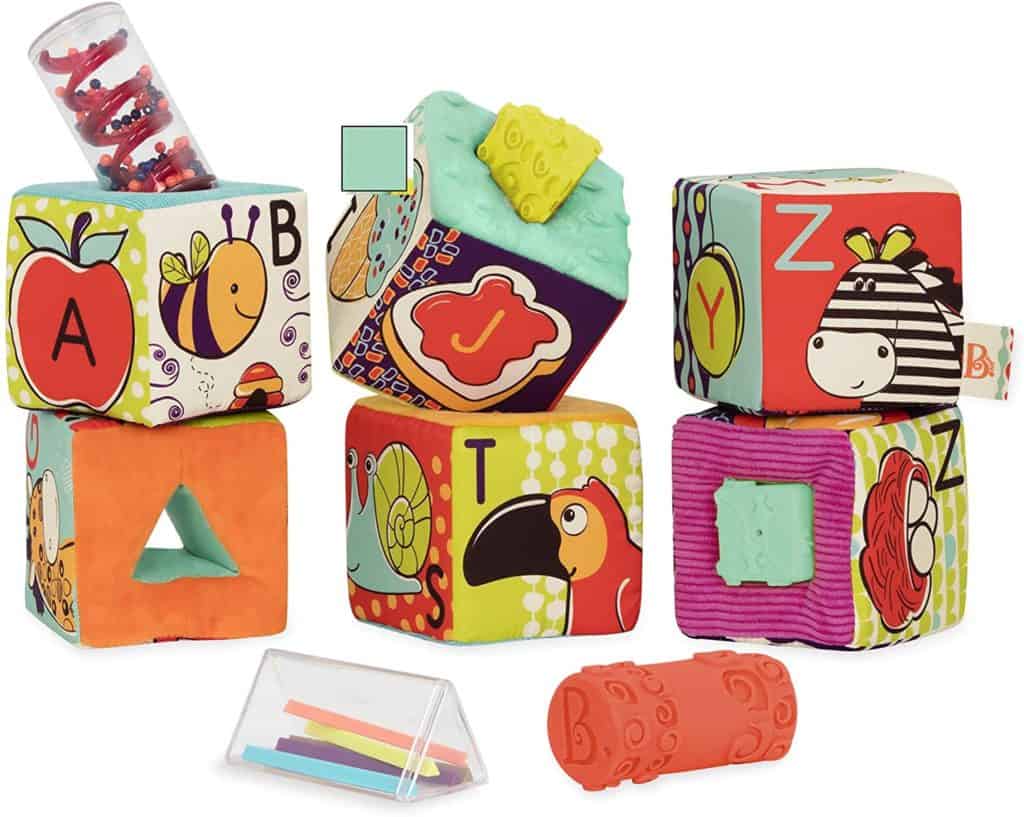 Child safety guidelines and recommendations-
Ideal for babies 6 months old+
Dimensions: 8.5″ x 3.75″ x 11.5″
If you, like most parents, have been led to believe that blocks of stacking toys have to necessarily be hard and rigid, the block party squishy baby blocks are here to change your imagination! Ideal for infant and younger babies who run hazardous risks like choking and hurting themselves, this set comes with six soft blocks and five interchangeable inserts for varied experiences. Also the perfect choice for introducing your baby to the world of letters and alphabets, this block set is BPA- and phthalate-free which means you don't have to worry about your baby's curious mouth. For easy storage and organization, the brand sells these blocks in a recycled, reusable bag.
3) Green Toys Recycled Plastic Stacker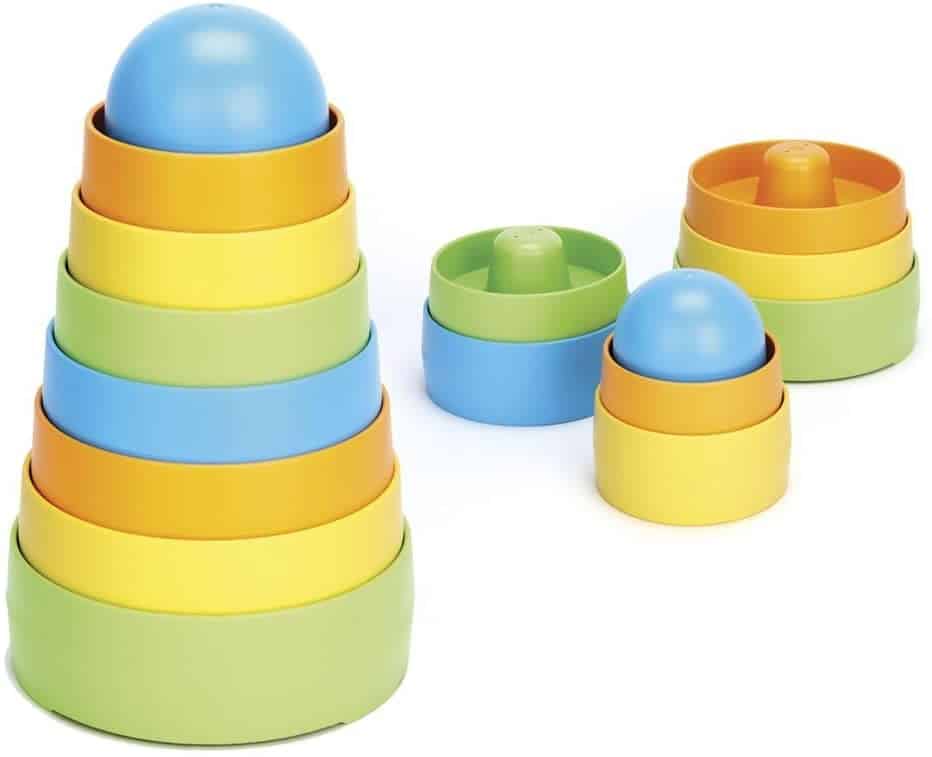 Child safety guidelines and recommendations-
Ideal for babies 6 months old+
Dimensions: 4.38″ x 4.38″ x 7.5″
Babies and their fascination with rainbow-colored toys is perhaps a never-ending love story. However, if your nursery is already brimming with colors and you'd like to break the monotony for your baby, the green toys plastic stacker set could be your pick. Made with recycled materials, these plastic stacker toys come as pastel-hued nesting pieces that can be stacked without the need for a rod! Toys made from recycled materials such as this one can also be helpful
4) Manhattan Toys Wooden Stacking Toy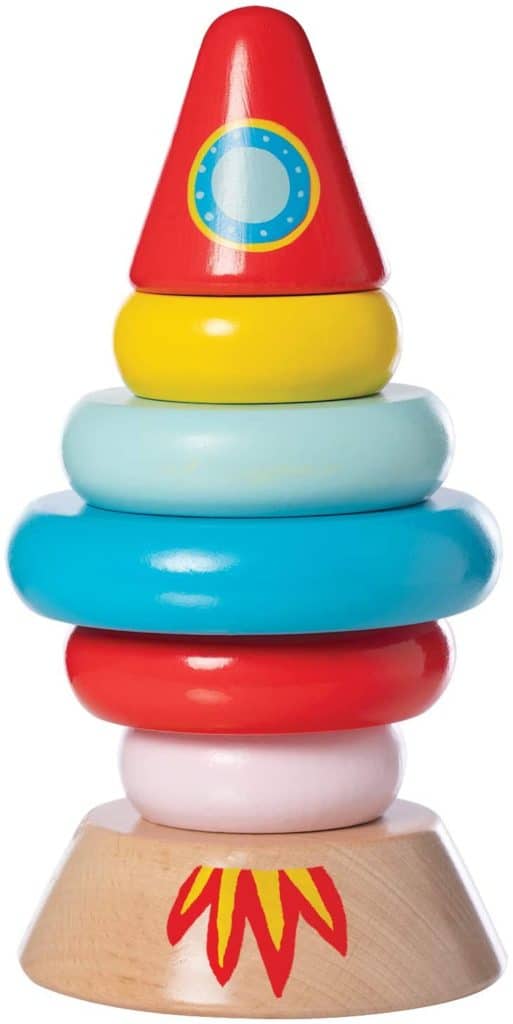 Child safety guidelines and recommendations-
Ideal for ages 12 months +
Dimensions:  6.3″ x 10.3″ x 8″
This is one of the best stacking toys for babies which is completely made from wood, comes with five stackable pieces + a sturdy rod base, and is an ideal toy if you're looking to help your kid develop their hand-eye coordination, problem-solving, and spatial perception. Compact in size, it offers two different options to let your kid make their own choices: circles and arches, or one with a rectangular design. The smooth grain wood of this toy, besides, is non-toxic and features water-based paint and finishing.
5) GREEN SPROUTS Sprout Ware Stacking Cups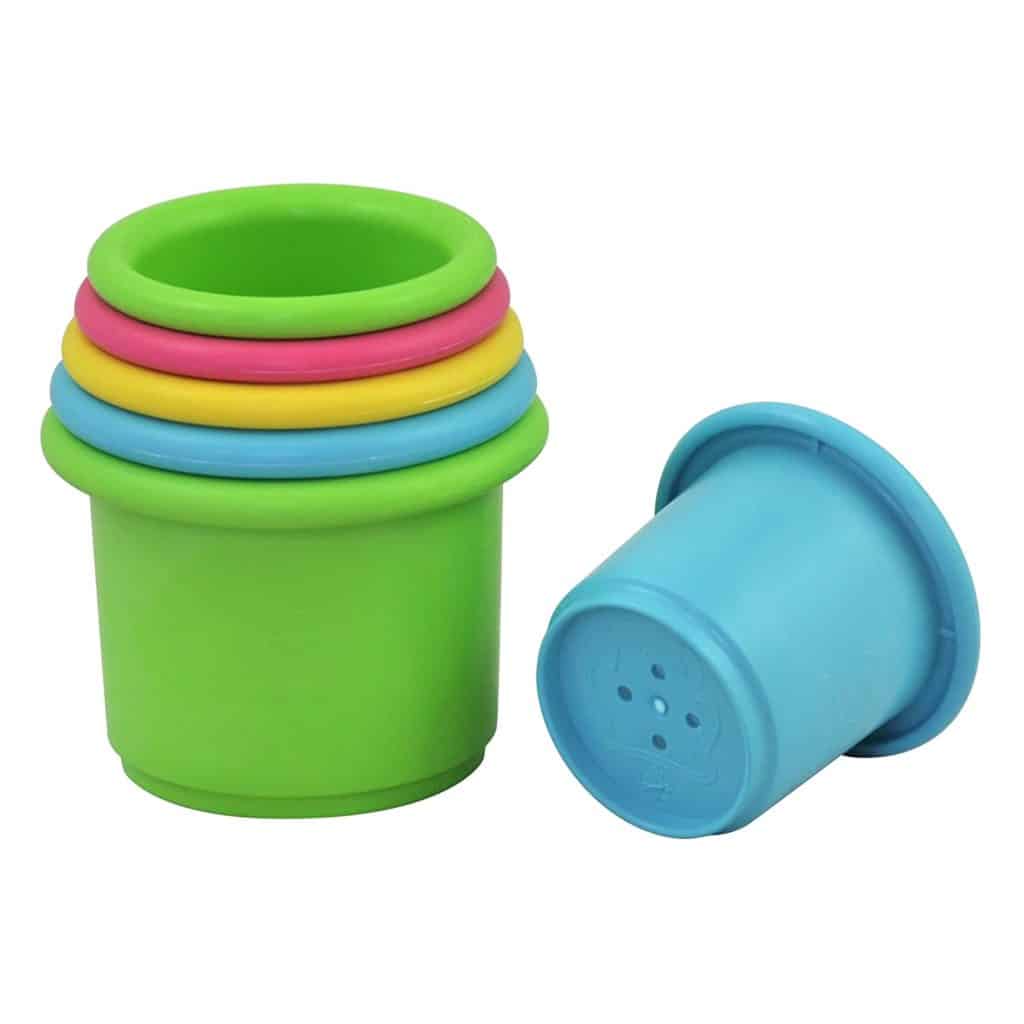 Child safety guidelines and recommendations-
Ideal for babies 6 months old+
Dimensions: 12″ x 6.3″ x 2.8″
These adorable and the best stacking toys for babies sold by Green Sprouts are made from plants and so, are a sustainable toy option for your baby. Offering vibrant colored stacking cups, this toy set can be used by your toddler in the generic fitting-into-one-another manner or can also be used in sand or water. The holes at the bottom of the cups for sifting and sprinkling will make playtime/ bath time so fun! Ideally shaped in a small size to fit your toddler's hands perfectly, this is one durable stacking toy option, albeit made from plant-based resin.
6) Petit Collage Rabbit Wood Stacking Toy
Child safety guidelines and recommendations-
Ideal for babies 6 months old+
Dimensions: 4.25″ x 2″
If you are more inclined to a wooden theme play nursery for your baby and want to inculcate the principles of sustainable living in your toddler from a young age, you will surely fall in love with this cute rabbit wood stacking toy! Made in one of the most endearing designs, this toy comes with six brightly colored, polished rings and a bunny head with felt ears. Each piece of this toy is made from assured sustainably-harvested wood, further painted with non-toxic and water-based paint to ensure a safe playing experience.
7) Lamaze Rainbow Stacking Rings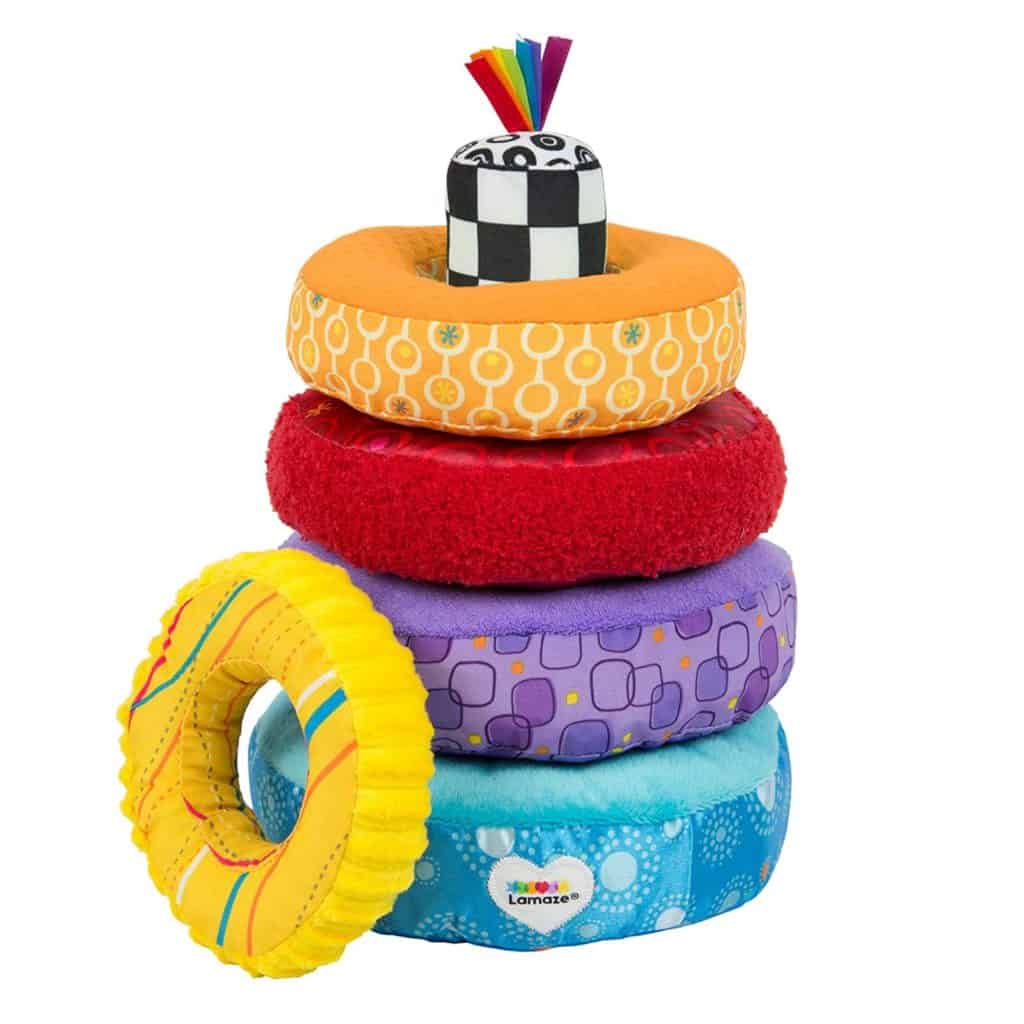 Child safety guidelines and recommendations-
Ideal for babies 6 months old+
Dimensions: 8″ x 8″ x 11.5″
Let the fun pile up with a modern take on the classic Rainbow Stacking Rings Toy with these soft and plush stacking rings made in bold, playful, intriguing patterns, sounds, and colors. The easily graspable rings of this toy provide a fun sensory experience while promoting dexterity and hand-eye coordination. Designed specifically to help the baby develop a toddler's visual, auditory, tactile, problem-solving, and fine motor skills, the rings can be stacked and centered on an included center pole (also soft) for a fun yet safe playtime.
8) Fat Brain Toys SpinAgain Stacking Toy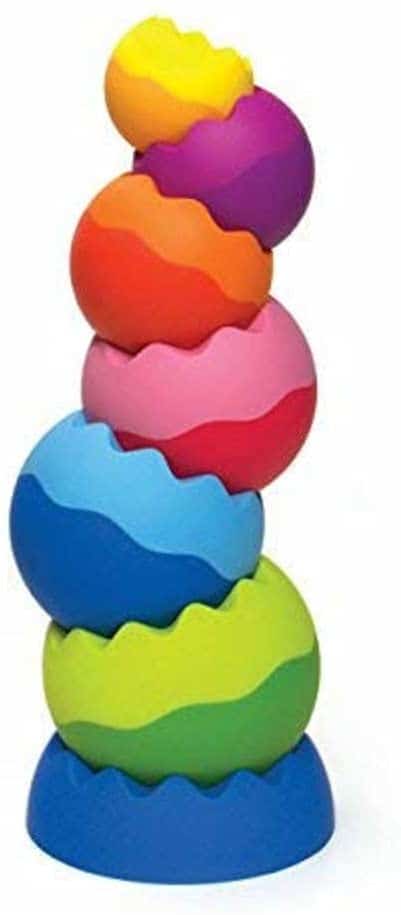 Child safety guidelines and recommendations-
Ideal for babies 12 months+
Dimensions: 16.5″ x 6.75″ x 6.7 "
Awarded the 2016 Parent's Choice Award, this is one of the best stacking toys for babies that have been massively raved on the internet by most parents for all the right reasons. Featuring six brightly colored graduated stackable discs, this toy offers an amazing visual experience as each piece cascades down the corkscrew middle. Unlike most stackable toys, it further does not limit the possibilities and creativity of a baby because it need not be arranged from the biggest to smallest. Safety tested and BPA-free, the Fat Brain SpinAgain is a really good pick for developing your child's hand-eye coordination, cause and effect, and general dexterity.
Liked our list? Do not forget to tell us which stacking toys did you end up purchasing in the comment section below. Also, while you're here, you may also want to take a quick look at our hand-crafted list for the best baby sippy cups and best building toys to spoil your little one with only the best there's to offer!
FAQs on Best Stacking Toys For Babies
1) Can the IKEA Mula Stacking Rings be used as a baby teether?
Yes! IKEA's Mula stacking rings are not just any wooden stacking rings but can in fact be used as a teether for your baby. Made from solid Beachwood and painted with non-toxic lacquer and paint, though these rings are child-safe, they should be used for teething only while complying with IKEA's guidelines and recommendations as advised on each pack. Ideal for babies of ages 6 months plus.
2) What do stacking blocks teach?
Stacking toys stir the curiosity of children and teach them concepts of fitting pieces as per sizes and of comparing objects to one another while finding appropriate matches between various blocks of the toy set. Block play toys are advised to contribute to a developing child's self-confidence and of empowering them to find solutions. As an example, a baby in a nursery with their stacking blocks will sure feel self-confident and rather proud when they see themselves successfully stacking blocks or rings on one another, albeit as a part of the play.
3) How do you introduce a stacking toy to a baby?
When introducing stacking and Montessori toys to your toddler, it is recommended to hand over the toys to the kid and to then leave them alone with the toy. By not offering your guidance immediately after introducing them to the toys, you essentially empower the child to explore the toy, to feel the texture, to be fascinated by the colors, and then to figure out the real 'how to play' or 'how to stack' on their own.