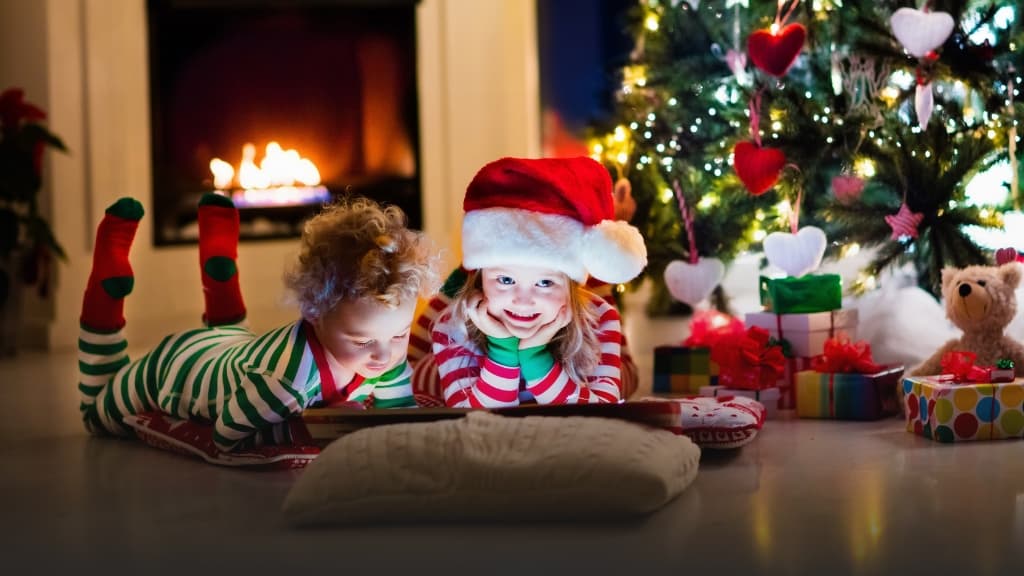 Christmas is a special time of the year, especially for kids as they can't wait to unwrap the presents. However, there's more to Christmas than just gifts and house decorations. Many parents read the verses from the Gospel of Luke and talk about the real meaning of Christmas. One of the real stories is about a virgin giving birth to not just an ordinary child, but to the Savior of the world.
If you as a parent are also interested in reading stories to your kids then here are some Christmas things your kids should know:
1. Christmas is All About Christ
Jesus Christ's earthly mother, Mary never forgot that fact Christ's birth wasn't ordinary. When the shepherds arrived to worship baby Jesus, they praised God and told Mary and Joseph that His birth was announced by the heavenly host.
Luke 2:19 says that she responded with "treasured up all these things, pondering them in her heart" (Luke 2:19). She pondered over and over again on the first Christmas Day about what had happened.
Imagine what Mary must be thinking when the shepherds described the angelic host that gave birth to Jesus, "Glory to God in the highest, and on earth peace among those with whom he is pleased!" (Luke 2:14).
Even if humans think over this for a lifetime, it is beyond our understanding of how it took place. How could a poor young girl give birth to the Savior of the world? Whenever we place presents under the Christmas tree, we should remember and teach our kids about God's greatest gift to mankind: Jesus Christ.
2. Jesus Has Always Existed
Imagine what must be going on inside Mary's mind as she was gazing at her newborn's face. "He is the image of the invisible God," says Colossians 1:15-17, "the firstborn of all creation. For by him all things were created … And he is before all things, and in him, all things hold together."
Kids might not understand that Jesus Christ always existed. They might think that His life began on Christmas, but in time they will understand that his earthly life began on Christmas and he has always existed. Kids must be taught that even though His human form began in Mary's womb, the Son of God is eternal.
3. The Christmas Wreath is a Symbol of Love and Eternal Life
The Christmas wreath represents the crown of thorns worn by Jesus. Eventually, green, red, and gold, the colors of Christmas were added. Green represents life, red symbolizes the blood of Jesus, and gold represents light and royalty. Christmas wreaths that are made with evergreen foliage represent the continuity of life even in winter's darkest days.
4. Jesus Was Born Into a Family
God has chosen Mary to be Jesus Christ's mother and Joseph to be His father from the beginning of time. Joseph and Mary were already engaged when he found out that she was going to have a child. In the beginning, he planned to quietly divorce her (Matthew 1:18-25). He thought about how Mary could be faithful if she was with a child.
However, an angel of the Lord appeared in his dream saying: "Joseph, son of David, do not fear to take Mary as your wife, for that which is conceived in her is from the Holy Spirit. She will bear a son, and you shall call his name Jesus, for he will save his people from their sins."
Joseph accepted that he was going to His earthly father and Mary was going to give birth to the Son of God. Joseph and Mary's relationship revolved around pleasing God and following his plan. One of the Christmas things that we must teach our children is that God placed Jesus in a family.
It wasn't a coincidence that Caesar Augustus decided to conduct a census of the entire Roman Empire at the same time Jesus was born. It wasn't a coincidence that Jesus Christ was born in Bethlehem, the "City of David."
It might seem a mere coincidence to humans, but not from God's point of view. Centuries before Jesus was born, prophet Micah predicted where He was going to be born. "But you, O Bethlehem … from you shall come forth for me one who is to be ruler in Israel, whose coming forth is from of old" (Micah 5:2).
One of the things for Christmas we should teach our children is that sometimes pieces of puzzles won't make sense to us until He puts them together.
6. Everyone Does Not Want to Worship Jesus
Matthew 2:1-2 says that after the birth of Jesus, "Wise men from the east came to Jerusalem saying, "Where is he who has been born king of the Jews? For we saw his star when it rose and have come to worship him."
Herod was troubled after hearing this because he knew about the Micah 5:2 prophecy and was afraid of the one who would be "the ruler of Israel." He was also afraid because he thought the "king of the Jews" would capture his throne.
He was a tyrant ruler and killed anyone who threatened his power. Herod made an innocent request asking the wise men where He was born instead of showing his disdain and not revealing his evil intentions. He wanted to kill the Babe of Bethlehem.
One of the things that we must teach our kids is that people will often claim to worship Jesus, but they won't. Some of the people are like Herod—their actions reveal their true intentions.
7. Jesus Can Help in the Darkest Places of Life
A prophecy of Zechariah about Jesus was recorded in Luke 1:78-79: "Through the heartfelt mercies of our God, God's Sunrise will break in upon us, shining on those in the darkness … then showing us the way, one foot at a time …" (The Message).
In the modern world, children cannot be completely protected from the darkness via the internet, television, and radio. Horrific events from thousands of miles away find their way into our living rooms. In such circumstances, parents should guide their children toward Jesus as He is the light of the world. Another one of Christmas things that can be taught is that Jesus brings light to the darkest places in the world.
8. He Had a Humble Beginning
When Jesus was born a lot of people struggled to provide for their families. Carpenters, fishermen, and farmers did not have privileged lives. Even though He was called the King of the Jews, He was born into a humble family.
Mary gave birth to Christ in a stable because there was no room for them in the inn. The One who created everything in the universe laid His head in a feed trough; the riches of this world are nothing compared to knowing Him. We should teach our children that God does not value people according to their wealth but the content of their hearts.
9. Jesus is the Bread of Life
Jesus was born in the town of Bethlehem more than 2,000 years ago in "the house of bread."
When we gather to share a meal on Christmas, we should teach our children that Jesus is the Bread of Life. He is not only for bread for physical nourishment but for spiritual nourishment as well.
John 6:33 tells us, "For the bread of God is he who comes down from heaven and gives life to the world."
Concluding Thoughts on Christmas Things
When you read through the Gospel of Matthew and the Gospel of Luke, you will find more truths and teachings to teach your children. No matter how many truths you teach them, one thing is certain, Jesus is a treasure worth seeking. He is the very reason that we celebrate Christmas.
Christmas Things We Should Teach Our Children FAQs
1. What are 5 Christmas traditions?
Here are the five Christmas things that are a tradition:
The Nativity
Singing Christmas Carols
An afternoon decorating the tree
Leaving milk and cookies for Santa
Drinking eggnog
2. What is the 5 Christmas gift rule?
According to the 5 gift rule, the first four gifts are the same - something they need, something they want, something to read, and something to wear. The 5th one is the best. It is something they want or need but don't really know it.
3. What are a few interesting facts about Christmas?
Here are a few interesting facts about Christmas:
"Jingle Bells" is the first ever song played in space
Princess Charlotte popularized Christmas trees in England
Christmas was illegal to celebrate in the US 260 years ago
It is believed that candy canes were made to make choirboys quiet