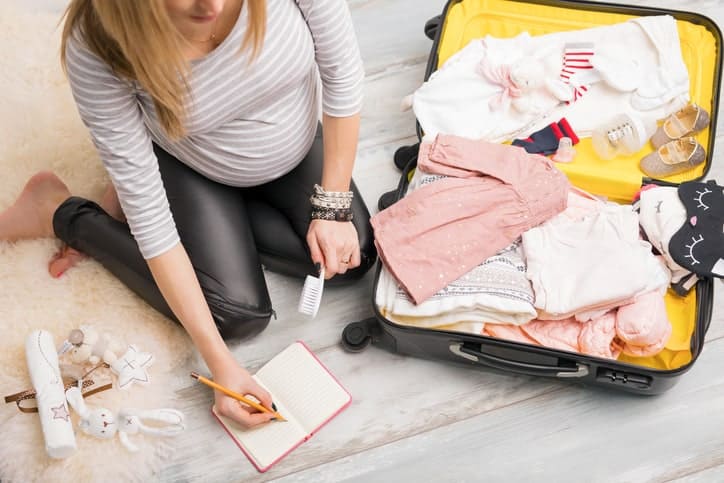 The 'hospital bag checklist' carried by expecting mammas to the hospital for labor and after is one of the most discussed topics out there. As the due date of a woman starts approaching, the mamma knows it's time for her to pack the hospital bag for mom as well as the baby, but there's always some lack of clarity about where to begin.
Some women go into labor much sooner than expected; hence, the baby hospital bag list with the hospital bag for the mom should ideally be prepared as soon as by the 36th-37th week of pregnancy. While some essentials on this list are essential, some other items also need to be there because they will remind you of where you would be with the baby after all the pain. It will subconsciously remind you of your comfort space, your home. Here is a list that will help you with answers that might cross your mind, like 'What to pack in a hospital bag? Or 'what to pack in a hospital bag for a baby?'
Here's a quick hack what to pack in hospital bag checklist that includes everything you need to have in your hospital bag-
Looking for 'what to pack in a hospital bag? Not anymore, the best way to go about a pregnancy hospital bag checklist packing is to pack one bag for yourself, having your support pack one for themselves and one bag for the little one yet to arrive. This avoids confusion and unnecessary clutter.
1. What to Pack In a hospital bag for Mom - Hospital Bag Checklist
1. Comfortable Clothing: Pack a comfortable robe, PJ sets, or a loosely-fit nightgown for post-delivery clothing. This also helps if you are planning on breastfeeding post-delivery. Nursing bras can also be a viable piece of clothing to have.
Also, if you plan to labor in water as a method of water birth, pack a dark-colored sports bra for the purpose.
2. Comfortable Footwear: Crocs or slip-on shoes will be the best option for footwear as your feet might swell up due to the IV fluids.
3. Toiletries: While in the hospital, you will still need the basics. Pack your hairbrush, deodorant, toothbrush, moisturizer, dry shampoo, and lip balm for the basics.
4. Hydrates: Pack enough hydrating drinks like coconut water and even ensure that you carry a reusable water bottle
5. Extension cord: The hospital beds can be annoyingly far off from the charging points. Save yourself the horror of not being able to record your baby's moves post-delivery and ensure you carry an extension cord!
6. Nipple cream: Sore and cracked nipples can get painful as the skin around the nipple area tends to dry up when you breastfeed. Hence, if you plan to breastfeed, ensure you carry a nipple cream for some relief.
7. Pillows and a bath towel: As a new mother, comfort will always be your top priority. Do not rely on hospital towels and always carry your pillow and towels for the best post-delivery showers and sleep.
8. Adult diapers: Talking about comfort, using hospital-provided, standard diapers might not be the wisest choice. Research the best, most comfortable diapers and use that for post-delivery excretion.
9. Music playlist: Some laborers are known to last for as long as 24 hours. This is a very long time and you cannot be stuck listening to random music. Research and curate a playlist of soothing music that will calm you down during the long wait.
2. What to Pack In a Hospital Bag for a baby - Hospital Bag Checklist
Here is what to pack in a hospital bag for a baby-
1. Baby Seat: If you plan to travel back home in your car and not in the ambulance, a car set is of utmost priority. Even the hospital authorities will never let you take your baby back home without a car seat.
2. Baby outfit: Carry a cute, comfortable yet fancy outfit for your baby for when you finally take your bundle of joy back home. You never know how big or small your baby would exactly be and hence, try and take outfits of at least 2-3 different sizes. Also, if yours is a winter baby, remember to carry protective clothing and accessories like gloves, socks, and caps.
3. Your consulting pediatrician's contact number: You will be asked for this multiple times. You could either keep all the reports in your bag or you could also take pictures/scan them and keep them handy on your phone.
4. Bottle in case of bottle-feeding: If you do not plan to breastfeed your baby, pack at least two bottles in the bag. It will also be wise to research and keep a baby formula ready instead of depending on what is offered by the hospital.
Bonus tip: Do not pack any wipes or diapers for the baby. The hospital will bombard you with freebies for the baby, do not fret too much about that.
3. If you have your support partner/relative staying over at the hospital with you for long hours, they will need some things as well. Though not a comprehensive checklist. Here is a hospital bag checklist for them!
1. Have them pack a lot of snacks: Try packing candies, wafers, and healthy dried/fresh fruits along with reusable water. Snacks can be of great support in boredom and will also be liked by the mamma after birthing.
2. Entertainment: Carrying an iPad or books will be another great option for a companion. There's only so much one can do on a 6-inch phone anyway!
3. Pillow: Perhaps not a towel like the mammas need, but the support should at least carry a light pillow. This is primarily because the hospital pillows are infamously scratchy and that's not something anyone would want to put themselves into.
4. For the obvious, one always needs toiletries and a change of clothes. This, however, can always be worked out depending if the support might want to take quick home visits for showers and change of clothes.
Now that you have your hospital bags ready to go, let the congratulations be in order!
That's all folks! The above-curated list is the ultimate baby hospital bag checklist or the hospital bag for labor that consists of everything a mother and the baby would need while you are packing for the much-awaited D-day. Not only that, but we have also included a list for the visitors/friends/peers/better halves too to make sure everyone is on point and has everything covered amidst the hassle and last-minute checks. However, do you still wish to crosscheck the things you've already added and are looking for more clarity? Don't worry, Parenthood bliss has curated a detailed list of the baby registry HERE. Simply click on the link and get packing. The time to meet the little one is just around the corner and we wish our mothers all the very best!
Believe it or not, a pregnancy hospital bag for mom list will come in handy. Especially when you are all set and have a lot of things in mind, but the ultimate thing that's left right now is to, wait! We understand how things could get towards the end of the trimester and how you must have to manage everything from ranging to the room decor, and the toys the little one would need, to the health care insurance, you'll need to now apply for! Between all of this, this ultimate hospital bag list will make the utmost sensitivity and will come across as a relief for our mothers, reassuring them that they are now fully prepared to welcome their little ones home anytime soon! All the very best!
FAQs: The Ultimate Hospital Bag Checklist For Our Moms and The Baby
1. What should one pack when in their hospital bag when they are preparing to get admitted for delivery or a hospital bag for labor?
To help parents understand and jot down the initial things they'd need to pack in their hospital bag for labor as they prepare for delivery, we have curated a quick list to glance at below:
Make sure to purchase and pack a lightweight dressing gown that will help you stay comfortable while you prepare for the delivery and to welcome the little one into the world.
Pack comfortable nursing tops for you to wear post-delivery. This will help you feel homely and also will help you feed the baby comfortably.
If you doubt or can't share the hospital pillow, you must buy one to pack in your pregnancy hospital bag. These comfortable pillows will be used as nursing pillows.
The hospital might seem uncomfortable while you breastfeed. You may also want to pack a pair of nursing pads along with the nursing pillows to help your breasts feel dry and soft at the most, while you have visitors and nurses come visit you.
Try searching for accessories that could be used by you when you breastfeed the baby in the hospital soon after the delivery.
The delivery process would be quite much for you as well as the baby. For this, you may choose to purchase maternity sanitary pads that will save the washroom visits and let you have time to rest.
The delivery process would get quite a lot leaving your skin dry. Therefore, remember to pack oils and lotions for your body.
The most important of it all is a diaper bag to keep all this stuff in one place and safe.
2. When the baby is born, what are the first or the most important things a parent would need to buy for the newcomers?
To help parents gather everything they need while they welcome the newborn baby, we have accumulated a newborn checklist below that has everything the baby would need once they arrive:
Pack lots and lots of cotton bibs. This would come in handy when the newborn takes their feed, they would most surely tend to drop milk all around while they drink.
Along with the cotton bibs, make sure to pack burp cloths too. They are extremely necessary as the baby will need to take a burp when they finish with their feed.
Just in case, you must pack a breast pump too.
Pack milk storage containers. Yes as crazy as it may sound, having a milk storage container in the hospital works wonders for the mother. They are and come under the essential safety tips to store the breast milk, while the little one would need it while you are asleep, or to help you lighten your breasts if they pain due to the high milk in them.
Nursing pillows. While you are surrounded by a place like a hospital, every comfort you could gather adds up to the homely feel. Which is why these nursing pillows are recommended. Don't get us wrong, the hospital would provide a pillow, but if you like to have things of your knowledge.
You could need nursing bras in the hospital so make sure when you buy them, you will need to purchase a cup that is one size bigger than your pregnant bra size.
Also, remember to pack breast pads. You may choose to purchase breast pads that are either disposable ( for you to use and dispose of) or one that is washable ( all you need to do is wash it after your use and you're good to go for another cycle).
Sore nipples are quite common. Therefore, you must pack a lotion for sore nipples too. This will help you comfort the soreness present in the nipple.
3. What should an expecting mother wear when she gets in the hospital for delivery on her D-day or when in/during labor?
You mostly wouldn't need to worry about what you'll need to wear while you are already in the hospital on your D-day. The hospital for sure will provide you with a pretty, loose-fitting maternity dress. However, if you have your doubts and wonder if you could avoid those hospital paper dresses, you may choose to perhaps get a maternity dress of your own! Yes, that's possible. All you'll need to do is pick a breathable material dress that is lightweight and made of cotton with the right necessary cuts without exposing way too much of your skin. Parenthood bliss has curated a list of that too! Check that out for ease and a more detailed view of these maternity dresses.