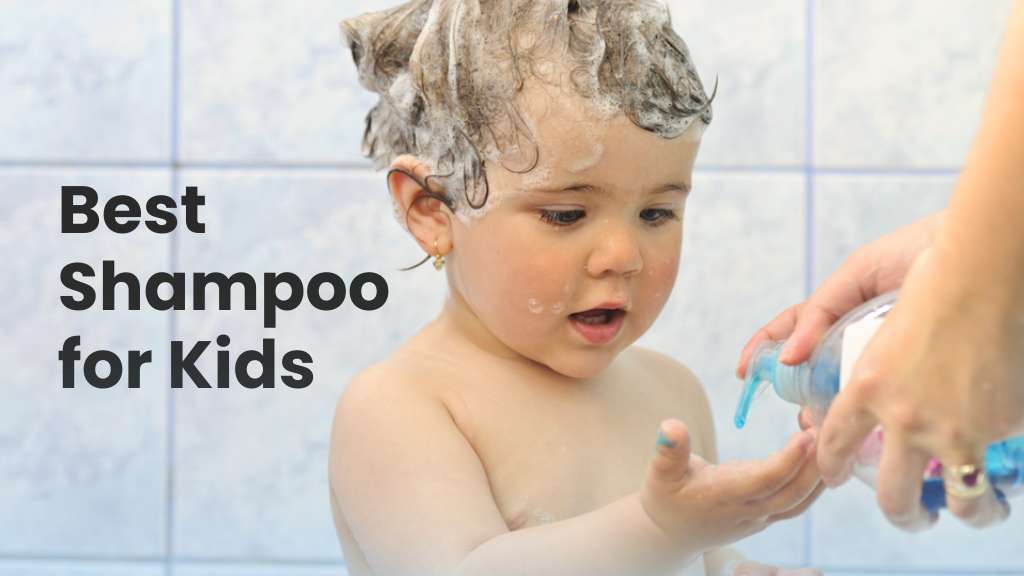 Irrespective of the weather, children have a knack for getting dirty. Although we adore them, it's remarkable how they manage to get covered in food, dirt, and grime no matter how frequently we bathe them. 
While we want to encourage our kids to embrace outdoor play, like digging for worms and feeling the sand between their toes, we also want their cleanup time to be enjoyable and, most importantly, free of tears.
Ensuring that the products we use on our children's skin are clean, safe, and gentle is of utmost importance. Therefore, we have compiled a selection of the most natural and non-toxic kids' shampoos available in the market. 
Whether you're looking for shampoos suitable for babies, toddlers, energetic seven-year-olds, or even those tricky teenage years with their distinct odor challenges, here is a comprehensive list of 5 of the best shampoo for kids in 2023.
1. Blu Atlas shampoo; best shampoo for kids
Let's start with one of the finest shampoos suitable not only for kids but for the entire family. As we enter a new year, it's essential to declutter our homes, beginning with the bathroom. With different ages and needs within a family, the bathroom can accumulate numerous products. 
To simplify and enhance your shower experience, we're here to assist you in streamlining your shower essentials. What makes this shampoo exceptional is its suitability for kids while avoiding fragrances associated with dinosaurs or princesses. This allows for a clutter-free shower experience, with just one shampoo catering to the entire family.
Blu Atlas Shampoo stands out with its premium natural ingredients, making it an excellent choice. Approximately 99% of the formula is derived from natural sources, including plants, fruits, and minerals. It contains jojoba oil, a vitamin-rich antioxidant renowned for its gentle care on dry or damaged skin. This oil mimics the skin's sebum and effectively nourishes both the scalp and neck, often neglected by body washes or moisturizers.
Aloe barbadensis leaf, another natural moisturizer present in this shampoo, works wonders on children's sensitive skin. It effectively cleanses the hair of grime and dirt without stripping away moisture. The shampoo's secret ingredient is saw palmetto extract, an anti-inflammatory that combats hair loss and promotes scalp health. With its safe and vegan formulation, we wholeheartedly recommend considering this shampoo and adding it to your wishlist for 2023.
2. Hello Bello Kids shampoo; best shampoo for kids
For parents seeking a safe and gentle shampoo option in 2023, Hello Bello Kids Shampoo and Body Wash is the ideal solution. This shampoo is carefully formulated with ingredients like marshmallow root, coconut derivatives, and aloe extracts, ensuring hydration for both the hair and scalp while providing a soothing effect on sensitive or irritated skin. 
The added convenience is that it can also be used as a body wash, simplifying bath time routines.
One of the standout features of Hello Bello Kids Shampoo is its delightful creamy coconut and vanilla scent, which adds a pleasant touch to the bathing experience. Additionally, its formula is approved by pediatricians, guaranteeing that it won't cause stinging sensations in the eyes or further irritate any cuts on the skin. 
Moreover, this shampoo is free from common allergens such as peanuts, dairy, soy, and gluten. This makes it an excellent choice for children with allergies or sensitive skin, easing the worries of parents who have limited time to spare. So, take a moment to sit back, (attempt to) relax, and enjoy bath time in 2023 with the help of Hello Bello Kids Shampoo and Body Wash!
3. EcoStore baby shampoo; best shampoo for kids
Introducing one of the top shampoos for kids in 2023, a simple and incredibly gentle option backed by an exceptional sustainable brand. This particular shampoo is proudly made in Aotearoa New Zealand, meticulously crafted to provide a gentle cleanse for your baby's delicate hair. 
Enriched with the soothing aroma of lavender oil, it serves as a wonderful addition to your nighttime routine. Moreover, it holds dermatological certification for sensitive skin, offering peace of mind.
EcoStore Baby Shampoo is formulated with locally sourced plant-based ingredients, including New Zealand harakeke and calming chamomile. Harakeke possesses potent anti-inflammatory properties that help alleviate redness and irritation. It is also abundant in humectants, making it an excellent moisturizer and healer for dry or flaky scalps.
There are numerous reasons why we admire the EcoStore brand. They prioritize affordability, maintain a reputation for trustworthiness, and demonstrate a commitment to sustainability. The Baby Shampoo formula is not only greywater suitable but also cruelty-free and vegan. The packaging consists of refillable bottles made from sugar plastic and locally sourced recycled plastic, further emphasizing their dedication to sustainability.
You desire nothing but the best for your little one, and that's precisely what EcoStore Baby Shampoo delivers. It offers gentle and safe cleansing while effectively taking care of your baby's hair. Give it a try, and witness the difference for yourself. Your baby's hair will be left soft, clean, and beautifully fragranced, all while supporting a brand that shares your values.
4. Nirvana natural daily blend shampoo; best shampoo for kids
If you're in search of a shampoo suitable for the entire family, consider giving Nirvana Natural Daily Blend Shampoo a try. This gentle and wholesome shampoo is free from harmful ingredients. 
It is enriched with organic argan oil and organic Abyssinian oil, both of which provide nourishment and strength to the hair, promoting elasticity and volume. An exceptional quality of this shampoo is its ability to eliminate buildup and effortlessly glide through the hair. This makes it an excellent choice for kids of all ages, easing the post-shower hair combing process.
While gentle enough for daily use, you'll be pleasantly surprised by how long this concentrated formula lasts, even with little ones who tend to use more than their fair share. Additionally, it is free from SLS, parabens, synthetic colors, and fragrances, ensuring a clean and safe product.
Nirvana Natural Daily Blend Shampoo offers a fresh and fruity scent, enhanced with essential oils of apple, bergamot, and neroli. It is also available in biodegradable refill bags made from renewable wood pulp starch, which can be composted within just three months. This eco-friendly option provides an economical and environmentally conscious choice for the entire family and the planet.
5. Fresh Monster Toxin-Free 2-in-1 kids shampoo & conditioner; best shampoo for kids
As a parent, your priority is providing the best for your child, and that's why we are thrilled to introduce you to Fresh Monster Toxin-Free 2-in-1 Kids Shampoo & Conditioner. This product offers a fantastic solution for maintaining your child's hair cleanliness, health, and manageability.
Formulated with organic ingredients and devoid of harmful toxins such as sulfates, parabens, phthalates, dyes, synthetic fragrances, BPA, gluten, and soy, this shampoo ensures a gentle experience for children of all ages. The 2-in-1 formula allows you to use it as both a shampoo and conditioner, saving you time, and money, and preventing potential tears. Additionally, the use of organic ingredients leaves your child's hair feeling wonderfully soft and emanating a refreshing scent.
One of the highlights of this shampoo is its appealing and unique design that kids will adore. Coupled with a delightful fragrance, imagine the joy your little one will experience while happily lathering up in the bath and relishing the pleasant scent of their hair afterward. This small detail can make a significant difference in turning bath time into a fun and enjoyable sensory activity for kids.
In conclusion, when it comes to choosing the best shampoo for kids, several remarkable options stand out in 2023. From versatile shampoos suitable for the whole family to specialized products crafted with organic and gentle ingredients, there is a wide range of choices available. 
These shampoos prioritize safety, effectiveness, and eco-consciousness, ensuring that parents can provide the best care for their little ones.
Whether you opt for the simplicity of Nirvana Natural Daily Blend Shampoo, the toxin-free formula of Fresh Monster 2-in-1 Kids Shampoo & Conditioner, the natural goodness of EcoStore Baby Shampoo, or any other recommended product, rest assured that these shampoos are designed with your child's well-being in mind. 
They offer a combination of gentle cleansing, nourishing properties, and delightful scents that make bath time an enjoyable experience for both parents and children.
As parents, our desire is to provide the best for our children, and these top shampoos for kids in 2023 serve as a testament to that commitment. By choosing these safe and effective products, we can ensure that our little ones' hair remains clean, healthy, and manageable, while also supporting brands that prioritize sustainability and share our values. 
FAQs: Best shampoo for kids
1. When is it okay to use child shampoo?
With baby shampoo, there isn't really a right or incorrect timing. When they are out of their own adult shampoo, some grownups still use it! It's up to you and Baby in the end, so don't feel compelled to change immediately away.
2. Do children require special shampoo?
Although they don't always require their own shampoo, kids can benefit greatly from having their own. It's vital to read the contents first because some adult shampoos have several substances that could not suitable for a child's hair.
3. How frequently should youngsters wash their hair?
Children under the age of 11 often only need to wash their hair once or twice a week. every day or every other day. Children age 12 and above should wash their hair more than once a week.