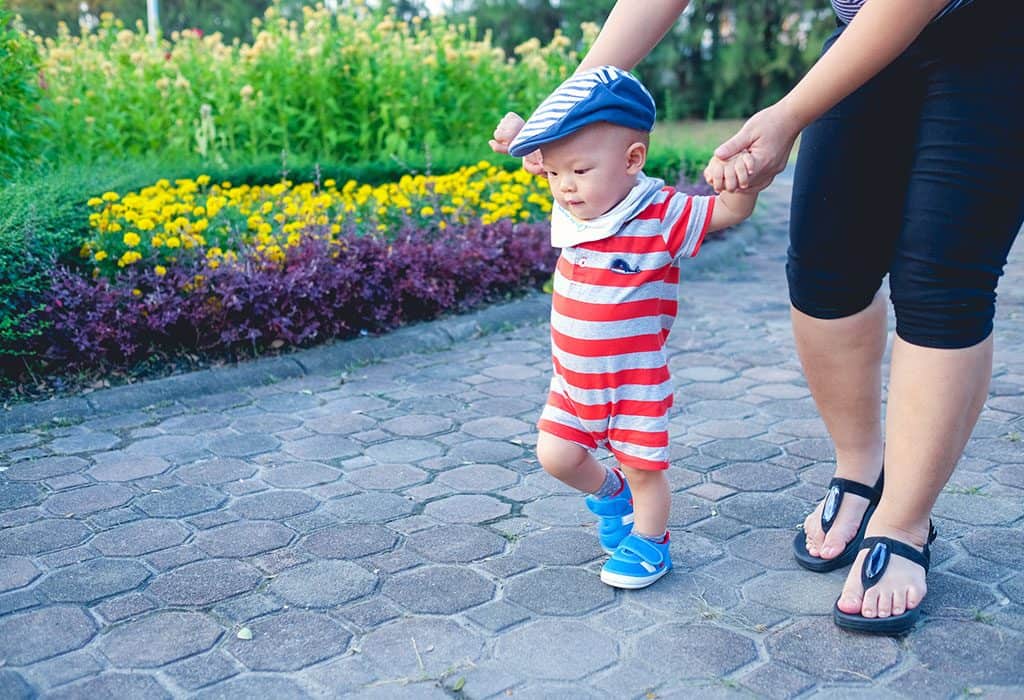 The best gift a parent could give their child who is learning to walk is a walking shoe to safeguard them from potential dangers like broken glass, sharp rocks, and unfriendly insects. The Founder of Gotham Footcare recommends best baby walking shoes when walking outdoors if not all of the time.
Not all shoes are designed the same which makes it important to ensure the right pair that will protect those tiny toes and support the development. Gratefully many options are both safe and adorable for the baby.
Listed below are the eleven best baby walking shoes:
1. Tsukihoshi Racer Sneaker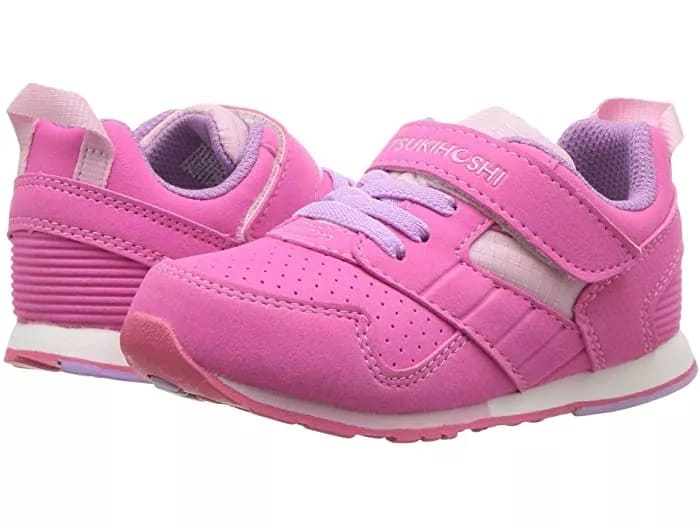 These are a pair of adorable shoes and are designed to support the baby's foot without inhibiting their muscle and balance. They feature a wide toe box allowing the natural splaying of toes with a lightweight rubber outsole that is shock-absorbing and slip-resistant ensuring the baby's comfort and safety.
This Racer Sneaker comes with a large hook, loop closure, and elastic laces that makes the shoes easy to wear and take off. It can also customized child orthotics with removable insoles and are available in sizes 3 to 7. They are also machine washable that makes it easy for the little one to explore the muddy backyard after a downpour.
2. UGG Kids Roos Star crib shoes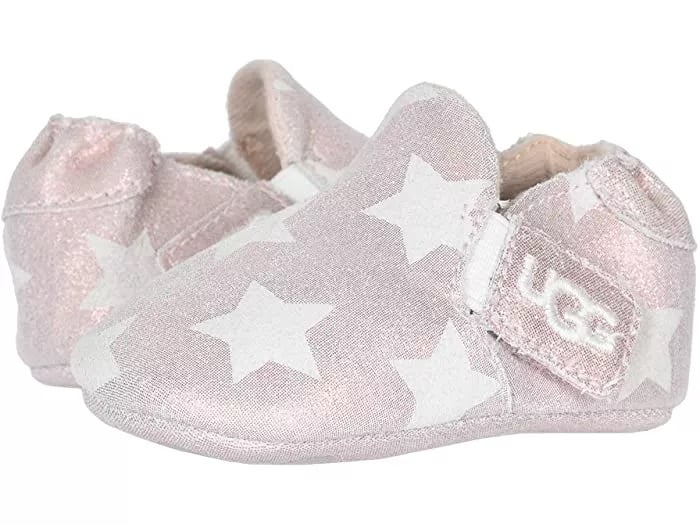 They are different from the walking shoes as they are not meant for walking but to keep the toes covered, warm, and add a little style to their outfit. This crib shoe is not only cute but also has a little traction on the bottom in case of unexpected cruising.
They also feature a hook-and-loop closure making it easy to slip on and off and are lined with a famous Ugg fleece that keeps the baby's toes toasty. Crib Shoes are available in extra-small (0-6 months), small (6-12 months), and medium-size(12-24 months).
3. Stride Rite Jamie Sneaker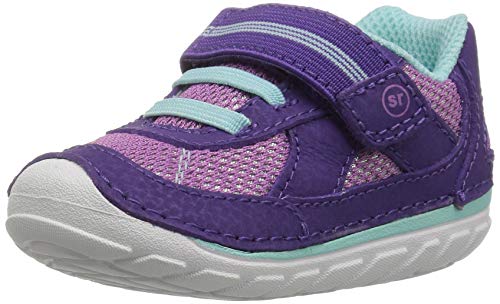 This sneaker is available in many sizes – 3 to 7 (infant to 4 years old), including half sizes, and has three different width options and also the size 11.
They have round soles that reduce the risk of trips and falls and non-skid rubber soles with an elastic strap along with velcro to keep them put. These sneakers are breathable that promotes air circulation and feature memory foam footbeds to enhance your baby's comfort approved by the American Podiatric Medical Association (APMA).
4. Soft Motion Frankie Sneaker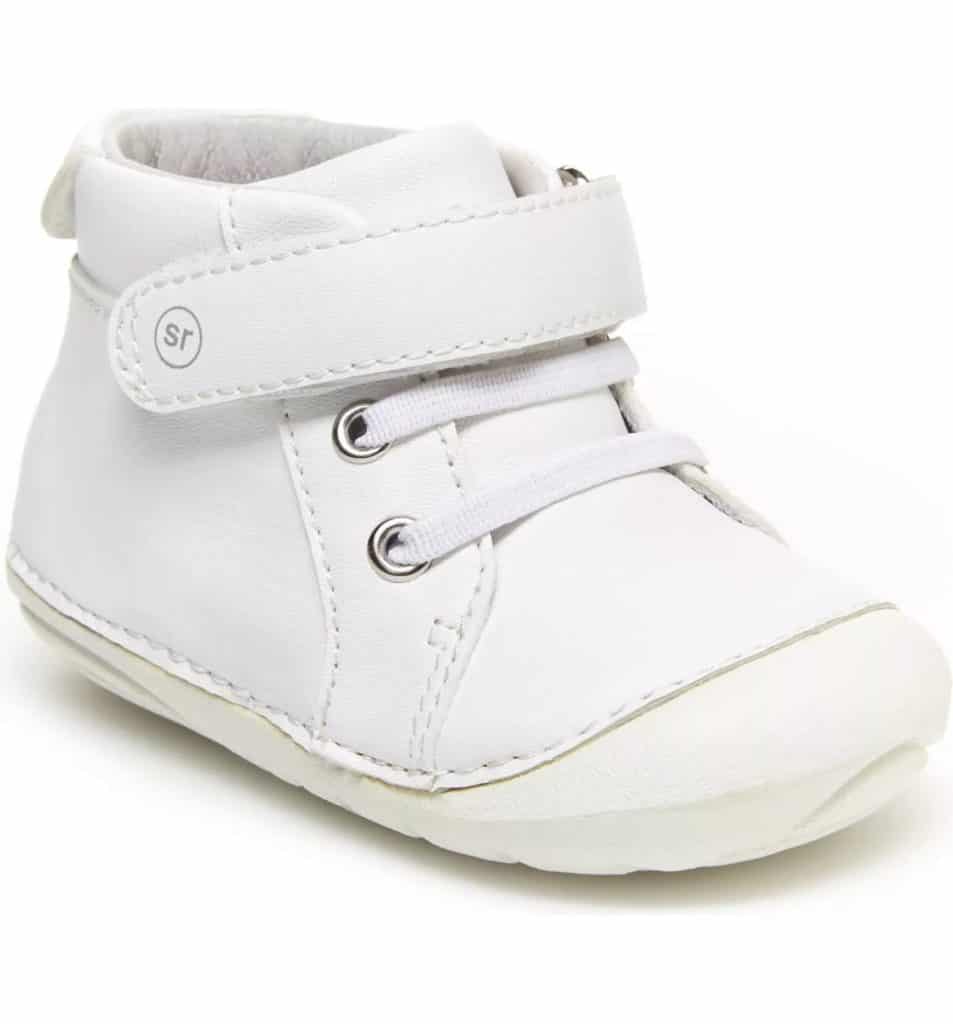 Frankie Sneaker has a memory foam footbed that sits higher up on the ankle preventing the baby from falling off. These sneakers are made of classic white leather that features a cushioned collar for support and comfort.
These luxury shoes are available in sizes 3 to 6 (infant to 4 years old) and have half-sizes and in two width options.
5. Splurge Runner-Up Leather Moccasins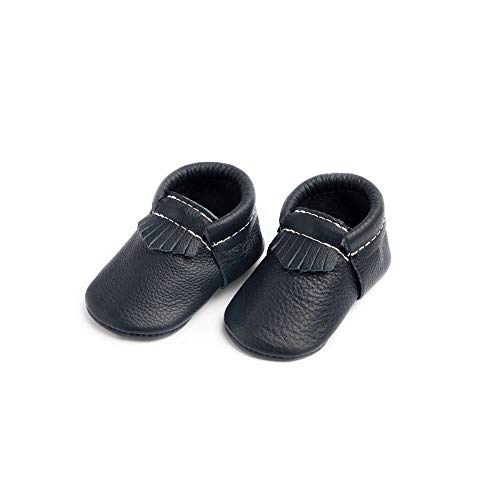 They are designed to have a rough sole for traction and to protect the baby's feet from objects that may injure them.
These are designed to help give the child a barefoot feel and help develop as they have a flexible elastic top that the baby won't be able to pull off making sure they always stay in place. One can get these in infant sizes from 1 to 3 (1 to 18 months) and toddler sizes 4 to 5 (18 to 30 months).
6. Stride Rite SRTech Elliot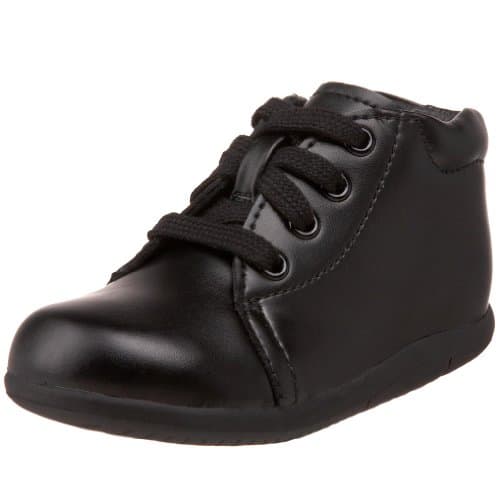 Rite SRTech Elliot is a pair of stylish baby walking shoes. The boots from Stride Rite are paired great with cute shorts or a dress. Not only style, but they also excel with the necessities enacted like the traction and design allowing the baby to feel as if they are walking barefoot.
These classic shoes are made with 100% leather and feature a rubber sole and an elastic lace helping the shoes to stay in place. These are available in sizes 3 to 7 (for infants to 4 years olds), which includes half sizes, and in three different widths.
7. Stride Rite Tulip Sandal Sandals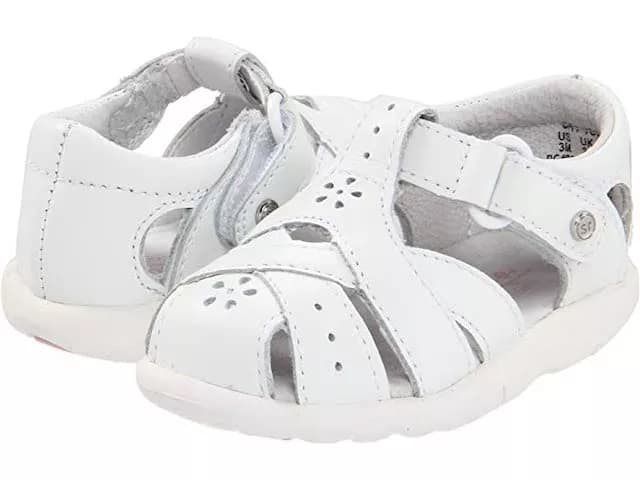 These will make the baby dazzle with their adorable flower design and premium white leather Sandal. They come in a huge range of sizes for infants to 4-year-old tots and in multiple widths. These Tulip sandals promote foot development and also offer protection from indoor and outdoor activities.
They have a memory foam insole with a flexible structure, round rubber sole that reduces the risk of falling with a hook-and-loop strap. These Sandals have sensory pods on the sole to make them feel barefoot.
8. Nike Flex Contact 4 Sneakers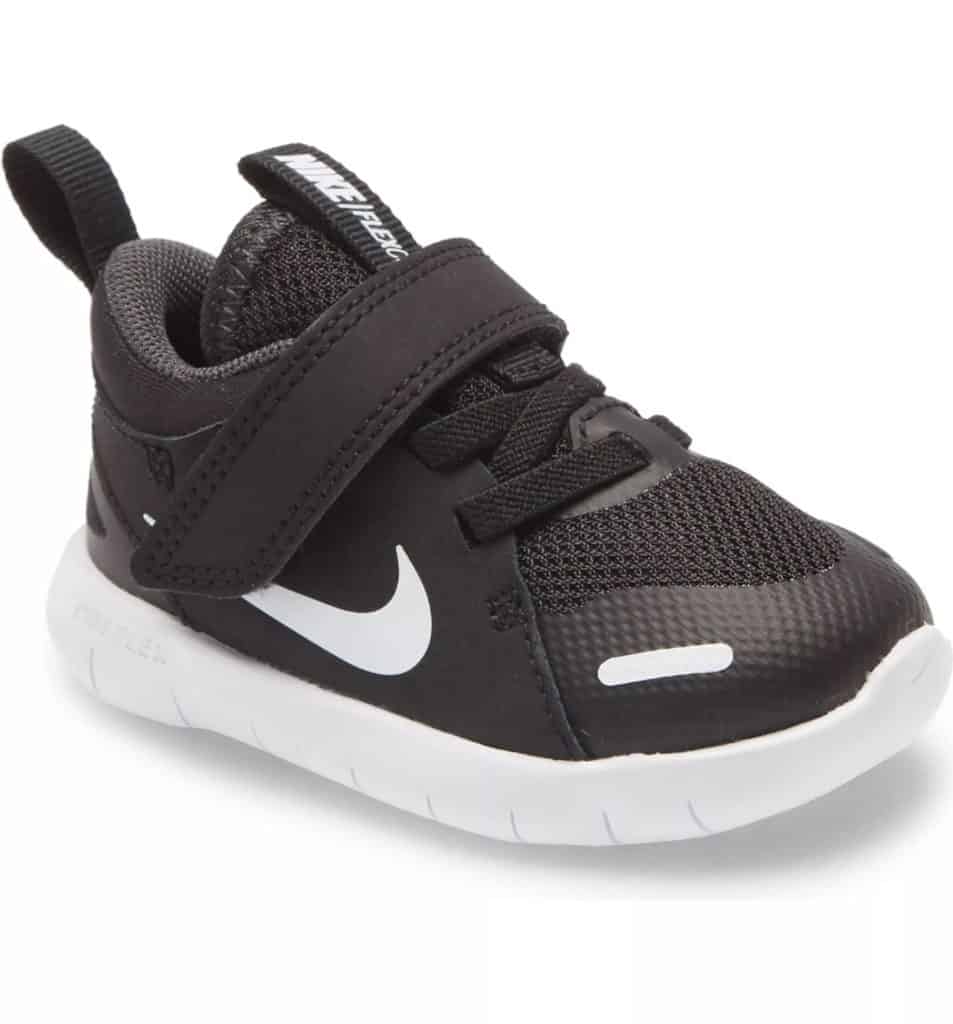 Does your baby run around and you're scared of their safety? These sneakers might just be made for you. These Nikes help keep them safe and are made with breathable mesh upper materials along with a rubber sole for good traction and safety. These are available in sizes 2 to 10.
According to Dr. Cunha; kid's shoes must have shoelaces, velcro, or any fastening system to be safe and secure. Nike Flex Contact 4 Sneakers comes with a velcro strap that helps the sneakers stay put and also makes it easy to take on and off.
9. Converse Kids Chuck Taylor with a Rubber Sole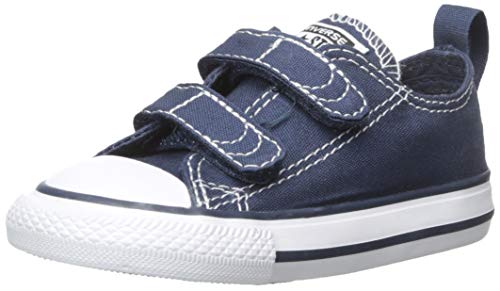 These shoes have a rubber sole that helps the baby to find their balance on uneven ground. For good air circulation, the top of the shoe is made from canvas and has two hooks and loops velcro straps to keep the shoes tight.
This Converse is available in sizes from 2 to 10, for infants and kids up to 8 years old.
10. Stride Rite Splash Water Shoes
These little walkers are at their best age to experience splashing in the kiddie pool or at a water table. This however poses a problem for their little feet, especially in a pool surrounded by hot asphalt.
Therefore, it is important to pick a shoe with durability and protection. Dr. Cunha states that shoes must be lightweight and should be supportive, and durable. Stride Rite water shoes are designed to dry quickly when they get wet that helps keep the baby's feet from sliding and causing falls. They are available in sizes from 3 to 6 for infants to toddlers 4 years old that include half sizes, and in medium or wide widths.
11. Ugg Kids Bixbee Ankle Boot Winter Shoes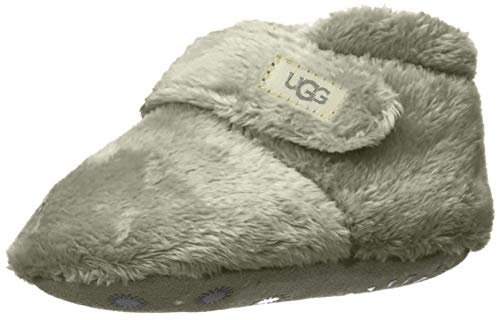 These are the best shoes designed for colder climates that help keep the little feet warm and features a velcro strap that keeps the shoe firmly in place. These booties have soft terry upper and an interior that promotes foot development and the rough sole with small textured stars help with some traction, although you may not want the tot to test their walking skills on the ice just as yet. They are available in sizes from 1 to 5 and for kids up to 24 months old.
Either of these shoes would keep your baby's feet protected and stable as they are thoughtfully designed and styled for machine wash to extend their life. One must keep their use in mind to purchase the right one.
Best Baby Walking Shoes FAQs
1. Do Babies tend to walk better with shoes ?
Researches have shown that babies and toddlers can be barefoot that allows optimal foot development. But shoes help the baby with a firm grip, maintaining the structure and helps prevent the baby from external danger as kids tend to be adventures when they just start off walking.
2. When should one buy walking shoes for a baby ?
You must be aware of the signs as to when the baby is ready to walk. As soon as they are, you must have little shoes ready for them.
3. Are Crocs good for babies that are learning to walk ?
One must make sure the shoes being lightweight to minimize the effort required at the kid's end. These open-toed shoes, crores, and flip flops are not ideal for toddlers as they are unstable and encourage toe-gripping leading to toe deformities.