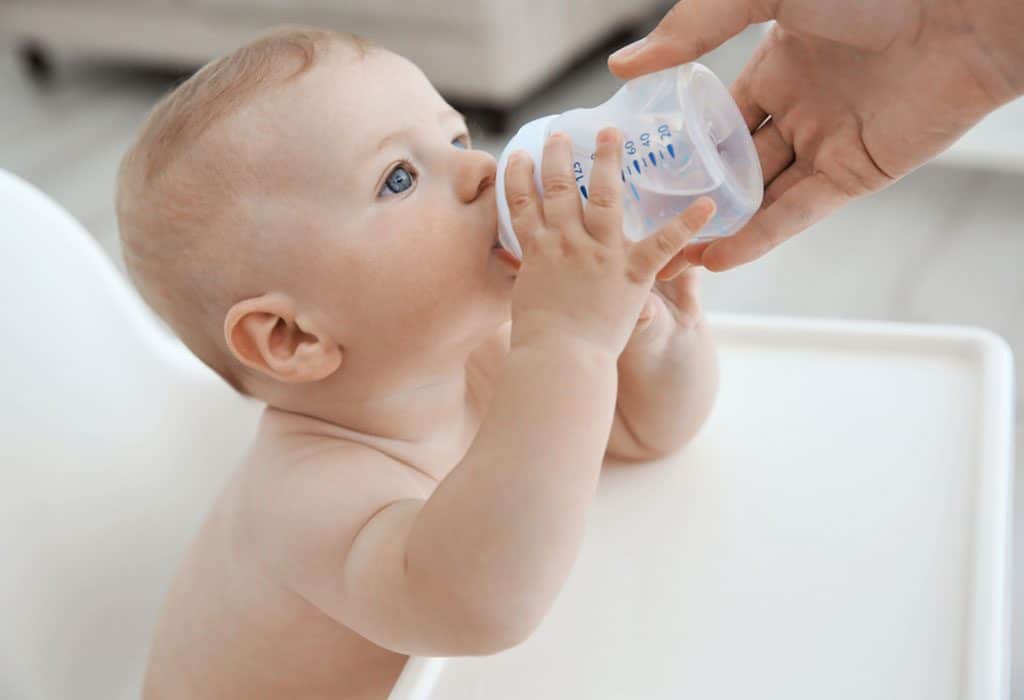 As parents, it could be hard to see your little baby suffer from colic or abdominal discomfort due to the gas buildup. Such discomfort often yields incessant crying causing parents to desperately look for ways to alleviate their pain.
This is where the Gripe water for newborns works its magic. It is a tried and tested remedy for babies that are fussy due to the discomfort caused by colic resulting in hiccups, and other discomforts.
It is a tested remedy to ease infants facing symptoms of gas, colic, hiccups, and fussiness. Gripe Water contains ginger roots and fennel seeds that help ease nausea and other discomfort caused by gas and colic symptoms. Throughout generations, mothers have used variations of gripe water, with products that now focus on quality ingredients.
Is Gripe Water safe for babies ?
Gripe water is made from natural ingredients like herbs that are incredibly mild for the digestive system of the baby ensuring safety. It does not harm the baby's developing digestive system as it does not include gluten, alcohol, dairy, soy, or parabens. This makes it effective in bringing peace to the home.
When to use Gripe Water For Newborns?
With the internal organs still developing the little ones often experience gas buildup resulting in discomfort that leads to painful cries quite often for extended periods. It is sadder as the
younger ones cannot themselves work to find relief from the pressure of the gas buildup.
If your baby cries for more than three hours a day three or in a week, it might indicate the presence of colic.
Prolonged hiccups also cause discomfort to the kids as the muscles in the abdomen
continuously contract repeatedly. This can also be caused by the intake of air while feeding too quickly. Choosing gripe water for the babies and the newborn's helps relieve the gas pressure and the build up caused due to the hiccups as they are a common cause found for internal discomfort in infants up to six months of age.
What is the job of Gripe Water For Newborns?
It helps relieve gas caused due to different issues with your new-born. Gripe water with the
A blend of the herbal ingredients forms a mild drink that is safe for the new-born's and infants that work gently to the problems faced by the baby in the first six months.
Here is a list of things Gripe water could help recover from:
Colic symptoms
Fussiness
Gas build up
Hiccups
How is Gripe water made ?
It is a mixture of natural herbal ingredients that have been existing over the years. There also is a variation of a recipe that uses ginger as their main ingredient.
Parenthood Bliss Gripe Water on the other hand contains organic herbal ingredients and doesn't contain any gluten, alcohol, dairy, soy, or parabens. It has ginger and fennel that work together to calm the hiccups, soothe upset tummies, and ease symptoms of colic.
How does Gripe Water work ?
Gripe Water is a gentle supplement that offers relief to babies suffering due to gas, colic, hiccups, or fussiness. It also helps settle the stomach by relieving gas build up as it contains fennel and ginger that are historically known to ease nausea and discomfort in the stomach.
While most babies would need Gripe water soon after feeding as there are more chances of getting gas from eating too fast or from gulping in air. It is perhaps always a good idea to wait for at least 30 minutes after feeding as this allows time for the food to digest.
How to use Gripe Water For Newborns?
It comes in a liquid form and can be fed directly to the baby. To avoid diluting the solution, fill it in a dropper or a syringe to feed your baby or from through an empty bottle.
Its serving size is considered important and must be done per application based on the age of the baby. It is recommended to use gripe water about six times a day following the dosages here:
For newborns and Infants of the age two weeks to one month – ½ teaspoon (2.5 mL)
For babies of one month to six months – 1 teaspoon (5.0 mL)
A six month and older baby – 2 teaspoons (10.0 mL)
For Adults – two tablespoons (30 mL)
Are there any side effects of using Gripe Water For Newborns?
As Gripe Water is made from gentle herbal ingredients, they are unlikely to have any side effects. You may notice your baby finding comfort, sleeps more often after the administration of Gripe water. This is as the baby has been suffering from colic and extreme discomfort and gas, they are often exhausted with tension. The consumption of Gripe water offers relief helping the baby get some rest required.
Please make a note of consulting your paediatrician before giving it to your little one anything for that matter.
Some important points to keep in mind:
We have compiled few pointers for you to make sure as using the Gripe water for your babies:
Gripe water can be given to your baby anytime they experience discomfort. Make sure if the little one has just eaten to wait for at least 30 minutes after feeding to help them digest and then administer Gripe water. Note to consult the doctor before you start using it.
Gripe water can be given up to six times a day depending on the age. Refer to the points above for the same.
Gripe water is mild. Therefore if you choose to mix it up it would just dilute the solution. Until that's what you're looking for, feeding the newborn baby on itself is good to go.
Gripe Water For Newborns Final Conclusion
Using Gripe water is a great way to help ease the newborn's stomach discomfort due to gas buildup. It is a mild herbal supplement used as a safe option to help relieve the baby from hiccups, and colic. It is also NSF certified and loved by mothers.
Gripe Water for Newborns FAQs
1. Should gripe water be given to a baby before or after feeding ?
Babies have different needs and symptoms therefore there isn't a specific time to administer gripe water. But, mostly babies consume Gripe water after feeding as they can complain or show discomfort resulting from eating too quickly and gulping air as they feed. It is recommended to administer Gripe water at least 30 minutes after feeding
2. How to give babies Gripe water ?
Use either a dropper or an empty bottle to feed the baby Gripe water.
3. Can I use gripe water along with gas relief drops?
Yes! It is completely safe to use Gripe water with gas relief drops.