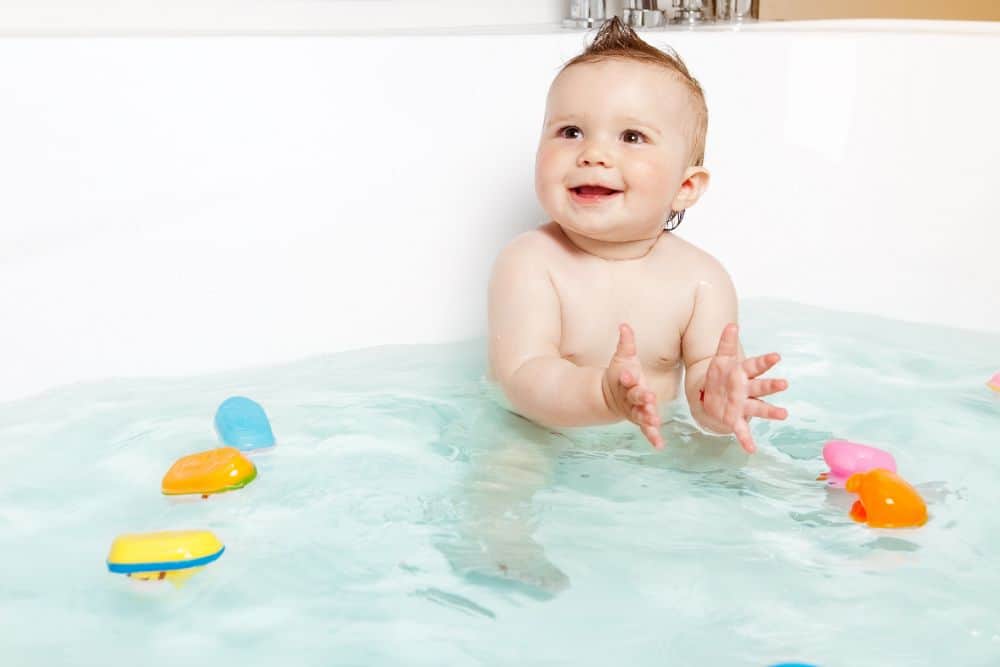 Getting your little ones to take a bath can be a tedious task. But, with time it is sure to get better. Preparing a bath time for your toddlers and making it fun is no easy task. Parents were really looking for products that would become a boon for them.
Now, there is a key to make your toddlers enjoy bath time and that is where bath toys come into the picture. Image a tub filled with a fun, foam-filled bathtub with toys that will not just entertain you but will also help you improve your skills? Bath time will no longer be just plain water but a tub filled with tons of things to explore.  Colorful yet educational bath toys can serve as an enjoyable experience for both the toddler and the parents.
Best Bath toys aren't necessary for infants and babies up to 9 months old. But as the baby gets older, bath toys turn into a boon for the parents as the toys can keep the baby happy and engaged. These toys are available in different sizes, colors, and styles for various age groups. It can get a bit difficult to choose the right toy to keep their little hands busy.  Though the tiny hands might find simple colorful toys attractive at first, they might find themselves drawn to some complex bath toys  for babies over time. Get ready to mold the skills of your little one to another level.
10 Best Baby Bath Toys for Babies/Toddlers
Let us recommend some of the best bath toys for babies, which will give your little one the best shower experience and it is a sure shot that the baby will never want to miss his bath time again.
Some of these toys are colorful, some stick to the wall, some let children of all ages explore their imagination by drawing on the walls with Crayola crayons. So have a look at some of the most exciting toys for little ones, these will definitely be a boon to your day-to-day routine.
1. Babybibi Floating Baby Bath Books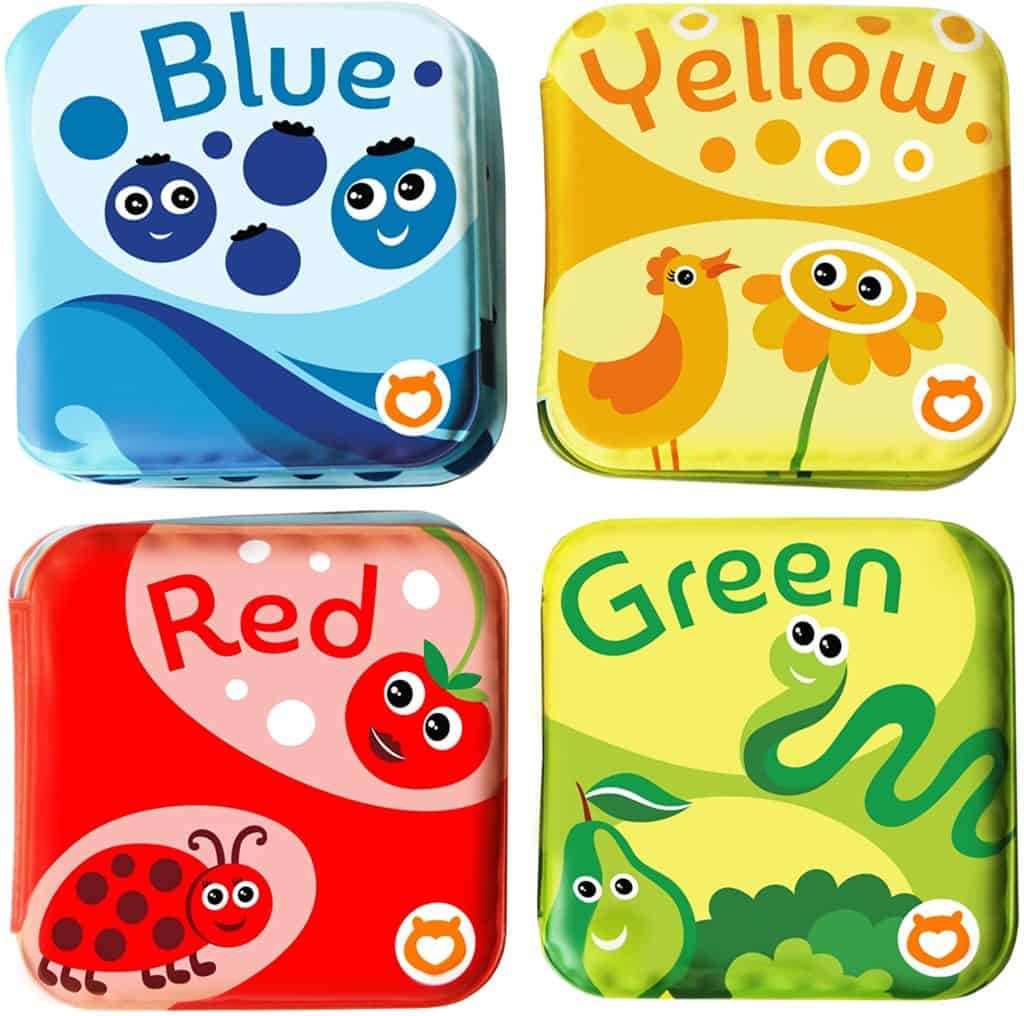 Age : 0-3years
Bath books are a genius, the best bath toy for babies. As it is said, there is nothing known as too many books, and these can be categorized into educational bath toys.  With a simple and easy-to-follow storyline, any kid can fall in love with these. The plus point is that these bath books are not just waterproof, but the bath toy floats too! And this toy can be used for older kids as well. It will definitely be a fun time for the toddlers during their bathtime.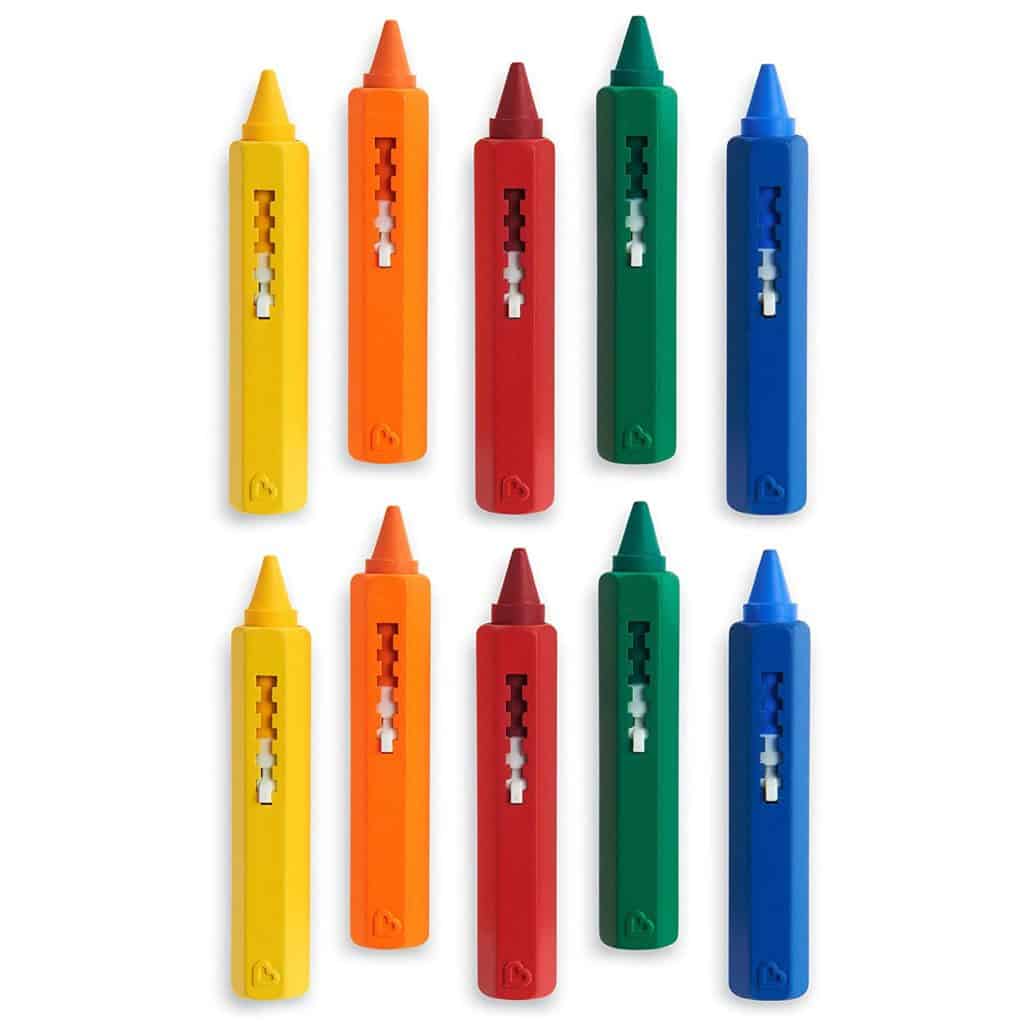 Age: 3 Year+
Want to draw on the walls and get away with it? An amazing yet best bath toy has just been designed for these. Well, this might be their only chance at it. Bath crayons are washable and they would come off with just a wipe with a sponge. So, while your baby enjoys a drawing session in the tub, you can add some play bubbles and get them distracted while you get the baby clean.
3. Munchkin White Hot Safety Bath Ducky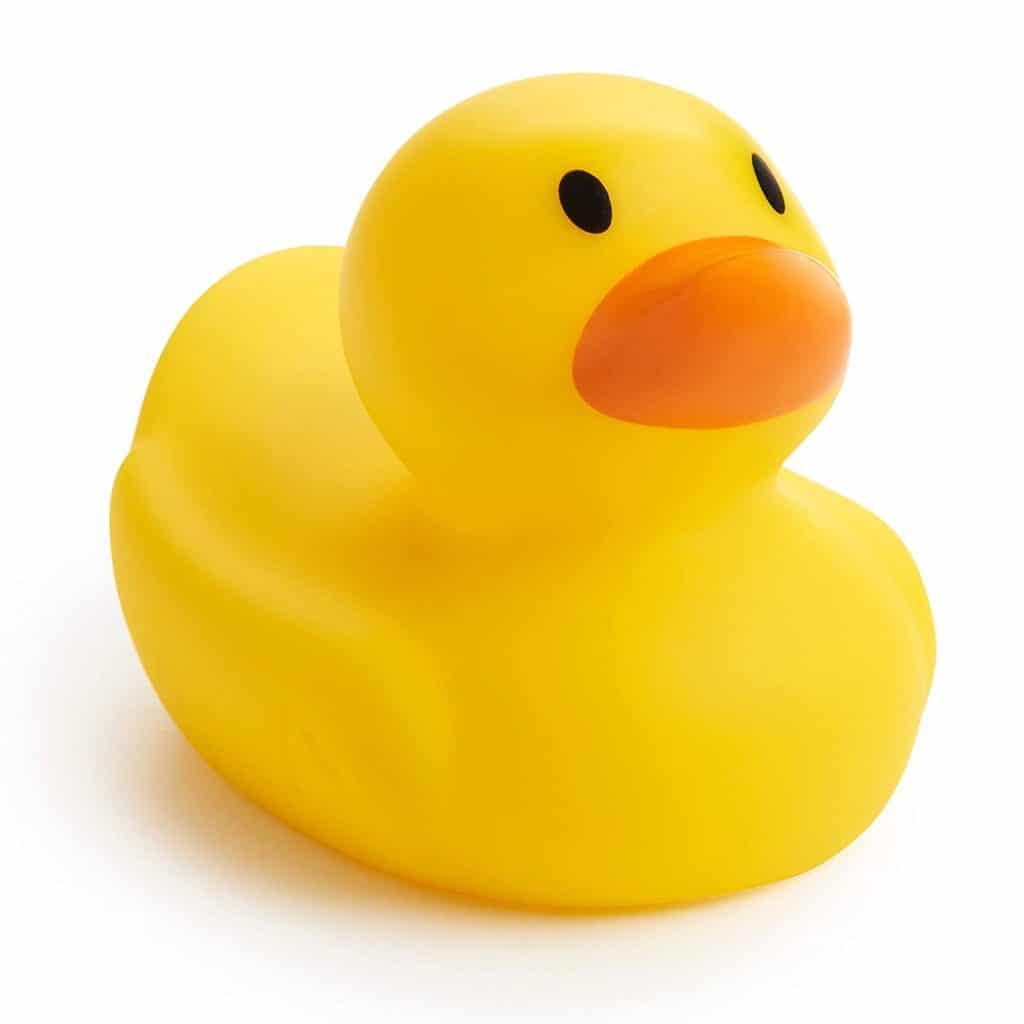 Age: 0+Years
Start with the basics they say, and here is one of the best bath toys for babies that you can give your toddler. This adorable white hot safety bath ducky tells you when the water is too hot for the baby's sensitive skin. This watertight rubber ducky is easy to grab.
4. Munchkin Float and Play Bubbles Bath Toy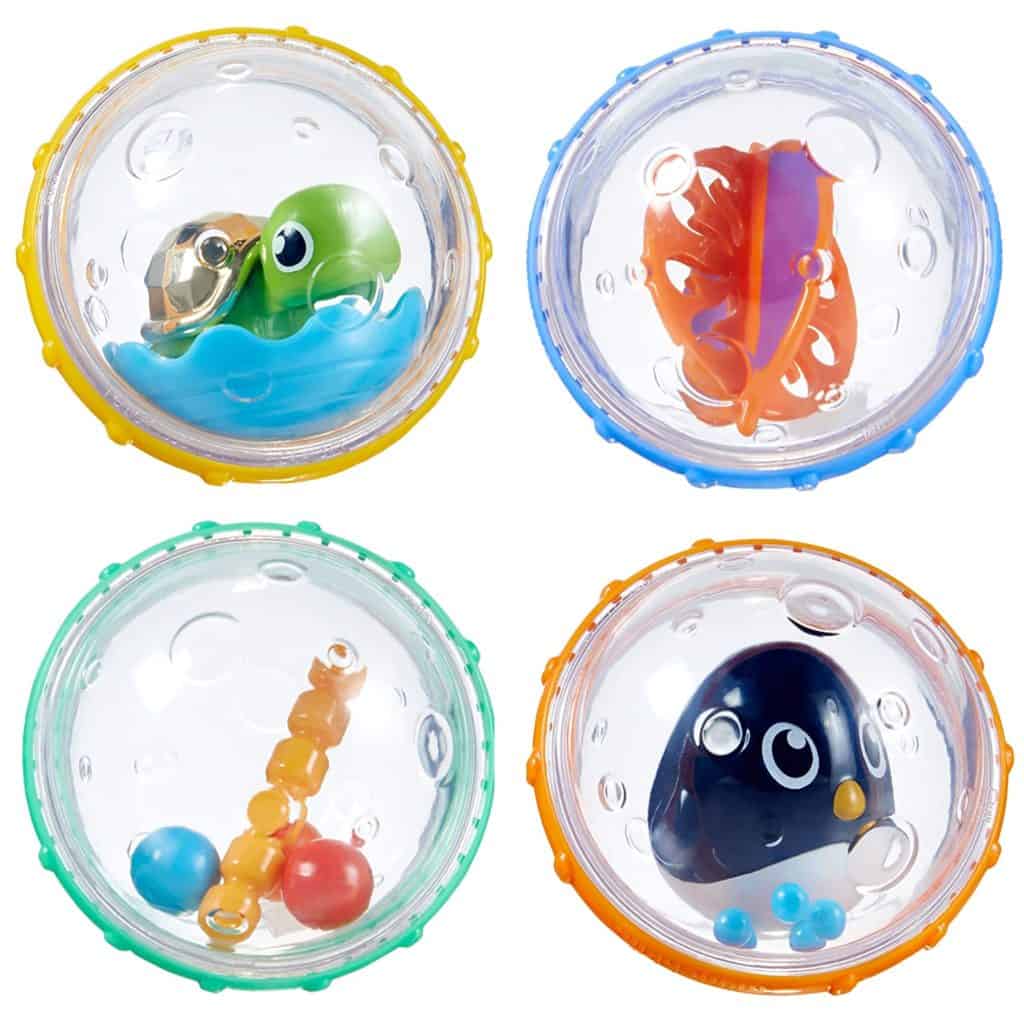 Age: 4 Months +
There would be no child who would neglect a bath toy like this. Each floating bubble makes a unique noise that will encourage that sweet, gummy grin you love to see. They are easy to hold and will float easily. In addition to this, one can fill the bathtub with floating letters and bubbles too, this will help the children to improve their skills. This bath toy is mold-free since there are no holes, cracks, or crevices to trap water.   This can be considered the best baby bath toy suitable for all ages.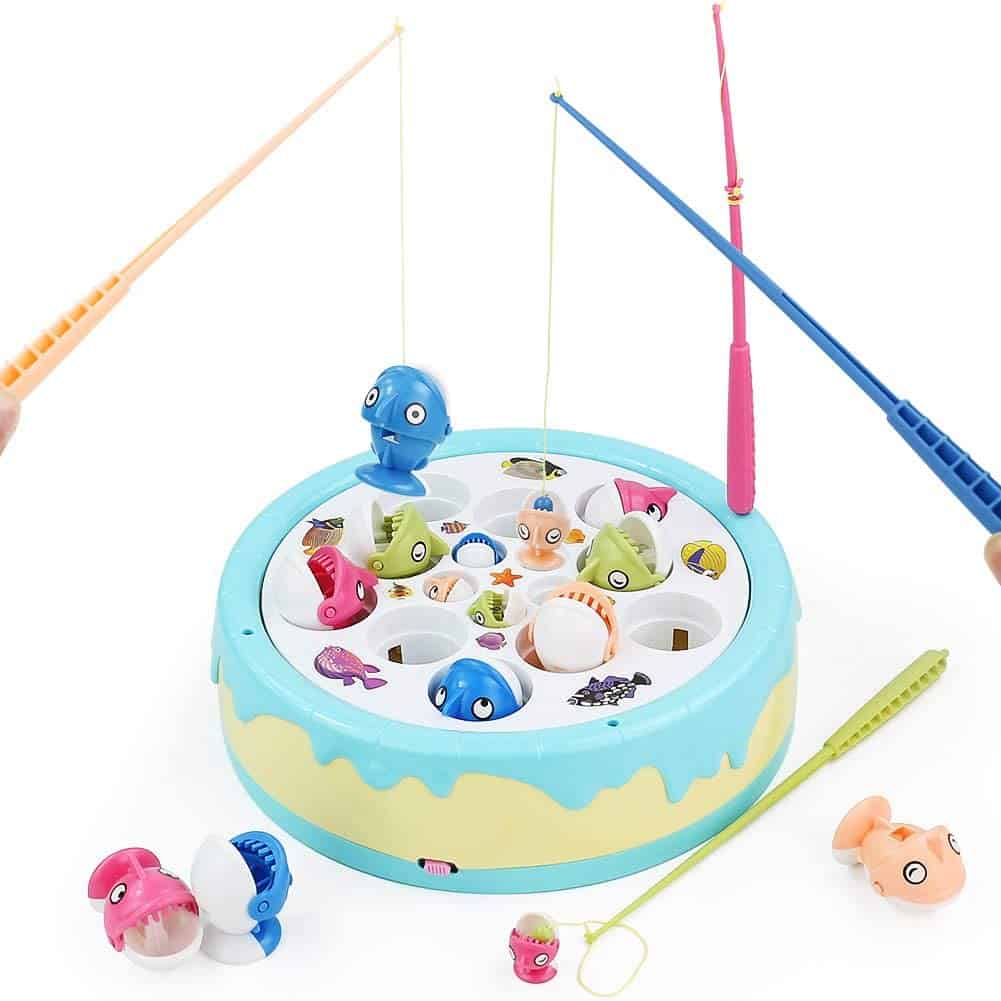 Age: 2 Years+
One of the best bath toys for babies to improve hand-eye coordination is the fishing toy. Even if your toddler hates fishing, they wouldn't be able to control their urge to catch these magnetic bobbers floating in the water with this fishing bath toy's mini rod. And what better than this bath toy to distract your babies and toddlers. And trust us, this is going to be fun.
6. Foam Bath Toys Numbers and Animals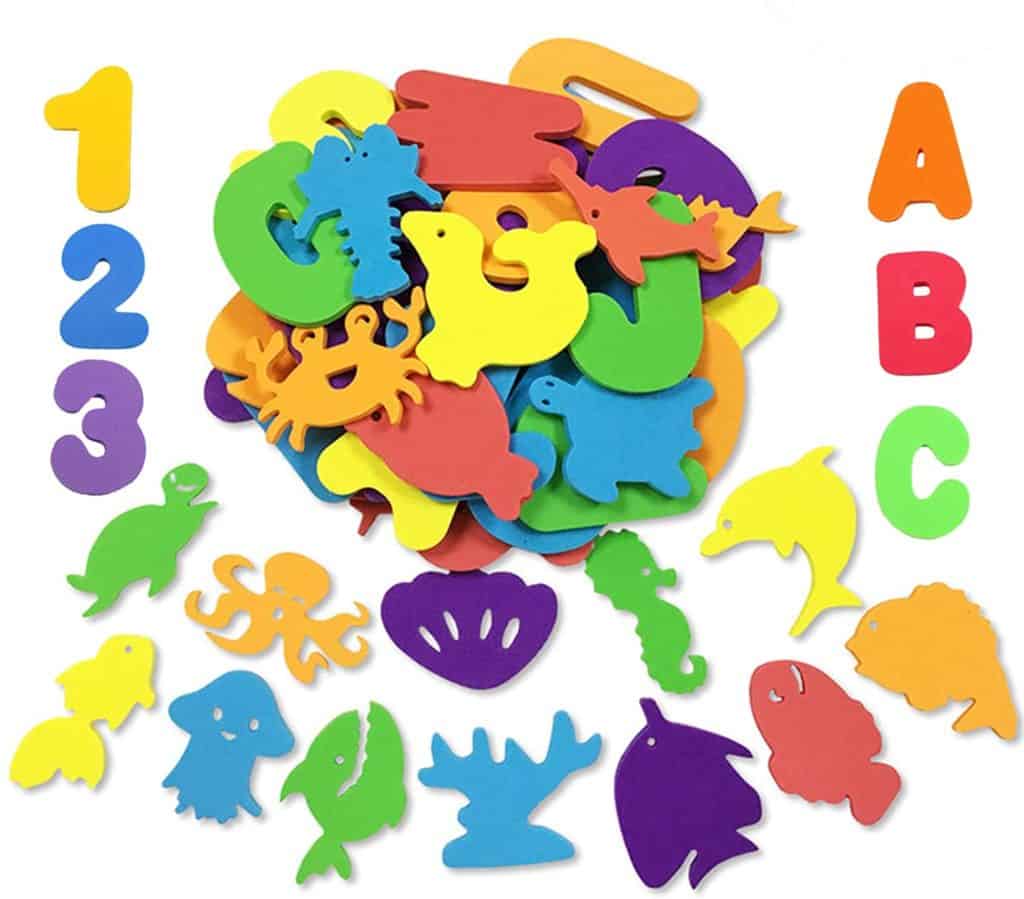 Age: 1- 4 Years
Foam letters and animals are the best to improve various skills in your little one. Using the motor skills, the toddlers can catch the floating toys and stick them to the wall. With the help of alphabets, one can help their child to learn different names of the animals too. It is one of the classic examples of fun learning.
7. Yookidoo Spin N Sort Spout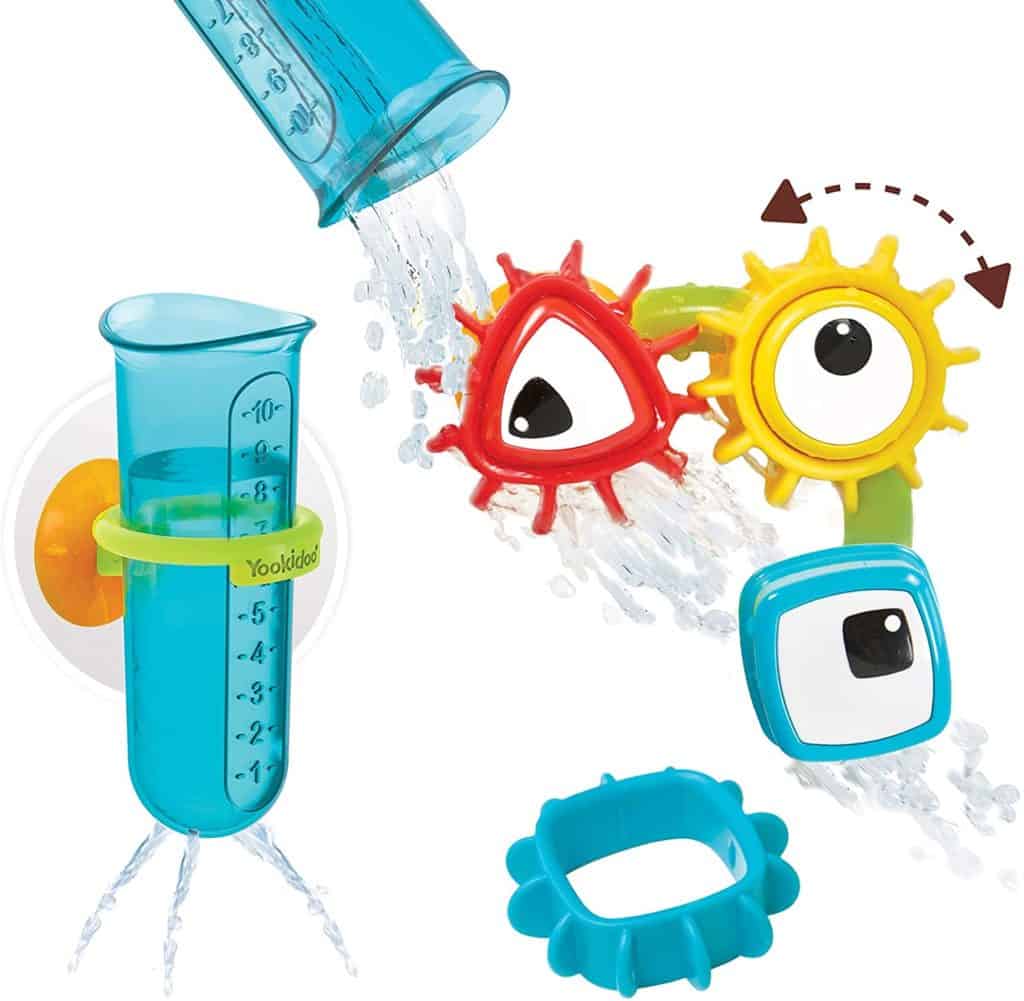 Age: 9 to 36 months
Want something to develop your child's motor skills? Well then, here is an amazing interactive bath toy for toddlers. The Spin n Sort Spout makes bath time fun. There are three interchangeable cups and it uses bath water to create different effects like spraying, straining, and floating.
8. Yookidoo Baby Bath Mobile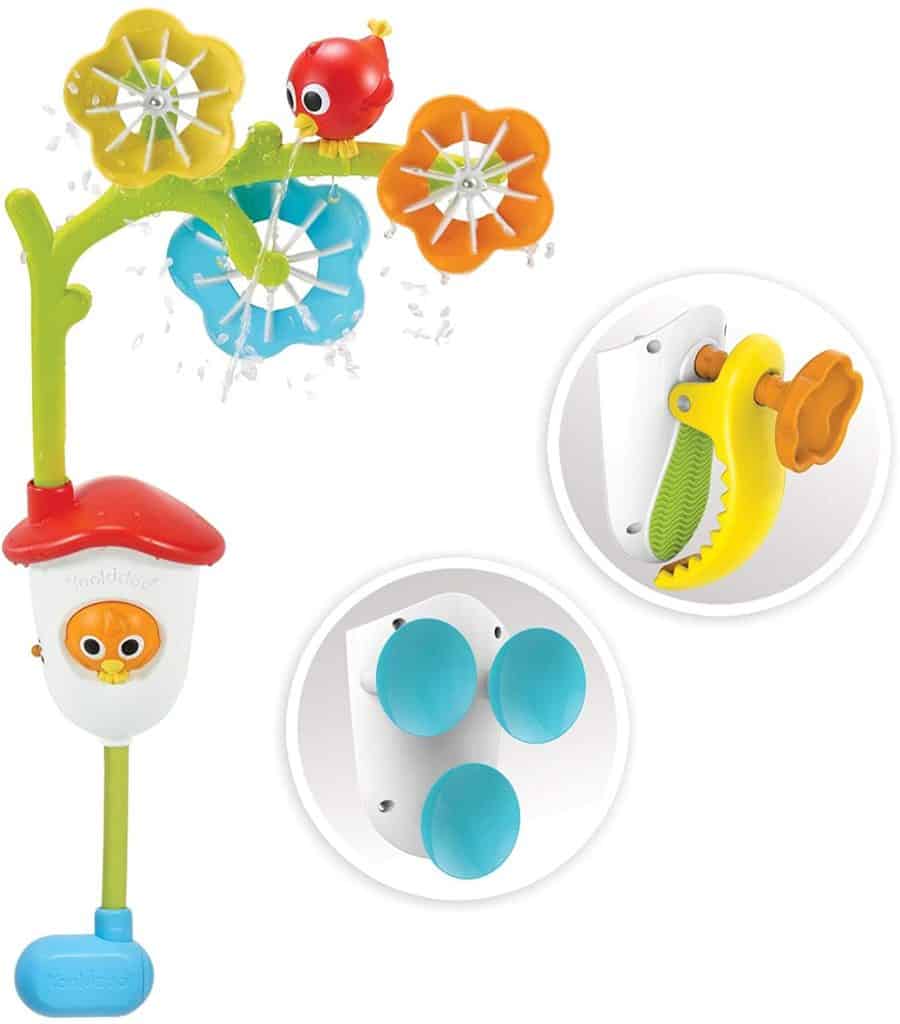 This is a sensory toy that helps in mental stimulation and hence it becomes one of the best toys to distract your kid.  It has a spray feature, which will abuse the kids. It is also easy to clean and it fits a variety of tubs and grows with your baby to toddlerhood.
9. Boon Jellies Suction Cup Bath Toys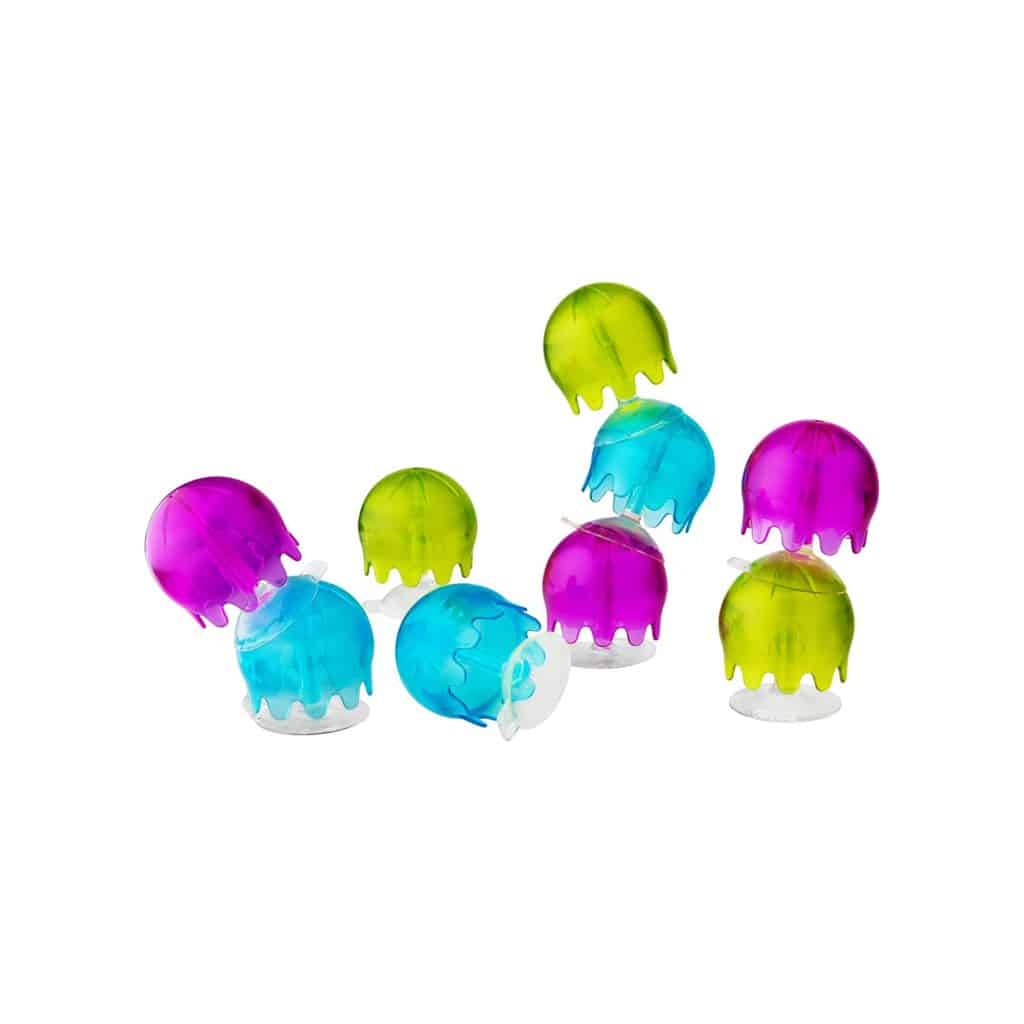 Age: 1+Years
Let your kid enjoy some squishy splashy time in the tub with these super amazing little jellyfish. These jellyfish will bring lots of creative fun to your child's life with lots of stacking and sorting. Nine brightly colored jellyfish equipped with a suction cup allow them to stick to the tub wall or say to each other.
10. Nuby Octopus Hoopla Bathtime Fun Toys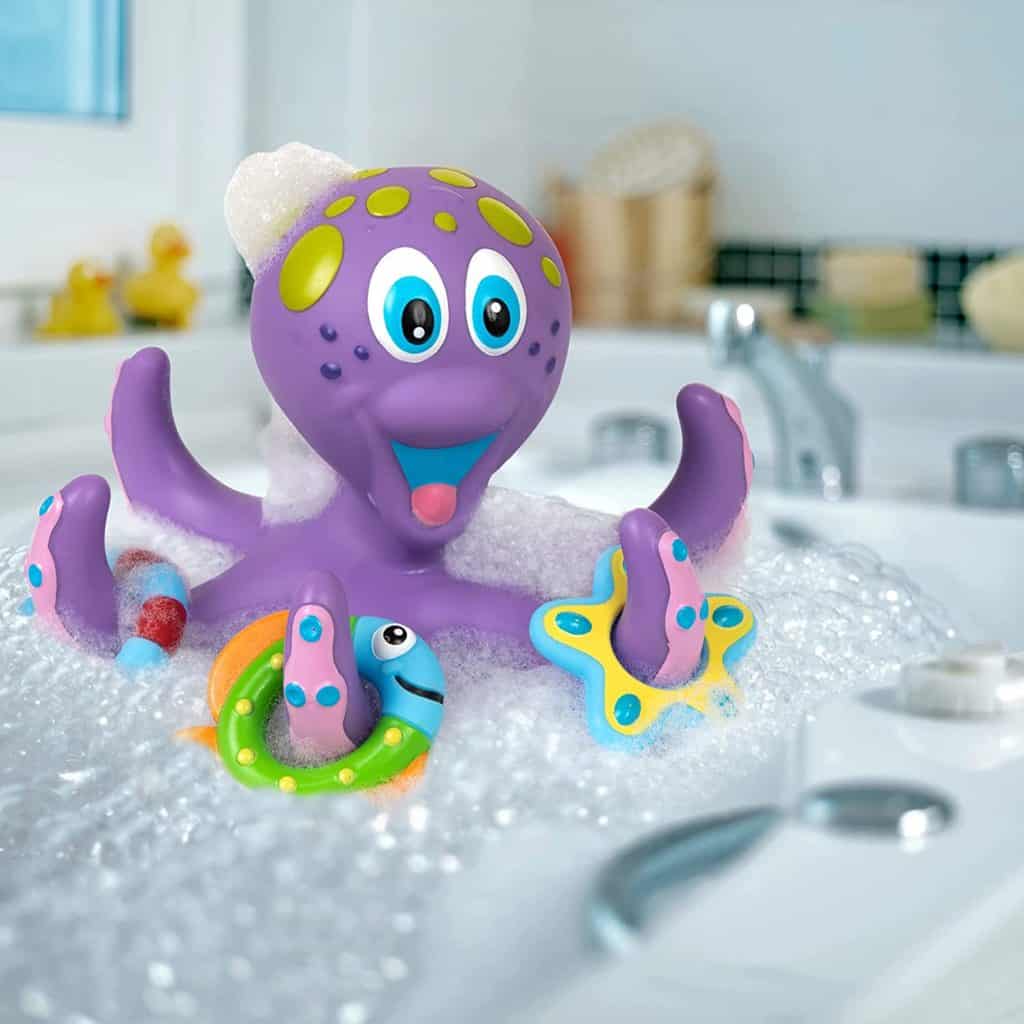 Age: 18 months+
Need toys that can sink, squirt, and do more? Well, the Nuby Octopus is the perfect thing for your kid. This toy also helps in hand-eye coordination as they try to place the rings on the octopus's legs. This toy can also be an outdoor activity (kids pool). Also, stay tension-free of molds as there are no holes in the toy.
How To Choose The Best Bath Toys for Babies
Bath time can be considered as a bonding time between parents and the child. The best bath toys for babies add an additional fun element to the everyday boring and tiring routine. Bath toys can also serve as a learning and exploring time for your munchkins. Hence a majority of parents will prefer toys that will encourage growth and imagination. Now it depends on you and your child to either opt for foam letters, motor skills toys, or those geared toward creative play like the one with letters and numbers.
One thing that every parent must keep in mind while choosing any baby bath toys is the quality. Make sure the toy that you get for your toddler can be exposed to heat. The main reason for considering this as an essential step is because even if the bathwater is at room temperature, there is no guarantee that your toy would withstand the hot shower steam.
Make sure you choose bath toys after checking the age guidelines. It is not necessary that your infant would want a complex toy to play with. A soothing bubble bath in a tub would be equally exciting for your little one.
Key motor skills can be developed with the help of sensory bath toys. They are also helpful in distracting your little one while you get them spick and span. You can look for drain cups and light up bath toys, these will engage your tiny tot's senses.
Avoid getting bath toys that are difficult to clean. Air drying your water toys after each use is advisable, as soap scum and grime can build up over time. It is recommended to buy toys that are dishwasher safe and dry fast. Squeezable bath toys with holes in the center can be avoided as they are difficult to clean.
How To Store Bath Toys for Babies
The most basic question that is asked often is how to store and clean your baby's bath toys. Well, it is recommended to wash them regularly and store them separately. Babies can restrict themselves from chewing or munching on anything that comes into their hands, and bath toys are no less, hence it is advisable to make sure no toys are left behind in the bath.
If you have been dreading bath time with your little ones, then it seems it's the end of your nightmare. With the right choice of best bath toys for your kids, bath time can turn into one of the fun routines of the day. These toys are of educational use, improves your baby's senses, and helps in being imaginative. Not to forget that these toys also help older kids to stay engaged. Ranging from toys with letters and numbers, ones with sea creatures to the ones that can stick to the wall and light up bath toys, there are a variety of options to choose from that will make a toddler bath easy and fun.
Not to forget the rubber ducky and skip hop whale bath toy! One has to just realize what your kid likes more, and find a toy suitable for him, and then watch the dreadful thought of getting your toddler into a bathtub vanish. Just make sure to introduce these fun toys to your child at the right time and make your munchkin crave for their bath time each day.
Best Bath Toys FAQs
1. When Should One Introduce Bath Toys ?
The best time to introduce the world of bath toys to your kids is usually when they are six to eight months old. This is the time when they start exploring. Introducing these bath toys at this age will also make them active and smart, it even activates these senses and improves their hand-eye coordination. It is also a fun activity. Look for baby-safe bath toys before you make the purchase. You might also come across some eco-friendly, phthalate-free, BPA free and mold-free toys for your child.
2. Are Light Up Bath Toys Safe ?
Light-up bath toys are best to distract your kid. The most important question asked frequently is how safe is to use this toy. Well, this fun toy can be safely used and there is no harm that will be caused. Just with a click of a button, the light-up bath toy will glow beautifully and hence entertain the kid. This water-friendly floating toy can be categorized into the best baby bath toy.
3. How Do I Keep My Bath Toys From Getting Moldy ?
A lot can be done to avoid bath toys from bacteria and molds. Sterilize bottles in boiling water, squeeze out the rubber ducks and hang bath mats to dry. The holes in some toys can be sealed in order to avoid damage. You can also soak the toys in half a cup of white vinegar with a gallon of water and let them soak for an hour. These methods will make the toys safe for your babies and toddlers.