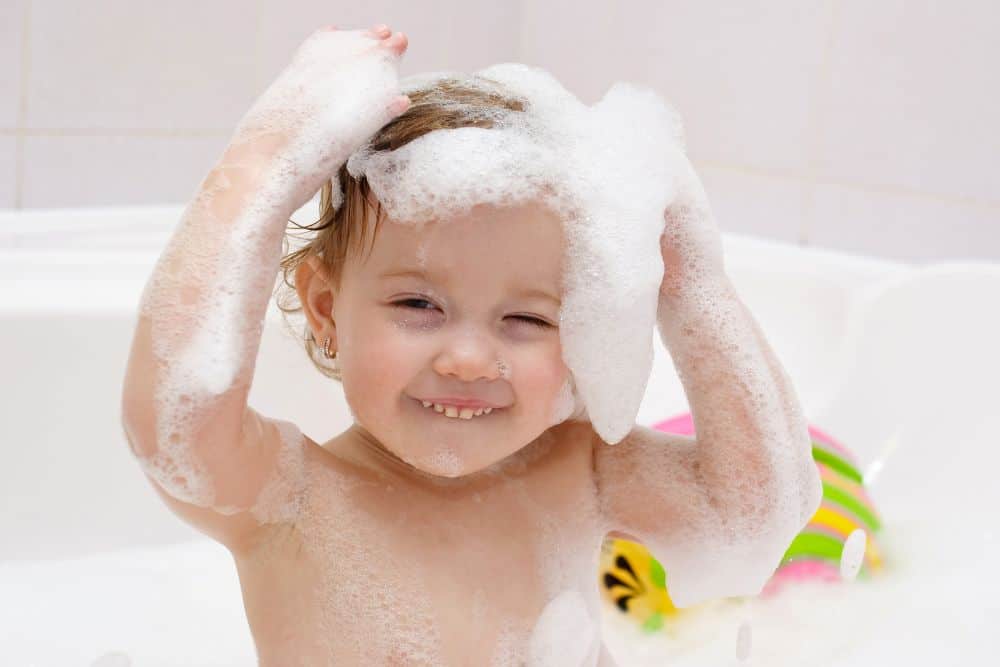 Bath-time can be either a fun time or a complete nightmare. Your little one will either love bathing or loathe it. Either way, it is good to look for some fun methods which will encourage them to enjoy the water. Make bathing a fun action-packed adventure. But if your little one dreads the sound of the tub running, we have the best bubble bath collusion for your kids.
Best bubble bath for kids is a great way to turn bath-time into playtime. Also, it's good for their development because it's a different sensory experience for them. Moreover, it's a great time to bond. There are a plethora of choices made available for you and your little one. In this article, we will help you figure out the best bubble bath for kid's needs.
Additionally, we'll show you how quick and easy it is to make your very own bubbles. Personalized bubble bath for kids? Who doesn't love it?
Is Bubble Bath Safe For Your Kid?
If you are thinking about purchasing some bubble baths for kids, you might be wondering when they can start using them? Also, can newborn babies use bubble baths?
Urinary Tract Infections (UTIs)
There are some questions surrounding bubble baths and an increased risk of UTIs in infants. Hence, why some medical experts suggest that children under the age of 3 should avoid soapy suds. Remember that some children could still be prone to infection even if they are over this age, but the difference is that older kids can let you know when something is not right. Moreover, you might be able to lower the chances of UTIs during bath time by not letting your baby soak in the tub for too long, and also after bathing, encourage them to pee. Keep an eye out for their symptoms, considering how your baby doesn't talk and can't communicate. Some symptoms can include frequent urination or strong-smelling urine, any obvious discomfort, or a mild fever.
Should you add your favorite soak solution into your baby's bathtime? Absolutely no! Something that feels soothing and relaxing for you, could irritate your baby's skin. Remember that babies have extremely sensitive skin because their skin is just one-fifth as thick as an adult's skin. Our grown-up body has a barricade, which takes time to build up. A baby's first year in this world is their most vulnerable time. If you are putting anything on your baby's skin, it should be baby-specific. Baby bubble baths are designed for a gentler cleanse and it is made with milder detergents, and it shouldn't dry out your little one's skin.
How To Choose The Best Bubble Bath For Kids?
While choosing the perfect baby bubble bath for kids, you need to consider a few things. Excluding the personal choices and preferences, you need to keep some aspects in mind because they are essential.
1. Remember To Check The Small Print
Don't assume that a bubble bath is ok for all ages just because it claims to be child-friendly. There are some products which might not be suitable for young babies or toddlers.
Would you want to use a product that consists of ingredients that you can't even pronounce? On your little one? Always go for natural ingredients because they tend to be less harsh for a baby, and you should have an idea of what they are. Always check the small print, even if a bubble bath claims to be natural. Exclude any products which have some man-made ingredients hidden inside. Also, research any components you aren't aware of.
3. Always Use Tear-free Formula
Babies will naturally splash around in the tub. To avoid any dramas and tearful eyes, opt for a bubble bath that is mild enough to not sting their eyes.
If opting for a scented product, you might want to consider a fragrance that you find appealing. Moreover, even at an early age, children could have clear preferences or dislikes for certain smells. Also, some scents might irritate the baby's skin.
The Best Bubble Bath For Kids Of 2021
1. Babo Botanicals Wash & Bath; Best Bubble Bath For Kids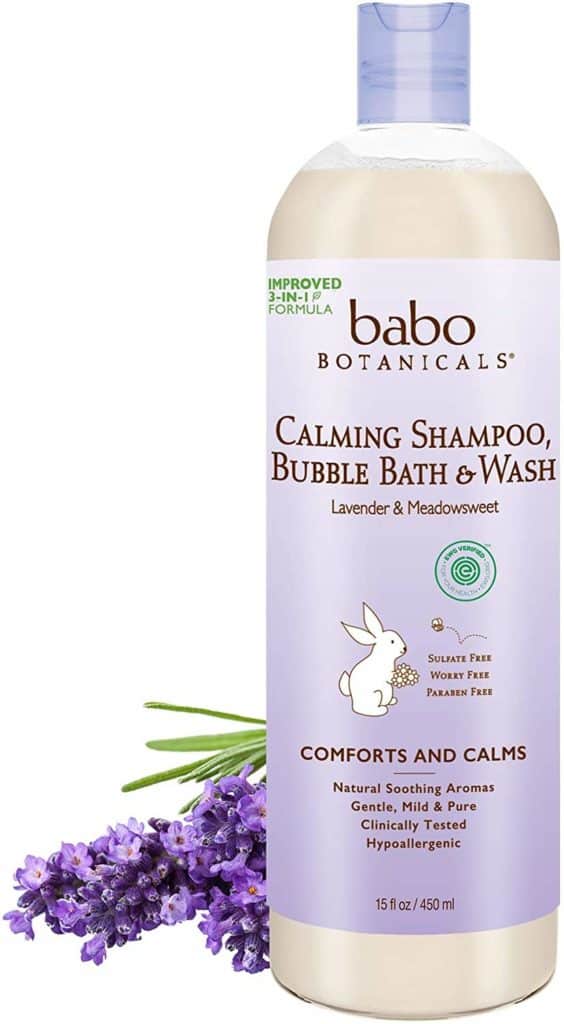 This is one of the best bubble bath for kids. Being a mom means your days are full-on. If you don't want your bathroom to resemble a beauty salon, then you would love this 3-in-1 baby bubble bath for kids. This formula will let you shampoo baby's hair, wash away the dirt, and nourish skin all at the same time. While you get down to business, your little one can play in the bubbles. It is made of natural ingredients and it's free of allergen and any harmful chemicals. It's a tear-free formula, even though it's scented. However, this bubble bath is lavender scented, and some people don't prefer this scent.
Pros
This product is all in one, it's a shampoo, body wash, and bubble bath.
Uses a tear-free formula.
The bubble bath is lavender scented which can be used as a sleep aid.
The bubbles will last long.
Cons
Some people might not like the lavender scent.
The consistency seems a little watery.
2. TruKid Bubble Podz; Best Bubble Bath For Kids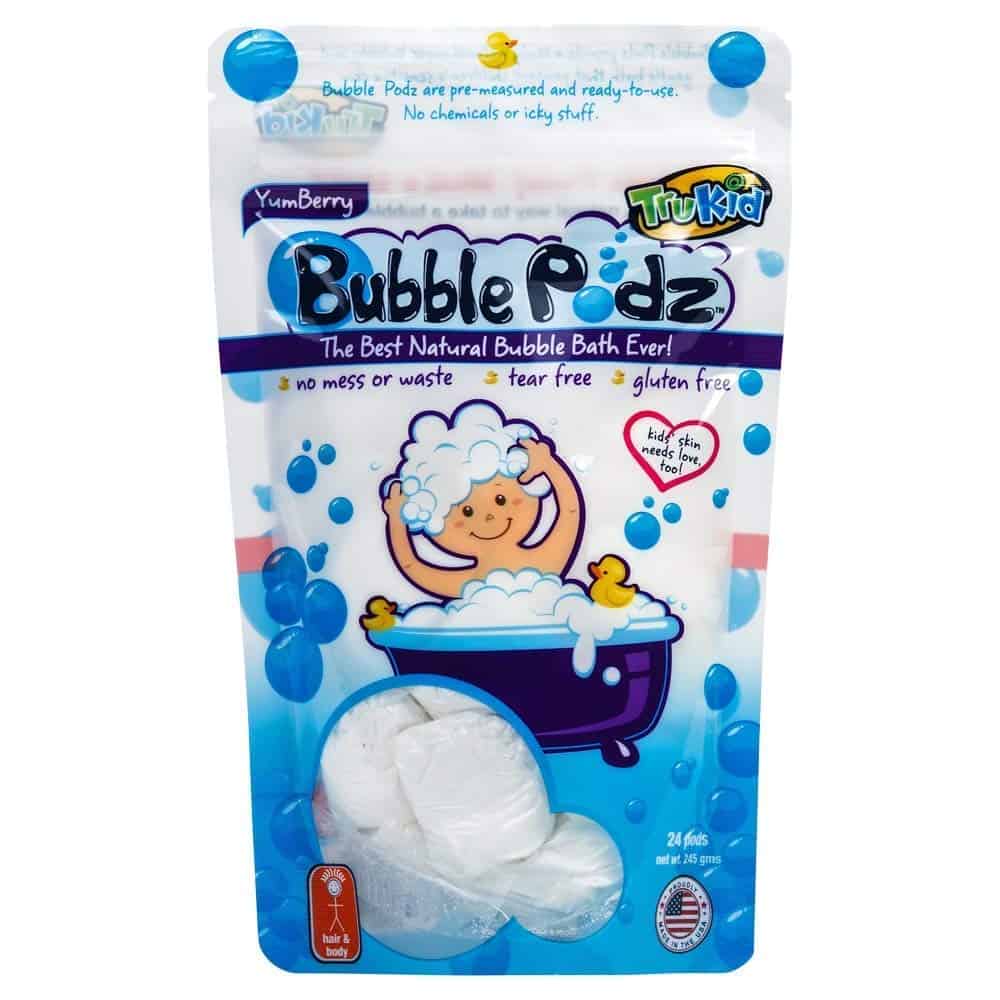 Are you tired of the typical pre-bath struggle and post-bubble bath clear-up? Are you tired of the sticky bottles or spills? Here's the perfect solution, bubble pods! Simply take out a pod and drop it in the bath. You can encourage your little one to hold onto the pod and watch as it transforms into bubbles. However, if your kid loves a big bath full of bubbles, then you might find these pods lacking. You and your baby might find the bubbles produced by one pod a little underwhelming in a big tub. But you can use more, which makes it a little bit costly.
Pros
It is very easy to use.
Using a pod will eliminate any mess and waste.
It does not leave any residue on your little one or in the bath.
Cons
You might find one pod insufficient for a larger tub.
The product has a very little scent.
3. Babyganics Fragrance-Free Bubble Bath; Best Bubble Bath For Kids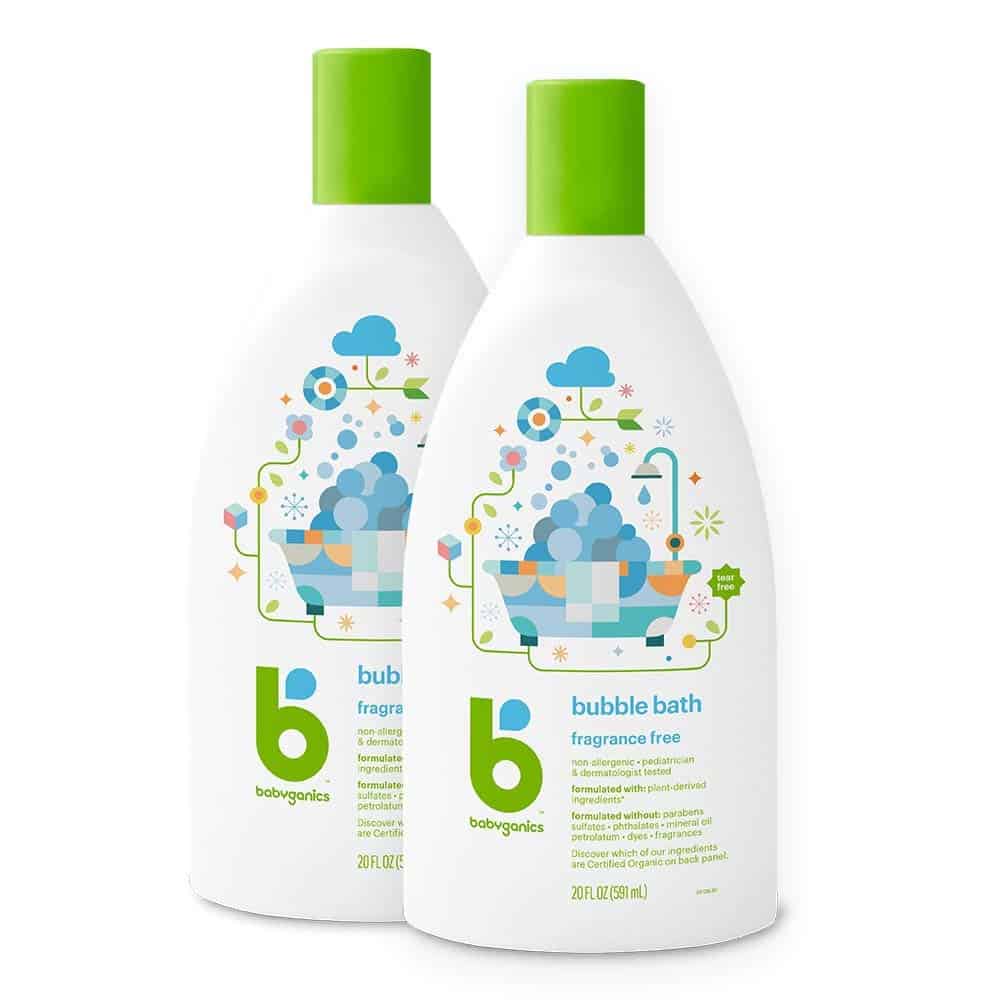 This fragrance-free bubble is perfect if your baby breaks out in a rash around perfumed soaps and you're tired of dealing with irritated skin from other products. It does not contain any harsh stuff, such as parabens and artificial dyes. This non-allergenic bath has been tested by experts, so you use it stress-free. It combines natural fruit and vegetable extracts that will cleanse and nurture your baby's skin. It also includes black cumin, red raspberry, sunflower, tomato, and cranberry oils. Moreover, it is so gentle that even little ones who suffer from eczema can enjoy bubble baths with this.
Pros
It consists of only organic and natural ingredients.
It has a tear-free formula.
This bubble bath for kids will hydrate their sensitive skin.
It is suitable for babies with skin conditions.
Cons
If you want the bath to be super bubbly, you need to use it a lot.
Also, the bubbles don't last long.
4. Burt's Bees Baby Bubble Bath; Best Bubble Bath For Kids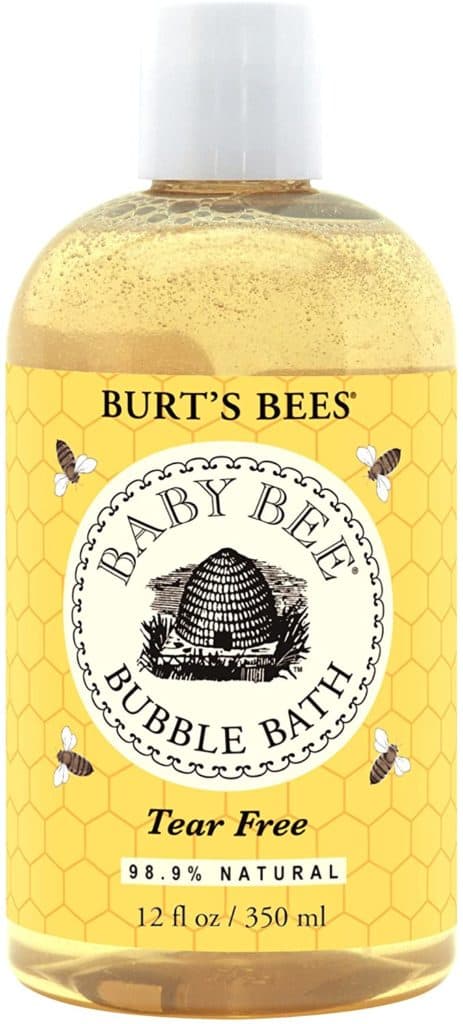 Do you have children that differ in age? Then, save your time and money by buying this bubble bath product! This is one of the best bubble bath for kids as it is geared for children of all ages. This bubble bath is hypoallergenic and is appropriate for even the most delicate of skin. It is best suitable for babies and children who are extra-sensitive. It is 99.8 percent natural and has a mild fragrance. This bubble bath is made out of sunflower and coconut oil, which can help to restore moisture into the skin.
Pros
It suits babies of all ages.
It is hypoallergenic and uses a tear-free formula.
The bubble bath has a light, inoffensive fragrance.
Cons
This bubble bath has fewer bubbles than some other products.
5. Alaffia Baby Bubble Bath; Best Bubble Bath For Kids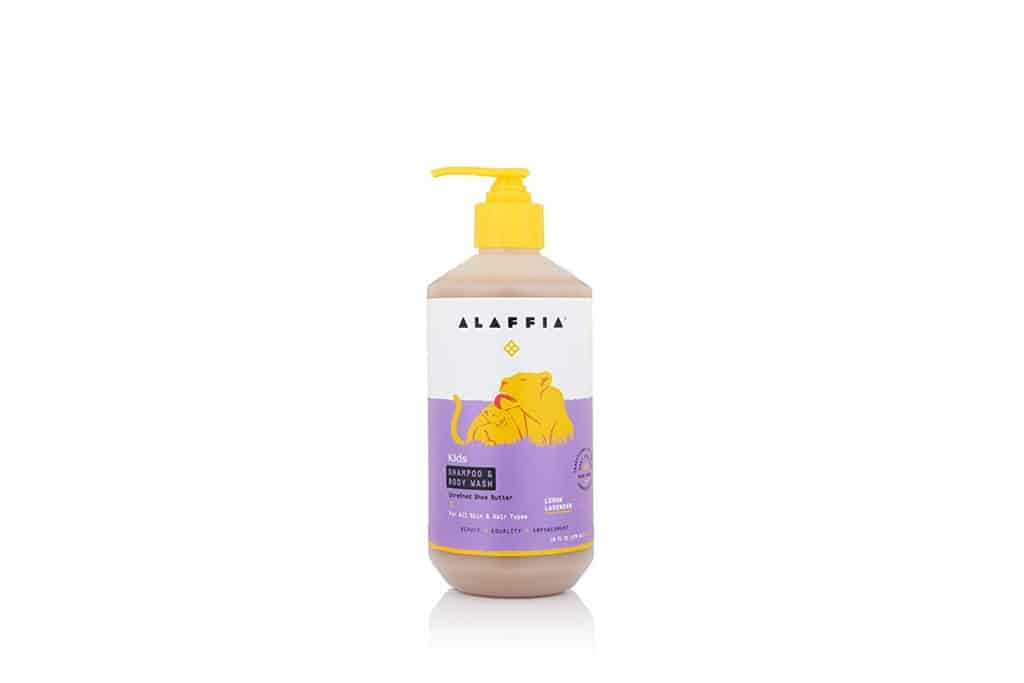 This bubble bath for kids is great for your baby's delicate skin. This product takes an ethical approach making it good for the planet. It is made out of natural ingredients. Its core ingredient is raw shea butter which will soften and moisturize your baby's skin. The fragrance choices are a hit with the moms, you get lavender and lemon balm. Also, the relaxing qualities could help you put the baby down sooner making it great for bedtime bathing. It also has other options which include mint and eucalyptus (come in handy for clearing stuffy airways). It is free of dyes, gluten, animal products, or harsh sulfates. Additionally, you get lots of bubbles using very little of the product, but this "oomph" might make washing down a challenge.
Pros
It is easy to lather and the bubbles are long-lasting.
This bubble bath suits all skin types.
It is designed for daily use.
Plus, it moisturizes your baby's skin and leaves a subtle fragrance.
Cons
This bubble bath would be easier if it came with a pump top.
Rinsing off could be tricky.
6. Johnson's Bedtime Bubble Bath; Best Bubble Bath For Kids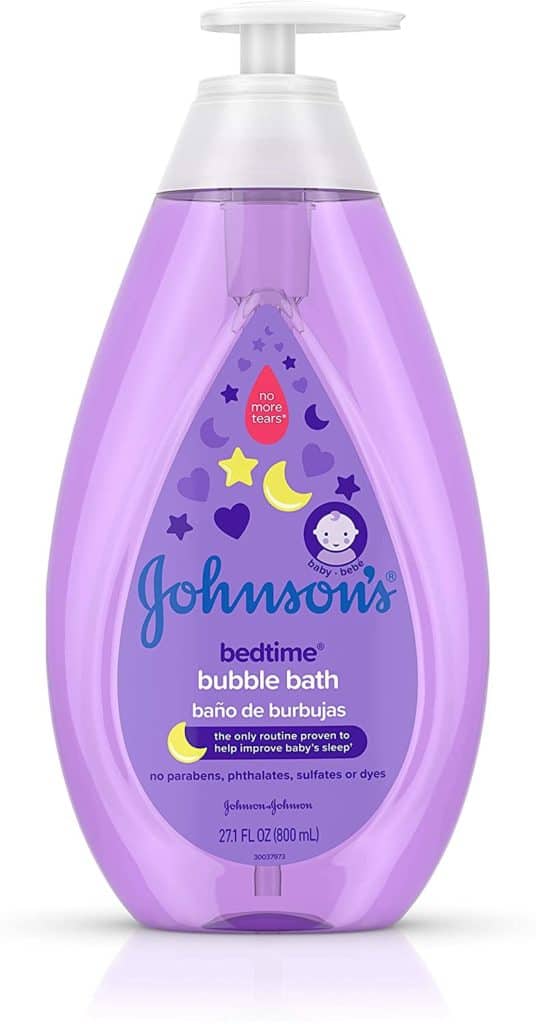 If your baby is having a hard time sleeping, then Johnson's bedtime bubble bath can help your baby to sleep well. This bubble bath produces large bubbles, making bath time enjoyable. This soothing bubble bath contains natural calm aromas to help your baby sleep better. This relaxing bubble bath wash from Johnson is part of its clinically proven 3-step bedtime routine that helps the baby sleep better in just 7 days.
Pros:
Dermatologist and pediatrician-tested
It is made with the no more tears formula, so it's as gentle to the eyes as pure water, allowing for a tear-free experience.
Does not contain parabens, phthalates, sulfates, or dyes.
Cons:
Produces very few bubbles.
Not easy to pump.
7. Honest Company Lavender Bubble Bath; Best Bubble Bath For Kids

The ultra-calming lavender bubble bath from the honest company has naturally derived ingredients and essential oils which would be the perfect addition to your 'kid's bathing routine. It gently soothes, cleans, and improves the skin of your baby by not allowing it to dry. This mild and tear-free soothing bubble bath with super foamy bubbles cleans and helps retain moisture for fragile skin, making it suitable for everyday use. The organic herbs are nicely balanced with lavender essential oil.
Pros:
Organic chamomile and Calendula gently nourish the skin.
Contains coconut oil, jojoba protein, and quinoa extract which help enrich the delicate skin of your baby.
It is made without sulfates, dyes, and parabens.
Cons:
It is not tear-free and can cause burning in the eyes.
Can be very itchy for sensitive skin and can cause rashes.
How To DIY Baby Bubble Bath?
Are you feeling creative and you want to try a DIY project? Do you want to learn how to make the best bubble bath for kids? Well, here's what you'll need:
Castile soap: This bubble maker is made out of vegetable oils, such as olive oil, so go ahead and choose the type you usually buy, for example organic. It is free of animal fats which makes it vegan and eco-friendly.
Vegetable glycerin: This non-toxic liquid is made out of plant oils. It's child-friendly and a natural moisturizer.
Here are the steps to make bubble bath for kids:
Simply mix half a cup of vegetable glycerin with two cups of castile soap.
Now you can pour a quarter of this bubble bath mixture into the bath under running water, and well enjoy!
We hope this amazing list of best bubble baths for kids helped you. Make bathing fun with a gentle formula which could go a long way to preventing tears in the tub. Make sure it's suitable for everyday use and good for sensitive skin. Moreover, it should make lots of long-lasting bubbles and memories! Get some adorable baby bathtubs and best baby shampoos for your little one for a safe and comfortable bath-time! Happy Bathing!
FAQs on Best Bubble Bath for Kids
1) At what age can you use a bubble bath?
Experts suggest that you should avoid using them until your child is at least 3 years old because bubble baths can cause urinary tract infections (UTIs).
2) Do bubble baths get you clean?
Yes, it does! A bath will get you just as clean as a shower. Plus, bubbles are fun.
3) How do I make my bubble bath bubbly?
If you want a bubbly bath, simply add your bubble bath bottle into the stream of running water straight from the tap. If you have strong water pressure, your bubbles will get bigger, too.
4) Can baby bubble baths cause urinary tract infections in kids ?
The soap in bubble bath solution has the potential to irritate the urethra, which is the tube through which urine exits the bladder. This can make urination unpleasant, leading to young toddlers trying to hold it in. A urinary tract infection can occur as a result of this.