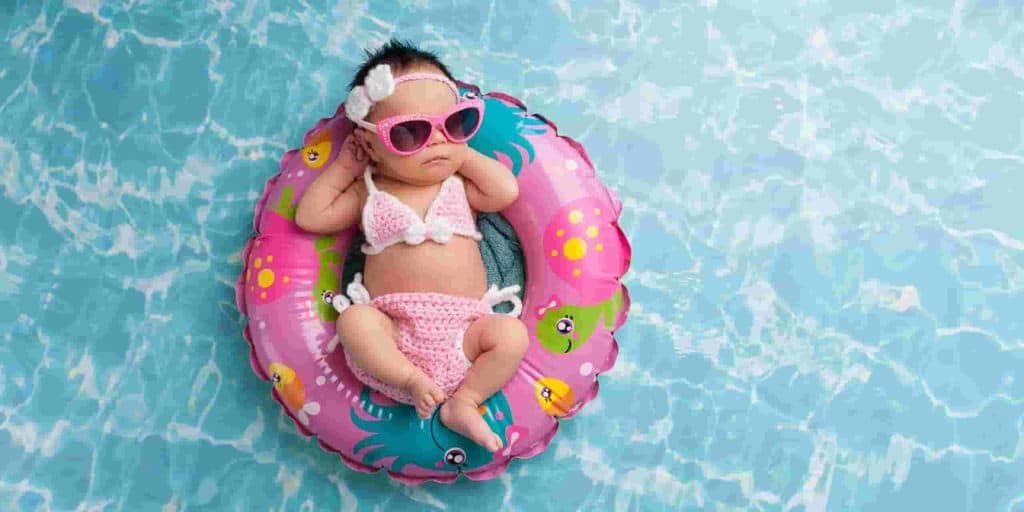 Best baby sunglasses are somehow always looked at as a stylish accessory more than for what they really are- protection for one's eyes. Having said that, as much as a protective accessory as they are for adults, so are they for the little ones. Babies, for the fact that they are so new to this world as a whole, happen to have sensitive everything- sensitive skin, sensitive immunity, sensitive organs, and obviously, sensitive eyes. The best baby sunglasses, for that matter, are what come to the rescue.
You indeed need to take your kids outdoors to let them get that natural dose of Vitamin D, but the point is to not let that sunlight instead harm your kid. Having your kids wear the best baby sunglasses can majorly help protect a toddler's eyes from all the sun damage that can otherwise cause some serious issues.
Sunlight, to unprotected toddler eyes, can create long-term problems like macular degeneration and cataracts. Especially if you live in a tropical part of the world or if your kid happens to love playing outdoors or in the backyard, it becomes all the way more important to save them from the infamous UV damage.
7 Best baby sunglasses reviews
To make thing a tad bit easier for you and your little one, here are some of the best baby sunglasses reviews-
1. Roshambo Baby Polarized Baby Shades - $20.00
Most kids absolutely hate it when they are made to wear something by force, especially when that wearable is heavy and it can possibly irritate or interfere with their movements. If you happen to resonate with what we just said, this is the best baby sunglasses for your toddler!
Extremely light in weight, the Roshambo sunglasses are premium-quality sunglasses that offer UV protection, are polarized, are certified to be free of BPA and phthalates – all of it while being so affordable at just $20! Also made in a rather sturdy structure this best baby sunglasses go a step beyond to ensure that your kid cannot destroy these on the playground. Besides, for the best part still, if your rebellious toddler still happens to break them, Roshambo offers a replacement for free!
Roshambo also donates a large part of their revenues to Surfers Healing, a charity that teaches children with autism how to surf.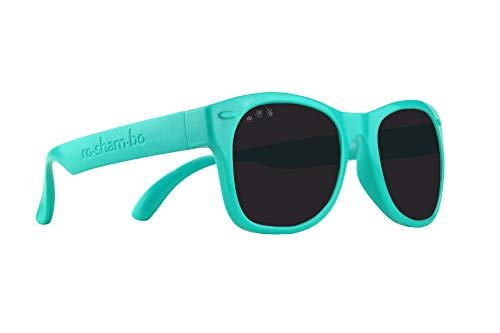 2. Babiators Aviators - $23.00
As a parent who is already looking to buy the best baby sunglasses for your little one, you'd know this by now: your baby is somehow going to demolish even the best of glasses within a few days of purchase. For the good news, Babiators, also, understands this very well! The Babiator Aviators are made from durable rubber, frames, and lenses which, they claim, is unbreakable! Just like Roshambo, even Babiators replace broken sunglasses for free!
Talking about the protection art of the glasses, these offer 100% UV protection and also come in a polarised, mirrored lens version.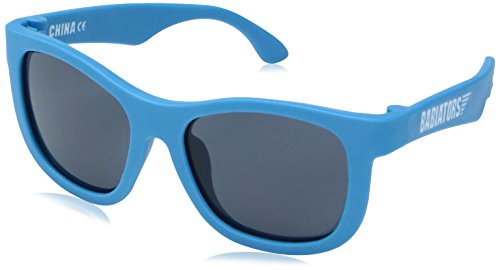 Australia, unarguably, is one of the sunniest continents on the globe and if Australians come up with something to protect from sunlight, they must know a thing or two about what they are doing! Baby Banz is an Australian-made best baby sunglasses that feature ophthalmic-quality lenses and offer 100% UV protection. They also help reduce the sun's glare into your baby's eyes.
As for its engineering, the bridge over the nose of these glasses is made of rubber for added comfort, and they also come with an adjustable, elastic head strap and a carrying pouch.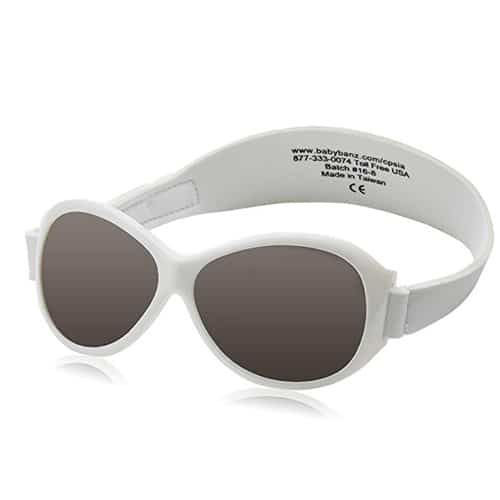 4. Lola + The Boys Elton Sunglasses - $22.00
For kids who like to keep things in style and chic from a young age on, these glasses are sure to hit the sweet spot! Lola + The boys is a brand founded by fashion-model-turned-mom Irina Ovrutsky and she sure understands the blend of bling and protection for baby accessories! This best baby sunglasses, while being uber-fancy, are also equally functional, providing  100% UV protection, keeping your baby's sensitive eyes safe from unsolicited sun damage.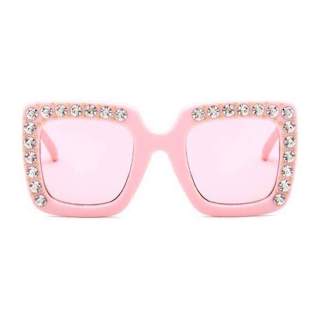 5. Kushies Sunglasses - $8.95
Ideal for newborn babies, these sunnies could be your go-to as they are not only affordable but also so functional! Engineered in a sturdy structure, these sunnies are made from flexible rubber and scratch-resistant lenses that are equipped to block all UVA and UVB rays. Kushies optimally fit newborn babies and can be used up until they at least hit the 12th-month mark. Besides, Kushies also make another toddler version that is ideal for babies between 12-24 months.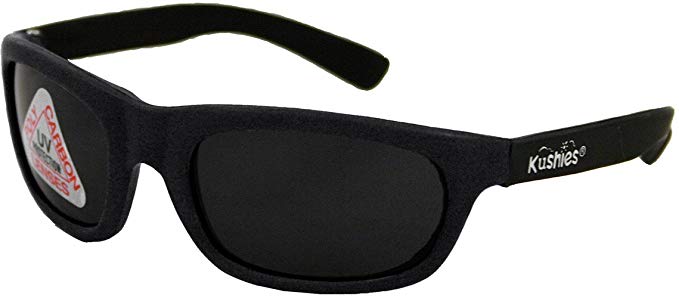 6. Hipster Kid Polarized Sunglasses - $19.99
These sunnies mastered in the timeless wayfarer shape, are sure to have your little one find themselves in a supermodel spot- while offering you the reassurance of protection you're looking for. Made in a BPA, Phthalate, and PVC free material, these glasses are also further  100% polarized to offer optimal UVA and UVB protection. To further add to their score, the frame of these sunglasses is flexible in nature, the lenses are shatter-resistant, and every pair comes with a stay-on strap!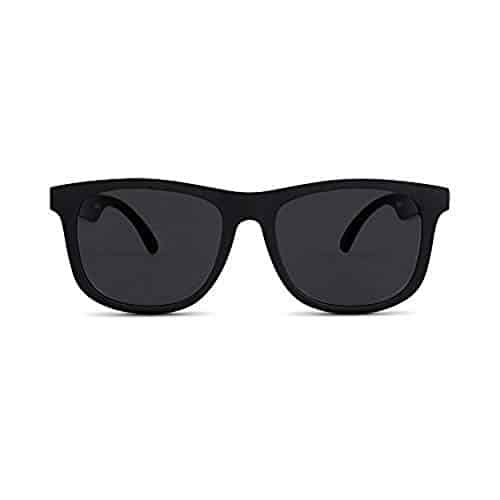 7. COCOSAND Best Baby Sunglasses with Straps- $17.00
1. A fun-patterned pair of sunnies, the COCOSAND baby sunglasses feature 100% UV protection to keep the harmful glare off your baby's eyes. The glasses also come with adjustable head straps to keep the glasses in place and to avoid misplacement. The adjustable, flexible strap can also be bent for an optimal fit. You also get a free microfiber pouch and a soft cloth for cleaning the lenses in the pack!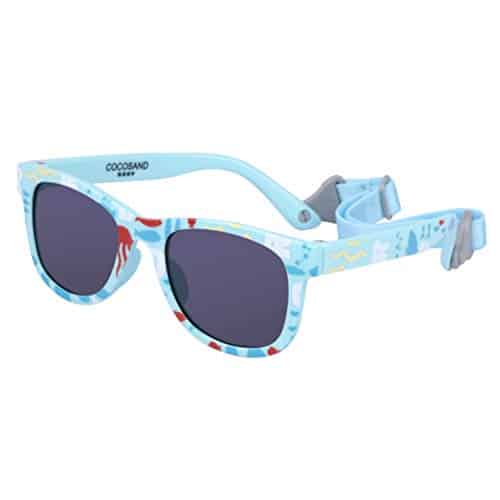 That's all folks! These were the 7 best baby sunglasses reviews. They are in style, protecting the little ones eyes, are available in the market, and are extremely comfortable to wear and protect from the rays of the sun to directly hit the kids eyes. 
While you are at preventing the rays, you might as well like to apply a sunscreen lotion to the little one. However, while you are styling your kid, make sure to also pick the best baby walking shoes, best baby clothes, and best baby watches too! Don't forget to carry everything needed in the diaper bag, including the bottle, formula, and building toys. 
Happy outing!
Best Baby Sunglasses FAQs:
1. Is it okay to apply sunscreen on a baby ?
Sunscreen is okay for application on babies older than 6 months of age. However, sunscreen is not all you need to protect your baby from the harmful rays of the sun. It is also equally necessary to protect them with hats, protective clothing, and sunglasses, especially when exposed to the outside environment for a long period of time.
2. Does sunlight damage a baby's eyes ?
Since babies, being babies, are still developing their organs to become fully accustomed to the world outside a mother's womb, they obviously have sensitive organs as a whole, let alone the eyes. Repeated exposure to sunlight can cause redness and sore baby eyes. If your baby is further exposed to sunlight for longer periods, they may also be vulnerable to more serious issues like damage to the retina or cornea. Hence, it is necessary to keep your baby's eyes protected with sunglasses when outdoors.
3. Is sunlight good for babies ?
Just like it is for adults, sunlight is definitely good for babies. The key, however, is to ensure that the exposure is not for too long and it is not direct. Mild sunlight, especially the morning rays of sunlight can prove beneficial for a baby's overall health.