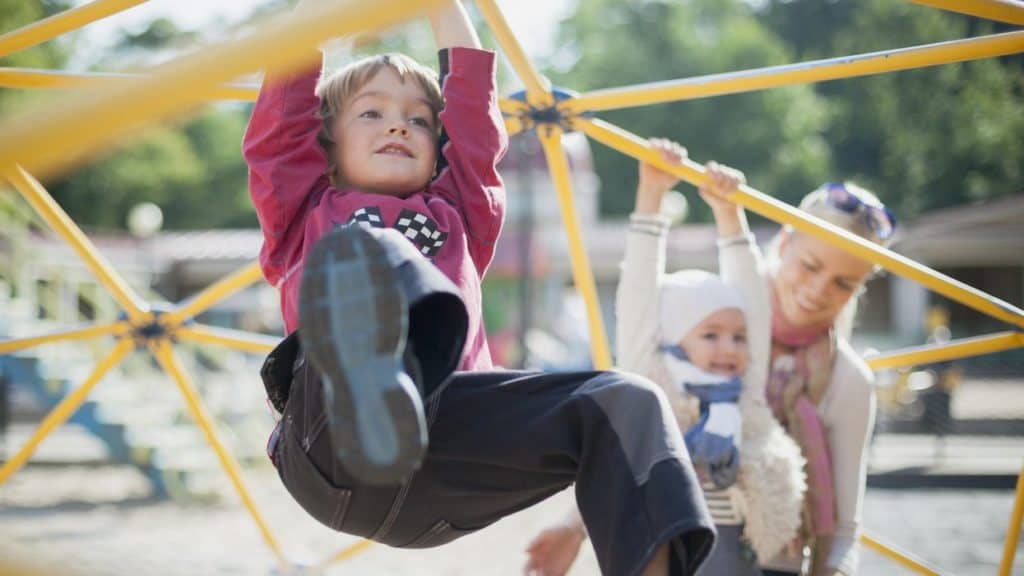 Has your toddler started walking? Are they choosing to swing and climb on the furniture irrespective of the baby-proofing? If yes, then it's a sign for you to purchase climbing toddler climbing toys in order to build the required environment where your kid has enough room to explore their abilities.
Adding on, these climbing toys for toddlers come in different shapes and sizes where few are big and for your backyard, while the others are compatible to fit indoors easily. Considering how these toys help promote the child's strength and hand-eye coordination, there is a wide variety available that could at times turn out to be a difficult task for most parents.
How can one choose the best outdoor and indoor climbing toys for toddlers?
Parenthood Bliss is here for your rescue as we have curated this article combining the top picks of both outdoor and indoor climbing toys for toddlers. Read on to know more!
What Must A Parent Keep In Mind When Choosing The Best Baby Climbing Toys ?
Best toddler toys come in a variety of options that help them develop their gross motor skills. In order to choose the best climbing tower playset and build an outdoor-indoor playground that is safe for your child, make sure to keep the points below in mind:
Multi-purpose – Make sure to pick climbing toys that are multi-purpose in nature. For instance, does the jungle gym have a tunnel, a slide, or a basketball hoop as well? Choosing multipurpose climbing options can help further build on the activities that your toddler can explore using the same set.
Durability – Check if the climbing toys for toddlers are durable and not made from cheap plastic. The key way to determine the durability is to examine the recommended age group, the wider the better.
Innovative – Are the climbing toys innovative? Does it encourage your toddler to explore, learn letters, and numbers? Does it promote and boost the toddler's motor skills? Is it educational?
Now that we are aware of the things that we must keep in mind before choosing the best climbing toys for toddlers, let's dive into our best picks!
Top 10 Indoor Climbing Toys For Toddlers
Listed below are the top 10 best indoor climbing toys for toddlers that you can choose from depending on whether you have a large space or a limited one:
1) Children's Factory Soft Tunnel Climber
Age Recommendation – 8 months to 3 years
This set is perfect for creative, tumbling, crawling, and climbing toddlers from eight months to three years. These play structures from the Children's factory allow the toddler to pull the Velcro colorful and soft blocks apart, can arrange them, is easy to wipe, has a tunnel, staircase, climber slide, and a floor mat.
2) Eezy Peezy Monkey Bars Tower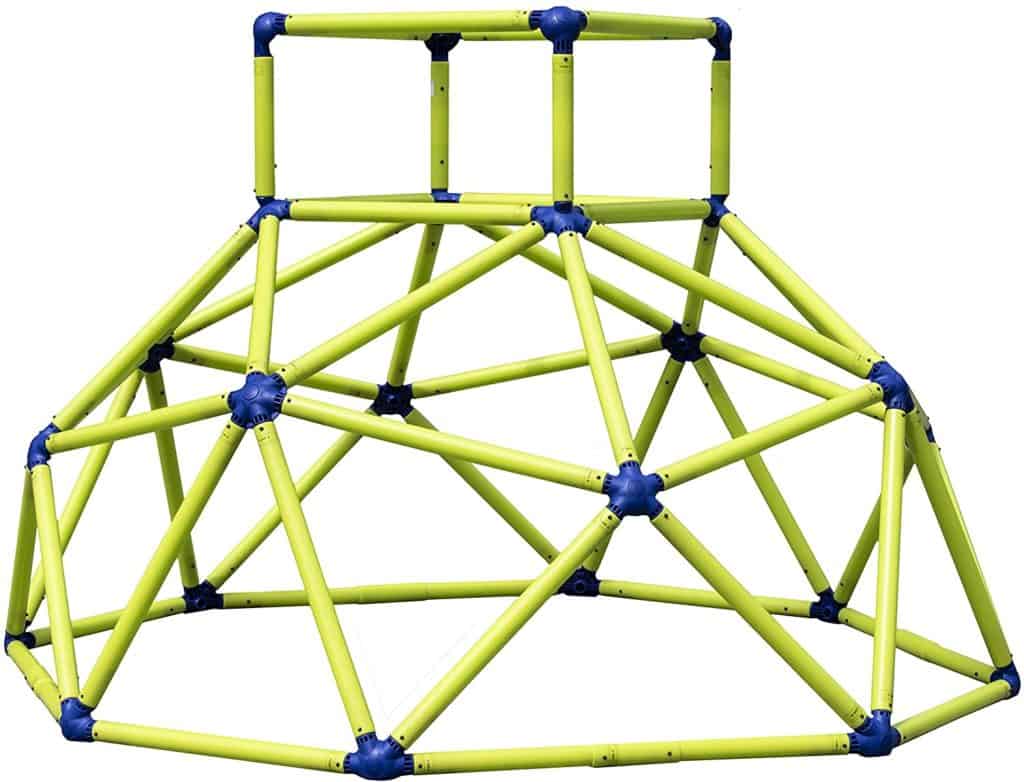 Age Recommendation – 3 to 8 years
This monkey bars climbing tower is long enough to fit an open space and can easily break down too. This climbing toy features a dome full of bars, light-weighted, easy to assemble, has secure self-locking springs, can carry up to 150 pounds, and comes in bright colors.
3) Step2 Naturally Playful Woodland Climber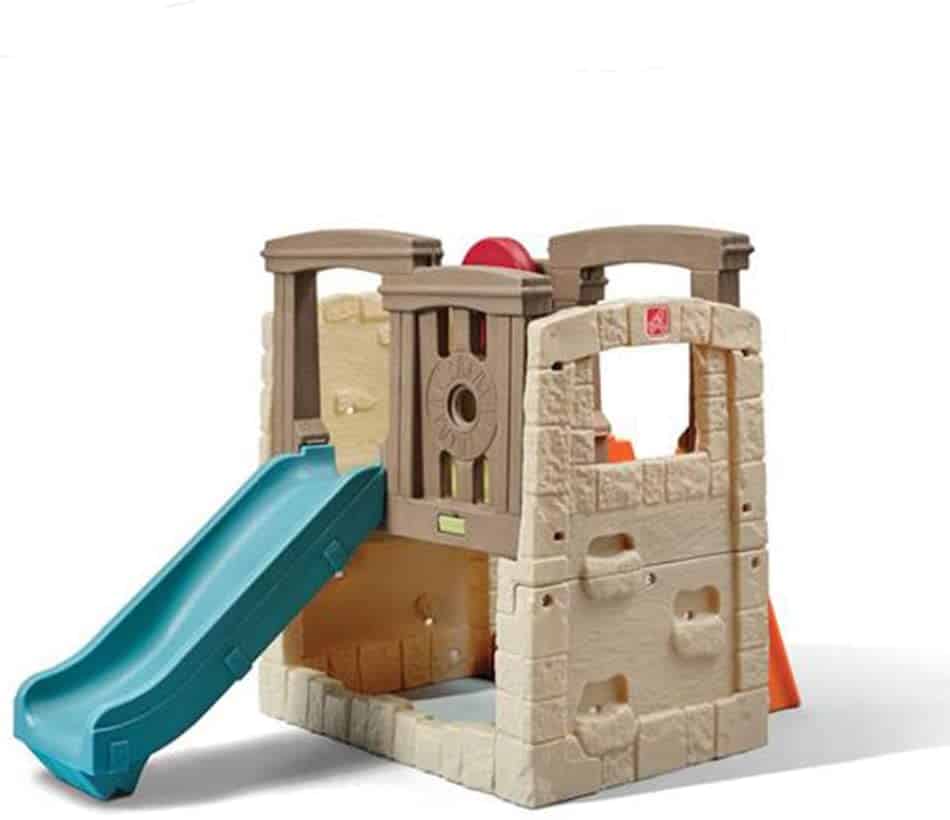 Age Recommendation – 2 to 8 years
Step2 naturally playful climber is multipurpose (can be transformed as a sandbox outside and storage indoors), has two climbing walls, steps, a slide, a small deck, and two steering wheels. They are best fit for children from two to eight years and have a maximum weight capacity of 240 pounds!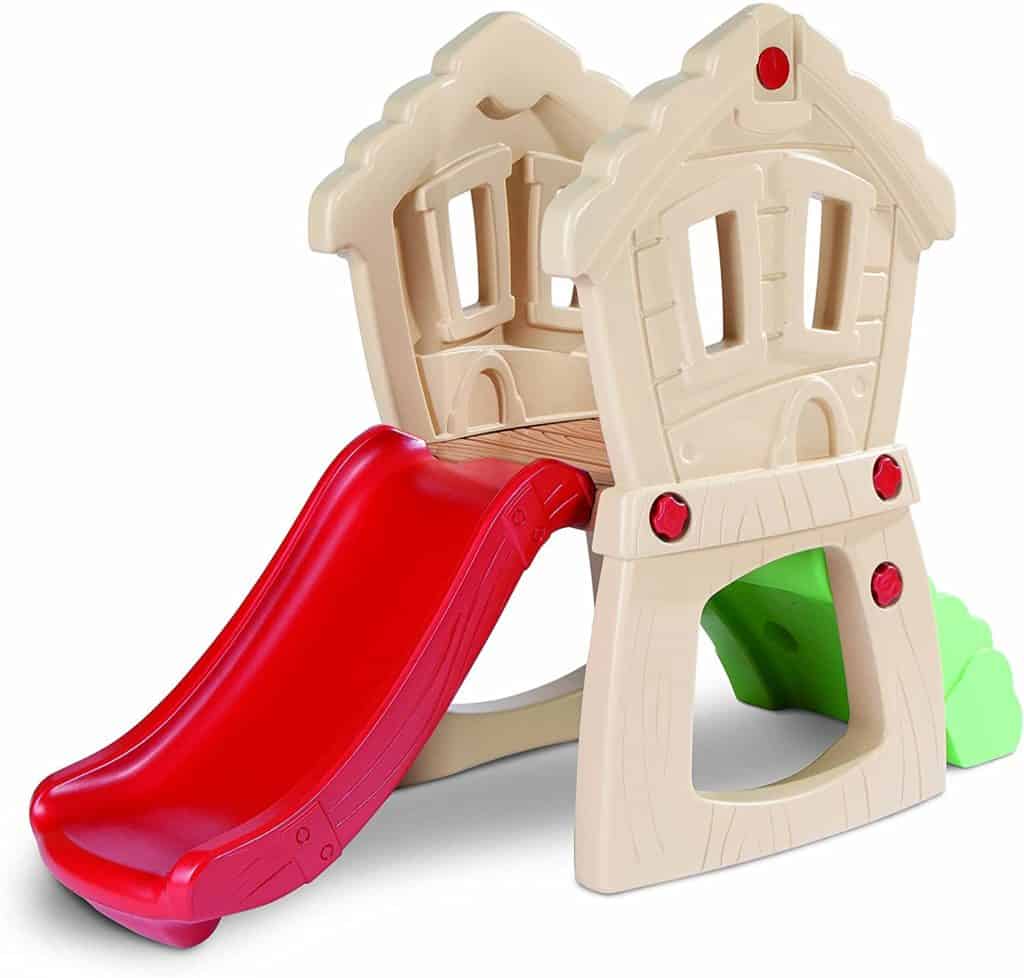 Age Recommendation – 12 months +
This play-set comes in a compact package, has a 12.5-inch climbing wall, has a hideout underneath for them to crawl through, and comes in a small size. Little Tikes Climber can however only carry up to 45 pounds at a time and make a great climbing toy for toddlers from 12 months old and up.
5) ECR4Kids GUS Climb Caterpillar Tunnel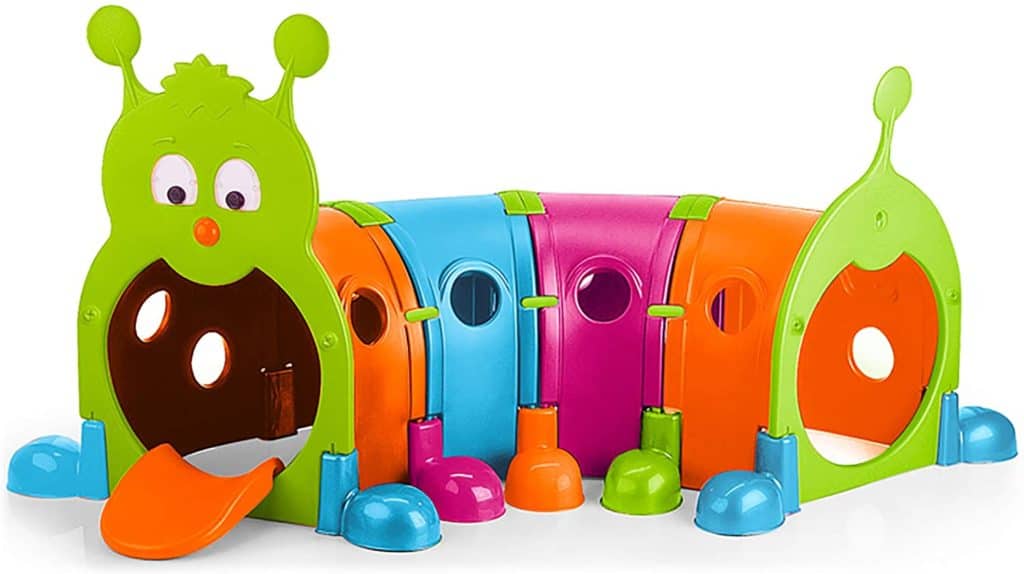 Age Recommendation – 3 to 8 years
This fun climber lets the toddlers climb and also crawl through the tunnel, which means, from the mouth into the tunnel of this caterpillar-shaped indoor play-set. ECR4Kids can be easily arranged and rearranged, keeping the kids interested in building while exploring the patterns. In case it turns out to be huge, parents can also opt to remove the tunnel section to save space.
6) ECR4Kids SoftZone Corner Climber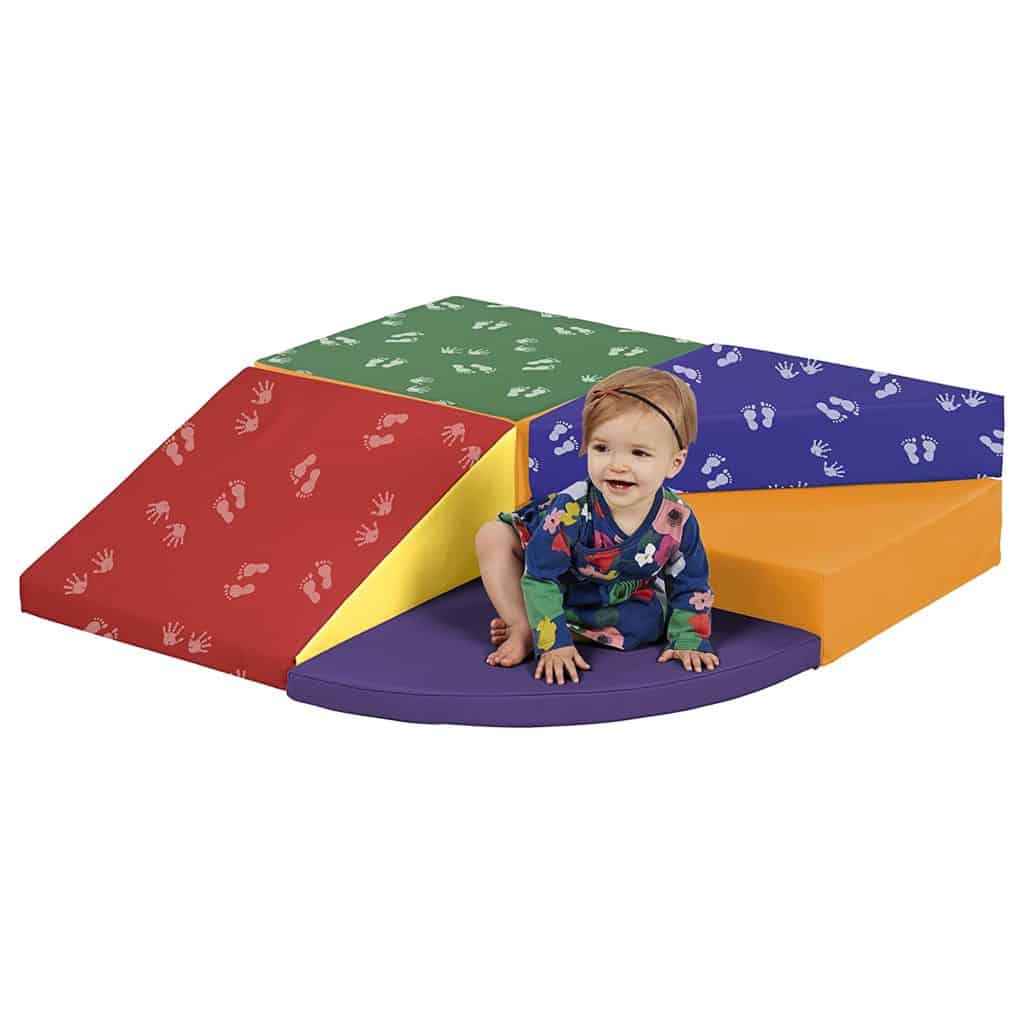 Age Recommendation – 6 months +
ECR4Kids SoftZone Climber can be easily installed in a corner and is safe as it's made using a soft foam building block. It allows your toddler to construct their own climbing fort, the pieces can stick together using Velcro, has a textured base underneath, and is made from leather-like, non-toxic polyurethane which is super easy to clean and soft for the smallest climbers.
7) Step2 Sports-Tastic Activity Climber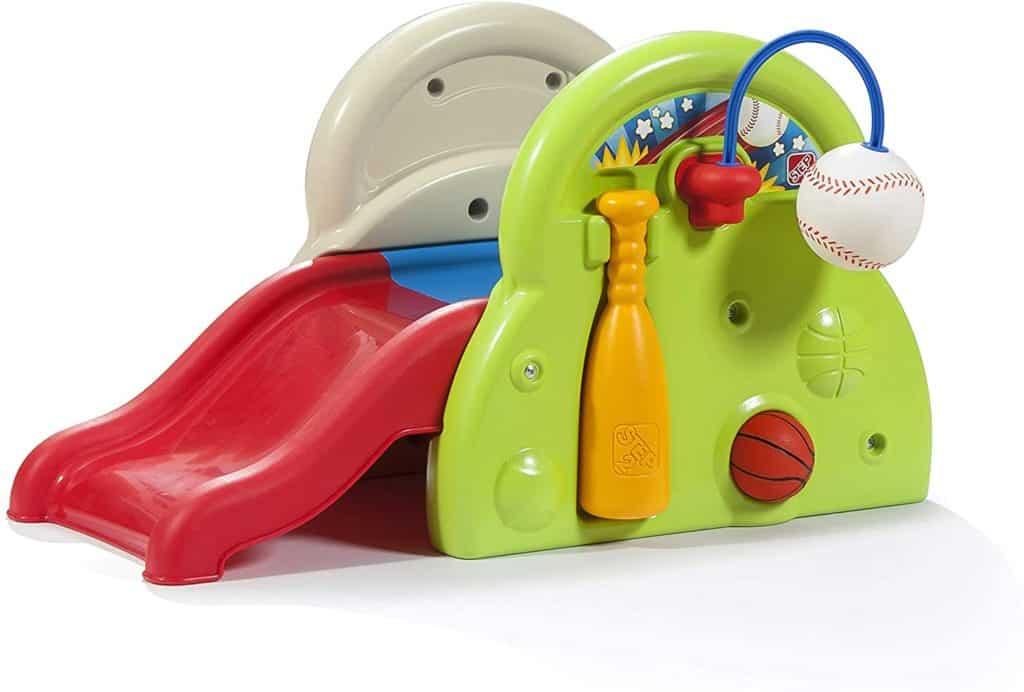 Age Recommendation – 12 months to 3 years
Step2 Sports climber features a ball target and a slide to slide down, all three activities in one. It has enough room to climb and ground space to play football, soccer, or basketball. In addition, the climbing toy also comes with a scoreboard that allows the children to keep their score as they play and weighs 8 pounds.
8) Lil' Monkey Fuji Climber With Tunnel

Age Recommendation – 3 to 9 years old
Did you think monkey bars are only fun when playing outdoors? Think again! Lil' Monkey Fuji climber is a climbing toy that can be easily fitted indoors for the little ones and the set is easy to put together too. It features an easy fold, is easy to store, is simple, and comes with a tunnel.
9) ECR4Kids Buccaneer Pirate Play Boat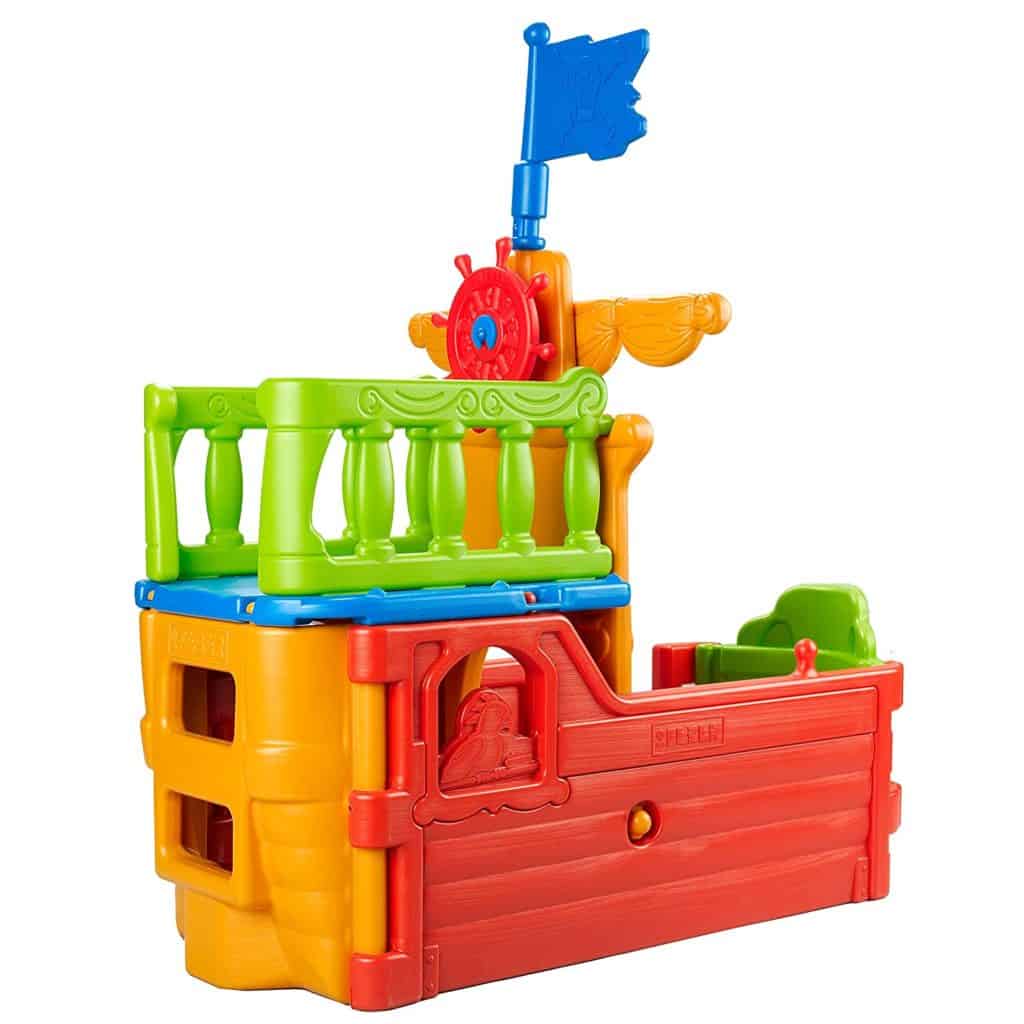 Age Recommendation – 2 years+
This is the best indoor climbing toy that allows your toddler to explore the seven seas via its uniquely designed pirate ship. It features steering to steer the ship, allows the kid to climb in, turn the wheel, crawl under the deck, and comes in bright colors. In addition to its attractive look, the playboat doesn't take much space, is 4.5 feet long by 2.5 feet wide, and is made using safe plastics.
10) Little Tikes Wheels on the Bus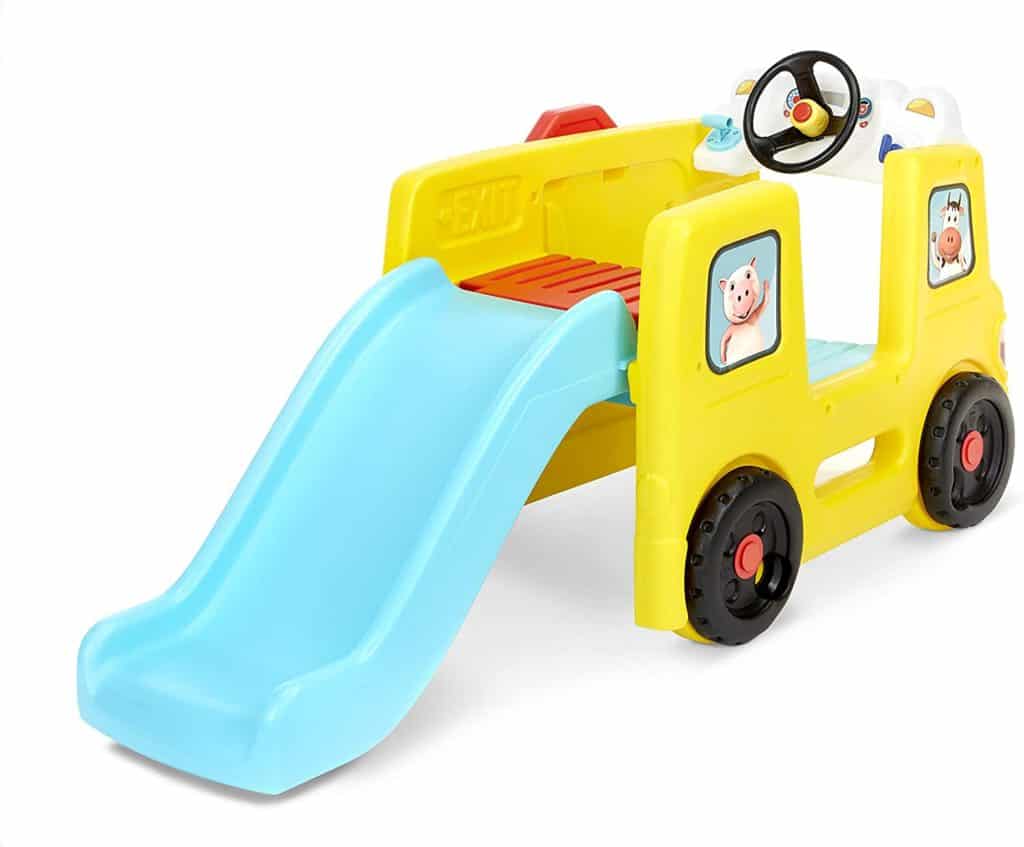 Age Recommendation – 1 to 4 years
Little tikes allow a kid to climb and slide along and come with wheels that are located on the opposite side of the climber bus. It weighs only 30.8-pound that makes it easy to move from one place to another as per your need.
Top 10 Outdoor Climbing Toys For Toddlers
Here is a list of the top 10 best outdoor climbing toys for toddlers to choose from:
11) Easy Outdoor Space Dome Climber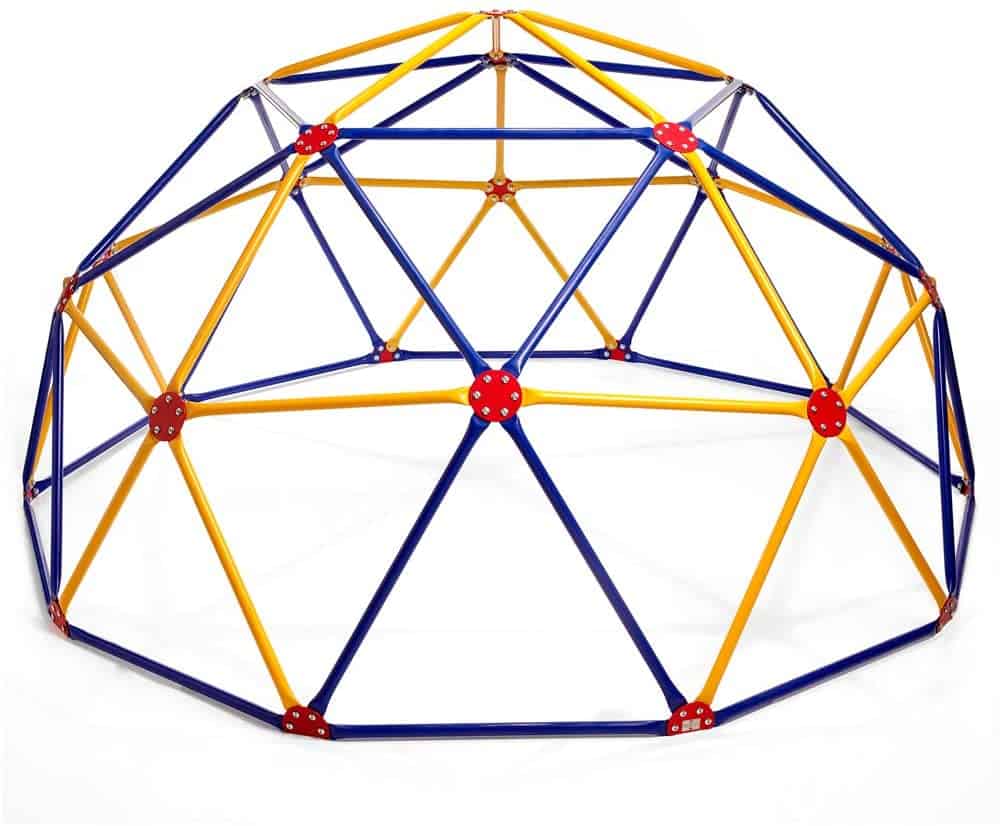 Age Recommendation – 3 to 9 years old
This outdoor climbing toy is durable, has a climber, and is both UV- and rust-resistant. This Space Dome Climber is made using steel, can carry up to 1,000 pounds, allows your kid to climb, hang, and crawl, boosting their fine motor skills and confidence.
12) Little Tikes Tree House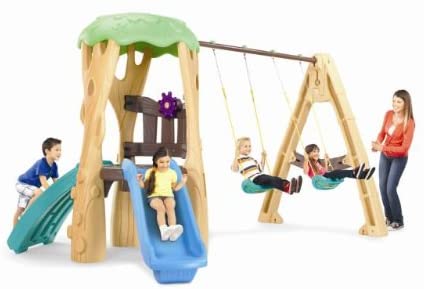 Age Recommendation – 3 to 10 years
Little tikes treehouse allows toddlers to play pretend, climb, and swing along. It features two swings, can carry up to over 300 pounds, has a climbing wall, a deck, and a slide with the tree trunk attached to a climbing unit.
13) Lifetime Geometric Dome Climber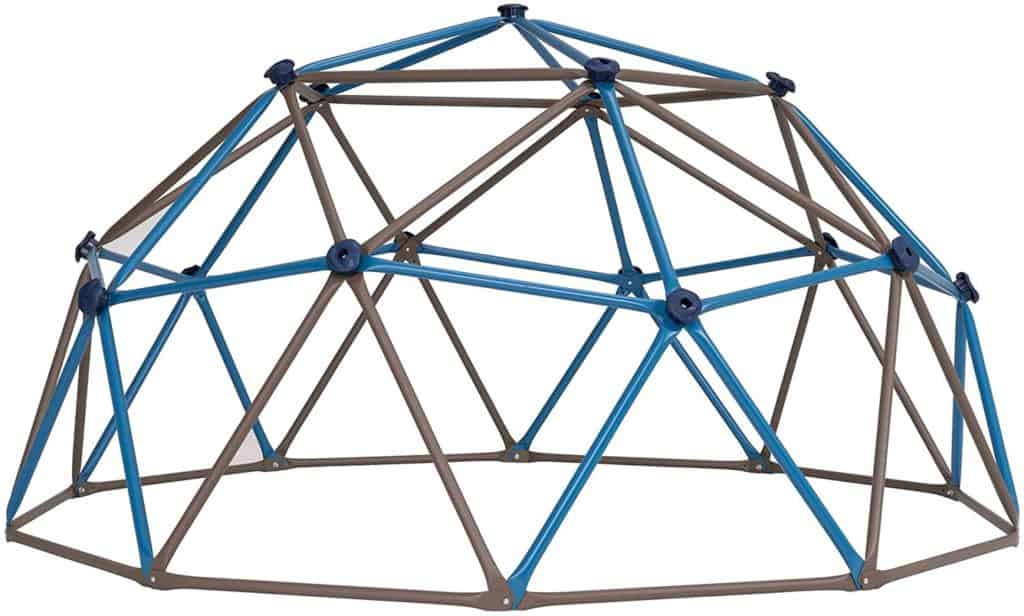 Age Recommendation – 3 to 6 years
This jungle gym carries up to 600 pounds, constructed from heavy-duty, rust and weather-resistant steel, has accustomed bars, and boosts the little one's motor skills.
14) Little Tikes Hide and Slide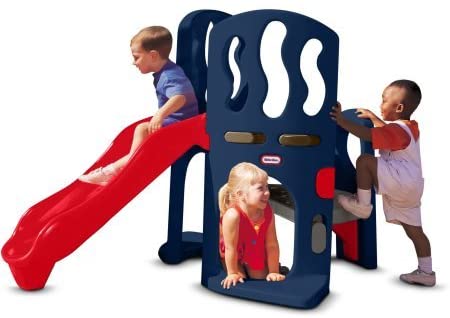 Age Recommendation – 2 to 8 years
Little Tikes Hide and Slide climbing toy has a dual-level platform that ensures fun and is known to be the perfect fit for your kid's playdates. The toy can handle up to three children in one go.
15) Step2 Game Time Climber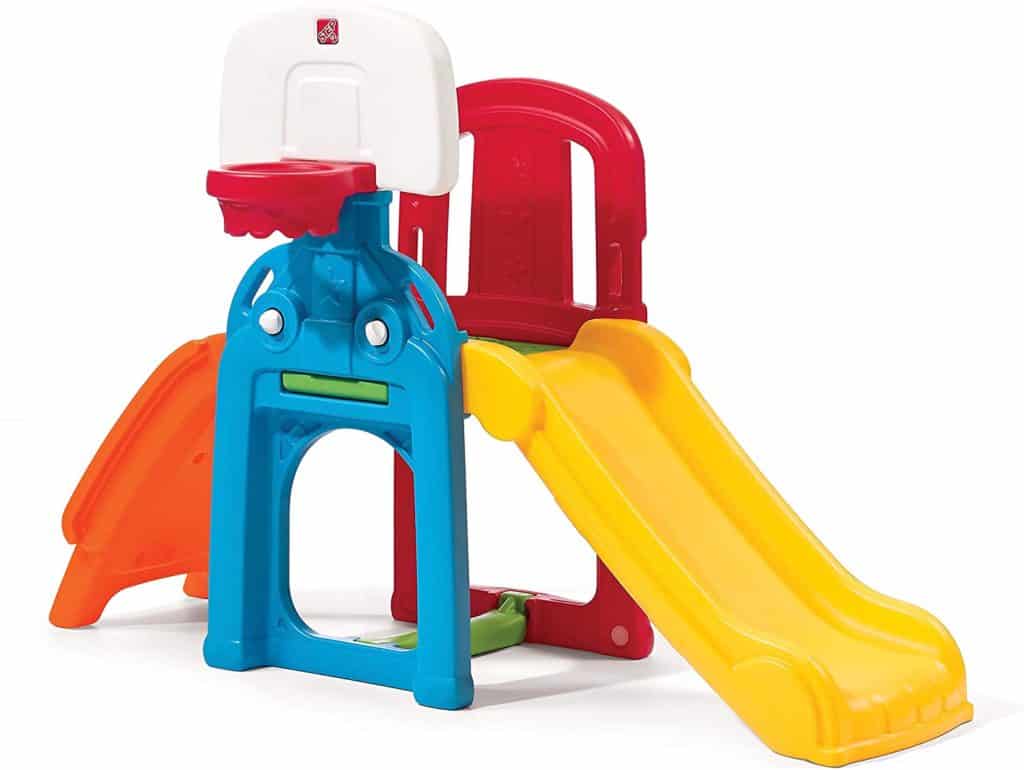 Age Recommendation – 2 to 6 years
This climbing toy fits small spaces perfectly, is multi-functional, has small footprints, weighs only 30 pounds, and is easy to assemble. The Step2 Time Climber features a slide, a basketball hoop, scoreboard, and has a 60-pound weight limit.
16) Outing Play and Swing Sets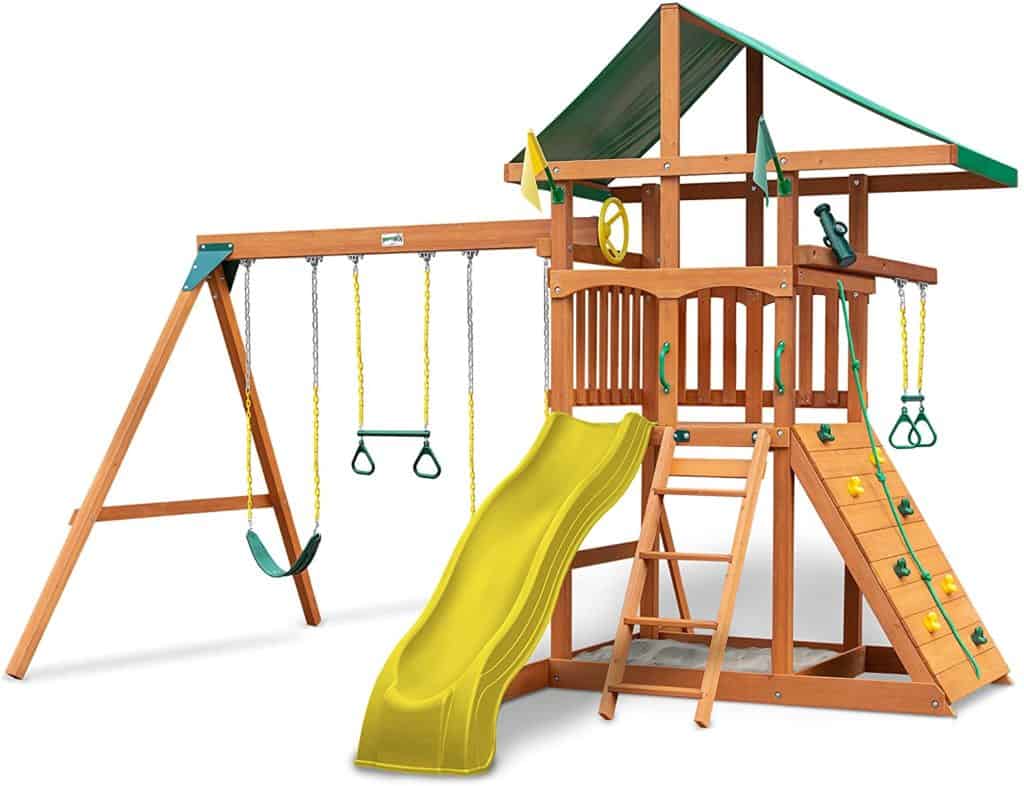 Age Recommendation – 3 to 11 years
This is a complete playset that comes with outdoor swings, a slide, a sandbox, trapeze bars, and climbing walls. However, it's rather huge as compared to the other outdoor swings on the list, is permanent, has a secret hideout, and is an all-in-one product.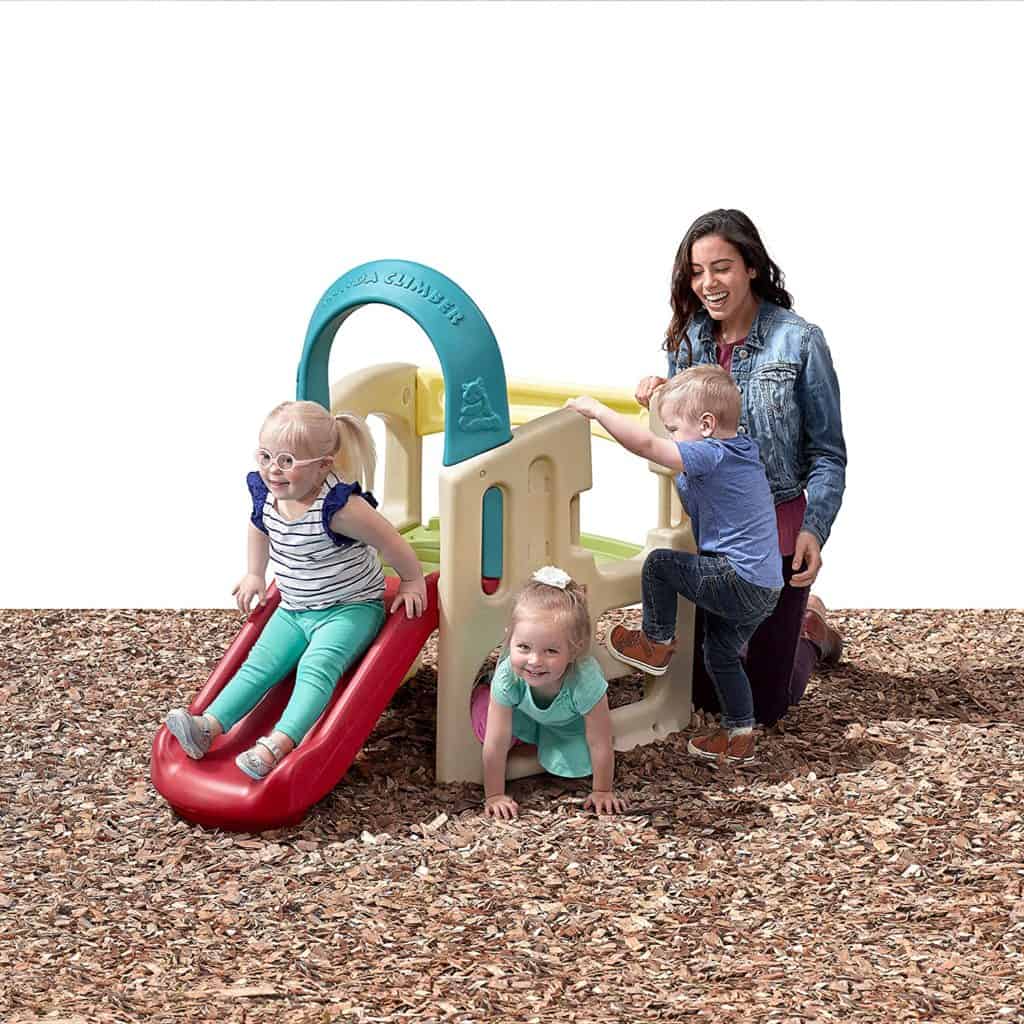 Age Recommendation – 1 to 5 years
This Panda climber can carry up to 60 pounds, has a safety railing, allows the toddler to climb from either side and has a small deck where the toddler can prepare to scooch down the slide.
18) Little Tikes Junior Play Slide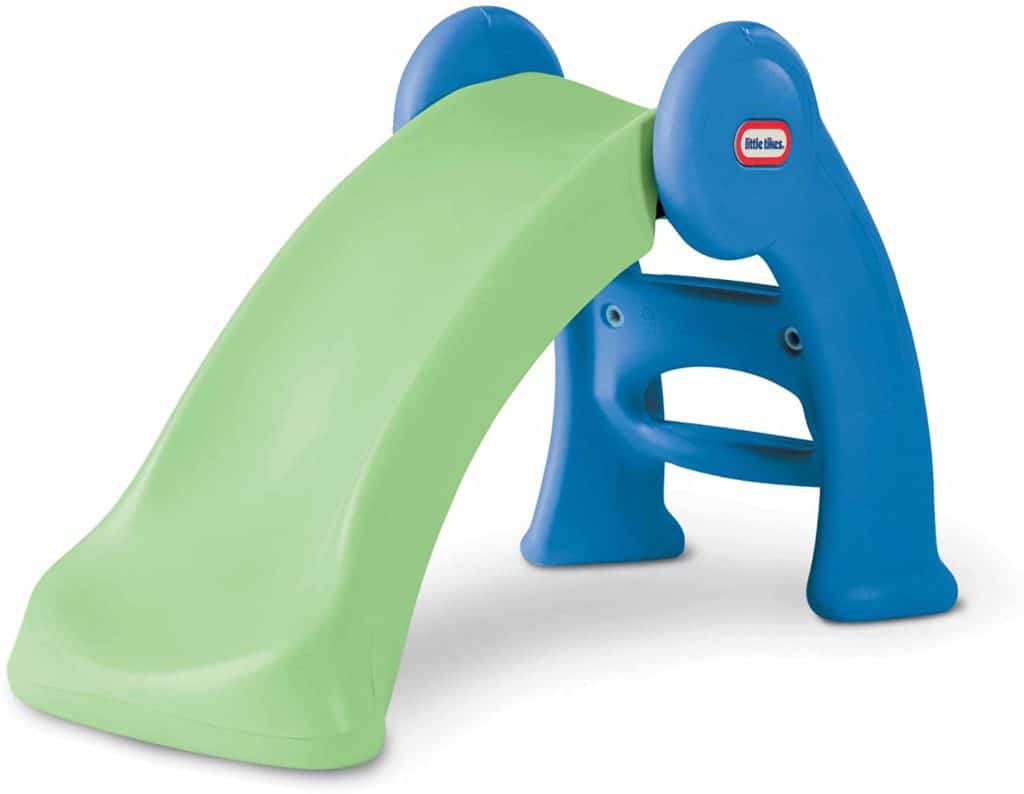 Age Recommendation – 18 months to 4 years
Most toddlers love the Little Tikes Junior Play Slide Toddlers. It features a full climbing set and requires no tools during assembly.
19) Little Tikes Climber And Swing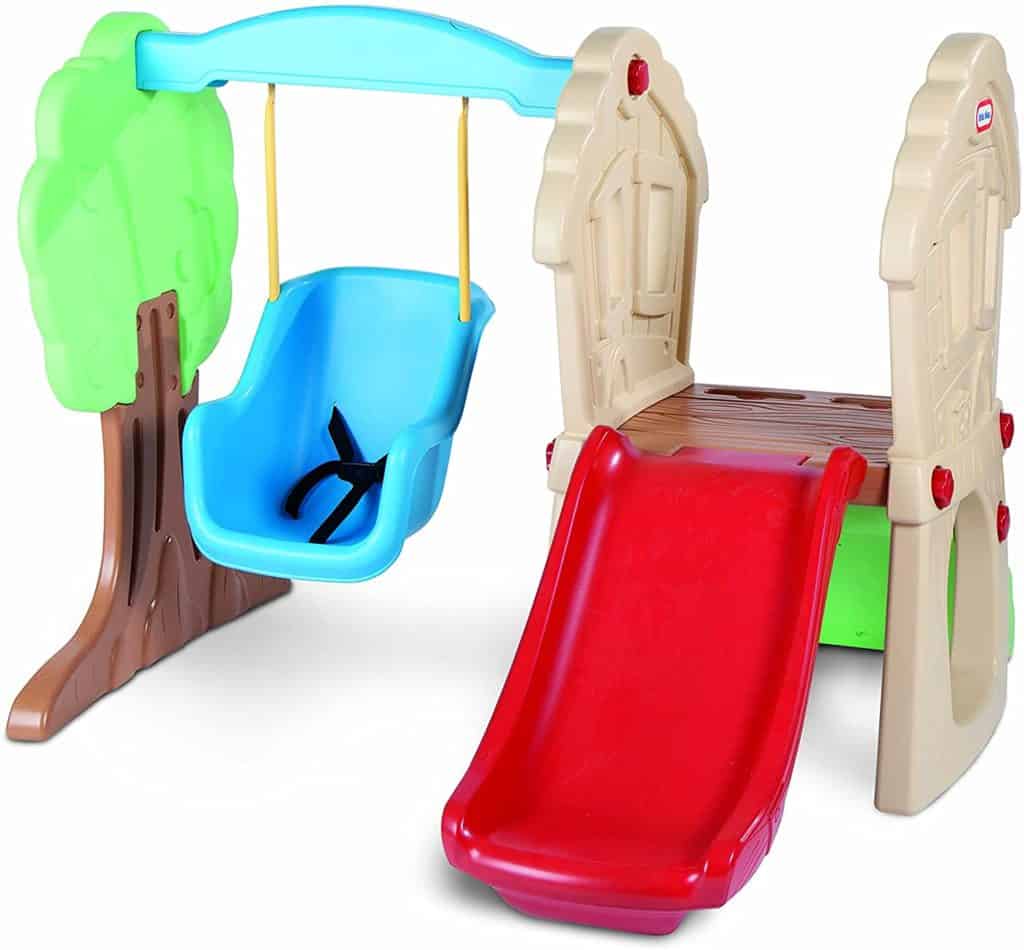 Age Recommendation – 3 to 10 years
This is a climber cum swing set that boosts the adventures of the little one. It features a rather small size, is easy to climb, can carry up to 3 children, and has a maximum weight limit of 45 pounds per child. In addition, it has a three-point seatbelt for safety.
20) Little Tikes Activity Garden Playhouse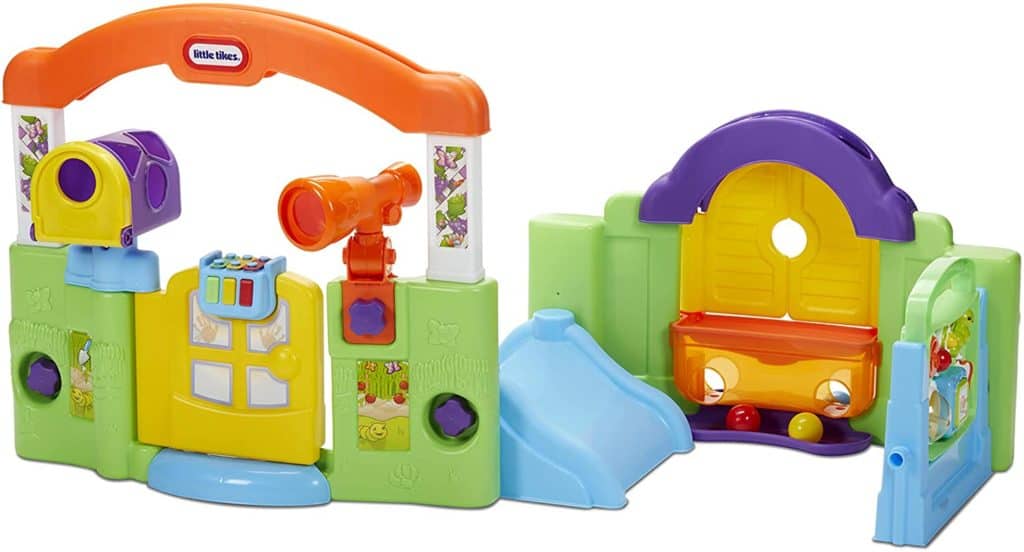 Age Recommendation – 2 to 6 years
This climbing toy allows the toddler to climb, has two different climbing walls, and is rather challenging as compared to the other as above. It offers a good shed in case there is bad weather, has a secret hideout, and is adventurous.
Listed below is a list of things you must be aware of before purchasing the best indoor and outdoor slides:
Avoid sharp edges – A sharp object could poke the little one's eye or scratch their arm. Make sure to avoid anything that could be a hazard and could potentially cause injury to the toddler while they play
Age-appropriate – Buying a climbing toy for the younger children that were made for the older ones in the first place could frustrate them and potentially be dangerous
Avoid any choking hazards – In case the climbing toy includes any ropes or hanging parts, make sure a toddler can't get caught or wrap around it.
Durability – Try and purchase outdoor and indoor climbing toys that are made using materials that are durable in nature and pocket-friendly
 Note – Make sure to look at our best picks for the indoor slides for the toddlers, stocking stuffers, wooden toys, outdoor toys, and toddler tricycles!
Toddler Climbing Toys FAQs:
1) What is the best age for the parents to purchase a climbing toy ?
6 months to 1-year-old toddlers are considered to be the best age for parents to get them climbing toys. At this age, a child can comparatively use a climbing toy safely and explore the toy in the best possible manner.
2) How to choose a toy for a toddler ?
At this tender age, it is important to pick toys that will help the toddlers boost their developmental skills as per their age. Also, make sure that the toys are clean, have no sharp corners, are child-friendly, aren't made using unsafe, toxic, or flammable materials, and are durable and made of solid materials.
3) What are four considerations when choosing an appropriate toy for a baby ?
The age of the toddler
Safety
Stimulation and variety
Simplicity yet attractive