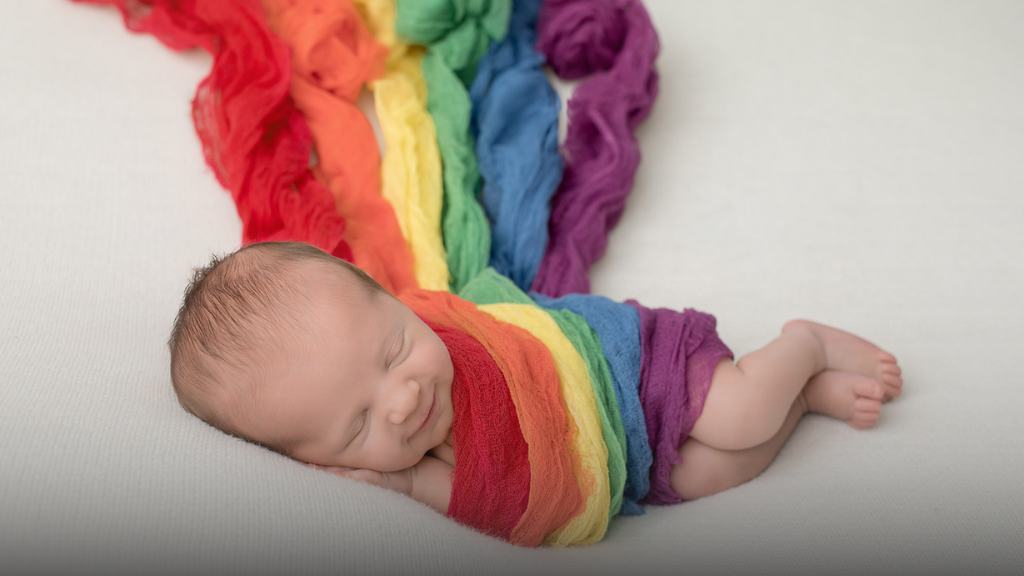 A rainbow baby is a healthy baby born to parents who have lost their previous child or children to several causes mentioned further in this article. The term is symbolic of the baby's ability to help the family or parents heal from the trauma of the loss they experienced.
The phrase got popular in recent years for referring to healing and hope after a dark time. Rainbow babies can stir up a set of complex emotions and feelings, from guilt and grief to excitement and relief.
Parents could have lost a child to
The death of a fetus before the 20th week of pregnancy, in the first trimester, is called a miscarriage in medical terms. Data says 26% of pregnancies end up in a miscarriage.
Sudden Infant Death Syndrome (SIDS) is the death of a baby due to unexpected and sudden reasons before they reach the age of 1. The Centers for Disease Control says about 3,400 babies in the United States die due to SIDS.
The birth of a baby who died during delivery or soon before delivery is called a stillbirth. Around 24,000 babies are stillborn every year in the United States. This equates to about 1 in every 160 babies.
If a baby dies before its first birthday, the death is called infant mortality or neonatal death. In 2020, the infant mortality rate was 5.4 deaths for every 1000 live births in the United States. Causes of neonatal death include
Genetic conditions

Injuries

Heart defects
Origin of The Term 'Rainbow Baby': What is a Rainbow Baby?
The baby loss community coined the Rainbow Baby term to describe the joy and hope a baby born after the loss of a child brings to its parents. The period of grief and trauma may be unacceptable, sad, and angry. It may be unbelievable that something traumatic had happened. Whatever the parents go through, hope is what fills these parents when they conceive a child again.
The term originated in 2008 and refers to the famous idea of a rainbow after a rainstorm. Read on to learn more about what parents go through while carrying a rainbow baby and what you can do to help them.
How to Deal With Anxiety While Carrying a Rainbow Baby?
It's completely normal for both parents to be anxious about a rainbow baby and keep worrying. Mothers who have lost a baby have higher chances of having postpartum depression. About 26℅ of pregnant women experience anxiety and it can be even higher if they have lost a child. Here are a few things to put that anxious mind at ease:
Get a preconception checkup

Avoid using illegal drugs, drinking alcohol, and smoking

Eat a

balanced diet

Take 400mg of

Folic acid

every day

Remember that not every pregnancy can be fatal. You are strong enough to see this one through.

Avoid stressors in your life.

Talk to a counsellor or therapist about your anxieties and fears.

Try to do mindful meditation.

Practice gratitude meditation.
The Bottom Line: What Does Rainbow Baby Mean?
Rainbow babies are children born to parents who have lost their previous child to the unfortunate events of miscarriage, neonatal death, SIDS, stillbirth, or ectopic pregnancy.
The grief of a lost child can be replaced with the hope a rainbow baby brings. But it can often be a set of mixed emotions filled with anxiety, relief, and excitement. Here's what you can do if you are one of them or know anyone who is going through the same:
Do something to commemorate the lost child, like framing footprints and/or handprints or planting a tree

Share the story on the

Rainbow Baby

Day on 22nd August with family and friends or online

Join a local support group of the baby loss community and speak about your grief
What Is a Rainbow Baby - FAQs
1. What is a sunshine baby?
A sunshine baby refers to a child born before any type of child loss. This includes a miscarriage, abortion, blighted ovum, ectopic pregnancy, or even early infant death.
2. Why are rainbow babies so special?
The baby loss community uses the term rainbow baby to mean a baby born to a family who lost infants to death. The term symbolizes hope after a traumatic incident.
3. Can a rainbow baby be adopted?
Yes, any child after a form of child loss like SIDS, ectopic pregnancy, stillbirth, or miscarriage is a rainbow baby. The term refers to the hope a child brings to the family grieving a child's loss just like a rainbow cheers up on rainy days.
4. What is a double rainbow baby?
A baby born after losing two babies in a row is called a double rainbow baby. Losing a rainbow baby can be traumatic and dealing with it needs exceptional support.
5. Are rainbow babies angels?
A rainbow baby represents a child born or adopted after the loss of a baby. Meanwhile, an angel baby is referred to as a baby who passed away during pregnancy or infancy.