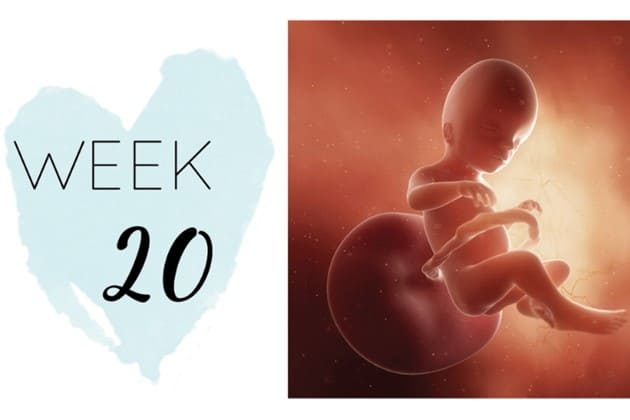 20 weeks pregnant – with your little one measuring about 6 and a half inches and weighing 10.58 ounces at week 20th, you have already covered half of your pregnancy already! Since the baby is pretty much grown at this point in time, you can expect more concrete and definitive kicks and movements inside your stomach.
What's happening to your baby in the 20th week in detail
1. The baby develops a taste
A baby's taste buds are in full swing by the 20th week. They can, already, recognize strong flavors like spices and garlic.
2. Increased womb movement
The baby will now feel much more active, moving around in full swing!
3. The baby's first poop!
Yes, the baby does poop for the first time after birth, they develop it in the womb! In the 20th week of pregnancy, the baby's digestive system starts to develop meconium as a result of the amniotic fluid they've been swallowing. While most babies pass this meconium (as poop) after birth, some might even do it on their way out.
Does the baby start kicking in the 20th week of pregnancy?
While your baby might not start 'kicking' as yet, you could expect movement, typically termed as 'fluttering' by the 20th week. This fluttering, in some cases, will soon transform into definitive kicks and somersaults. It should also be noted that if you are not feeling any movement by the 20th week,
It does not definitely mean something is wrong, but do ensure to speak to your doctor about it.
What can I expect from the 20th-week scan?
The 20th-week ultrasound scan is known as an anatomy scan/ anomaly scan, or a mid-pregnancy. This scan will get you the first picture of your baby looking somewhat baby-like! This scan essentially aims at scanning the baby's body in order to ensure that the baby is growing healthy and as expected. Besides, your uterus and placenta could also be examined to ensure your amniotic fluid is in order.
20 Weeks of pregnancy - What is happening in the mother's body?
20th week is a very in-between time of pregnancy but the sweetest spot to be in. You would already be getting done and over with nausea and fatigue, plus, the baby is still not so big that you begin feeling uncomfortable with all the extra weight.
What happens inside a mother's body in the 20th week
By the 20th week, an average mother starts to put on at least an extra half to a full pound per week.
The mother's uterus is also now expanding to home the baby.
Your hormones are playing with you in full-motion in the 20th week. You might feel extremely hungry at one point and find your libido building up the other. You are not alone!
A bloated or a swollen feeling is normal around the 20th week. A lot of your weight gain can be blamed on the extra fluids which cause this swollen feeling, called Edema, especially in the ankles and on your feet.
In the 20th week of pregnancy, you already are half done with the race and this could be the best time to throw yourself a mini celebration! Sit down with yourself, pamper yourself, treat yourself, and recognize your own self for how far you have come with your little one.
A lot of women also experience painful cramps in the middle of the night around this time owing to the sudden extra baby weight. Hence, keep yourself hydrated and try to include at least a couple of minutes of stretching and exercising in your schedule each day.
FAQs- 20 Weeks Pregnant: Symptoms, Baby Development, and Tips
1.Is it okay to have sex in the 20th week of pregnancy?
Sex during pregnancy is usually considered safe. However, be ready to experience some major fluctuations in your libido through your pregnancy!
2. How big is the baby bump at the 20th week?
Your baby will be measuring, inside the womb, almost the size of a banana by the 20th week. The size of the baby bump, however, varies from woman to woman. While some women might experience a big and definitive bump, some might still take more time to show more certainly.
3. Is it okay to exercise in the 20th week of pregnancy?
Exercising is allowed and even advised throughout the pregnancy. Just that, since you have an extra life inside of you, you will need to be more responsible and mindful of the exercise you indulge in. Consult your doctor and do thorough research on what's okay and what's not before you put your sport shoes on.