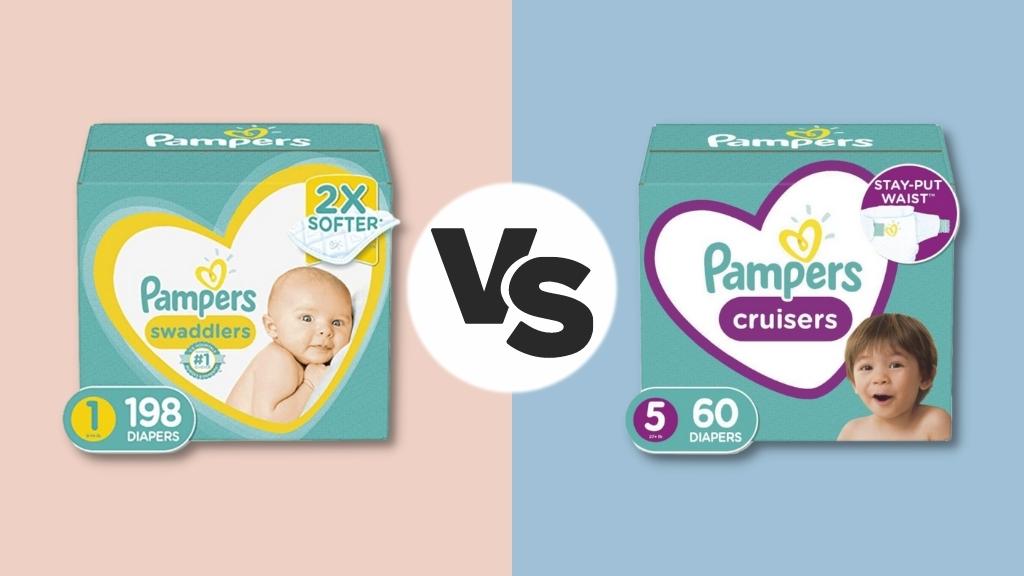 Cranky babies can be such a hassle when you do not know what is causing the crankiness. Well, sneak a peek into their diapers and you will find the root of the issue. Diaper rash is one of the main culprits of skin problems in babies and young children. According to a report, diaper rash affects 7% to 35% of infants and babies in the US.
There is a sure percent chance of your baby having a diaper rash if they are wearing a diaper smaller than their size. So, when it comes to getting the right diaper for your baby, you must sense a dilemma. Worry not because here we come with an in-depth comparison of Pampers Swaddlers vs Cruisers to help you make an informed purchase.
Pampers is one of the leading go-to brands of baby products for parents. However, they might not note the difference between Pampers Cruisers and Pampers Swaddlers. So, we have brought you all the information on both the products ranging from their top features, pros, and cons to what parents have to say about them. Here are the main differences between Pampers Swaddlers vs Cruisers:
Pampers Swaddlers come with a wetness indicator that changes color when the diaper is wet while Cruisers don't.
Even a 6-pound baby can wear a Pampers Swaddler but Cruisers can only be fit for 16-pound babies.
The wetness channel on Pampers Swaddlers keeps your baby dry by gathering the wetness into the core of the diaper while Pampers Cruisers does not have such a feature.
Features of Pampers Cruisers vs Swaddlers
| | | |
| --- | --- | --- |
| Point of Comparison | Pampers Swaddlers | Pampers Cruisers |
| Sizing | These are for babies between sizes N and 6. The recommended weight of the baby is 5 to 35 pounds. | Cruisers are for babies up to the size of 7 while the recommended weight is 15 to 40 pounds. |
| Newborn Notch | The newborn notch keeps your baby's tiny umbilical stump protected. It can be found in Pampers Swaddlers of sizes 2, 1, and N diapers. | Pampers Cruisers do not come with a newborn notch. |
| Ultra Softness | Pampers Swaddlers are extra soft around the thighs or bellies and keep the baby dry by drawing over any wetness from the baby's skin to the diaper's core. | Pampers Cruisers are velvety soft and comfortable with stretchable sides that keep the belly and both the sides from sliding off a moving baby. |
| Wet Stripe / 3-way Fit | If your baby's diaper is wet and you are unable to see it from the outside, you can look at the Wetness Stripes which will change color from yellow to blue when the diaper is wet. This will eventually help your baby free from diaper rashes. | There are no wet stripes on Pampers Cruisers but with their 3-way fit, the diapers do not sag and prevent any kinds of leakage. |
| Air and Wetness Channels / Absorbency Channels | Pampers Swaddlers have grooves on their surface that prevent the concentration of wetness in one area by distributing the wetness evenly for 12 hours. | Pampers Cruisers do not have air and wetness channels but the absorbent gel in the absorbency channels keeps your baby protected and comfortable for 12 hours without leaking on your baby's legs. |
| Budget-friendly | Pampers Swaddlers are pocket-friendly and affordable as you might need to change at least 6 to 10 diapers daily. | Pampers Cruisers cost less than Swaddlers even though the difference in price range is tiny. |
Pros Of Pampers Crusiers vs Swaddlers
| | |
| --- | --- |
| Pampers Swaddlers | Pampers Cruisers |
| 12 hours of protection | 12 hours protection |
| Extra comfortable and soft | Velvety-soft-cotton feel for the baby's sensitive skin |
| Hypoallergenic and safe | 360-degree waistband for ideal fit |
| Free of paraben and natural rubber latex | Dual leak-guard barriers to prevent leakage |
| Centered tabs for easy fit | Air dry channel to keep your baby dry |
| AGM gel for absorbency | Easy-to-tear sides for smooth removal |
| Leak protection | Roll-and-toss tape for easy disposal |
| Odor protection | Free of odor |
| Thin and less bulky | Absorbent channels to even out the wetness |
| Affordable pricing | Reasonable pricing |
| Best for overnight use | Best as activewear as well as overnight use |
Cons Of Pampers Cruisers vs Swaddlers
| | |
| --- | --- |
| Pampers Swaddlers | Pampers Cruisers |
| The elastic of the diaper might feel a little tight on the thighs during summers. | The 360-degree waistband prevents the back of the diaper from coming up completely. |
| When you remove the diaper, you might find some white powder on the baby's skin. | Pampers Cruisers diapers might be allergic to your baby's skin if they are extra-sensitive. |
| The latest batch of Pampers Swaddlers is non-absorbent. | The overall coverage of these diapers might be less as they are pull-on and off diapers. |
Pampers Cruisers vs Swaddlers: What do Parents Think?
| | |
| --- | --- |
| Pampers Swaddlers | Pampers Cruisers |
| Most parents think that the diapers are leak-proof even if the babies are juggling here and there. | Parents are very excited about the pull-ups that save the time-consuming and exhausting process of diaper changing sessions. |
| Pampers Swaddlers have been reported to make the baby feel as good as in cloth diapers and keep the baby warm throughout the night. | Regular pull-up diapers are less absorbent and comfortable than Pampers Cruisers according to many parents. |
| Parents are a fan of the wetness indicator and are quite relieved to be not playing the diaper-guessing games. | The tape at the back of these diapers is quite a savior for parents as it helps them dispose of soiled and dirty diapers without any spillage. |
| The N size of Pampers Swaddlers are the perfect fit for newborn babies and have become the favorite of the newborn-parents. | Pampers Cruisers have proved themselves as the best friend for babies with extra-sensitive skin protecting them from all kinds of diaper rashes. |
| Parents of babies who pee frequently are relieved to have bought Pampers Swaddlers as they are rash-free and leak-proof. | The ultra-soft texture and perfect fit keep the babies comfortable throughout the night which is a great boon for parents to get their good night's sleep. |
| Parents also seem to have noticed some white powder remaining on the baby's skin after they have removed it from them. | Some parents have complained about the difficulty in getting these diapers on if babies have diaper cream on them. |
The Bottom Line: Pampers Cruisers vs Swaddlers
Pampers Cruisers vs Swaddlers is a comparison that will take many parents by surprise with their minute yet distinct points of comparison. While Pampers Swaddlers is suitable for young infants and babies who are yet to become active and mobile, Pampers Cruisers is for babies with energetic active life.
The choice of the perfect diaper (Pampers Swaddlers vs Cruisers) will depend completely on your requirements, and the size, and age of your baby. There is no hard and fast rule to choosing the right diaper for your baby and both of them will keep your baby snug and comfortable at the end of the day.
The only difference to consider when choosing between Pampers Cruisers and Swaddlers is the age of your baby. For sift and comfortable diapers for your newborn child, go for Pampers Swaddlers. If you are on the hunt for easy-to-wear and easy-to-dispose diapers, go for Pampers Cruisers. Both these Pampers diapers have an equal demand in the baby market with their prices being pretty reasonable. You can easily afford either one of them without pinching your pocket.
We totally hope you found your baby's right choice of diapers with our Pampers Swaddlers vs Cruisers comparison tables.
Pampers Cruisers vs Swaddlers FAQs
1. Are Pampers Cruisers better than Swaddlers?
Yes, Pampers Cruisers are better than Swaddlers but for more mobile and older babies. For younger babies, however, pampers Swaddlers could work wonders as they are not much mobile and have exceptionally sensitive skin.
2. Between Pampers Cruisers vs Swaddlers which is more absorbent?
Pampers Cruisers are ideal for active babies as they have high soaking capacity. They are equipped with absorbent channels that soak wetness evenly. Pampers Cruisers have more absorbent channels than Swaddlers.
3. What is the tape on the back of Pampers Cruisers for?
Pampers Cruisers has a toss tab sticker on its back that can secure the seal of a soiled diaper pant. You only need to simply roll it up and close the seal with the tab. The soiled diaper is now ready to be disposed of hassle-free.
4. When should you switch to pull-up?
Generally, parents switch to pul-ups from diapers when their children get to the age of two. This is the typical age to start potty training. When kids begin to understand how to use a toilet, pull-ups will help them feel more independent. They also make cleaning up a hassle-free process for parents.
5. How do you pick Pampers size?
A diaper if of the perfect fit for your baby if you can stick two fingers under the diaper's waistband after fastening it. If not, it's time for a diaper change for a bigger size. If you notice red marks on your baby's thighs or belly, it's time to up the size of the diaper. The perfect diaper will cover your baby's bottom fully.
On behalf of the editorial team at Parenthoodbliss, we follow strict reporting guidelines and only use credible sources, along with peer-reviewed studies, academic research institutions, and highly respected health organizations. To learn about how we maintain content accurate and up-to-date by reading our medical review and editorial policy.
Disclaimer: All content found on our website is published for informational and/or educational purposes only; not intended to serve or offer any form of professional/competent advice. We put in every effort to ensure that all information is just, accurate, fool-proof, useful, and updated but do not assume responsibility or liability, to loss or risk, personal or otherwise, incurred as a consequence of information provided. Parenthoodbliss may earn commissions from affiliate links in the content.