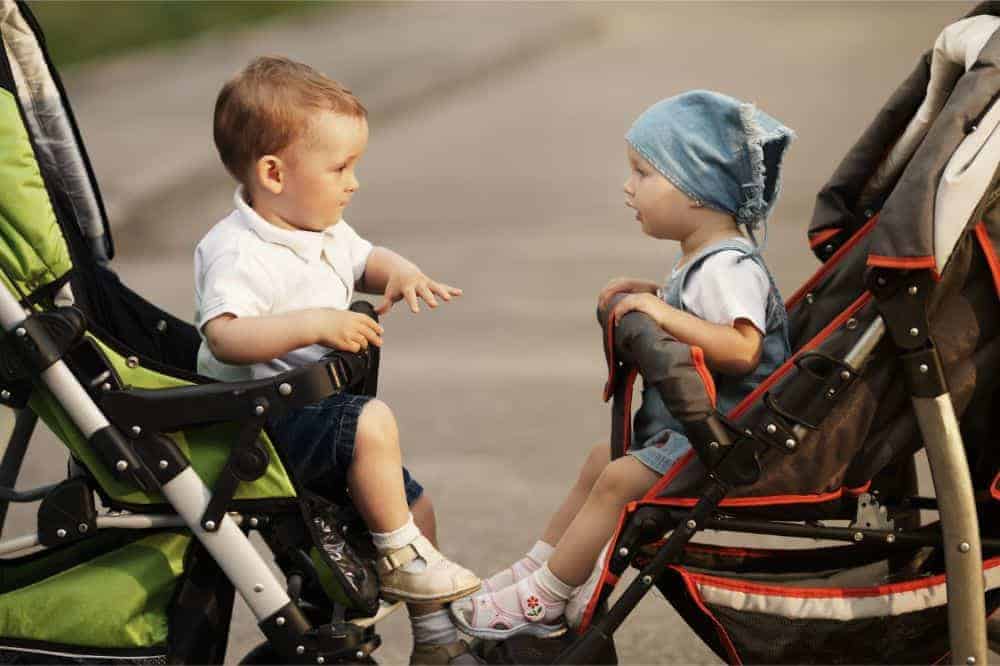 Yes, you got it right! Best strollers that too for older kids. It isn't fair for them to adjust themselves into strollers that are not even designed to carry their weight. But then, are there strollers available for older kids? Yes, absolutely! 
The only key to it is to purchase a stroller that could carry the weight of the older kids be it 25 pounds or 55 pounds. We understand how challenging it could get for parents to purchase strollers that are a great fit for kids from 3, 4, and 5 years of age. This is why we have accumulated a list of the best strollers for each age group in this article. 
Double Stroller: Types And Features
Before going for a double stroller, you must keep in mind that there are different types that offer unique features, and it's important to make your decision on the basis of what your family specifically needs.
For example, do you have an infant and a toddler? Or maybe you have twins who constantly yank on each other's hair, so you want a stroller with more separation to prevent that? Here are a few types of double strollers that may help you make a decision:
Side-by-side stroller: This is a traditional style of a double stroller. As the name suggests, the seats of the stroller are lined up right next to each other. This one is a great option if you want to keep an eye on both children at once, especially if both of them are in the early infancy stage. Keep in mind that these types of strollers are wider and often more difficult to squeeze through narrow spaces, such as doorways and store aisles.
Tandem stroller: In this stroller infants and toddlers often face forward, one in the back of the other. These strollers usually show better maneuverability and fold down more compactly and are therefore more convenient for traveling purposes. It's also a great option if your kids tend to steal each others' snacks or don't get along.
Sit-and-stand stroller: Families with a newborn as well as an older child can benefit the most from this style of stroller. This one typically includes a rear platform or seat for an older child who can ride along in the back. These double strollers are a great choice for big toddlers, who can easily hop on and off the backseat.
Wagon stroller: These can make great alternatives to double strollers as they provide a push and pull mechanism that other strollers lack. Wagon strollers also feature harnesses, storage pockets, and even snack trays for convenience.
Car seat compatibility: You should keep in mind that while most strollers today are car seat compatible, always make sure to double-check the user guide (most need car seat adapters or only work with certain brands).
Best Baby Strollers for 3-year-olds
1. Summer Infant 3D lite stroller: Best Stroller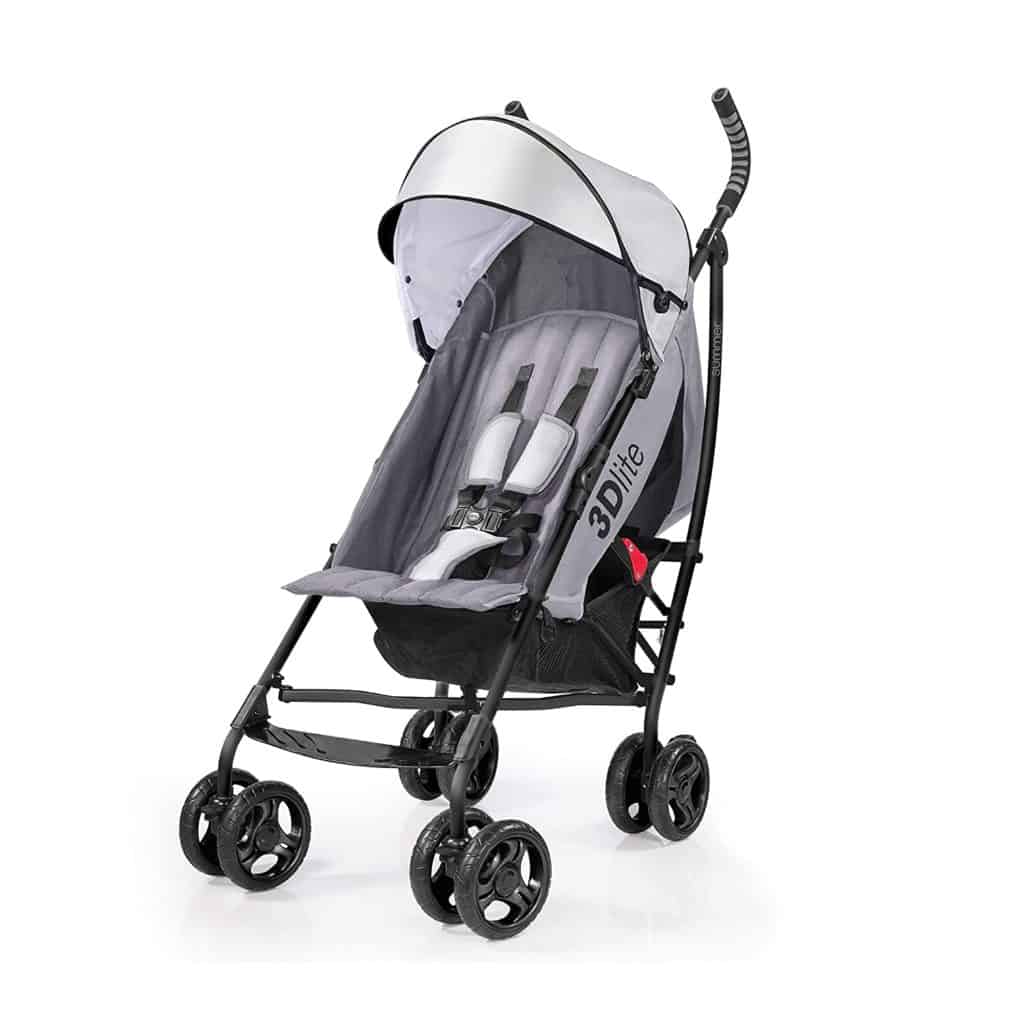 As the name suggests, this umbrella stroller is light weighted that weighs only 13 lbs, accommodating kids up to 50 lbs. They are pocket friendly with basic features and good durability for a 3-year-old.
It also has 5 recline positions, is anti-shock, and has lockable back wheels. The stroller for the 3-year-old kid features a big storage bag that can help handle basic things like toys, water bottles, baby bags, etcetera, a 5-point safety harness, and a decent sized canopy attached to protect the baby from the sun.
The highlights of Summer infant 3D lite stroller
It is affordable
It can be folded easily 
Is travel friendly
Check out our best travel stroller for baby, and Umbrella strollers
I bought this for Disneyworld trip for when my 5 year old got tired of walking (we walked ten miles on Magic kingdom day alone!😂). I found it to be perfect for what I wanted it for. It was easy and fast to open and fold up once I figured out how to do it. Storage enough underneath to accommodate my backpack. Moved around the park nicely. Even turning was simple. My 5 year old fit perfectly in it. The only things I didn't like about it were minor things: it doesn't have a tray or a parent cupholder. It comes with a kid cupholder, but it fell off at some point because it doesn't sturdily attach to the stroller. I didn't take stars off because these were fixable by adding a detachable cup holder.
Pros/Cons
Pros
Lightweight
Easy to move around
Great price
Good for big kids

Cons
No lap tray
No parent cupholder
Child cupholder fell off (not stable)
bought this stroller for our trip to Disneyland this month. I was worried it might be too big but it wasn't. we drove in so didn't need to haul it around much. it was easy to maneuver and has storage underneath that fit a decent amount of stuff. we bought extra cup holders for it as the one it comes with is pretty flimsy and cannot support larger tumblers. this was perfect for my 5yo boy he weighs 43 pounds and is 3.5 ft tall. My only complaint was that because it is so lightweight be careful putting bags/backpacks on the handles if your kiddo is not seated as it will tip over.
5 people found this helpful
2. Baby trend range jogging stroller: Best Stroller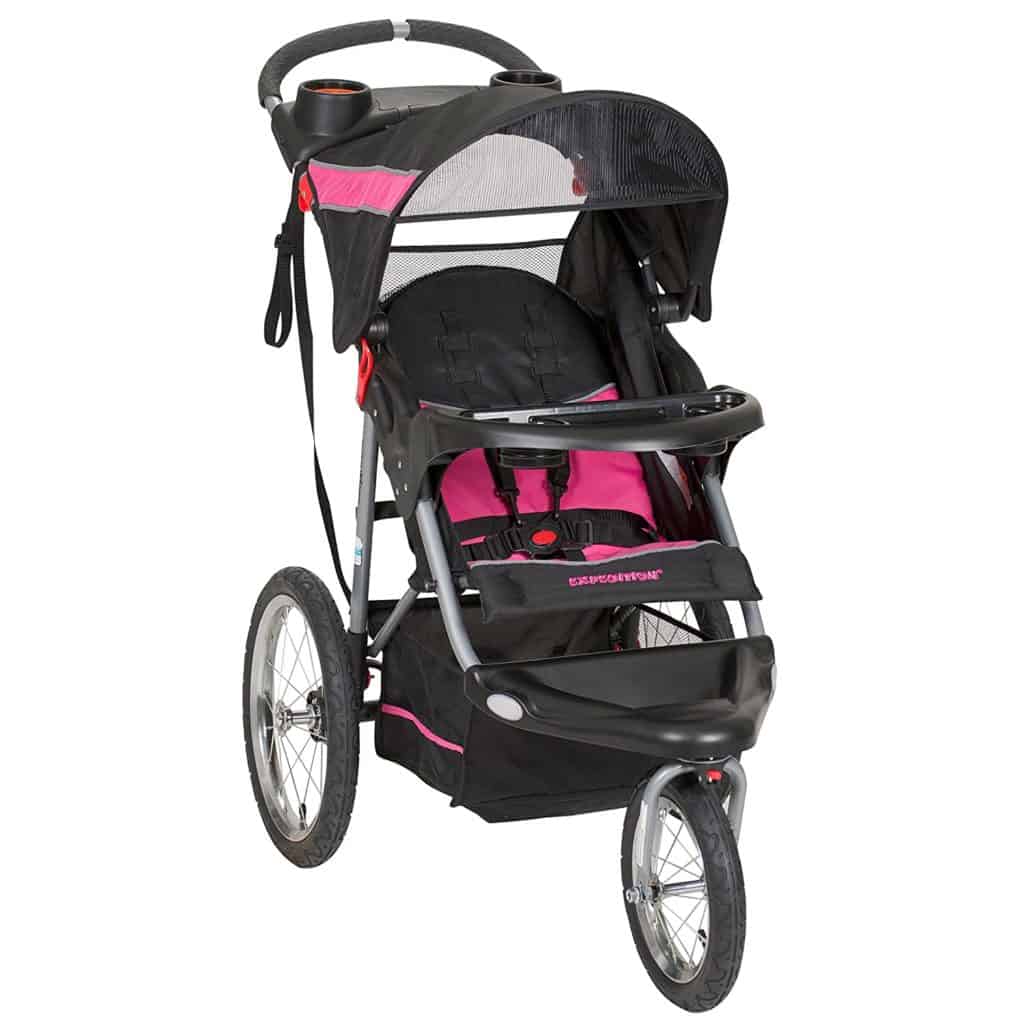 The jogging stroller can hold up to 55 pounds, is lightweight,  has high-impact composite wheels, and has a 5 point safety harness included. It has a child tray attached that can hold up to two drinks and snacks for the 3-year-old kid, as well as parents, tray with 2 cup holders.
The versatile stroller can be used as a compatible car seat that is covered with a small canopy. It features a storage space, footrest reflectors, and the tether strap for safety while on a jog and can be folded float that works great for storage.
The highlights of the Baby trend range jogging stroller
Has great wheels
Includes a child and parent tray
Has a storage basket
I don't really have any dislikes for this awesome stroller. I was pleasantly surprised at how easy it was to assemble, as well as appreciative of the different features it has. From the 2 double cup holders for my baby and myself (one for phone, one for drink for me, one for drink one for toy for her), to the bottom carriage for extra stuff, to the compartment between my cup holders to store my keys, wallet, etc., I couldn't ask for a better option,

It has some weight to it, so getting it up and down the stairs while holding my 9 month old was a chore, but it's extremely durable and tough, so the weight is to be expected in my opinion. I like how I can recline the seat for when my baby wants to kick back and relax, as well as the range of the cover/sun shield to protect her from any harmful rays. The little viewing section, sealed by velcro, is a nice touch for when I want to take a peek at her without pulling the cover all the way back.

All in all I am very satisfied with my purchase. Thanks to the company for making such an outstanding product!
I bought a very pricy stroller (spent about $800) for my first, and the thing broke after a couple of years. I thought I needed a stroller to last forever and through all possible babies, and the only way to do that was to buy an expensive one. I was a fool. I could have bought nine of the baby trend strollers for that! Not that I'd have needed that many, this stroller is well built, easy to fold, and light–very important when jogging because it's hard pushing a heavy one when you're getting back into exercise after having a baby. Will it last through multiple babies? I don't know but I don't know that it wouldn't either. I would recommend this to anyone and say forget the expensive ones, you won't miss them at all. Also, I love the sun shade, it actually works, and the recline is nice. Cup holder words fine. And I don't end up kicking the back of it as I run (I'm 5'9″). Handle is at a good height. The front wheel turns very easily which is wonderful. Be sure your baby is old enough for a jogger though–they say 6 months old so their heads and necks can handle it. I did follow this rule, though with my other son I that expensive stroller that reclined fully to laying flat and I did run with him in it a little. So perhaps that's something to consider with this stroller as it doesn't recline to lay flat (I don't think…I actually have't tried but I'm 99% sure it doesn't.) Still, six months will pass in a flash.
– Jen C
3. 2018 UPPAbaby G-LUXE stroller: Best Stroller
This stroller can hold up to 55 pounds, is fully-functioned, made with stylish luxurious breathable fabrics, and has an extension is UPF50+ in its massive canopy.
It features storage, has a stain-resistant fabric, a lower basket of a generous size, a clip-on drink holder for parents, and 5.5-inch wheels. The stroller for the 3-year-olds can be easily stored due to its efficient fold and has a carrying strap, too.
The highlights of the 2018 UPPAbaby G-LUXE stroller
Stain-proof fabric
Canopy attached
Easy to store
I love this stroller and I highly recommend it! I ordered it for my 3 year old son. He fits very comfortably and still has much room to grow. It's very pretty and the seat cushion is so soft. The hood can cover up so much more then most strollers. The seat can lay down. It's very smooth driving it around. It also has a strap so you can carry it. My only two complaints are that closing it can be a little tricky to get used to and that if you go down stairs sometimes it will hit the lock button. So if you go down lots of stairs alone I would not recommend it, but for everything else and for a stroller that seems to last a long time I really think its amazing. I also love the way it stands up when you close it so you don't have to lean it up on a wall.
– Lo
I purchased this for my large toddler ( 55pounds) for an upcoming cruise. He's too little to walk everywhere but most strollers are sturdy enough for him. This stroller is perfect! I love everything about it. It's strong, and has enough room for him in the seat. It folds nicely and has good wheels . It's not as light as cheap umbrella strollers, but I'm sure there's no way around that ,
Since it's made well. The basket has plenty of room, and the canopy provides plenty of shade. I wish I'd purchased this sooner!
Best Strollers For 4-Year-Olds
4. Britax B-Lively lightweight stroller: Best Stroller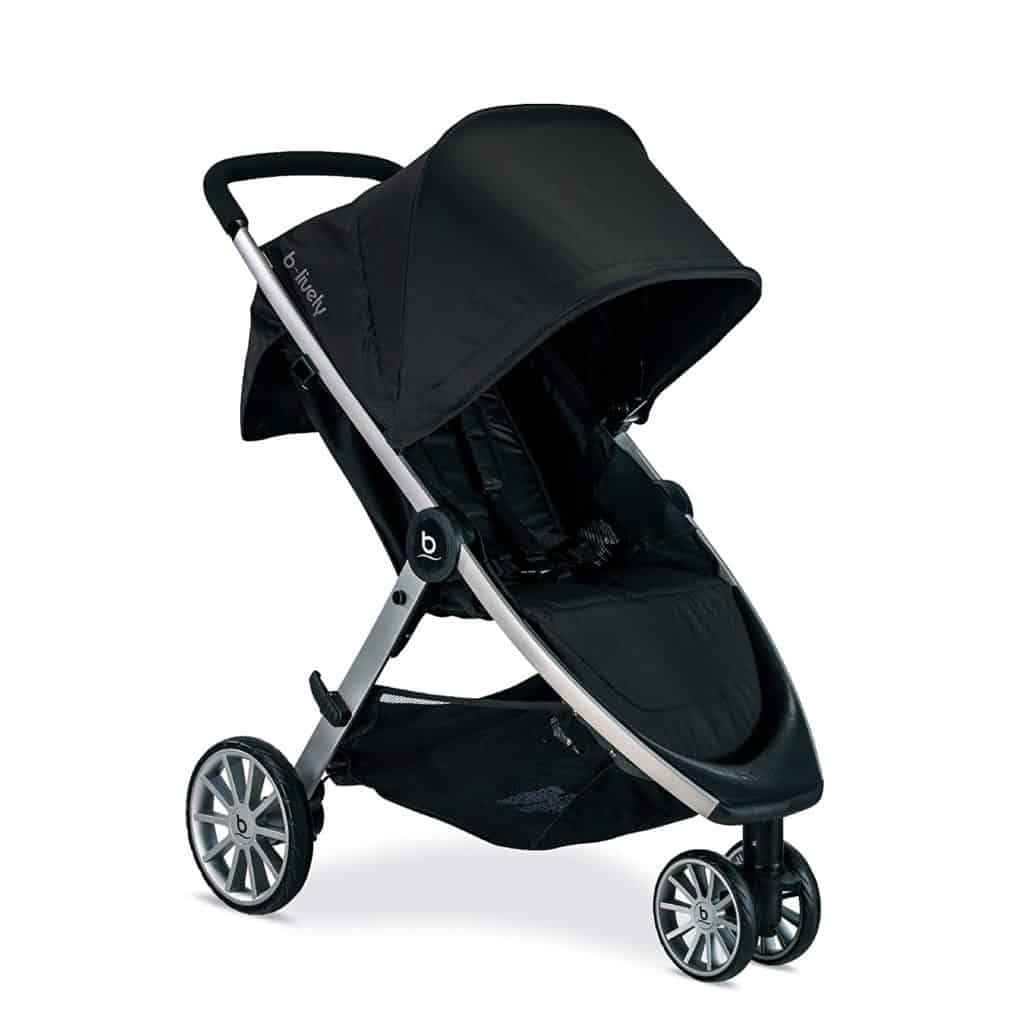 The Britax stroller for the 4-year-old kid is high-quality, lightweight, and is big. It features 20 lbs in weight that can hold up to 55lbs, a footrest, and has an all-wheel suspension option. for a better ride, a 5-point harness is attached and can be easily folded by using only one hand. Adding to that, the stroller could be reclined to 180 degrees that can be adjusted.
The highlights of Britax B-Lively lightweight stroller
Includes a waterproof and UPF 50+ canopy
Easy to push and turn.
Has 5 safety harnesses
Is lightweight
I was looking for a stroller that will go with our infant car seat. This stroller is not very light weight but it's very sturdy. It's easy to maneuver and easy to fold up and out. However, the adapters on the side for the infant car seat comes off easily. It's easy to put back on and it doesn't come off when the infant car seat is on it. It only comes off sometimes when it's folded. It could have been bumped by something.
– Jenny
We traveled all over with this stroller for 3 months, and it took a beating with hours of pushing, cobblestones, dirt, and all. I like how easy it is to take off the big wheels when putting it in a trunk full of suitcases. Easy to fold, but needs 2 hands to unfold.
– Rayt
5. Born free LIVA compact fold stroller: Best Stroller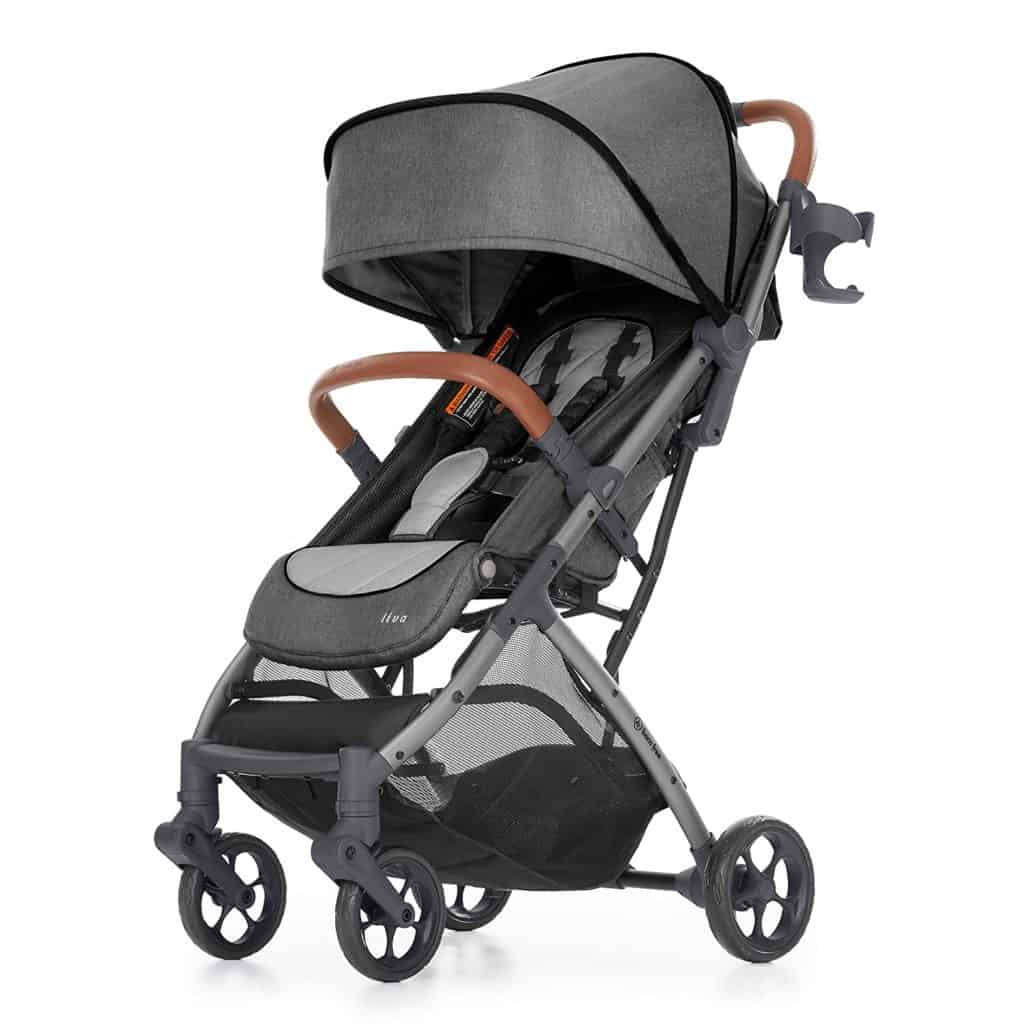 If you are looking for a stroller that is big enough, can handle the weight, and is not jogging friendly, this is your stroller! This LIVA stroller is super versatile as it can be used by newborns to 4-year-olds, can handle 50 lbs, and is compatible with car seats.
It features big wheels, a cup holder, a canopy, has a carrying strap attached, easy fold, adjustable footrest, parent pocket, and a 5-point harness.
The highlights of born free LIVA compact fold stroller
Versatile
Easy to fold
Adjustable footrest
This stoller has the BEST maneuverability. This is my 4th stroller to date because the previous three were either too hard to fold, too big/bulky, or too heavy – and all three had horrible maneuverability! I read reviews and studied various stroller info on almost every brand for a solid two months before finally deciding on (another) one, and this one fit the ticket – maneuverability, price, size, weight, and folding! I am so happily shocked at how smooth this stroller is an how easy it is to turn and go around things. I also really love that it's skinny, so it fits through aisles in the stores so much better. It folds down super compact so it doesn't take up hardly any space in your car. It's the lightest weight one I've had, too! Also, there's a built-in pouch below the handle for your keys, some diapers, and etc… – I hated always having to strap on a stroller bag, and now I don't have to!
– Laura K
We stumbled upon this stroller when looking to buy the Uppababy MINU. We have the MESA car seat and VISTA stroller already but wanted something smaller for tight places and quick trips. We debated back and forth whether or not to buy this without seeing it in person but trusted the other reviews and went for it since it was half the price of the MINU. The only advantage that the MINU had on this stroller was the fact the MESA car seat fit into the MINU. We ended up deciding that this feature was not worth $200 additional so we bought the Liva. Come to find out that even though the MESA is not listed/tested by the manufacturer as compatible, it fit securely and worked great with the Liva. This was the icing on the cake. The quality is a great and we are glad we took the chance on this stroller. If you are on the fence about buying this stroller, just go for it because it won't disappoint!
6. GB Pockit+: Best Stroller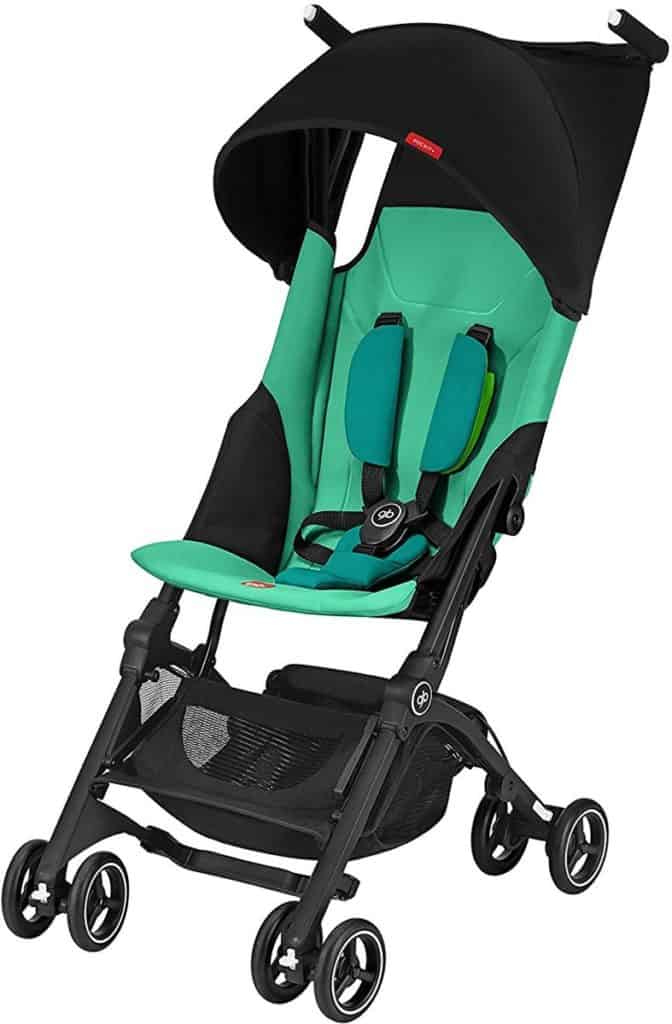 This is one of the best strollers for 4-year-olds, as it is lightweight, travel-friendly, and can carry up to 65lbs. The Pockit stroller is available in various colors, is only 9.5 lbs in weight, and can be easily folded into quite a small size that can be adjusted in overhead bins on airplanes. Isn't it fascinating!
It also comes with an attached sun canopy that is UPF50+, is padded, and has a 5 point safety harness.
The highlights of GB Pockit
Have swivel front wheels
Adjustable seatbacks
Available in different colors
We are pleased with our gb pick it+. It truly folds into an incredible compact size and requires just a bit of finesse to quickly fold and unfold. We are avid travelers and strictly use this stroller for vacations not on a daily basis. Although, if we were urbanites, we probably would use this more often simply because it is so compact. The color is a lovely teal and this product does recline slightly. I have purchased other high quality light strollers and this one really folds down small. I like how it stands up on its own. We did not purchase the storage bag, instead we had a waterproof custom bag made for it in a matching color and we love it. We also found a bag at the Container store that fits it rather nicely and will protect it from dirt when gate checking or storing it. It will fit in most overhead bins of average sized planes so it can definitely count as a carry-on. Overall, I am pleased with this product. We are taking it to Europe so we plan I'm putting it through the test on classic cobblestone streets and subways.
– JP
I just bought the gb Pockit+ in Laguna. Impressed as folded version the size of 24 pack of Ozark water bottles, taking up 2/3 less space in my trunk than the umbrella Summer Infant 3D flip. I bought the new one as 26 mo old grandson is tall (37″, 36 lbs) and the Summer Infant 3D Flip crotch strap was cutting into him, since not adjustable as the shoulder straps are. He immediately climbed into this stroller straight out of box. Took longer to read the photo instructions than to actually set up. I appreciated NOTHING to assemble, ready to go. Lots of seat room so I expect this to last the 2+ years it will take him to get to the 55lb max weight. Not much room for purse, diaper bag and mall articles. No cup holder for adult or kid, but that is small price for ease of grab, roll and go. I'll just trade my purse for a backpack.
– D. E. A.
Best Stroller for 5-Year-Olds
7. Joovy zoom 360 ultralight: Best Stroller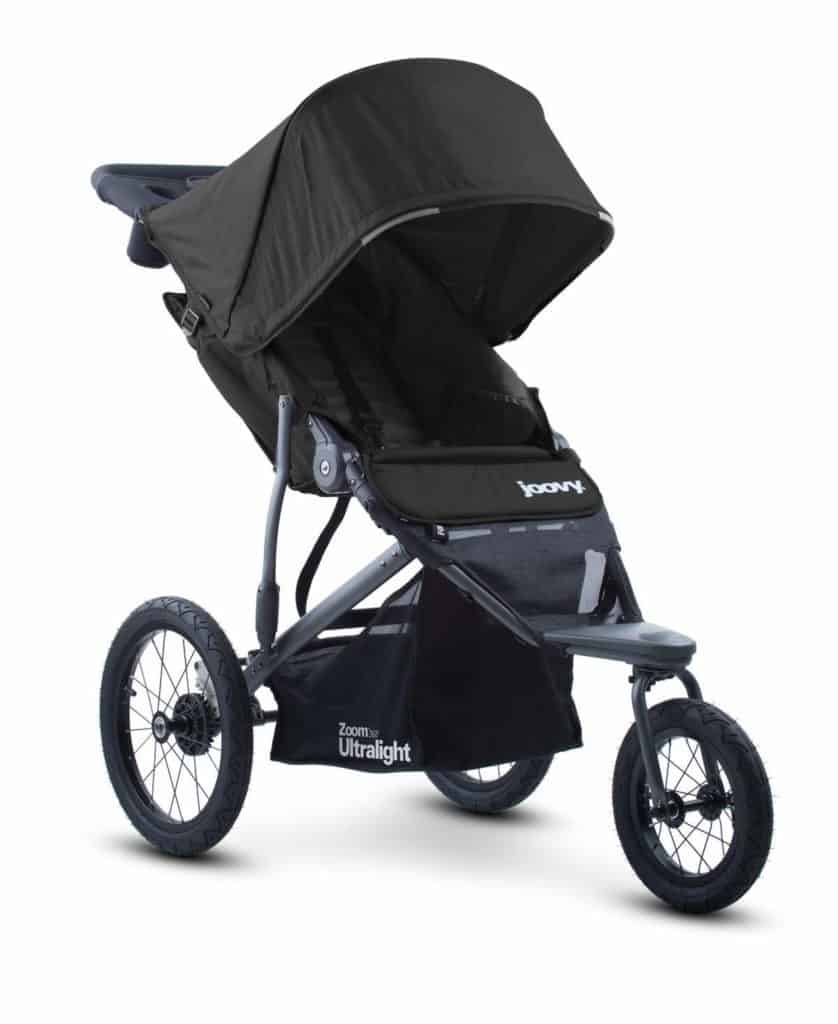 This jogging stroller comes with the car seat adapter, is affordable, large. The Joovy stroller features a graphite-colored aircraft aluminum frame, has tires of 16 inches,  and a 12-inch lockable swivel tire.
The Joovy stroller has a shock-absorbing suspension, a rear axle, and a dual-sided parking brake. It has 22 inches of headspace, can hold up to 75 pounds, is comfortable to ride even for older kids, a large sun canopy, and has a 5 point safety harness for the kid's safety.
The highlights of Joovy zoom 360 ultralight
Organized handlebar for parents
Has a small storage
Can fold up to 19 inches deep
Includes a suspension system
I love Joovy and have bought many of their products. I did so much research before buying this stroller. It is for my 5th kids so I've learned what I personally love and hate. I knew I could trust the Joovy brand. This one, in all honesty, came down to cup holders! I loved that it was neoprene material that would hug a cup instead of the hard cup holders that honestly just make things bounce around with no security. I love the many pockets, even in the baby's sitting area, for storing smaller things you would need for baby. It's very modern looking and incredibly smooth to run with. I live in the country with bumpy roads and no sidewalks; however, this stroller effortlessly glides along without getting snagged up on little bumps and rocks. I'm in heaven about it!

If I could make ONE negative comment, it would be that one you have folded the stroller up to put away, there really isn't a smooth way to pick it up and put in the car. I'm always trying different places to use as a handle, and I'm always a little scared to pinch my fingers, though I haven't yet. I just wish it was like a distinct "handle" to pick it up and stow it. But that's such a small factor when I didn't buy it to pick up and store it, I bought it to RUN! And that part is does really really well!
– Skifrs
I love this stroller, have been hitting trails hard with this one accidentally hit some trails that some hardcore mtb like the $1500-$2000 full suspension kind had to walk ,jogged right past them with my daughter laughing as they struggled lugging there bike along, This thing has no rolling resistance , lower pressure in the tires and you can do some real rough trails without throwing your kids around too much. has good ground clearance. added a cargo net bag under handle bar to maximize storage capacity, and can still cary my camera bag with out tipping, love the fact it comes with a air pump. And safety strap which is good if you dont want your kid to go down a hill like a uncontrolled rollercoaster if you take your hand off bar going down hill, this happened to me on a very slight grade with my backpack in place of kid when she wanted to walk a little, I swatted a fly by that time stroller had a 20 yard lead and had to retrieve it from the bushes all in all my fault but showed that was a good strong built product
8. BOB Revolution Flex 2.0 jogging stroller: Best Stroller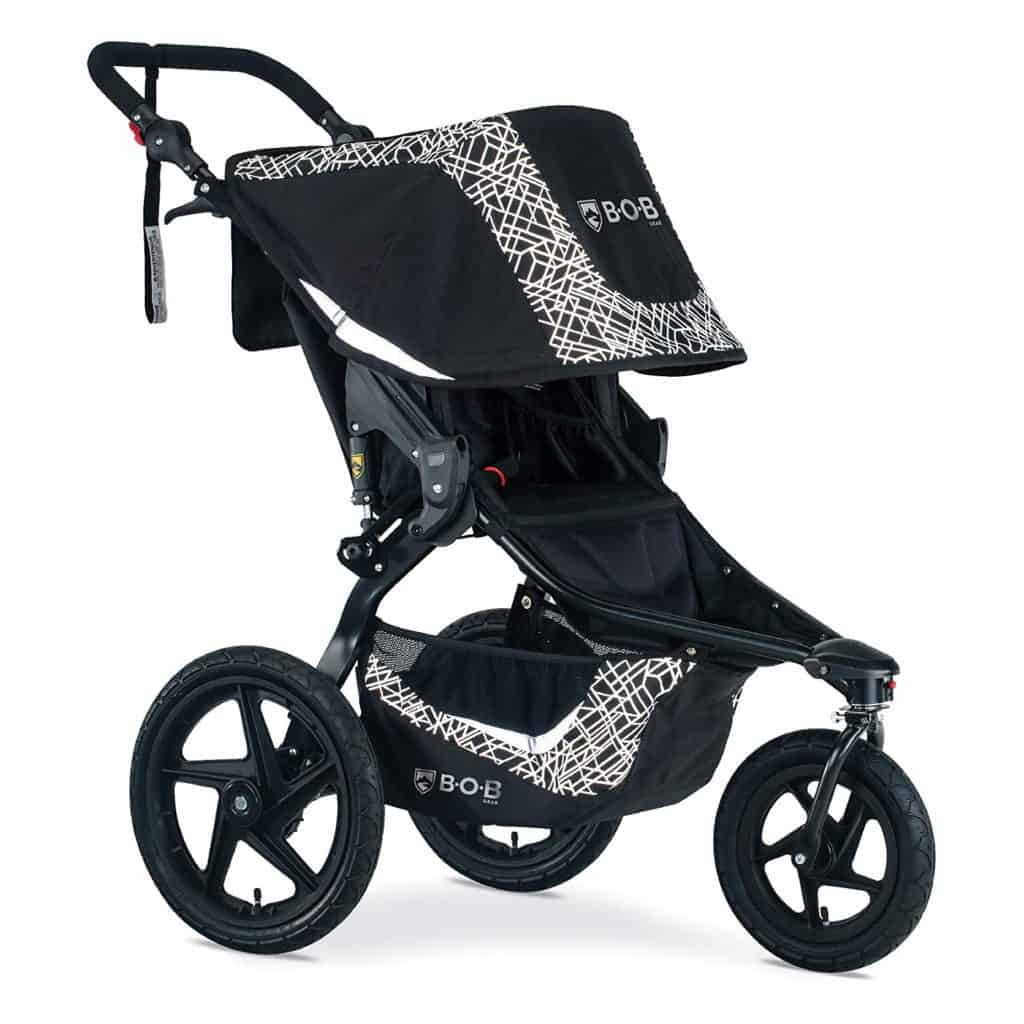 This jogging stroller has big wheels and seats that can hold the weight of a 5-year-old kid. It has super high quality, with a swivel front wheel, and wheel locks.
The BOB stroller for 5-year-olds features air-filled tires, a suspension system, a 9-position handlebar, and plenty of room for storage.
The highlights for BOB revolution Flex 2.0
Includes safety strap
Foot brake
Adaptable seats
Not to be dramatic, but I've been in awe for months at how wonderful this stroller is. We bought the Duallie for our 1 year old and 3 year old. Easiest double stroller hands down – and we have tried several different types of doubles. I can literally push and maneuver both of them with one hand. So easily zooming through crowded places like Disneyland and malls but also work well outside on trails and uphill. The adjustable handle is an absolute game changer. Depending on my mood, environment and/ or athleticism for the day, I like the handle bar really low or super high to just "rest" on. Just knowing I can change the handlebar itself makes it an amazing stroller. I change it depending on my environment and it's worked wonders. Bottom line: this stroller is a dream and I'll be sad when my kids outgrow it, because it's so fun to push.
– Ryan
My daughter had an older single Bob. However she is having her second baby and will need a double stroller. She said the quality is excellent, even better than her older one. She loves it! We compared so many online and this just looked to have the safest harnesses for when they are no longer in carriers.

The only down side is it's so wide we had to buy a different double stroller for things like taking them places where a lot of people will be (shopping malls, Disneyland, etc). I was hoping to get an in-line Bob double stroller, but couldn't find one.
– Jewels
9. Baby jogger city mini GT stroller: Best Stroller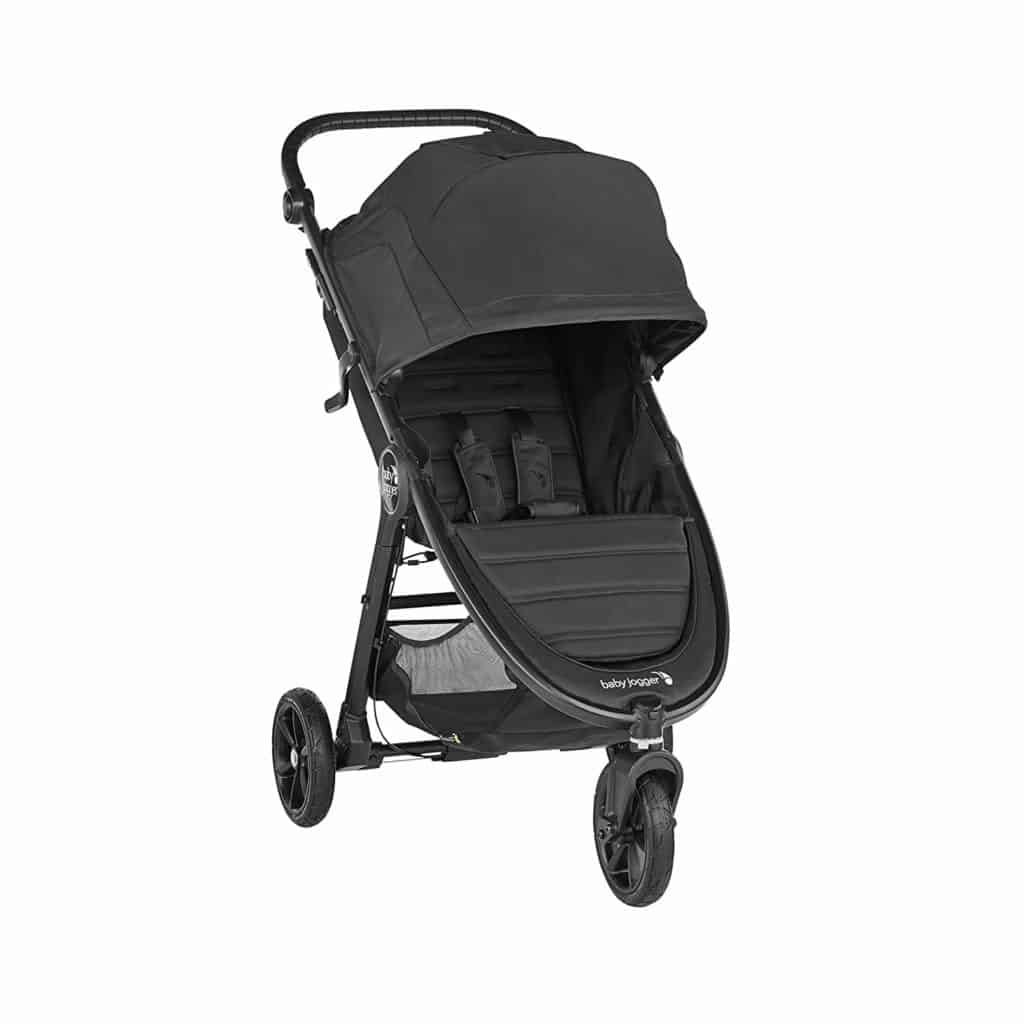 This mini GT is a big stroller with a weight limit of 65 lb and has a massive roomy seat. t It features rubber tires, a suspension system, a height-adjustable handlebar, the hand brake up top, and a storage basket underneath.
Additionally, the stroller is swift to fold, has 5 safety straps for the safety of the 5-year-olds, and comfortable foldable seats.
The highlight of Baby jogger city mini GT stroller
Travel friendly
Has a storage basket
Big in size
I didnt want to splurge on a doubt stroller but could not find one that would fit in my GMC Acadia(with all the seats up). I had a Baby Trend double jogger that pushed nice on all terrian but I was always taking the wheels on and off and even then it barely fit. After doing a lot of research and reading multipe reviews I decided to splurge and boy am I glad I did. This stroller pushes so nicely on any terrian(we live in the country so we are always walking through rocky, grassy terrian). Even my 51 pound 7 year old sits in it from time to time and it has still held up well. A must buy for anyone looking for a side by side that is compact. Oh and I bought a parent console thing and that makes it even better! Will definately be recommending to all my friends/family
Honestly, I love this stroller. The storage space is great, the canopy covers are wonderful & it is so easy to move and go through almost every door which is so nice. The only thing I don't like is the folding up. It's just a little big and heavy to put it but hey at least I get some muscles doing it!! I have a 1 1/2 year old & 3 year old and we love it!
I would say it's worth the money!
– Gabby
Purchase the double stroller version for my 4 yr old, 2yr old, and new born. The double doesn't come with a carseat attachment so I got that as well. We have a maxi cosi carseat and it all works great together. I love how easy the stroller is to use and it is such a smooth ride even with a lot of weight in it. I ended up purchasing a damaged box stroller and got it for $150 less bc of it but the stroller was perfect! Made me so happy with such a high ticket item.
Best Baby Stroller: Final Thoughts
Finding the best strollers are quite challenging, but adding on to finding a stroller for older kids might seem an impossible task for some parents. However, the key is to have the features you need to tally the already existing features of the strollers. Hope the well-researched list above helps you find your best stroller.  
Best Stroller FAQs
1. When must the kid stop using a stroller ?
There is no definite age for a kid to stop using a stroller, it only depends on the child as well as the circumstances. However, the kids must stop using a stroller when they start to walk comfortably without any breaks.
2. What amount of weight can the stroller hold ?
This depends on the features of each stroller as each has its specifications. Generally, strollers can support up to 50 pounds, while some can contain up to 75 pounds.
3. Does a stroller expire ?
Not! Strollers do not expire. Also, if you wish to get a second-hand stroller, you can go for it without a doubt.
4. Is a 3-year-old child too old for a stroller?
There are no set guidelines as to when you should free your child from a stroller. However, a 4 or 5-year-old child should be stroller free and the transition should start from the age of 3.
5. Which is the best stroller for twins?
If you have an infant and a toddler, or maybe you have twins who constantly yank on each other's hair, you may need a stroller with more separation to prevent that. In this case, a double stroller would work the best for you and your family, there are various types of double strollers that you can choose from.