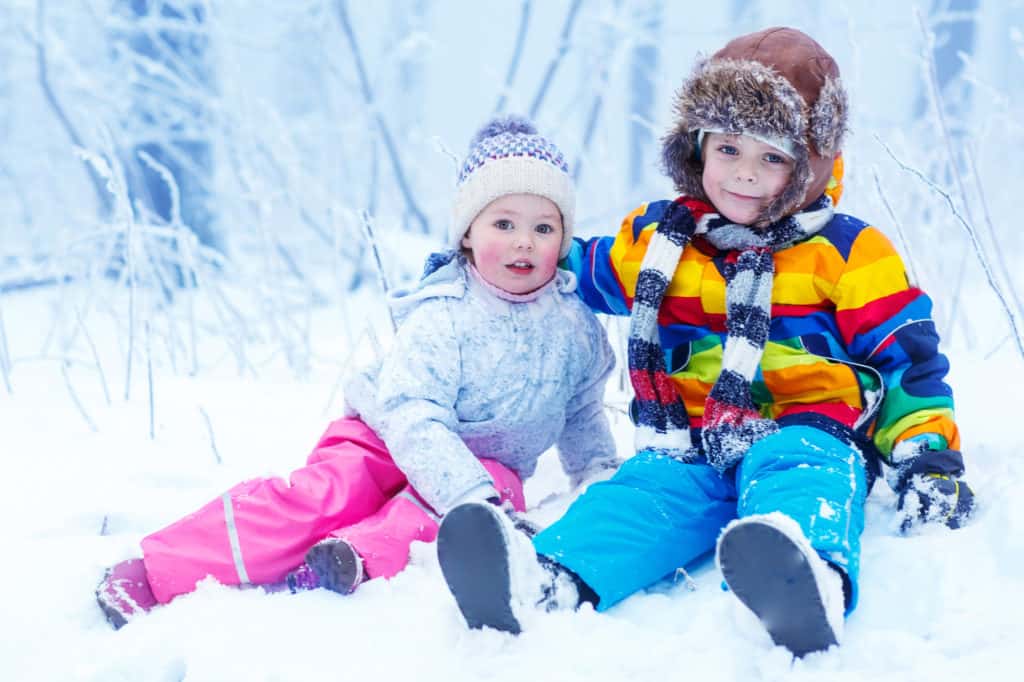 Winter is coming and while we grown-ups are ready for it, are your toddlers ready to welcome winter yet? One needs to keep their head warm during winters. Toddlers have a really weak immune system and hence they are prone to falling ill very soon. So, before winter begins, have a look at everything that you need to know about the best winter hat for your baby that will keep them warm.
How To Choose The Best Baby Hats For Your Babies ?
Don't just pick any winter hats based on their appearance. The beanie hat might just look too cute to ignore, but one must ask this question – Are these hats helping my baby in any way? There are few key factors that you must keep in mind before you choose a winter hat.
1. Material Of The Winter Hats
The material of the hat must be kept in mind while choosing the best winter hats for toddlers. Winter beanies are made of either natural or synthetic materials, and both of them have their own pros and cons. The natural fiber is wool which is resistant to water and sweat. It will keep your little one's head warm and soft along with giving breathing space to the scalp hence regulating moisture. The well-knit woolen hats cover the ears and keep them protected from cold. One should also consider whether your toddler is allergic to animal fibers. Another important factor to keep in mind is that these beanies/hats require special laundering. It would be best if they are hand washed.
Now if you are looking for affordable yet adorable and cozy winter hats that will give your babies warmth, then one must opt for cotton winter hats. A cotton hat is just as soft, durable, and warm as wool. These are machine-washable, unlike wool hats. But the major disadvantage is that these hats shrink at high-temperature washing.
Speaking of synthetic fibers, acrylic hats are super reasonable. They last longer than wool hats. Acrylic hats last longer than woolen ones, retaining their shapes and colors even after frequent washing. The only drawback is that it is not a breathable material and hence your baby will sweat a lot.
There are also winter hats that have features of both synthetic and natural fibers. It has the water-resistance of cotton or wool, and the stretchiness and durability of acrylic.
2. The Type/Form Of Winter Hats For Toddlers
Winter hats for toddlers come in various shapes and sizes. Knitted beanies are in high demand as the bobble provides extra protection, and it also suits the majority of faces especially the oval-shaped face. Its perfect fit makes it everyone's favorite.
Then there are trapper or aviator hats. These are famous in countries that have severe cold winters. The biggest plus point of this winter hat is that it has flaps covering the ears which is helpful to protect the ears from the snow cold winters. These hats are available for kids of all ages and they cover the head, ears and some flaps even extend to the chin providing complete coverage.
Another advisable winter hat is the one with bobbles and ear flaps. These are amazing for your babies and toddlers. If you buy these beanie hats, then make sure that you are buying a hat with earflaps, and it has chinstraps or a hook-and-loop strap to secure the hat over your kid's head. These will definitely look super cute on your toddler and it will keep them warm too.
Kindly note that if you are traveling to a cold snow-covered region, then make sure they are of good quality and it gives your child warmth. It is suggested to carry trapper hats for your toddlers over the conventional beanie hats. Also cover the baby's neck and ear properly, so that they don't fall sick.
Other than just the quality, it is very important to wear beanies of the correct size. Some winter hats are too stretchy, which means they will fit all ages and they will stretch as your child grows. Other hats have different sizes available. Make sure you measure your baby's head size and then look for the perfect beanies/caps/hats. One should also check out the product reviews on Amazon.
Now let us show you some of the best winter hats that will stay on for longer and will keep your babies warm. Some are super soft, cute, and adorable beanies that will be irresistible to avoid.
Here are the best winter hats for toddlers to pick from for your little one
1. FURTALK Winter Knit Beanie Hats: Best Winter Hats For Toddlers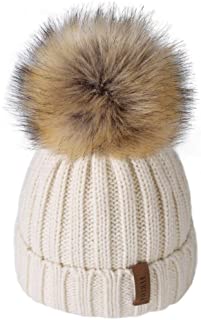 Winter knit beanie hat is the perfect winter hat for your toddlers. These can be used for many years and they are of 100% soft acrylic material. The Faux fur pom on top makes your child look super cute and stylish. The faux fur provides extra warmth and is also detachable. They also have a zipper bag, so that you can remove that pom on top when not required.
Pros :
They are super stretchy for all children of ages 0-6
Easy wash
Removable faux fur
Cons :
It doesn't cover the ears especially for girls with bulky hair
The Faux fur can disrupt the balance of kids learning to walk
2. JAN&JUL Fleece-Lined Winter Hat: Best Winter Hats For Toddlers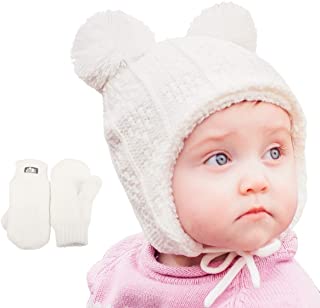 Fleece-lined winter hats are the perfect combination of cute design and superb protection. The sherpa-fleece lining will provide warmth to your baby. It even covers the ears head and back of the neck. They also come with chinstraps. So your kids move around a lot, make the best use of it.
Pros :
Keeps the head warm with soft sherpa-fleece lining
Perfect coverage to ears, head, and neck
Stretchy material lasts for years
Cons :
There are two types available. One for babies of 0- 24 months and the other for ages 2-6. The features of these knit hats are designed as such that it is not stretchy for babies.
3. N'Ice Caps: Best Winter Hats For Toddlers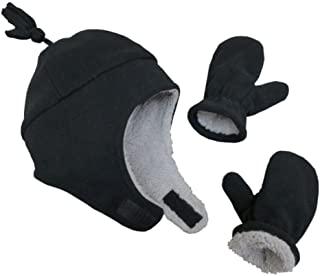 N'ice Caps are gaining high popularity in the market these days. It is fashionable, keeps the baby warm, and it also has a double-layered sherpa fleece lining. No matter what these soft fleece will protect your toddler's head from the cold. They come with a pair of mittens in the kit too. Isn't it amazing?
Pros :
Double layered fleece lining that keeps the toddler warm.
Coverage of ears and neck
These are available for kids pf ages 3-6 months, 6-24 months, 2-3 years, 4-7 years
Cons :
Quite difficult to find the right size for your toddler.
4. Durio Soft Warm Knitted Baby Hats: Best Winter Hats For Toddlers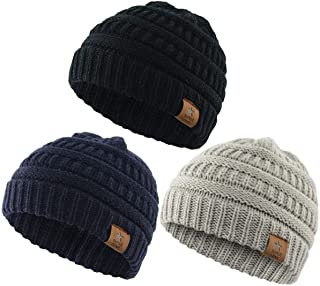 These high-quality beanies are a combination of polyester and cotton. This feature makes the hat a must-have in winter. These polyester-based winter hats will provide protection from the snow as well. You will never regret the purchases made.
Pros :
Comes in various colors
Covers the ear and some even the chin.
Stretchy and lightweight
Cons :
Size issues for a toddler between 6- 10 months
5. Funky Junque: Best Winter Hats For Toddlers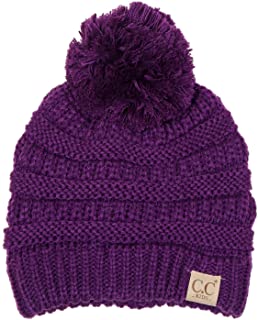 If you want your toddler to wear something that is fashionable and yet cozy and comfortable then this is the perfect match. The features also include a pom to make it look cute. This unisex beanie is of acrylic material and hence makes your child feel comfortable and don't forget it makes your kids look adorable too.
Pros :
Features include being durable and flexible
Variety of colors to choose from
Unisex
Cons :
Will be loose for infants below 2 years
6. Bienvenu Puppy Caps: Best Winter Hats For Toddlers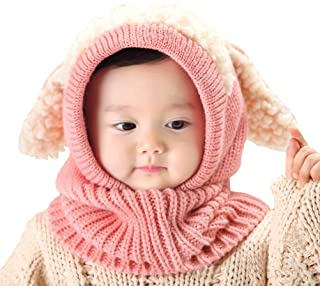 Puppy caps, as the name suggests will be super adorable and cozy. It will give your toddler a complete cozy and warm feeling. These knit beauty will not only cover the ears and chin but the neck as well. It also has cute ear flaps which will be of double protection to your kids during the winter.
Pros :
Multifunctional
Cute designs
Stretchy
Made of Acrylic and cotton
Cons :
No fleece lining on the inside
7. North Face Littles Faroe Beanie: Best Winter Hats For Toddlers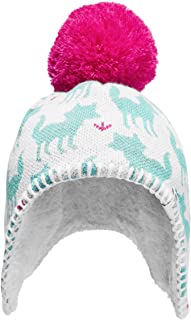 North Face can be termed as a synonym for comfort. This cute knit hat is soft and cozy. And several reviews suggest that kids love them and keep it on. North face reviews are extremely good and people haven't had any issues with this product.
Pros :
Comfortable, soft, and cozy
Sizes available. Right from extra small to medium.
8. Zutano Baby Cozie Fleece Furry Hat: Best Winter Hats For Toddlers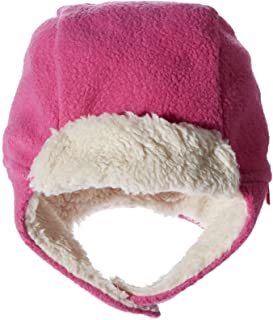 A cotton and polyester mix zutano furry knit hat provides an additional layer of fur for a snuggly feeling for your kids. The ear flaps make sure that no cold wind gets to you. Whether your baby is 6 months old or 4 years old, you will find the exact size for them.
Pros :
Protective ear flaps
Hook-and-loop closure at the chin
Cons :
Reviews suggested that it only fitted the head when they purchased one size up.
9. Carhartt Acrylic Watch Hat: Best Winter Hats For Toddlers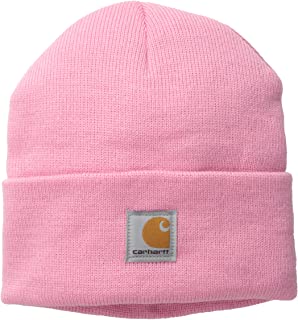 The classic Carhartt beanies are a blessing in disguise. Carhartt hats are available not just for the kids but also for the entire family. So, if you are planning to add fun to your winter wardrobe then this is it! You can add mittens to the outfit to add on to the features of your outfit.
Pros :
Available for all ages and sizes
10. Winterlace Beanies: Best Winter Hats For Toddlers

Let your little one glow like a rainbow with the winter lace beanies. These are affordable ones that come in bright and warm colors. Their features are so well built that it insulates the head perfectly and yet leave room for your kid's growth. Some even have a pom on the top. Do add mittens for additional attraction.
Pros :
Reasonable, special offers like a pack of 12
One common size to fit them all
Cons :
No earflaps
A moldy smell (goes away after washing)
Best Winter Hats For Toddlers Final Thoughts
A Winter hat is one of the most important things needed during cold weather. Do not neglect them. Winter can make your child sick, hence a good knit hat is of utmost importance. The baby must feel comfortable and hence soft fleece-lined hats are preferred to keep them away from cold. Features like pom add to the aesthetics of the hat-making your toddler look adorable. Your little one will love the pom feature. The purchase made should be of soft-lined fleece as this winter hat will keep away the cold, such is the use of a fleece.
And if you are taking them outside, don't forget to take baby travel strollers and baby bottles with you!
Best Winter Hats For Toddlers FAQs
1. How can I protect my baby's head in winter ?
Babies lose a lot of heat through their heads and hands, hence it becomes more important to get hold of a soft baby cap and lightweight mittens to provide your toddler with warmth. An extra pair of mittens can be kept ready if your baby is a thumb sucker.
2. How long should I keep a hat on my newborn ?
Every child needs a hat in the winter as it keeps them away from the cold. One can feel free to keep putting a cap on the baby as long as the baby looks comfortable.
3. How should I dress my baby at night in winter ?
Always make sure that you dress your baby in an additional layer of clothes than what we usually wear to bed. In colder months, opt for a long-sleeved onesie or a heavier sleep sack or swaddle.