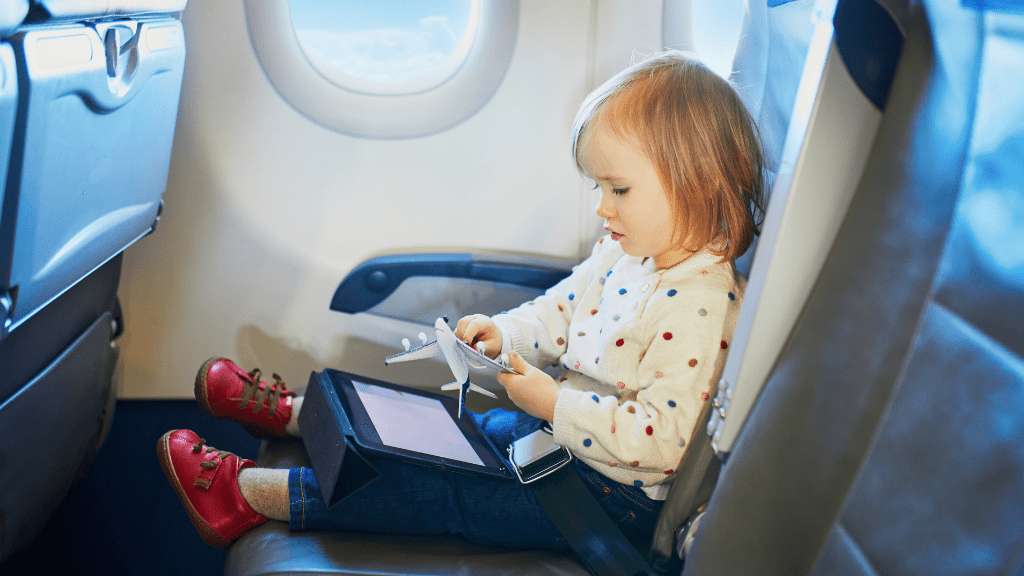 Hitting the road soon or flying somewhere? You need portable travel toys for babies and toddlers that will keep your baby engaged and entertained. Some people love traveling to different places so much that they live for such trips. But babies? We don 't think so. Being confined in a car seat for hours without much view can naturally frustrate your little one.
Whether you are flying or driving, or just out in a restaurant even for an hour or two along with your baby, you must have noticed how they get restless sooner or later. You must carry something to keep your baby busy but of course, you don't want to carry an entire activity space with you. These travel toys mentioned below come to your rescue because of their small and compact size and portability. You can easily fit them in your diaper bag and pull them out in a jiffy. Here we have a list of the best travel toys for 1 year old in the market with their standout features highlighted to keep your kiddo from getting fussy.
High contrast toy: Manhattan Toy Wimmer-Ferguson Infant Stim-Mobile To Go
Fruit on the road toy: Skip Hop Farmstand Avocados Stroller Toy
All-in-one toy: Lamaze Play & Grow Freddie The Firefly
Rattle and teething toy: Sassy Ring O' Links Rattle
Bubble toy: Fat Brain Toys dimpl
Music anytime anywhere: Baby Einstein Take Along Tunes
Take-along snuggle: Lucy Darling Lovey
The washable book: Indestructibles: Things That Go
Storytime in travel time: Melissa & Doug The Wonderful World Of Peekaboo! Soft Book
For on-the-go naps: Skip Hop Stroll & Go Portable Baby Soother
Let's take a detailed look at how these toys would benefit your child and if it falls under your budget.
1. Manhattan Toy Wimmer-Ferguson Infant Stim-Mobile To Go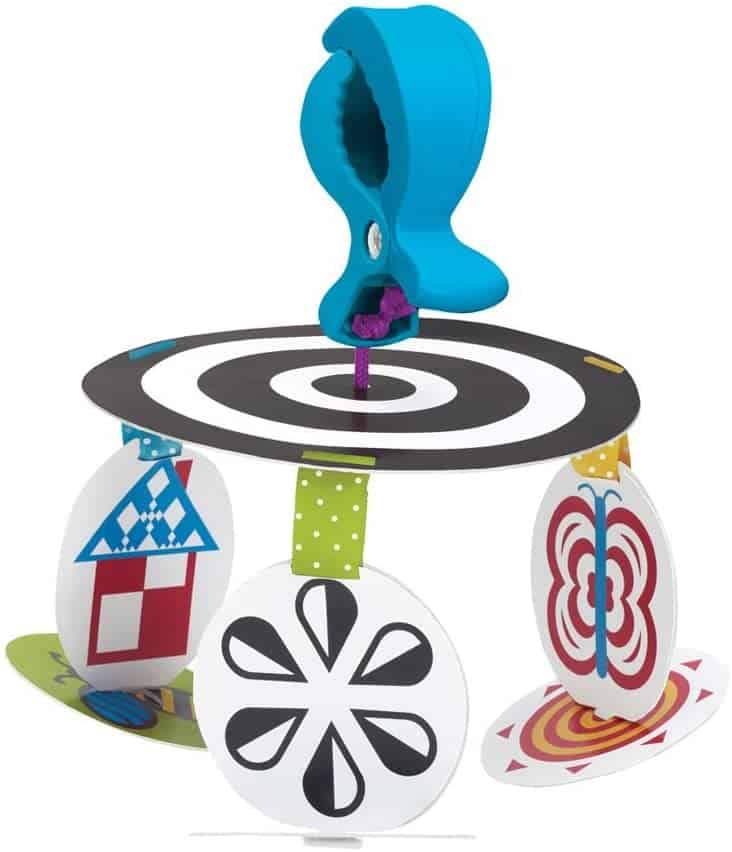 When your baby reaches the age of about 2 or 3 months, their vision is still under development. So if you have a newborn on board, the best way to keep them busy is to use high contrast toys which would not only keep them entertained but also act as stimulation of their vision. Manhattan Toy Wimmer-Ferguson Infant Stim-Mobile To Go is a portable mobile that includes 12 high contrast pictures on 6 reversible cards. The entire thing can be attached to a car seat or a stroller. Remember to keep it 6 to 10 inches away or within the baby's eyes as the depth of their vision is also under development in the early months.
2. Skip Hop Farmstand Avocados Stroller Toy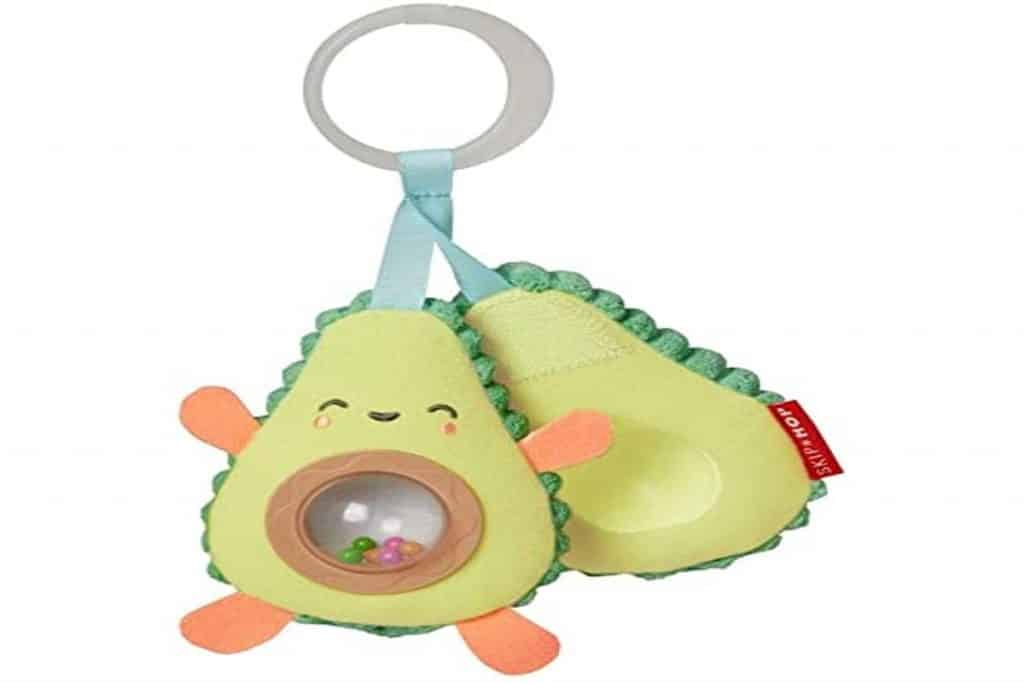 You must have told your child to not play with food but with the Skip Hop Farmstand Avocados Stroller Toy, you might as well encourage it. There are two sides to this cheerful avocado toy that stick together with a hook-and-loop closure. The sides can be pulled apart to reveal a beaded rattle in place of the pit. There's a ring that can hook onto any diaper bag strap, stroller, or car seat with ease.
3. Lamaze Play & Grow Freddie The Firefly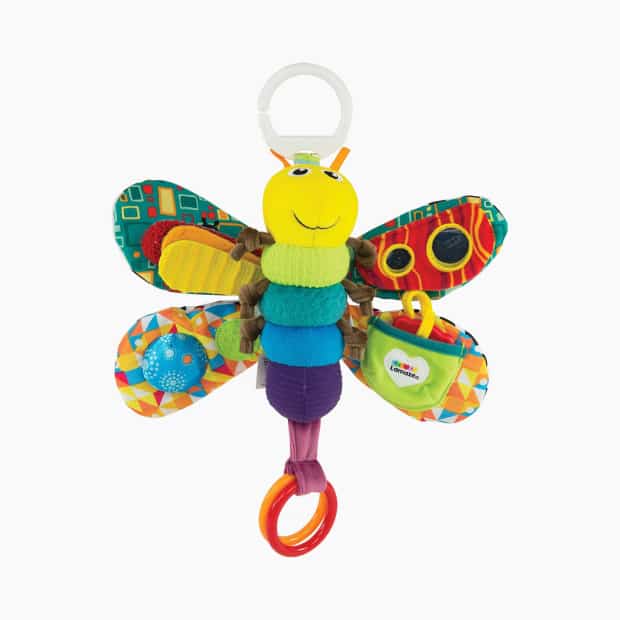 This Lamaze Firefly has almost everything that a baby needs as a carry-along toy. Tiny baby-safe mirrors (they love their reflection), a variety of textures, super fun patterns, and bright colors are the features of this vibrant toy. It is a bit larger than most toys on this list so you might want to carry a large diaper bag to keep this toy. If you want a smaller toy with the same features, Captain Calamari of the Lamaze brand could be your option.
4. Sassy Ring O' Links Rattle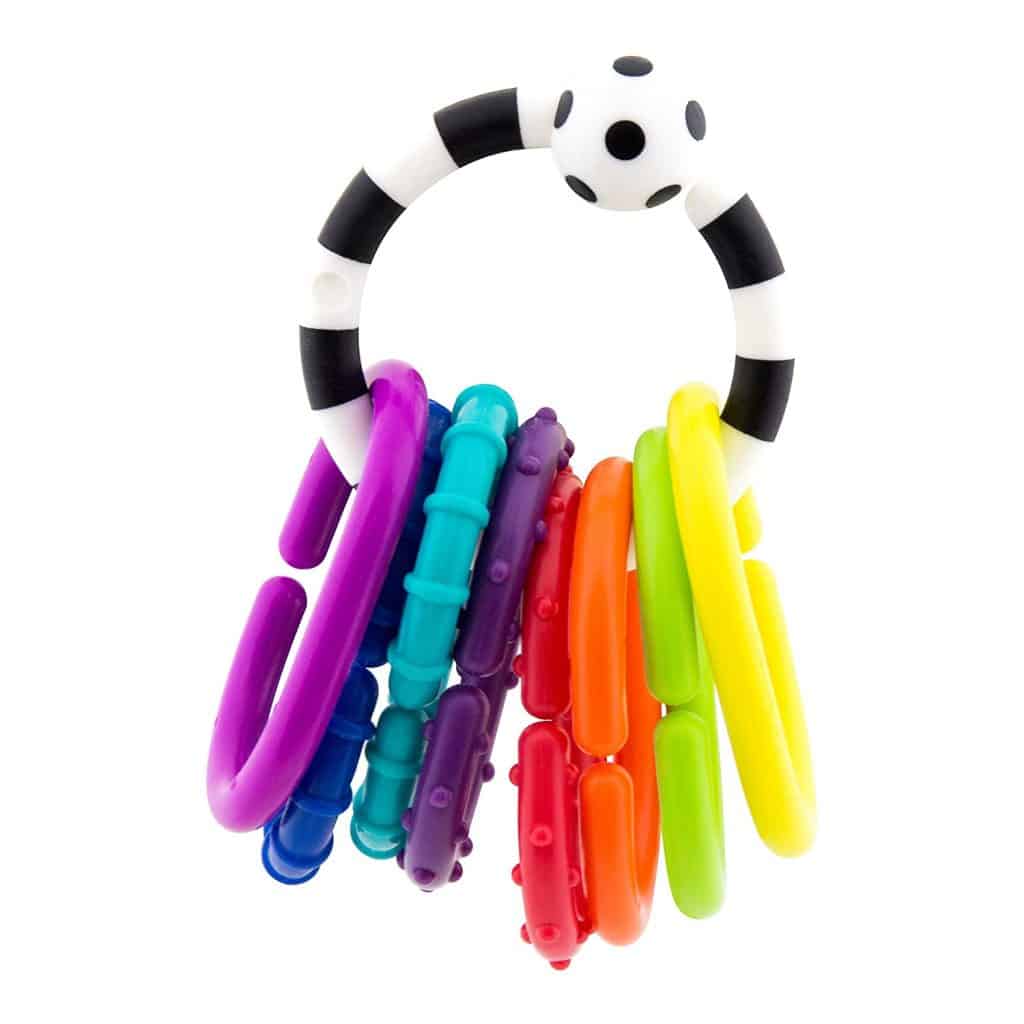 Sassy Ring is more than just a bunch of plastic clips. These clips clink together on a ring that has a super comfortable grip to create a rattle. The textures of these clips are fun for teething babies to chew on and it's the best thing with its BPA-free plastic. It is also super easy to clean with some soap and water or a sanitizing wipe.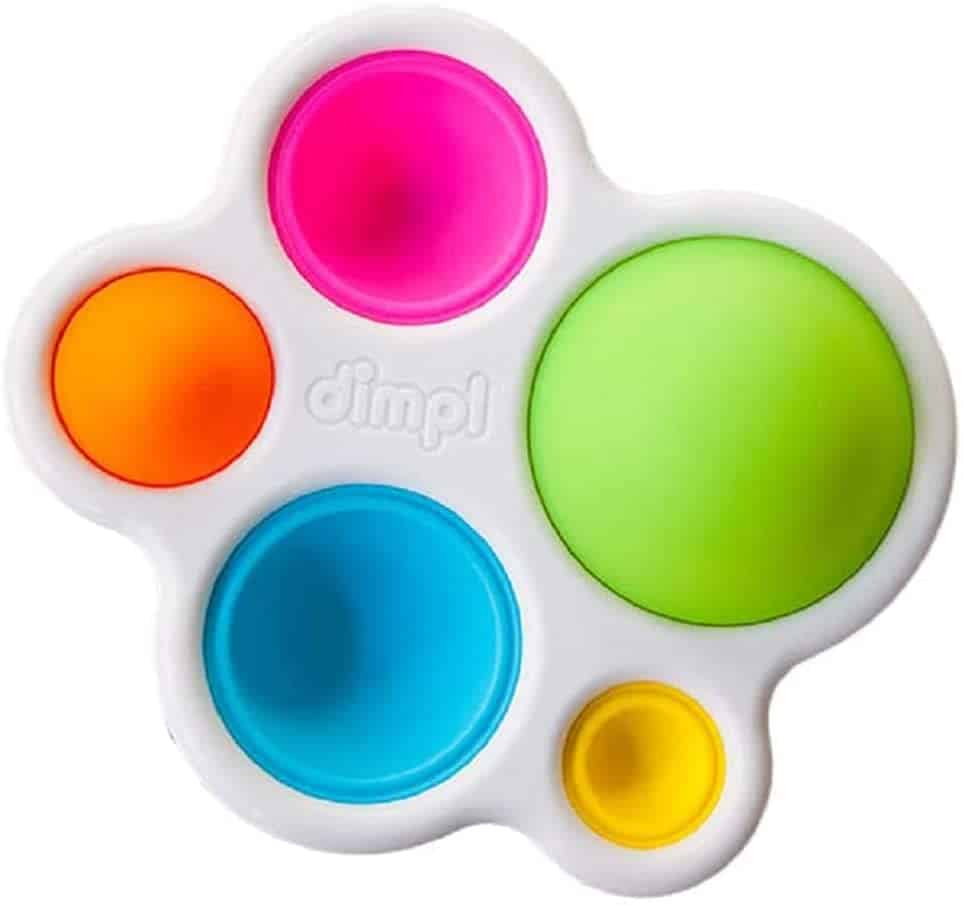 Who knew a few silicone bubbles can be this entertaining? Babies can never get enough of popping bundles back and forth in the Fat Brain Toy plastic frame. Even as adults, we can get enough of that too and it's a great way to build fine motor skills. It is just over 5 inches long, fitting perfectly in all kinds of diaper bags.
6. Baby Einstein Take Along Tunes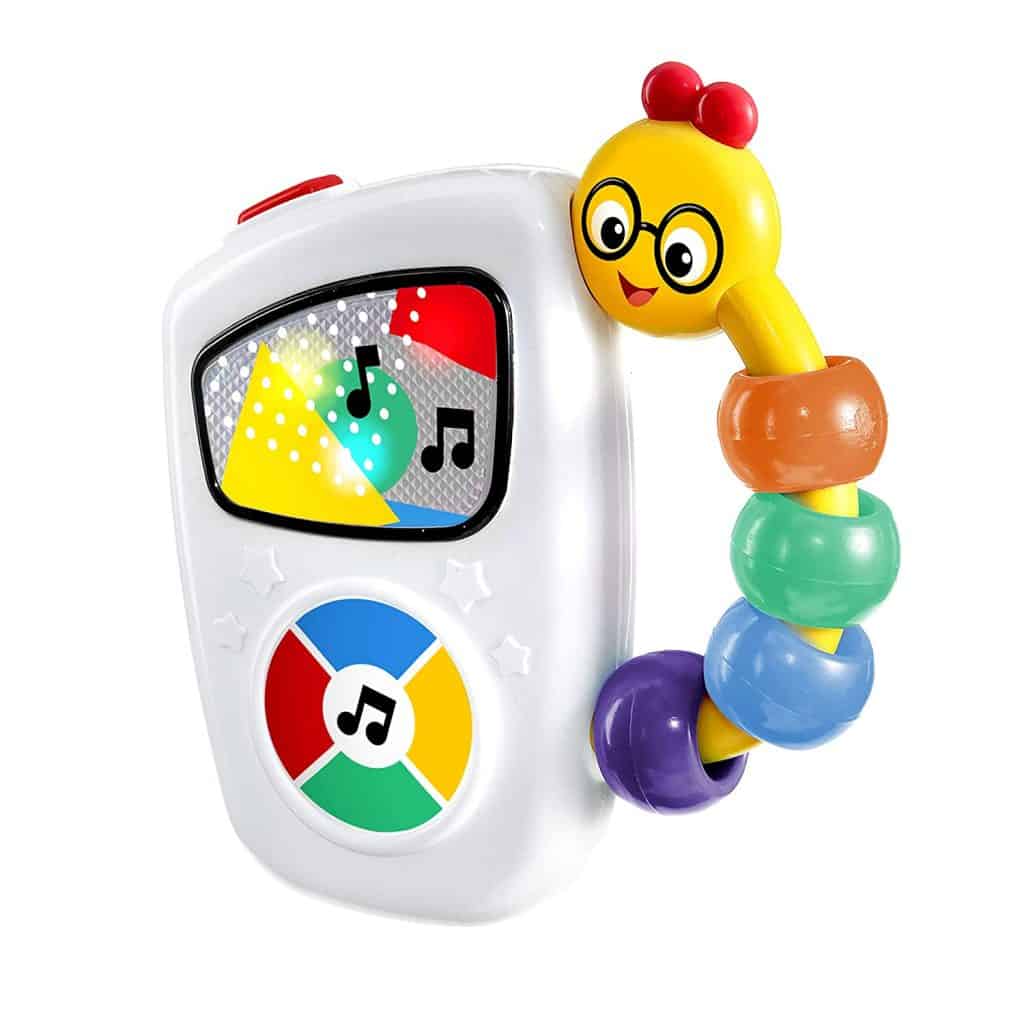 Let your baby choose the trip playlist with the Baby Einstein Take Along Tunes toy. This long-time baby and parent favorite have 10 beloved classic melodies along with colorful rhythmic lights to keep your kiddo's short attention span completely focused. Remember that even with a volume set at 2, it can be a bit loud so this toy is suitable in your family car and not in restaurants, trains, or crowded planes.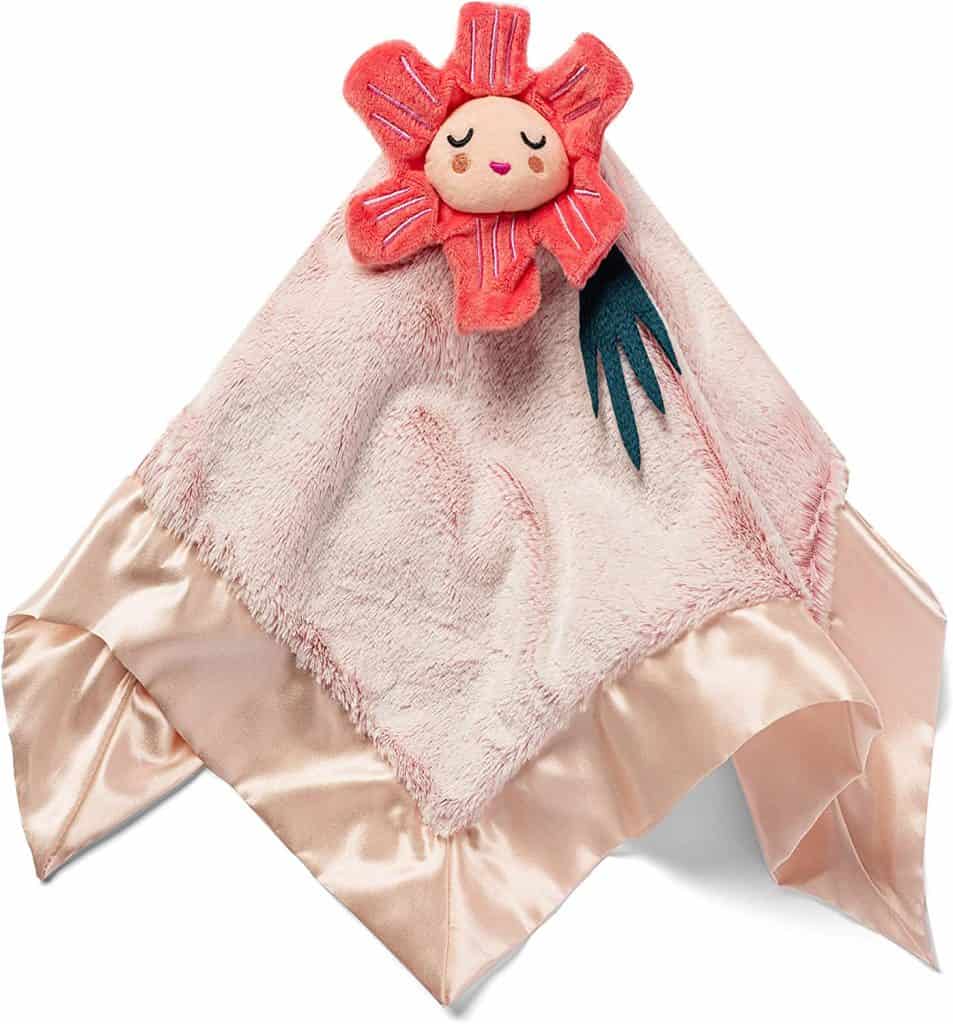 Lucy Darling snuggles is your best friend during long-distance travels. Stuffed animals are not easy to travel with as they are often too large to pack away. You might want to use that much room for some extra Buro clothes or diapers. So Lucy Darling is here to fit your diaper bag perfectly with its ¼ stuffed animal and ¾ blanket. These take up less room in a diaper bag or a suitcase and can easily ride in the car seat along with your little one. For babies above 12 months of age, it can be used as a small blanket too.
8. Indestructibles - Things That Go
This washable book will be your best friend as take it anywhere or do anything to it, it's going to stay intact. Spilled juice in it? Just wipe it down and your book is as good as new. Chewing on the pages? No worries as the pages won't rip. You could even quickly in your bag in a hurry and even if you crumple it, it is super easy to reshape. No tears too! This book is the perfect travel baby book.
9. Melissa & Doug The Wonderful World Of Peekaboo! Soft Book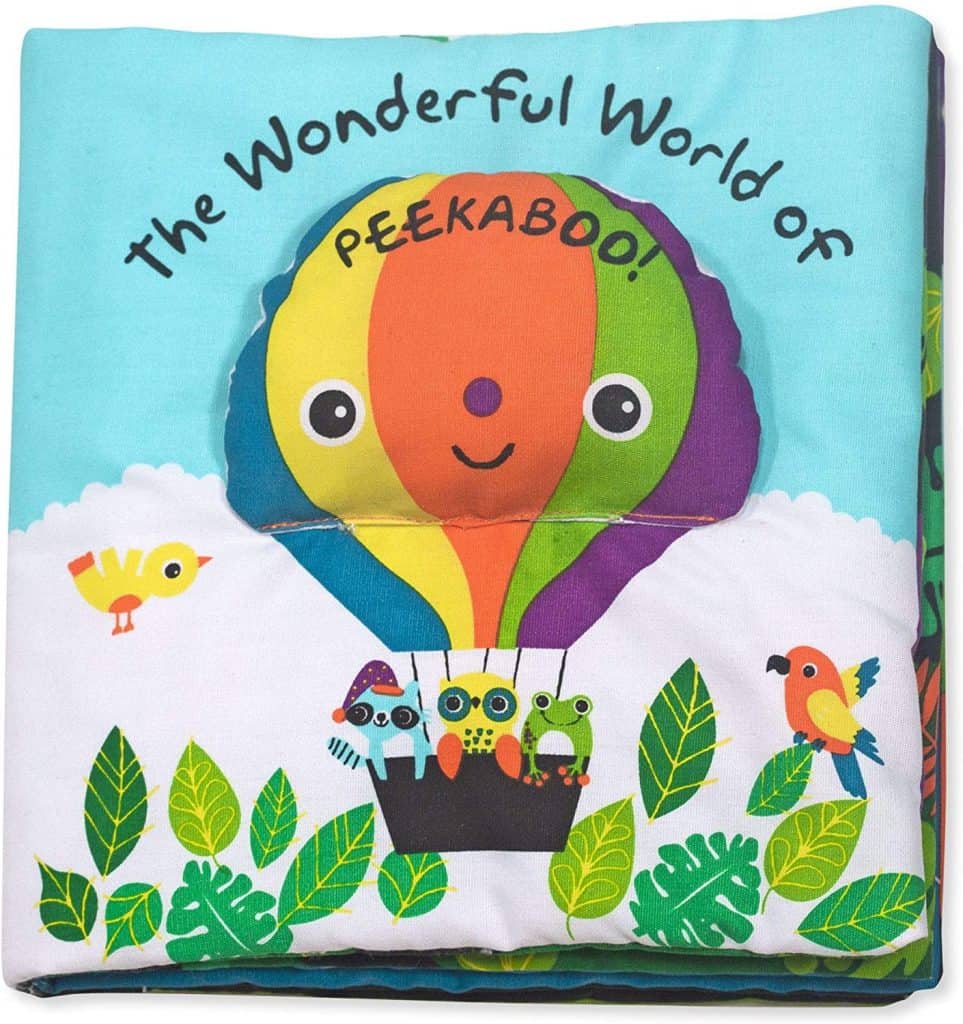 Does your little reader need a little more than pretty pictures? Here's a travel book packed with lift-the-flap surprises on each and every page. Behind the jungle leaves, clouds or doors, there is a ton of discoveries to be made which will keep your little one busy.
10. Skip Hop Stroll & Go Portable Baby Soother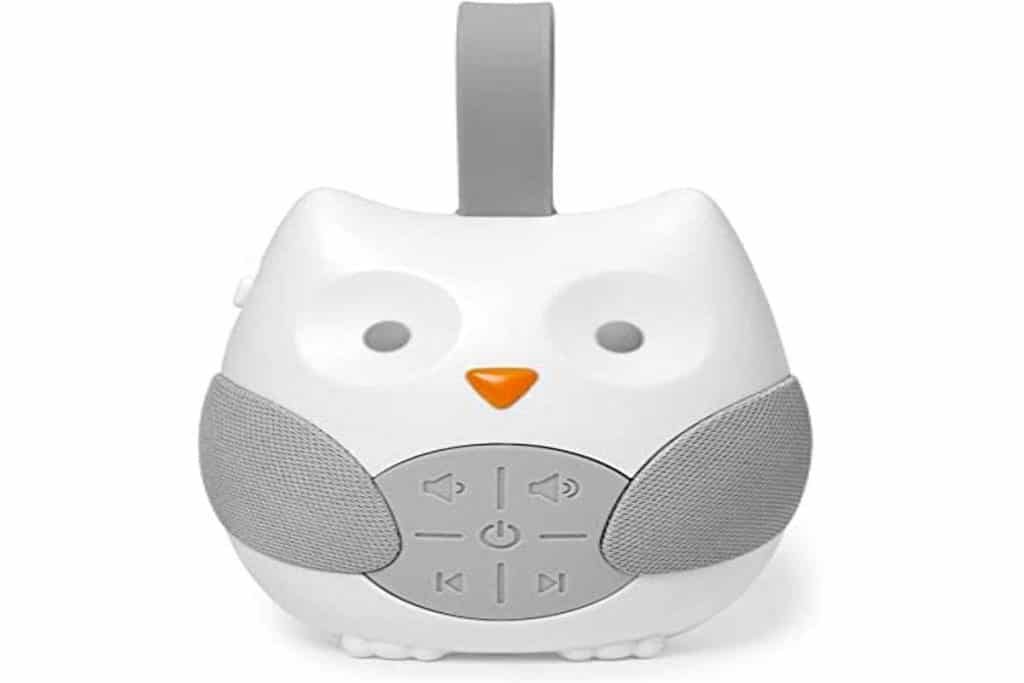 The Skip Hop Baby Soother is more of a parent hack than a baby or a toddler toy. However, it's still the go-to item on this list for your long car drive. If your fussy baby is having trouble sleeping in their car seat, you could put in this mini sound machine and play a lullaby or nature sounds to soothe your little one. There are four options altogether, two lullabies and two nature sounds and hopefully, your baby will be asleep for the entire travel time.
Best Travel Toys For Toddlers And Babies Final Word
Fussy babies or toddlers can be trouble when it comes to your favorite car rides. But worry not as we have a set of the best travel toys for 2 year old babies assembled here for you to pick from. From bright colored toys to lullaby singing machines and travel-friendly books, musical toys these toys could be your and your baby's best friend on long-distance trips.
10 Best Travel Toys For Toddlers And Babies Of 2022 FAQs
1. How do you keep a 3-year-old occupied on a plane?
Here are some activities to keep your toddler entertained on a plane.
Gel window clings
Water wow books
Stickers and activity books
Snacks
Finger puppets
Puzzles (store them in a zip lock bag)
Large reusable sticker/li>
books
Playdough
Matchbox cars
2. What should I pack for a weekend trip with a toddler?
Here are some essentials for your road trip with your toddler.
Diapers, changing pad, wipes, and diaper cream
Potty seat (if your toddler is toilet trained)
Easy on and off outfits
Rain and cold weather gear
Blankets
Two pairs of shoes
Backpack carrier
Pack and play travel crib
Extra bags
Car seat
Umbrella stroller
3. Is it better to fly at night or day with a toddler?
Your little one needs a good night's sleep and as long as he or she gets it, you are good to fly in the mornings. Still, night flights can save you from running around during early departures. If you can handle a toddler with all your stuff to be looked after you are good to go either in the morning or at night as per your convenience.