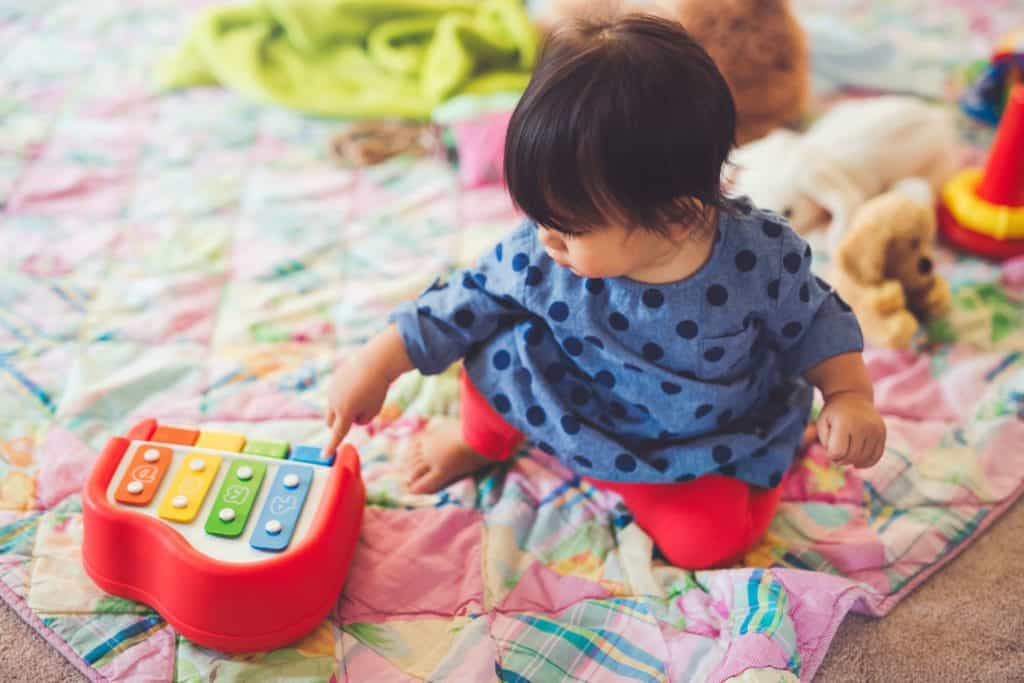 Best musical toys for 1 year old babies are noticed to be the best pals of most toddlers as it helps the little one develop their fine motor skills, such as listening to the different sounds of the music that could be educational as they begin to recognize the rhythms and beats too. Perhaps, not only now, but the babies are observed to get attracted to listening to music, as early as when they are cuddling around their mama bear's womb.
Music in itself helps babies or toddlers in language development, creativity, learning, memory, as well as, emotional intelligence. Whereas, these musical toys are also loved by the parents as it encourages the baby and lifts their mood from being cranky and turn therapeutic in nature for premature babies.
Try and learn to incorporate the music for your children during their bedtime to be soothing and comforting, and build a much more interactive experience. Many a time, you will also notice that the toddlers will soon learn the music rhyme and begin to produce their own music too.
Perhaps, it is essential for you to choose the best musical toys for 1-year-old babies or toddlers. Therefore, to make things easier, we have curated this article with our 8 best light and sound toys for babies. Read on to know more!
8 best musical toys for 1-year-old babies fine motor skills
Listed below are our top 8 best musical toys to help develop the fine motor skills of the babies in their first year!
1. A trio egg shaker rattle toy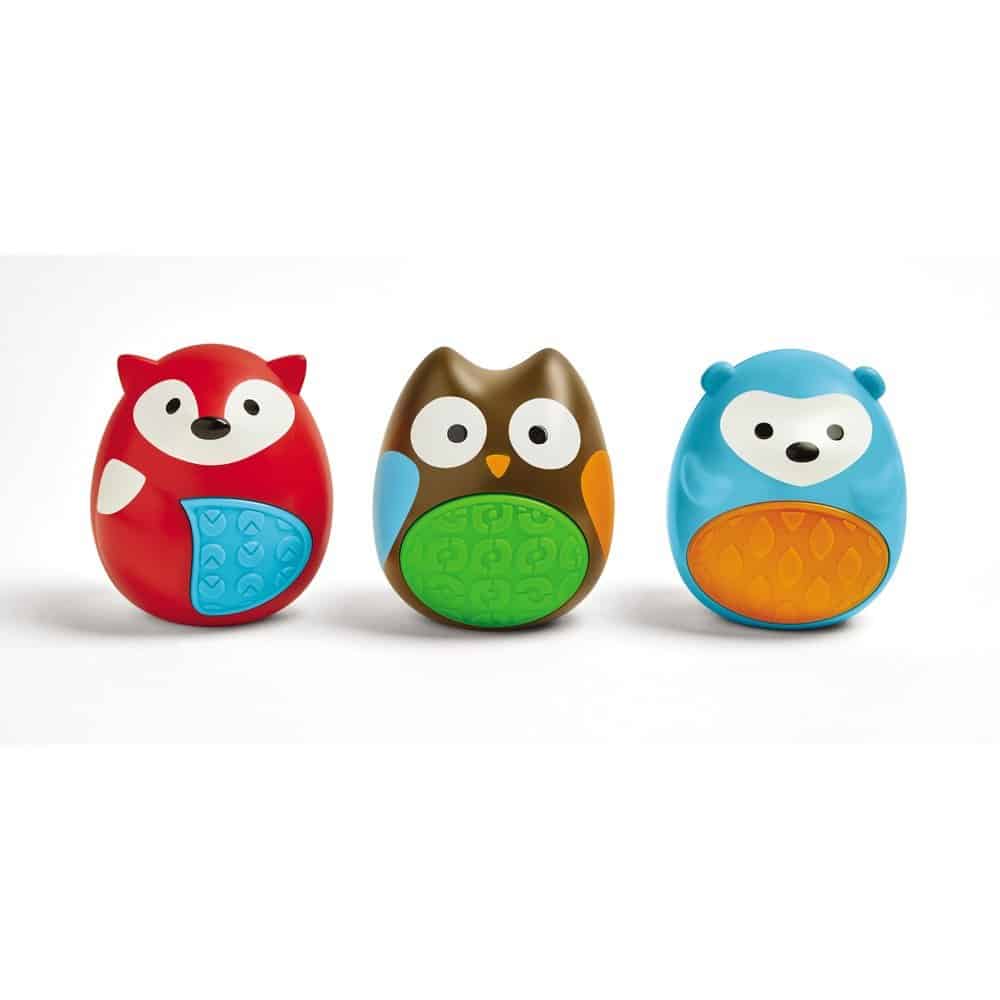 Recommended age – 3 months+
These animal egg shakers are known to be perfect in order to introduce them to the growing baby. They also feature bright colors that grab the attention of the baby's with their fun unique animal noises. These rattle shakers are larger in size with grippy rubber patches that make it easy for the tiny hand's grip.
2. Baby Einstein Take Along Tunes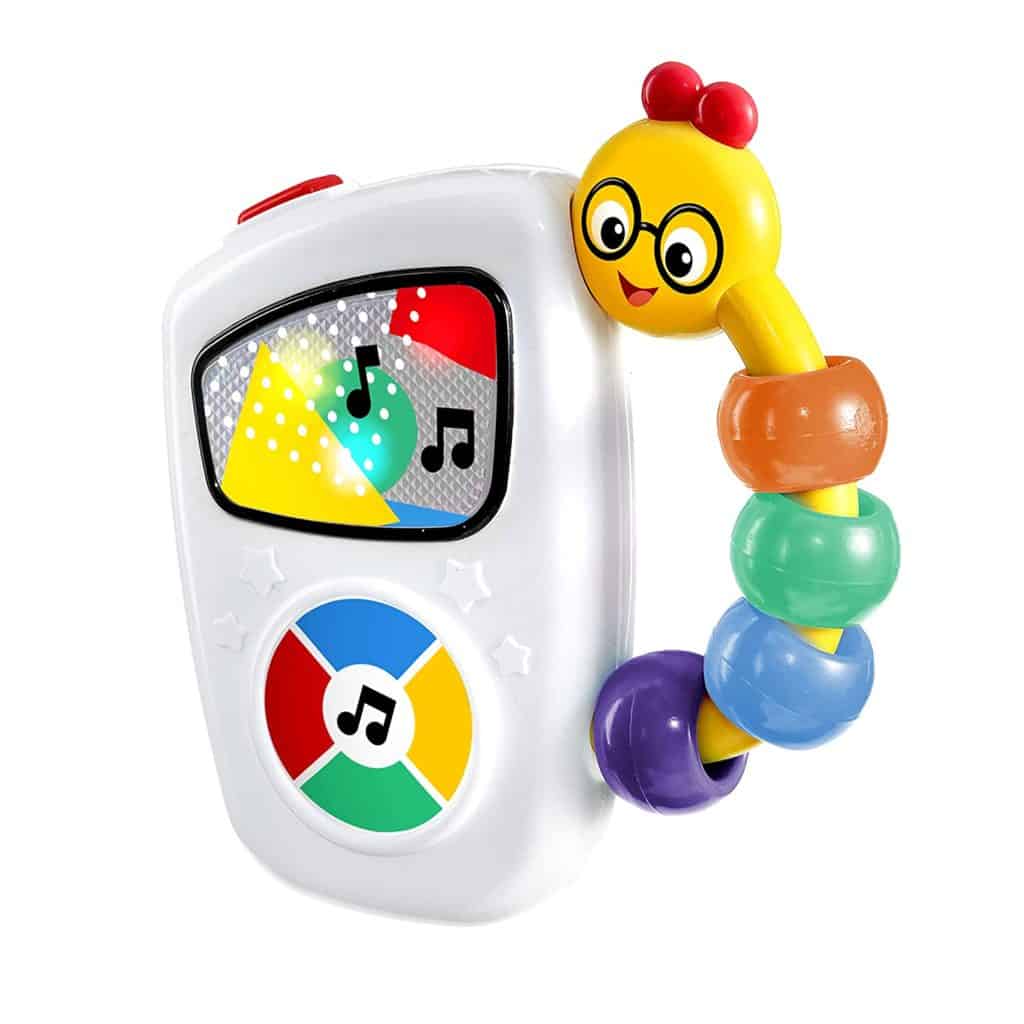 Recommended age – 3 months+
This musical instrument allows babies to control their own playlist amongst the classical melodies, lights, and volume control options. The little ones, perhaps, enjoy pressing the buttons by themselves, which allows them to play their favorite classical tune.
Baby Einstein's, 'Take along tunes' features just the perfect size that can easily fit in the toddler's stroller or the diaper bag.
3. Hape pound and tap bench musical toy for babies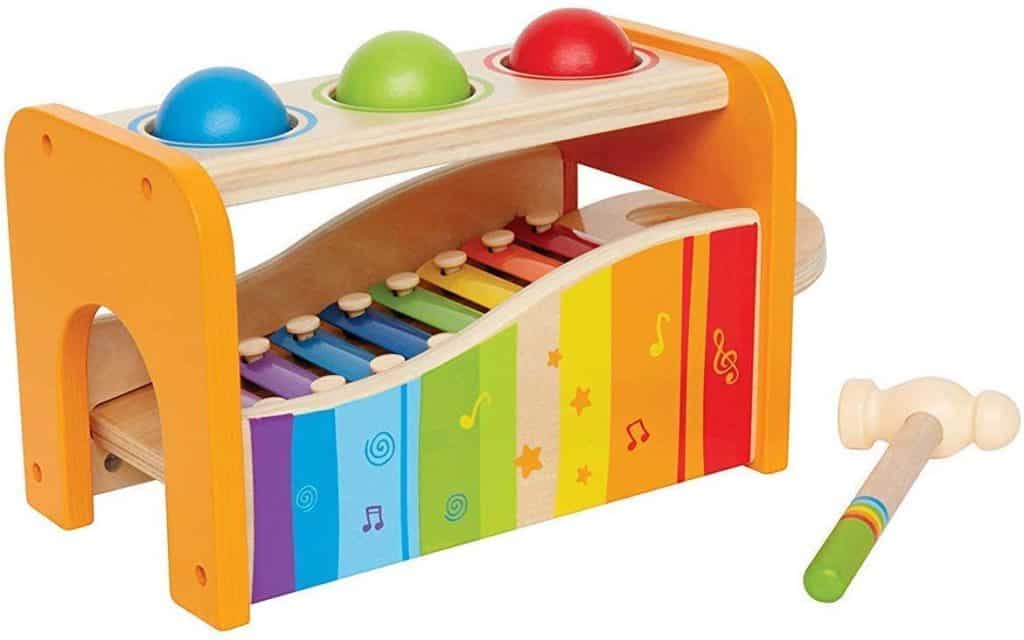 Recommended age – 12 months to 3 years
Hape and tap bench toy feature is colorful and offers two ways of playing:
one, the older babies can make use of the mallet to pound the balls sliding down through the xylophone,
and two, let them play the xylophone solo. It also helps build the baby's hand-eye coordination, dexterity, and musical skills.
4. Oval Xylophone by Plan Toys
Recommended age – 12 months+
Babies and toddlers of the ages up to 12 months old, would love this Oval Xylophone set as it allows them to hear and produce music while they are playing or rather banging the set ( just like they would with a drum) to make noise/music. Xylophones are the best choice of toys for a 1-year-old baby as it not only helps to stimulate the brain but is a classic music toy that features bright colors on the wooden keys, each producing different tunes when struck by a mallet.
Adding on, it also promotes the child's understanding of cause-and-effect and helps enhance and grow their motor skills practice, while the little hands are busy on this colorful instrumental musical toy.
5. Avocado farmstand guitar - light and sound toys for babies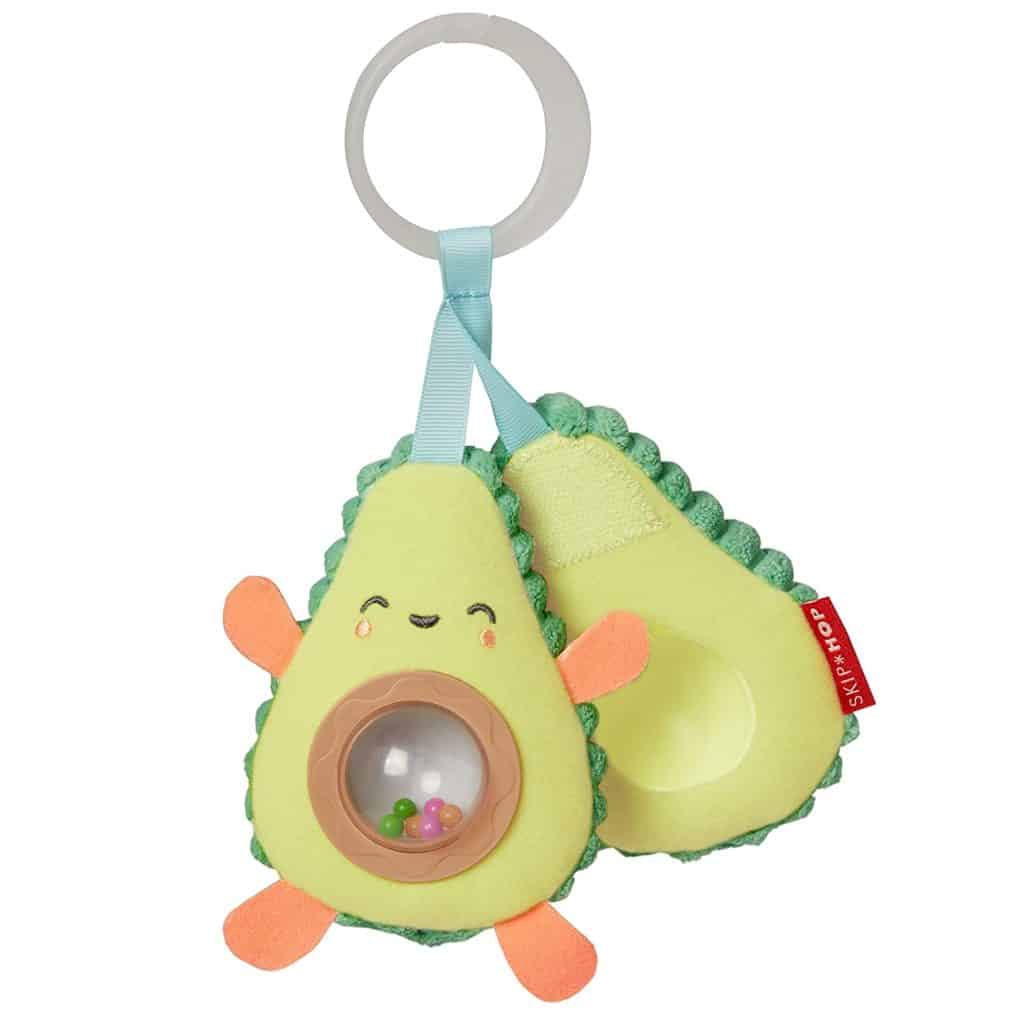 Recommended age – 6 months+
Gift your baby this best musical toy and get ready for them to guacamole with some avocados! This avocado guitar toy features to be the perfect fit for the little guitarist with three light and sound buttons along with a perfect pick for strumming with six songs and guitar riffs.
6. Munchkin Mozart Magic Cube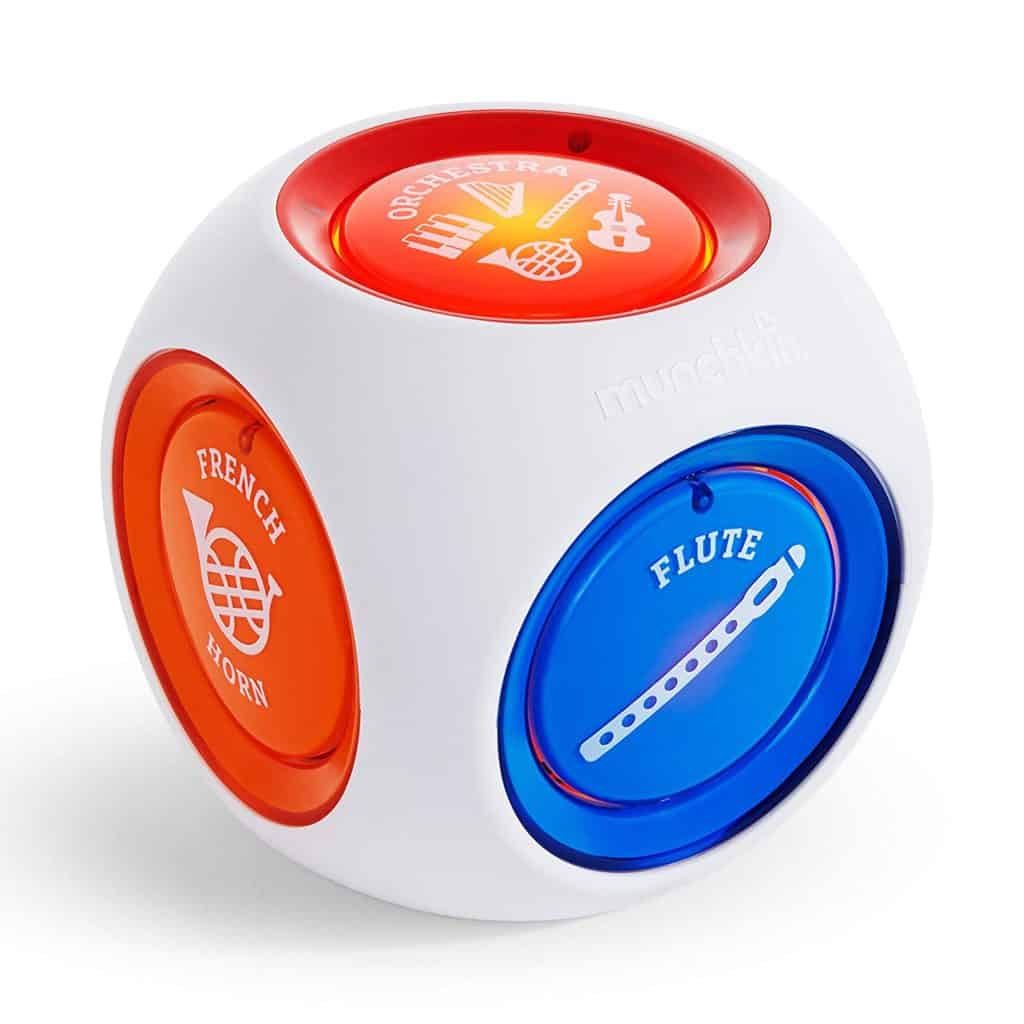 Recommended age – 0 months+
Munchkin's magic light-up ball features 5 in-built instruments that can be easily activated when the younger kids touch them, also with a common button that brings in the full orchestra together. The sing-along magic cube also has about 8 compositions that are inbuilt in the Mozart cube, so when the baby is not in a mood for any activity then can choose to play when bored, while taking charge of the volume control as and when the song plays.
7. Baby Einstein Music Activity Table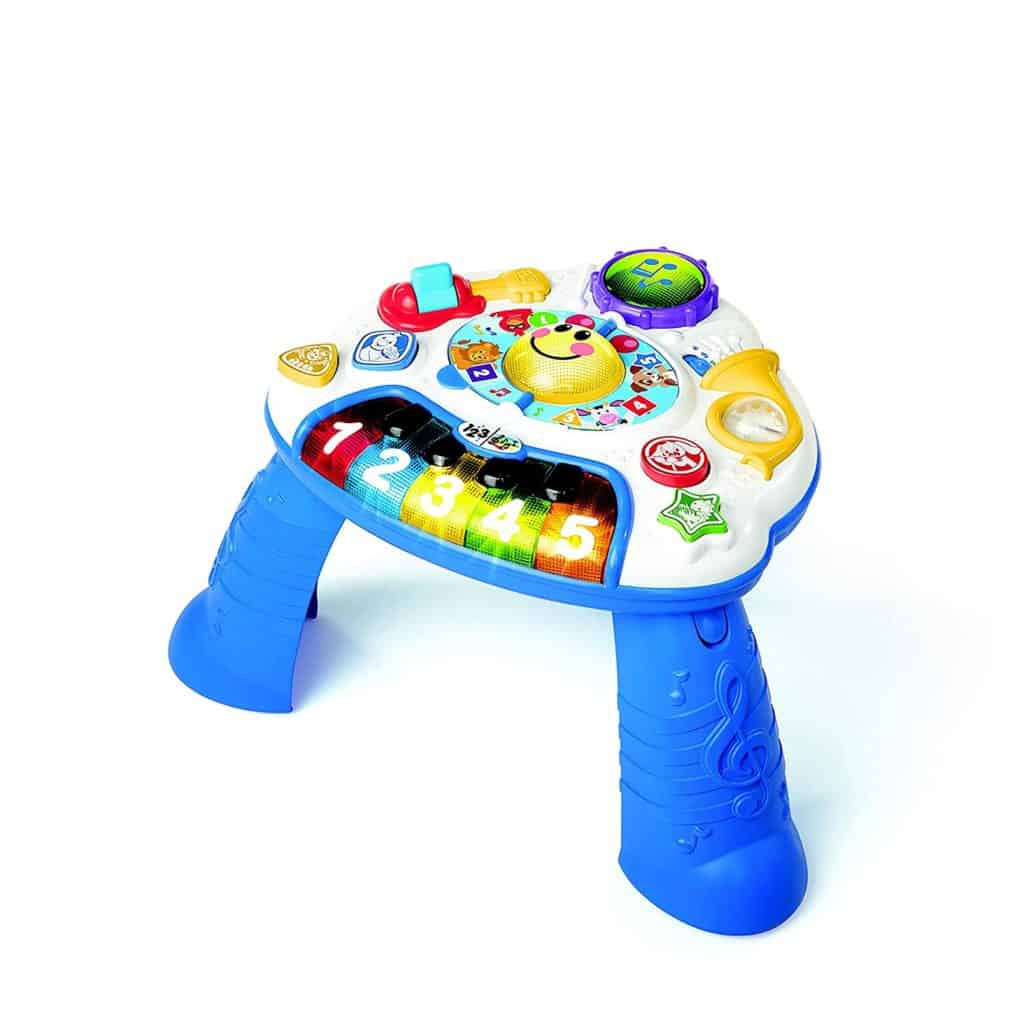 Recommended age – 6 months+
An activity table is the most loved toy for your child as it allows them to move-along and also helps them explore basic concepts such as letters, numbers, colors, sounds, and songs. However, this activity table in itself is designed especially as a musical toy to teach the babies music with its various musical instrument choices, such as a mini keyboard, a guitar, a french horn, and drums. Adding on, it also includes three languages ( English, Spanish and French) that help the baby develop their language skills when the related mode is selected!
8. Mirari Pop! Pop! Piano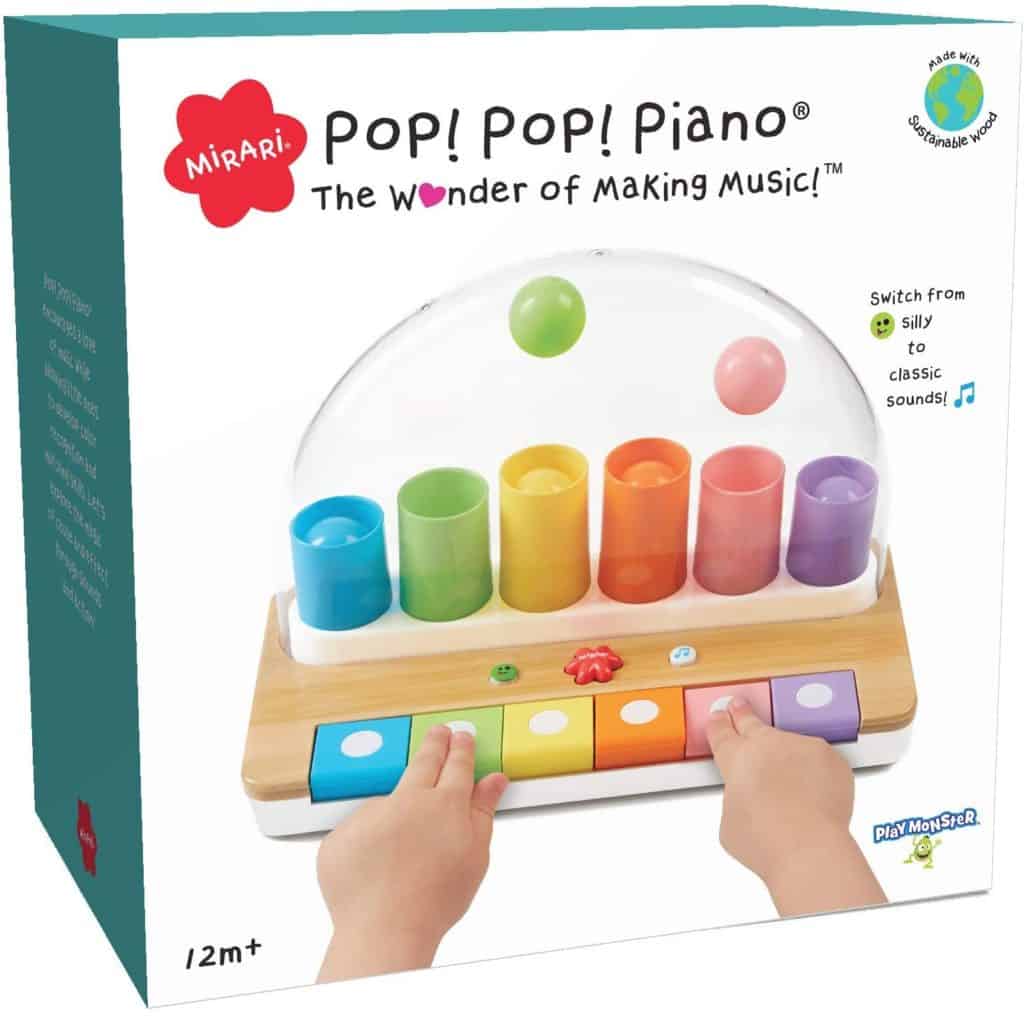 Recommended age – 11 months+
Play monsters, Mirari Pop! Pop! Piano helps the toddler to learn the sounds and helps enhance their sensory skills that the kids would love. It features a colorful star that launches in the air at every note, comes with a clear plastic cover, and is durable.
The babies and toddlers would love the brilliant color and sound that this piano presents and further enhances their understanding of cause-and-effect and sensory stimulation. Adding on, with the flip of a switch, the little one can easily switch between the two modes, which is, from silly to classic piano sounds.
Picking the top instrumental sets for babies could turn out to be an endless hunt for parents to buy, as these are available across different varieties, designs, sizes, and shapes. Nonetheless, the quality and development rate for the kids via these options are not completely on a high scale. Therefore, the options mentioned in the above list are carefully selected by Parenthoodbliss for the kids, to love and also be educational for their motor skill development.
Do not forget to look for the other toy options for a baby girl and a baby boy of a 1-year-old toy. Let us know in the comments section if you and your little star liked our picks!
Best Musical Toys FAQs
1) What are the other toy options for a 12 months old baby ?
Here are a few toy options that a 12-month-year-old baby can play with:
A stacking toy
Pull toys
Walking toys
Dolls
Play vehicle
Baby books
Puzzles ( make sure they are not too much or they could be a choking hazard)
2) Why are instrumental playsets good to play with ?
They help relieve stress
Help grow patience and perseverance
Builds a sense of musical likeness
Encourages creativity
Helps strengthen the immune system
Teaches time-management skills
Grows the memory capability
3) How must one entertain a one year younger baby ?
Here are a few ways that can help keep your one-year-old baby entertained:
Use recycled cups to play 'hit the tower'
Ball pit game
A fabric scraps game
Play peek-a-boo
The tickling game
Try to encourage them to roll things down a ramp