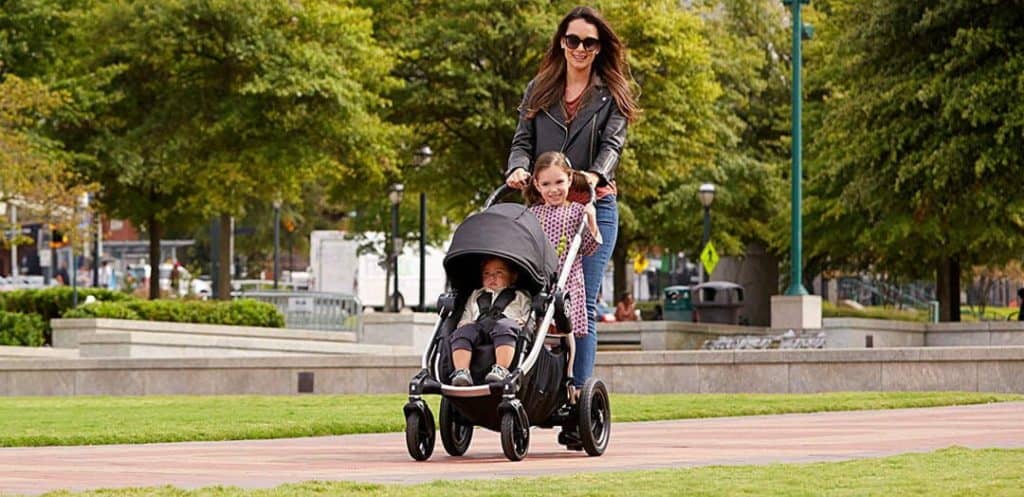 As a parent, you know how energetic toddlers and young children usually use the best stroller board. So, why do they tend to act like they can't walk after walking around the zoo, park, city, or anywhere after a while? Also, if they have a younger sibling reclining in a stroller, this seems to make them worse.
Your kids tend to behave this way because of jealousy since they can no longer be carted around. They are no longer the little kid in their family. So what can you do? Well, we have the best solution for your infant and toddler! If you want to take them on a ride, aboard the stroller board! You can attach this for kids who have two wheels and it hooks onto the axle between the stroller's rear wheels. This stroller attachment allows your older kid to ride along while you push your little toddler or infant in the stroller.
A lot of kids love to stand on the stroller board as it's a cool way to get around and it lets them rest, too. So, to make your outing a little more enjoyable with the children, what's the best stroller board should you go for? Let's find out with the help of the article below!
But, before that, let's get to the basics;
What Is A Stroller Board ?
It is a standing board that has wheels and attachment points to fix. There are some that resemble a skateboard, while others come with a handle, similar to a kids' scooter. The purpose of the best stroller board is to provide a standing or sitting surface that moves with the main stroller, making it easy for parents to carry their little ones at once, as a replacement for a double stroller.
These stroller boards are generally made using plastic and attached to the rear axle of the stroller. Additionally, these also come with a different attachment point and weight limit, therefore, it's important to check these specifications before buying a stroller board.
Speaking of which, here are the top best features that you must look into when buying your best stroller board:
What Features Should a Best Stroller Board Have ?
You are going to purchase a stroller board for your kid, so what features are you looking for? Here's a list we used to guide our decision-making and ranking process for the best stroller boards.Your best stroller board should meet these criteria to be selected.
1. Higher Ground Clearance:
You need to check the height of the stroller board as it plays a big role in how much it gets in the way. If the stroller board is too low to the ground, it will hit your feet with every step you take. Whereas, if it's too high, your toddler might not have enough room.
The platform of the stroller board should be big enough for your kid's feet, however, it should not be too big that your feet are constantly kicking it. Also, it should fold up easily, so that you can get it out of the way when you don't need it.
3. Quick and Secure Attachment:
The attachment between the board and the stroller should be easy to install and secure to prevent any injuries.
4. Janod Caramel Rocking Horse:
You know how most kids are, they tend to have a hard time standing still. If your stroller board has slip-resistant features, it will keep its feet safely on it at all times.
Everything you buy for your kids should be durable. Just like strollers, these boards will be thrown around or kicked a bunch. Make sure that the glider board is made out of thick plastic with strong connectors to prevent any wear.
The stroller board's wheels should move smoothly across the ground. It should also allow for movement if you are going over bumps. You should be able to turn the stroller around without too much extra effort because of the additional weight.
Top 6 Best Stroller Board Options With Reviews, Just For You!
1. Lascal Buggy Board Maxi: Best Stroller Board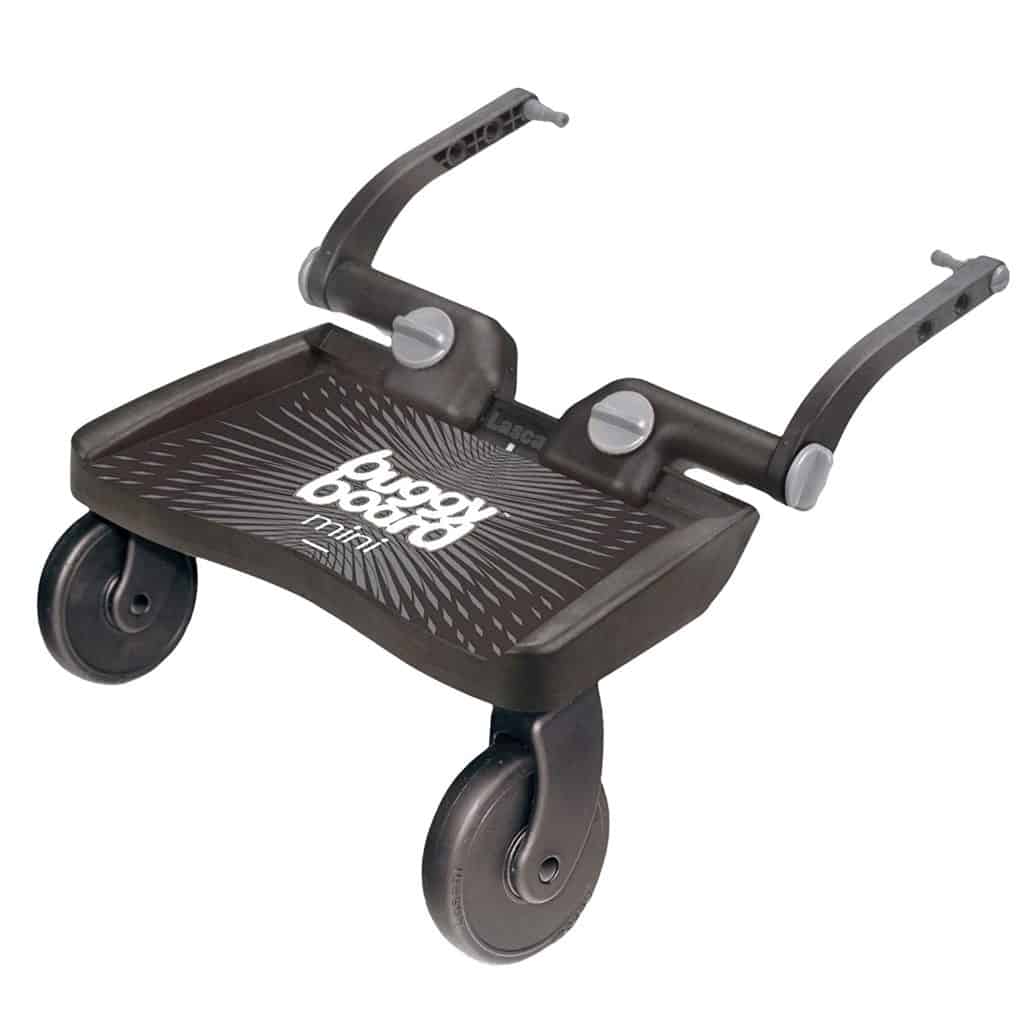 Manufacturer Weight Limit: 48 pounds
Features
This kit works with a huge number of stroller brands and models.
You can attach this to most lightweight, double, and umbrella strollers. Also, some jogger and all-terrain strollers.
In this stroller, you get multiple attachment options for the vertical/angled or rear axle bars.
It is easy to install because of its quick-release attachment.
The platform is around 6.25 inches above the ground, making it for a more normal walking stride.
To ensure a smooth ride it comes with larger wheels and board movement.
It also comes with adjustable connection points because of which you can move the board closer/further from the stroller.
It can conveniently swap between multiple strollers, for instance, rental strollers, single to double.
However
It does not work that well with every stroller brand and model. Before purchasing it, check the fit first.
The actual manufacturer weight limit is less than the stated 66 lbs.
Since the connector straps are not bolted to the stroller, it might require more frequent re-tightening, even with the friction tape.
2. Bugaboo Comfort Wheeled Board: Best Stroller Board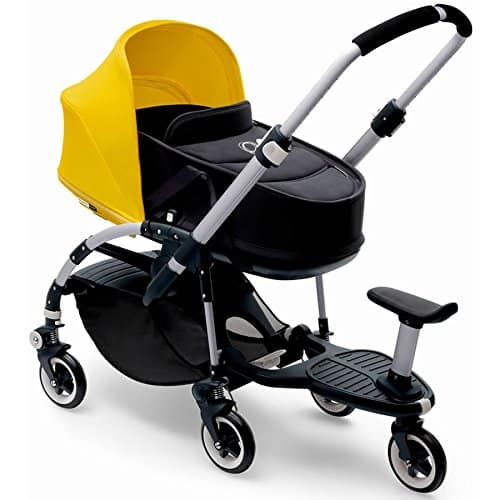 Manufacturer Weight Limit: 44 pounds
Features
This fit is perfect for all Bugaboo brand stroller models. If you have Chameleon, Bee, and Donkey, you might need adapters.
It provides you with sit or stands options. It depends on your little one's preferences.
It comes with a detachable seat which provides a level of comfort that other boards do not.
The board can be mounted off-center to the left or right. This gives you some extra walking room.
To provide extra maneuverability, the stroller board has a unique single-wheel design.
When not in use, you can fold it up out of the way.
You can install this board in a matter of seconds, with just a few clicks.
However
You need to purchase an adapter which is sold separately. You just need it for the board to work with some of their stroller models (this includes Bee 3, Cameleon 3, Donkey).
You can extend the board further out than most to accommodate the seat. This will decrease the walking room.
Your little one will feel every bump because the seat doesn't come with suspension/springs.
3. UPPAbaby Cruz Piggyback: Best Stroller Board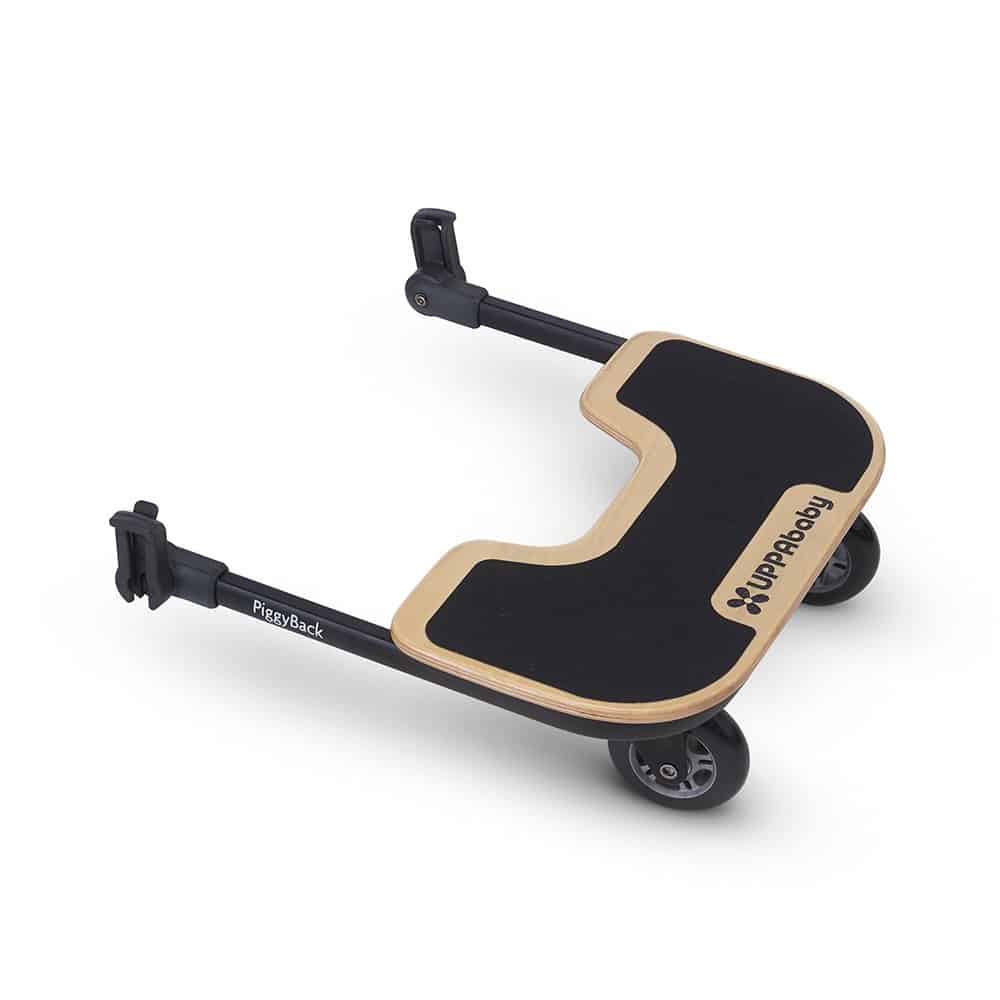 Manufacturer Weight Limit: 55 pounds
Features
This board is a perfect fit for all UPPAbaby Cruz stroller models. You have to buy a separate board for Vista models.
You can lift the board out of the way and it remains attached when you fold the stroller.
You can lock the stroller board in place because of the super quick attachment.
This is one of the smallest ride-on boards available.
This stroller board is made of wood for an eco-friendly and unique design.
However
You are required to buy an adapter which is sold separately, for the board to work with some of their stroller models (which includes Bee 3, Cameleon 3, Donkey).
You can extend the board further out than most to accommodate the seat. This will decrease the walking room.
Your little one will feel every bump because the seat doesn't come with suspension/springs.
4. Baby Jogger Glider Board: Best Stroller Board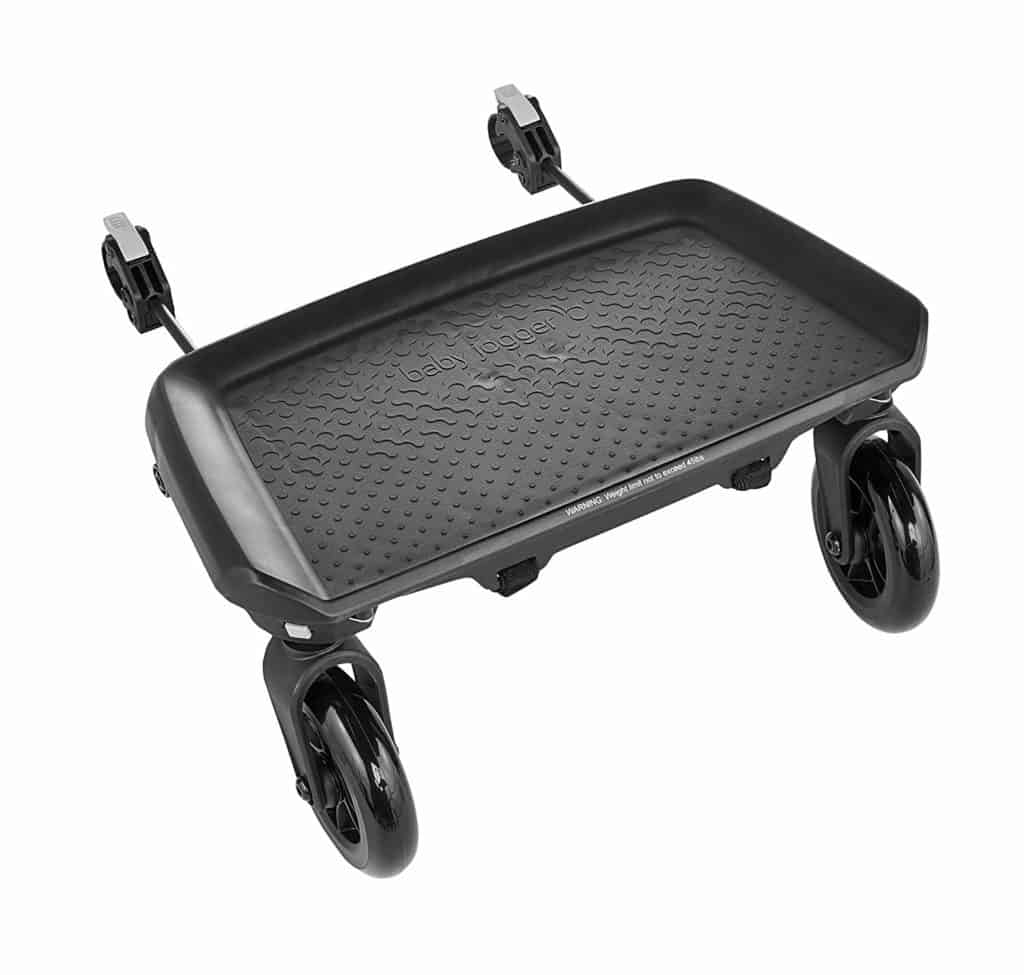 Manufacturer Weight Limit: 45 pounds
Features
This board is a perfect fit for Baby Jogger stroller models which include City Mini GT / City Mini GT2, City Mini / City Mini 2, City Select, and City Select LUX.
It has an easy and quick connection to the stroller's rear axle.
It comes with an adjustable length that lets you move the stroller board closer to or further from the stroller by about 6 inches.
Instead of plastic, the wheels are made out of rubber, which provides more grip and a smoother ride.
The board has a great textured non-slip surface.
However
As the board doesn't always stay completely folded up it might force you to remove it when not in use.
The position of the stroller handle could be a little awkward for the child standing on this board.
It limits your walking room because the glider board sticks out far.
5. Evenflo Stroller Rider Board: Best Stroller Board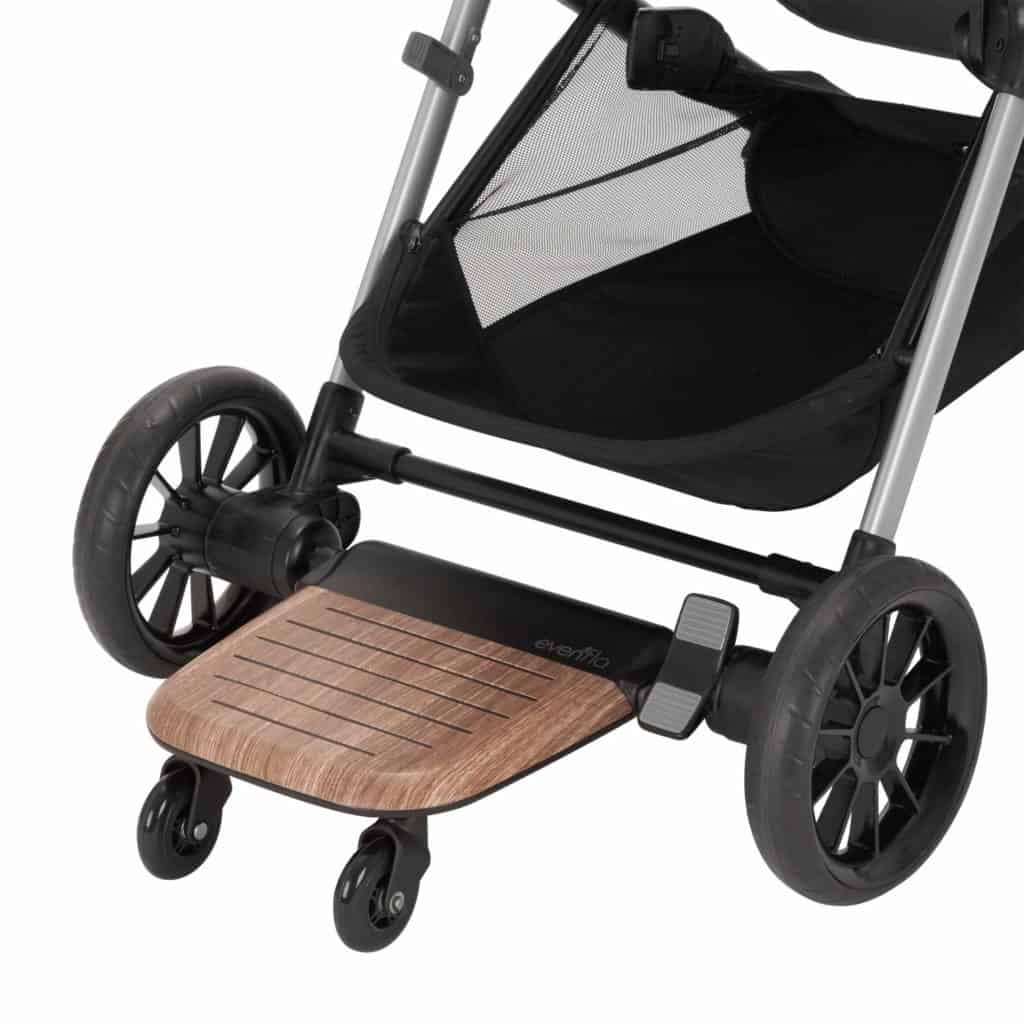 Manufacturer Weight Limit: 50 pounds
Features
This board is a great fit for Evenflo stroller models which include the Pivot Xpand Modular Travel System, Evenflo Pivot Xpand Modular Stroller, and Evenflo Gold SensorSafe Pivot Xpand Smart Modular Travel System.
It comes with non-skid grooves on the board's surface which provides plenty of grips.
You can simply click it into place by pushing it down onto the rear axle.
When not in use, it folds up and clips out of the way.
Your toddler will be standing in front of the handlebar which makes it easier to push.
However
The wheels on this board are made out of hard plastic and it can be noisy.
It could be a little awkward for some kids without many places on the stroller to hold onto.
Depending on the fullness of the bottom basket, the board may not stay flipped up.
6. Peg Perego Ride With Me Board: Best Stroller Board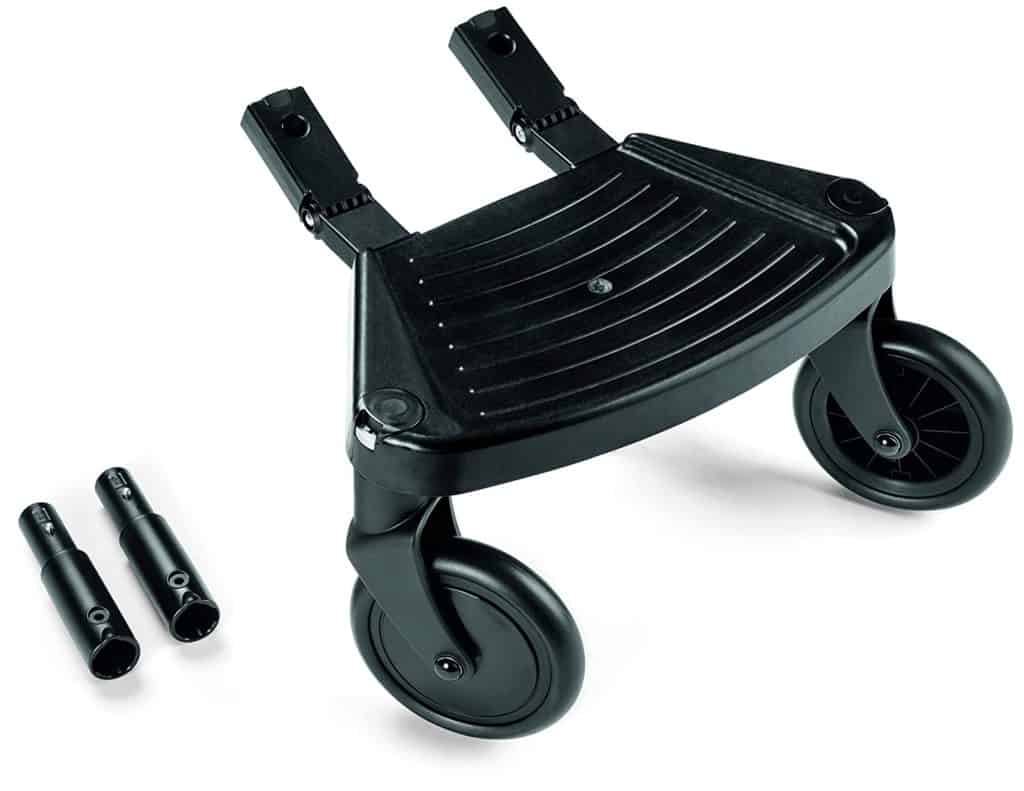 Manufacturer Weight Limit: 48.5 pounds
Features
This board is a great fit for Booklet 50, Peg Perego YPSI, Booklet, Book Cross, Book for Two, Book & Book Pop Up strollers.
It comes with handle extensions which give extra space for the parent's feet. Now you don't have to walk on the side anymore.
The smooth swivel wheels ensure that the movements are incredibly smooth.
The Peg Perego strollers can be folded with the board attached to them.
If you are a parent on the go, you can attach and detach it in a matter of seconds.
It also folds up out of the way when you're not using it.
However
Even with the handlebar extensions, you might occasionally kick the board.
The buttons to fold up don't work the smoothest.
How to Install A Stroller Board ?
You can install these glider boards quickly. It'll take you less than a minute. On this note, if you purchase a stroller board from the manufacturer of your stroller it will undoubtedly provide the most secure attachment. You might have to pay a little more for the brand name in the end. Nevertheless, if you buy a universal stroller board, keep in mind to check their website to see which stroller models it's confirmed to fit. Also, you should double-check the fit as soon as you receive it. You don't want to run into any issues when you need it!
Irrespective of which you end up selecting, the boards will attach directly to the cross-bar or axle between the rear wheels with either straps, hooks, or pins. It'll just take seconds to do. Once and for all, after you've installed the board, do a test run with your little one to make sure that it's safe. You need to ask yourself:
If it was attached securely and correctly? If not, your child might end up on the ground under your feet.
If it was installed too close to the stroller? If you put more weight farther forward it can make the stroller tip over because of the additional 30-40 pounds.
If you installed it too far back? You might end up constantly kicking the board depending on how low it is to the ground and the position of the push bar. This can make turning more difficult, too.
We reviewed some of the best universal stroller boards. Hope they are a great fit for you and your kids. If you end up purchasing a universal board, remember to check the board's website to see if it fits, before buying one. Also, if you want to take your baby for a fun ride, wherever you go! Get your baby the most compact travel stroller. Click the link. Tell us about your experience with these or any other stroller ride-on boards!
Best Stroller Board FAQs
1) What is a stroller board?
If you have two or more kids and do not want to buy a double stroller then you should consider buying a stroller board. It is also known as buggy boards, gliders, and ride-on boards. They resemble a skateboard or scooter, with a flat wooden or plastic surface on wheels.
2) What age is a buggy board suitable for?
Most boards are best suitable for kids that are around two to five years old.
3) Are buggy boards universal?
It suits children that can walk a reasonable distance and you can buy universal buggy boards that fit different styles of pushchairs and prams.
4) Are Buggy Boards safe ?
Amongst the many options available, the stand-on platforms are known to be the most common option of a buggy board. They are best suited for toddlers to use when their feet are tired by standing. On the other hand, an adaptive board can easily convert from a stand-on platform to a small seat unit with a safety harness for extra safety. So, be assured and cross-check the safety of the buggy board that you plan to buy.
5) Does a 4-year-old need a stroller ?
This depends on the needs of the toddler since there are no set guidelines. However, based on the observation, kids over the age of 3 to 5 years develop enough to use a stroller and understand your directions.