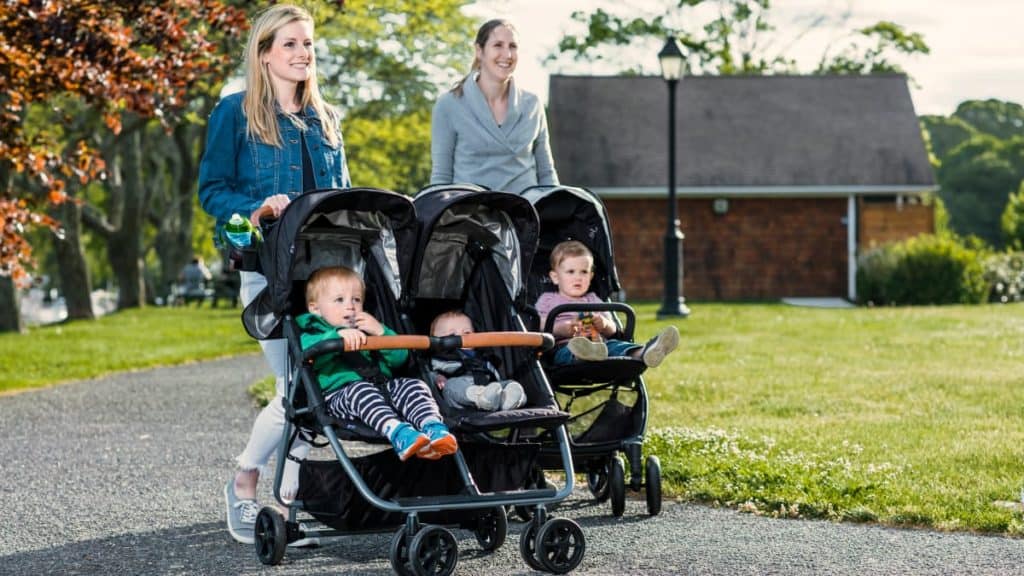 Have twins and often find yourself in a dilemma of how to carry them? Looking for the best double stroller to help you carry both your toddlers with much more ease?
The best double strollers for infants and toddlers are the best way to carry twins since they are roomier, easy to carry, convertible, and easily fit two infant car seats or even two baby bassinets, based on the stroller you pick.
Nevertheless, due to the wide availability of double strollers in the market space, it gets really challenging to choose the best double stroller for infants and toddlers. This is why we at Parenthood Bliss have curated this article that lists down the 10 best double strollers for newborns and toddlers to choose from. 
Tip – Make sure to take notice of the height and weight of the stroller to prevent the babies from toppling over.
But first, let's quickly decode and understand the different kinds of double strollers for newborns and toddlers in the market space:
What Are The Different Types Of Double Strollers Available In The Market?
1) Best Side-By-Side Double Stroller
These strollers feature seats that are installed beside each other, are leveled at the same height, and are of a similar size. This stroller is easy to fold, turn and can fit into almost all car trunks. Nonetheless, on the downside, side-by-side double strollers are wide, causing trouble when crossing doorways and aisles.
These convertible strollers generally start as single strollers with an option to add additional seats for your second and even third child ( in some cases).
Make sure to also look at our best picks for convertible narrow car seats and travel strollers.
3) In-Line Double Strollers
As the name suggests, the toddler seat in the stroller is designed to fit in a straight line or a single file with one seat raised higher as compared to the other. They are narrower, have one seat reclined, and come with a cup holder.
How To Choose The Best Double Stroller?
Safety

– The first and foremost thing that you must check when buying a double stroller, is the safety requirement that it comes along with. 

Quality of the wheels

– Flimsy wheels do not serve the long travels well as they get stuck on uneven terrain and sidewalks. So try to look for double strollers that have wheels of good quality.

Sun canopy

– Try to look for strollers that come with a long or adjustable canopy to help keep the baby shielded from sun and rain. 

Storage

– There is no surprise that babies come with a lot of gear. A stroller with a large undercarriage can help hold these items, making your life much steady and easier. 

Washable fabric

– Babies are messy, so try and choose strollers that are made using easy-to-wash fabric. 
10 Best Double Stroller For The Infant And Toddler
Listed below are our top 10 best picks for the best double strollers for infants and toddler for you to choose from.
1. Baby Jogger City Mini Double Stroller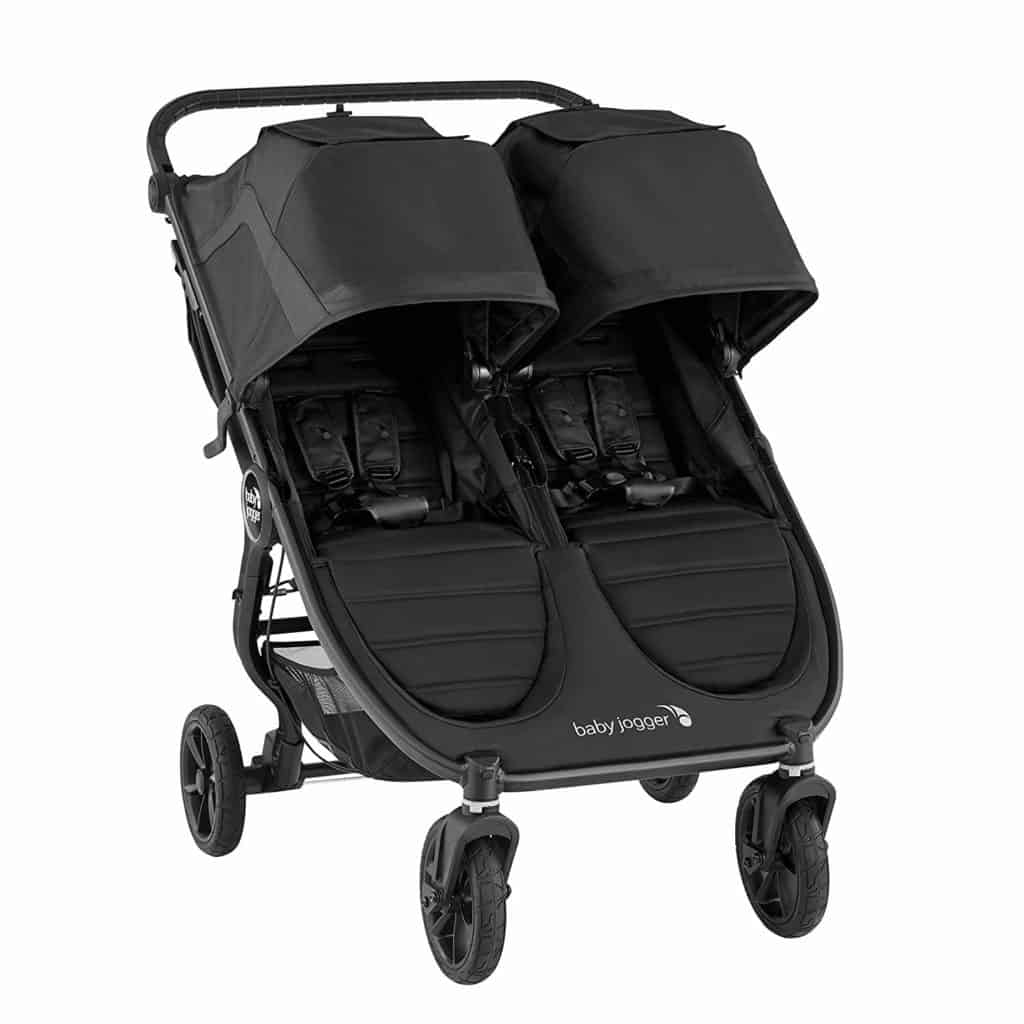 This stroller features 40.7 x 29.25 x 42.25 inches and weighs 36.5 pounds with a weight limit of 50 pounds per seat. They are easy to use, have a one-handed fold, adjustable handlebar, rubber tires, all-wheel suspension, and a hand-operated parking brake.
Pros:
One-handed fold
Have an adjustable handlebar
Come with oversized tires
Includes an all-wheel suspension
Can fit through standard doors
Cons:
Has a small storage basket
Can accommodate one car seat with an adapter
I didnt want to splurge on a doubt stroller but could not find one that would fit in my GMC Acadia(with all the seats up). I had a Baby Trend double jogger that pushed nice on all terrian but I was always taking the wheels on and off and even then it barely fit. After doing a lot of research and reading multipe reviews I decided to splurge and boy am I glad I did. This stroller pushes so nicely on any terrian(we live in the country so we are always walking through rocky, grassy terrian). Even my 51 pound 7 year old sits in it from time to time and it has still held up well. A must buy for anyone looking for a side by side that is compact. Oh and I bought a parent console thing and that makes it even better! Will definately be recommending to all my friends/family
Purchase the double stroller version for my 4 yr old, 2yr old, and new born. The double doesn't come with a carseat attachment so I got that as well. We have a maxi cosi carseat and it all works great together. I love how easy the stroller is to use and it is such a smooth ride even with a lot of weight in it. I ended up purchasing a damaged box stroller and got it for $150 less bc of it but the stroller was perfect! Made me so happy with such a high ticket item.
For more product reviews visit Amazon
2. Bugaboo Donkey3 Mono Double Stroller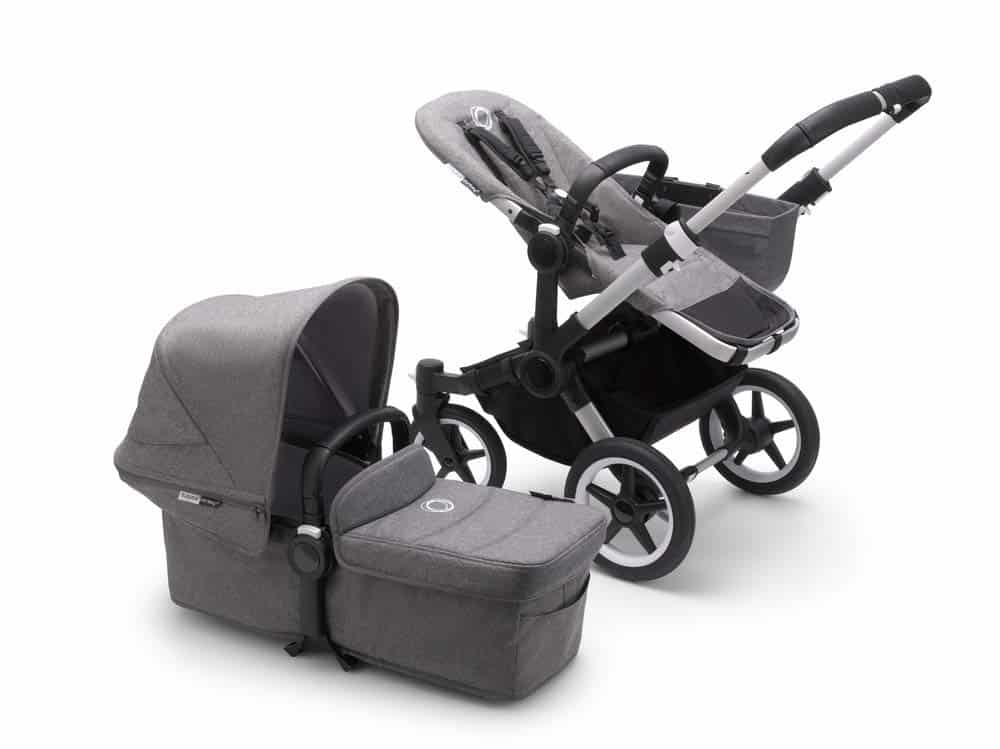 This stroller features 45.67 x 23.62 x 40.94 inches and weighs 34 pounds with a weight limit of 48.5 pounds per seat. It features a sleek convertible stroller that can easily be outfitted from a single bassinet into a side-by-side double or even one seat facing inwards. They have foam tires that prevent the stroller from busting, which means, you do not need to worry about a flat tire at all. Isn't that a great feature!
Pros:
Has multiple configurations
Is convertible
Has sturdy tires
Comes in a narrow frame
As a mom of twins, this stroller included everything I ever could have wanted. Both of my twins prefer to face me on walks which was made possible with the bugaboo donkey 3 and the extension set. It's very easy to push (Even one-handed!), fits through every door I've encountered and has a large and easily accessible basket. The canopies are large enough to block the sun from any angle. It was a breeze to set up and immediately became our most used and go to stroller – as someone who has owned 8 prior strollers, this says a lot. We couldn't be happier with the stroller and its now our recommended stroller for all new parents.
I'm not really a big review writer, but this is something I just had to share because I feel like every mom needs to know how amazing this stroller is. I just had my second child, and I did a ton of research on strollers for 2 kids. I had the Cam3 already for my first and was very happy, but really wanted a stroller that could fit both children comfortably. It felt like everyone in my neighborhood has the same stroller, but when I pushed that one with two kids I my shoulders started aching. It was so big and so hard to maneuver, I just couldn't imagine lugging it everywhere. I found the Donkey and watched about a million reviews on line. When I found the Donkey 3 was coming out, I waited patiently, and then purchased. Seriously, moms, this is the easiest and best stroller to push. It feels perfectly balanced, like it is gliding when it is loaded up with my kids and all their stuff. The difference is so unbelievable I can't imagine why this isn't the stroller you see everywhere. I know its pricey, but if you actually plan on using your stroller, you will be thanking yourself later for buying yourself a Donkey. Very happy with my decision.
– somom
For more product reviews visit Amazon
3. Delta Children City Street LX Side by Side Stroller
This stroller features 37.30 x 29.60 x 31.20 inches and weighs 21.38 pounds with a weight limit of 70 pounds per seat. They feature an umbrella-style double stroller, is affordable, is durable, and easy to use and fold. It also comes with a narrow frame, comes cup holders, comes with a small canopy, but, on the downside, has zero under-seat storage.
Pros:
Affordable
Lightweight
Easy to maneuver and fold
Comes in a narrow frame
Cons:
Doesn't come with extras and accessories
I have a 3 year old and 7 month twins, and getting them all around was such a hassle. We had a big graco double stroller that the carseats could click into, but it took up all of the back of my suv and we couldn't get groceries/bring sister's bike to the park/all the things you need to do with it. When the twins were around 6 months, I wanted to look at other options and this thing is a lifesaver. It folds down reasonably small, it's light, and it's pretty maneuverable.

The downsides are that the sun shades don't do anything (someone else recommended the manito brand sunshade to go on it and that's what we got, works fine) and the brakes aren't super secure. But those are very small issues and my advice to anyone expecting twins – absolutely get this foldable lightweight stroller, it will make life so much easier
– KeM
I use this stroller a few times a week and it's perfect. I had a much larger stroller that fit my kids carseats snapped into but it did not fit in my small trunk. I was forced to use it for just walking around the neighborhood park with my twins. Buying this took all of my troubles away. I love how small it folds down and how light it is. Now I have a stroller I can actually leave the house with. Love it.
– Tiffany
For more product reviews visit Amazon
4. Baby Trend Sit N Stand Double Stroller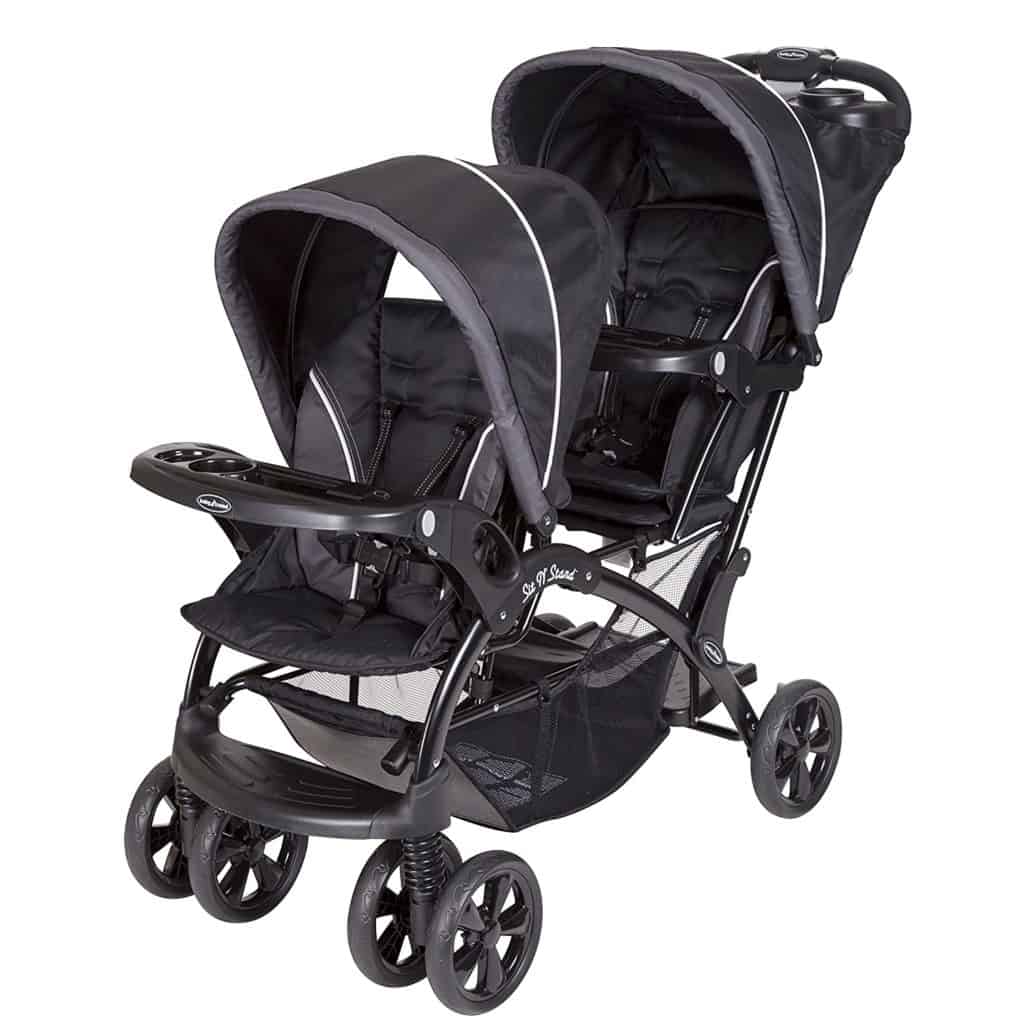 This double stroller features 49 x 21.5 x 43 inches and weighs 32.5 pounds with a weight limit of 50 pounds per seat. The stroller features versatility, can use up to two car seats to put two kids ( younger and the older child), is easy to fold using only one hand, and has a large storage basket underneath with a double cup holder.
Pros:
Is versatile
The toddler seat can fold with one hand
Comes with ample storage
Cons:
Does not accommodate all car seats
Very happy with this double stroller
we have a 20 month old and a newborn
we are excited for when our 20 month old can stand or sit on the back and have a little independence as well
folds large but its to be expected with a double
but easy to fold and you know its done right because the latch easily closes
I love this stroller . Easy to drive and great for any place ! Fits in my trunks and easy to unfold
For more product reviews visit Amazon
5. Bob Revolution Flex Duallie Jogging Stroller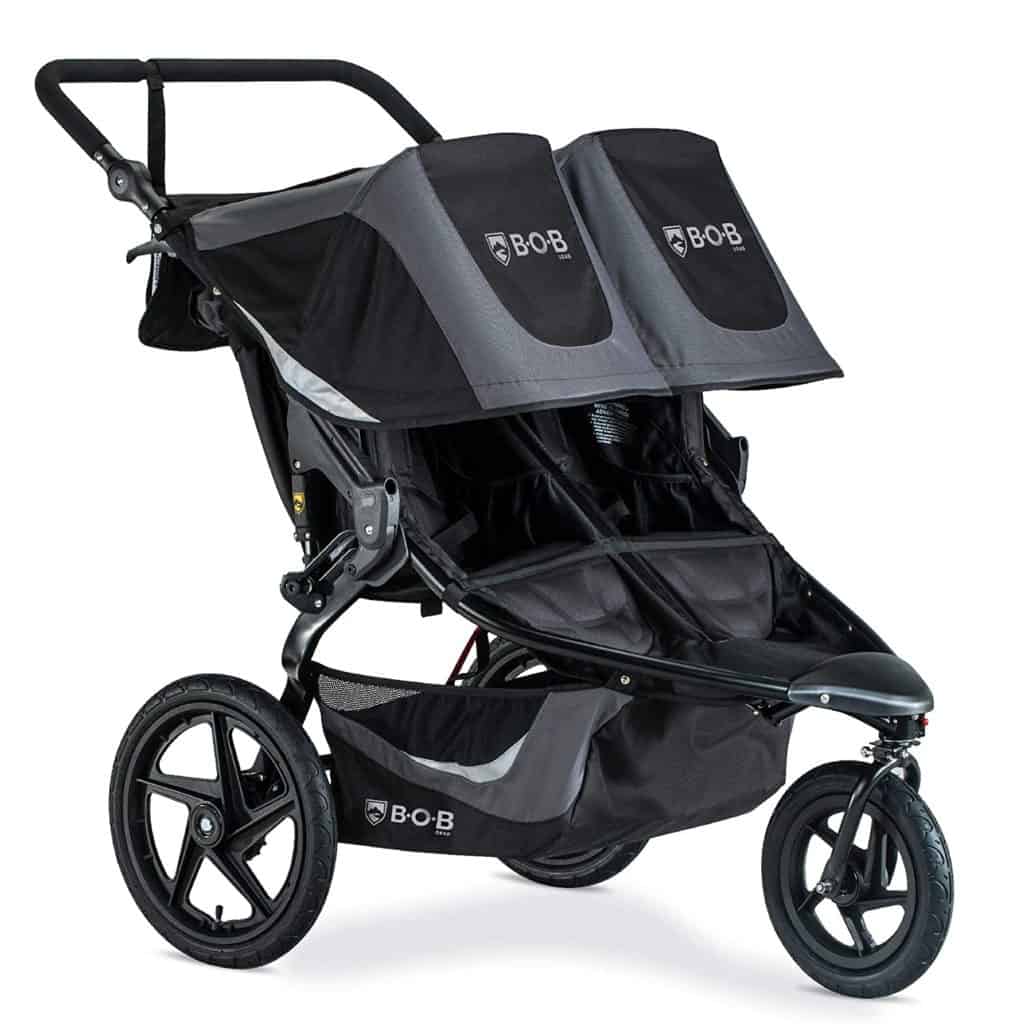 This best double stroller features 48 x 30.5 x 45 inches and weighs 33 pounds with a weight limit of 100 pounds per seat. This best side-by-side double seat offers good smoothness, has an adjustable suspension system, swivel locking front wheel for an easy jog, has padded handlebar up to nine positions, and the seats recline with a large under-seat storage area.
Pros:
This side stroller has an adjustable suspension system
Includes a swivel locking front wheel
An adjustable handlebar
Ample storage
Reclining seats
Cons:
Could be a little difficult to fold
Is heavy as compared to the other strollers on the list
Not to be dramatic, but I've been in awe for months at how wonderful this stroller is. We bought the Duallie for our 1 year old and 3 year old. Easiest double stroller hands down – and we have tried several different types of doubles. I can literally push and maneuver both of them with one hand. So easily zooming through crowded places like Disneyland and malls but also work well outside on trails and uphill. The adjustable handle is an absolute game changer. Depending on my mood, environment and/ or athleticism for the day, I like the handle bar really low or super high to just "rest" on. Just knowing I can change the handlebar itself makes it an amazing stroller. I change it depending on my environment and it's worked wonders. Bottom line: this stroller is a dream and I'll be sad when my kids outgrow it, because it's so fun to push.
– Ryan
My daughter had an older single Bob. However she is having her second baby and will need a double stroller. She said the quality is excellent, even better than her older one. She loves it! We compared so many online and this just looked to have the safest harnesses for when they are no longer in carriers.

The only down side is it's so wide we had to buy a different double stroller for things like taking them places where a lot of people will be (shopping malls, Disneyland, etc). I was hoping to get an in-line Bob double stroller, but couldn't find one.
– Jewels
For more product reviews visit Amazon
6. Zoe XL2 Best Double Strollers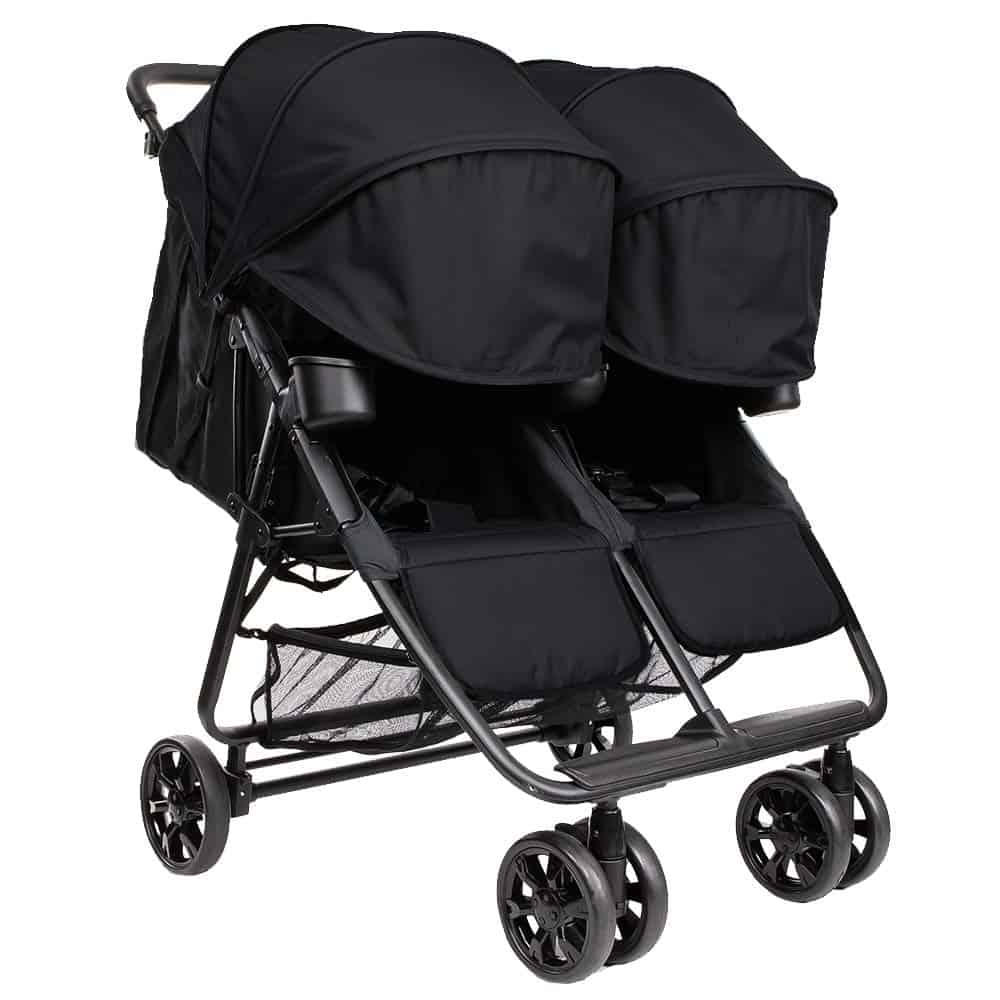 This best double stroller for infants and toddler features 29 x 33 x 40.25 inches and weighs 19 pounds with a weight limit of 45 pounds per seat. If you need a double easy-to-push stroller with a good portable feature, then this is the best pick for you. They are lightweight, are collapsible, good for kids of different ages, can also be expanded to a triple or even a quad stroller, and has expandable tandem two seats.
Pros:
Lightweight
Comes with bells and whistles
Has cup holders
Has reclining seats
Has ample storage space
Cons:
The seatbacks aren't fixed
STOP! Get this stroller! I almost bought one of those strollers that hold an infant carrier but this one is SOOO much better! (I don't like my kids sitting in their car seats for a long period of time anyway). My 7 week old HATES his car seat and with this stroller he is able to recline and relax. I feel that he is safe in this seat with the 3 point harness as well! He doesn't have full head control and I was nervous about that, but the recline goes back enough that there's no issues for us!

The back flips open to allow airflow. I also love the shade! It goes ALL the way down, and there is a window you can see the kids while walking them. There's even a phone pocket!! WIN!

This stroller is super lightweight and so easy to fold! It's super easy to push, even on the hard beach sand! I took this thing through the airport with no issues. I can push it and steer it with one hand.

If you're trying to find a lightweight, travel stroller that is super easy to use, this is it! If I had to give a reason why I didn't like it, I would probably say that it is hard to travel with the cup holder because it gets in the way and ended up falling off at some point when it was loaded on the plane. Also the storage underneath is a little small

At first I was hesitant on the price, but it is worth every penny. Buy this stroller. It's amazing. My mom tells me everyday how great it is, even for the beaches.
It took a REALLY long time to find the best double stroller, but I found it!!! This is truly perfect. My single stroller is an Uppababy Cruz, which I love, and the Zoe Twin+ Luxe (XL2) has a lot of similar features, which I was looking for. I was definitely hesitant to buy it online, so it took a lot of research..because it's not in any stores (near me, that I know of anyway), I wasn't able to touch, feel, or test it. But I'm so glad I did, because I absolutely love it!!!
It's light yet sturdy, maneuvers well, and provides a very smooth ride. Fits through all doorways and sidewalks, even when they seem too narrow. Has plenty of room in the basket underneath , and I love the pockets behind the seats!! No need for an awkward or clumpy stroller bag.. between the pockets for phones, etc. and the parent cup holder, I'm set. And the babes are able to keep their cups in their own cup holders and share snacks in the center cup. However the bar is essential for moving/carrying the stroller once it's been folded up, and the cup holders need to go in the bottom after collapsing it (if you plan to switch from bar to cup holders). Finally, the price point is great..it is so affordable! I really can't recommend this stroller highly enough. It's amazing!!
– AMH
For more product reviewsvisit Amazon
7. Joolz Geo2 Earth Mono Stroller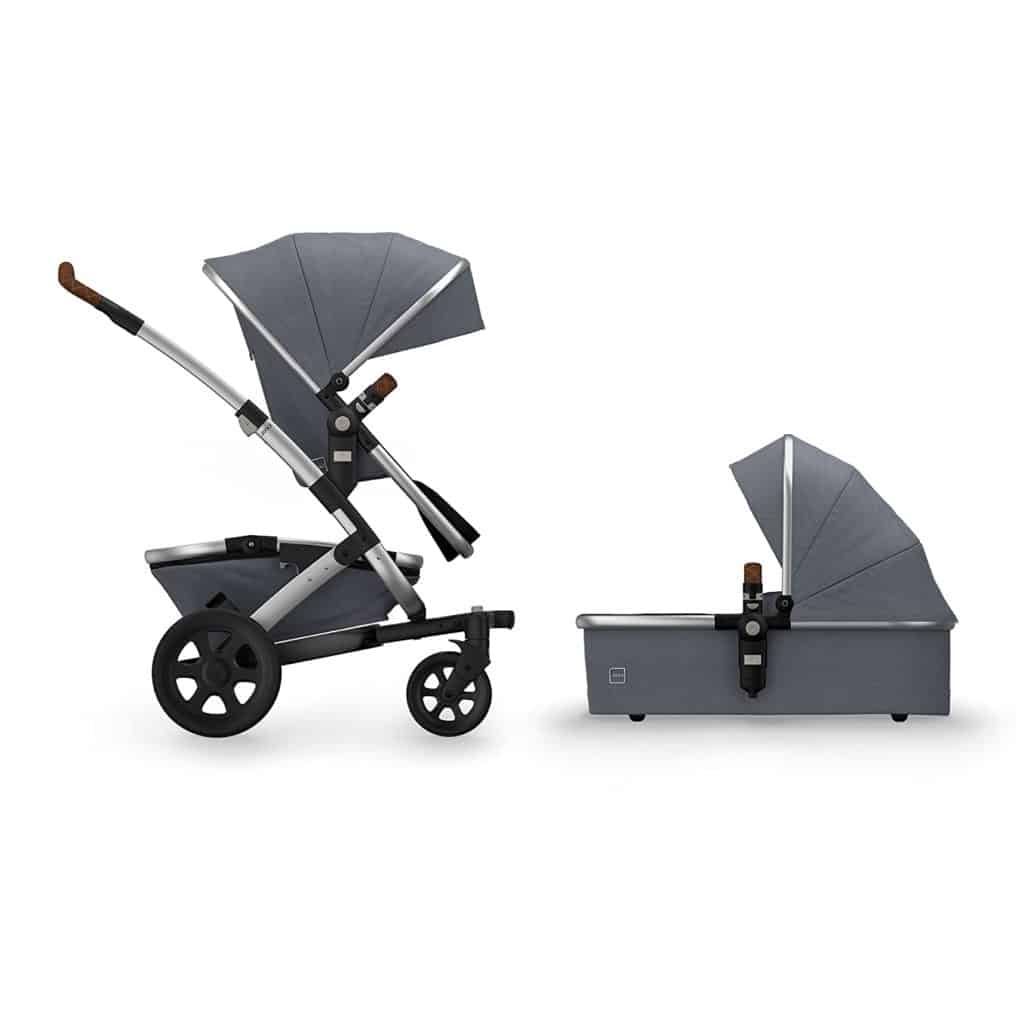 This best double stroller for infants and toddler features 35 x 24 x 22 inches and weighs 31 pounds with a weight limit of 50 pounds per seat. This stroller is great for parents who have one child but know they want a second in the near future, easily converts from single to double to triple as well! It can be used from birth up to 40 pounds, is durable, can be used as a toddler stroller, a pram for newborns, and even as an infant car seat carrier.
Pros:
Has all-terrain wheels
Ample storage
Comes with a UPF 50+ canopy
Has a peek-a-boo window
Has three-position recline
Has adjustable handlebars
This is my absolute favorite stroller (of which I have several). The quality of materials is great, along with the ecofriendly factor. The chassis is strong and stable. The mechanism to fold it is strait forward and smooth. I bought the second seat and use this mostly as a double or with the ride on board, but occasionally as a single. I like the all terrain wheels and have had no problems navigating our bumpy, uneven, tree root covered sidewalks or unpacked walking trails. The narrowness of this stroller is also a plus as there are many trees in my city which narrows the sidewalk egress. I've used the stroller with a 40 lbs preschooler and a 35 lbs toddler on the bottom seat, and as a lower bassinet with a newborn to 6 mo and love how it keeps prying eyes away from the baby. Most times people do not even realize there's a baby down there. I'm 5'7" and have no issues with the lower seat/bassinet and my stride. Same for the the ride on board. One of the greatest benefits of this design is the ability pop up and down curbs, since the weight distribution is nearly stacked, you don't need to stress the frame to get 65 lbs worth of children up a curb. Additionally, the stacked design allows for a very tight turn, which makes it a great choice for doctors offices or other tight places. It can be difficult to get a small child out from the bottom seat, but once they are big enough to climb in, it's not an issue. The upper seat is easy to get into for a small child. My 40" tall preschooler still fits in the upper/main seat
Shopped around for strollers. Joolz more sustainability and quality fabrics(organic) stood out to us. We also preferred a stroller that could if needed convert to a double. The basket on the bottom is huge and can hold groceries/bags and pretty much anything. The stroller is easy to fold down and set up. Living in manhattan NYC a stroller like this is a must. Joolz maneuvers extremely well. The wheels go on any type of terrain and or weather. Extremely durable. Everything feels the best quality and our baby loves it too and will fall asleep in it no problems. Perfect for city life parents. Quality to last with using multiple times per day(we do not use a car daily). Seat is at table height and stroller fits into cafes/eateries in the city. We would highly recommended.
– Melissa
For more product reviews visit Amazon
8. Mockingbird Single-to-Double Stroller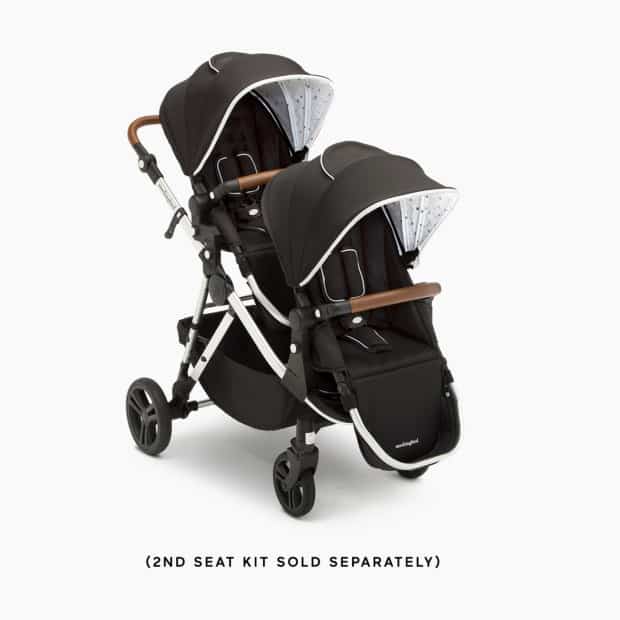 This best double stroller for infants and toddler features 25.5 x 40 x 33 inches and weighs 26.5 pounds with a weight limit of 45 – 50 pounds per seat. The stroller features to be affordable, it can be shifted from single-to-double, easy-to-use, the seat can change directions, and has a storage basket included.
Pros:
Come with a wide range of configurations
Features in different colors to choose from
Has ample storage
Is affordable
9. Baby Jogger City Select Double Stroller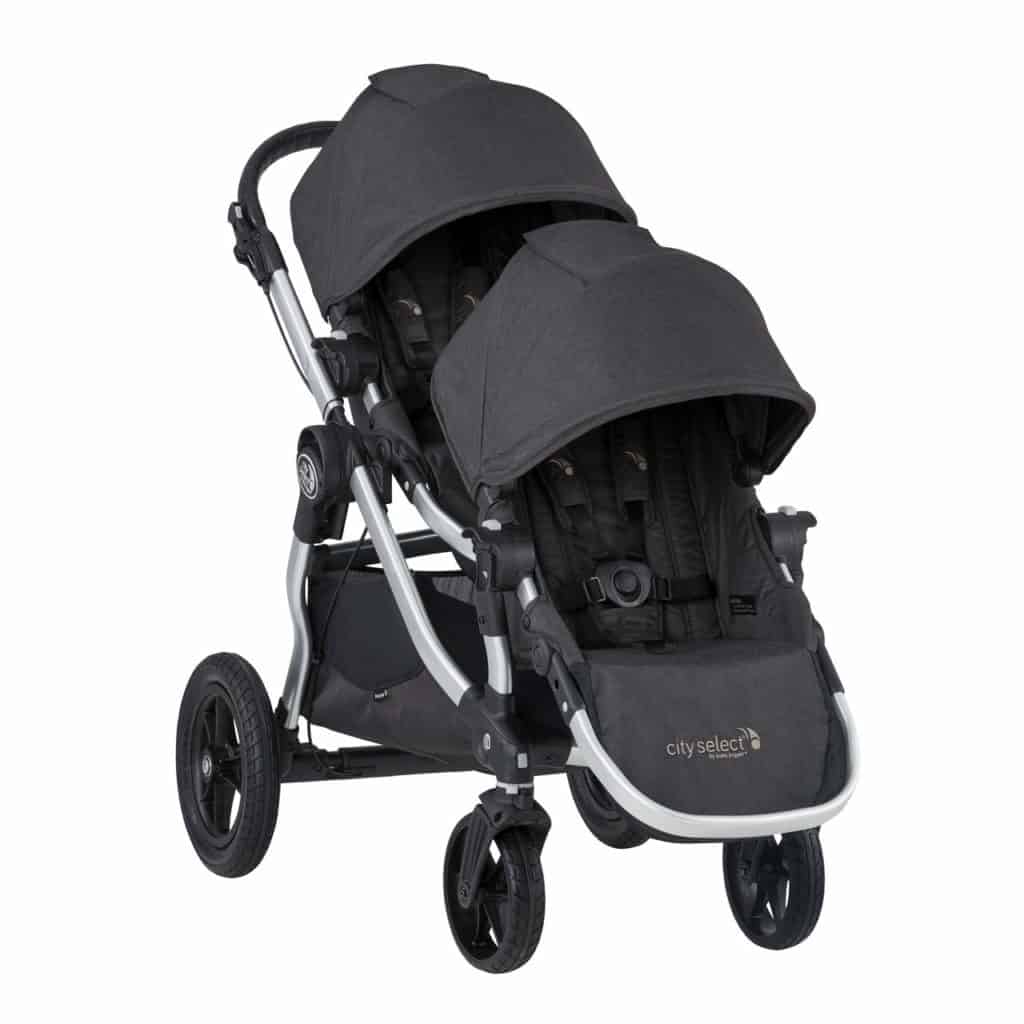 This stroller features 43.5 x 25.75 x 38.5 inches and weighs 34 pounds with a weight limit of 45 pounds per seat. This double stroller easily converts from a single stroller to an in-line double and comes in 20 impressive combos of seating with car seats, bassinets, and single seats.
Pros:
Has different configurations
The two seats face inwards
Comes with a second seat
The seats recline
Is cute and stylish
Cons:
Is heavy
Is big and takes a lot of space
I want to start off by saying I own a local kids store in my area (gently used) so I have tested out hundreds of products.

I knew what I DIDNT want.

I am 5 foot 4 and most strollers I can not pick up and put into the trunk of my suv by myself. Wait until baby is screaming or another child is not getting into the car like they are supposed to be for you to literally wants to leave a stroller in a parking lot.

This stroller was all that I wanted. The frame is light weight, the seat is adjustable to face towards you or away.

I got a car seat that was compatible and I love love that I can have the car seat face towards me or away for me. Why not have options!

The stroller frame has a great basket. It's huge. I love that I can unzip to to gain more room or just to get better access to the items I have in thr basket.

The locking for the stroller is another plus. It's right at the handle bar. So with one easy money I lock the stroller and can get my car seat out and put into the car.

Now I also have to bring up the wheels. This was another reason we love this. Strollers either have plastic wheels or rubber. Rubber is better for uneven ground, grass, rock and jogging. This stroller has plastic which typically means doing the above is near impossible. While you can't jog with this per-say it does all the tests with ease. Because the stroller frame is so light and the wheels are large it allows for this to be pushed on gravel, grass, uneven ground with no issue. I live in a area where we have no side walks. So I am almost always on gravel. There has been no issue with the "push" on this. The wheels don't lock themselves and then I'm the only pushing force (some strollers do this)

I would buy this again abs again. Look at what this does (grows from nb on up) a normal stroller have 1 seat option and one position.
– Jessra
Best stroller so far. Had graco stroller too. This one is better. It's more rugged and easier to push. Also bought second seat. Second seat is a bit crammed and if the heavier child is in the front, it can be a bit cumbersome to push, especially over curbs. Second seat eliminates leg room. Still good, but as a one child stroller it is amazing. Wish it had one cup holder with it and not charge extra
– sshogun
For more product reviews visit Amazon
10. Joovy Caboose Ultralight Graphite Stroller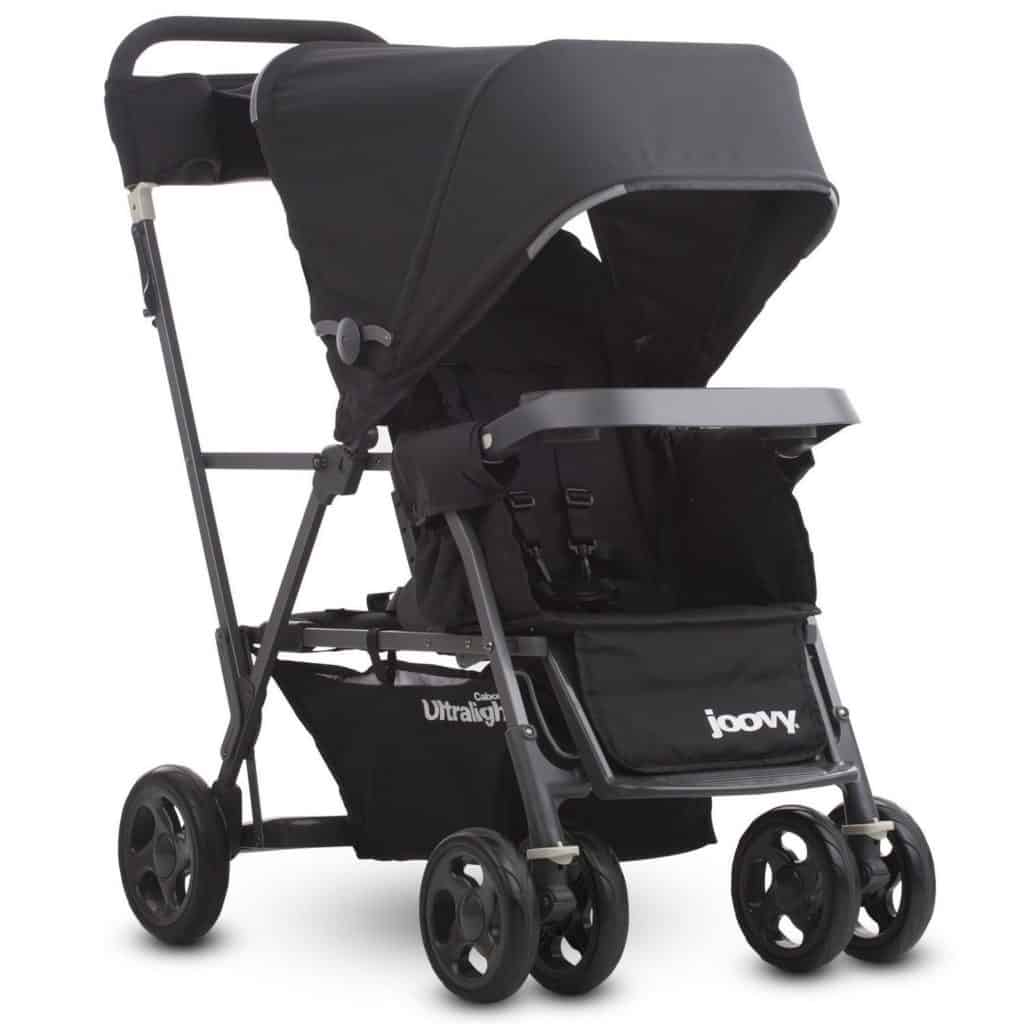 This stroller features 25.6 x 23.6 x 46.5 inches and weighs 22 pounds with a weight limit of 90 pounds per seat. This in-line double stroller is flexible, can fit a car seat adapter, is light, can be easily folded, and has plenty of storage
Pros:
Is lightweight
Can be folded
Is easy to store
Comes with accessories
Cons:
Can only fit one car seat
Could be a little difficult to maneuver
We have two girls (now 6yr and 3yr). We have used this stroller for them at the zoo and other around town outings. It is a lifesaver at the airport!

My wife is flying with them for the first time alone and was a little nervous. She questioned if the stroller would be more of an inconvenience because you have to check it at the gate and then wait in the gate for it. She had a short amount of time for her connection flight. What prompted me to write this review, though I should have sooner with my own excellent experiences, was that she just text me that she would have missed her connection flight if not for this stroller. The kids love to ride in it, and being able to keep them contained in a busy stressful airport is invaluable. A big help is being able to store stuff in the bottom compartment and, if necessary, our older daughter can walk and we can put a car seat (or other large items) in her seat, which is a big help at the airport.

We've owned it for almost two years. It has been on the beach, in the rain and thrown around a lot of trunks. I am very pleased with the durability. It folds up and unfolds easily. The sun shades work well enough and aren't cumbersome.

A few minor issues: when collapsed, the foot rest for the forward facing seat doesn't have any way to lock so it will flap around. A small string or bungee fixes this, but it was never a problem for us. It doesn't do well in sand, but it is not meant for that as it doesn't have all-terrain tires. Lastly, is the maneuverability. I think it moves around well, but my wife has a little trouble when both kids are in it. I think that is unavoidable and a trade off for it being lightweight.
– Jeremy
This stroller is fantastic! Bought it for our trip to Disneyworld and it was perfect! We paid a little more for the Ultralight version of the Joovy Caboose Sit & Stand and it was SO easy to fold and carry on and off of theme park trams, trains, at the airport, etc. Folds up like a beach chair. Easy to maneuver- spins left & right easily, glides over bumps, smooth ride and no problem easily pushing down on the brakes when parking the stroller. Our daughters are 5 and 2. Our 2 year old was very comfy in the front seat with a tray for her snacks & sippy cup. Our 5 year old loved the freedom to jump on/off or sit/stand. When our 2 year old got cranky and it was naptime, her seat went all the way back and she was very comfy sleeping. Our 5 year old had to get out of the stroller at this time as the reclining seat covers the bench where the older child sits/stands. However, no big deal, she was enjoying walking a bit and we had lunch at our toddlers' naptime. Very generous sun cover for both kids! We bought the rain cover and upgraded holder for accessories that goes over the handle. That easily held our maps, two water bottles, has a zippered pocket for hand wipes, etc. My ONLY wish is that the storage compartment underneath was bigger. It's not a ton of space, especially with the bench that our 5-year old sits on right over it. But this is why this is such a great, lightweight, compact stroller for travel, I guess. We had to really consolidate our "stuff." Packed the essentials only -diapers/wipes, water bottles, rain ponchos, kids snacks, and our keys/phones/$ in a removable case to go with us on rides. That's all you can fit, but I suppose that's all you need. I really don't take the time to write reviews often and certainly not ones this long, but I appreciate others for their feedback. Travel is so hard with kids. You can't go wrong with this stroller IF your kids are under 6 and not too big and you can live without a ton of cargo space. Hope this helps!
– JMG
For more product reviewsvisit Amazon
Double strollers for infants and toddlers come in a variety of choices in terms of their types, such as convertible strollers, in-line, and side-by-side for toddlers and kids of different ages. Not only that, but these strollers also have different kinds, colors, sizes, and weight capacities. Therefore, it becomes important for the parents to be the best choice for their kids and pick one that is not only durable but also easy to store.
Parenthoodbliss hopes that the article above has helped you pick your best ride-along double stroller.
Best Double Stroller For Infant and Toddler FAQs
1) Is it important to buy a double stroller for a 2.5 years old baby ?
When it comes to choosing the kind of stroller, it is important for the parents to choose as per their kids' needs and wants. However, generally, kids under 2 years of age should be ok using any double stroller, while on the other hand, children who fall between 2-4 years could use a side-by-side stroller or even a tandem stroller with a primary toddler seat.
2) Is it worth buying a double stroller ?
Double strollers are observed to be the best pals for most parents as managing more than a kid at once is in itself quite a hefty task to perform. Also, while you are choosing the best double stroller for infants and toddler, make sure you keep in mind its versatility and your needs as well. Such as, does it fit into your car, is it compatible, can it be folded, etc.
3) What are the things to keep in mind while purchasing a double stroller ?
Here is a list of things you must keep in mind while buying a double stroller. Make sure to look for:
Adjustable canopy
Reclining seats
Has a 5-point harness
Includes a footrest
Has a front swivel wheel
Foam-filled tire
Has a storage basket
Child tray
A Cup Holder
4) At what age should children use a double stroller?
Kids who are younger than two years do well in almost any double stroller. However, when they are anywhere between 2-4 years, it is recommended to use a side-by-side stroller or a tandem stroller instead that comes with a "primary" seat and a smaller seat, installed.
5) For how long do kids use strollers?
According to the American Academy of Pediatrics, the appropriate time for children to use a stroller is when they are at the infant/toddler stage. Overuse of these is not recommended.