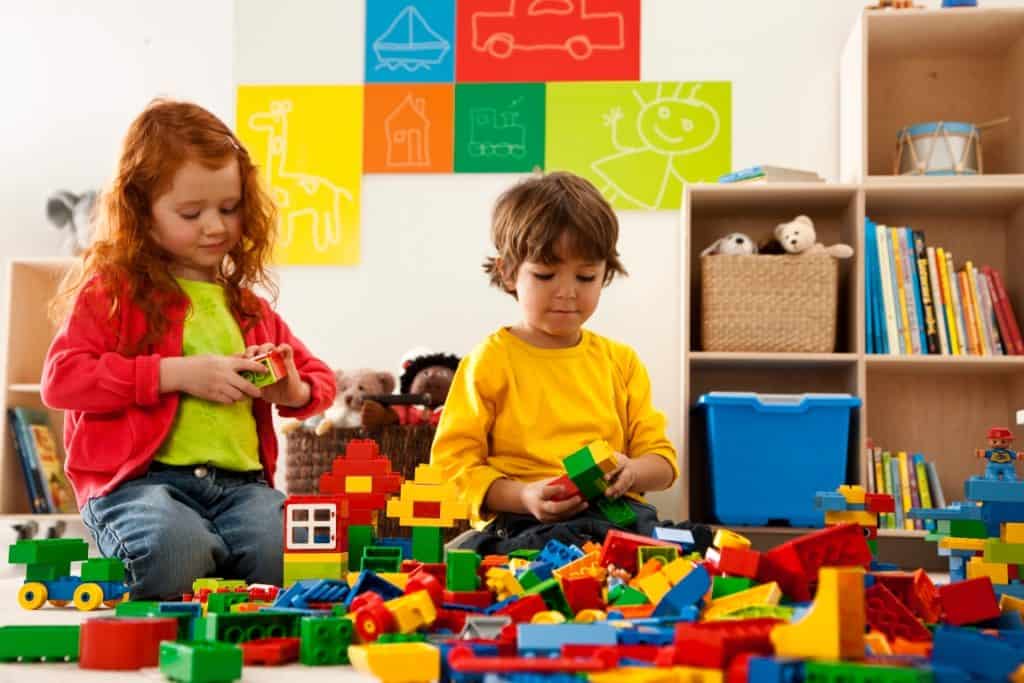 As your toddler grows, there is a pretty high chance that your toddler might like the best LEGO Duplo sets more first than the LEGO set in particular. This is because these LEGO sets come in a bright range of colors with big bricks, which is about twice as much as the size of a normal LEGO set, and additionally are super safe in the hands of the little one, preventing any choking hazard.
Perhaps, if your baby is a year old, a best LEGO Duplo set collection might just be what you need, as these LEGO bricks help develop the little one's motor skills, number skills, creativity, and also provide entertainment to the children.
However, the only confusing part here for parents is –  they at times fail to decipher amongst the many piece set options that are available in the market. Therefore, to help you with that, we at Parenthood bliss have curated a list below consisting of our top 10 picks of a LEGO Duplo set collection for the kids to play with.
Top 10 best Duplo LEGO sets to choose from!
Here are the best LEGO Duplo sets to pick for your toddler's imaginative play:
1. Airport Duplo LEGO sets - Ages 2 to 5 years: Best LEGO Duplo Sets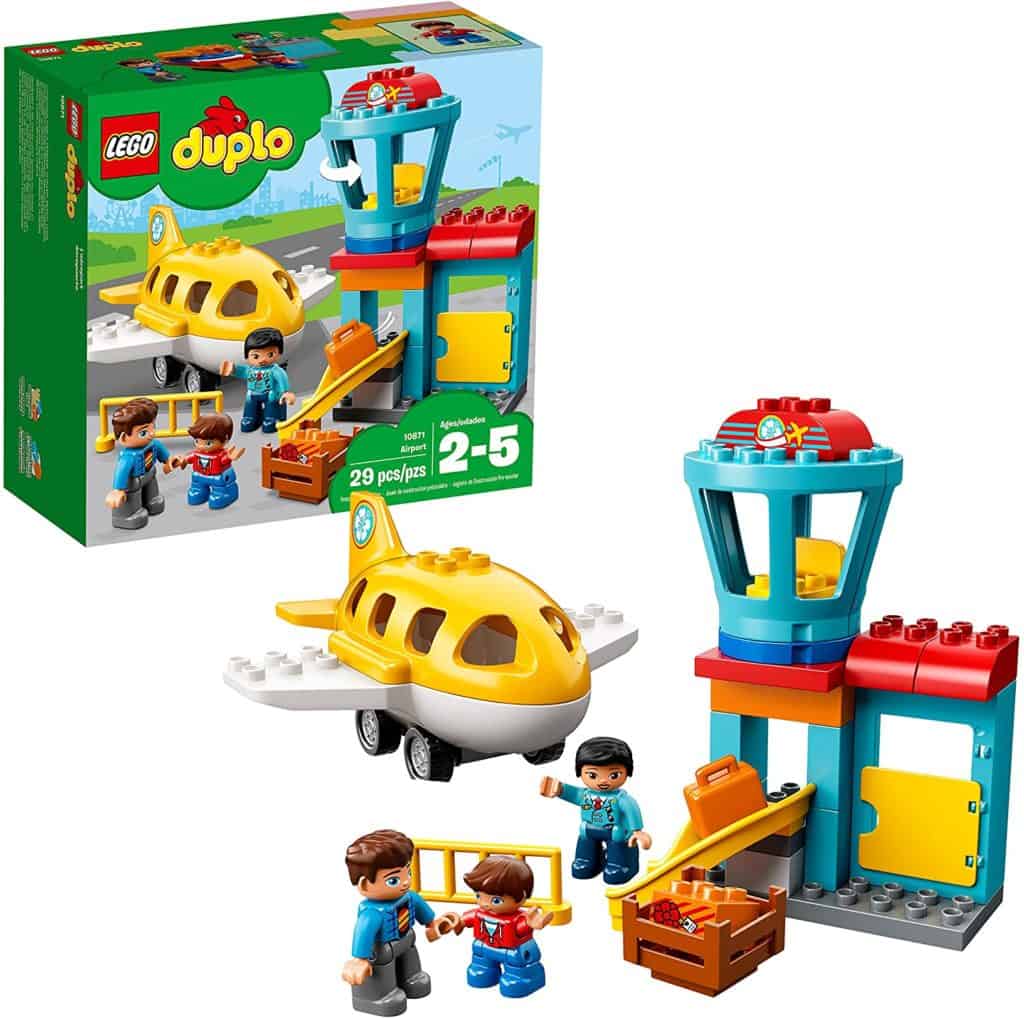 This LEGO set offers the toddlers a buildable airport collection that includes 3 figures:
dad,
child,
and a pilot of course
 The airport set helps build the little one's imagination whilst placing and putting together a boarding gate, luggage slide, suitcase checking into the airport design.
If you are taking your kids for a playdate to the park or are planning a family vacation, you now know what to pack along!
2. Farm animal LEGO Duplo set for kids- Ages 2 to 5 years: Best LEGO Duplo Sets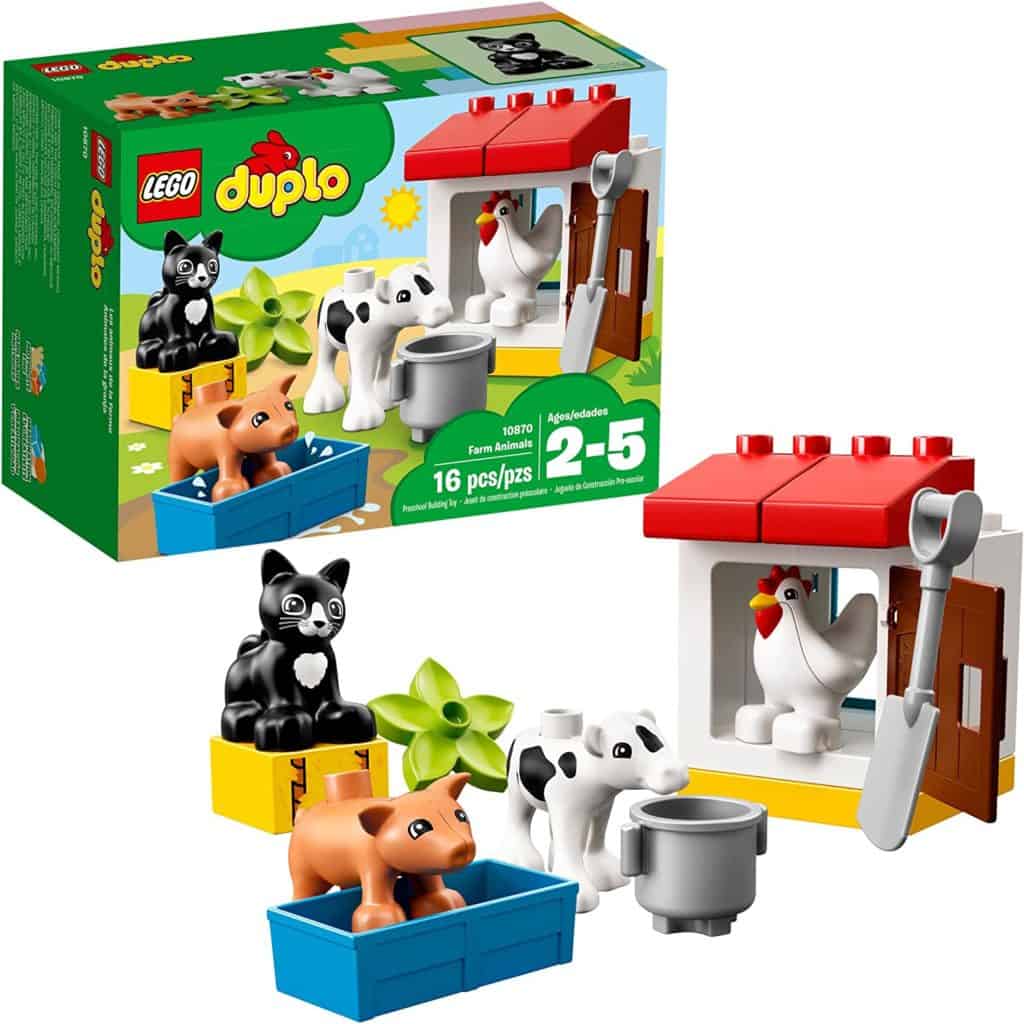 This farm Duplo set is the perfect pick for toddlers to help recreate their favorite Old McDonald's farmhouse via the instructions mentioned along with the little calf, pig, cat, and chicken. It also features an easy-to-build chicken coop with a workable door and window, allowing the toddler to move the animals in and out.
The set includes a 5-brick construction with a to-the-point and easy design that encourages the little builders to master the basic construction skills, to also learn to vocalize the animal voices using the animal figures, and also help build the major developmental milestones including hand-eye coordination.
3. Number Train LEGO Duplo for the little train fans- Ages 2 to 5 years: Best LEGO Duplo Sets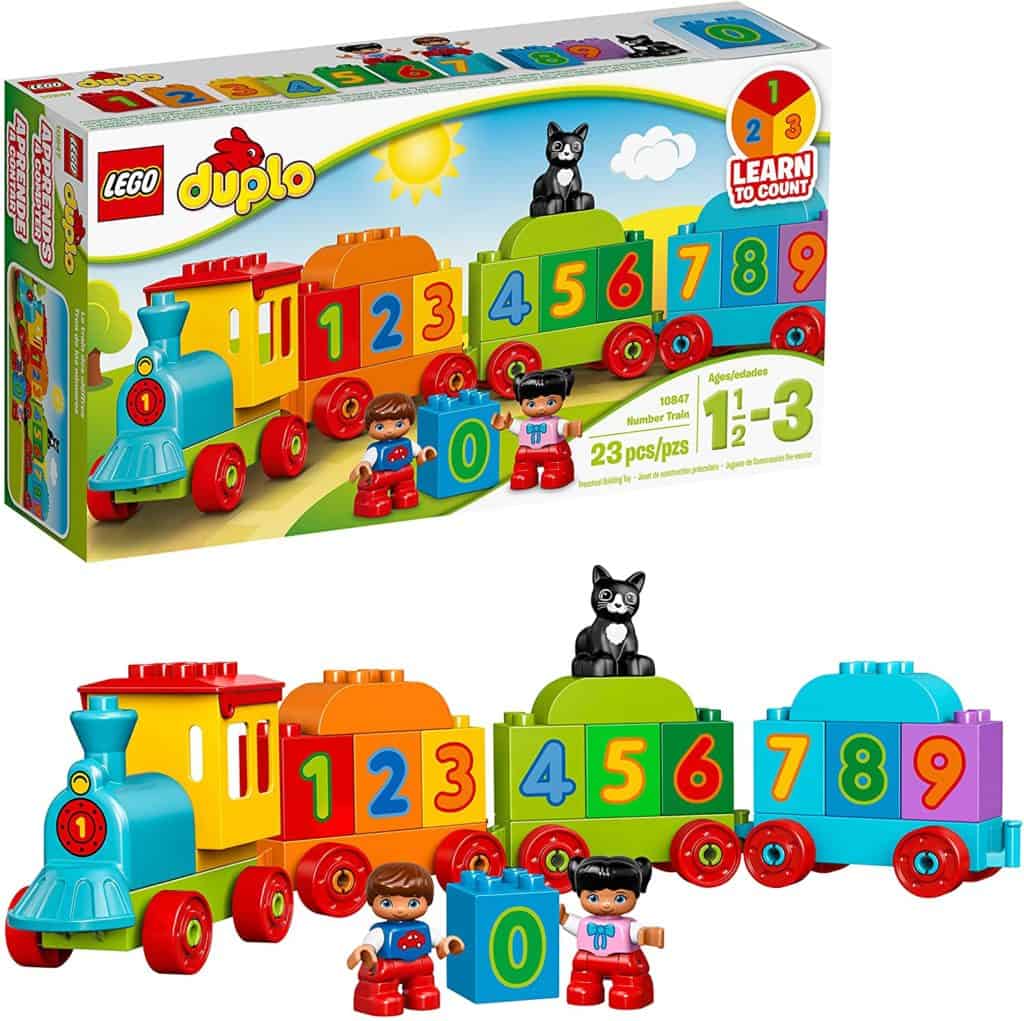 If you have been trying to introduce the young toddler to the world of numbers and counting, these best LEGO Duplo sets are what you need!
This number train LEGO set features big chunky number blocks that help the younger kids to recognize the numbers along with their endless building combinations, keeping them entertained. The set includes big colorful blocks with numbers in them, allowing the kids to start building the toy, nonetheless, if you happen to lose a piece, it can be easily replaced too!
4. The classic first fun puzzle LEGO Duplo set- Ages 18 months and above: Best LEGO Duplo Sets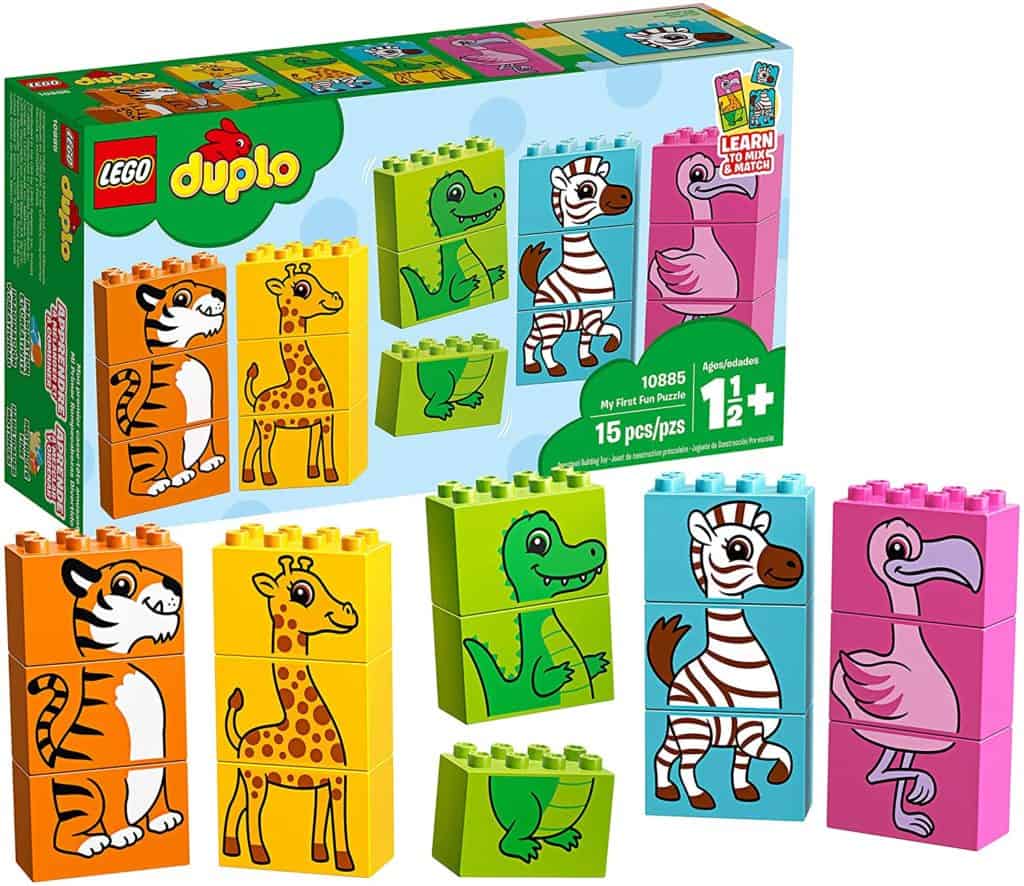 This fun puzzle features 5 bright animals that can be clicked together to form a 3-piece puzzle for the little builders. Also, this puzzle designed for the kids allows them to create their own quirky creatures by mismatching the big bricks and high-stacking the animals.
( Know more about stacking toys)
However, while the baby learns to correctly identify and match the animals,  it also helps them learn colors, encourages imaginative play, becomes creative thinkers, and improves hand-eye coordination.
5. The fire station LEGO Duplo sets- Ages 2 years and above: Best LEGO Duplo Sets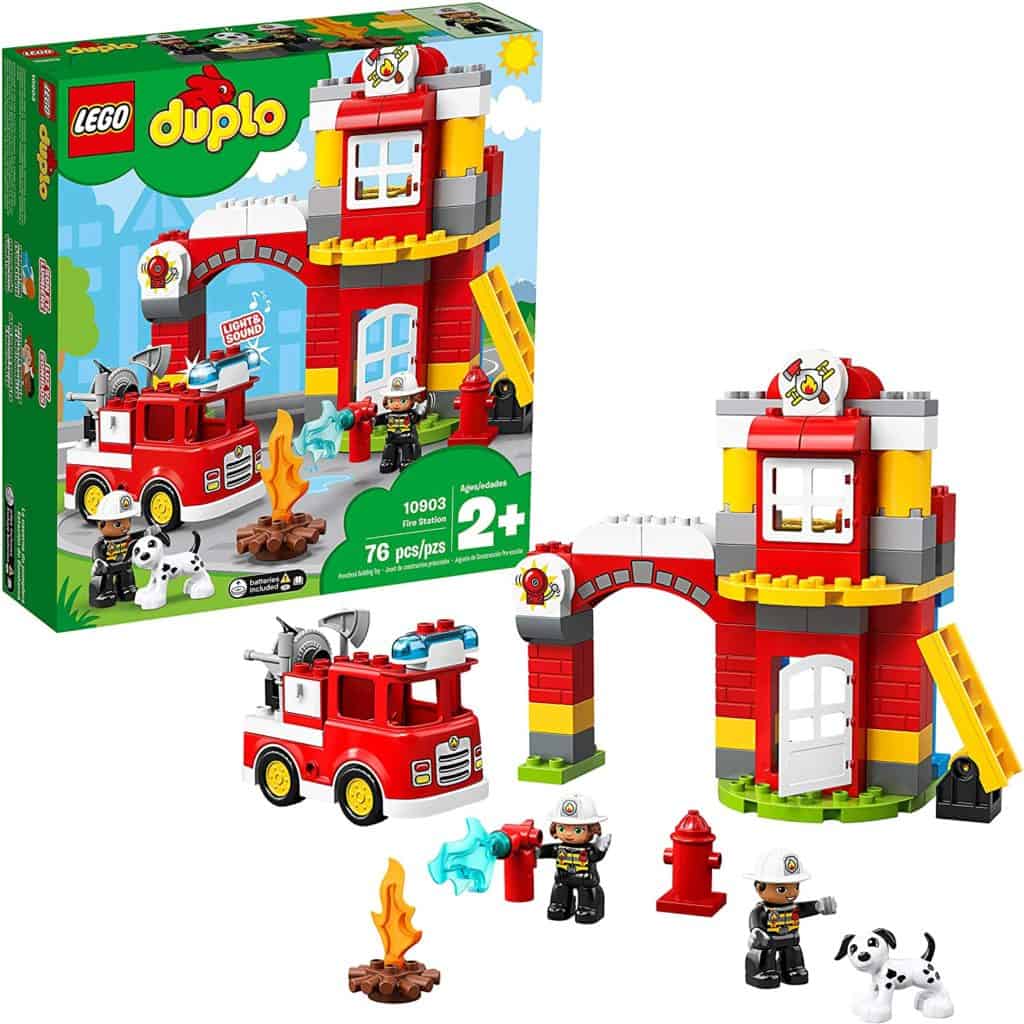 These fire station LEGO sets feature a working light and siren sound effect, 2 figures, and a friendly fire station dog. The most attractive element that the kids happen to like is that they can pretend to put out the campfire with a hose and the fire hydrant. To further stimulate their imagination, kids can also place the firefighters inside the truck while switching the flashlight and siren.
6. Best LEGO Duplo car creation- Ages 18 months and up: Best LEGO Duplo Sets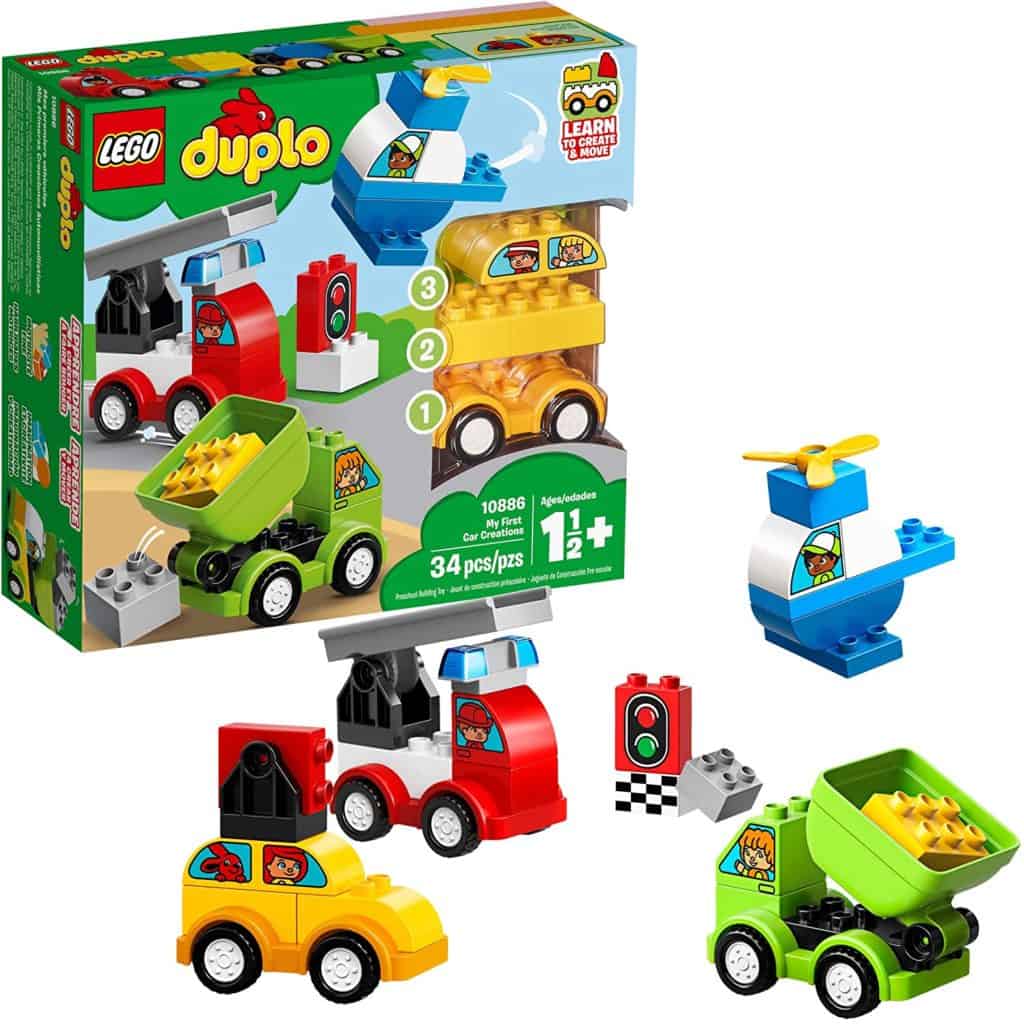 These LEGO sets feature four different colored vehicles with matching bricks that allow the toddler to create a helicopter, taxi, trash truck, and fire engine. This helps develop their fine motor skills, inspires their imaginations, and is the classic invention of cars.
The car creation set is known for its versatility and durability and also encourages the kids to build on their social skills too.
7. Animal balancing LEGO set- Ages 12 months and above: Best LEGO Duplo Sets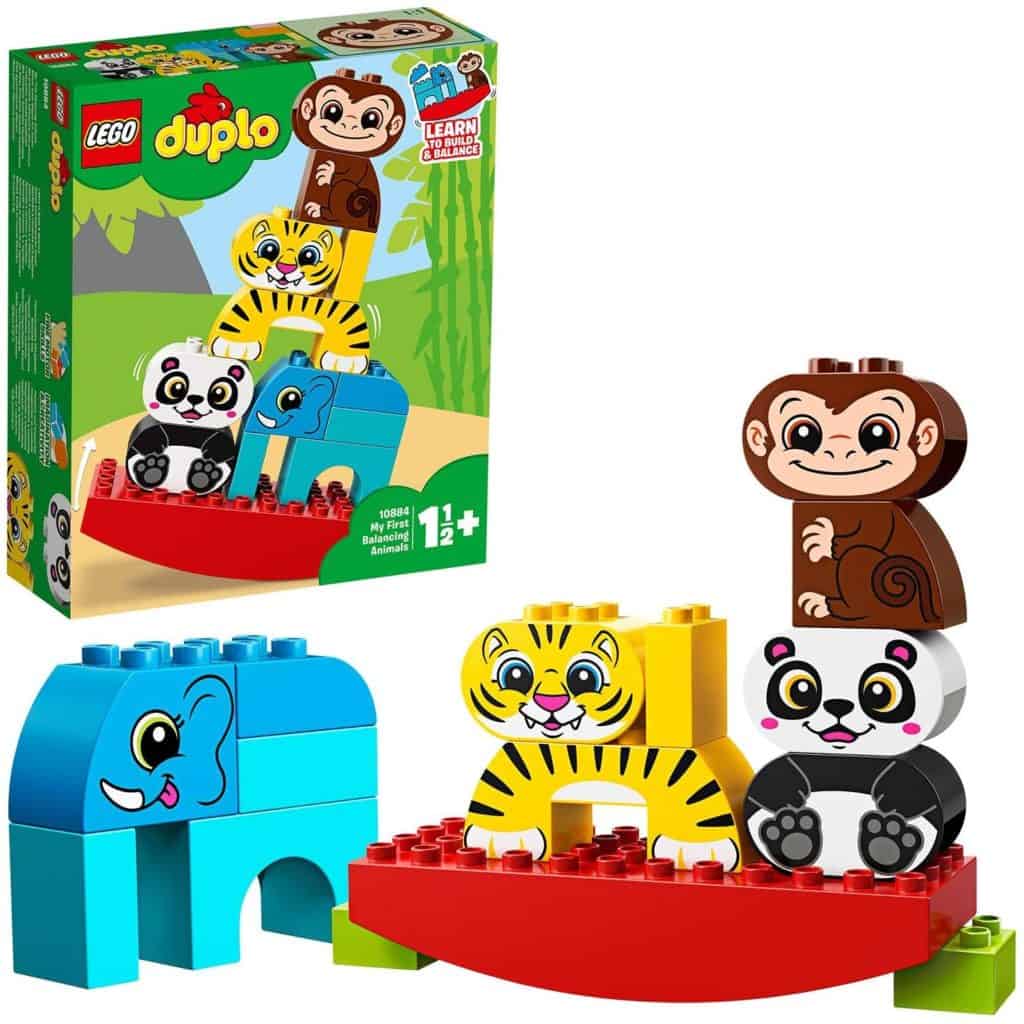 It features pieces that come across as friendly zoo animals and the set comes with 4 very cheerful-looking buildable characters, that is,
a lion,
panda,
monkey,
and an elephant.
Adding on, you will also be introduced to a seesaw that allows the toddler to place the figures and build on their imaginative play and language skills along with the furry friends, or make use of the brick pieces to keep the animals well balanced.
8. The steam train LEGO set- Ages 2 to 5 years: Best LEGO Duplo Sets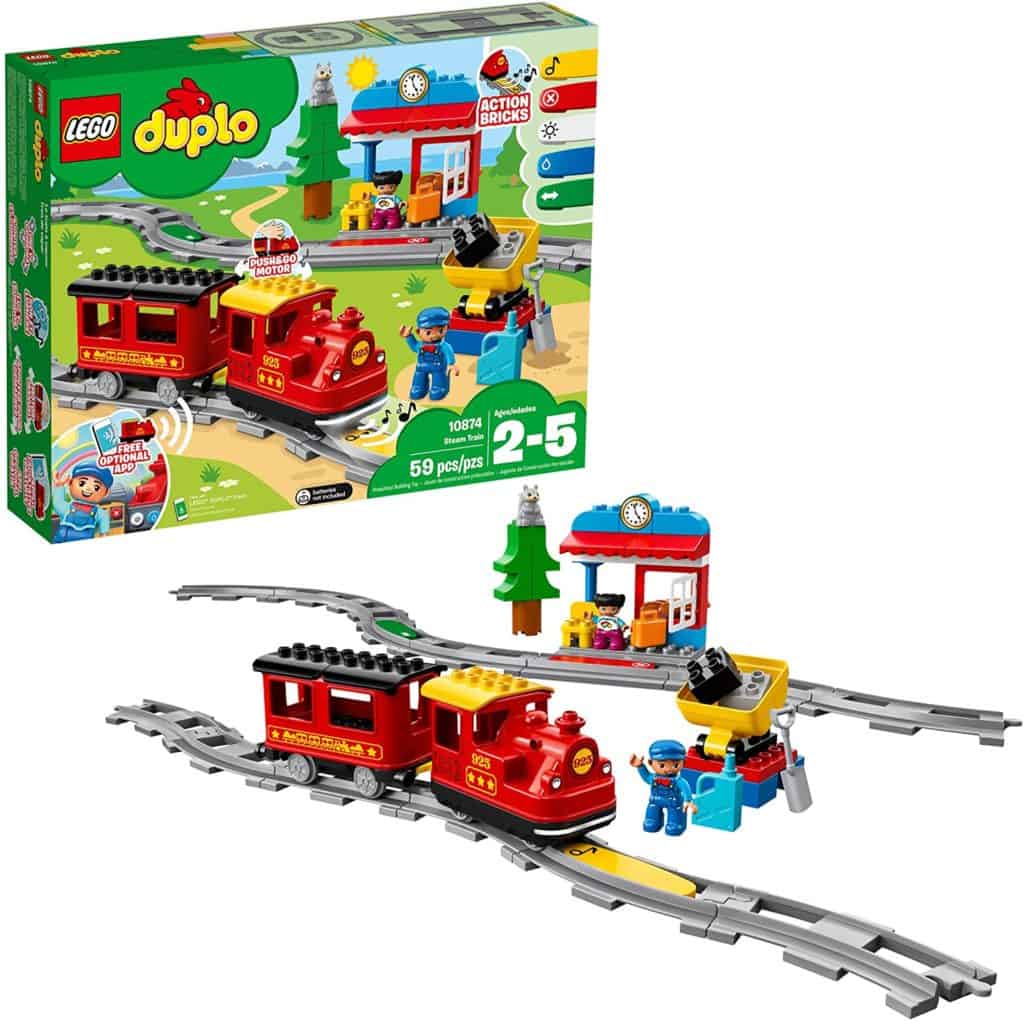 Your 18 months old toddler will love the steam train's sound effects, lights, and also helps them learn about the cause and effect idea. The set includes 5 action bricks that help build the train track that also triggers different motion, such as the changing direction and the sound of the horn.
It also has an option to download an app in order to unlock the steam trains' nifty tricks including the remote-control function and also comes along with a few additional tracks just in case.
9. Pizzeria, best LEGO Duplo set for kids- Ages 2 and above: Best LEGO Duplo Sets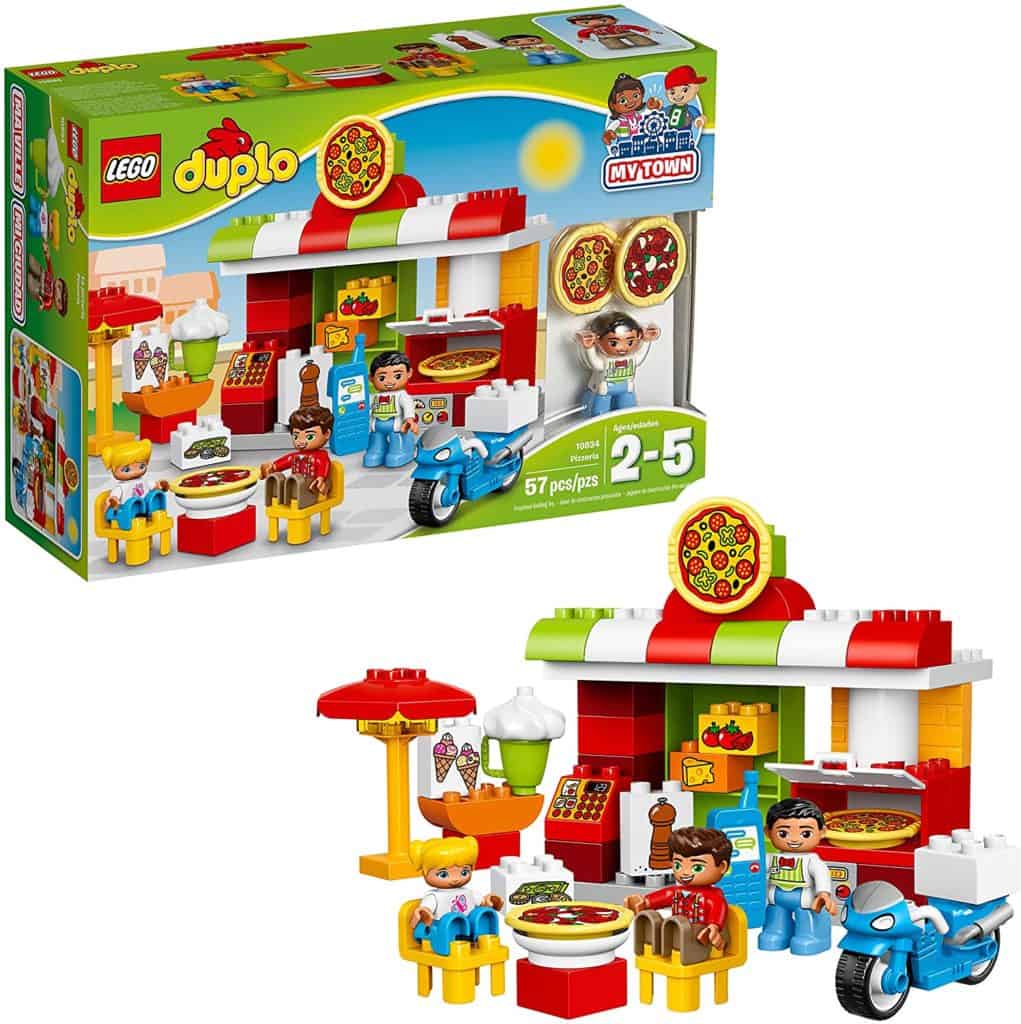 The pizzeria is a small role play-centered LEGO Duplo toy that features decorated story bricks to help in the building process. It encourages kids of younger ages to role-play with ice cream, tomatoes, cheese, pepper, pizzas, and money.
It also includes a DUPLO mobile phone to take orders, allowing the little ones to lift the oven door in order to prepare the pizzas, pop them in the delivery bike, and deliver.
10. All-in-One LEGO Duplo box- Ages 18 months and up: Best LEGO Duplo Sets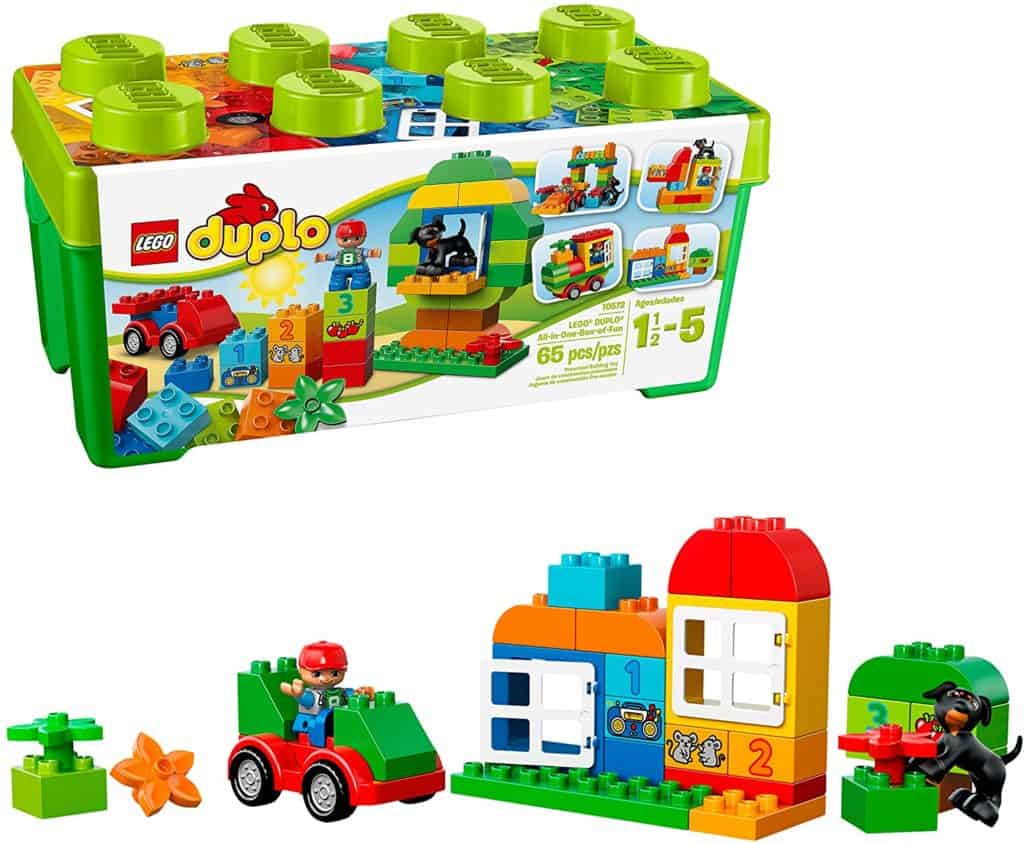 This LEGO Duplo all-in-one set is useful for kids across all ages and the toy also helps improve the fine motor skills of the little one for the development of the essential milestones for buildings and creating.
The box includes a variety of building bricks, a figure, a dog, and a set of wheels with many picture story bricks and numbers.
Best LEGO Duplo Sets Final Conclusion:
In order to buy the perfect LEGO Duplo sets, you must make sure to choose one that helps build your toddler's motor skills. Listed above are our best picks for you to refer, research and purchase!
Best LEGO Duplo Sets FAQs
1) What LEGO sets are coming out in 2022 ?
Listed below are a few LEGO sets that are coming out in 2022:
Lego Disney Cinderella's Royal Carriage
Lego Star Wars Skywalker's X-Wing Fighter
Lego Dots Holder Secret
Lego Friends Andrea's Family House
Lego Marvel Spider-Man Monster Truck
Lego Ninjago Legacy Boulder Blaster
2) Why are LEGO sets important ?
As the original Danish word for LEGO, "play well," these LEGO sets are quite simple yet help encourage the toddlers and kids to build and create new things from the set. The set continues to provide the kids with ideas to help build for more years to come as they top almost every age group's play-list.
3) What age is Duplo suitable for ?
A LEGO Duplo is specially designed for kids from the age of one and a half years of age to five years olds. However, in the initial stages, it is recommended for parents to supervise the kids in order to prevent any choking hazards.