Playtime Perfection: Unveiling the Best Baby Toys for Ultimate Fun + Learning
When your newborn arrives, it feels like all you do is deal with diapers, feeding, and the lack of sleep. But guess what? Playtime is actually a big deal for your little munchkin's growth! It's not just about fun and games, it's about their brain, body, emotions, and social skills. And the best part?
You can get in on the action too! Playing with your baby helps them hit those crucial physical milestones, boosts their brainpower (which is growing like crazy), teaches them about feelings and how to interact with others, and even helps them learn a language. So, let the playtime begin!
20 Best Developmental Toys for Babies in 2023
When you're picking out toys for your brand-new baby, go for ones that are safe, and easy to play with, and let them explore and be creative. Stuff like rattles, toys they can grab, balls, play gyms, and picture books are awesome for helping your baby hit those important milestones in their first six months.
And hey, if you want to get more value for your money, you can check out those cool subscription boxes like Monti Kids and Lovevery that are specifically designed to match your baby's age. They've got some really neat stuff for helping with your little one's development.
1. Lovevery: The Play Gym ($140)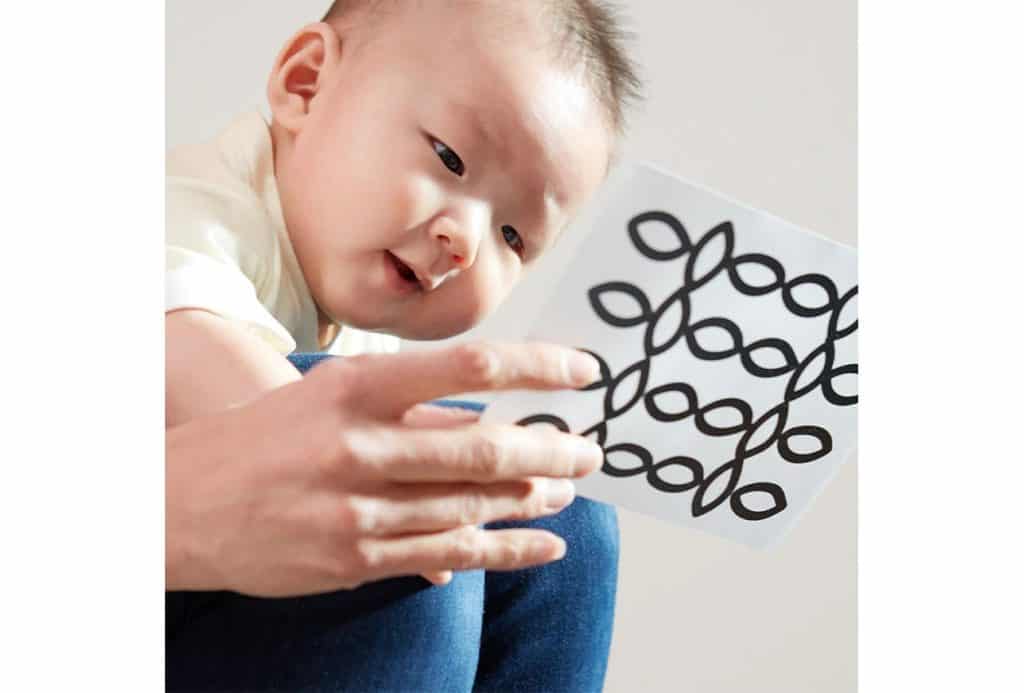 The Lovevery play gym has 5 different areas to help your little one learn and avoid getting overwhelmed. They can focus, make sounds, touch different textures, play hide and seek, and explore different colors. In the Learn to Focus area, you'll find black and white objects, mirrors, and face cards that you can switch around as needed.
For motor development, there are removable accessories like an organic cotton teether, a wooden batting ring that's sourced sustainably, and a Montessori Ball made from organic cotton. If you want to get creative, you can transform the play gym into a fort using the Play Space Cover.
The Lovevery play gym also comes with a play guide filled with ideas and activities from child development experts to keep your little one engaged and inspired. And don't forget the learning cards! They're printed with soy ink to make them safe for your child. When it comes to teething toys, they're made entirely from organic cotton. Lastly, the Play Mat is made from machine-washable polyester materials, so it's easy to keep clean.
2. Fisher-Price: Deluxe Kick & Play Gym Piano ($39.99)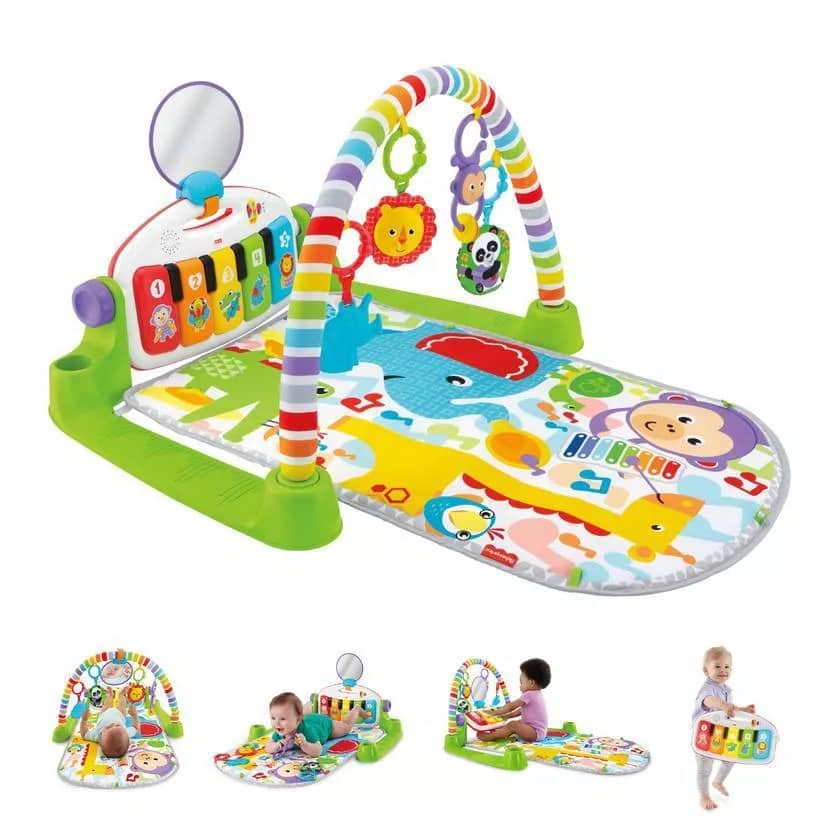 The Fisher-Price Deluxe Kick & Play Gym Piano offers a range of exciting features for your little one's playtime. Here are some of its key features:
The gym includes a colorful piano with keys that can be activated by your baby's kicks and movements. This feature encourages physical activity and helps develop your baby's coordination skills.

The gym comes with several detachable toys that can be repositioned or taken on the go including a mirror, a rattle, a teether, and a clacker.

Its music can be switched between short-play and long-play modes, allowing for different playtime durations.

The gym offers 4 different play positions to adapt to your baby's growth and developmental stages. It can be used for tummy time, lay and play, sit and play, and kick and play, providing versatility as your baby grows and develops.

Its mat is designed with colorful patterns and textures to stimulate your baby's visual and tactile senses.
The mat and toys are made from machine-washable materials, making it easy to keep them clean and maintain a hygienic play environment for your baby.
3. Bright Starts: 5-In-1 Your Way Ball Play ($48)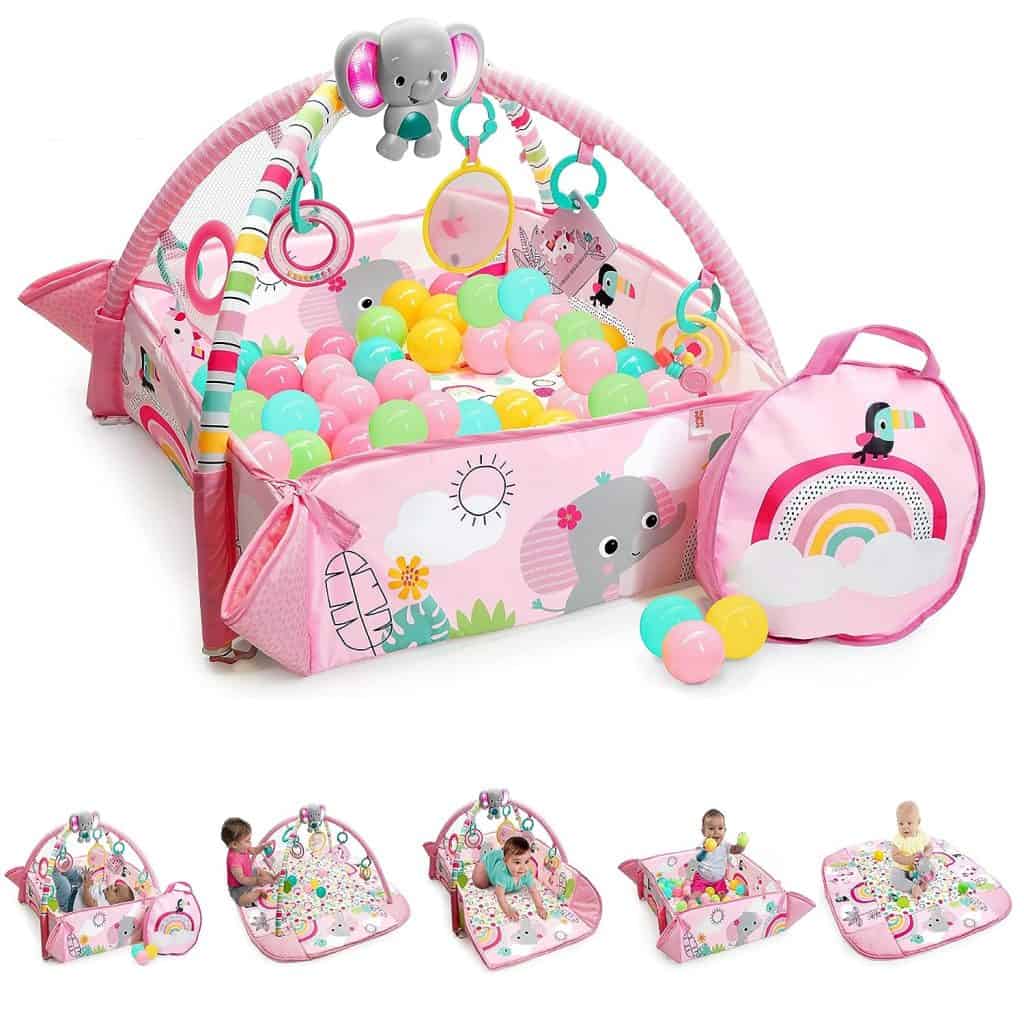 Bright Starts: 5-In-1 Your Way Ball Play is configured in five different ways to accommodate your child's developmental stages and play preferences.
This

best baby toy

playset includes a ball ramp to drop colorful balls down and watch them roll and bounce. This feature helps with your baby's hand-eye coordination and gross motor skills.

The set includes a soft and comfortable play mat where your baby can lie down, roll, and explore. The mat provides a safe and cushioned surface for playtime activities.

The play gym features detachable walls too that can be arranged to create an enclosed play space or an open environment. This flexibility allows for different play scenarios and encourages exploration.

The set comes with a variety of interactive toys and attachments, such as hanging toys, rattles, and mirrors to stimulate sensory development and encourage grasping and reaching.

Its supportive prop pillow helps during tummy time sessions.
The play mat and walls are machine washable, making it easy to keep them clean and fresh for your baby's playtime. And when not in use, the play gym can be easily disassembled and stored compactly.
4. Lalo: The Play Gym ($115)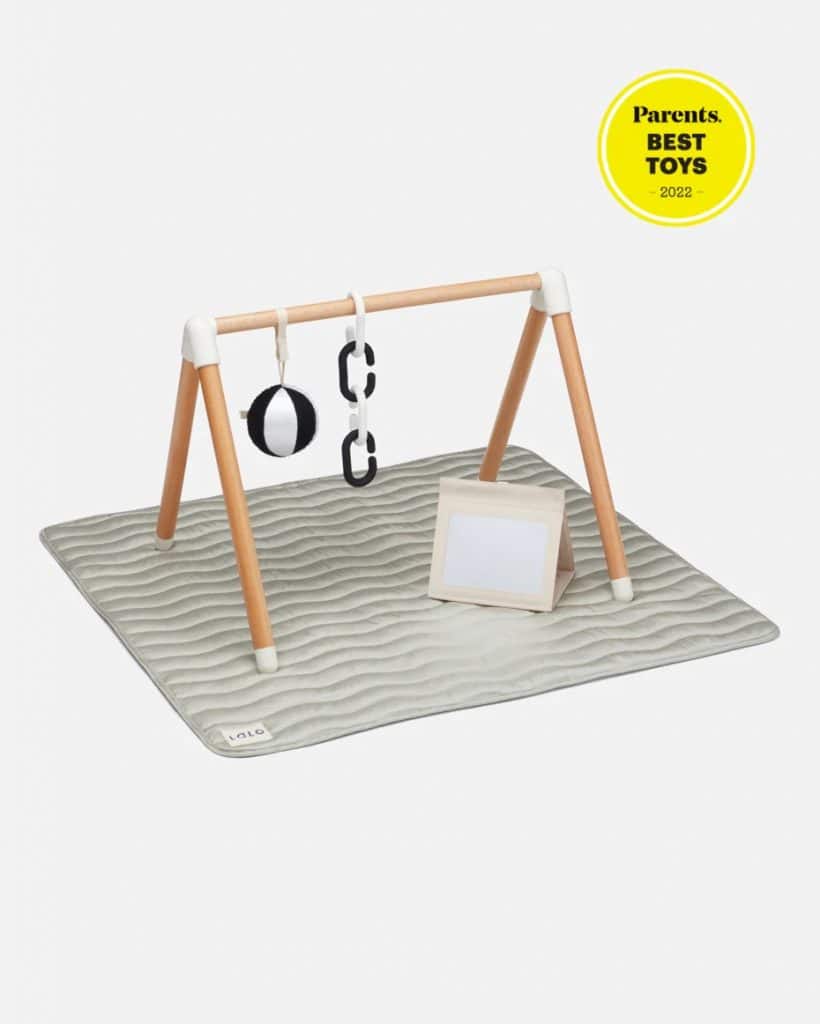 The structure is made of eco-friendly beech wood that comes from sustainable sources, and the mat is crafted with Lyocell, a fabric made from Eucalyptus trees that's good for the environment. The play gym is strong, lightweight, and stylish, perfect for your little one's first reaches, headlights, and rolls.
Even if they can't quite do a push-up yet, the super-soft play mat is a great place for them to practice. You can easily switch from tummy time to storytime with this versatile play gym that can be converted into a tent for their next adventures.
The adjustable features allow your little one to learn and grow with it. Plus, it comes with a sensory ball, mirror prism, and silicone teether. You can machine wash the play mat and sensory ball in a cold setting and dry them on low heat. Just remember not to iron, bleach, or dry clean the play mat to keep it in the best shape. And don't worry, all Lalo products meet and exceed ASTM safety standards and are compliant with Prop 65.
5. Infantino: Pat & Play Water Mat Wee Wild Ones ($11.49)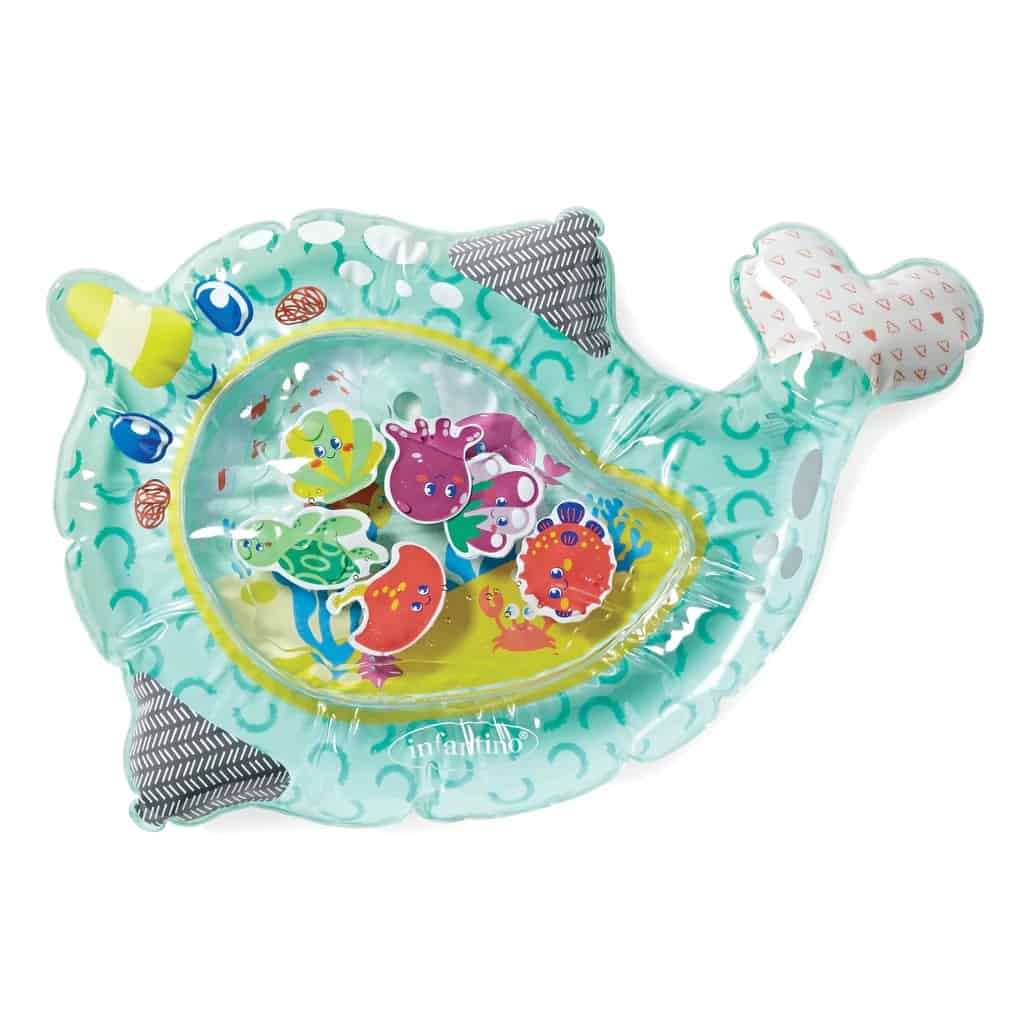 Check out this awesome mat that's all about having a blast! It's got six cute buddies floating around, and they start grooving when the baby gives them a pat. It's perfect for when they're doing tummy time or playing in their high chair. All you gotta do is fill it up with water, and the party's on! Those little characters will float and wiggle around as the baby smacks and presses on the mat. So much fun!
6. Wee Gallery: Meadow Activity Pad ($42.95)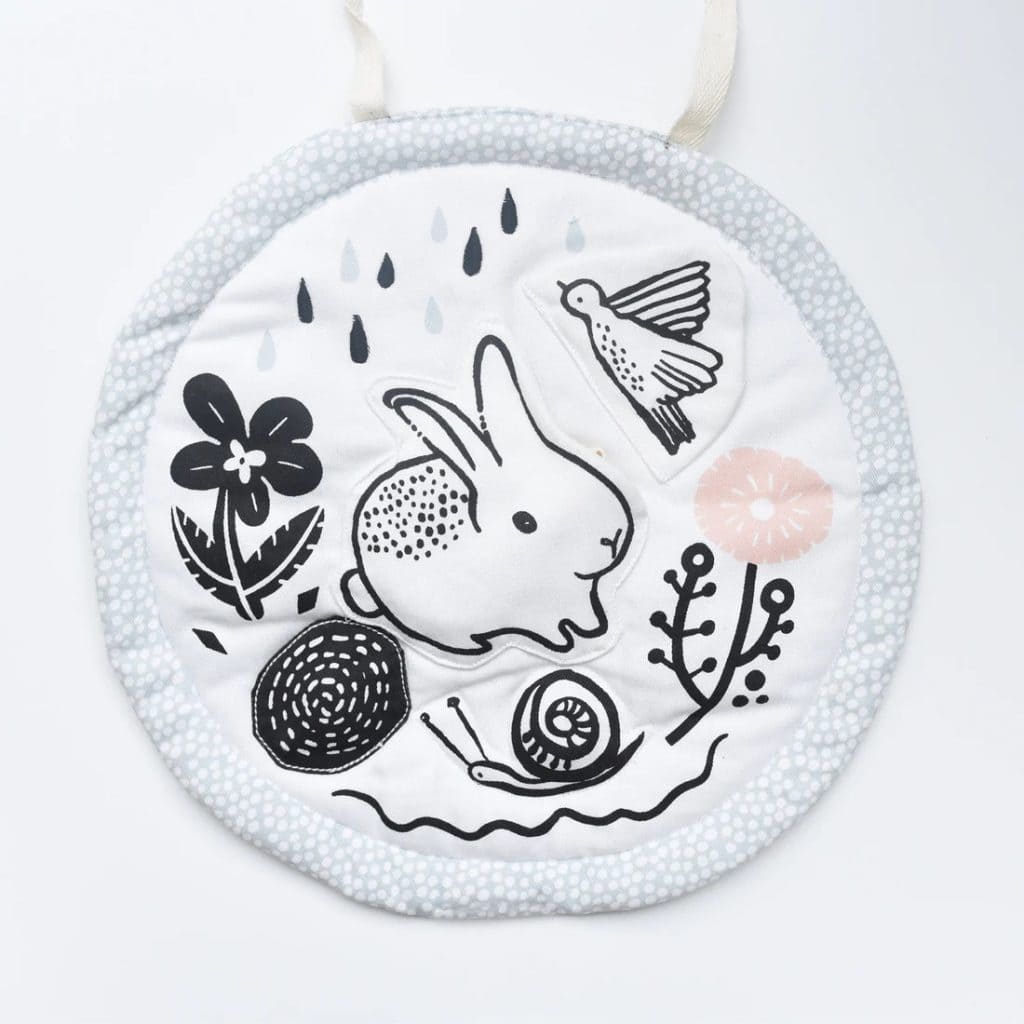 The Meadow Activity Pad is one of the best baby toys for keeping your little one entertained and engaged! It's got all sorts of fun stuff to stimulate their senses, like cool pictures with lots of colors, secret surprises like crinkly bits, a rattle, a squeaky thing, and even a teething ring made of maple wood that's hiding behind a cute Bunny.
It's awesome for tummy time play too! Your baby will have a blast checking out the adorable animals on the soft mat and playing with them. This activity pad is specially designed for newborns up to 1-year-olds, so it's great for sparking their curiosity and helping them develop their motor skills.
7. Pehr: Printed Baby Playmat ($64.99)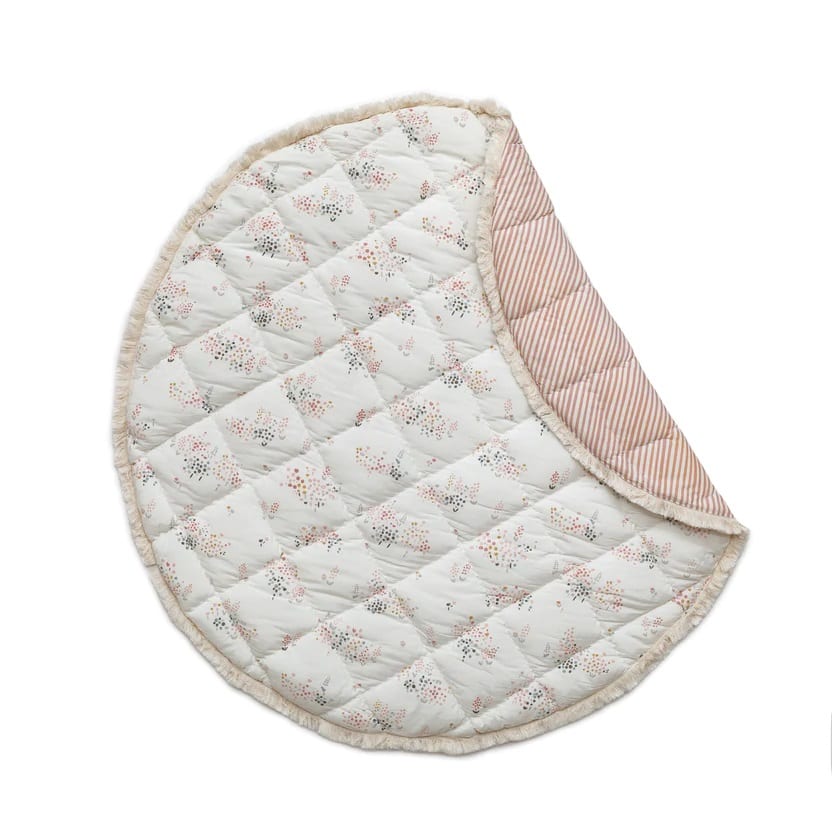 Pehr baby Play Mats are there for all the fun moments, from tummy time to playtime and everything in between! The cute designs and vibrant colors will keep your little munchkins entertained, while you can feel good knowing they're snug and comfy on the soft, quilted 100% cotton.
They put a lot of care into making them: each one is hand-printed with safe dyes that won't harm your baby. Plus, they're ethically made, so you can have peace of mind. The mats have a cotton shell and polyester filling, giving them a cozy feel.
8. Gathre: Easy Clean Large Play Mat ($85)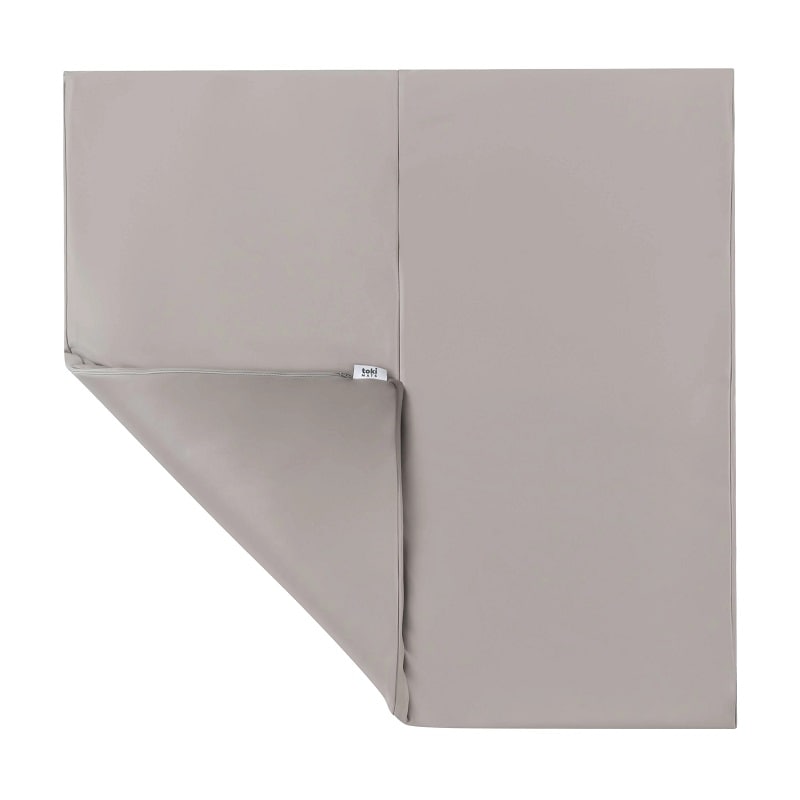 Imagine having a beach towel that can also double as a picnic blanket, craft mat, playmat, or even a cool tablecloth. It's super portable and perfect for when you're on the move with or without your little one. Plus, it has a really fancy and high-quality appearance with wipeable and water-resistant features. When you're done using it, you can fold it up nice and small for convenient storage and carrying.
And here's the best part: these mats are made ethically and are free from any harmful stuff like toxins, PVC, phthalates, and lead. They meet all the safety standards too! Oh, and did we mention that the bonded leather mats have a suede backing made from 28% genuine leather?
9.Toki Mats: Pebble Vegan Leather Mat ($225)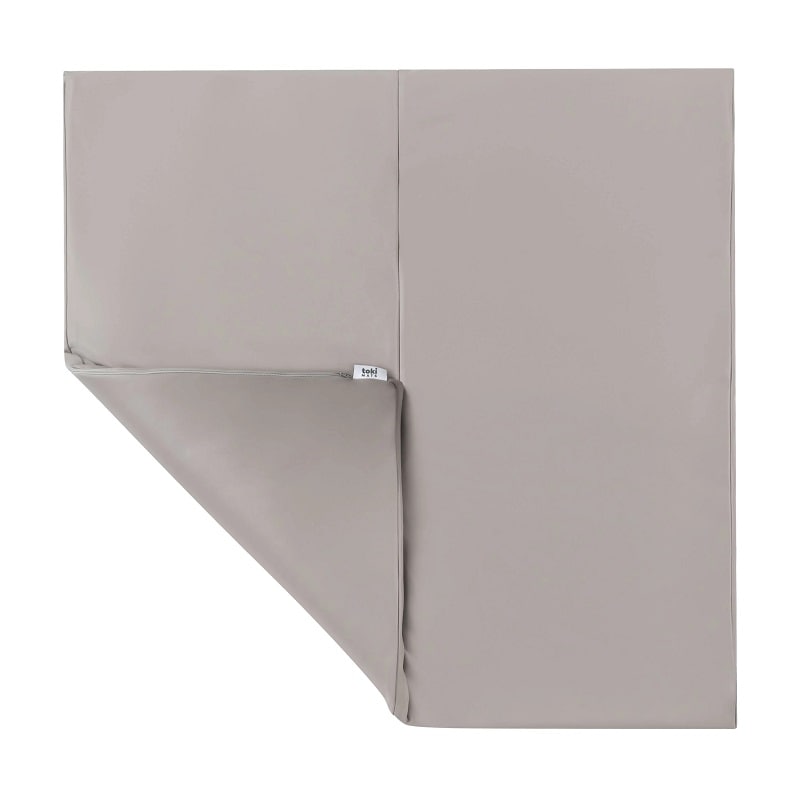 Their play mats are made from natural foam, so your little one gets a soft and supportive surface to handle all those little tumbles as they reach their milestones. Plus, cleaning and carrying it is a piece of cake, thanks to the removable cover and built-in handles.
The cover of this play mat is made from vegan leather in a cool gray color.

It's naturally waterproof, and you can easily take it off with the side zipper closures.

They've even added handles at the bottom of the mat, so you can carry it effortlessly when it's folded.

And guess what? Each play mat comes neatly packaged in an organic cotton duster.

They use rubber tree sap and the Dunlop production process to make their foam.

Plus, the microfiber PU leather we use is Oeko-Tex 100 certified, so you can trust its quality.
10. Manhattan Toy: Wimmer-Ferguson 3-In-1 Triangle ($28)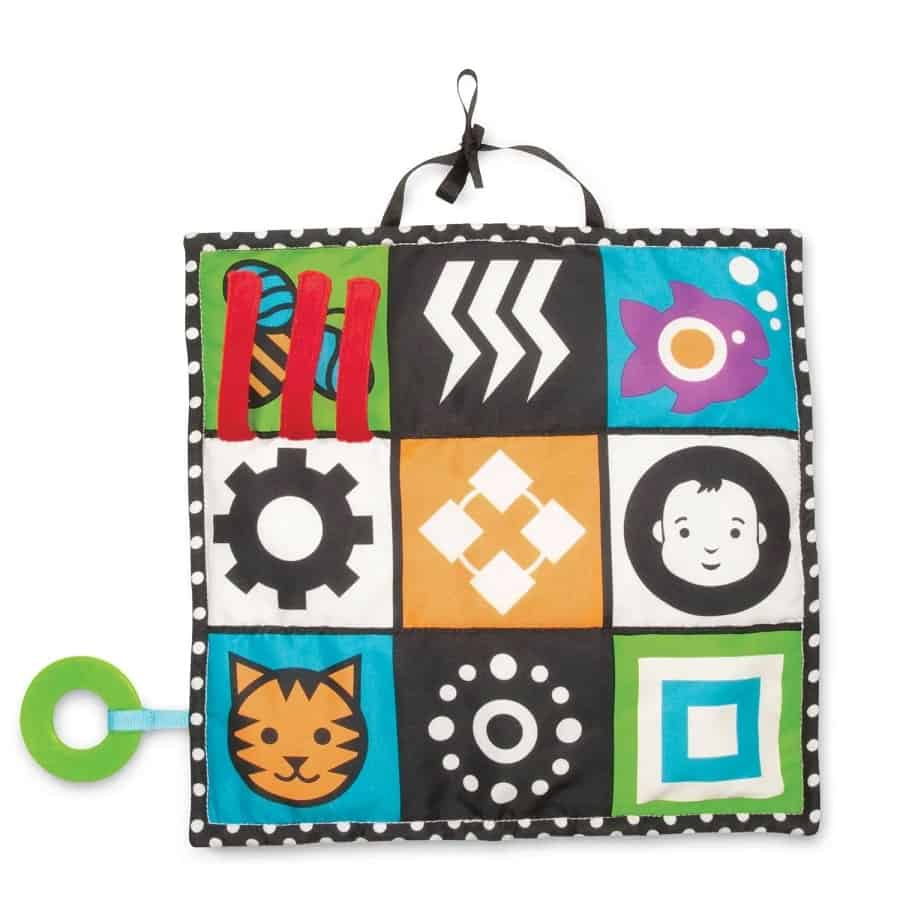 This awesome triangle toy does so many things! First off, you can lay it flat on the floor for some tummy-time play. It can also stick to magnetic surfaces or hang from other stuff using tie strings. When your little one is done playing, you can fold it up into a neat little triangle shape.
Now, let's talk about its cool designs. On one side, you've got simple black-and-white graphics that babies love. But flip it over, and you'll find more colorful and intricate designs. These best baby toys come with flaps, different textures, crinkle paper, a mirror, and even teethers. It's a must-have item that your baby will absolutely love, whether you're at home or on the go.
11. Bright Starts: Tummy Time Prop & Play ($24.99)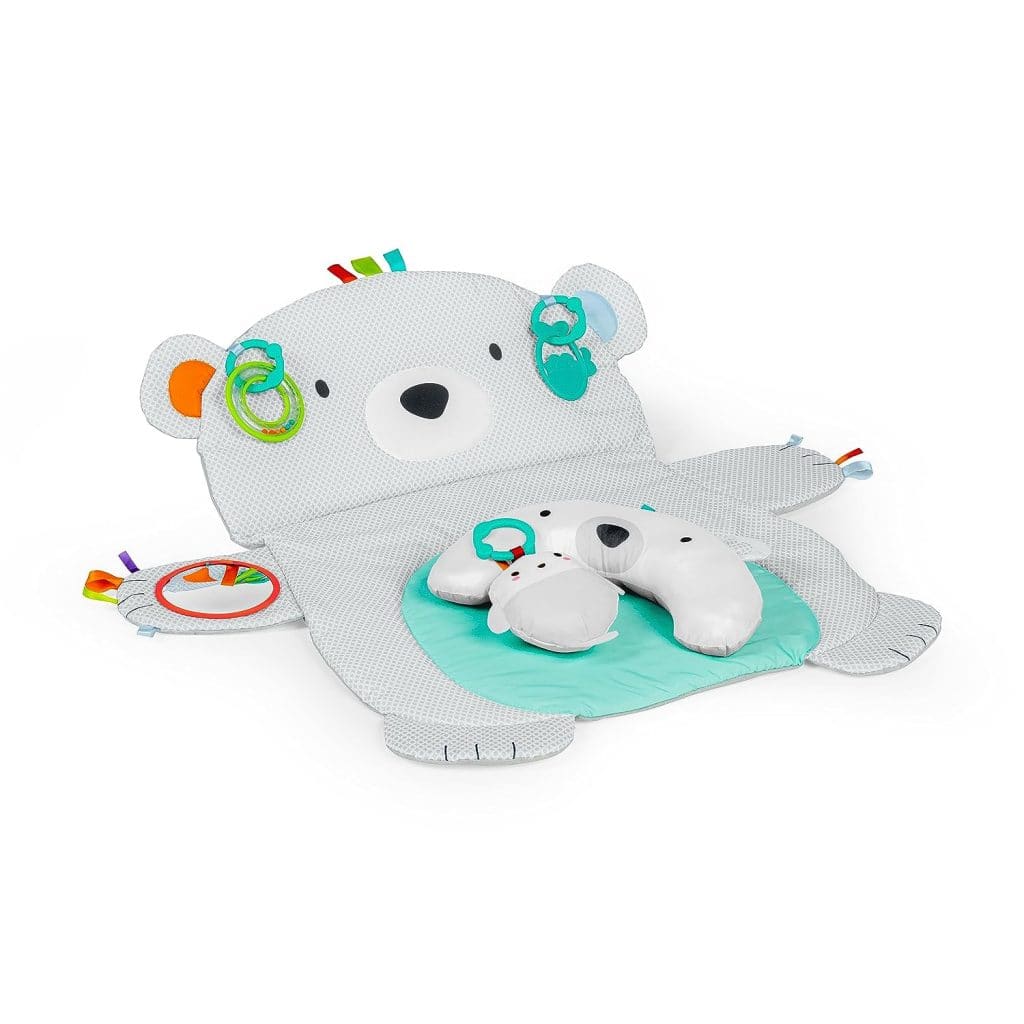 With the Tummy Time Prop and Play mat, your little munchkin will have one of the best toys for babies with its soft and cushioned mat-shaped polar bear. It provides the perfect support for all your baby's wiggles and kicks. The cute matching pillow helps lift the baby up as they start learning to push up during those early months.
Plus, there are little satin loops all around the mat for some extra entertainment and comfort. Your baby can also enjoy exploring crinkly sounds, rattles, and other attached toys. And to make tummy time even more convenient, you can prop up the polar bear's head to bring the toys closer within reach. 
The raised paws even have a baby-safe mirror to engage your little one and encourage them to move their head from side to side. This mat is designed to fit nicely in small spaces, so you can easily take it with you when you're traveling. And don't worry about spills or messes because the mat is machine washable, and you can simply wipe it clean with a damp cloth and mild soap. Just remember not to soak it in water.
12. Lalo: Art Cards ($20)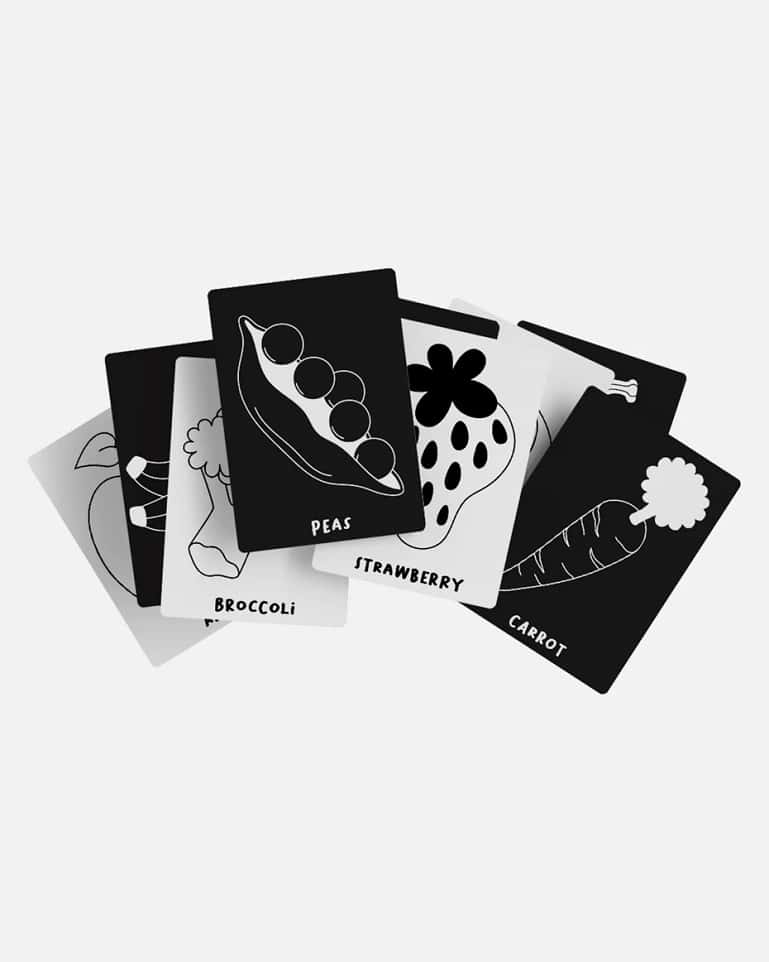 Check out these cool cards that are one of the best baby toys for brain development! Each pack has 9 cards with different designs based on different themes. These Lalo Art Cards are designed with high-contrast black-and-white images because babies can't see colors until they're around five months old. You can use these Art Cards by themselves or slide them into the inner pockets of The Play Gym's Mirror Prism (sold separately). Each card is 5″x 7″ in size and has baby-friendly rounded corners.
13. Manhattan Toy: Wimmer-Ferguson Double-Feature ($34.98)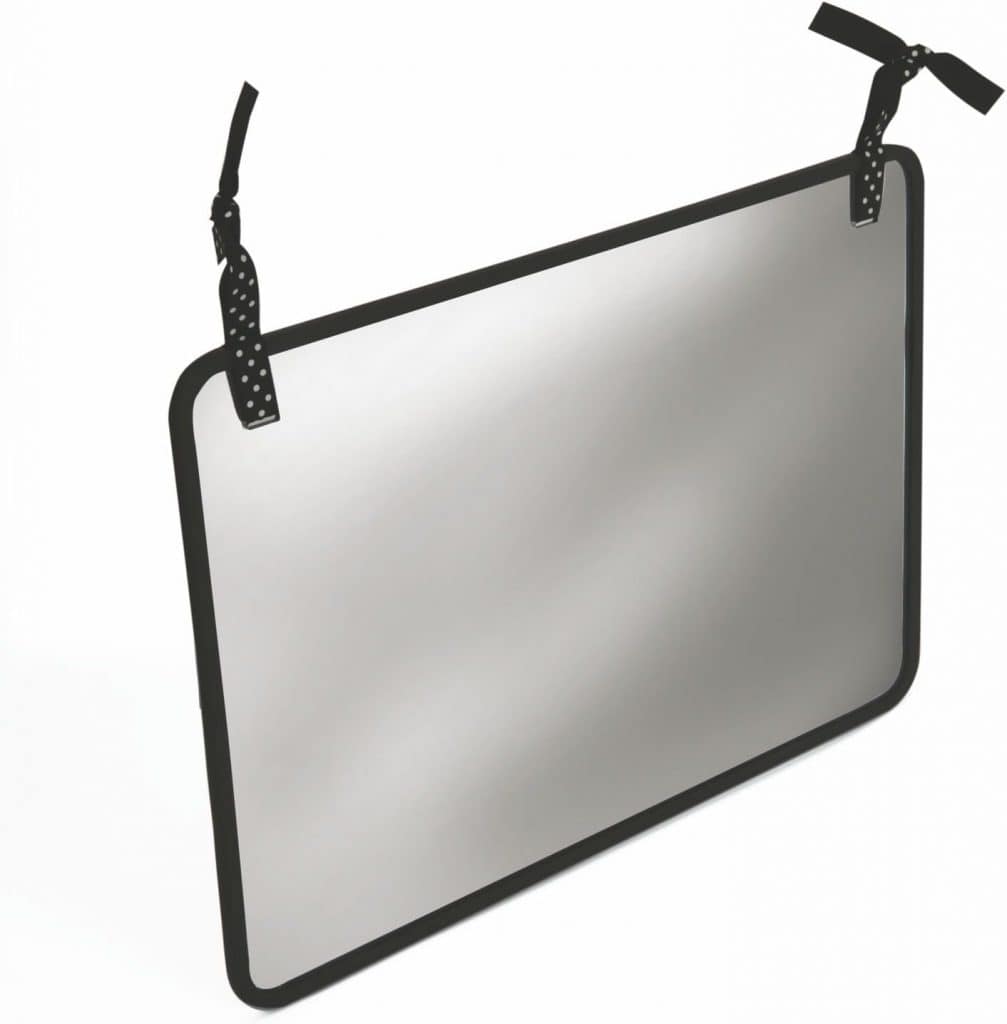 One side of this awesome feature mirror has cool patterns that stand out, while the other side has a safe mirror for your baby to check themselves out. They'll be totally into the bold patterns and love seeing their own reflection, which is a fun way for them to start figuring themselves out. This mirror is great for newborns and up, and you can use it during tummy time.
Plus, it's easy to attach to crib slats, furniture, or the back of a car seat with the ribbon ties (just a heads up, you might need extra ribbon). The folks at Wimmer-Ferguson did some scientific research on how babies' eyesight develops, and they used that to make this awesome toy with cool graphics and designs.
14. Baby Einstein: Bendy Ball Rattle Toy ($6.99)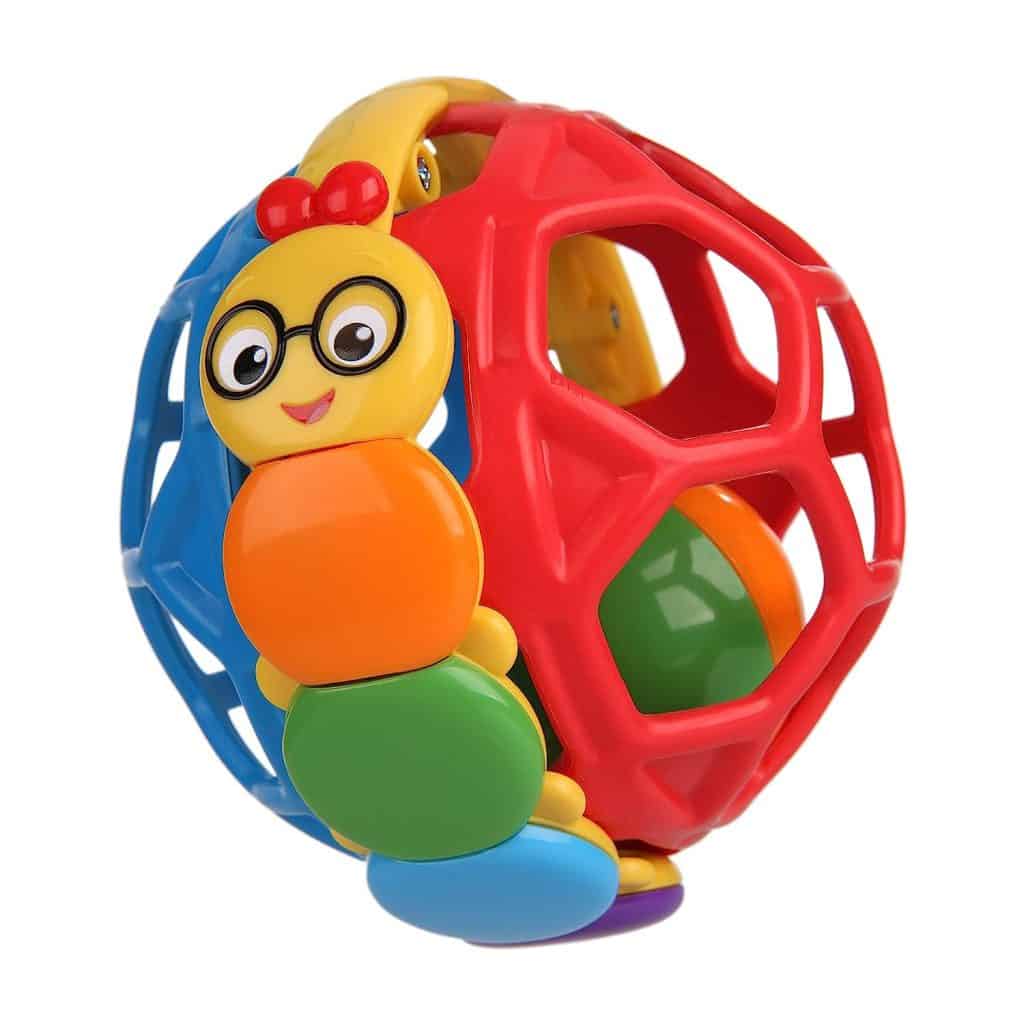 Get ready for some serious excitement with one of the best toys for babies, the Baby Einstein Bendy Ball! Your little munchkin is going to go wild bending and squeezing this soft, flexible plastic ball. It even has this cute caterpillar that'll make them smile during playtime. But that's not all! Inside the bendy ball, there's another ball that rattles and shakes when you give it a good shake.
It's a sensory overload, in the best way possible! Plus, this toy is great for helping your baby develop their handling skills. They can explore all the different textures and shapes on this colorful ball with their tiny fingers. And guess what? It's super travel-friendly! Your baby is going to be over the moon with this one!
15. Familiar Faces: Mirror Peekaboo Puzzle ($11.99)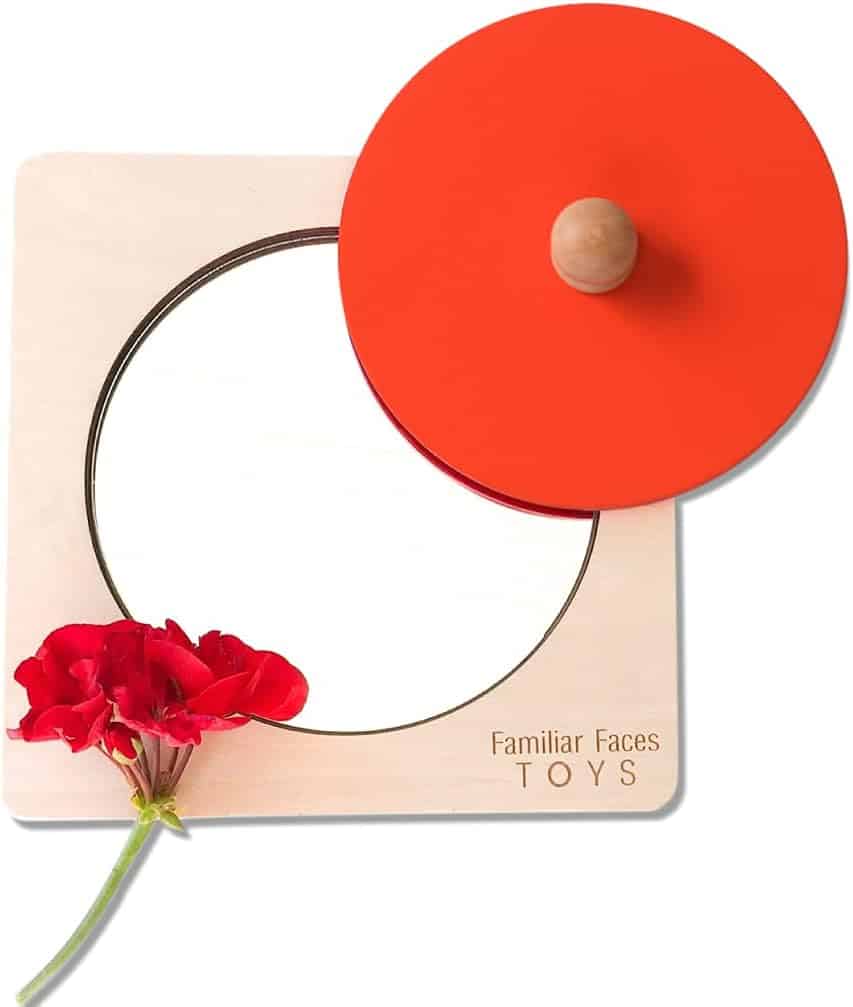 This super cute Mirror Peekaboo Knob Puzzle is made with love and attention to detail using high-quality wood for kiddos aged 3 months and up. Not only will it keep your baby entertained, but it also helps in developing their neck strength during tummy time.
Older babies can sit and play with the cool acrylic mirror, improving their fine motor skills by grabbing the chunky red puzzle piece. Not only will it keep your little one entertained, but it also helps them learn about self-awareness, imitation, body movement, facial recognition, tracking, and fine motor skills. 
16. Manhattan Toy: Wimmer-Ferguson Learning Cube ($27.99)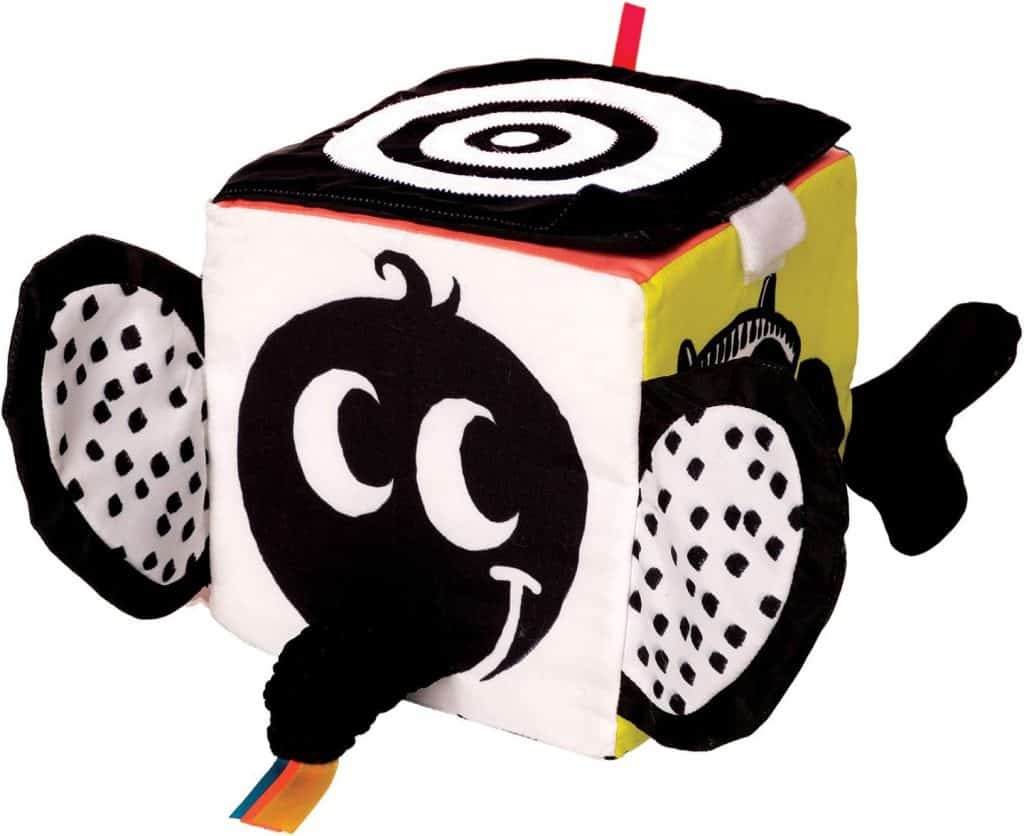 The Wimmer-Ferguson Learning Cube is a super colorful cube packed with exciting things for your little one to explore. They'll find
Ribbons

Crinkle paper

A bungee elephant trunk

A rattle

A squeaker

A textured teething ring

Peek-a-boo flaps

A baby-safe mirror
That's a ton of fun in one cube! Plus, there's a cute smiling elephant and cool patterns with different textures that'll keep your baby curious and help them develop their motor skills. The folks at Wimmer-Ferguson made sure to use scientific research on how babies' vision develops to create their awesome toy graphics and designs
17. The First Years Stack-up Cups ($8)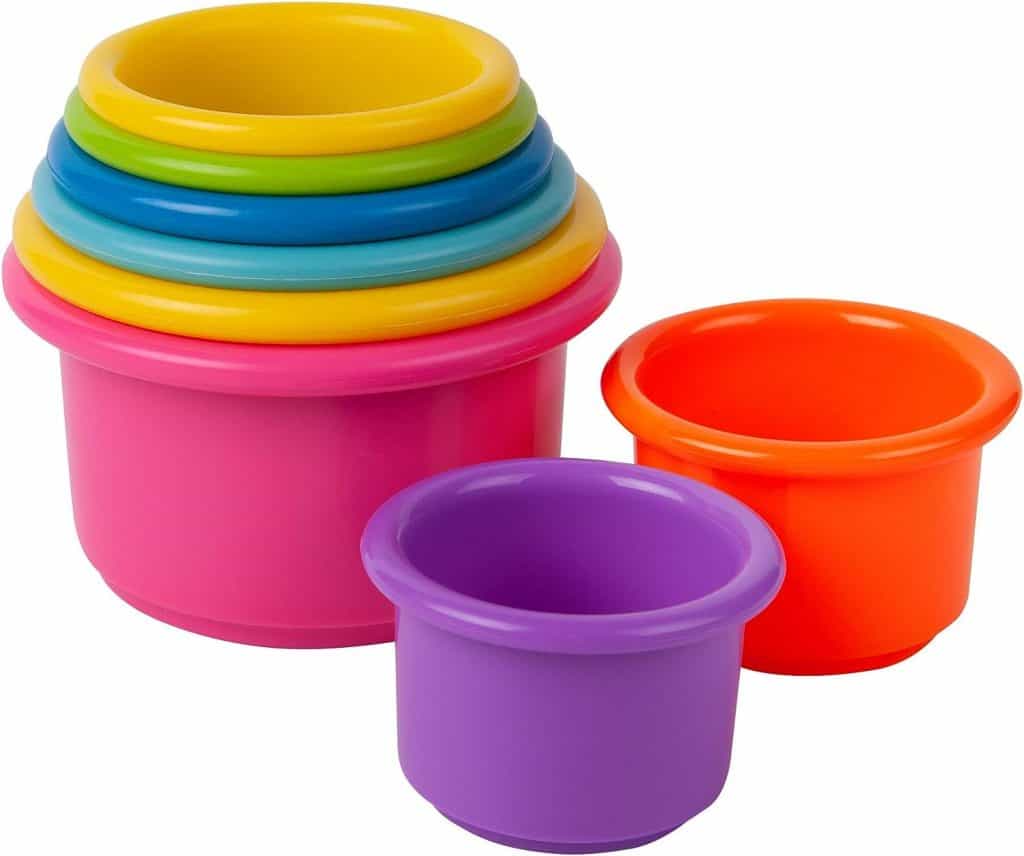 These stacking cups can be the best baby toys you could ever imagine! Stacking is a great developmental exercise for kids aged 6 months and up. They fit together when stacked up into a tower. Take this to the bath and you have the best bonding time with your little one. There are 8 cups of total fun with unique numbers and holes on their bottoms.
These cups are made from thin plastic which may be a bummer for eco-conscious parents but they are phthalate, lead, and BPA-free. For $8 the 8 cups are with the varied play and counting skills.
18. A First Sensory Book ($8)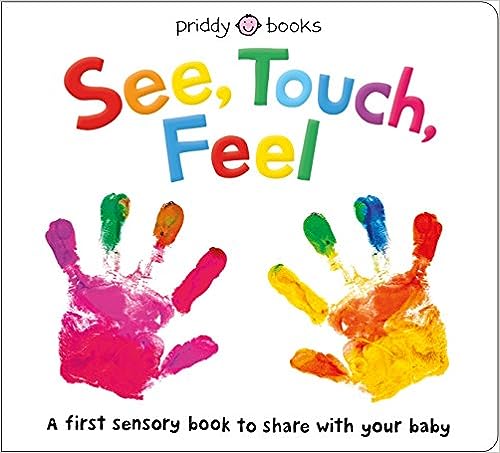 See, touch, and feel with this sensory book full of new textures and picture activities. Each page has tiny little humans performing different activities for your baby to imitate. Its raised textures allow babies to feel different sensations and the colored finger trails will keep them busy. Turn to page 16 to find a shiny mirror for all the peek-a-book games you want!
19. VTech Learning Walker ($40)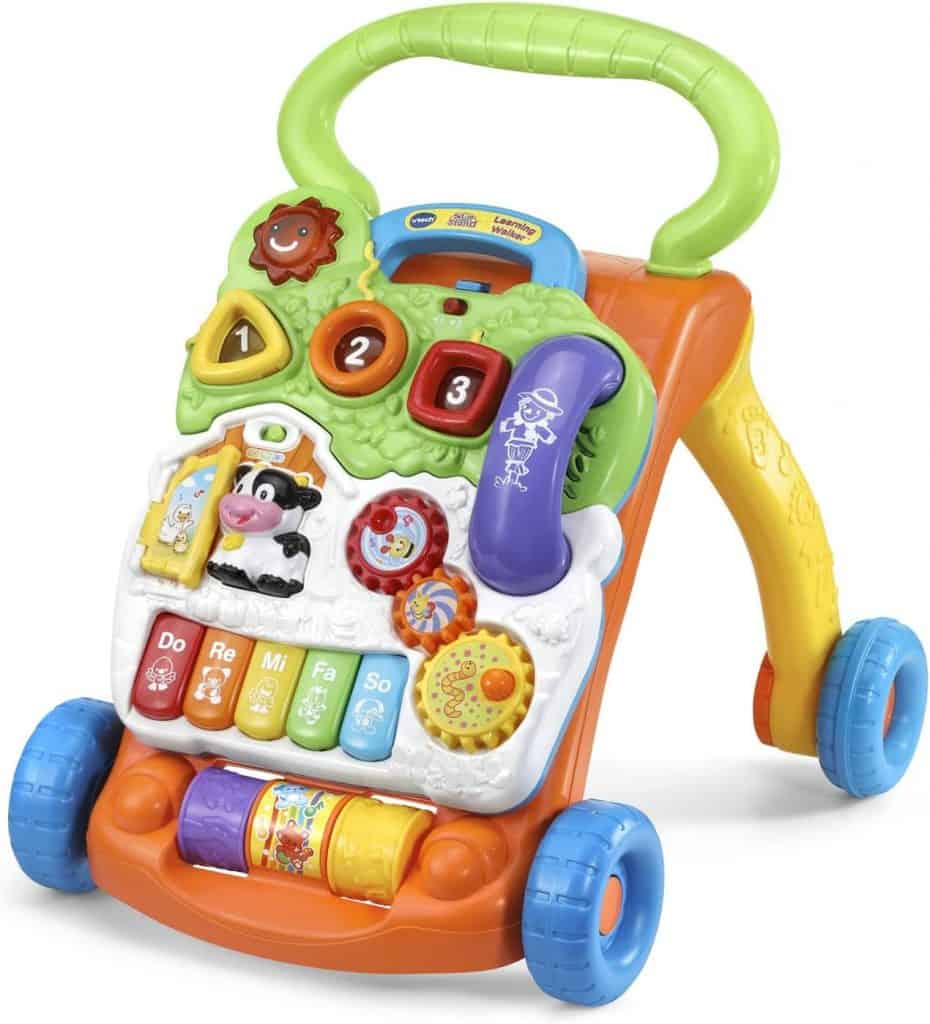 Motor skills development? Check out this badass walker from VTech, the best baby toys out there! It can sing more than 70 songs with phrases and sound effects and is meant for babies older than 9 months of age. Anyone older than 3 years old may not need it but hey the songs can go a long way, you know.
The activity panel can be detached from the main frame for some added fun for the youngest users but be careful of the base wheels as they don't lock. If your baby has a tiny bit of practice of walking then this walker is ideal for them.
20. Bright Starts Tummy Time Activity Toy ($25)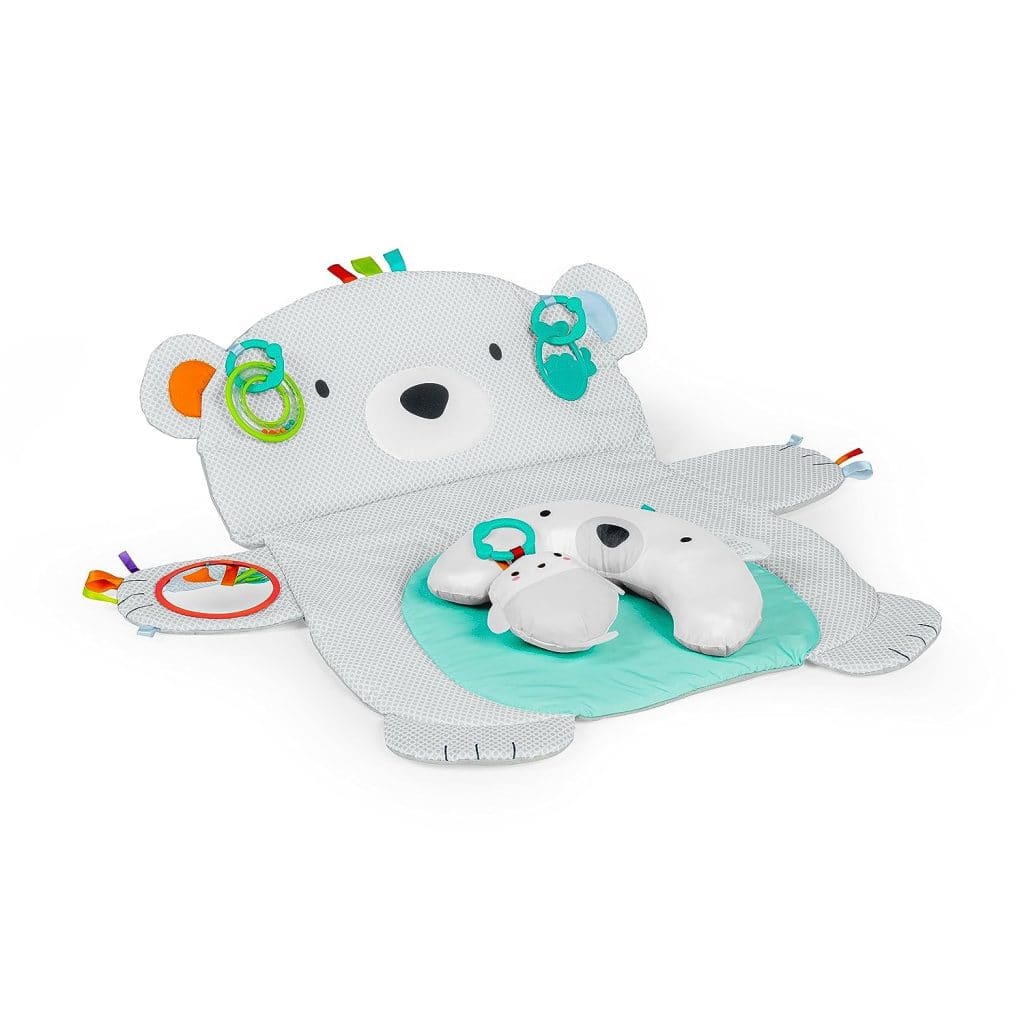 Babies and mirrors are unlimited giggles and squeaks. Take this tummy time mirror, for example. The right size and colorful fabric will keep them motivated to complete their tummy time routine. It folds flat but may have a slight curve but the crinkly leaves are sure to keep your babies engaged even when they graduate to sitting up.
An Endnote On The Best Toys for Babies
The best baby toys are designed specifically to stimulate various aspects of a baby's development, including their cognitive, motor, sensory, and social skills. Here's why babies benefit from these types of toys:
Cognitive Development

Motor Skills

Sensory Stimulation

social interaction and emotional expression

Curiosity and Exploration
The bottom line is developmental toys play a fundamental role in supporting babies' growth and development by providing them with stimulating and educational experiences. They create a foundation for learning, enhance various skills, and contribute to a baby's overall well-rounded development.
Best Baby Toys FAQ's:
1. What is the best toy to buy a new baby?
When picking the best baby toys, go for safe and straightforward stuff that'll get them curious and keep their playtime open-ended. Things like rattles and grabbable toys, balls, activity mats, and picture books are awesome for helping your little one hit those important milestones in their first 6 months.
2. What toys do babies like most?
Here are some awesome toys for little babies: The stuff they can grab, hold, chew on, jiggle, and create a ruckus with—shakers, big rings, squishy toys, teethers, cuddly dolls, bumpy balls, and sturdy picture books. Sounds to enjoy—books filled with nursery rhymes and poems, and recordings of soothing lullabies and catchy tunes.
3. What to buy for newborn baby toys?
Here are some ideas:
Baby Balls
Rattles & Plush Rings
Mirrors
Stroller Toys