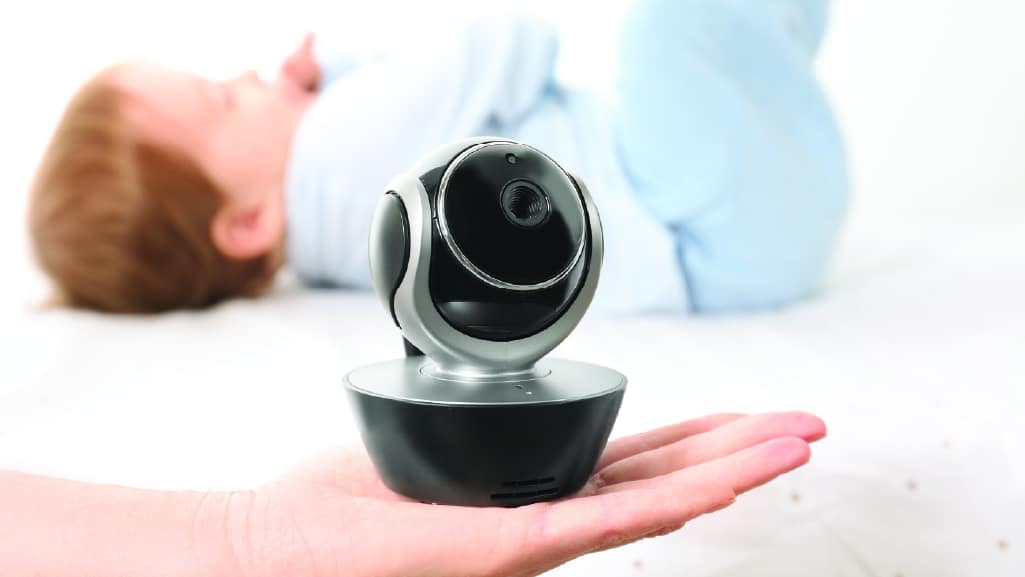 No more tiptoeing into your baby's room to peek at your napping baby boo because baby movement monitors are here to do the job for you. New mamas and dads can have the peace of mind for a good night's sleep as the baby movement monitor helps you to limit the fears of Sudden Infant Death Syndrome (SIDS). These movement monitors track the movements of your little one but even when they do not claim to prevent SIDS, they can ease some of your anxiety about it.
There are other types of baby monitors too such as sound monitors and video monitors that help you keep an eye on your baby. Indecisive over where to start? Here's a short review of our top 4 best baby movement monitors.
| | | | | |
| --- | --- | --- | --- | --- |
| Features | Snuza Go | Snuza Hero SE | Owlet Smart Sock 3 | Babysense 7 |
| Price | $90 | $110 | $300 | $127.50 to $130 |
| Pros | No EMF. simple, affordable, portable | No EMF, vibration stimulus, simple, and portable | Travel-friendly and user-friendly | Lights and alarm, two sensor pads with no cords |
| Cons | Loud alarm, maybe uncomfortable, no parent device | Short battery life, difficult to attach, no parent device | Higher EMF than other monitors, the sock is ill-fit which why it may fall off, and expensive | No sensitivity adjustment, no parent device or unit |
| Takeaway | It is affordable, easy to use, and travel-friendly | Has a clip to help wear it with a unique vibration stimulus | Offers a whole lot of information regarding the baby movements and vital signs | Pretty straightforward choice but with no adjustable sensor sensitivity or parent unit |
| EMF At Baby | 0.4 V/m | 0.4 V/m | 1.1 V/m | 0.4 V/m |
| Sensor Type | Wearable | Wearable | Wearable | Two Sensor Pads |
| Parent Unit | No | No | Smartphone | No |
| Monitoring Type | Movement | Movement | Heart rate and oxygen saturation | Movement |
| Recommended Age | Not listed | Not listed | 0 to 18 months or 30 lbs | 0 to 12 months |
| Adjustable Sensitivity | No | No | No | No |
| Wireless Mobility | Yes | Yes | Yes | Yes |
Read on to know in detail how these top 4 best baby monitor with movement sensor to assist you in keeping an eye on your baby while you are away at your leisure.
Best wearable monitor: Snuza Go
Best mattress pad monitor: Babysense 7
App-enabled baby monitor: Owlet Smart Sock 3
Gentle baby rousing: Snuza Hero SE
1. Snuza Go - Best Baby Movement Monitors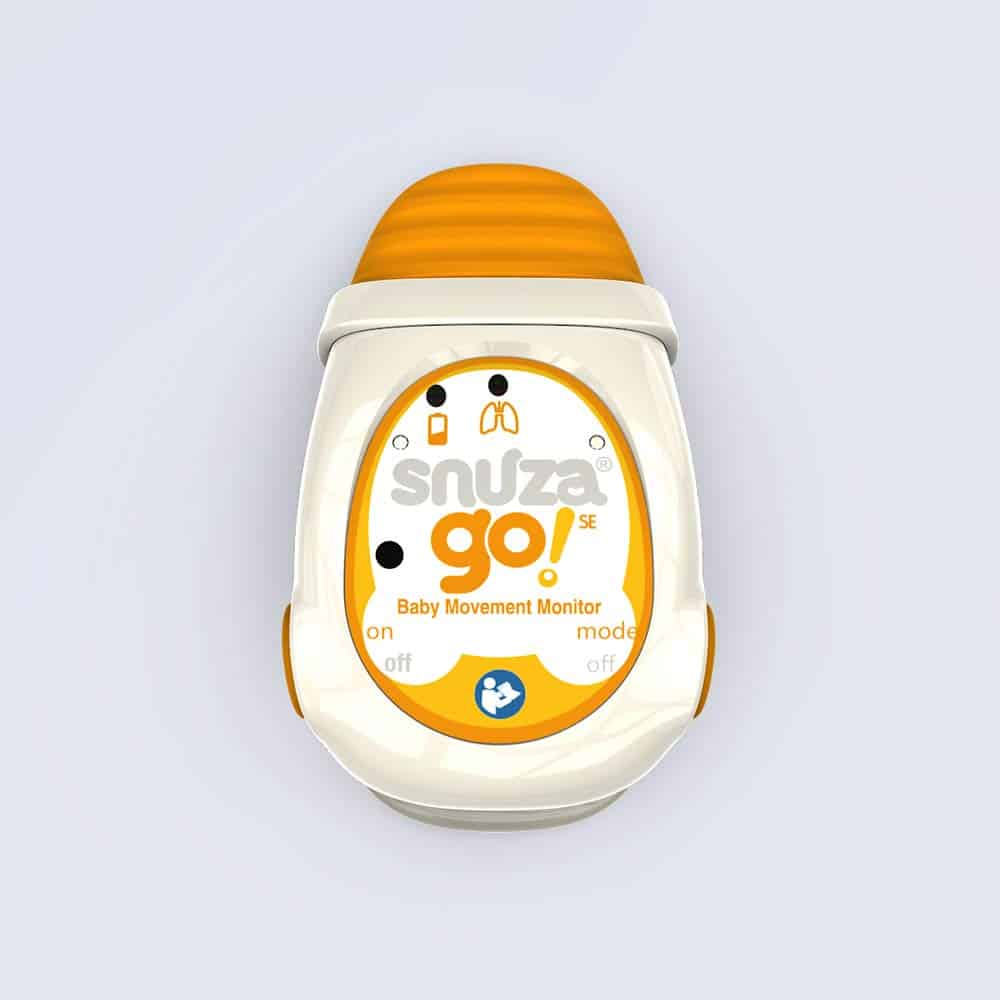 | | |
| --- | --- |
| PROS | CONS |
| Easy to use | No parent device |
| Inexpensive | Shor battery life |
| Portable | Alarm can upset you or go unheard |
Snuza Go is your budget-friendly baby movement monitor that clips to the front of your baby's diaper and is fitted with a flexible sensor near the baby's abdomen.
It is super easy to handle and will fit your travel expectations perfectly as it has no additional components or any complicated setup elements to worry about.
Its simple design gives parents straight out-of-the-box satisfaction and having no special requirements for cribs makes it a parents' new best friend.
It, however, does not come with a parent unit plus the nursery alarm is too loud for the baby or it may potentially go unheard by you if you are outside the nursery. This issue can be somewhat rectified by combining a sound monitor with it so that you have a parent unit along with it.
Some parents feel that the battery life of Snuza Go is too short and its replacements are difficult to locate. However, the cheap price and easy portability make Snuza Go a catchy buy within your budget.
Similar to most baby movement monitors, Snuza Go isn't useful for older babies as it can sound a false alarm with them so its lifespan is thus limited. Overall, this baby movement monitor comes at a very reasonable price that is perfect for traveling and works wonders with young infants. 
2. Babysense 7 - Best Baby Movement Monitors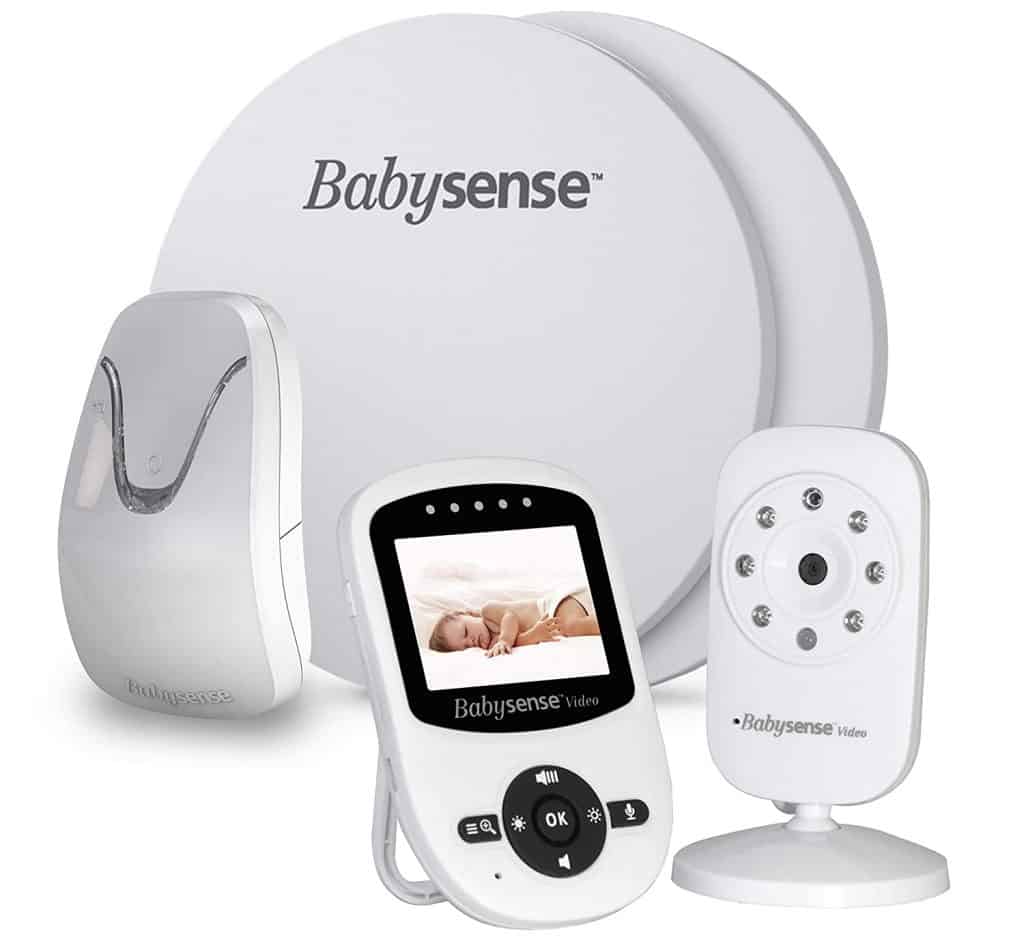 | | |
| --- | --- |
| PROS | CONS |
| 2 sensor pads | No parent unit |
| Don't have to wear | Not useful for older infants |
| Simple setup | Nursery alarm can upset the baby |
| Easy to use | Outside the nursery no one can hear the alarm |
Babysense 7 works under the crib mattress as a sensor pad monitor that is super easy to use. It requires the bare minimum prep and setup with a control unit on the crib's front that receives data from the 2 pads located underneath the crib.
It sounds an alarm with red lights if your baby is not moving for a designated period of time. It's the best in this list with respect to the fact that it lets out fewer alarms than the other monitors mentioned here.
The AA batteries make sure that there are no chances of accidental strangulation from the cords.
We recommend that you do not purchase a video monitor as a set with this device as the EMF of a video camera is around 3.5 V/m at 6 feet from the camera. If you want to view your little one then purchase a video monitor separately that has a lower EMF. This way you are not stuck with one option and you get your desired video camera with a low EMF and within your budget.
Babysense 7 mattress requires the mattress to be housed on a hard surface board for it to function properly. This monitor is an expensive choice in this list and its alarm sounds in the nursery and not on a parent device.
If you are looking for a best baby movement monitor with a parent unit this brand is not for you. Thanks to the 2 sensor pads, it works conveniently longer than other monitors mentioned here.
3. Owlet Smart Sock 3 - Best Baby Movement Monitors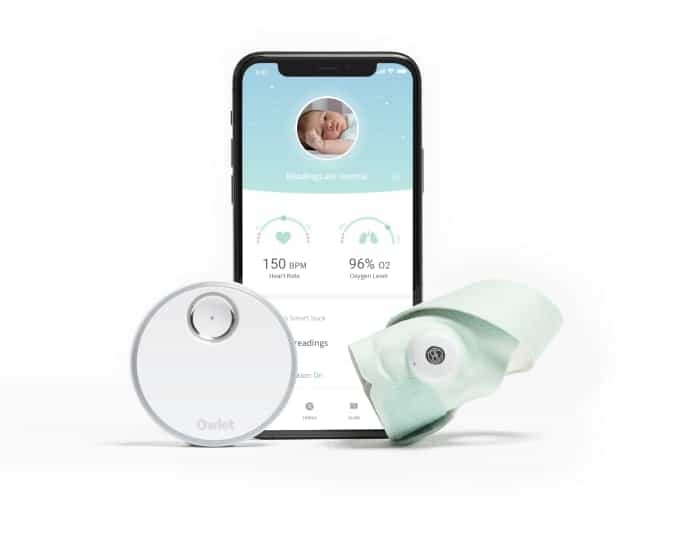 | | |
| --- | --- |
| PROS | CONS |
| Less EMF | Price |
| More information | Requires smartphone |
| Easy to wear | Connectivity issues |
Owlet smart sock 3 is a sock-shaped slip-on that is enabled by an app and helps parents know more about their baby and whatever is happening inside the baby's nursery.
It is wearable on their feet perfectly and is easy to attach. With an app to pair with it, your life becomes pretty simple with a baby around.
Its user interface is friendly and intuitive and comes with a lot of information beyond just movements, such as room temperature, oxygen saturation, heart rate, sleep quality, baby zone positions, and more.
The device is portable making it an excellent choice for traveling. With less EMF it ranks higher than most of the app-enabled competitors in the market.
Owlet 3 has less EMF than Owlet 2 and its overall setup is kind of more convoluted than other similar wearables. It also has more steps than simple clip-on style wearables because it operated with an app. Overall, all tech-loving parents would love this extra informative monitor.
4. Snuza Hero SE - Best Baby Movement Monitors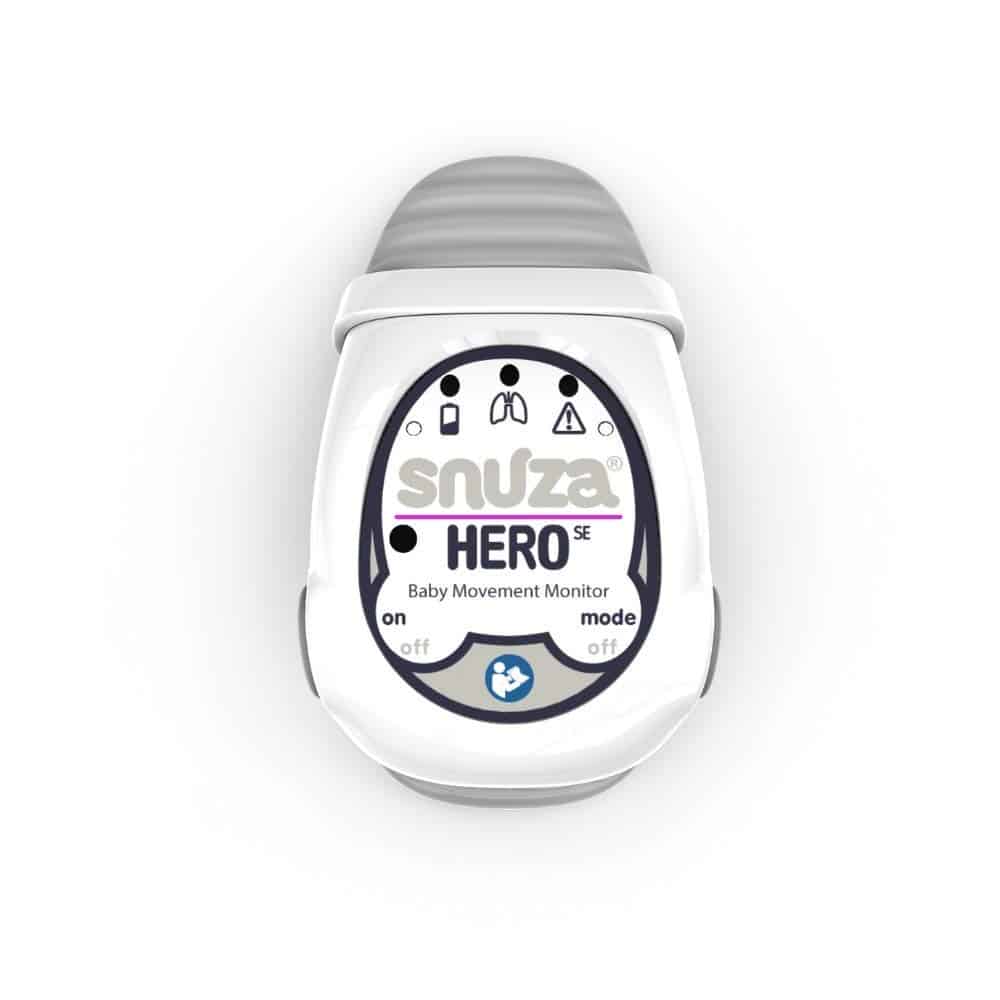 | | |
| --- | --- |
| PROS | CONS |
| Easy to use | Short battery life |
| portable | No parent unit |
| Vibration stimulates baby's movement | Not for crawling babies |
Snuza Hero is a clip that can be worn with a vibration feature that will gently arouse your baby to change its position so that you know that the baby is breathing and safe.
The audible alarm will kick in if the gentle vibration does not cause any movement on the baby. It's simple and can be used away from home too as it requires no special setup or mattress.
However, the clip can be a tad bit uncomfortable for the baby and will not work well if he or she is old enough to crawl or roll over because then the sensor will lose contact or dislodge itself.
This device comes with no parent unit so if the vibration does not arouse the baby then a fairly audible alarm will sound in front of the clip attached to the baby. If you somehow do not hear the alarm it will continue to alert which will upset your baby.
The shorter battery life is a bummer for some parents while others seem to have experienced false alarms when the wearable clip lost contact with the baby's belly. If you are a frequent traveler or want a monitor to stimulate the baby into movement then the Snuza Hero is the ultimate choice.
Pros: How Are These Best Baby Movement Monitors good for your little one?
You can easily find a baby monitor for around 100 dollars depending on the goals you wish to achieve. Snuza Hero is one affordable and portable device option for you. With the vibrating feature, Hero will gently arouse your baby within a given period of time. If you are looking for a monitor with sensor pads, then Babysense 7 is the optimum choice as it comes with 2 sensor pads included under the mattress.
Reliability: Will These Best Baby Movement Monitors Keep My Baby Safe?
False alarms can be an upsetting and frightening experience for both the baby and the parents. The devices with sensors are the most reliable in this aspect as there's no risk of the sensor dislodging or moving. Babysense 7 has fewer issues regarding false alarms than the other wearable products. New versions of Babysense 7 have no issues with crawling or rolling over babies.
False alarms occur when the sock of Owlet smart sock 3 falls off or when the clip on the baby's diaper does not touch it's belly. But sensor pads encompass a large area of the mattress and do not depend on the stationary and calm baby. However, outside factors like a vibrating air filter or an overhead fan can result in poor monitoring by sensor pads.
Ease: How Difficult Is It To Use These Best Baby Movement Monitors?
Factors such as smartphone interface, settings, buttons, setup time, and battery changes all contribute to the ease of use metric. Babysense 7 is very easy to turn on and adjust settings. Snuza Go and Snuza Hero require very less initial preparation but can be a bummer when attached onto a squirmy baby as it can result in false alarms. Owlet smart sock 3 can be a bit tricky to attach but Sock 3 is better than Sock 2. Their smartphone and sensors may sometimes fail to connect making it just an expensive accessory.
Volume: Is The Alarm Volume Loud Enough?
Most baby monitors here in this list sound an alarm inside the nursery so it is loud enough to alert you. This will however wake and scare the baby from its sleep too but it's beneficial if suppose the baby is not breathing. Depending on the size of your house and the location of the nursery the alarm volume could differ. Due to this issue, we recommend that baby monitors without parent units must include sound monitors and this will mitigate the need to be within earshot of the device.
Adjustable Sensitivity: Can Best Baby Movement Monitors Pick Up Other Noises?
If the sensor pads are highly sensitive then it will pick up ambient vibration and noise from household appliances, fans, or heating vents. This means the monitor will not work when the infant has stopped moving as the sensor will interpret ambient noise as the baby's movement. Remember to test your monitor while using everyday devices in your home especially, heaters, white noise makers, air filters, or fans.
Wearable monitors are not affected by ambient noise that is of low level. None of the baby monitors will work when your baby is under movement.
EMF Fields: Will The Electromagnetic Waves Affect My Baby?
It's still unclear what the effects of EMF are on our bodies and on the sensitive developing systems of babies. But there's enough evidence to show that babies can come to potential harm when exposed to excessive levels of electromagnetic radiation.
The Owlet smart sock 3 has a significantly lower amount of EMF when compared to Owlet smart sock 2. The Snuza models do not emit EMF higher than the ambient room reading of 0.4 V/m. The sensor pads under the mattress of Babysense 7  emits no EMF over the ambient room.
Portability: Can Best Baby Movement Monitors Be Carried Around?
Wearable options are apt for travel purposes due to their compact size and functionality. Sensor pads require a specific kind of mattress that you can't carry around while traveling or when in a place that's not your home.
Best Baby Movement Monitors Final Conclusion
These baby monitors are not medical devices which is why you should not rely on them as prevention to SIDS or for monitoring other medical concerns. Some parents, however, find that these baby monitors increase the odds of having a good night's sleep. It's recommended that babies always sleep on their backs, on a surface within their own space using only a tight-fitting sheet for the bed. No bumpers, pillows, lovies, blankets, or such things should be in their vicinity. A space with good airflow with an air filter or a fan should be able to provide sufficient air circulation. With these conditions achieved, a baby movement monitor is your next step to keep your baby safe from untoward accidents. It achieves the "peace of mind" that new parents' lookout for.
Best Baby Movement Monitors FAQs
1. Do movement monitors prevent SIDS?
The American Academy Of Pediatrics reviewed some research on apnea monitors and found zero evidence that they aid the prevention of SIDS in healthy babies. It can only be used as an extra precautionary measure to keep your baby safe.
2. What is SIDS?
Around 3,400 babies die unexpectedly and suddenly in the United States. Sudden unexpected infant deaths include accident suffocation while in a sleeping environment, sudden infant death syndrome (SIDS), and deaths due to other unknown causes. SIDS is the sudden death of an apparently healthy infant which was unexpected and unexplained. It is otherwise known as "cot death".
3. Do you need a baby monitor for a newborn?
For the first 6 months, your baby should be sleeping with you for safety concerns. However, most parents resort to using a monitor for their baby napping during the day and also at night once the baby is in his or her own room. Keeping a tab on your little one can be easier with the help of a baby monitor.
On behalf of the editorial team at Parenthoodbliss, we follow strict reporting guidelines and only use credible sources, along with peer-reviewed studies, academic research institutions, and highly respected health organizations. To learn about how we maintain content accurate and up-to-date by reading our medical review and editorial policy.
Disclaimer: All content found on our website is published for informational and/or educational purposes only; not intended to serve or offer any form of professional/competent advice. We put in every effort to ensure that all information is just, accurate, fool-proof, useful, and updated but do not assume responsibility or liability, to loss or risk, personal or otherwise, incurred as a consequence of information provided. Parenthoodbliss may earn commissions from affiliate links in the content.