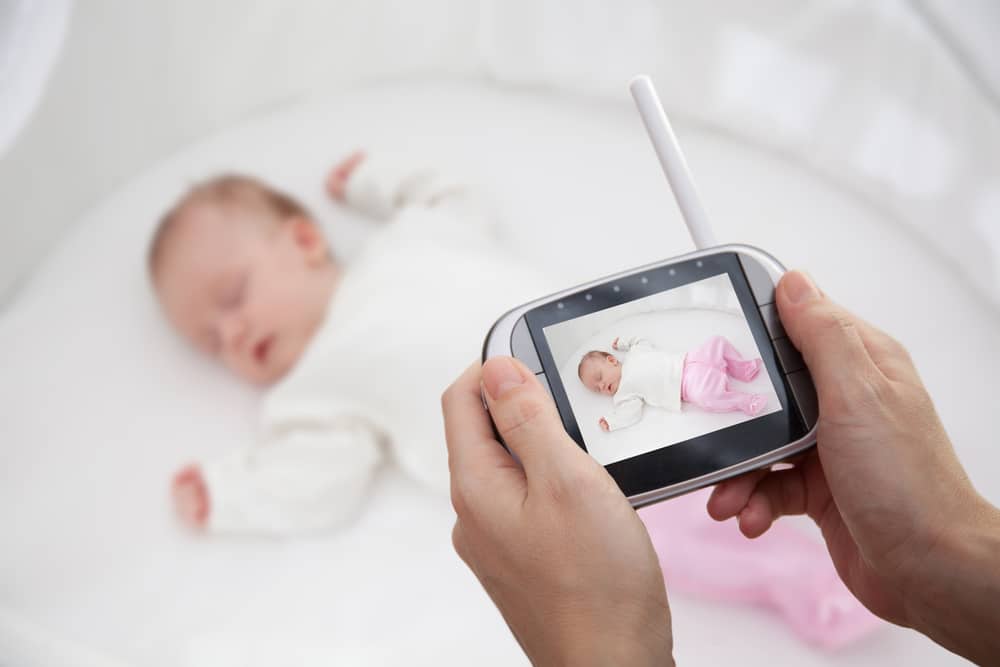 Parenthoodbliss selects the best products based on real-life testing conducted by our staff, members of our user community, the contributors, as well as through research and feedback by experts; here's more about our product review process. The details and prices are accurate as per the publishing date and we may earn commissions through the shopping links on this blog
Once you and your newborn are home from the hospital, you may have to opt to have your baby sleep in their nursery or in your room (check out the prevention guidelines of SIDS regarding room-sharing). Even if they sleep in your room, odds are that they will move into their own space eventually. And that is when you will worry about their protection.
When you cannot ideally always be around or with your child, you will get a sense of security by having an alternative eye over your kid. Enter the best baby monitors! These are helpful gadgets that promise to make sure your kid is under a protective eye.
As a new parent, any time you leave your kid unattended to sleep, you would find yourself struggling with some anxiety. It's a normal and natural feeling, but you know you can't monitor your child literally all the time.
So What Makes Baby Monitors Important?
If you are sharing your room with your baby or live in a small space where you can always see or hear your baby, you don't necessarily need a monitor. Not one of them? Then you would enjoy the convenience of a baby monitor that provides real-time supervision. With the best baby monitor near your child, instead of constantly checking on your child or needing to stay close to the nursery, you're free to rest.
You can catch up on Netflix or get things done around the house all the while watching the baby sleep. Baby monitors can also double as a nanny cam to keep an eye on your child and their caretaker when you're not at home.
10 Best Baby Monitors: Names, Price, and Features
Although baby monitors are the best thing modern technology has given parents, many have basic concerns, such as short-term power, noise, interference with security, and low sound clarity. We have brought you some of the best baby monitors in the industry to solve such issues.
In this listicle, we will discuss features that make these gadgets stand out: from audio displays to wireless and touchscreen. You should know that there are different types of baby monitors such as
Audio monitors: A classic picture of walkie-talkies that allows you to hear but not see your baby.
Video monitors: These come with screens and cameras that allow you to both hear and see what your baby is up to.
Video monitors with temperature gauges: Along with hearing and viewing your little one, you can monitor how cool or warm your baby's room is. It even allows you to play lull, talk to whoever is in the room, and even a nightlight.
Vitals tracking monitors: These are the best baby monitors to track your baby's movement, breathing, temperature, and heart rate.
WiFi-enabled monitors: These are the best baby monitors with WiFi and radio-frequency transmission that can be connected to your phone through an app.
Here are The Details of The Best Baby Monitors!
1. Infant Optics DXR-8: Best Baby Monitor Without WiFi ($165.99)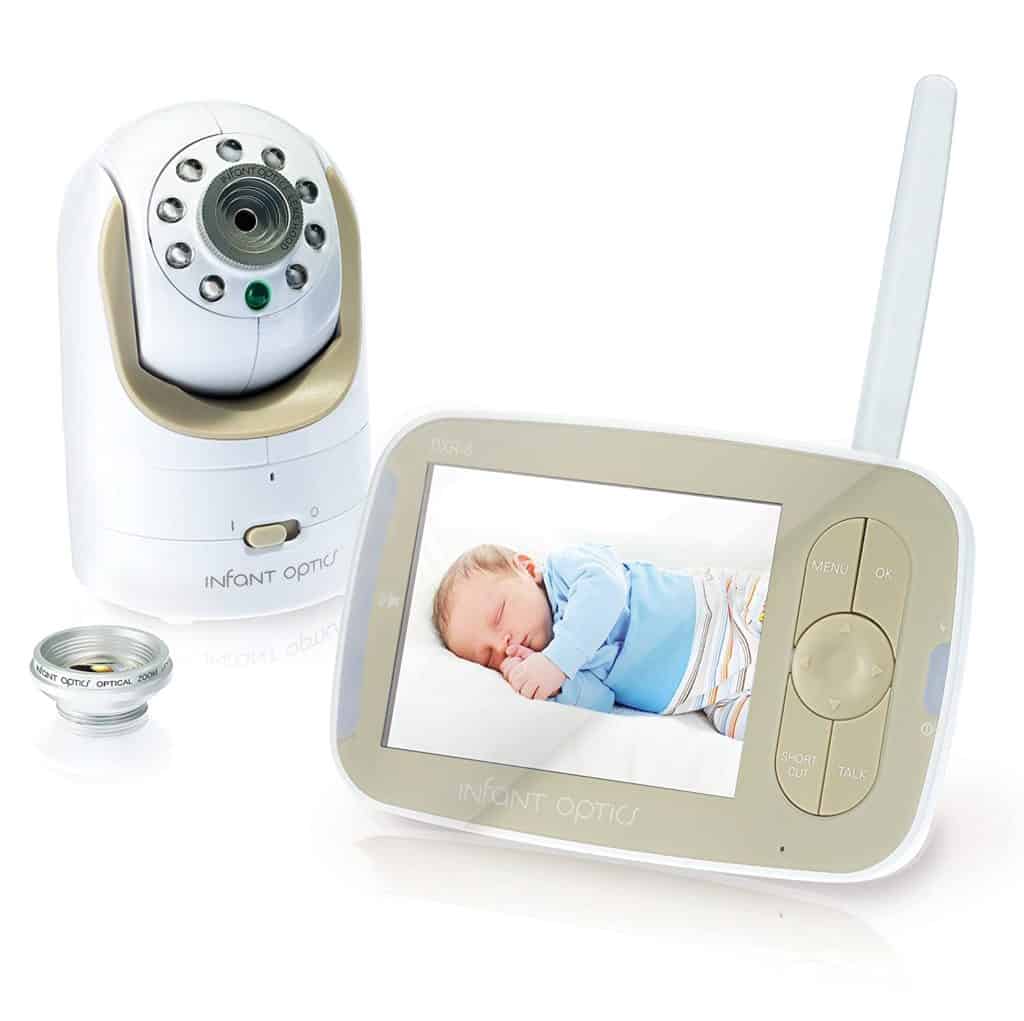 The Infant Optics DXR-8 Model is our top-rated baby monitor. At its finest, this device speaks of accuracy and efficiency. The DXR-8 offers the comfort of monitoring without really accessing the crib and seeing your infant. The wide-angle lens and the option to focus in and out ensure that when somebody else walks into the room, you can understand.
The Infant Optics DXR-8 with the potential to customize the lens is the first baby monitor. You're going to have to buy the adjustable lens individually, but if you do, it allows you to switch the focus without changing the direction of the camera's tilt. Infant Optics has got the best baby monitor camera on the list.
Pros
Connect up to 4 cams
Remote temperature
non-WiFi closed loop system
Sound LED bar
Camera scan mode
Amazon Reviews:
If I could give them ten stars I would and let me tell you why.
This thing has everything- I can connect it to multiple cameras, it has night vision, I can talk to my babies, move the camera every way, don't worry about hackers since it's not on wifi. The main thing though, CUSTOMER SERVICE! These guys really know how to make you a loyal customer. The first one I broke the screen by accident (had it for two years strong- totally my fault bc it was thrown HARD). I reached out to them to see what could be done and they gave me 50% off a monitor, which came with a one year warranty. Well, it went out on me (but honestly I should have sent it back immediately bc I could tell something was wrong from the beginning but I kept it and it lasted 10 months) and I reached out to them again to see if they could help. The device couldn't be fixed on my end so they are sending me a new one completely free because of the problem. I'm telling you, such a great quality camera and this thing is durable, like it reminds me of those old Nokia phones that you can't break (if you're 90s baby or older, you'll get that reference). I bought mine in January of 2020 and writing this review September 2022 (I know such a long time, but now you know it is worth it).
Amazon Reviews:
We have now had three of these monitors. We purchased our first in 2017, and it worked great for three years. We then started having issues with the charger/battery. Because we were beyond the one-year warranty, we had to buy a new monitor. That one work for 22 months before we had issues with the battery. We replaced the battery, and all worked well for one week. Then, it wouldn't turn on. After trying to trouble-shoot with customer service, we learned that our monitor could not be fixed. Even though we were beyond the one-year warranty, the customer service team sent us a replacement monitor. We love the monitor as long as it works (we intentionally use this one rather than one that works over wifi b/c of safety/privacy concerns). It automatically scans between our two children's bedrooms at night and gives us all peace of mind. I'm also impressed with its range–spanning two floors in our house and bedrooms at opposite ends of the house.
–  BABDOC
For more product reviews visit Amazon.
2. Nanit Pro Multi-pack: Best Video Baby Monitor ($598)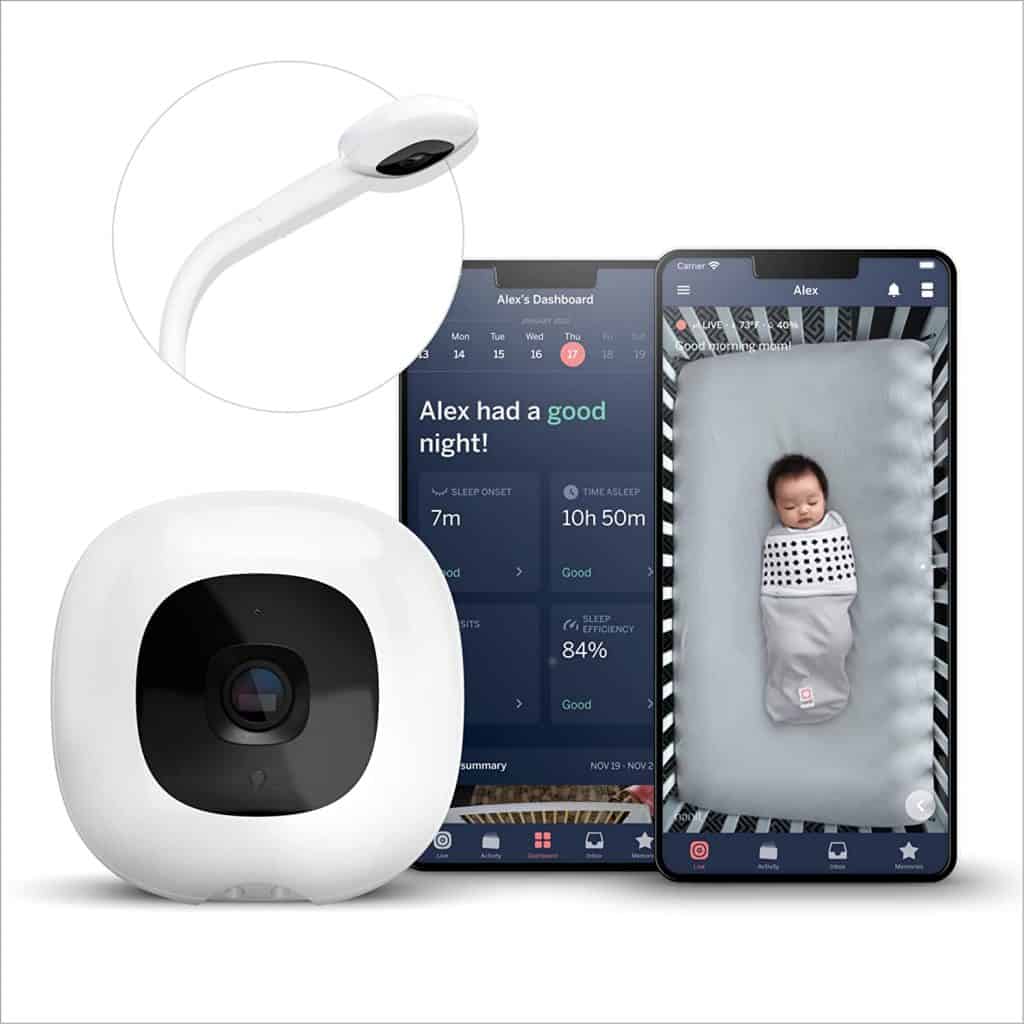 The Nanit Plus is a wall-mounted HD camera, one of the best baby video monitors you can purchase, designed to give you a panoramic view of your child as they nap. This highly advanced monitor provides many innovative features such as night mode, sleep timer, and more, enabling parents to track their kids from their smartphones.
For parents who would like to keep a record of everything, it's a perfect baby monitor. They would be willing to utilize the provided app to receive information about the wellness of their kid.
Nanit Plus has more functionality than any other monitor for babies that we have evaluated. You not only have the ideal view for seeing the nursery but also have default functions such as night vision, breath tracking, and temperature and humidity sensing controls.
Pros
ASTM-certified
1080p HD video quality
256-bit AES encryption
Real-time sleep analysis
Sensor-free breathing wear
White noise and/or nature sounds
FSA/HSA eligible
Amazon Reviews:
We recently had our second child and we wanted to get another Nanit for her. The new Nanit Pro is better than the original Nanit we got for our son. The old one had a not internet issues and a lot of times it would disconnect for no reason. Also, when we traveled somewhere it would take a while to connect to the internet. The new Nanit Pro is significantly better than the original. We haven't seen any of those difficulties so we are very happy. The new Nanit Pro also comes with a year of the Nanit Insights which is even better! The picture quality is really good and the two way speaker works great. There is a 1-2 second delay but that is not a big deal.
P.S. – If you have an HSA or FSA account, you can use that money to pay for this!
Amazon Reviews:
I really love this product! It monitors my baby all night long while counting her breaths to make sure she is breathing helping parents like me sleep better throughout the night. It has a pretty good camera quality and night vision to watch the baby. The camera also has some sounds you can use through the app to help soothe the baby to sleep. The nanit camera also allows you to speak through the camera directly to the baby even when you are not home ! You can see the baby through the app with internet connection no matter how many miles away you are. The camera also picks up on sounds and motion. Sometimes my baby is playing in her crib and there's a moment I wish I would've captured with my phone and the nanit picked up on the sound and recorded it so I can download it to my phone and save the memory forever. I really love this camera there is none even comparable to this one on the market.
– Yvonne V
For more product reviews visit Amazon.
3. SereneLifeHome.com: Best WiFi Baby Monitor ($59.99)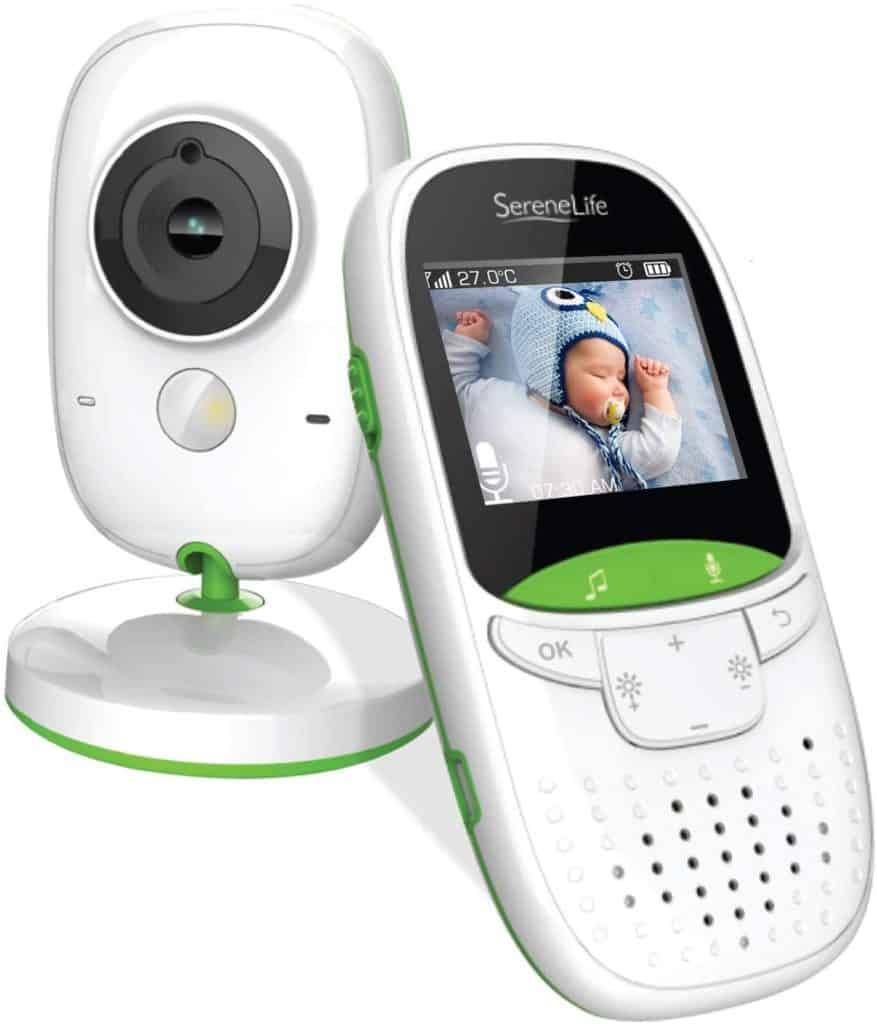 Your baby's day and night tracking will get simpler when they grow up. Though the initial months are exhausting, and you might never get much done at home if you're too anxious. Both audio and video quality are provided by the SereneLife Wireless baby monitor, enabling you to do your job during the baby's naps.
Through the 2.4GHz frequency band, a 3.2-inch wireless screen delivers digital video. As you can take it everywhere in the home, up to 850 ft, the battery-powered display provides wireless use. For long shifts of use, a built-in rechargeable battery makes life easier and it also has a built-in thermometer that displays how warm the room is.
Pros
2-inch wireless screen
2-way audio
Room temperature monitoring
Infrared night vision
Amazon Reviews:
This was exactly what I was looking for. I didn't want to spend $100+ on a fancy camera, I just needed something simple and this one did the trick. However it works great for us because I keep the receiver plugged in all the time. When we first got it I would take it off charge to use mobile but the battery only lasts around 3-4 hours which is not an issue for me but if you need one that you can walk around with then this one may not suit your needs. But I love it! its super easy to use, the sound is very sensitive and picks up even the quietest whisper. The picture is clear and the camera is easy to mount or stand up.
Amazon Reviews:
This monitor works great. It's simple and does exactly what I need it to. I can hear my baby whenever he makes any kind of noise and I can see him clearly. I'm so glad I didn't buy anything more expensive. This is truly all you need. My only complaint is that the batteries isn't the greatest so I keep it plugged in all night and only unplug for short naps. Overall, totally recommend!!
For more product reviews visit Amazon.
4. VAVA 720p HD Video Baby Monitor ($179.99): Best Baby Monitor With Auto-pilot Mode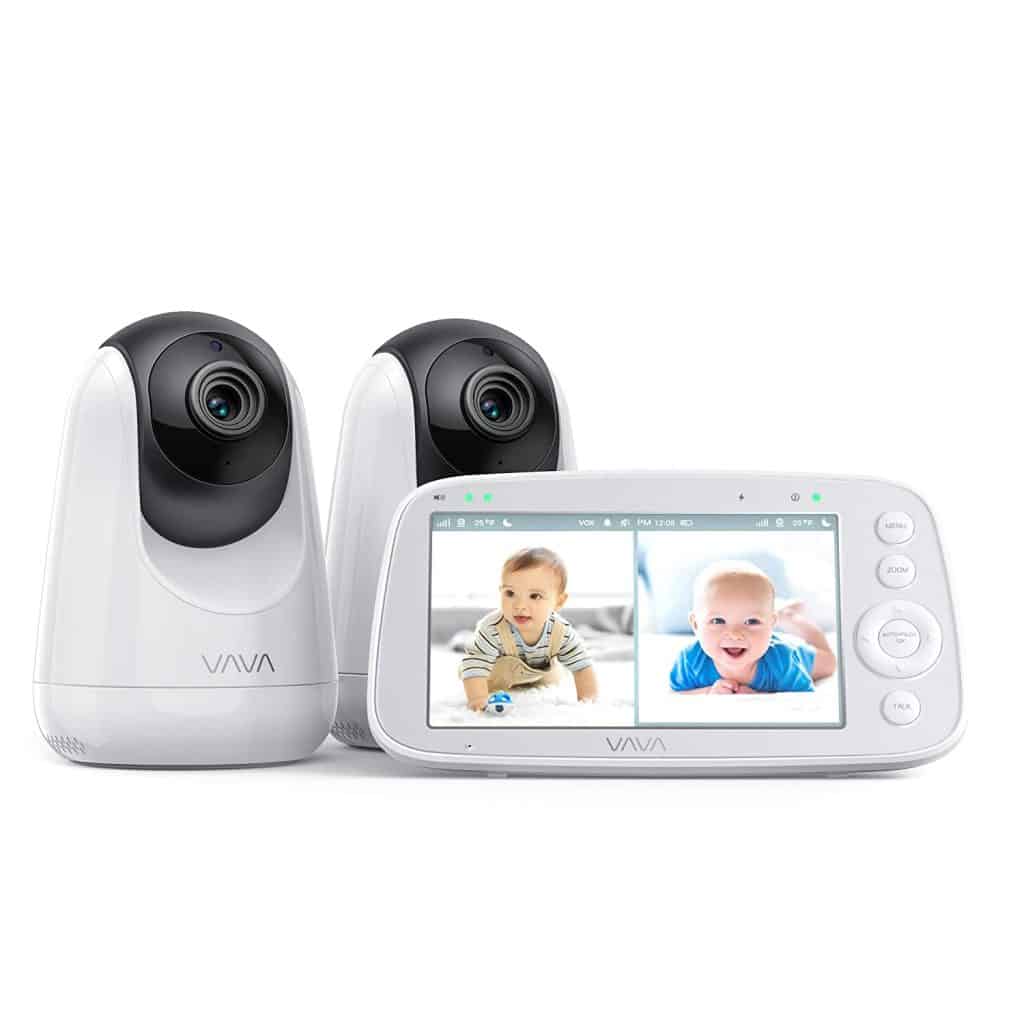 The VAVA 720P HD Video Baby monitor provides clear, real-time images with an incredible level of precision for parents looking for a video monitor that enables them to turn and rotate to look through the room. The screen is much bigger than 5″. The handheld monitor will last up to 12 hours at a time by using the rechargeable battery while constantly running in video mode.
On the handheld display, there are 7 volume level cues, so when your baby begins making sounds, there is a visual warning. With a display far larger than most other video baby monitors, the VAVA 720p lets you check your baby conveniently. The camera can be fully operated by the handheld monitoring unit remotely.
Pros
5" 720p HD display
4500mAH battery for 24 hours
Connects up to 4 cameras
Auto-pilot mode
2X and 4X zoom
Hack-free
2-way talk system
5. Owlet Smart Sock 3 ($449.99): Best Baby Monitor for All Age Groups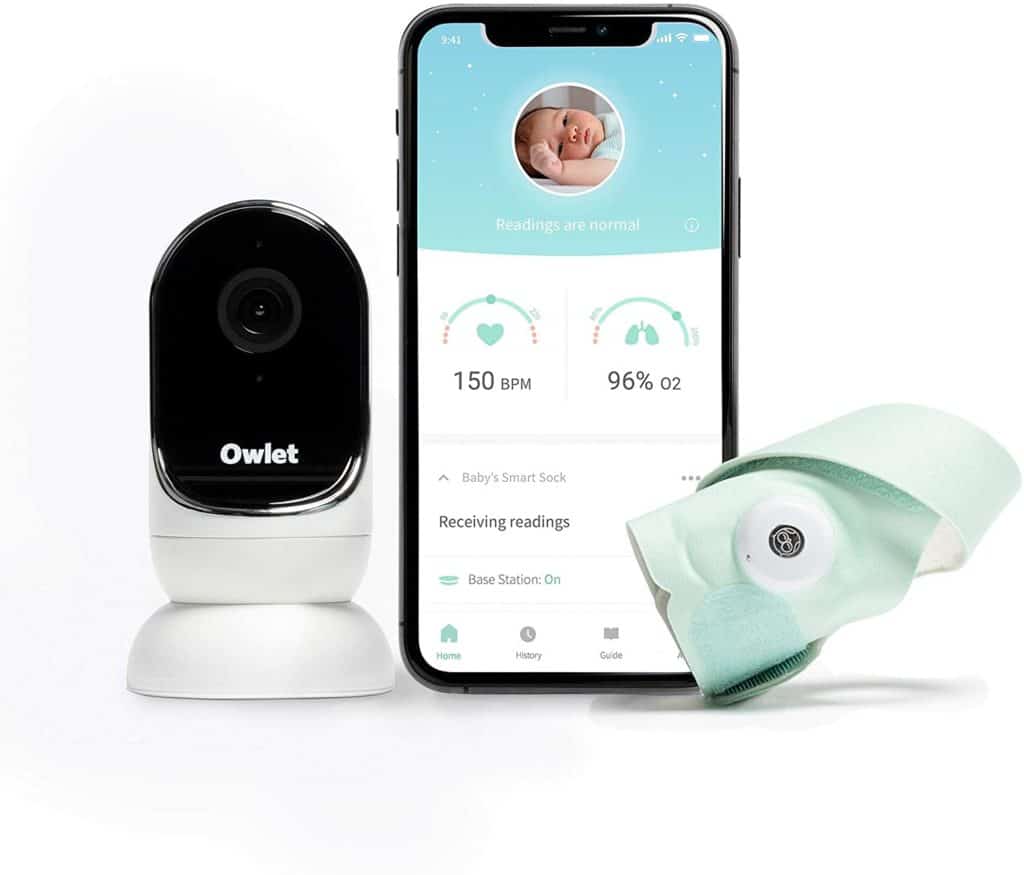 The Owlet Smart Sock, the most exclusive monitor on our list, is a wearable monitor that watches the heart rate and oxygen intake of your infant. If something goes unusual as identified by the Smart Sock, it will automatically alert you through a message on your smartphone and also lights and sounds originating from the access point in the room of your kid.
The Owlet Smart Sock is meant to be worn around the ankle and foot of an infant. To monitor heart rate or oxygen levels, it uses established technology and relays the information to the base device. The most significant aspect is that when there is an issue, it alerts you immediately.
Pros
Socks for growing feet
Notifies with sounds and lights
Review sleep history
Quick charging and long-lasting
6. VTech DM221($38.95): Best Audio Baby Monitor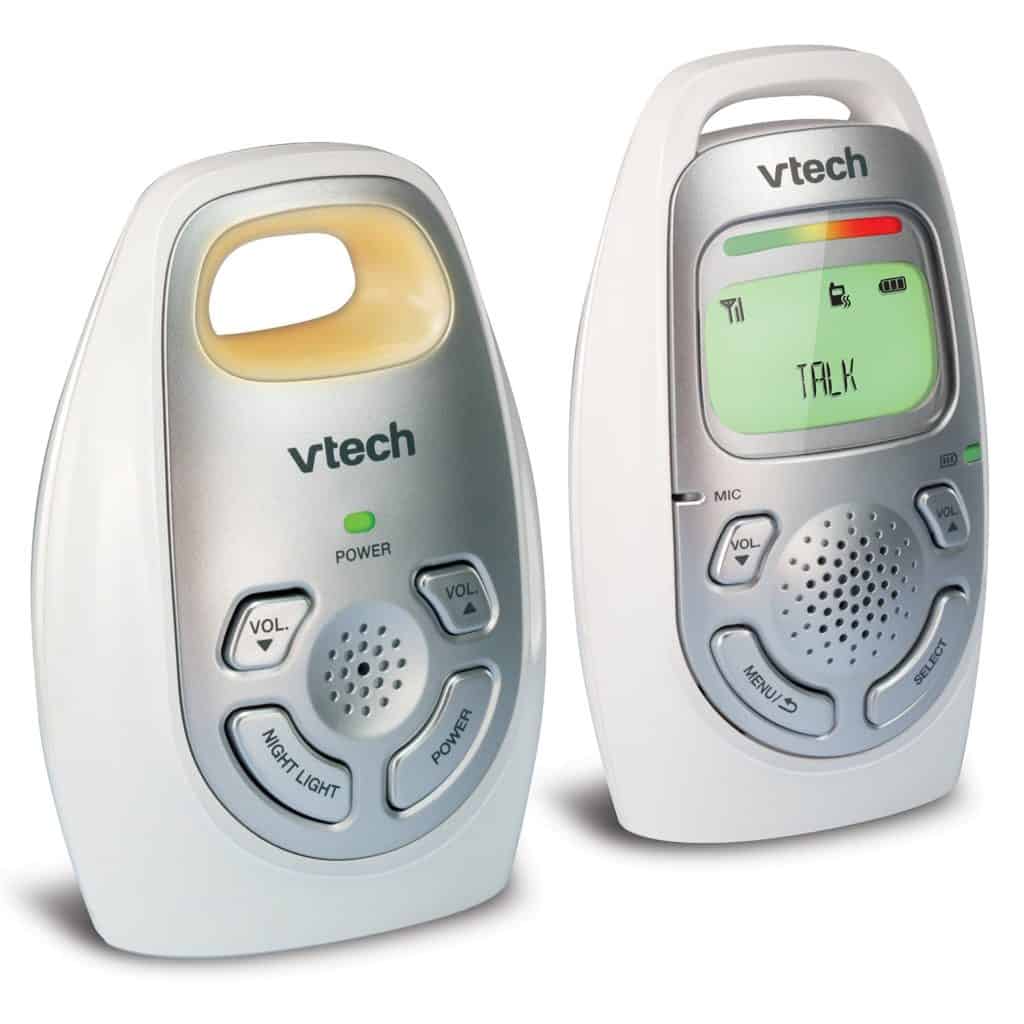 The greatest listening baby monitor we have reviewed is the VTech DM221 Audio Baby Monitor. It also helps parents by parental controls to speak back to their infants. Battery life is one big benefit of an audio-only monitor. The parent monitoring system in this package will operate on a single charge for up to 18 hours. You may opt to get either one parent monitor or two while shopping.
Another advantage of an audio-only baby monitor with an impressive 1000-foot range is that it is much less costly than a video monitor. We like the function of vibration that makes it convenient to detect when your baby starts to move.
 There are quite a few creative functions on the VTech DM221 Audio Baby Monitor. On top of the transmitter is a nightlight that provides a warm light at night. An intercom option is also available that enables parents to talk and pacify their kids.
Pros
DECT 6.0 digital technology
Vibrating sound alerts
Night light
5-level sound indicator
Amazon Reviews:
Having two transponders is genius. This is perfect for monitoring my 91 year old mother, currently on hospice, while allowing her caregiver a second transponder in the bedroom she sleeps in. Leaving both transponders on level 4 volume in two separate parts of the house, you can basically hear anything my mother would say or need anywhere inside the house which is about 2,800 square feet. This is a great product that works well and the only one I found that has two transponders plus the base. 5 stars!
– Sean
Amazon Reviews:
Was in need of something like a intercom for a bedridden patient to a caregiver just like in hospital but for a reasonable price. We know this is technically a baby audio monitor but it works the same way. Especially since the bedridden patient is almost paralyzed, hence it wouldn't make sense to get a "walkie talkie". With this, coupled with a buzzer. When the patient buzz for help, we use the "Talk" button from the parent device to inquire what they need and patient can just talk normally (without hitting a button etc because the parent device is a handsfree listening device already) then we're able to communicate without having to go back and forth multiple times.
– Scarlett
For more product reviews visit Amazon.
7. Wansview Wireless Home Surveillance Camera ($15.50): Best Baby Monitor With WiFi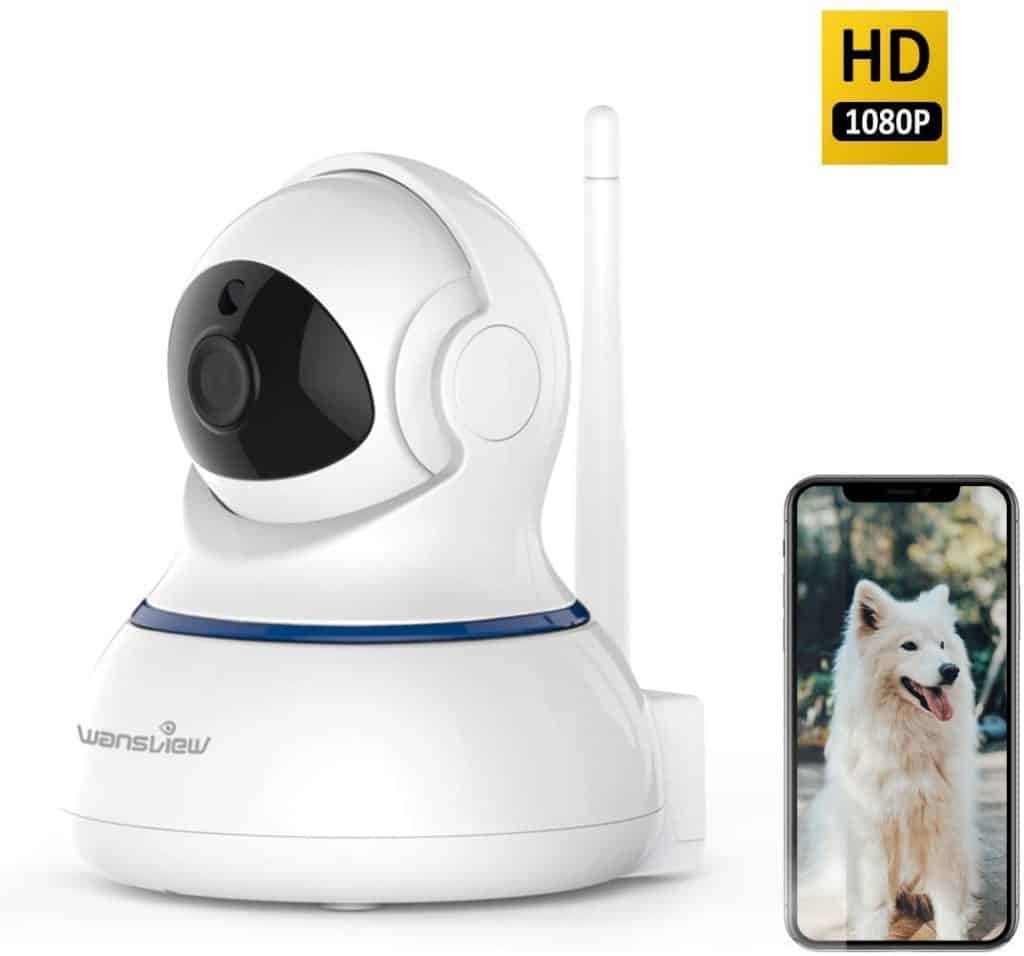 Using Android / iOS mobile devices, Apple Mac applications, and PCs, the Wansview baby monitor connects wirelessly. With Alexa, Amazon also sells this item as the two-function combined, but when buying, it is not important to have one. That said, this could be an interesting choice if you also own Alexa. It is more of a general-purpose camera than a specific monitor for infants, but it gets things done well past their infant ages and can even be used alternately.
This camera records 1080 pixels per image. It offers high-quality videos that mean you're not going to skip anything day or night. Using the Wansview app anyplace and at any time, the camera helps you to use it easily. The system will start filming 24-hour security tapes on your PC after its links with your home Wi-Fi.
Pros
1080p HD camera
340-degree horizontal title and 90-degree vertical tilt
IR LED night vision up to 26 feet
2-way audio
Amazon Reviews:
So easy to use, nice image and really good night vision.
The customer service was so fast and knowledgeable when I had a question.
Jasmine is a great representative!
Amazon Reviews:
I already had 3 other Wansview Cameras (K3 models) and really liked them. I needed one more and decided to try this Q3-S PTZ (pan/tilt/zoom) IP Camera. When it arrived, I was impressed with the professional packaging and accessories. It had the USB style power supply/cable (MicroUSB type), network cable and a mounting bracket, if you'd like to install it on a wall or ceiling. The setup on this new Q3-S is almost identical to the K3 model, so it was very easy. Setup uses QR Codes that are on the camera, for an easy direct WiFi connection. It went without ANY issues and once it was set up, I was able to move the camera to its final viewing place. I also added a MicroSD card, which I set up to record on alarms (motion). This model also has an actual antenna and mine is set up 50' from my wireless router and works without issue.
The video and viewing degree is the same as my K3's, but this unit is a little different because you can pan/tilt/zoom to see other areas. It is silent as it moves, so it wouldn't alert anyone not looking at it. Pan/tilt is motor controlled on the camera. You use the app, swiping on the video in the direction you want the camera to view. You can make the camera scan by activating a button, which is a smooth motion.
This Q3-S Camera also uses the original Wansview app (not Wansview Cloud), which is one reason I purchased it. My K3 cameras also use that app, so it was important to me to have all of my cameras on the same app so I could view them together. I also use the Wansview PC app to view these cameras through my computer…very convenient, but the PC app will not allow me to view recordings on this camera. It will let me view a live feed but not the contents of the MicroSD card. I assume this is an issue with the program and not the camera though, as I can still review the files on my smart-phone.
I have always liked the options I have with Wansview Cameras. You are able to set your own user name and password, so these are harder to hack than those that only allow you to change the password. I also like the way I can use the alarm/motion detection to alert me through the app or via email (even sending a photo of the event to me!). You can actually use these cameras as an alarm, letting you know when there is any movement at your home or business.
I have used Wansview cameras for approx. 4 months now and am very satisfied with how the whole system works.
– R. Smith
For more product reviews visit Amazon.
8. iBaby Care M7 Lite ($119.96): Best Baby Monitor for Twins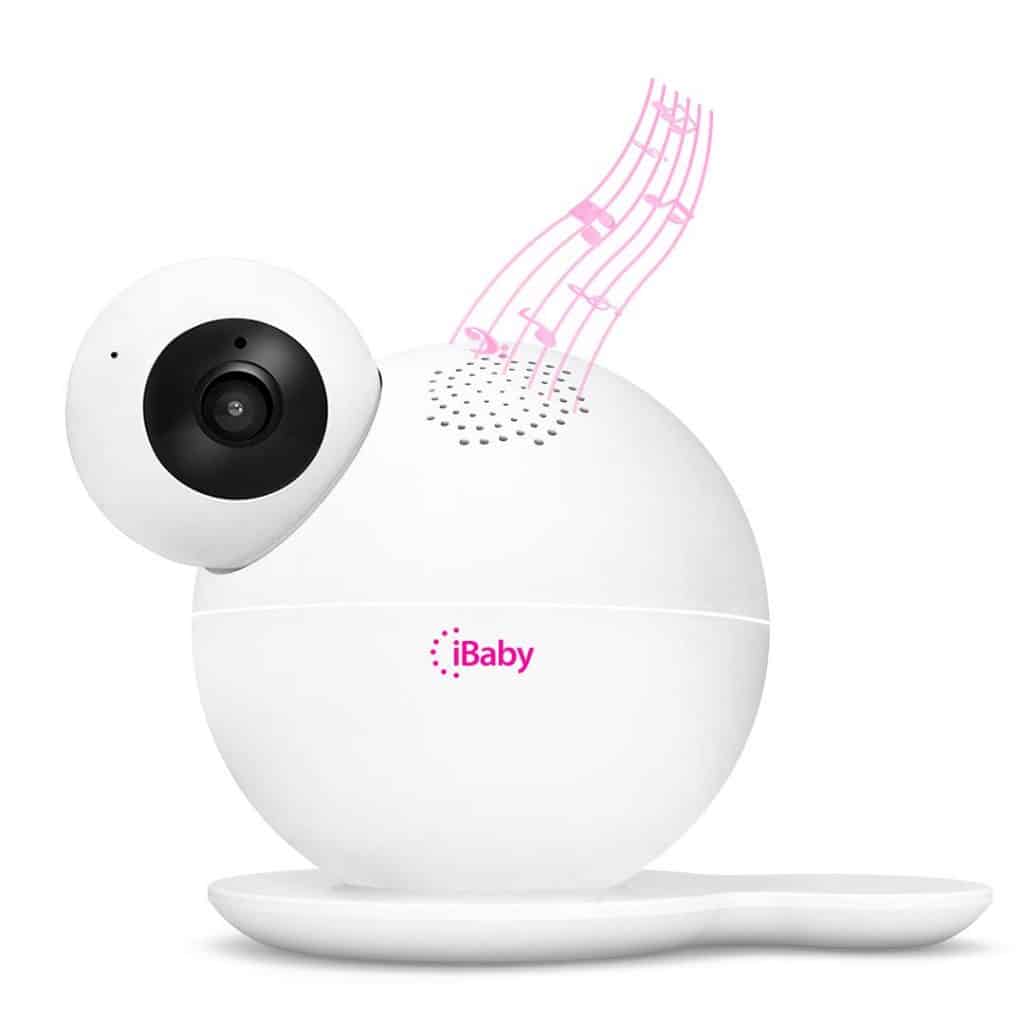 The iBaby Care M7 is the latest monitor model that enables your baby to be watched from the ease of your smartphone. This system takes the form of a spinning snowman and also contains night light from the moon and stars to assist relax finicky kids. In a white plastic frame, this display houses a camera. It is visually attractive and will go with every decoration. At the bottom of this monitor is a motor that helps the camera to move for full room tracking. By simply tapping your smartphone's screen, it also turns to 100 degrees, making it the best baby monitor for twins.
Built-in microphones and speakers are used by iBaby to warn you whenever the child begins to whine. It also involves two-way contact to hum and calm the child asleep. You can play preset children's songs or music straight from your mobile using the iBaby display.
Pros
1080p HD video
Infrared night vision
2-way audio system
Memory timeline
Feedings and diaper alarms
Humidity and temperature sensors
Augmented speakers
360-degree motor pan
110-degree finger tilt
Amazon Reviews:
Great quality video. Love how your able to turn phone to side and see a wider angle. Also notifications when movement and able to adjust that. For the price, it's worth it. We have a babysitter for date night and I am still able to peek at my babe.
– Kelsey
Amazon Reviews:
We've had so many baby monitors but never one this nice, and it's so worth it, I like how you can scan around the room and how clear the picture is. The only thing it's missing is a sound bar that shows visual sound spikes.
– Adeline
For more product reviews visit Amazon.
9. BabySense Video Baby Monitor ($159.46): Best Split Screen Baby Monitor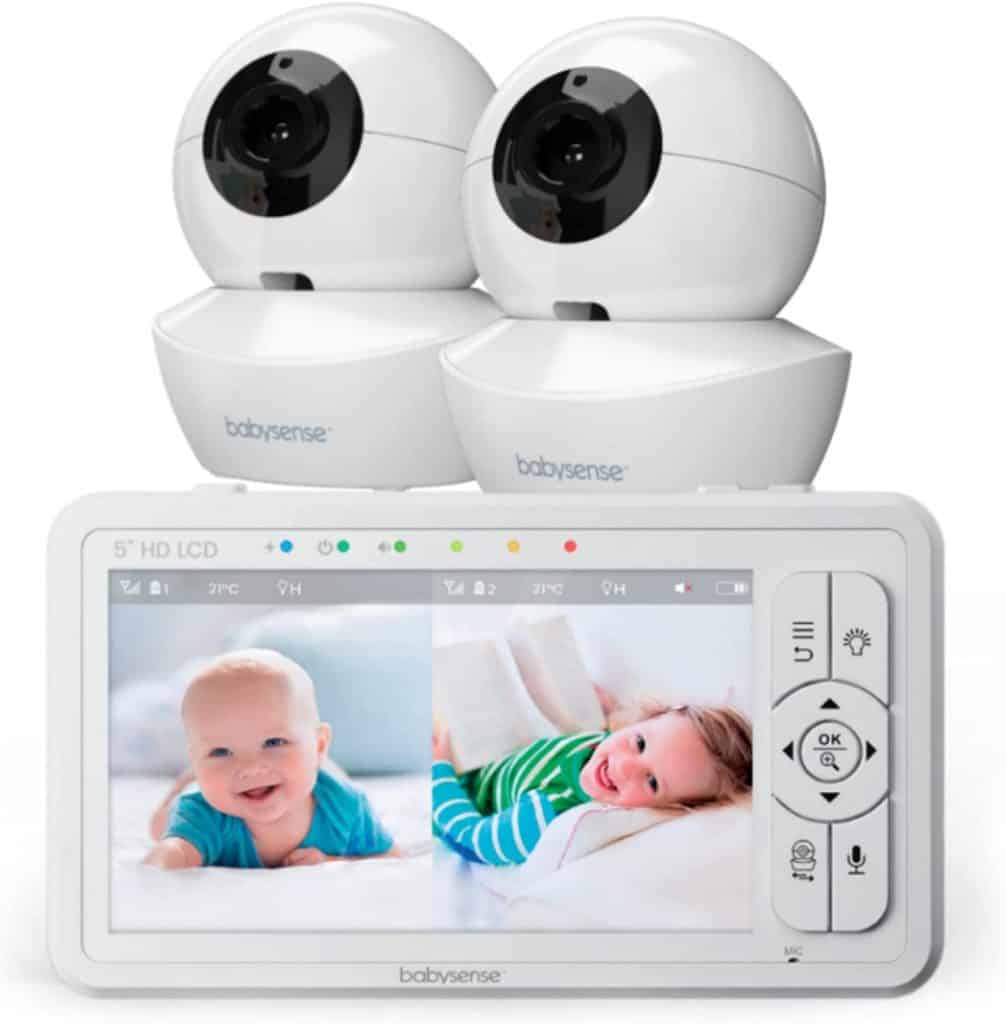 Baby monitors are no longer just audio-enabled. The capacity to monitor the activities of your baby on a computer comes with innovation. With a stellar night vision mode to keep track of your baby even in the darkness, the Babysense Video Baby Monitor offers this comfort and far more.
It is a lightweight computer (model V24R) that you can carry around the house and comes with the parent unit. You'll appreciate this is compact and uses lithium-ion rechargeable batteries. On a wide 2.4-inch screen, you get to see the child. It gives a 2x optical zoom as well. And, that option is significantly cheaper than that. This display also offers long-range coverage with a reach of detection of 900 ft.
Pros
4-inch LCD display
4GHz FHSS technology
2-way audio
Out-of-range warning after 900 feet
Infrared night vision
Temperature monitoring
Sound-activated LEDs
Connects up to 4 cameras
Auto camera scan view
Eco mode voice activation
Amazon Reviews:
We have used 3 different types of baby monitors and by far this is the best one. The night vision is amazing and crisp clear, a huge bonus there is not a spotlight on the baby at night from the night vision light. All our others had a bright light I needed to tape over. The split screen is amazing and doesn't zoom in on the baby during split screen mode like our other Motorola one. We couldn't even see half the crib in split screen mode. This one you can see the entire crib and more. And again clear images. Super easy to use the screens pivot in multiple directions I can use it in my 3 year old son's room to watch him play and move the camera around to see him just fine the range of motion is amazing. So far the battery life is great. If I'm being picky I wish that we could hear both rooms at the same time on split screen mode. Or if it would go back and forth on sound on split screen mode like our old one. I wish we bought this one a long time ago definitely worth the money. Even the other ones at this price point don't compare.
Amazon Reviews:
I typically don't write reviews for things I buy, but I thought perhaps this would be helpful to parents of multiple children and I always want to do my part in helping fellow parents. I was searching and searching for a monitor that had a split screen so I could use just one monitor while both my kids slept (age 3 and 6 months, separate rooms). This monitor has held its end of the deal quite nicely. I have it on all night (plugged in, though the battery has last all night not plugged in several times) and can check in on them both with one click of a button. There is also a way to make the sensitivity level turn on the screen. If one of them moves in bed or cries out, it will alert me by turning on the screen. My one complaint is that there is no two way sound capability, so I can't listen in to both rooms at the same time. I can see them both, but the sound comes only from one camera at a time. Overall, I really like this monitor and find it was worth the price paid.
For more product reviews visit Amazon.
10. Philips Avent DECT Baby Monitor ($180): Best Baby Monitor With Battery Backup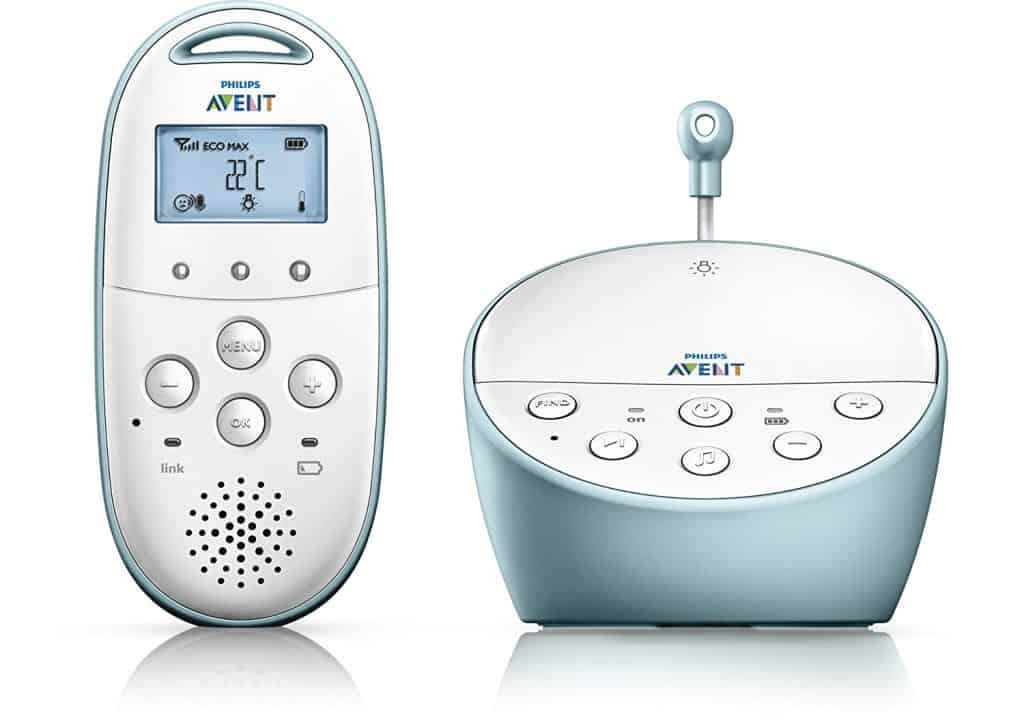 In a system that will be versatile over a long range, the Philips Avent Baby Monitor provides you with the best value. With a detectable distance of 900 ft, this monitor helps you to move out of the house while the baby is sleeping, thus safe in the knowledge.
A 1.6-inch LED screen comes with this monitor. It showcases the connection speed, room temperature, and battery status. The parent unit is powered when the child cries or shifts, and it vibrates and lights up. The more activity there is, the more lights are seen.
Using 2 AA rechargeable batteries, this unit works. It gives you a battery capacity of up to 18 hours, which gives you hours of use before thinking about a low battery.
Pros
Zero interference
120 channels
DECT system link
2 AC power adapters
Battery low indicators
Battery backup
2-way audio
300 meters operating range
Night light
Sound level lights
Adjustable microphone sensitivity
Single point control
Volume control
Rechargeable batteries
Portable parent unit
Amazon Reviews:
I use this to monitor our lambing barn for the sounds the moms make when they go into labor, or just for any distressing sounds, and it works great even though it's in a metal building.
We had an old unit that had a lot of static and not great sound – it was reliable but I lost the parent unit. We replaced it with a cheaper Vtech model but it would become unlinked for no reason and beep in the middle of the night, or go silent altogether which is scary. If you can't depend on a baby monitor there is no point in having one.
This unit never becomes unlinked even when I carry it around different places in the house. You can control how sensitive you want it and unlike our old one it doesn't pick up the background noise like the fence charger even though we have it on maximum sensitivity. The temperature readout is very handy. Volume goes up high enough and it also has a bright light when noise is being made.
It's not the cheapest model but for the price I think it's reasonable. Many times I have been alerted to a sheep needing intervention, saving the ewe's and lambs' lives – it's paid for itself many times over. And it doesn't wake me up needlessly with static or beeping when I am catching a precious couple of hours of sleep, something I am sure all new parents will appreciate.
Amazon Reviews:
This monitor has been so useful with our baby. The cord for the base unit is extremely long so it can stretch across any room (of course, keep it tucked away from anywhere baby could reach for it). The little antenna piece that sticks out of the base unit picks up sound really well, you can point it in the direction of baby and you won't miss a thing. It has a night light, but it is more for decoration/ambiance than actual function. The receiver is great, picks up sound really well, tells the temperature, and your eyes will quickly train to pick up when the little blue lights flash any time any sound is made. The volume control is really nice. You can page the receiver if you leave it sitting somewhere weird. The fact that it is rechargeable is really nice, we usually just leave it plugged in and sitting in the living room. The one annoying thing is that if you turn off the base unit, the receiver unit will yell an annoying beep at you until you turn it off, and it starts QUICK, so say you go grab sleeping baby and turn off the base unit, by the time you get back to the room the receiver is in, it will be beeping loudly and might wake baby – so turn off the receiver first and you should be ok.
– L. Ode
For more product reviews visit Amazon.
Check Out These 6 New-to-the-market Baby Monitors!
A Final Word on The Best Baby Monitors
Monitors for babies, for sure, are a gift to parents. During an initial couple of weeks, we all know the excitement and challenge of parenting an infant, but it doesn't mean you're exhausted from your core. By becoming the additional eye as you go with your day, let these baby monitors offer a bit of assistance.
We have tested every baby monitor we can find, and now you ideally have the data you need to buy the best one for yourself.
10 Best Baby Monitor FAQs
1. What are baby monitors used for?
Simply put, baby monitors are systems that are used by parents to remotely monitor the baby's sounds and movements. They are mostly needed during the night. Therefore, it is important to know that these baby monitors are designed to amplify the baby's sounds even if it is just a little. So, make sure you place the monitor in a place that doesn't disturb your sleep and also helps you keep an ear on the baby monitor.
2. When should we stop using a baby monitor?
There is no cut-off rule for parents to stop using a baby monitor as it does no harm and is based on your requirement. However, generally, parents tend to switch the baby monitors off for the baby at around 6 months old. This is perhaps a better way to make sure you get better sleep, and also helps in the healthy sleeping development habits of the baby.
3. Does the baby monitor affect your sleep?
If you are a person who tends to wake up even if the pinfalls, the baby monitor might just cause you to wake up even when the baby gently coos. This is because these baby monitors are designed to amplify the baby's sounds for you to know of them. This might just cause disturbances in your night's sleep.
4. Is a baby monitor necessary?
If you are sleeping with your baby or live in a small space where you can always hear or see them, you don't need a monitor. Other parents need the convenience a baby monitor provides so that they don't constantly have to check on their child or need to stay close to the nursery.