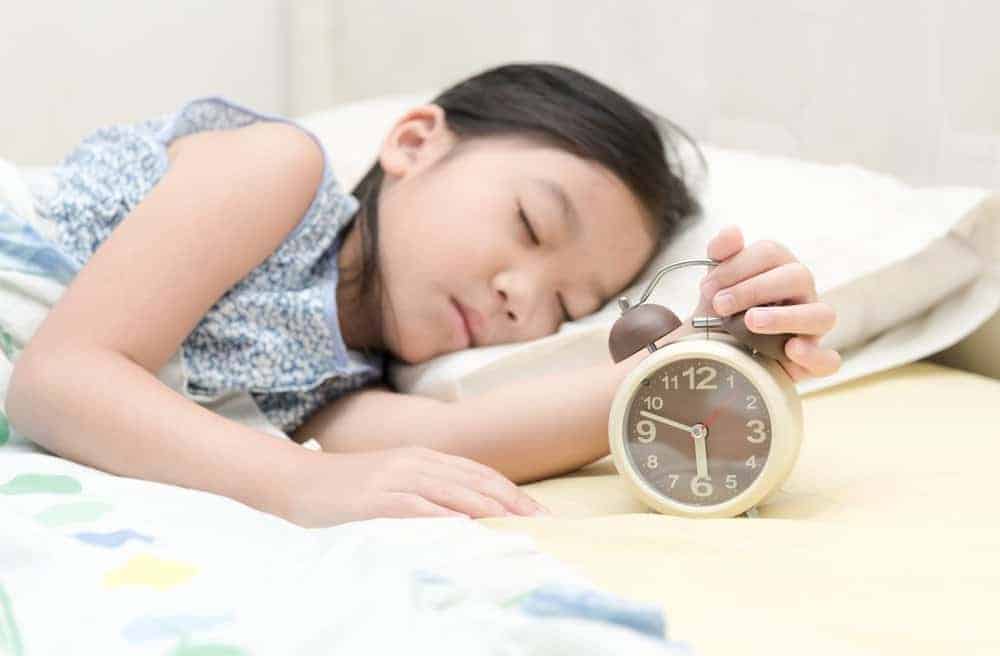 Do you still remember those days when you used to sleep until 10, then would lazily read the news in bed, and would sometimes hit the gym before meeting your friends for a late brunch? What? You don't? Neither do we! Those good old days are long behind every parent. Now, every parent has babies and toddlers, the human alarm clocks you never knew you needed. Every parent with an infant wakes up with the birds. For some, this alarming trend could extend into the toddler years. We know that trying to teach a 2-year-old to stay in bed until a certain time is not an easy feat. Are you looking for a solution? Well, the best toddler alarm clock can be the solution you've been dreaming of!
What Is A Toddler Alarm Clock?
This alarm clock is specifically designed for the toddler set. It is also known as an okay-to-wake clock. A toddler alarm clock uses features such as lights, pictures, sounds, or sometimes a combination of all three since your kid can't tell time as of yet. These alarm clocks indicate when it's time for your little one to get out of bed and start their day.
Do Toddler Alarm Clocks Work?
If it is used properly, a toddler alarm clock can help your toddler (and you) sleep a bit more. We recommend you to start using it slowly, for better results. Talk to your little one about the alarm clock, what it's for, how it works, and what the rules are around it.
Before diving straight in, you need to set clear, realistic expectations around what your little one can and can't do if they wake up earlier than the clock. For instance, let them know that if they wake up before the light on their clock turns on, they can stay in bed and read a story.
Also, instead of rushing to it, you need to ease into the desired wake-up time slowly. For instance, if your toddler usually wakes up at 6:30, but you'd like them up around 7:30. On the first day, you should not set the clock for 7:30, instead, you need to start slowly. You can start at 6:40, then increase the time by 10 minutes or so every few days. Keep doing this until you've reached your desired wake-up time. Do not rush your little one into it, rather go for a slow transition that will set them up for success.
The Best Toddler Alarm Clocks
If you're a tech-savvy parent or you're just looking for just a basic alarm clock that will do the work, these best toddler alarm clocks get our vote. This will help you establish a healthy sleep routine and get everyone in the family a bit more rest!
1. Hatch Rest+ Sound Machine, Night Light, Time-to-Rise plus Audio Monitor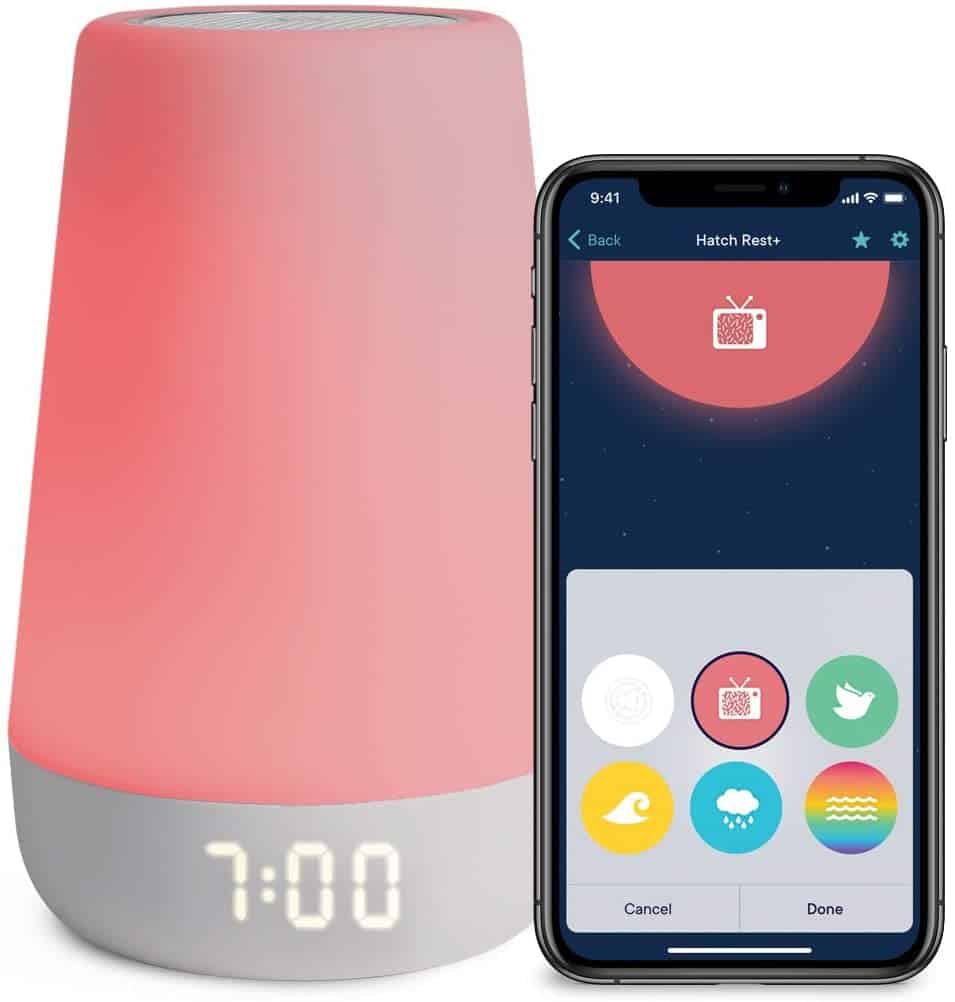 You can use this clock from your little one's first night at home through the big-kid years. It's not just the best toddler alarm clock, it's so much more! This amazing modern multi-tasker comes with a night light, a sound machine, a digital clock, and an audio monitor. You can control and customize every feature from an app on your phone and also it is Alexa-enabled. In the early years, you can use it as a night light and sound machine and transition the Rest+ to a toddler alarm clock as your kid grows.
2. Anmones Bunny Kids Alarm Clock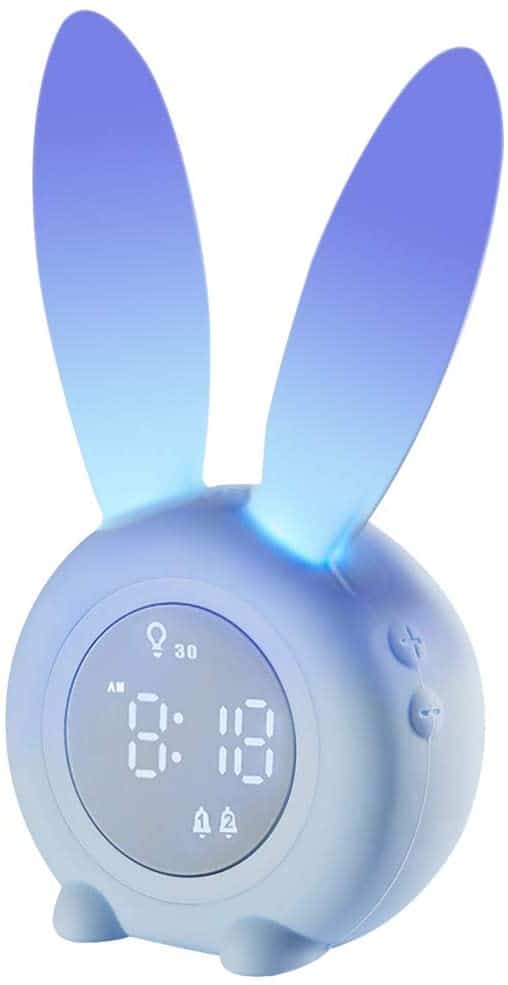 This cute rabbit alarm clock will bring a few moments of peace to your life. It is packed with features, which include a digital clock, a 12 or 24-hour display, a temperature sensor, and the obvious, best toddler alarm clock and night light. You can activate the clock's screen with some sound or vibration such as a clap or a quick tap. The cute bunny design is well-loved by little kids.
3. Claessens' Kids Sleep Moon Sleeptrainer Nightlight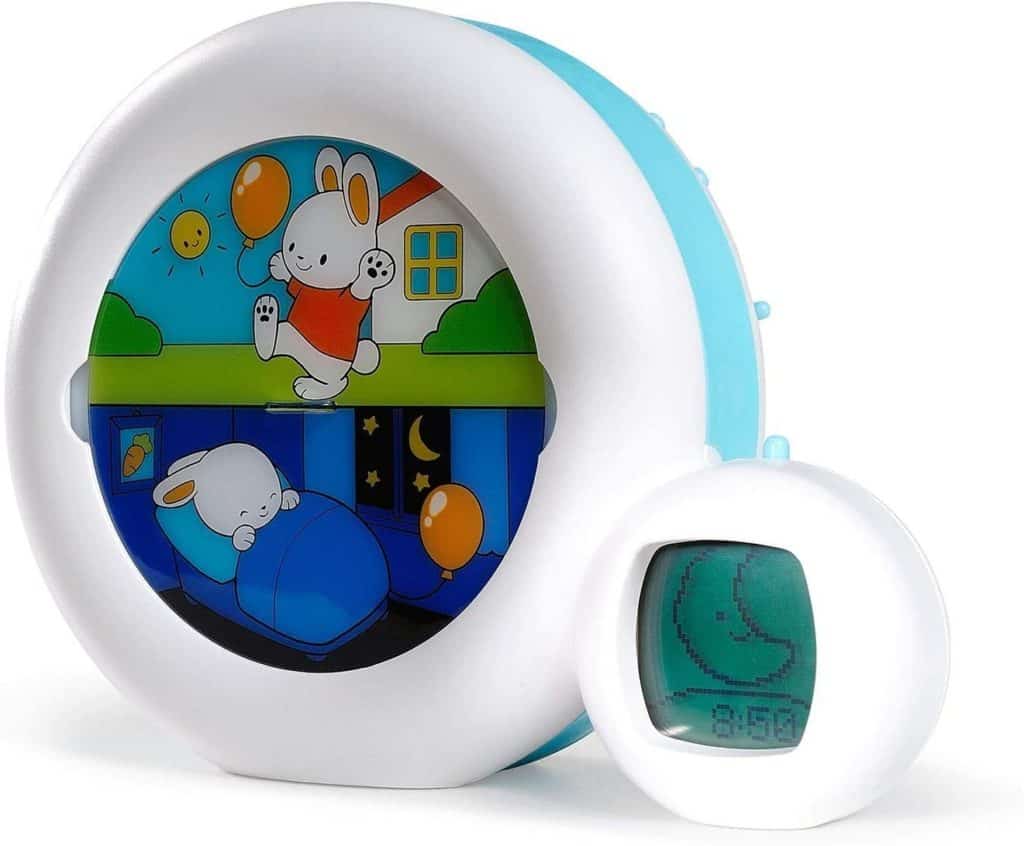 This best toddler alarm clock does have a small digital clock. But the main feature is the clock face design. It uses 2 easy-to-understand images, one is a small rabbit that's asleep, and the other one is awake. This alarm clock is perfect for kids who may be a bit on the younger side and are more visual. Additionally, it has features such as 4-alarm sounds, a setting for naps and weekends, and 4 brightness levels.
4. Little Hippo MELLA Ready to Rise Clock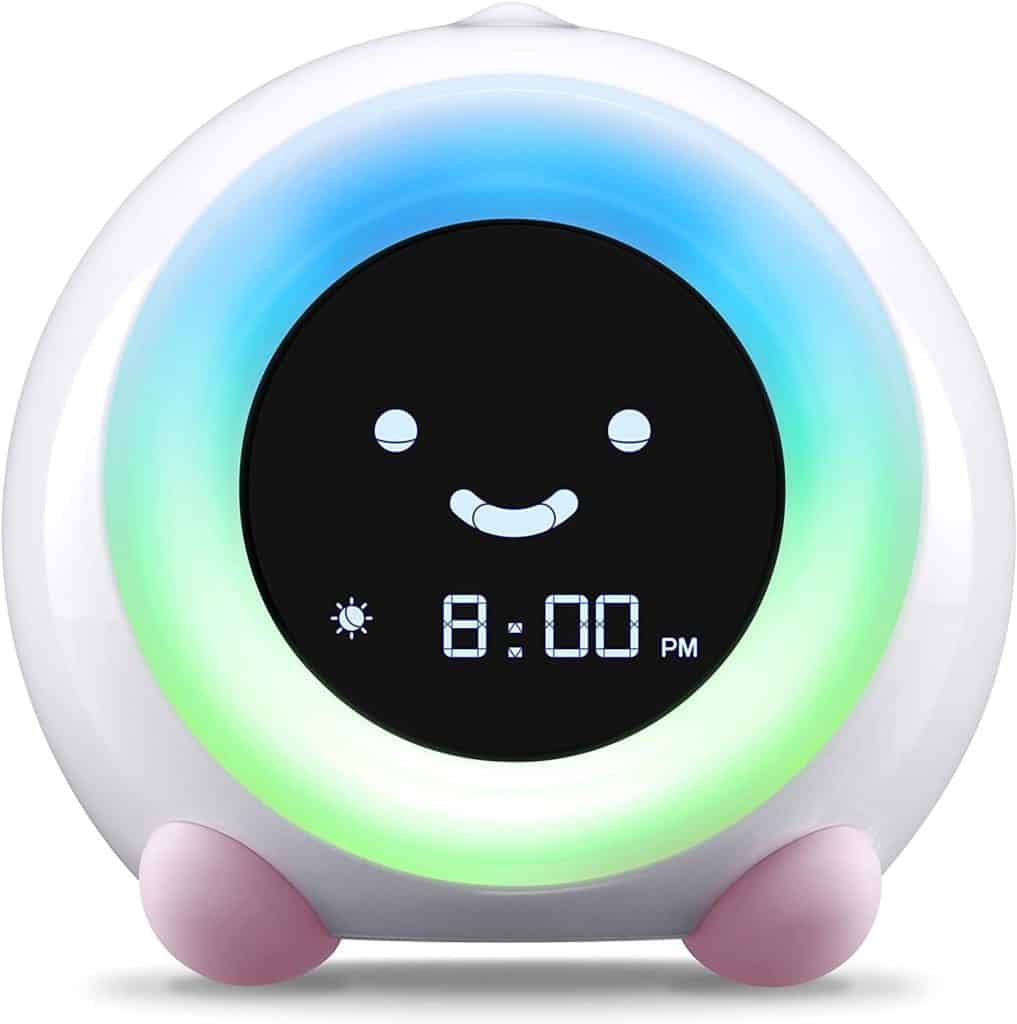 The minimal and modern alarm clock is more than just a nice aesthetic. It strikes the perfect balance between form and function. The clock is very easy to program and easy for your kid to understand, with the help of colors and facial expressions you can show your toddler when it's okay for them to get out and when they need to stay in bed. This best toddler alarm clock comes with 3 sound options, 5 night light colors, and an alarm function for older kids.
5. Mirari OK to Wake! Alarm Clock & Night-Light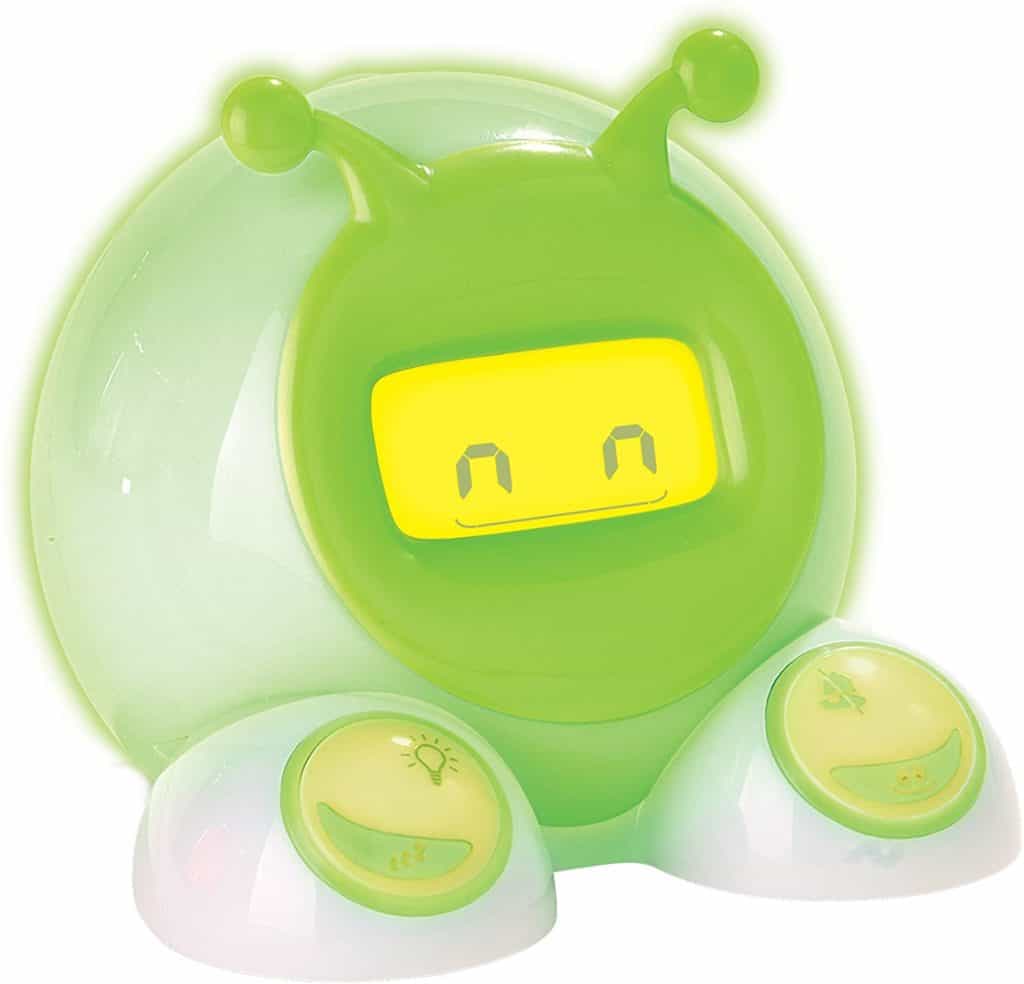 This alarm clock is well-loved and well-reviewed by parents because it's super simple to use. When it's time to wake up, the entire clock will light up green which makes it a perfect pick for younger kids. It has lots of additional features such as a night light option, a nap timer, an alarm clock (with a snooze button!), and a digital clock, and fun animations that your baby can activate by pressing on the buttons.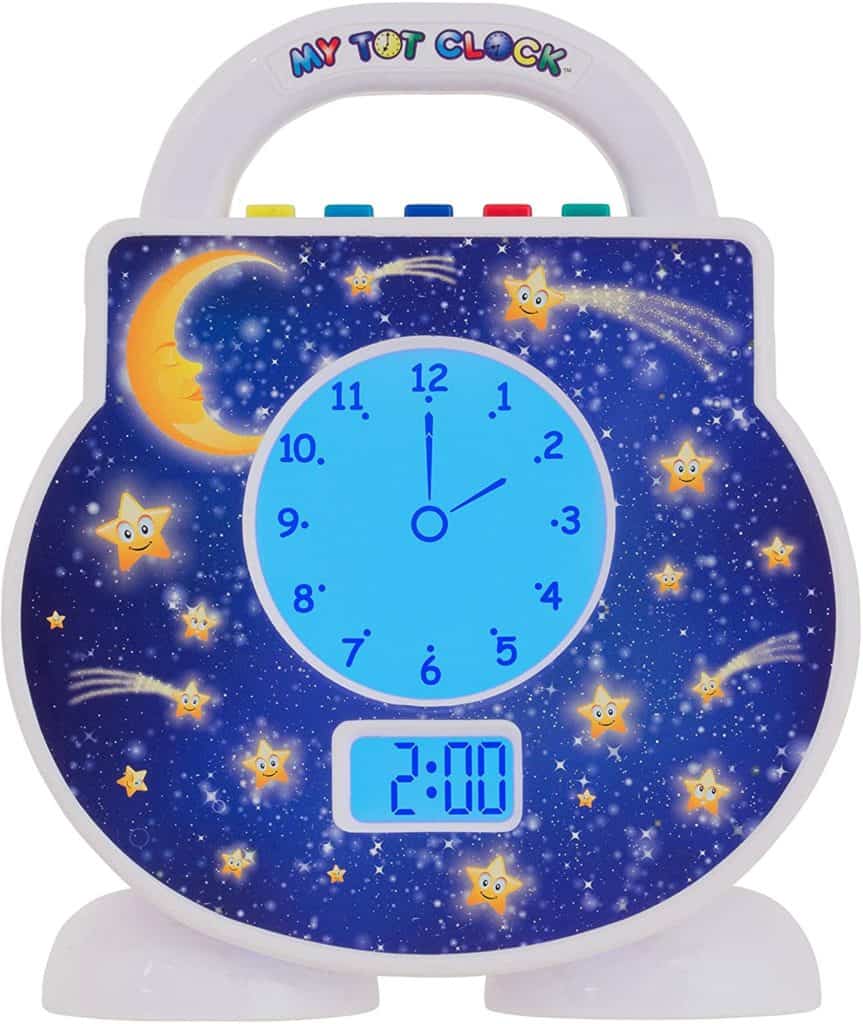 This alarm clock has an alarm clock feature and lights stories, songs, and more. It features 5 different colors that will illuminate for different times, such as wake time, bedtime, naps, fun/activity time, and timeout. Also, it has an analog and digital clock and for a custom look, it has swappable faceplates. Moreover, it plays white noise, lullabies, stories, and fun wake music.
7. It's About Time Stoplight Sleep Enhancing Alarm Clock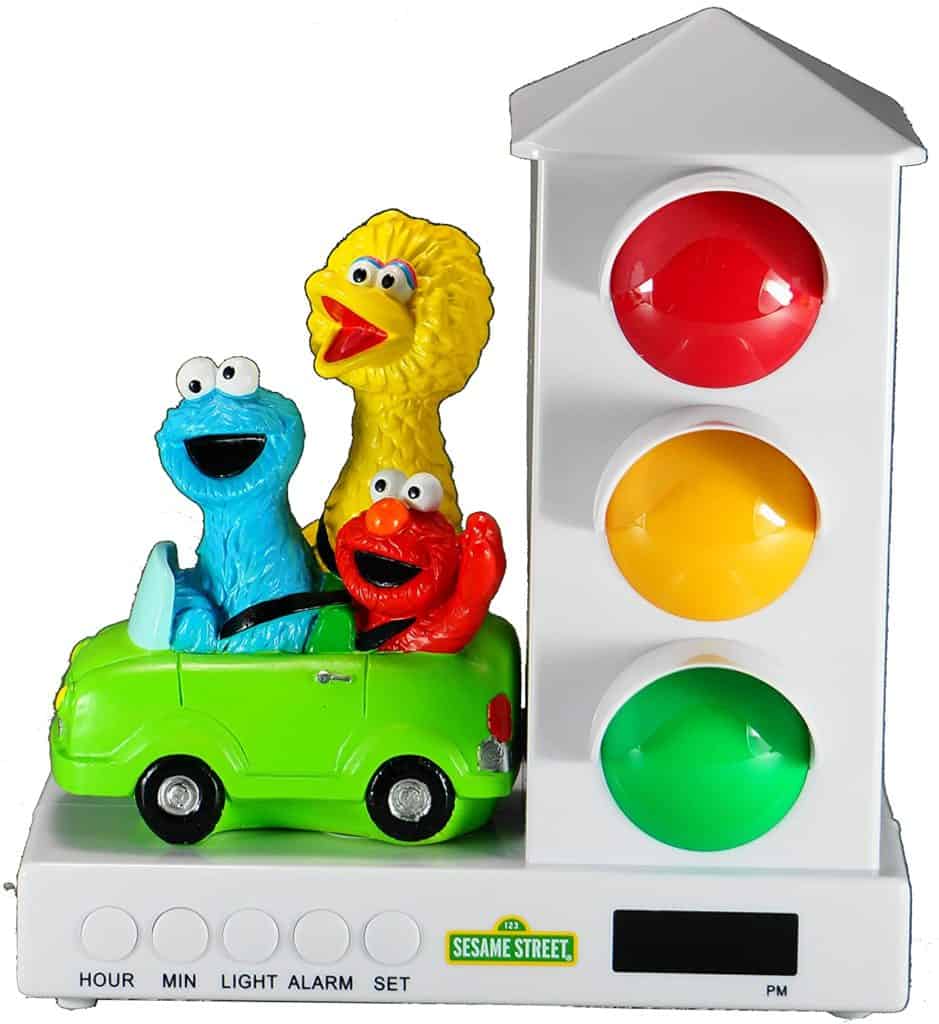 Are you a fan of Sesame Street? Or your little one loves the Cookie Monster? Then what are you waiting for? Get this alarm clock which features Cookie Monster, Big Bird, and fan-favorite Elmo. It uses simple stoplight colors that will teach your kid to stay in bed, wake up or sit tight. This basic concept is perfect for younger toddlers and even some older kids. Also, yes! There are other characters to choose from!
8. Zazu Kids Pam The Penguin Sleep Trainer and Night Light
This adorable penguin figurine is a cute decor and sweet addition to any kid's room. This alarm clock is an amazing okay-to-wake clock, night light, and Bluetooth speaker. Before wake-up time, this clock glows red for 30 minutes to keep kids in bed. When it's okay to get up in the morning, it automatically turns green. Also, when used just as a nightlight, it is available in multiple other color options. If you want, through the wireless speaker, you can even pipe in soothing lullabies.
9. Gro Clock Sleep Trainer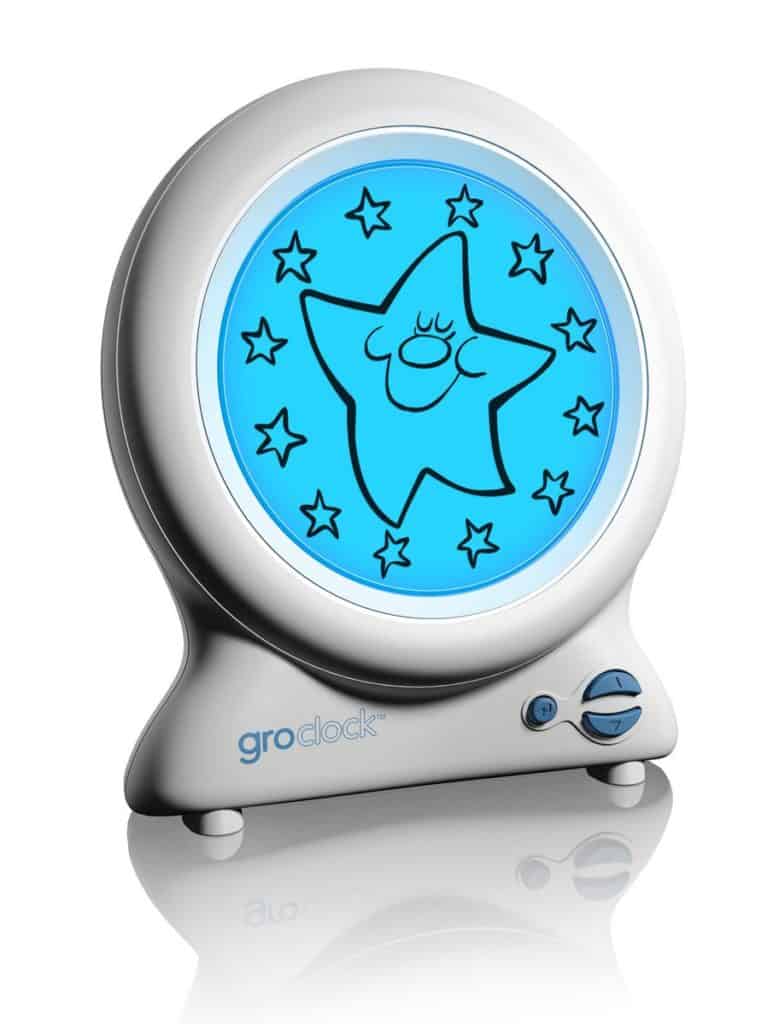 This simple and best toddler alarm clock uses images of the sun and stars to tell children whether it's daytime or nighttime. The stars that come out during bedtime will go out one by one overnight, which will show the passing of time. When it's time to wake up, the clock shows the sun rising and glows orange. Also, it comes with an illustrated book and it has both weekend and weekday programs.
10. MomKnows Galaxy Clock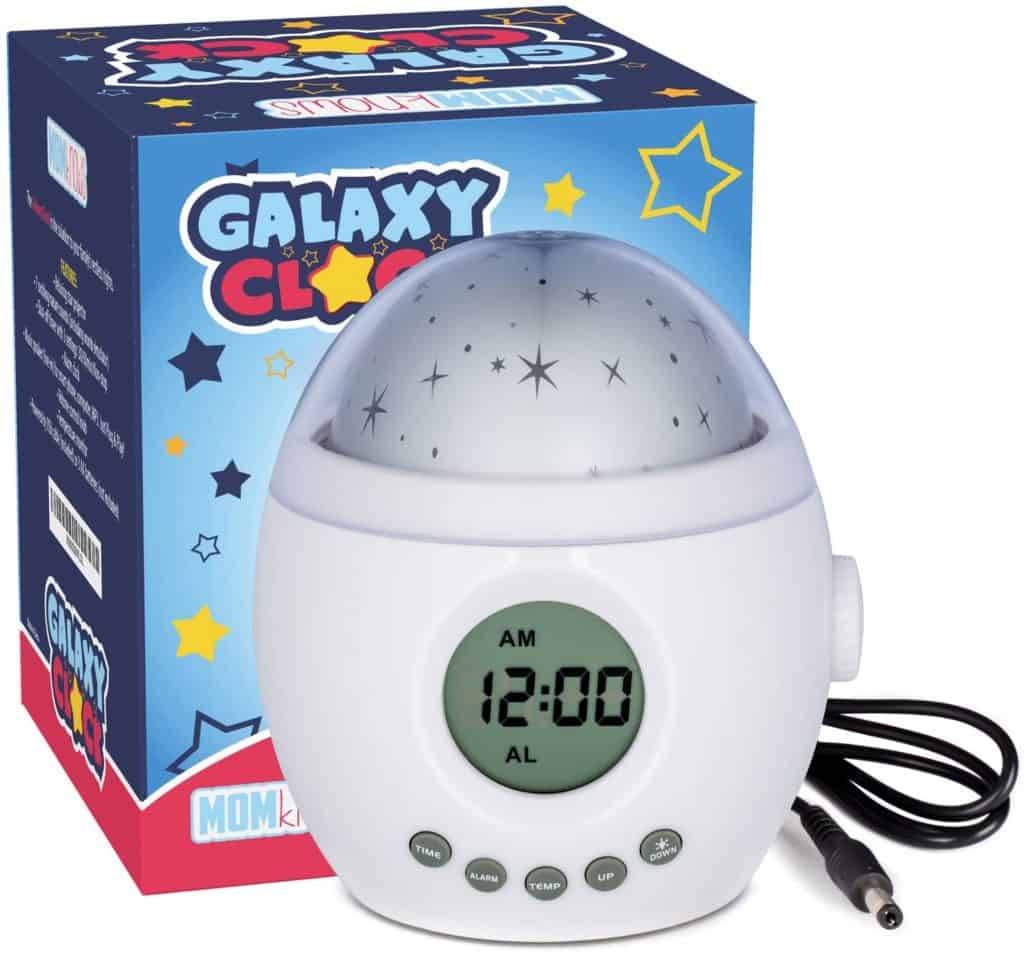 On the ceiling of your little one's room, this digital kids' alarm clock will project soothing images of stars. You can also use it as a sound machine. It comes with 7 built-in sounds, which include birds, waves, and a womb simulator (which is similar to white noise). You can even pair it with your phone to play music. Additionally, with the touch of a button, you check the temperature of your child's room because of the built-in thermometer.
When you're deciding which one you should go for, just think about the features you would want the most to help select the right one. Remember that it will take some time for your little one to get the hang of it, but once you get on a schedule, it's worth it! Choose your clock now and get started! Because it will change your child's sleep pattern in wonderful ways! Additionally, get some tips on how to sleep train your little one !
Best Toddler Alarm Clock FAQs
1) When should I start using a toddler alarm clock?
As you start to sleep-train your little one, it's time to introduce an alarm clock. Always remember that every child has their way of learning and as a parent, you have to adapt how you parent every kid. So, don't rush it and take it slow!
2) How do I introduce my toddler to the clock?
You need to sit them down and show them what it looks like "when the sun comes up" on the clock itself. When's it time to wake up, and what they should do if they wake early.
3) How much sleep should a toddler get at night?
Research recommends that toddlers, which are 1 to 2-year-olds, should sleep at least 11 to 14 hours a day (this includes naps). Whereas preschoolers, which are 3 to 5-year-olds, should sleep at least 10 to 13 hours a day.