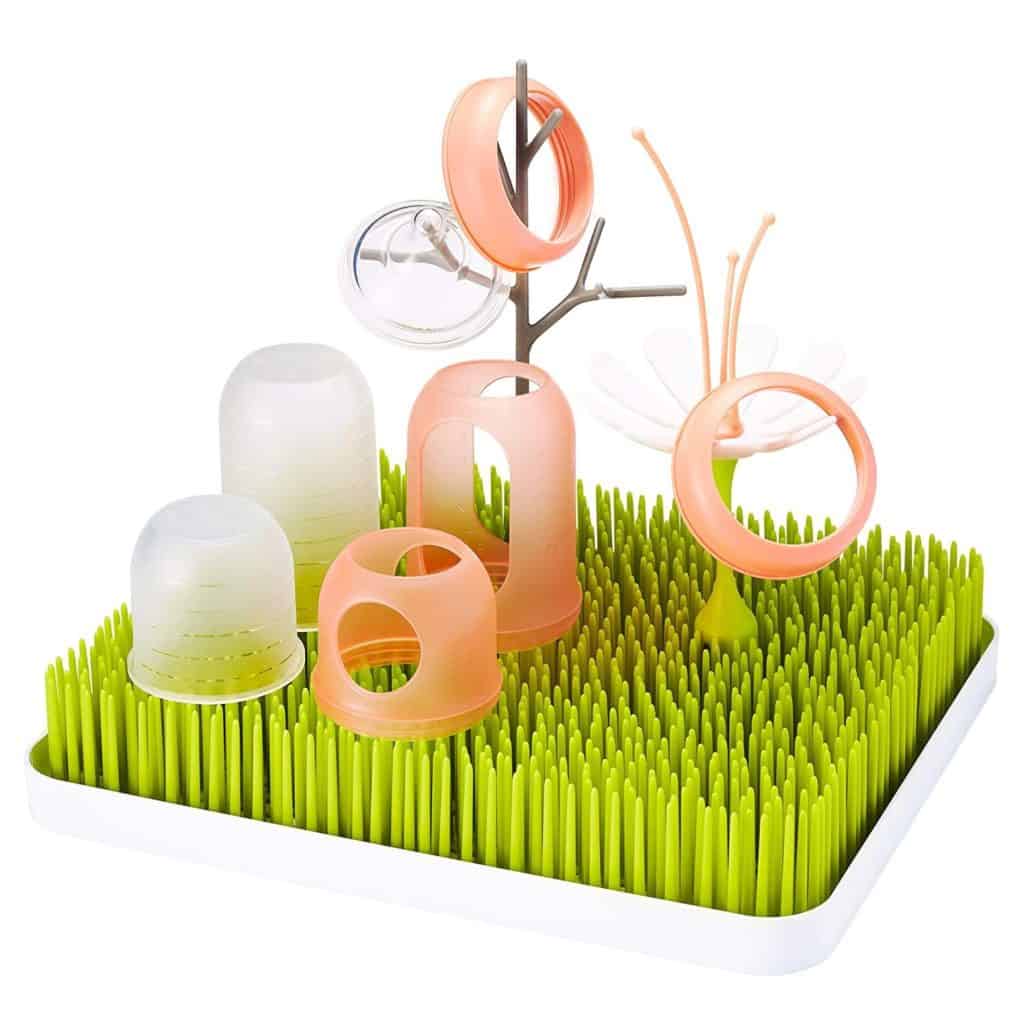 As a new parent, you should be prepared to find yourself amused by the number of bottles you'll be feeding, washing, sterilizing, and drying day-in-day-out for your little baby. The best baby bottle drying rack, in such a scenario, maybe a rather utile addition to your kitchen.
A baby bottle drying rack is often argued to be non-essential for the fact that women, for the longest time, have raised babies even without it. However, if you look at it that way, the generations before lived for the longest time without cell phones too, should we have to hence stop buying cellphones- definitely not! A bottle drying rack can be a good addition to your kitchen as it not only organizes baby bottles neatly in one place but also helps dry up bottles much faster, further preventing the growth of mildew and germs.
5 Best bottle drying racks
1. Philips Avent Baby Bottle Drying Rack: Best Baby Bottle Drying Rack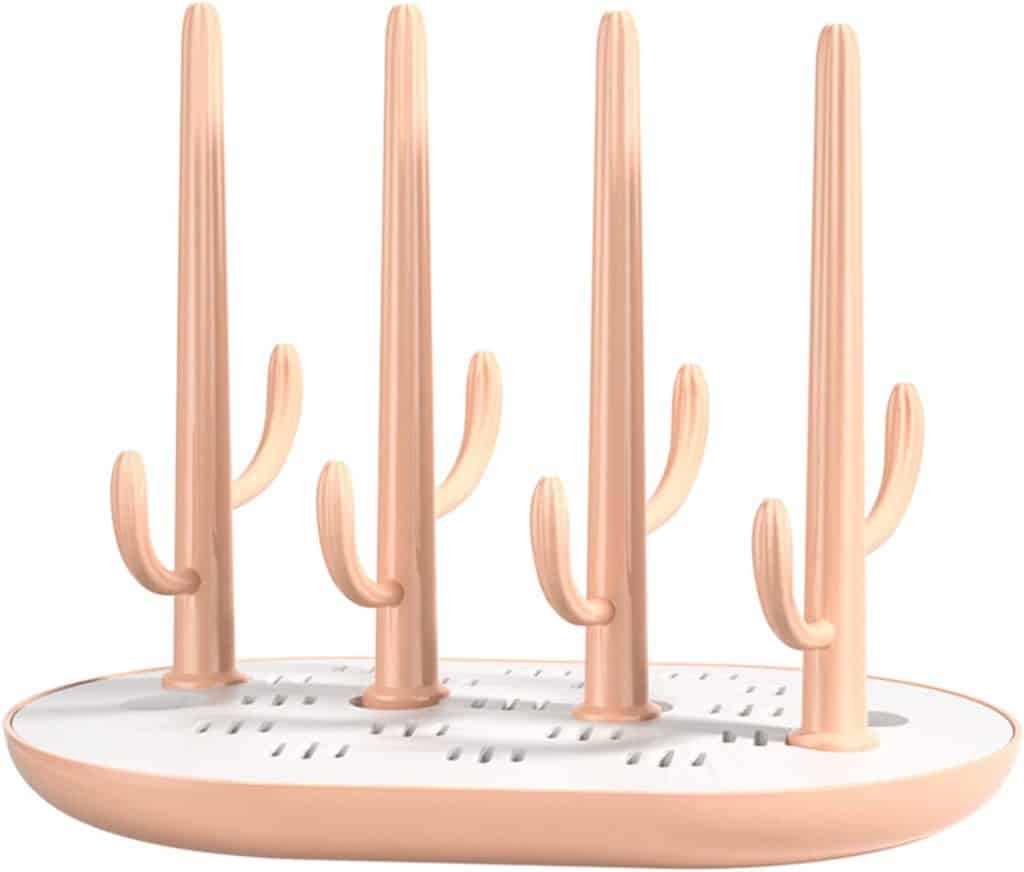 With a capacity of holding up to 8 glass or plastic bottles along with bottle accessories, the Philips Avent drying rack may not be the biggest on the market but it sure is one of the most functional bottle drying racks. Ideal for smaller kitchen spaces, this compact bottle drying rack does its job in just a couple of hours and also comes with a detachable drip tray so you can conveniently trash the water that drips off the bottles. Perhaps the best bottle rack for moms who like to buy a mix of glass and plastic bottles for their toddlers.
Pros-
Economical, won't burn a hole in the pocket
Compact and ideal for smaller kitchen spaces
Easy to assemble
Cons-
Not dishwasher safe.
Some reviews state that you may have to deal with a little water on the counter with this rack
2. Dr. Brown's Universal Drying Rack: Best Baby Bottle Drying Rack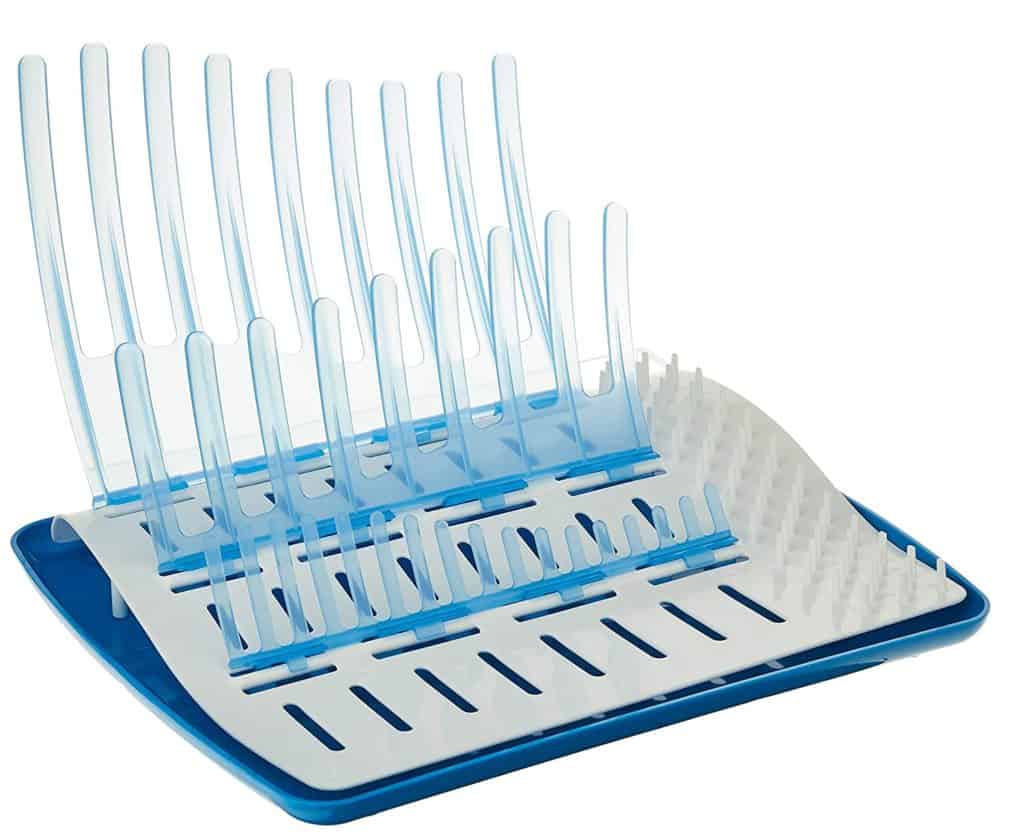 An ideal rack for mommies who like to exclusively buy Dr. Brown bottles, look no further- this is the rack for you! Exclusively made to dry Dr. Brown bottles and components, this two-tier universal design plastic drying rack accommodates all Dr. Brown bottles. This means you can either dry up to twelve standard bottles or eight wide-neck Dr. Brown bottles. Besides, this rack also offers some customization as you can either use two trays at once on high bottle load days or just one tray to save space on a less bottle load day. This top-shelf dishwasher safe rack can further either drain directly into the sink or you can collect water to drain.
Pros:
Dries bottles as well as accessories
Top-shelf dishwasher safe
Dual drainage option
Cons:
Items on the second tier may take longer to dry owing to the water drippage from the tier on top
Water may pain to an extent
Does not accommodate any non-Dr. Brown bottles.
3. Prince Lionheart Deluxe Drying Station: Best Baby Bottle Drying Rack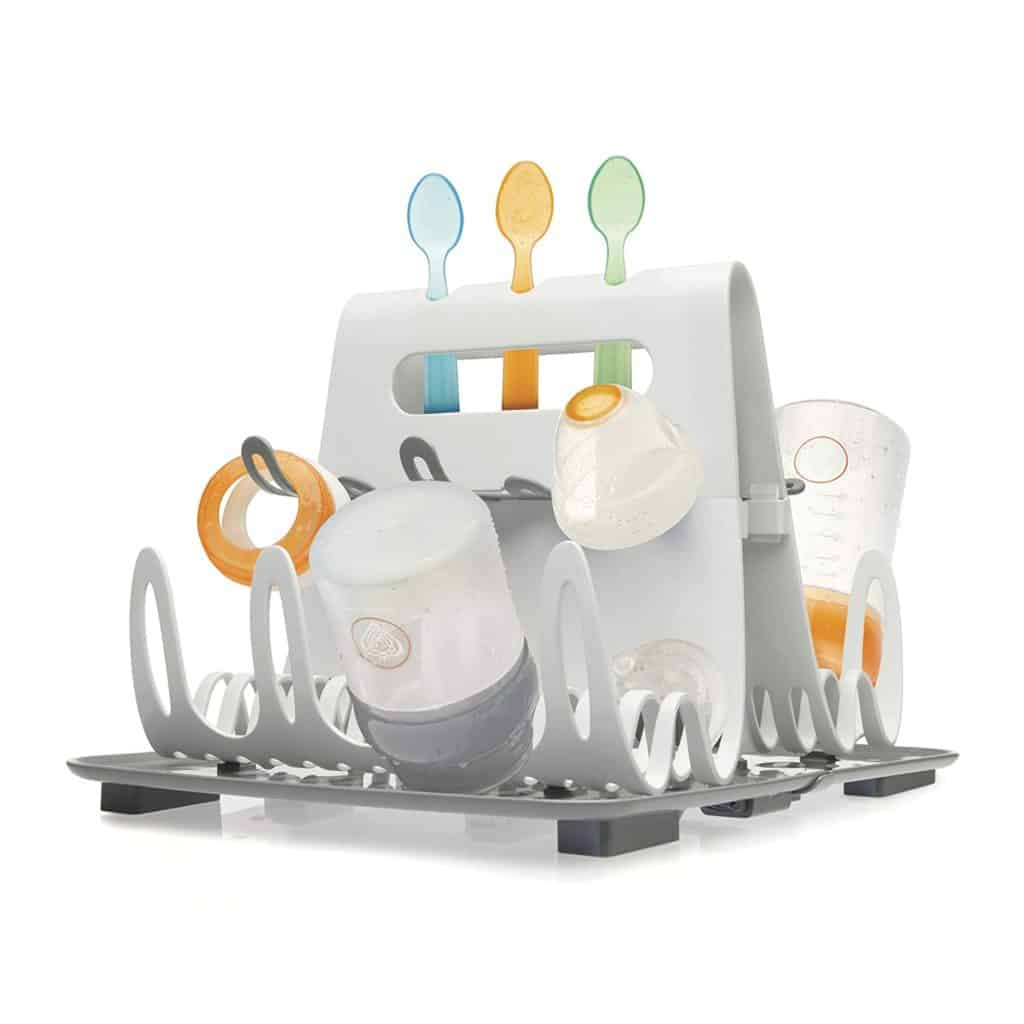 This multi-use rack can hold a little bit of every baby utensil or kitchen accessory, the Prince Lionheart Deluxe Drying Station takes the whole bottle drying game to another level with this rack! With three top grate holes, ten small hooks, and eight large hooks, this rack does not only stores and driers up to 16 baby bottles but can also conveniently store sippy cups, feeding accessories, and teething toys! Latex, phthalate, PVC, lead, and BPA-free, this rack is also very easy to store when not in use while the tray underneath catches all the water when in use.
Pros:
Easy to store
Very affordable for the kind of utility it offers
Can hold as many as 16 baby bottles
Can hold so many items as well as small or large accessories and not just baby bottles
Cons:
It may be a little difficult to wash
The design may feel cramped and may make it difficult to access all of the hooks conveniently
4. Munchkin High Capacity Drying Rack: Best Baby Bottle Drying Rack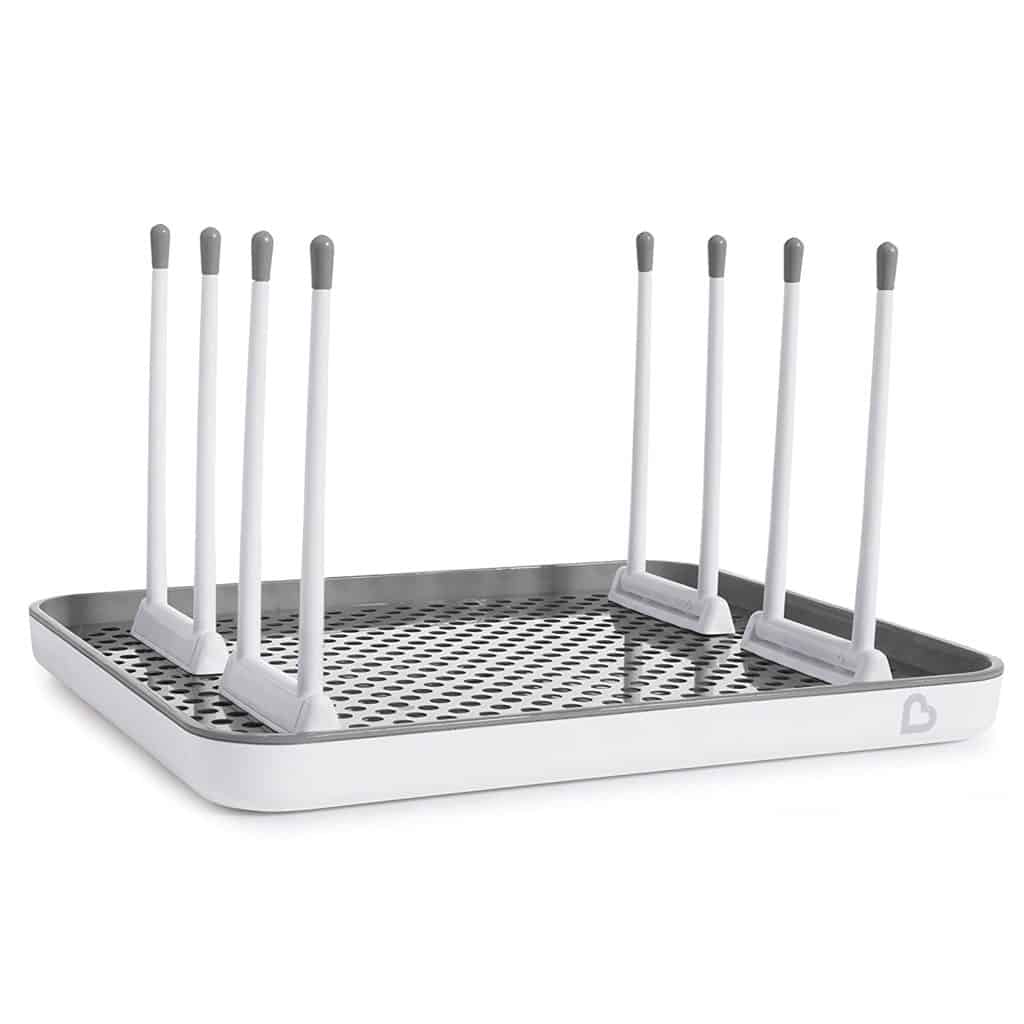 The stand-out feature of the Munchkin high capacity drying rack is the fact that it keeps your kitchen counter neat, organized, and clutter-free. Made in a 2-tier design, this plastic rack features rotating trays for 360° access. With a capacity of drying 16 bottles at since, this rack is also height-adjustable in nature, making it so easy to accommodate bottles and cups of varied sizes. It can fit 16 bottles at a time.
Pros
Clutter-free, height-adjustable, space-saving design
Can easily accommodate not only 16 bottles but also valves, straws, nipples, pump accessories, and pacifiers
Easy to clean with soap and water
Its pegs can be folded down when not in use for easy storage
The removable drip tray makes it easy to collect the drained water
Cons
The draining tray is often reviewed to be a little too small
5. OXO Tot On-the-Go Drying Rack with Bottle Brush: Best Baby Bottle Drying Rack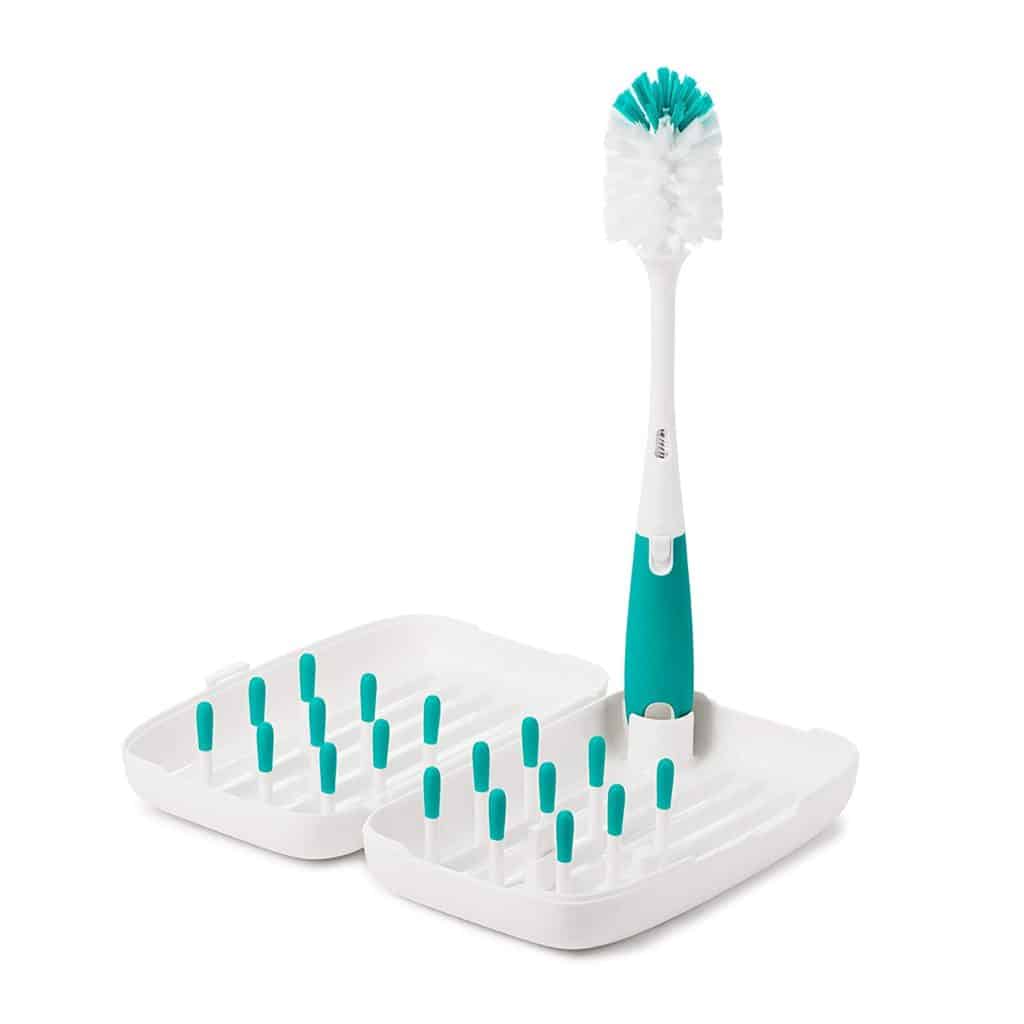 For parents with a touch of wanderlust within them, the OXO Tot On-the-Go Drying Rack with Bottle Brush should be the end of the quest for the best bottle drying racks when away from home! This compact rack comes included with a silicone detail bottle cleaning brush and a stand that fits perfectly within the rack itself. The OXO tot space-saving rack accommodates dry sippy cups, bottles, breast pump parts, and miscellaneous bottle accessories on the go. Lined with flexible tines inside the rack, it also allows for the raising up of nipples, bottles, and accessories for proper ventilation and efficient drying.
Pros:
Affordable, portable, travel-friendly bottle drying rack
Compact in size
Top-shelf dishwasher safe
Wicks away water to facilitate quick drying
Includes a bottle brush and holder included
Cons:
Low-capacity drying rack
The prongs of the rack do not support large bottles; ideal only for smaller bottles
How to pick the best baby bottle drying rack
The best bottle drying rack for each family would be different, owing to the fact that all families have different needs, to begin with. However, if you are looking for guidelines on how to pick the best baby bottle drying rack, you could look for the following factors-
Not all kitchens and counter spaces are of one size and so, look for a rack that fits your space without taking up too much room and space. If your kitchen is rather small in size, a multi-tiered rack may be a good idea
Some racks with too many sections and hooks can be a pain to clean. Look for a rack that is dishwasher safe or at least easy to clean with hands.
You can get your hand on multiple cheap racks in the market but it is recommended to always go for quality and durability instead of buying a cheap rack that needs replacement within months.
While some racks only hold bottles, some can very well hold nipples, pacifiers, and other accessories. A big multi-option rack v/s a simple only-bottle holder small rack is your decision to make based on your subjective needs.
Glass bottle holder v/s plastic bottle holder v/s multi-bottle holder:
While some racks only accommodate either plastic bottle or glass bottles, multiple racks like the Philips Avent rack at number 1 on this list can hold both kinds. Looking for a multi-option rack may be a good idea.
A spin rack makes it easier to reach out for items but again, this is your decision to make.
Out on some baby bottle shopping? Do not forget to check out our hand-crafted list of best baby bottles, best bottle warmers, and best bottle sterilizers while you're at it!
Best Bottle Drying Racks FAQs
1) Why do you need a bottle drying rack?
Buying a bottle drying rack or not is a personal choice for most parents. Bottle drying racks help dry bottles and keep them off of counter germs and bacteria. Some high-end racks also let you dry bottles and other baby gear separately. It definitely is not a necessity and something you cannot live without but it sure is a good-to-have luxury if one can afford it.
2) How do you clean a bottle drying rack?
Most bottle racks can be easily cleaned or washed with normal soap and water. Some racks may also facilitate top-rack dishwasher cleaning.
3) Do you need a bottle drying rack if you have a sterilizer?
Some parents do choose to use a bottle drying rack after sterilization for thorough drying of the bottles. While this process can be time-consuming, it is a personal choice to make. If you do happen to buy a bottle drying rack to dry sterilized bottles, it needs to be ensured that you occasionally sterilize and clean the rack as well.