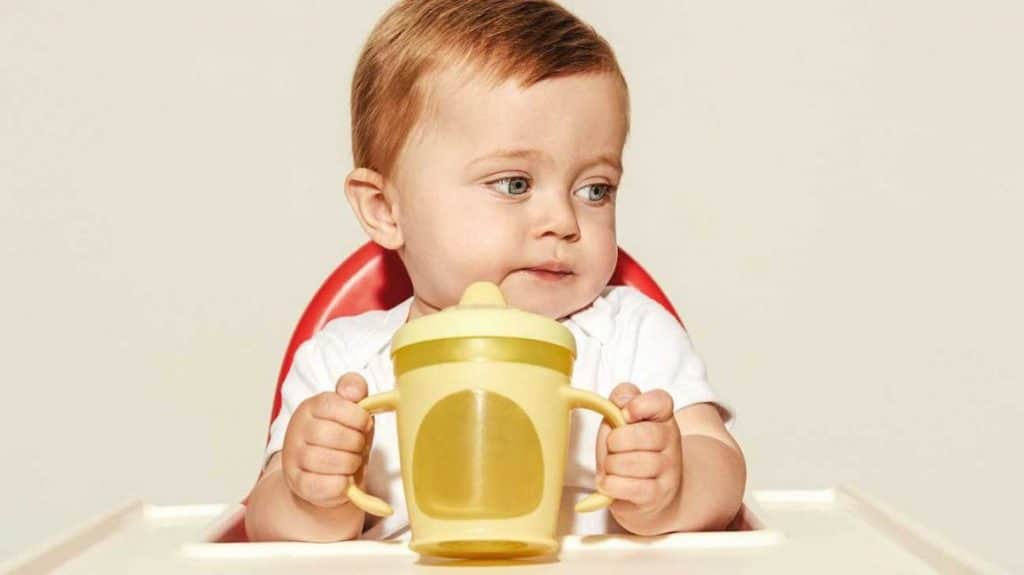 Sippy cups are a kid's favourite possession. They would want every liquid to be served in their little cups, be it milk, water, juice or even medicines! However, unlike the olden days when most Sippy cups would be a basic white structure, tens of designs and structures of Sippy cups have now taken over the market. Given the confusion on and around Sippy Cups, this article helps you with the names of the best sippy cups that are the best products.
Top 15 Best Sippy Cups To Choose From in 2022
1. Munchkin Miracle 360 Trainer Cup - Best Sippy Cup
This trainer cup is a BPA-free 2-pack toddler cup that comes along with a dentist-recommended spout less design that forgoes the use of a straw. It eliminates spills as it automatically seals as the child doesn't use it or while drinking from anywhere around the rim. Just like any other regular cup, it activates the flow of liquid with the help of supporting the normal muscle development in your child's mouth.
It also has handles that are easy to hold long with extra valves or added parts that make it even easier to clean. The cup holds up to 7 ounces of liquid and comes in two colour combinations. It can be used for children starting from age six months and above. A note of caution: the cup's functioning takes some kids a little longer to learn while the kids who make the transition have an easy time switching to open cups.
Always be sure to inspect the silicone ring on the top of the cup. It can be removed and cleaned periodically to ensure no mold.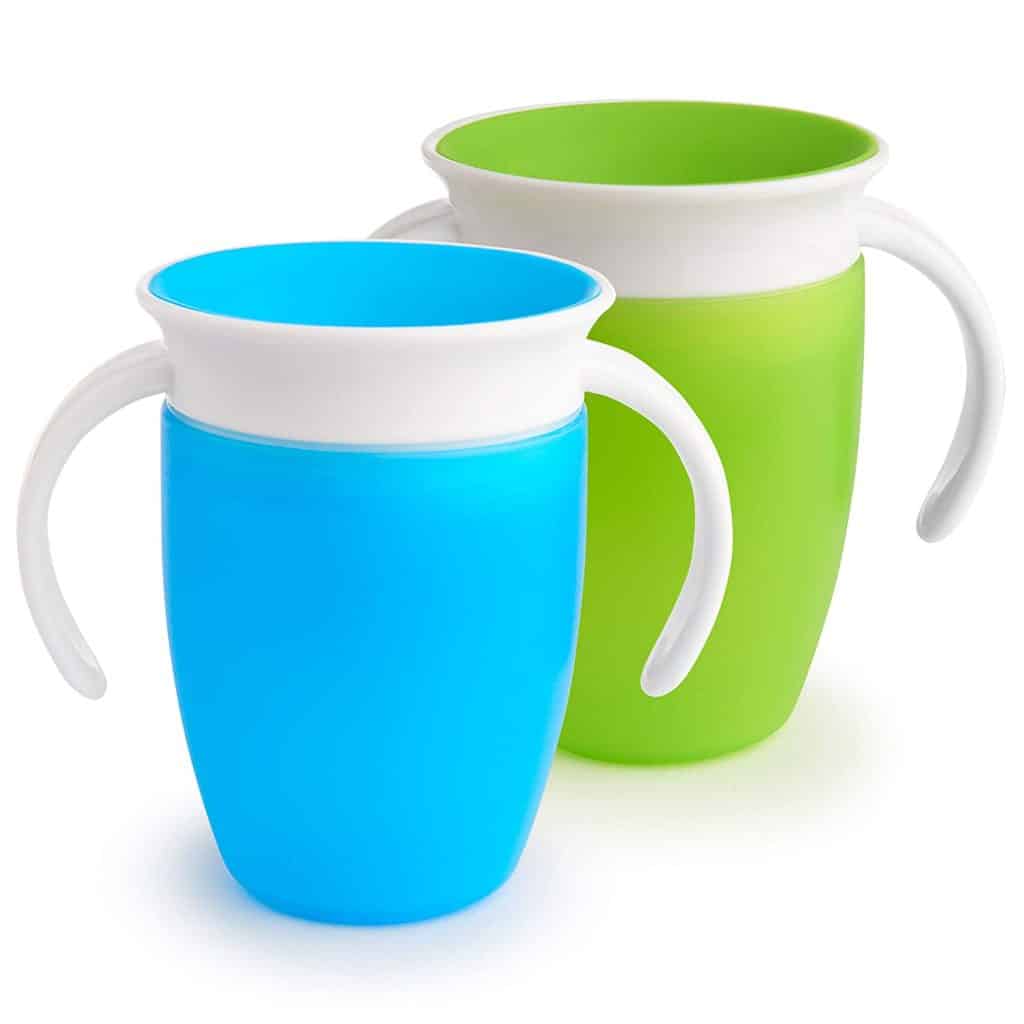 2. Take & Toss Spill-Proof Sippy Cups - Best Sippy Cup
A budget cup doesn't mean you don't count it to contain your kid's spills. The Sippy Cup holds up to 10 ounces of liquid and comes in a pack of four with bright and vibrant colours. It is durable to use over and over.
The Snap-On, valve-free lips are easy to clean and comes with a bonus travel cap making transport a breeze and are also interchangeable with most Take & Toss products helping you not to spend time hunting around for the right tops to the right cups. Recommended for kids of nine months of age and older.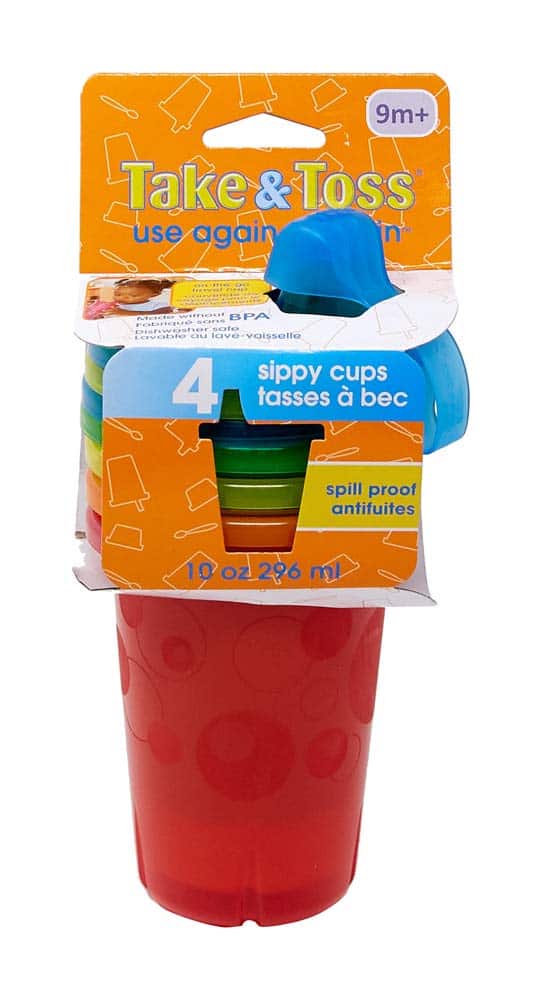 3. Gerber Graduates Fun Grips with Hard Spout Sippy Cup - Best Sippy Cup
The cup has an hourglass shape that helps prevent tipping and contains grooves that makes it easy for tiny hands. The spout is bite resistant that keeps kids from ruining the cup and provides a 100% leak-proof, spill-proof, break-proof experience. You also have a spot to personalize the cup with the name of the child and is dishwasher safe and BPA free. The cup is packaged in two best to use for kids ages 12 months and older.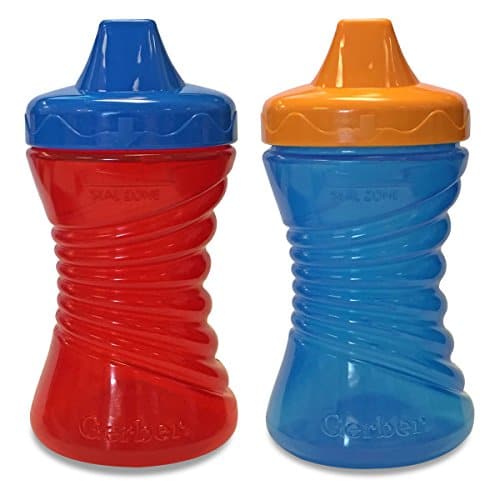 4. Baby and Toddler. Ola baby Silicone Training Cup - Best Sippy Cup
Babies of 9 months of age and up can transition from the bottle to cup with an Ola baby open training cup. It is made of soft silicone that won't damage the baby's teeth or gums. It also has a wide weighted base that adds stability reducing the chances of spilling.
The cup is made of non-toxic, durable, food-grade silicone and is easy to clean and microwave, dishwasher, and freezer and can withstand heat up to 220 degrees Celsius, packaged in two colours.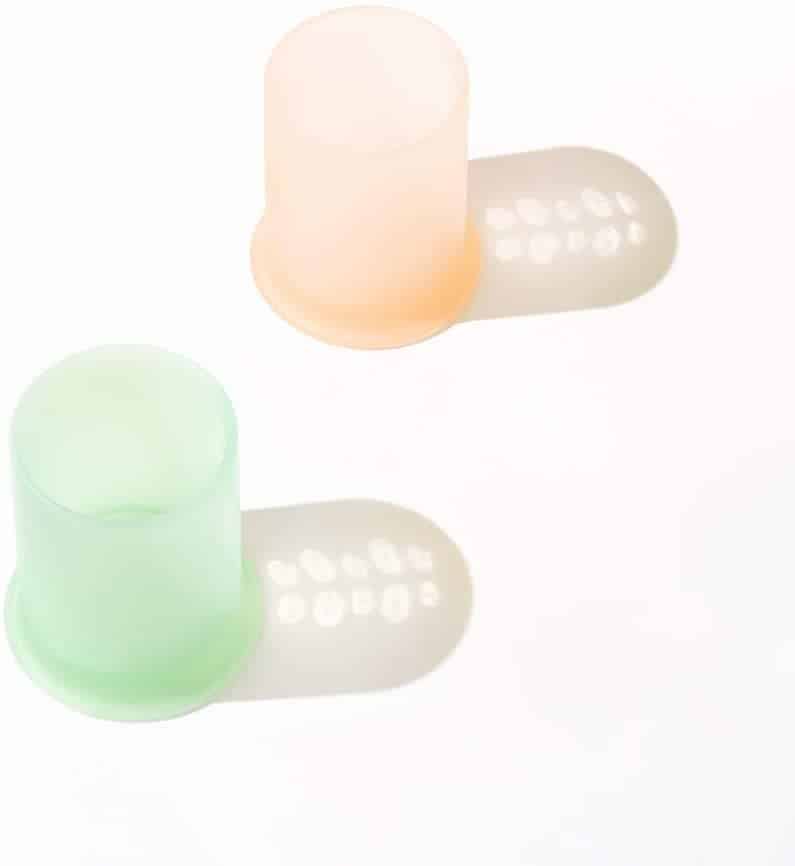 5. NUK Silicone Spout Active Cup - Best Sippy Cup
The Active Cup is designed for an easy bottle to cup transition as it mimics a bottle and has a hard spout. The spout is designed to be gentle on the kid's sensitive gums, and its leak and spill-proof.
It also comes with a convenient clip for carrying up to 10-ounces of liquid and is best suited for children from 12 months and up.

6. Munchkin Miracle Stainless Steel 360 Sippy Cup - Best Sippy Cup
The cups base is made of stainless steel and the top of silicone that is not in constant contact with the liquid that helps keep the milk, juice, or water cool. The cup acts like a vacuum as the kid places his lips around the edge that gives them a slow and steady stream of liquid.
The lid helps prevent spills in diaper bags and you'll have to be sure to remove the silicone ring around the lid apart for a deep clean.
7. Philips Avent My Bendy Straw Cup - Best Sippy Cup
If a child prefers using a product with a straw this is the best pick. It comes in different colours with packs of two and can hold up to 10 ounces of liquid. The straw cup comes along with a 100% leak-proof, money-back guarantee.
They are BPA-free and dishwasher safe with a contoured shape and an anti-slip texture grip that makes it easy to hold. The bent-straw allows a natural drinking position and the flip-top even closes preventing leaks. It is suitable for kids up to 12 months and older. A note of caution: straw cups can be hard to clean if milk is used so make sure to clean every nook and cranny.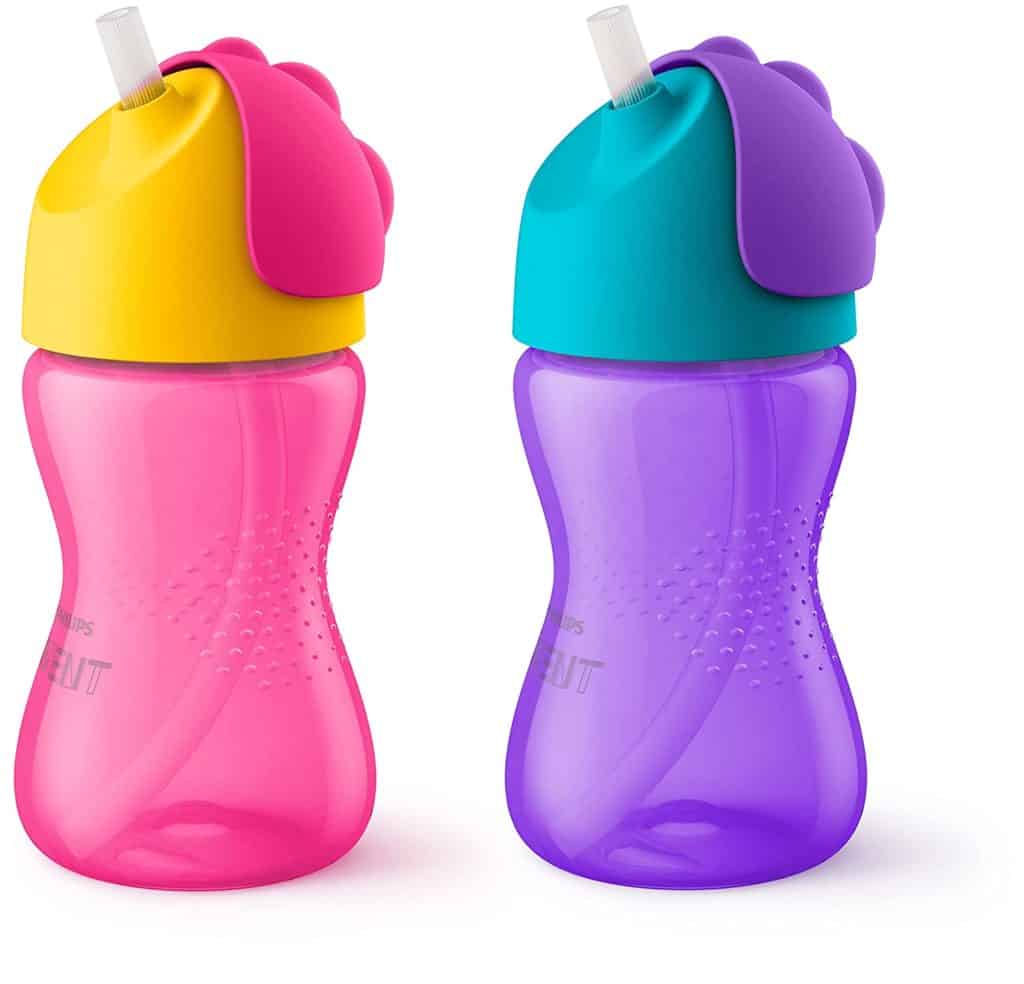 8. Camelbak eddy Kids 12 Oz water bottle - Best Sippy Cup
This cup is suitable for an active toddler, a 12 oz. water bottle may be the thing they need to stay perfectly hydrated. It has more than 20 style options and is bound to be something to pique the interest of any child.
The product is combined with a stem tube and has a shut-off valve that detaches in a one-piece component for easy cleaning. It is stain-resistant and taste-free with a 100% BPA, BPS, and BPF free size perfectly for little hands to carry.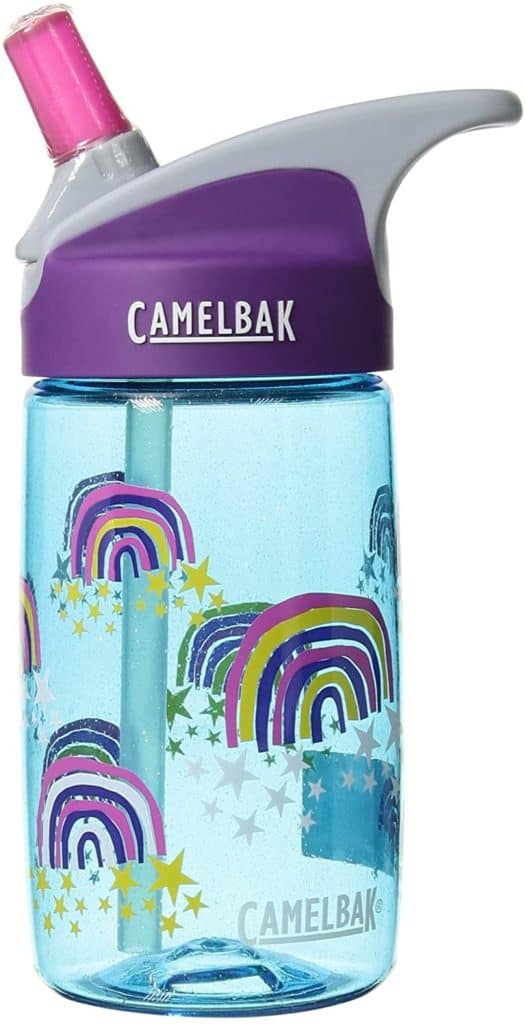 9. Nuby No-Spill Spout Grip N'Sip - Best Sippy Cup
Nuby No-Spill sippy cup offers a plastic construction that is BPA-free, is available in different bright colors, and can hold up to 8 ounces of liquid.
It features as the best affordable option in the market has gathered the top customer reviews, easy to clean, leak-free, and is a durable option to choose from.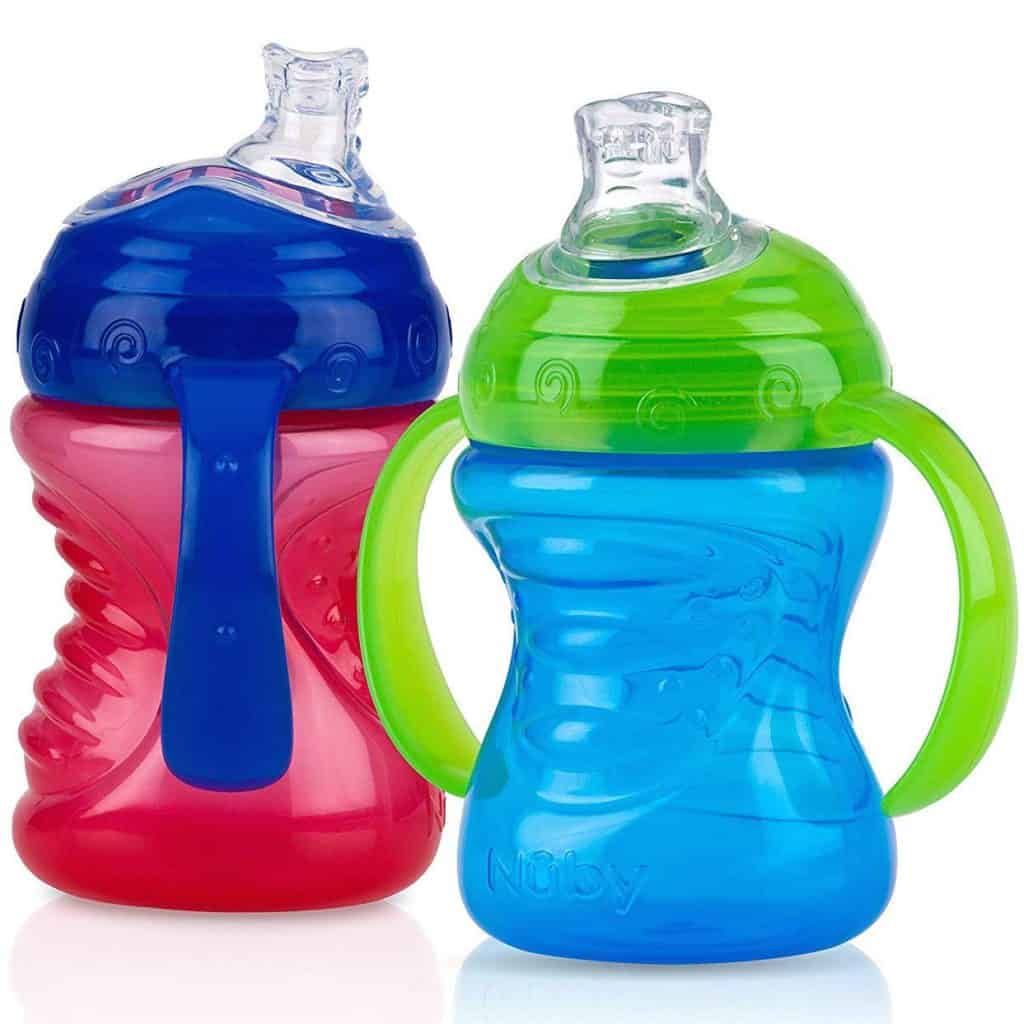 10. DOIDY Sippy Cup - Best Sippy Cup
This sippy cup for kids may look a little unusual, but is the best cup featuring an open-top cup that can be used best under supervision, has a slanted shape, and is made from food-safe material.
Adding on, it is free from BPA, high-density (HD) polyethylene, helps teach the kids to drink from a rim, and is super easy to clean.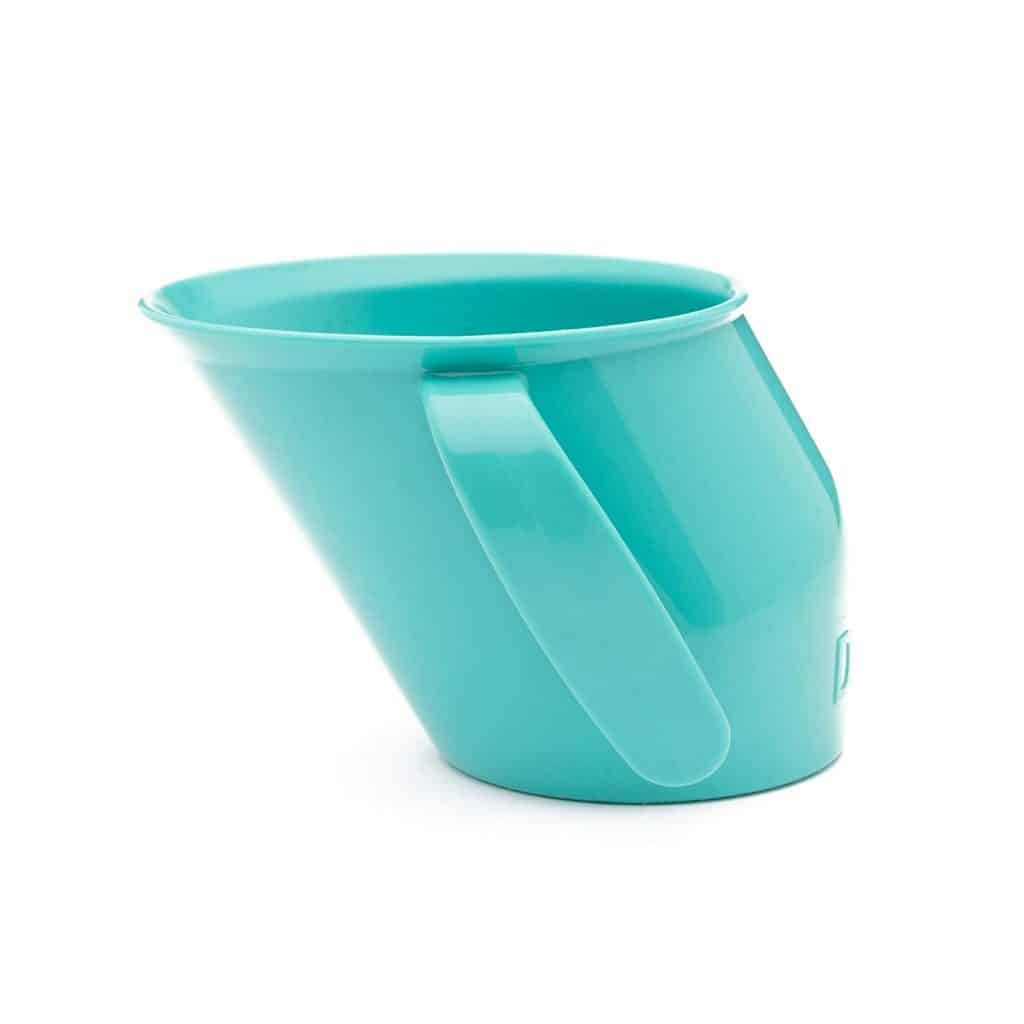 11. ZoLi BOT Straw Cup - Best Sippy Cup
ZoLi BOT straw cup is best used by babies of 9 months old. It features a weighted straw, is BPA-free, and can be washed manually or in a dishwasher too.
The straws of this sippy cup can be replaced, is simple to assemble, easily handled by kids, and is available in a wide variety of options in the market.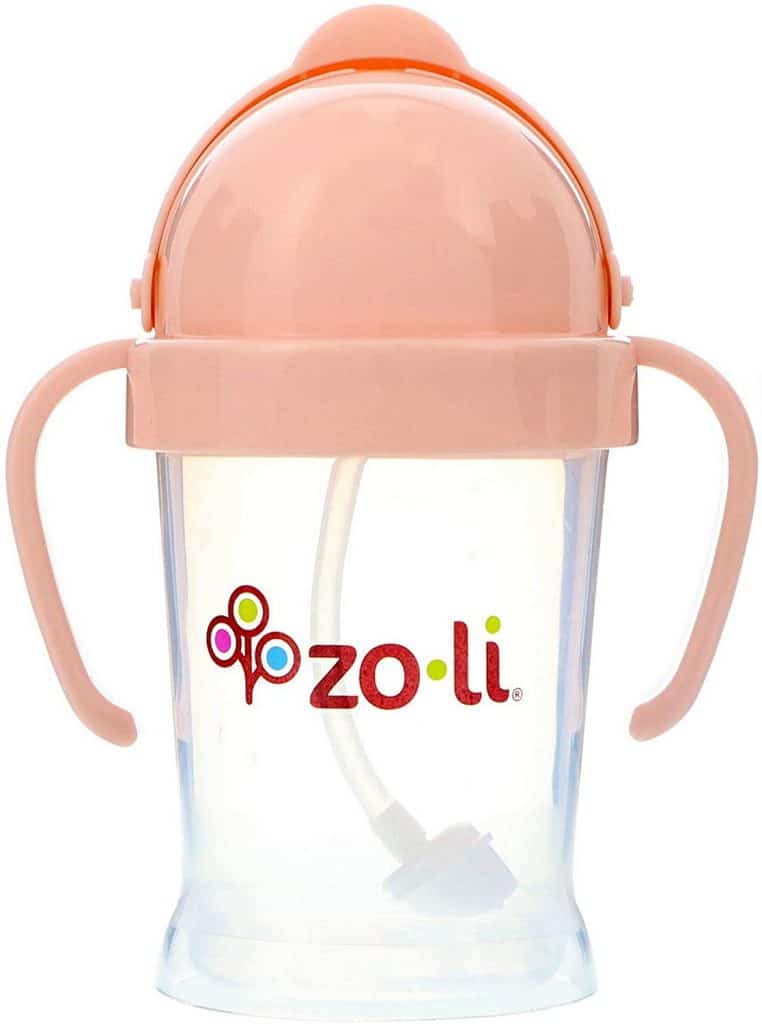 12. Nuby No-Spill Cup - Best Sippy Cup
This Flex Straw Cup is the most popular choice for toddlers, especially amongst those who prefer to drink from straws. They are made from silicone, have a built-in valve that prevents spills and leaks, and are sturdy in make.
It features a contoured design, has an easy-grip, is made from BPA-free plastic, and the straw requires a "squeeze and suck" action to drink from.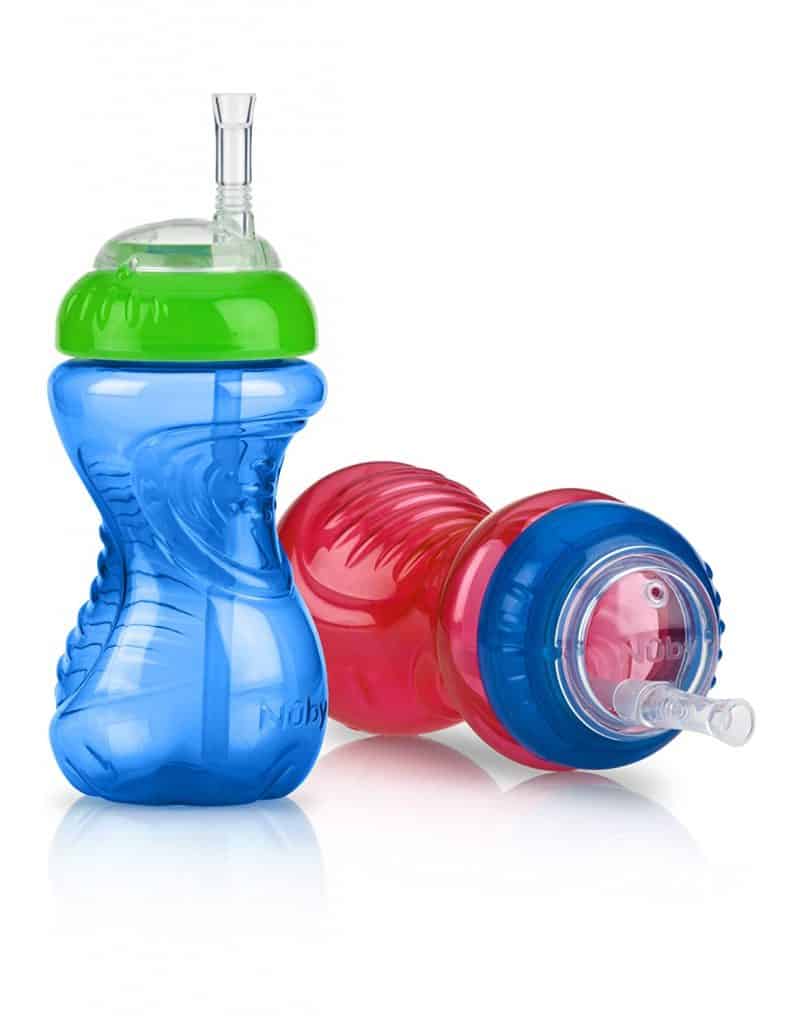 13. The First Years Sippy Cups - Best Sippy Cup
This is a super affordable pick from all the others on the list and is widely available in different color options.
They feature to be BPA-free, have a value-free design, spill-proof interchangeable lids, are affordable, and are easy to clean.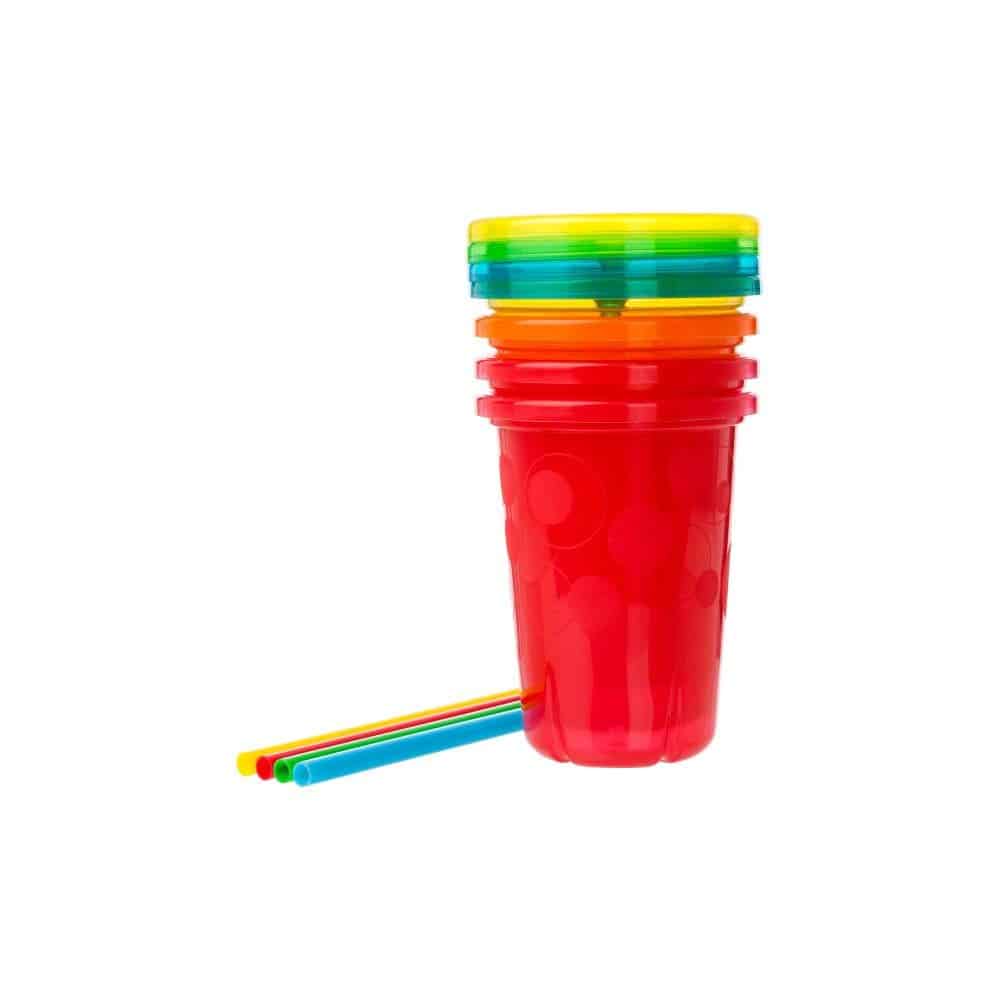 14. Reflo Smart Cup - Best Sippy Cup
This Reflo Smart Sippy Cups for kids is an award-winning pick with an open-top that is made of the best size to fit the little hands.
It features a special clear "lid," it is USA-made, prevents choking, and has a displaceable lid.
15. Zak! Designs Toddlerific Flo Cup - Best Sippy Cup
This sippy cup can be used by babies of 9 months old and is BPA-free. It features a spout lid, has adjustable flow for up to 9 ounces of liquid, and has a double wall.
It is dishwasher friendly, is insulated, easy-to-clean, spill-free, and comes in a variety of options to choose from.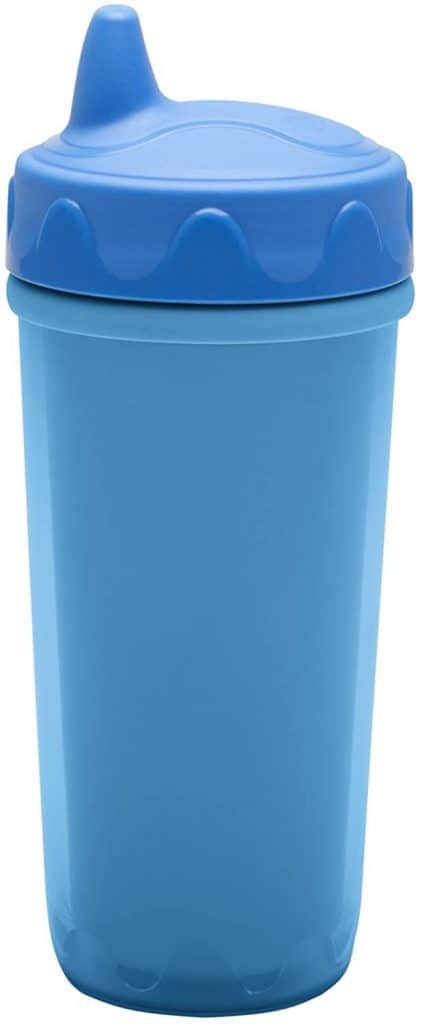 That's all parents! These were our top 15 picks for the best sippy cup for infants. They can now use their best sippy cup for milk, juice, smoothie, etc. While you are purchasing the best picks for your little one, you might as well look for other accessories to style the little one from head to toe too! Here are the two classy things we have in mind for the kids, the best watches for kids and the best baby sunglasses.
Best Sippy Cups Final Conclusion
Sipper cups are extremely important for a child's growth which makes it important for a parent to know of the various options available. The list above helps narrow down a few options for you to choose from. Please be careful in selecting and cleaning a sipper cup.
Best Sippy Cups FAQs:
1) Are sippy cups considered to be the better pick compared to the baby bottle?
This comparison between the baby bottles or the baby sippy cups is totally dependent on what the parents and the kid would consider being comfortable in. As far as the best sippy cup for infants is concerned, they come with a lid. This means the parents do not need to worry about messy spills that the little one could create.Also, you now also need not worry if the kid tents to carry their cute and adorable sippy cups while they are learning to balance. Adding on, the sippy cup also provides a good transition to the regular cups, giving them more control and grasp.
2) Can toddlers drink from their best straw sippy cup? Are they old enough to do so
It all boils down to what kind of a cup is in question. But generally speaking, the toddlers are grown enough to drink from their best straw sippy cup as they prefer to switch from a spouted cup to a spoutless or straw.This is because the transition is much easier to master at that age. However, if you still aren't quite sure, try to assist them in the initial times and try to observe whether they can handle the straw and also suck the drink without getting choked. And, if they don't you're good to go, otherwise, we recommend waiting for some more time.
3) How long can a sippy cup be used? Is it durable enough?
Sippy cups are generally considered to be quite durable in nature, however, it does depend on how often you use them. That means, if you are using these cups once in a while they might last longer, but, if they are used regularly, they must be replaced each month or within two.Also, as we know these notorious and curious kids are at times too hard on them and might just end up with a scratch or a crack here and there. So, the golden rule is, if, in a good position, you might as well have earned yourself a durable fortune.