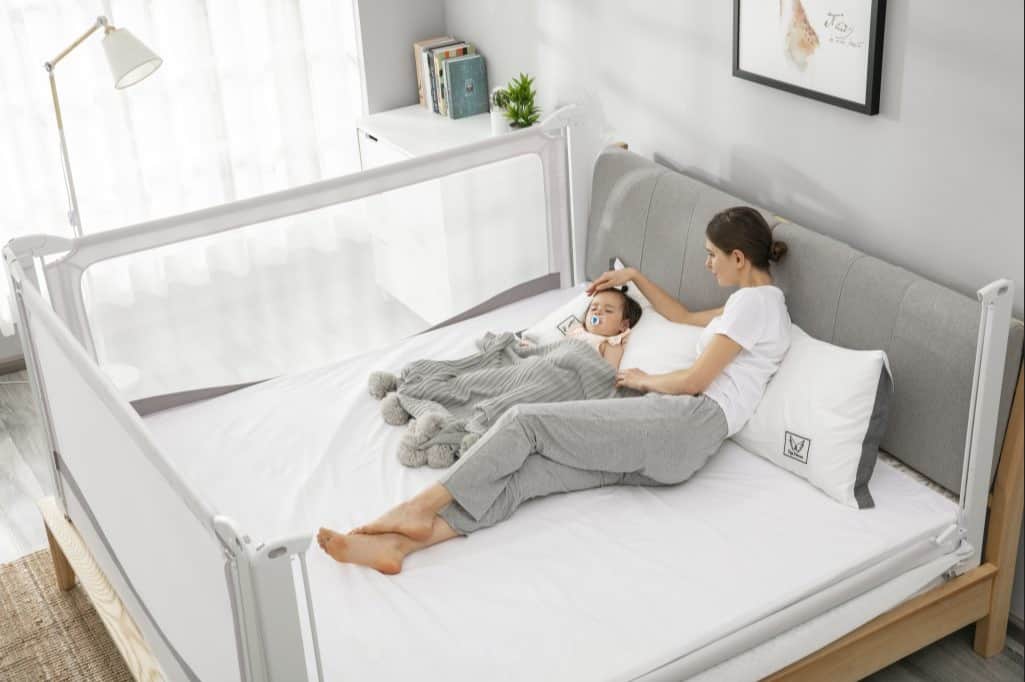 Naturally, babies get worked up during their initial years in sleeping, eating, and walking. But it is of utmost importance that babies get good sleep during the first few years of their growth as sleep is vital to their overall development.
Regardless of whether or not your loved one sleeps peacefully, you as a parent will always be concerned about something interrupting your baby's sleep. And this naturally puts you in a state of sleeplessness.
The need to care for your child and peaceful sleep for yourself is no longer a dream as we are going to present to you the best bedrails for baby that will ensure safe and pleasant sleep for both the baby and the parent.
These bedrails and bumpers also serve in developing independence in the sleeping habits of your baby from a very young age.
Your worst nightmare is that your baby falls off the bed the day after you transferred them from their crib, and unnecessary if you have a toddler bed rail or a bumper.
We've looked at bumpers and bed rails for kids from our perspective, but what about the babies? Some babies may find it challenging to transition from their comfy and compact crib to an infinite space called a bed. The transfer may cause fear, and being in a deep sleep might cause them to fall out of bed. A bed rail for a toddler bed or a bumper will help compress this vast area into a comfy little sleeping space that provides confidence in the baby. Then, you can slowly adjust your baby to their bed, but until then, you are better off with a toddler bed rail or a bumper to ensure their safety.
Has your little one been very active, jumping from room to another, and is all over the place of late? Make sure that your little one stays safe, do not forget to check the best baby stairs here!
Types of Toddler Bed Rails
Before we head to discussing the best toddler bed rails, let us quickly discuss and explore the types of bed rails available in the market to help you make a more informed decision for your kid.
Here are the three types of toddler bed rails available on the market and the difference between them-
Swing down toddler rail
Fixed toddler bed rail
Toddler bed bumpers
Swing down toddler rails is the kind of toddler bed rails that stay upright during the night, ensuring your little one does not fall off the bed when not under supervision.
When not in use during the day, they further can be just folded down to free up space and to avoid any unsolicited injuries.
Fixed toddler bed rails are the kind of toddler bed rails that, as the name suggests, cannot be deconstructed and stay put even when not in use.
Most fixed rails offer some gap at the top or bottom to facilitate a child's movement and are liked by some parents since they require fewer tools and are easier to install.
However, one downside, they might not be very pleasing or aesthetic to look at.
A bumper toddler rail is portable and, hence, ideal for parents who are looking for a baby sleep solution during traveling and on the go. Bumper bed rails require no installation; you need to position them underneath a fitted sheet, ensure that the sheet holds it in place, and you are good to go!
Now that the base is established, let us dive into our top 10 best bumpers and toddler bed rails for kids without further ado!
10 best bedrails for baby
1: ComfyBumpy Bed Rails for Toddlers→
This is a product that "fits all." With the option to use this as a king's twin, double, and queen's bed, the versatility no longer requires more explanation.
It is again suitable for all types of beds as well. It is undoubtedly the safest and most user-friendly choice you can have!
This toddler bed rail comes with a velcro that connects to the slat base. Besides this, an adjustable strap potentially increases the lifespan and usability of this toddler bed rail. You can secure this bed rail with sturdy screws without making much of a mess.
Pros:
A sleek design and easy fold-down.
Comes with 5-minute video instructions on installation.
Flat metal bars that are very comfy.
Made out of quality mesh and metal.
Cons:
Very pricy for the quality offered

Some parents may need an additional hand in installation.
2: Hiccapop Foam Bed Bumpers for Toddlers→
If you are looking for something not a burden on your budget, this is your choice. Besides being affordable, this bumper is simple, safe and very comfy. This bumper is the best alternative you can have fo the expensive metal bedrails.
If you have doubts because this bumper is so cheap, you can relax because this bumper is the brainchild of people at Stanford University and hence the patent is offered so that it is cost-friendly to all.
Installation is not at all a problem and can be done within minutes.
This bumper triples as a twin side protection, single side protection, or stationary body pillow.
Pros:
More comfy and better safety.
The design is largely inspired by passive safety protection.
Only made out of baby-friendly materials by avoiding TDCPP, PBDEs, TCEP, mercury, and lead.
This water-resistant bumper is a jackpot when it comes to being a worthy product for its investment.
Cons:
Comes with a limited warranty.
3: Regalo Swing Down 54-Inch Extra Long Bed Rail Guard→
Being a 54″ long and 20″ high all-steel toddler bed rail, this product is comfortable and offers decent safety for your baby in their sleep. In addition, the product is straightforward to install.
Pros:
Very user friendly because of the swing-down feature which allows you to enter the bed effortlessly.
The extra length provides added peace of mind.
Easy installation and no tools needed.
Cons:
It does not fit all beds.

Not that sturdy.
4: Milliard Bed Bumper (1 Pack) Foam Safety Rail Guard→
If you are in the market for feature-rich products, this toddler bed rail is a good fit for your attention. This product is the market leader in its category.
The sleek design will let you not compromise on looks, and your child will love this product, courtesy of its fit and finish.
The maintenance of this bumper is carefree as it is washable, and hygiene is guaranteed. This bumper comes in handy when the child is making their first transition from crib to bed.
This product offers comfort, safety, and a sense of security at a level unrivaled
Pros:
Compatible with a wide range of bed sizes.
A non-slip bottom is included for the child's safety.
The soft and comfy bamboo cover is washable.
Portable as this product is very lightweight.
Cons:
Quite pricey for the quality on offer.
5: Summer Double Safety Bedrail, Grey:
If your baby is transitioning from crib to bed soon, this is an ideal choice for you. This product has the perfect size, great design, easy usability, and better-secured installation one would expect from a product in this range.
It comes in a sleek design and a high-performance bed that ensures your baby's sound sleep.
Maximum safety is on offer, allowing you to focus on your work. In addition, this is an easy-to-install product.
Pros:
Compatible to accommodate a thick mattress.
Twin to queen-size friendly.
Single fold-down accessibility
Hassle-free assembly
6: Regalo Swing Down Double Sided Bed Rail Guard→
If you are in the market for a sturdy product, this Regalo bed rail for kids is an obvious choice. The sturdy build of this toddler bed rail ensures that your baby doesn't fall off during their sleep.
The better stay and the quality of the product make it an ideal choice for a long-term investment for parents expecting babies in the future.
Being able to fit into even the thickest of beds and for the rails to swing down to give easy access to the bed, this Regalo bed rail is user-friendly.
Pros:
The ideal pivot-down toddler bed rail gives the most accessible access to the bed.

This Regalo bed rail is XL for safety and is dual-sided, offering versatility unlike any other.

A 43-inch long pivot point is enough to cover your baby's bed.

You don't need an extra hand or tools to assemble this bed rail for kids.

The anchoring strap offers even more security.
Cons:
This bedrail is quite pricy.
The quality offered cannot be justified for the price demanded.
7: OlarHike Bed Rails Bumpers for Toddlers→
This BPA certified bumper is very versatile and unlike any other mentioned! Being able to inflate and deflate this bumper-cum-bed this is the ideal partner for parents who like to travel and camp with their precious one.
This bumper-cum-bed can be inflated using either a pump or with your mouth.
Such an easy installation and the lack of a cage-like feeling, this bumper-cum-bed is ideal for you and your baby in many ways.
Pros:
High quality and 100% BPA approved.
Easily washable cover with the quality to run the extra mile.
Made out of baby-friendly and high-quality PVC material.
Cons:
Installation by inflating it with the mouth can be tiresome.
Being an inflatable bumper-cum-bed, this product is susceptible for tear damages.
8: KOOLDOO 59 Inches Fold Down Toddlers Safety Bed Rail→
Whether your choice of application is a crib or beds of various sizes, this product is an ideal choice. There is a detailed instructions manual that describes the entire assembly steps.
Being a baby goodie, it is bound to be soiled. But with this product, you can wash and reuse it repeatedly.
This product is sturdy and is less susceptible to getting torn. It is made from a formaldehyde-free fabric. This product ensures 5-star safety and will not allow your baby to fall off during her sleep.
The metal rods that form the frame are covered in foamed cotton and offer maximum comfort. The folding design is a great space saver for your home. All of these make this a worthy investment for a long time.
Pros:
This bedrail offers Soft Portable Toddler Bed and the combo makes up for the ultimate safety package.
This is baby friendly because of the formaldehyde-free make.
At 52-inches long, this bedrail is ideal for a twin size, toddler an even double bed.
Cons:
Frequent use and washes can cause the color to fade.
The foam quality might not impress you much.
9: UBBCARE Memory Foam Toddlers Bed Rails Bumpers→
This bumper is ideal for every family because it is lightweight, non-toxic, good quality, and durable. In addition, with its 52-inch length, this is one of the most comfortable bumpers available.
Pros:
Filled with 420 D foamed balls.
110 gsm density with an anti-skid design allows for maximum safety.
The high density and easy restoration materials used give this product outstanding longevity.
Cons:
These bumpers are washable but the process can be tiresome and less effective.
The overall quality might not impress you.
10: SURPCOS Bed Rails for Toddlers→
It comes with extra-length and unmatched safety features that enable your child to sleep and play freely on the bed .
This bedrail comes standard with single side protection but still you can extend the safety by adding a 3 sided protection with an adjustable base from 0 to 9 inches.
You can also install this bedrail on beds of different sizes.
Pros:
Maximum safety on offer.
Better usage coupled with long life.
Hassle-free operation with easy installation and maintenance.
Assured warranty.
Cons:
Not the most versatile toddler bed rail.
Final Thoughts - Do I need one or two toddler bed rails?
One Rail or Two Rails is a common confusion for some parents because toddler bed rails may be sold as a single rail or as part of two rails.
If you gave your toddler bed in the middle of the room or away from wall support on either side, you would need two toddler bed rails.

However, if you have your toddler's bed supported by a wall on either side and free for movement only on one side, you will only need one toddler bed rail.
Yup, it is as easy as that!
Best Baby Bed Rails and Bumpers FAQs
1. What is the ideal length of a toddler bed rail?
The length of a bed rails plays an essential role in its compatibility with the toddler bed. It is true and known by most parents that toddler beds are usually 52 inches long. However, it is recommended not to assume and instead measure your toddler's bed before going bed rail shopping since some toddler beds might not stand true to the generalized 52-inch number. In addition, the overall length of the toddler bed bumper or rail also depends on the type of rail being purchased. For example, a fixed bed railing will always be shorter than a swing down rail because it does not swing down. Overall height and thickness of the mattress also influence the ideal length of a toddler bed rail.
2. What is the best material for a toddler bed rail?
To help you determine the best material for a toddler bed rail, let us tell you the features of each kind to let you decide what works best in your household-
Metal and wood bed rail frames: More solid and concrete than plastic but much heavier. However, they are both straightforward to clean.
Plastic: Usually not very long-lasting unless made from thick plastic material. Plastic, like wood and metal, is also straightforward to clean.
Fabric bumpers: Fabric and hence, not very easy to clean. Also not solid and concrete; ideal only for travel.
3. How long do toddlers need bed rails?
Typically, toddlers outgrow bed rails and do not need them beyond the age of 5
4. Are bed rails better than crib rails?
Bed rails are better than crib rails, specifically in the case of toddlers, since bed rails are not as high as crib rails. This height facilitates easy movement of the toddler in and out of their bed. Using a crib rail is not advised since the toddler will climb over it, and their chances of getting hurt are very high as falling from the height of a crib rail can be dangerous.