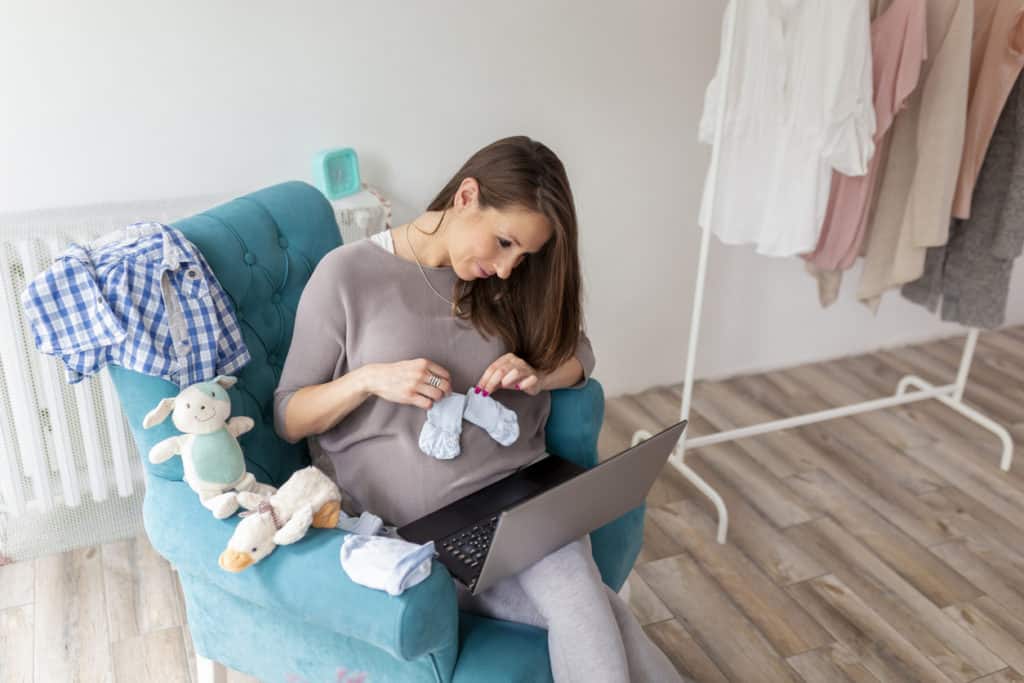 Virtual Baby Shower or Web Baby Shower makes so much more sense. Hence why every prominent website has written articles about WebBabyShower recently. We are updating our lives to live through this pandemic!
What Are Virtual Baby Shower Etiquettes?
After hosting thousands of successful baby showers for happy families around the globe, we are here to help you through this event. If you are hosting any type of shower, you need to know all about the basics etiquettes and how to be a good host. So, let's get started because you've come to the right place!
This article will focus on all the tips you need to know to turn your conventional baby shower into an extravagant virtual baby celebration. This is a special and exciting time in every expecting woman's life, however, the unexpected turn of world events can make them understandably upset. Nevertheless, we're going to help you with all the baby shower ideas you need to hold an amazing virtual event for the soon-to-be mom. Keep on reading to learn more about WebBabyShower's long-distance and online baby shower etiquette suggestions to ensure that everything goes over smoothly!
What Are Some Tips For The Right Virtual Baby Shower Etiquette?
Here are some of our top tips for holding the best virtual party which every expecting mom deserves. If you follow these ideas, you will be able to replicate the real thing as close as possible. One has to keep in mind that there are limitations with any technology. However, if you plan carefully, make the right choices, and do it with a lot of enthusiasm, you will hold a virtual celebration that will make any expecting women feel honored and appreciated!
1. Honor the Mother and Be Genuine
During these difficult times, when everyone can't be physically together and you have a genuine need for a virtual baby shower, we've found that families and friends are thrilled to find an answer. But isn't it unusual? Well, it's not a matter of concern. We are aware that the etiquette police are working in full force during weddings and baby showers, though who would tell a pregnant woman that's on bed rest or who have moved away from home for work or school or on military assignment, that she can't have a shower because she isn't at home! We are here to help women like these every day! We are now living in a socially distancing world, where expecting moms are worried about stepping outside. However, a host needs to be tactful and should not offend her guests and their sensibilities. Your virtual shower should be well thought through, if you've already had a family shower, a girlfriends' shower, and an office shower.
So, you are either getting together for a one-on-one shower experience or online in real-time. Either way, you have to make sure the shower is in honor of the expecting parents, also your guests should feel like they have been invited to something unique and exciting. Well, you can say this about any type of party.
As you are scrolling through social media, it's really easy to get caught in some Instagram envy and you might end up overdoing it. There's no shame in admitting that we all do this! There are times when we are so excited that without even realizing it, we end up overdoing things. Yes, we know that you want everything to be just perfect, from the virtual backgrounds to the baby shower games. Sometimes in our excitement, we overdo it without even realizing it. So let things happen naturally because we would love to hear how everything is going, from your amazing belly and ultrasound photos, or sweet week-by-week pics. Virtual baby showers could take place over months and not days. There's a lot of time to share videos and even do a live event the easy way.
3. Make Sure That Your Baby Shower Is Private And Special
One of the main focuses of WebBabyShower is privacy. This is to ensure that at all times, expecting and adopting parents and their babies are protected, and also to provide an intimate setting for family and friends to gather around the pregnancy.
If your baby shower event page is publicly available for anyone and everyone that's searching for baby shower ideas, then it'll not make your guests feel like they've been invited to something unique (which is a drawback of a Facebook baby shower). We recommend you not use public "events" or public social media tools to sell you ads for your online shower. Even if you don't use WebBabyShower, try to keep it safe and special! Of course, it is easy to share the URL on Facebook, Twitter, etc when you want to.
4. This Is A Celebration, So Give Your Guests Something More To Do (than just sending gifts)
You would probably not invite everyone over to your house and grab the gifts out of their hands and then slam the door in their faces, right? It might seem a bit "tacky" when your guests feel like you're just making a "thinly veiled" demand for gifts. You have to go back to the first point about being genuine, so if one of your guests took time to write baby shower quotes and messages inside the books, read them! Remember to host your virtual baby shower in such a way that your guests feel they are more involved than just sending gifts. WebBabyShower has always been focused on creating an online gathering that feels like a special experience during pregnancy. So, they are already set up to make your guest feel special. In the majority, they work with all baby gift registries, such as Amazon, Babylist, BuyBabyBuy, etc. Besides, you can add any link you like to the gift registry too.
5. Get A Close Friend Help You "Host"
The old-fashioned long-time etiquette rule that baby showers should be hosted by a non-family member is both outdated and doesn't apply online. So, it's okay for the expecting or adopting parents, or families (grandparents, sisters) to go for and even sign up for a WebBabyShower. Being pregnant keeps you busy because you have so much to prepare before your little one is here, or sometimes your guests might be sticklers about this point even with a virtual baby shower. So what's the solution? Simply, ask a close friend to co-host the shower with you! With WebBabyShower, it is easy to add friends or family as co-hosts so that they can help you add to your baby registry, send invitations, and manage the online shower, and more.
6. Before Starting Make Sure That Tech Is Set Up For Everyone
The last thing you'll want to deal with during your virtual baby shower is technical difficulties. Hence, it's important to ensure that either you or whoever is helping you organize this event has informed the guests about everything they need to know to call into the baby shower without any technical problems or delays. Lately, Zoom and Google Meet have replaced Skype to become the favorite video calling app. So, if you decide to use Zoom or Google Meet, make sure that your guests know how to set it up and what all is needed to make sure that this virtual baby shower runs smoothly for everyone involved. Also, for virtual baby showers Zoom is a great option because you can create customized backgrounds and use virtual decorations ( you won't have to spend loads on streamers, balloons, and extra decorations!).
7. Planning Virtual Baby Shower Games
Keep your virtual guests engaged by playing a couple of baby shower virtual games. There are a plethora of games that you can choose from however make sure that the games you choose aren't too difficult (to understand and play). The games shouldn't feel like work, it should be fun. This way everyone can have a great time playing them. Additionally, you can make the games worthwhile for your virtual baby shower guests by offering prizes for winners. Also, bear in mind that everyone might not be in the same time zone, so just in case they can't make it to the live event try to accommodate by organizing games where people can play in advance. This way everyone will feel included and have a wonderful time!
8. Remember To Thank Your Guests
The decision is yours to make if a handwritten note would suffice or if an email thank you would do. In any case, remember to graciously accept your guests' gifts and let them know that you are grateful for their presence and participation in your long-distance baby shower! When pregnant moms and expecting parents are not geographically close to their family and friends or they cannot meet due to an ongoing pandemic, throwing an online baby shower can be a tactful and fantastic social alternative!
Whenever we think about baby showers, we usually imagine a group of close relatives and friends all gathered together in the same place at the same time, but what if you are unable to do so? What's the back-up plan? Virtual Baby Shower, of course! No matter the distance, you can now celebrate your special day surrounded by your loved ones (virtually). Additionally, it is fun to decide a theme , food & drink, and much more for your baby shower.
FAQs on Virtual Baby Shower
1) How long should a virtual baby shower last?
Usually, one-on-one baby showers last for about 3 to 4 hours, however virtual baby showers should only go on for about an hour to an hour and a half.
2) What are good baby shower prizes?
Here are some inexpensive baby shower game prizes, such as gift certificates, candles, lotions, a picture frame, a recipe box, a cool mug from Starbucks, potted plants, a teacup, a saucer, and tea bags.