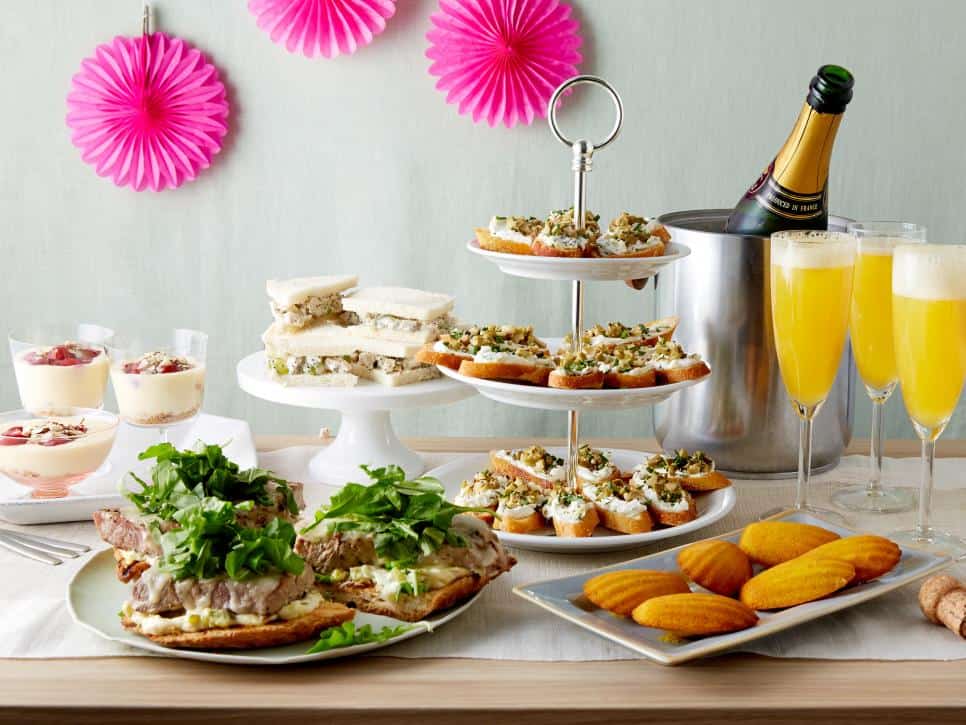 Pregnancy is exhilarating yet terrifying. You want to make sure that your baby has everything they need. Before the baby is here, you need to celebrate your journey of motherhood, and throwing a baby shower can get a bit overwhelming. This is especially true when it comes to planning the best baby shower food menu because you'll need to make sure that there's plenty of awesome things to eat. Also, think about what the mom-to-be can or can't eat.
A famous food blogger suggested, while choosing the best food to cater for a baby shower consider making food that is available throughout the party's venue, instead of having a sit-down meal. During baby showers, people more often eat tiny finger foods rather than hot meals.
How To Plan The Best Baby Shower Food Menu?
Although, there are no rules for choosing the best food to cater for a baby shower, following a few guidelines will make your life easier. Here are some secrets to make sure that you have the best baby shower food menu:
1. Provide a lot of options:
While preparing the menu, you need to consider a wide range of dietary needs, including the expecting mother's diet. Keep in mind that she has to avoid certain food that is not safe to eat during pregnancy. So, you should keep enough options, where you can still find plenty of food that works for her. Some of your guests could be vegans and vegetarians. Also, there could be people with food allergies or even conditions like Celiac disease which prevent them from eating gluten. So, remember to cover your bases by asking guests in advance about any dietary restrictions.
2. Make as ahead as possible:
The goal here is to make sure there's as much food prepared ahead of time as possible. Then, you wouldn't have to keep running around the actual day of the event. When preparing food, make a list of all the recipes you want to make, what can be made ahead and what can be made the day of the event. Also, limit the number of dishes which would require an intense day-of assembly and cooking.
3. Be sure about the themes:
Having a baby shower theme does lead to decorations that will wow the guest and have a cohesive effect. But when it comes to food, be wary about having a theme. More often, the decorations are very cute, however, the actual menu doesn't flow or there isn't enough variety.
4. Go for desserts that are mess-free:
Make it easy for the guests to circulate and consume by going for cupcakes, brownies, cookies, and other finger foods. If you serve your guests filled pastries and warm desserts, it can get challenging to eat while standing, and they would most likely avoid them. 
Are you looking for some delicious and best food to cater for a baby shower? Well, look no further because we've got appetizers, beverages, finger foods, and desserts that you can serve at a baby shower. Let's go!
1. Baby Shower Appetizers
When it comes to appetizers, keep in mind that simple is the best! If you plan to serve a variety of choices, go for easy recipes that don't require tons of prep time. Extra points if you can prepare them in advance. Check out these simple yet scrumptious baby shower appetizers.
You're on the hunt for easy appetizers for a baby shower, well look no further. You can keep it healthy and simple with beautifully presented individual yogurt parfaits. This simple breakfast or snack has a thick and creamy yogurt layered with homemade granola and fresh berries. Add more fresh berries and a honey drizzle, if you'd like.
This is the perfect summertime side dish. Tomato Tart is a simple recipe that is a southern twist on a French classic. The combination of roasted garden-fresh tomatoes and caramelized onions give us a flavor explosion in these pretty little tomato tarts. This proves that creative baby shower appetizers don't have to be hard.
With these sweet potato bites, you can give your baby shower appetizers a healthy upgrade. In this dish, you have sweet potato rounds which are topped with avocado and a sprinkle of bacon. They are guilt-free appetizers that are a fresh spin on the trendy avocado toast.
5. Balsamic Strawberry and Goat Cheese Crostini
This beautiful and bright baby shower appetizer is a combination of sweet and savory. Make sure that you choose a pregnancy-safe, which means pasteurized, goat cheese for these tasty bites.
What is a great way to kick off a baby shower taco bar? Well, a gorgeous green salsa of course! It's perfect with chips too. The avocados lend a creamy texture whereas the onion and jalapeno pack a flavorful punch. Add a hint of lime as it keeps the salsa from browning during the event.
Mocktails are the drinks of the hour for expecting mothers. You should add some alcohol-free options, as they are fun and festive. Also, it's always an option to have some bottles of champagne or vodka on hand. Check out these tasty yet easy drinks for your baby shower.
If you are short on time, you can always go for this simple syrup instead of making your own to speed up prep. This citrusy beverage is nothing short of a sparkling shot of sunshine, which can be easily transformed into a cocktail by adding some prosecco for extra bubbles.
What makes this punch fun yet delicious, is the sherbet that is used. You don't need to do much, just mix the ingredients in a punch bowl and let the guests serve themselves.
3. Sparkling Raspberry Lemonade Punch
There is a reason why punch is considered a classic at showers. It comes in a fun color, you don't need to spend too much time preparing it, and it doesn't require hosts to double as bartenders. To make this version, just use frozen raspberries to add an extra punch of color and flavor.
6 Best Baby Shower Finger Foods Ideas
Let's celebrate the birth of a tiny human with some tiny food! These finger foods are adorable, delicious, and you can eat them without any hassle which makes them the perfect main course for any baby shower food menu. Check out our list of favorite finger foods for a baby shower.
1. Pepperoni Cheese Bombs
Every party needs pizza! It's time to turn pizza into shower-worthy finger foods with pepperoni cheese bombs. They are, as expected, delicious, easy, and attractive, making them an obvious choice when it comes to baby shower food ideas.
For any party, meatballs can be considered the perfect bite-sized finger food. Bonus point, they remain moist for hours and you can also pair them with so many different sauces. These meatballs are versatile and you just have to serve them with some handy toothpicks for easy eating.
Were you looking for some refreshingly unique baby shower food ideas? We are here to say that you can't go wrong with chicken and waffle sliders. They are perfect for a brunch baby shower, especially if the expecting mommy loves Southern-style comfort food.
Baby shower food doesn't get any easier than this. To make some individual veggie cups, add dressing to the bottom of each cup so that each guest has supplied on hand. In each cup, add thinly cut celery, carrots, a skewer of cherry tomatoes, and a piece of broccoli top off.
Yes, you can throw some tacos onto your baby shower food menu. You don't have to worry about a dripping taco mess, with these crunchy taco cups. Plus, this bite-sized goodness is packed with flavors that will wow your guests.
3 Best Baby Shower Desserts
I mean, when it comes to desserts, you have to include cuteness as a real factor! You can always purchase a cake (if you can coordinate it with the decor, it'll be great!) but it's also nice to have something sweet and small to nibble on.
Cookies are a bonus at a baby shower, because not only are they easy to eat, you can also decorate them to fit your party's theme. You could use blue or pink icing depending on your little one's gender, or you could use cookie cutters in the shape of baby rattles, feet, or any other baby-focused gear.
2. Strawberry Oatmeal Bars
You could always include a healthier option amidst your baby shower desserts and these yummy strawberry oatmeal bars are perfect for the job.
3. Themed-Baby Shower Cake
Are you planning to serve a cake at the baby shower? You should go for something that fits your theme or is cute. Make the cake the centerpiece of your baby shower dessert table.
Are you ready to plan a memorable baby shower? Do you have baby shower food ideas ready to go? We hope you do! You can always tweak and customize most of these ideas to fit your party and its theme.
While preparing for your baby's arrival, as parents, you are often unsure of what you must carry along? Well not anymore! Here's a list of baby registry checklists with everything important you'd need to carry.
FAQs on Best Baby Shower Foods And Drinks Ideas
1) What should a baby shower include?
Most baby showers include eating, drinking, games, and gift opening. You should make sure that these activities create a fun flow that will keep the guests entertained.
2) What is a good time for a baby shower to start?
A lot of people agree that the best suitable time to throw a baby shower is between 24 and 32 weeks, which is around six to eight months.
3) Do fathers attend baby showers?
Traditionally, baby showers were women only, however, co-ed baby showers are becoming more and more common. Moreover, do whatever you feel is suitable for the parents-to-be.