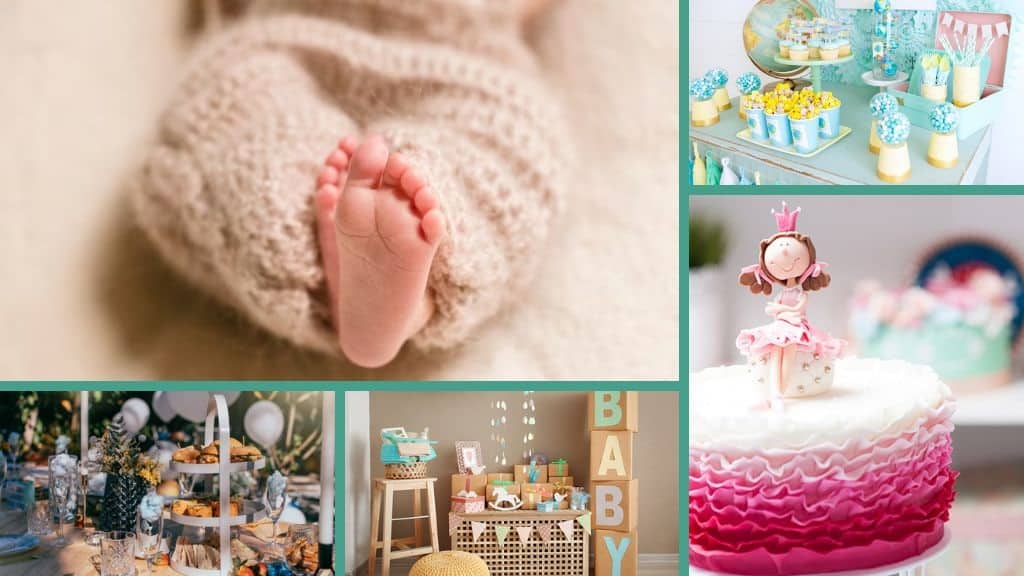 A gathering to congratulate and greet a new baby is known as a sip-and-see party. It is typically hosted by new parents or close family members and is more informal than a baby shower.
Family and friends can have some refreshments (drink) and get to know (see) your new baby at this informal celebration. Depending on your preference, the sip-and-see party can be arranged in place of or in addition to baby showers.
Continue reading to learn more about these welcome-baby sip-and-see parties, including hosting, manners, theme, and sip and see ideas around décor suggestions, and more.
When to have a sip and see party?
Try to postpone having guests for at least two weeks after bringing your newborn home, even if you are anxious to sip and see. In addition to giving you more time to heal from pregnancy and delivery, this also provides your child's immune system more time to grow and strengthen.
While your loved ones are undoubtedly thrilled to meet your new baby and celebrate with you, it's equally important for you to establish your own routine and get used to life with a newborn at home.
The two of you will have established routines by the time your kid is 4 to 6 months old, at which point it could feel more at ease to have a large group of people around. However, the only "rule" for when to do – sip and see is when you feel the occasion is appropriate.
Baby shower vs. sip and see
The majority of sip and sees and baby showers take place after the baby is born. Whatever the cause, it's frequently for parents who skipped a baby shower.
Compared to a shower, the sip and see is often considerably more relaxed. Instead of being a party with everyone there at once, it may be set up as an open house. While families with children and men may attend a sip and see, baby showers are typically only for women.
Organizing a sip-and-see party!
Like a baby shower, a sip and see can be organized by friends or family members or by the new parents themselves. Who is invited is entirely up to the guest of honor, however, it is customary to ask all family members, close friends, and other individuals who have indicated an interest in seeing the new baby. Feel free to invite them even if they attended a baby shower prior to the newborn's arrival. 
Since the word "sip" appears in the party's name, it follows that there will be drinks. Keep in mind that nobody anticipates anything fancy from new parents.
Here are some things to bear in mind as you plan a sip-and-see party:
Keep decorations to a minimum—instead of balloons or streamers, guests come to see the baby. All you need is a festive tablecloth and a floral centerpiece.
Serve finger foods like small sandwiches and cookies along with a few drinks as refreshments. While you are free to serve alcohol or not, keep in mind that many guests prefer to toast such joyous occasions with champagne. 
Time frame: When you send up the invitation, be sure to be clear about the time that guests may come and the end time of the celebration. Even if you're doing a relaxed, open-house style party, you must be exact or it may be tough to convince people to go.
Games and entertainment: You don't need to prepare any unique activities because most guests at a sip-and-see event would much prefer to spend their time cuddling the baby than playing games. come is no need to worry about icebreakers because everyone is coming to view the baby.
Sip and see partying ideas
Your sip-and-see party doesn't have to have a theme, although you could want to do it for fun. Several cute concepts are:
Sweet Addition: Decorate a dessert table with a selection of sweet snacks, miniature, framed pictures of the new family member, and cheerful, celebratory accents.
When it is time for each person to hold the baby, take photographs of everyone in the room. After the event, you may send the images to them and create a collage or memory book for later.
Place a large bottle, some pieces of paper, and several pens next to the entrance. Encourage each visitor to make some notes on their initial interactions with the infant. You and your child can review and read this in the future. After everyone has left, you can add the messages to the bottle that you used to decorate the room with notes of appreciation for getting to share this experience with everyone else.
Conclusion; tips for a sip and see
When your guests arrive, it's a good idea to provide hand sanitizer at the door. Don't be afraid to advise visitors to wash their hands or use hand sanitizer before coming in contact with your kid.
Make sure your visitors understand when the party ends so that you and your child can easily transition back into your new schedule without being too exhausted.
Avoid taking on more jobs on top of your new parental responsibilities. Involve family or friends in the preparations for the party, and if it's being held at your house, enlist their assistance or hire cleaners to finish the job.
FAQs: Sip & See Party
1.What is the etiquette for a sip and see?
At a sip and see, the baby is the center of attention. Keep in mind that hand sanitizer may be required or that you may be asked to wash your hands because visitors will want to hold the baby. You shouldn't take this personally; it's only a precaution to prevent the kid from catching any unwelcome viruses.
2.Do you purchase a gift for a sip and see?
At a sip-and-see, gifts are not required, but some visitors may decide to bring them. We suggest bringing something special for the infant if you are a guest attending a sip-and-see.