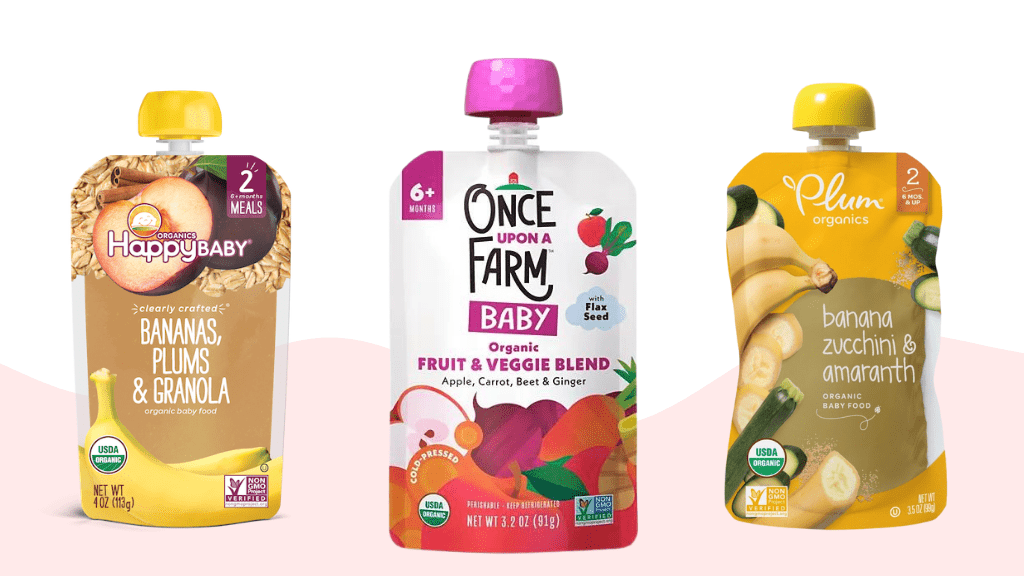 Is your munchkin ready for some pureed food? Homemade baby food must be your first thought but what do you do when you do not know how to make a savory puree out of certain foods? Get the best baby pouches! Moreover, a busy mom might go on a guilt trip of not being able to make homemade purees for their babies. But here's where organic baby pouches come into play as they are not free of harmful chemicals and toxins but also have an incredible shelf life with an amazing amount of nutrients.
However, here are 4 reasons not to overuse baby food pouches:
Pureed baby food in the pouch will hinder oral muscle development.
Baby food pouches will limit sensory exploration.
When you feed your baby with pouches your interaction with the baby decreases.
Even the best baby pouches are difficult to recycle.
What Should You Look For in Organic Baby Food Pouches?
Before you baby food pouches, you need to have an idea of what is best for your baby and on what basis you should choose the best baby pouch. Here are some important things to look for:
1. USDA Organic Certified Ingredients
For store-bought baby food, the best baby pouch will be USDA organic certified which means they contain fewer pesticides as well as other toxins. It is even better if you go for those baby organic pouches that are biodynamic certified which is a higher certification than USDA.
2. Only Food-based Ingredients
When selecting the best baby pouch, always remember to look at the ingredients list, so you know exactly what you are feeding your child. The best baby pouch that is organic will only have food ingredients in them that are either wild-caught or grass-fed.
These food ingredients must be pure and contain no added sugars, preservatives, artificial colors, artificial flavors, GMO ingredients, concentrates, nondescript natural flavors, xanthan gum, citric acid, or any other chemical additives that you do not understand.
Sometimes, these baby pouches contain a derivative of vitamin C, Ascorbic acid. It is added to increase the shelf life of baby food pouches by lowering their pH. They have antimicrobial properties but it is better if you steer clear of them.
3. The Expiration Date
Most of the best baby pouch food items are shelf-stable and can stay in your pantry for months. However, baby pouches from Once Upon a Farm, for instance, must be kept in the refrigerator and have a lifetime of only 120 days. If left unrefrigerated they must be consumed within 4 hours. Remember to ask yourself this question before buying the best baby pouch: how will I use these baby pouches? And if I would like fresh food or a pouch that does not need refrigeration/ usually, both these types of baby foods will be helpful in different circumstances.
4. Considerable Packaging
Let's be honest here that most baby food pouches claiming to be BPA-free actually contain BPA. The best baby pouches will have flexible and sterile containers made from polypropylene with a layer of aluminum foil. This foil does not come in contact with the food content in the pouch.
Some containers might contain polyethylene or polyesters as well. The packaging of the baby pouches differs with brands. As long as baby pouches, however best they are, must not only be your baby's only source of nutrition as chemicals in the packaging cannot be avoided 100%.
5. Research
As food naturally grows in soil, it will always contain some levels of acrylamides, cadmium, lead, and arsenic. Do not freak out as what you need to do is make sure your baby receives safe and responsible levels of these chemicals. So be vigilant while choosing a pouch and always research whatever you are feeding your baby.
Here are 6 Best Baby Pouches That are Organic
1. Serenity Kids ($29.95): Best Baby Pouches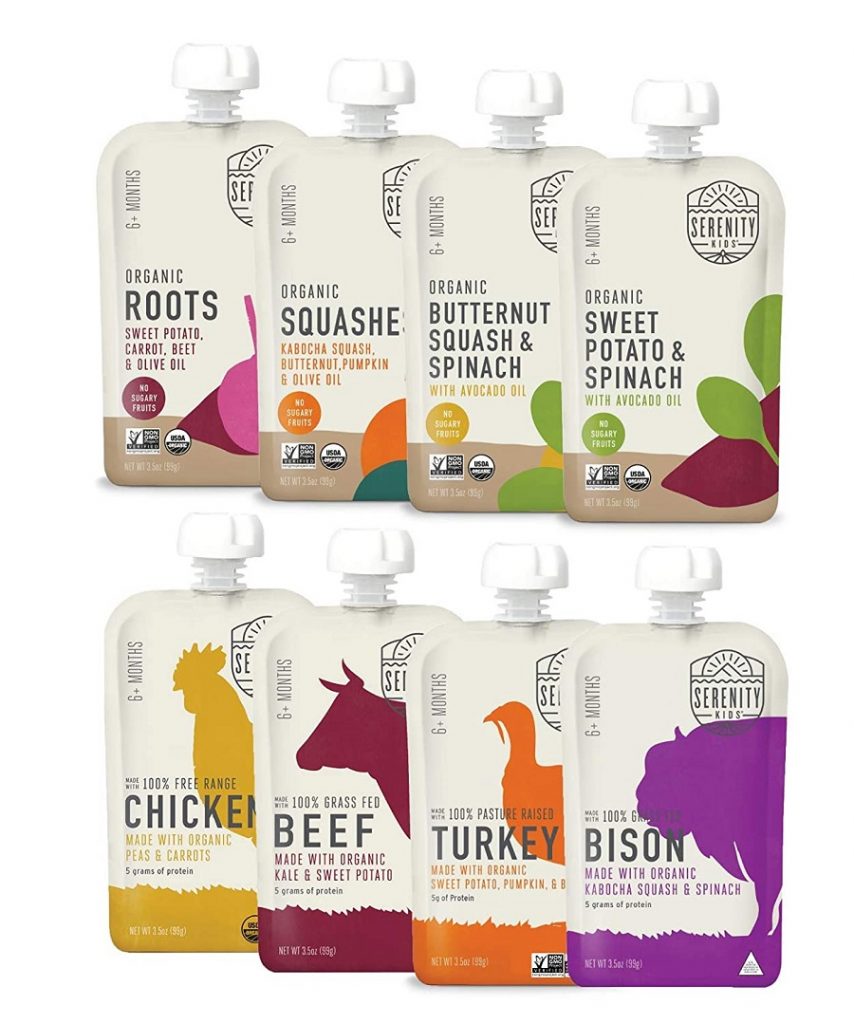 Serenity Kids is one of the best baby pouches founded by a wife and husband team, Serenity and Joe. These baby food pouches are raised organically or largely certified organic.
Pros
Their pouch recipes mimic macronutrients present in breastmilk
This product line contains 4 veggies blends and 6 meat varieties.
These baby food pouches have a stable shelf life.
All their blends are an optimal balance of carbohydrates, fat, and protein.
The veggie blends of Serenity Kids are savory in flavor.
All their meat products are ethically sourced such as free-range chicken, wild-caught salmon, and grass-fed beef.
These baby food pouches do not contain sugar, chemicals, or artificial sweeteners.
These pouches are also devoid of low-nutrition fillers like corn and grains.
They are also non-allergenic as they do not contain nuts, eggs, dairy, or gluten.
Cons
Serenity Kids baby food pouches have no food varieties and exclusively sell fats, veggies, and meats.
All of their ingredients do not carry a USDA organic certification.
They don't have exact age guidelines but all their products are listed as for babies above 6 months of age.
The pouch is not see-through so you cannot preview its contents.
2. Once Upon a Farm ($86): Best Baby Pouches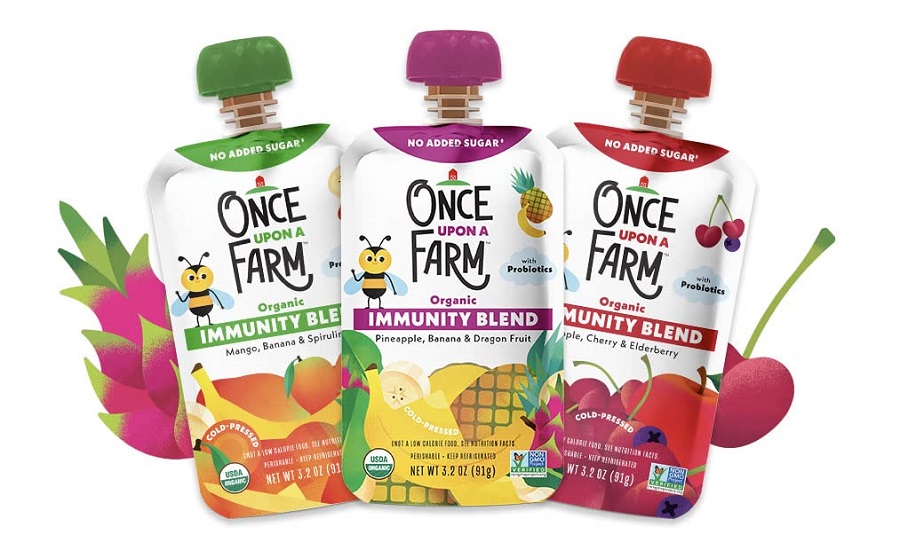 Once Upon a Farm is one of the best baby pouch-maker co-founded by actress Jeniffer Garner whose mission is to provide organic, nutritious, and farm-fresh baby food. Their ingredients are sourced from the nearby local farms and they use high-pressure processing units. The resulting products can survive up to 120 days post-production, meaning farm-fresh, the best baby pouch for your kiddo. Not only are they the best for your babies but also the best toddler food pouches on this list.
Pros
Baby food pouches from Once Upon a Farm are USDA-certified organics.
These can be refrigerated but can go unrefrigerated for up to 4 hours.
Their line of products is divided into stages which makes it easier for parents to find the right blend for their kiddos.
These baby pouches can be refrigerated which means they can exceed the nutritional value of the other shelf-stable alternatives.
These baby pouches have a preview window so you can see what you are buying for your baby.
Cons
They do not sell meat in any of their products and only sell dairy, veggie, and fruit blends.
Some flavors of Once Upon a Farm baby food pouches are made in a shared facility which means they might contain some common allergens.
3. White Leaf Provisions ($18.04): Best Baby Pouches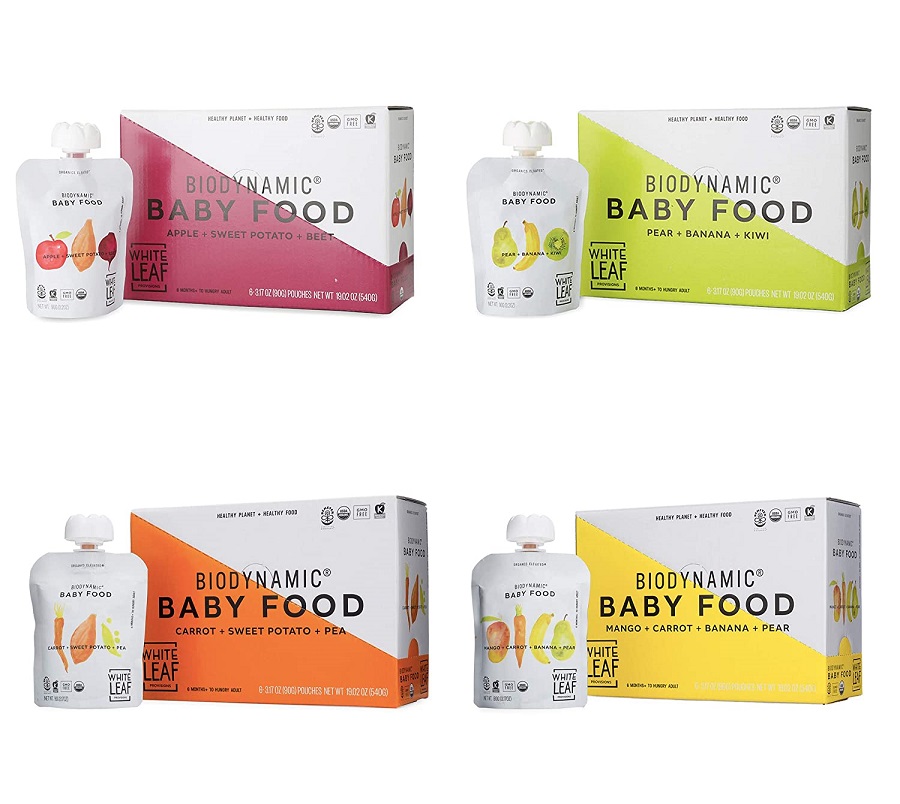 White Leaf Provisions baby pouches have been devised by a husband and wife team and have created the nutritious, healthy, and best baby pouches. The husband is the chef of these amazing baby food pouches that are loved by little ones because of their smooth consistency. Baby pouches from White Leaf Provision come in 4 different flavors:
Apple + Beet + Sweet Potato
Kiwi + Banana + Pear
Pea + Sweet Potato + Carrot
Pear + Banana + Carrot + Mango
Pros
Their baby pouches are certified glyphosate-free, biodynamic, and organic.
They do not add any flavors, sugars, artificial colors, or preservatives.
Cons
They do not have baby food pouches with meat in them.
4. Cerebelly ($69.36): Best Baby Pouches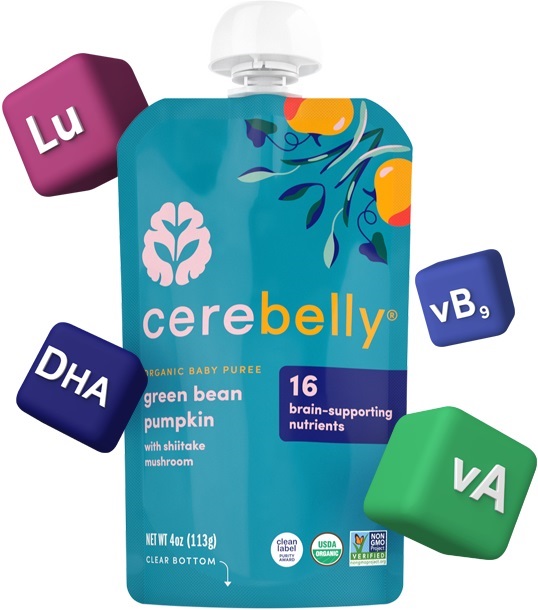 One of the best baby pouch companies, Cerebelly, was founded by a neurosurgeon mom on the premise of supplying healthy nutrients through baby pouches for early brain development. Cerebelly baby food pouches are also the best toddler food pouches.
Pros
All the baby pouches from Cerebelly are USDA certified.
Each baby pouch has a flavor list that has key nutrients like iodine, folate, iron, and zinc.
They offer different food combinations like basil, peas, mango, and sweet potato.
Their baby pouches are free of phthalates, BPS, and BPA.
Cons
The nutrients [resent in these baby pouches may not be suitable for all.
5. Happy Family ($154 for a pack of 16): Best Baby Pouches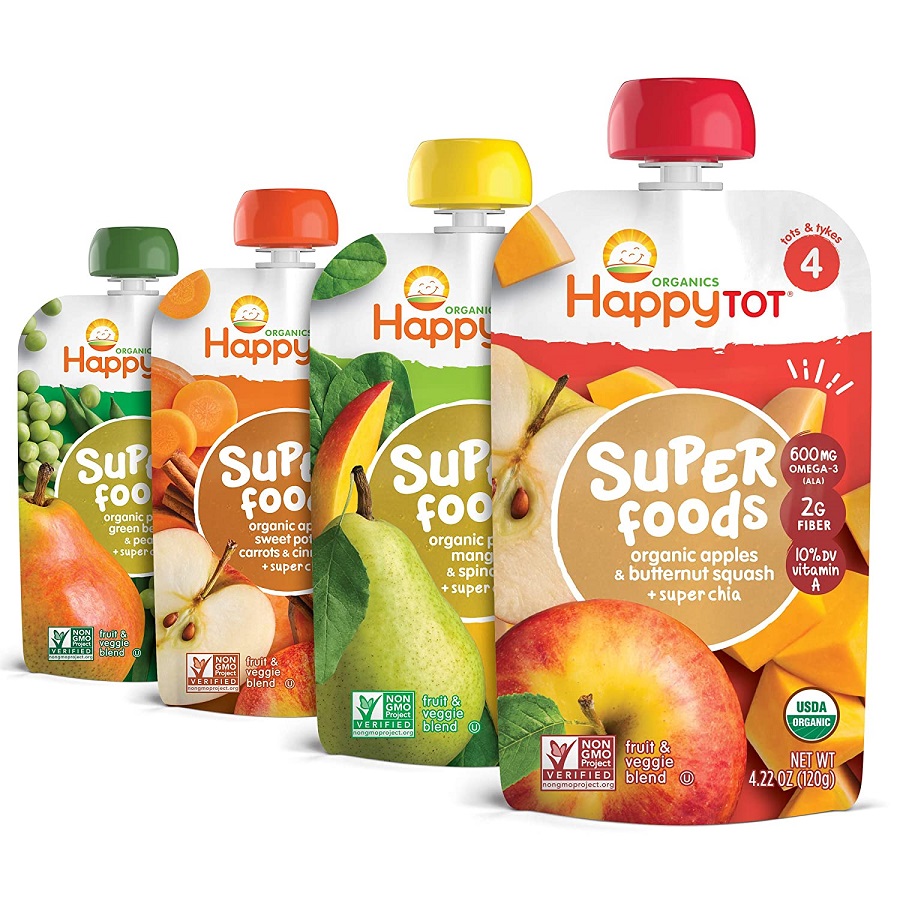 One of the best baby pouches, Happy Family baby pouches have been on the market since 2003. They offer the best baby pouch varieties that feature meats, grains, vegetables, and fruits. Everything from quinoa and turkey to guava can be found in their baby food pouches. These can also be considered one of the best toddler food pouches.
Pros
Their products are USDA certified and GMO-free.
They also contain no added preservatives.
All their products are divided into 4 stages so you can easily pick the best baby pouch for your child.
Their baby pouches are shelf-stable making them suitable to be carried on travels and for on-the-go use.
The price of these baby organic pouches is comparatively cheaper.
Cons
Some ingredients in their products contain lemon juice concentrate or ascorbic acid whose exorbitant consumption may lead to side effects like vomiting, nausea, and diarrhea.
6. Sprout Organics ($17.09 for a pack of 12): Best Baby Pouches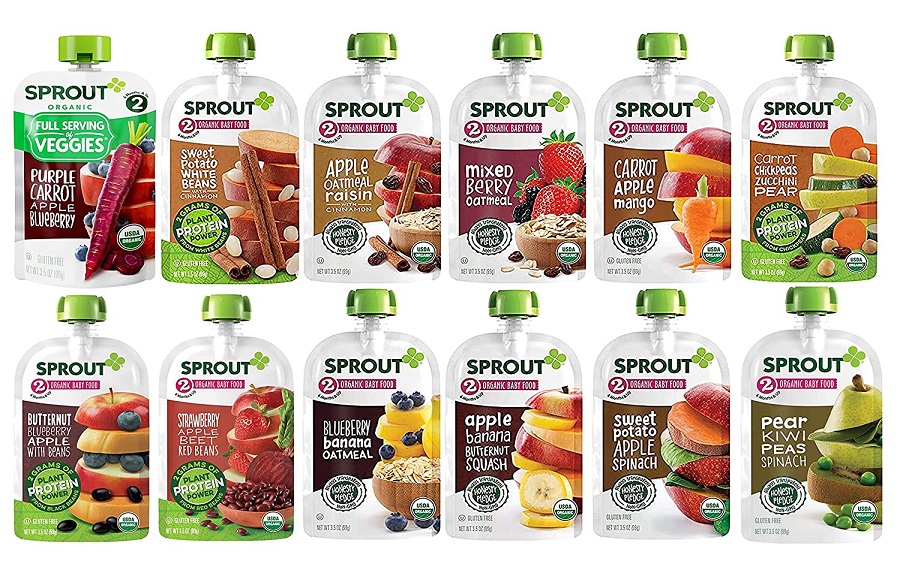 Another best baby pouch is the ones from Sprout Organics that are best for babies who are older than 6 months, i.e. these are also the best toddler food pouches. With multiple options in their organic pouches that include grains, bone broth, fruits, vegetables, and more, they have made a mark in the market.
Pros
All of their baby organic pouches from Sprout Organics are USDA certified.
They use no added sugars or artificial ingredients.
They give you dozens of flavor options (12) to choose from.
Their baby pouches are shelf-stable which means on-the-go feedings can now be easy.
Cons
While all their ingredients are organic, the meat they use is not from grass-fed cattle.
They use grains in their baby pouches so if you are trying to avoid them check out the label before buying.
You always want the best for your baby which is why we have brought you the best baby pouches that can also be the best toddler food pouches on the market. There is no hard and fast rule in selecting the best organic pouches for your little one, so try a few different options and find out which one your baby likes the best.
Best Baby Pouches FAQs
1. Are baby food pouches better than jars?
Eco-friendly and economic jars come in a wide variety of textures and flavors than baby food pouches. Additionally, jarred baby food has a longer shelf-life, i.e., around 2 years. On the other hand, baby food pouches last approximately only one year.
2. When should babies stop eating pouches?
Babies need to stop feeding on baby food pouches between 6 to 9 months as during this time your baby will have moved from pureed food pouches.
3. Do baby food pouches need to be refrigerated?
You need to know how to store, prepare as well as reheat your baby food, whether it is homemade or store-bought. Usually, baby food bought from stores comes in pouches, containers, or jars which is why you don't need to freeze or refrigerate them before opening.