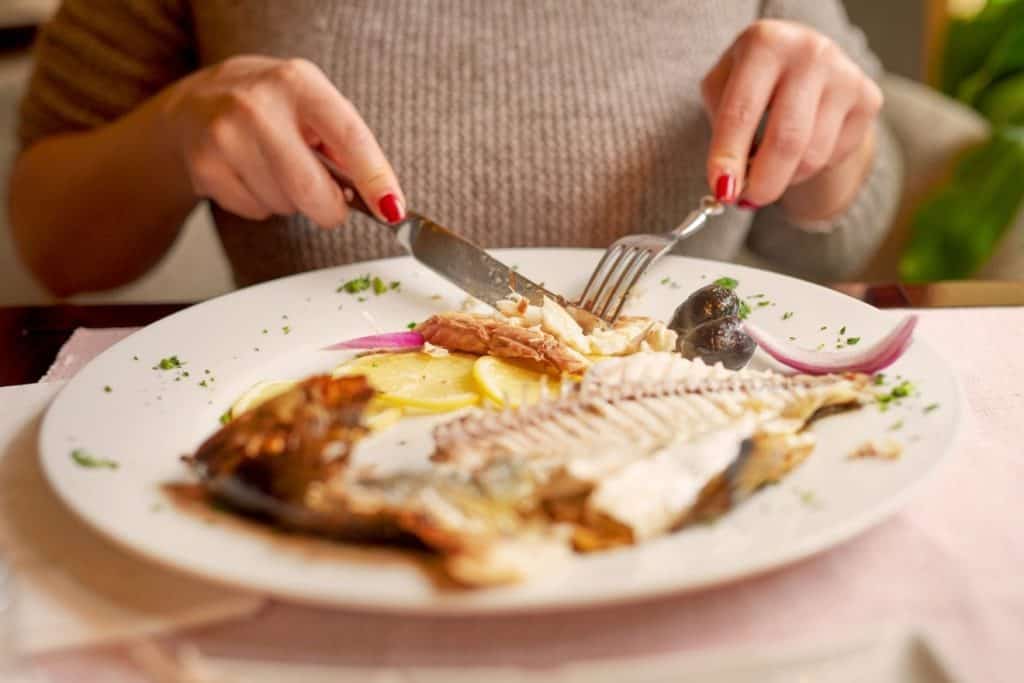 It is often seen that the eating fish during pregnancy is safe. However, there are a few kinds of fish that are considered to be off-limits. This article will help you determine the kinds of fish you must stay away from and those you must consume when pregnant as some are full of mercury and have baby-friendly DHA, unlike others that are loaded with PCBs.
Is it safe for pregnant women to eat fish?
Women who are pregnant must eat the right types of fish according to the food and drug administration as it is good for both, you and your baby.
Pregnant and breastfeeding moms must eat about 8 to 12 ounces, that equals two to three servings of low-mercury fish every week, says the Environmental Protection Agency (EPA) and the Food and Drug Administration (FDA).
Why and what fishes must you avoid during pregnancy?
It is true that fish benefits pregnant women, however, there are certain kinds of fishes that are considered to be avoided during pregnancy. These fishes include large, ocean-faring, predators that have high levels of mercury and have toxins that are not baby-friendly. Adding to that there are fishes too that live in polluted lakes and rivers that have PCBs to be avoided in a fetus or an infant.
Here are seven types of fishes that you must avoid when pregnant and breastfeeding as they are high in mercury:
Tilefish from the Gulf of Mexico
Shark
Swordfish
Orange roughy
Bigeye tuna
Marlin
King mackerel
Furthermore, these are the fishes you must limit to one serving per week when pregnant or breastfeeding:
Bluefish
Buffalo Fish
Carp
Chilean sea bass
Grouper
Halibut
Mahi-mahi
Monkfish
Rockfish
Sablefish
Sheepshead
Snapper
Spanish mackerel
Striped bass (ocean)
Tilefish from the Atlantic ocean
Albacore white tuna (canned, fresh or frozen)
Yellowfin tuna
Weakfish/seatrout
White croaker/Pacific croaker
Note – If at all you plan to consume recreationally-caught fish, you must exercise being extra cautious. Make sure to check with the local state advisories to know what water the fishes are caught in. if at all there is no information available, have only one serving per week.
Which Omega Fish are safe to eat during pregnancy?
You need not disappoint yourself just yet, as, despite the long list of fish to limit during pregnancy, there is a majority of fish you will be able to find in the store and at restaurants that are safe to eat. These include:
Wild salmon
Shrimp
Catfish
Tilapia
Sole
Flounder
Haddock
Halibut
Ocean perch
Pollock
Cod
Canned light tuna
Crab
Crawfish
Lobster
Hake
Clams
Black sea bass
Anchovies
Trout
Note- There is conflicting advice on salmon during pregnancy too. However, you must ensure that this nature's best providers of DHA are consumed in limited amounts. As they have high levels of PCBs in those in the farmed salmon, you could also opt for wild salmon as they contain more healthy omega-3 fats.
Pregnant women eat certain fishes and they are considered to be a safe option: But, how does one prepare these omega 3 fatty acids?
Before we get to the preparation of this omega 3s, we must understand that uncooked fish such as sushi, oysters, ceviche, smoked salmon are considered to be unsafe during pregnancy. These uncooked fishes contain bacteria and parasites, such as listeria, that perhaps is known to be dangerous for the developing baby.
Here are a few tips to help you prepare the fish that reduces the exposure to the potential contaminants:
You must purchase fish that are for sure fresh and are properly refrigerated when buying.
If you do not wish to cook the fish on the same day, keep them in a sealed container in the fridge immediately.
You must avoid using the same knives for cutting the meats and veggies. Therefore, have the knives separated.
Never re-use marinades.
Cook all kinds of seafood, including shucked clams, oysters, shrimp, lobster, and scallops till they reach an internal temperature of 145° F or until their flesh is opaque or milky white.
The fish contain shells, such as the clams, mussels, and oysters. Just in case they don't you just throw it away.
Are There Ways Other Than Fish To Get Omega-3 Fatty Acids During Pregnancy?
Beyond seafood, there are other sources of omega-3 fatty acids which include:
Foods: Flaxseed like ground seeds or oil such as walnuts, canola oil, sunflower seeds, and even soybeans (edamame) are all good sources of omega-3 fatty acids.
Fortified foods: Milk, yogurt, and eggs can be fortified with omega-3 fatty acids.
Supplements: Supplements that typically contain fish oil or omega-3 fatty acids from marine plant sources. Several prenatal vitamins also contain DHA. However, you must consult your doctor before taking any supplement.
Top 6 Health benefits of eating fish during pregnancy
Listed below is a list of the benefits that a fish provides in both, pregnant women and developing baby(s). Fish:
They support the growth of the fetus
Fish advisories have mentioned that the fish are a good source of lean protein that is an essential amino acid. It helps in the creation of the baby cells, from skin and muscle to hair and bones.
Benefits the brains in young children
This is especially true for fishes that have fattier varieties of fatty acid, like salmon. They are also a good source of the omega-3 fatty acid DHA, shown to boost the brainpower of the baby in the third trimester.
The seafood boosts your memory
These fishes have a good amount of omega-3 that improves your memory.
The presence of omega-3 fatty acids and DHA decreases the risk of depression in pregnancy, and also in postpartum depression.
Eating fish supports the heart
Consuming fish is observed to limit the risks of cardiac disease as it helps reduce any blood clots, levels the triglycerides (blood fat), and lowers the blood pressure in cases of preexisting hypertension.
Reduces the risk of preterm birth
According to the scientists and their observation, the rates of preterm birth have been known to reduce in areas that have high fish intake. Also, the presence of omega 3 in fishes lowers the risk of preterm birth.
That's all about the intake of fishes folks! The article above has the fishes you must avoid, the best eating fishes, the many types of benefits, all during pregnancy or when breastfeeding. Additionally, there are certain foods you must avoid during pregnancy too.
How Much Seafood Is Recommended To Pregnant Women?
The Food and Drug Administration (FDA), the Environmental Protection Agency (EPA) as well as the 2015-2020 Dietary Guidelines for Americans recommend that during pregnancy women eat at least 8 ounces and up to 12 ounces (340 grams) of various seafood which are lower in mercury, once a week. That's about two to three servings.
Consuming fish by pregnant women isn't to be avoided but one must make sure to eat low mercury fish that is good for both, the mother and the baby. To know about the fish that are good to eat, read the article above. 
Though mercury can harm the developing brain of the baby, eating average amounts of seafood that contains low levels of mercury during pregnancy hasn't been shown to cause any problems. And the omega-3 fatty acids that many types of fish contain can promote a baby's healthy cognitive development. As long as you avoid fish known to be contaminated with pollutants or high in mercury, seafood can be a regular part of your healthy diet plan during pregnancy.
Eating Fish During Pregnancy FAQs
1) Can pregnant ladies eat dry fish?
Yes, absolutely! Pregnant as well as breastfeeding moms must consume fish as it is good for health and helps in the development of the baby. Not only that, these fishes are an excellent source of protein, rich in vitamins and minerals, also containing omega-3 fatty acids. However, remember not all fishes are safe to consume, to know what are the best fishes, read the content above.
2) Is it ok to eat fish during pregnancy?
Yes, it is. But the seafood is only good as long as it does not contain high levels of mercury and the fish caught is not from a contaminated river or lake with pollutants. Once these boxes are checked, you can include the fish to be a regular part of your healthy-eating plan during pregnancy.
3) What are the fishes that are good for pregnant ladies?
Here is a list of the fishes that are good for pregnant ladies to consume when pregnant or breastfeeding:
Wild salmon
Shrimp
Catfish
Tilapia
Sole
Flounder
Haddock
Halibut
Ocean perch
Pollock
Cod
Canned light tuna
Crab
Crawfish
Lobster
Hake
Clams
Black sea bass
Anchovies
Trout
4) Is fish good during the first trimester of pregnancy?
Low-mercury fish and seafood can be ideal meals for women during their first trimester of pregnancy, these are low in calories and contain high protein, vitamins, and minerals.
5) What fish should be avoided during pregnancy?
You must avoid high-mercury fish like shark, mackerel, marlin, orange roughy, swordfish, and even tuna. Try to avoid shellfish and uncooked seafood, including oysters, clams, and mussels.