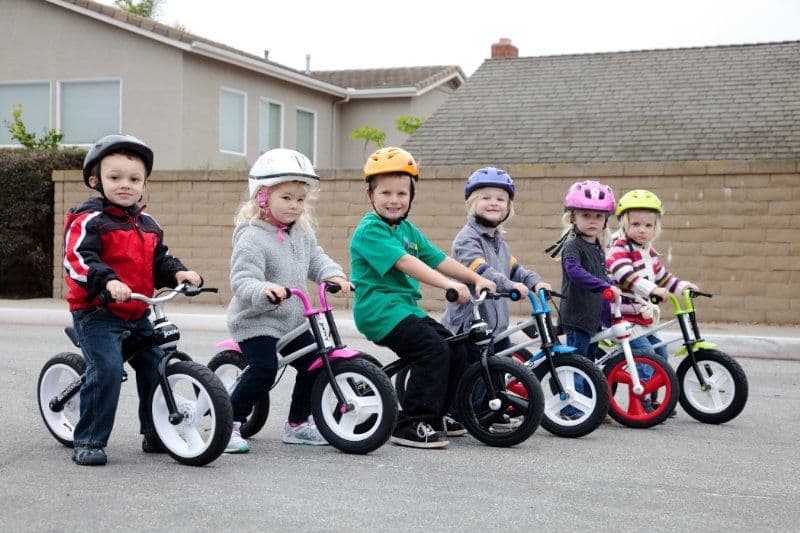 Watching your little one grow up is an emotional yet exciting feeling. You are always patiently waiting for their firsts, their first steps, first words, first smile, first crawl, their little bye-byes, eating all by themselves and so much more. Today we are talking about your little one venturing out on their first scooter or bike ride. But, there's one thing you won't want to leave home without, a bike helmet! In this article, we have compiled the best bike helmets for toddlers. So keep on reading!
Why Does Your Toddler Need A Bike Helmet?
Your kid's safety is your number one priority. When helmets are used properly, they reduce fatal and severe head injuries. A helmet will absorb the impact energy if your little one happens to fall or collide. Hence why, even if you're an adult, every rider in the family needs to have a helmet. There are no federal laws that require your kids to wear helmets. Although lots of states and cities have implemented certain legislation to protect little passengers. For instance, in the state of New York, kids under the age of 1 are prohibited from being transported on a bicycle. So, before hitting the road, make sure you are aware of the legal lay of the land in your area.
What To Look For In A Bike Helmet?
While buying a bike helmet for your kid, make sure it's:
sturdy,
has a lightweight construction,
and vents for air circulation.
A recent study which has been conducted by the Bicycle Helmet and Safety Institute, suggests that there's no difference in impact protection between cheaper and more expensive helmets. So, remember to pay less attention to the price.
The fit is the most important thing to note when you're shopping for a toddler bike helmet. Remember that a bicycle helmet will only do its job if it fits your kid. Buying a helmet is a little hard and tricky because it isn't one-size-fits-all, and it's not a one-and-done purchase either (all thanks to how fast toddlers grow).
During your little one's baby, toddler, and kid years, you'll most likely cycle through a few helmets. After a growth spurt, pay close attention to ensure that your little one's helmet is still fitting properly.
How To Fit A Bike Helmet On Your Toddler?
Simply, follow these 5 basic steps when you're fitting your little one's bike helmet:
Size – To find your toddler's size, use a soft tape measure to measure their head.
Position – Remember that the helmet should always sit level on your child's head and low on their forehead. It should be one to two finger-widths above their eyebrow.
Side straps – Under and slightly in front of your little one's ears, the slider on both straps should form a "V" shape.
Buckles – Make sure the left buckle is always centered under the chin. Also, this is sometimes easier to do when your little one is not wearing the helmet.
Chinstrap – Remember to buckle the chin strap and tighten it until it fits snugly (it should not leave more than a one to two-finger width under the strap).
Follow this checklist during the final fitting:
Ask your toddler to open their mouth wide. Now, check if the helmet is pulling down on their head. If it's not, simply tighten the chin strap.
The helmet shouldn't rock back more than two fingers above your child's eyebrows. However, if it does, make sure to shorten the front strap.
Try to tighten the back strap, if the helmet is rocking forward towards your child's eyes.
Also, make sure that all four straps are going through the rubber band. This prevents the helmet from slipping.
How Do You Know Which Helmet Is The Best?
Every bicycle helmet which is being sold in the United States should meet a uniform safety standard. This was issued by the U.S. Consumer Product Safety Commission. Remember to look for the label inside the helmet. The label should indicate that it meets the CPSC criteria.
A lot of high-end helmet manufacturers are stepping up the game on safety by incorporating a Multi-directional Impact Protection System (MIPS). With this MIPS design, regardless of the angle or direction of the impact, the energy from the crash impact will be absorbed by the helmet. Although these MIPS certified helmets are pricier, it's worth the peace of mind.
5 Best Helmets for Toddlers
1. MIPS-Certified: Giro Scamp MIPS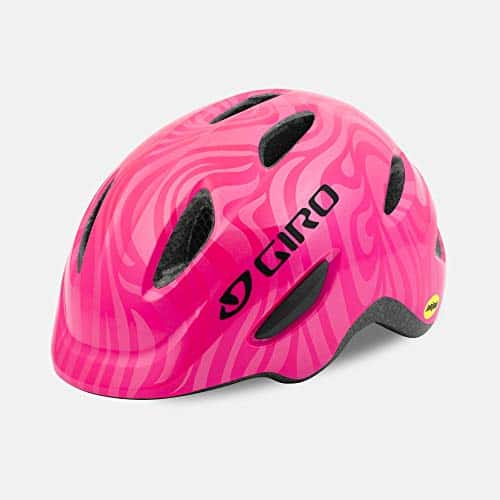 Features:
This bike helmet is lightweight, easy to adjust, and super comfortable, which makes it a winning trifecta. It comes with a Roc Loc Jr. fit system that aligns with the curvature of your kid's head. The rubberized adjustment knob is easy for parents to securely tighten. It is made available in two sizes, XS and S. From balance bikes to adventures on training wheels, this helmet grows with your toddler. It comes with other useful features such as a built-in visor, pinch-guard buckle, and ponytail-friendly design.
However:
If you're hesitant to spend that much, there's a version of the Scamp without MIPS which is less pricey.
2. Easily Adjustable: Bell Sidetrack Child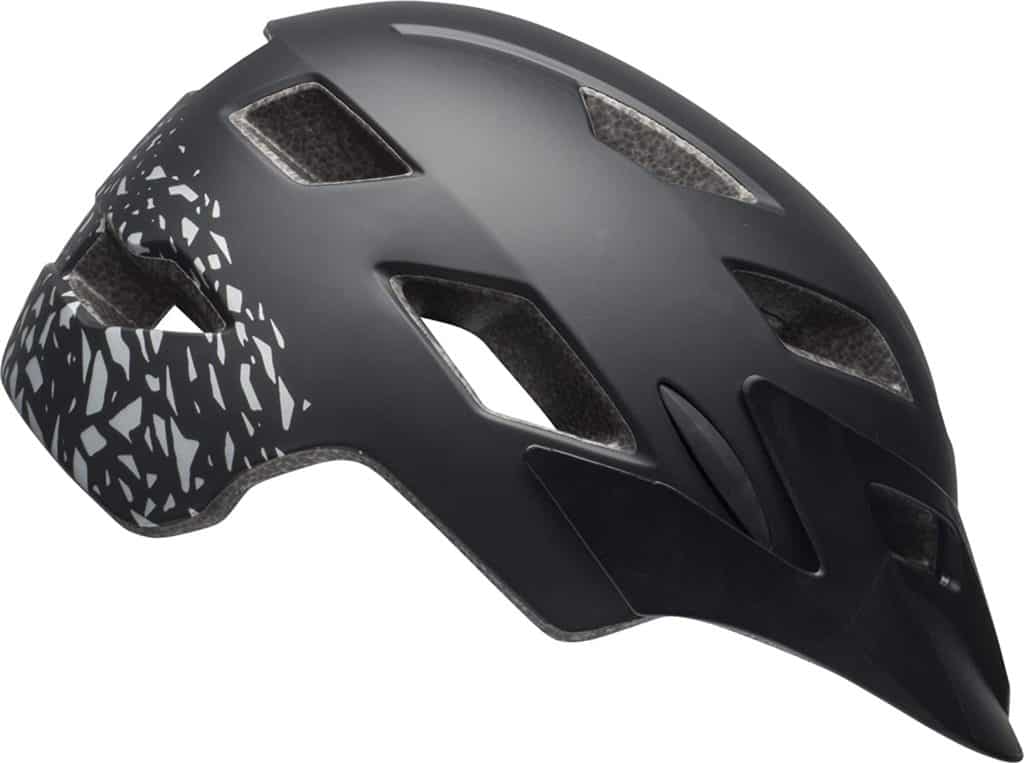 Features:
With this easily adjustable mountain bike-style helmet, you can turn a spin around the usual cul-de-sac into a great adventure. It comes with an Ergo-Fit adjuster system (which was formerly called ErgoDial), this system has a new and improved dial function that doesn't require a push to turn. Also, it has a pinch-guard buckle, built-in visor, and excellent lower head coverage. All in all, this is a seriously cool, safe helmet.
However:
Although it has been marketed as a "child helmet," it will fit toddlers whose heads measure in the 47 to 54 cm range.
3. Super Stylish: Nutcase Baby Nutty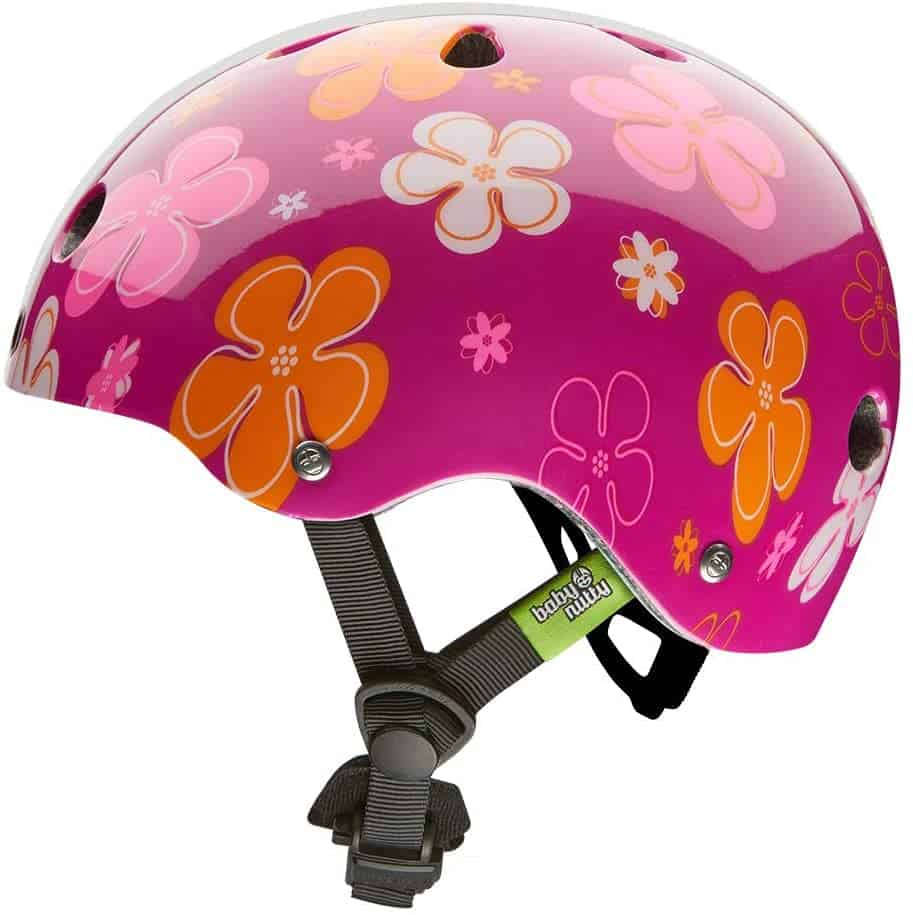 Features:
This perfectly named bike helmet is a skater-style helmet that will protect your little ones. This helmet offers even more coverage for 12 to 36-month-year-olds. The flat back surface rests comfortably against a bike trailer or seat. It is a feature-packed helmet, it has an elastic fit system (rather than a dial system), a fleece-lined buckle pad, a magnetic buckle with a soft, netting over the front vent holes for bug blockage, and 3 mm and 6 mm pads for a better and secure fit. It is made available in a variety of funky and stylish patterns. These designs will turn people's heads while keeping your little one's head protected.
However:
When your little one outgrows the baby size, you can purchase the Little Nutty which is available for older toddlers.
4. Bestseller: Joovy Noodle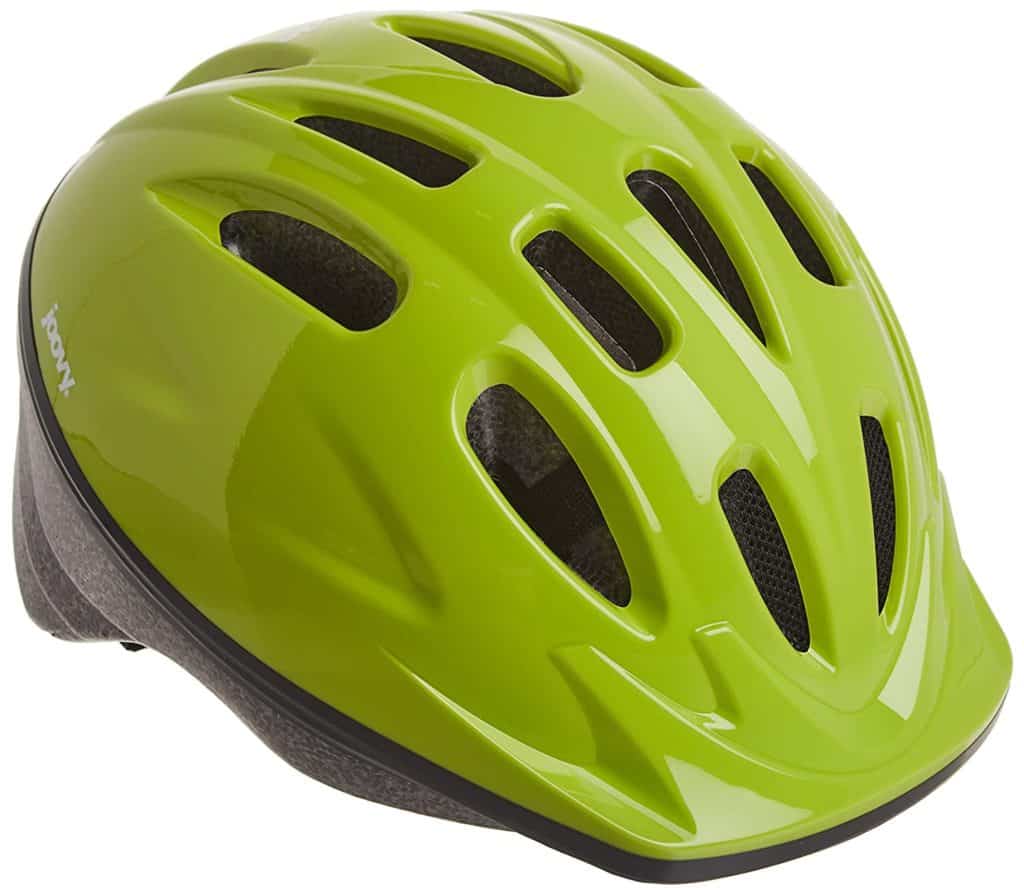 Features:
This #1 bestselling kids' bike helmet is a solid choice for 1 to 4-year-old kids. This amazing helmet comes with a simple, sleek design that offers excellent protection, coverage, and comfort. It also comes with an adjustable dial which ensures a custom fit on every ride. Moreover, it has 14 cooling vents, a soft pad under the chin strap, bug netting over the front vents, and an extended visor. It is also made available in a wide range of cheery colors.
However:
If you have a fidgety toddler, fumbling around with a chin strap is not an option. It comes with bright red clips to get the helmet on and off easily for time-pressed parents.
5. For Little Riders: Lazer BOB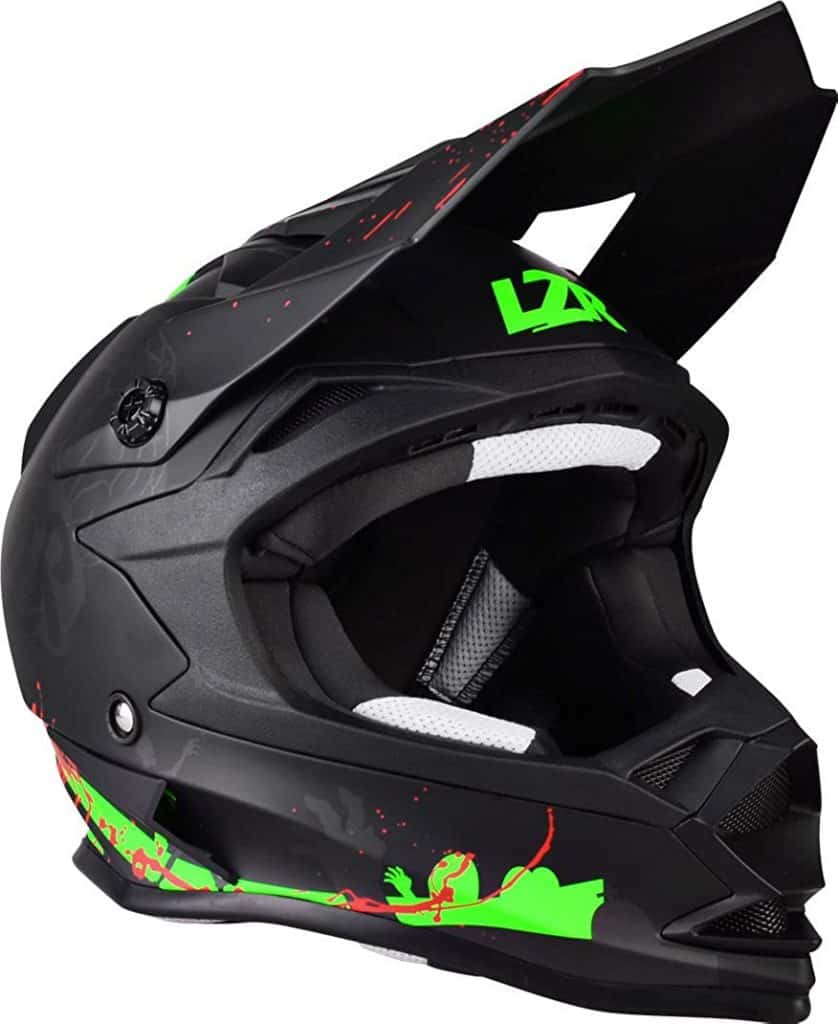 Features:
While sporting this amazing helmet, your toddler will be sitting pretty and safely. It comes in various playful designs and it has smart features such as the 360 reflective material for high visibility, removable soft pads, and neck reinforcement for added support. Additionally, it is made available in one size (46 to 52 cm) and comes with a Comfit3 Retention System in the back to adjust for a secure fit for your growing little one.
However:
The BOB, in the product's name, stands for "baby on board". It was specifically designed with the littlest riders in mind. It has a flat back, so kids can comfortably sit against a bike trailer or bike seat. All in all, you can get this great starter helmet at a great price.
Buying a bike helmet is a personal decision that requires plenty of try-on. Before deciding to purchase a helmet, you need to try several of them on your child's head. Most importantly, keep safety as a priority for whatever activity your child will be doing. While you're at it, check some good quality bike seats for your little one ! 
FAQs: Top 5 Best Bike Helmets For Toddlers
1) Can a 2-year-old wear a helmet?
Babies that are less than 1-year-old have weak neck structures. Hence why they shouldn't wear a helmet or travel on a bike. Every time a toddler goes for a ride, they should be wearing a helmet. Their little brains need protection every single time. You need to establish this habit earlier in your life because it will stick as the child gets older.
2) Do you need a helmet for a balance bike?
We would recommend you make sure your kid is wearing a helmet every time they go for a ride. When you move them up to a 'proper' bike, it will make your life much easier because they're already used to wearing a helmet.
3) Can a one-year-old wear a bike helmet?
Make sure to know more about the laws in your area, before you start biking with your little one. Some states strictly prohibit biking with a child that's less than 12 months old. Moreover, some states require all children to wear a helmet (which is something babies can't do).