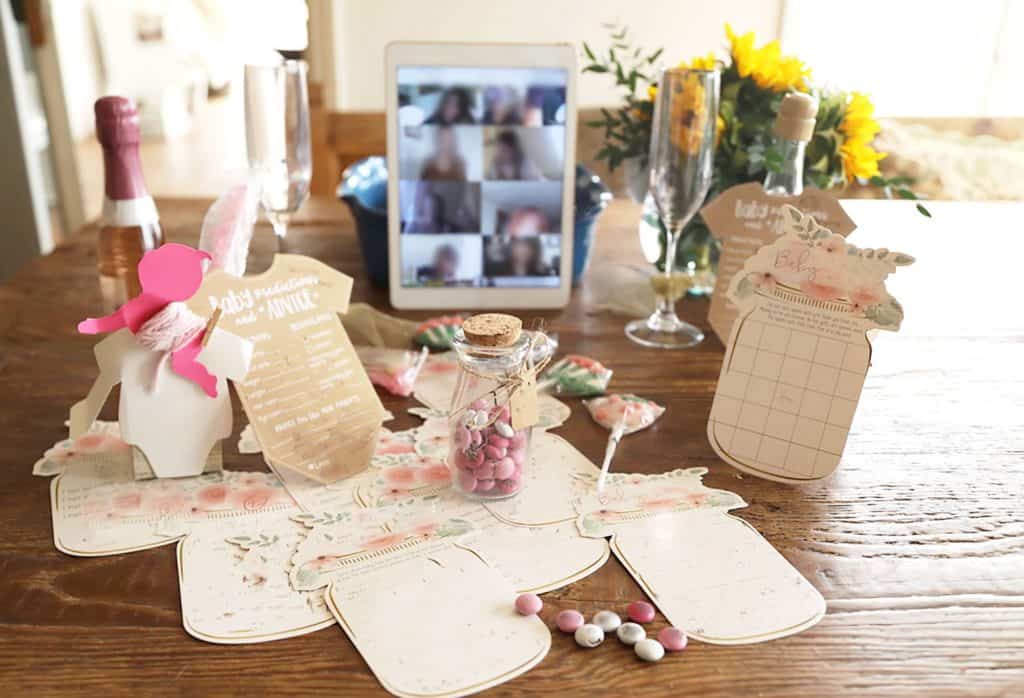 With the pandemic almost on the brink of breaking out again, having an online baby shower is the only safe option that is available to all of us. However, you might think if these virtual baby showers could make any difference, as they are all about gathering, talks, gifts, and games!
The answer is yes! As we can't get wide in the outside, Parenthoodbliss has sneaked in a little and came up with the best virtual baby shower games that will transform the whole idea of showers and these are guaranteed to be fun, as well as exciting through a Zoom or Skype meeting.
So, best friends, colleagues, friends, family members, etc, let's get together and give the mom-to-be that best virtual baby shower, just as she deserves. This article accumulates the top 12 best virtual baby shower games.
Read on to know more!
What are Virtual Baby Shower Games?
A virtual baby shower game is a set of online games that are specially picked to fit a virtual baby shower. These games and activities for the virtual shower, unlike the traditional baby shower, do not require the physical presence of either the mom-to-be or the guests.
All you'd need to do is prepare ahead of time, create a list of baby shower guests, collect printable baby shower games that the guests will need to play with, and send them to the guests in advance, all with social distancing!
The best part about these virtual baby shower games is that the amount of fun never depletes!
How Can One Play Online Baby Shower Games?
The key element to having a successful yet fruitful shower is being organized and planning ahead of time. Most of the games for the party are printable and can be sent via a PowerPoint presentation. So, ask guests to be prepared before the call begins.
On the other hand, the tech-savvy host is allowed to know and see the instructions to teach the guests how to play during the shower. Don't worry, this article has the best picks of games that have also collected good reviews for the crowd.
How Many Virtual Baby Shower Games are Ideal at Online Baby Showers?
There are no correct answers as one is free to play as many games as they wish to, keeping in mind the availability of time. However, since you wouldn't have the space to have the other activities, such as brunch, drinks, and snacks, you might as well want to play a little more with the parents.
Nonetheless, about a 2-4 games event could be just perfect for the virtual baby shower.
Now, let's get to the juice!
10 Ideas for The Best Virtual Baby Shower Games to Choose From!
1) Virtual Baby Shower Jeopardy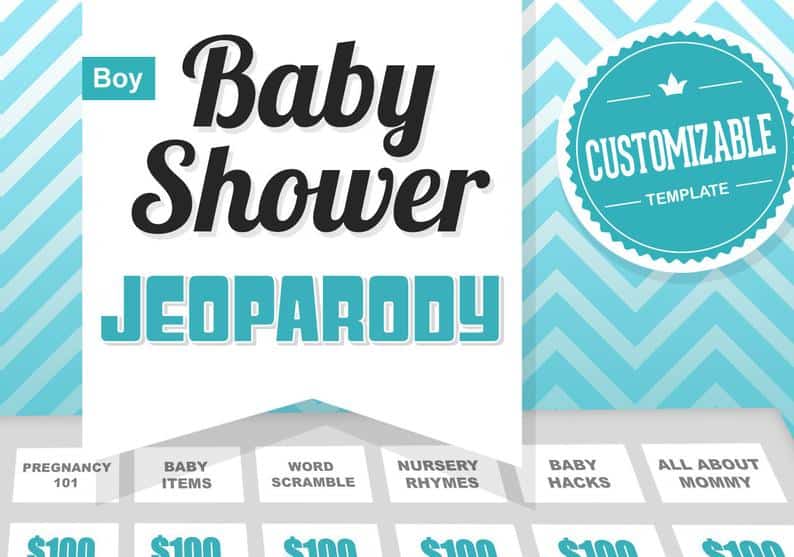 This virtual baby shower game is quite a familiar one as it is the most famous game from a popular game show, which means, there is no scope of disappointment! This game comes with a theme song, sound effects, and a final round of Jeopardy for the guest that accrues a winner. The best part is, it is completely editable!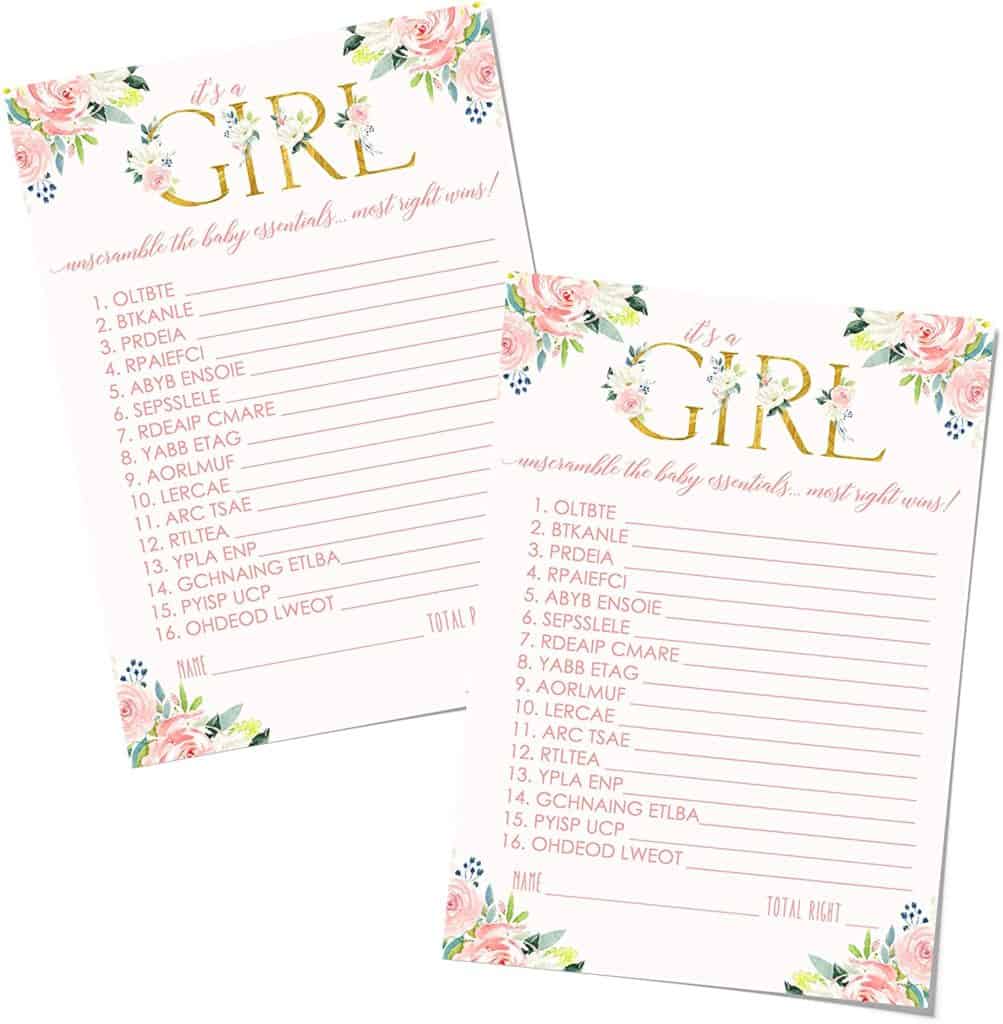 A word scramble game during a baby shower means that the game would for sure have a fun scramble of baby names and baby items. What could anything be better than this? It's up to you if you'd want to put the guests into groups or let them play individually until you find the winner. The best part about this game is that it would be fun to play and requires only minimal prep!
Added to the theme of the baby shower. 
Perfect print, about 5×7 size, very sturdy thick cardstock. Also very fun babyshower game!
– Sam
For more product reviews visit Amazon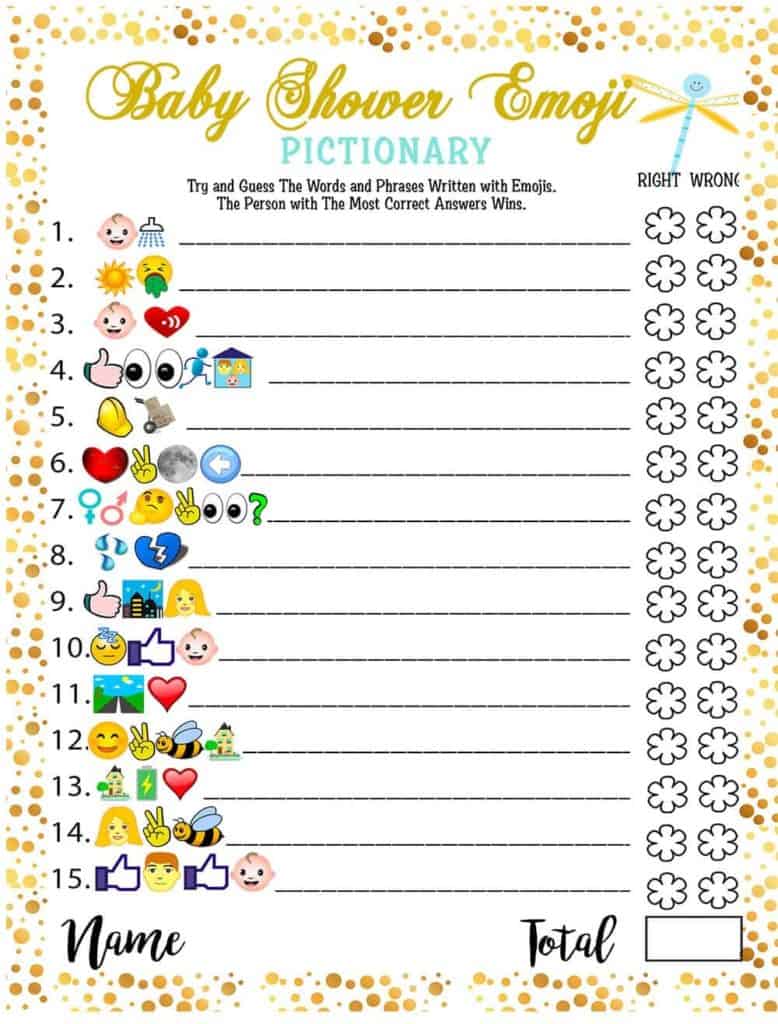 This party pastime has eight different rounds with over 100 questions! It includes a list of children's movies, emoji Pictionary, baby songs, nursery rhyme, trivia questions, and more.
Baby shower game. Very sturdy and so cute!
Perfect baby shower games the cards are very sturdy.
And I read that it don't come with the answers, but mine did. It was folded around the cards.
For more product reviews visit Amazon
4) The Price Is Right! Good Price!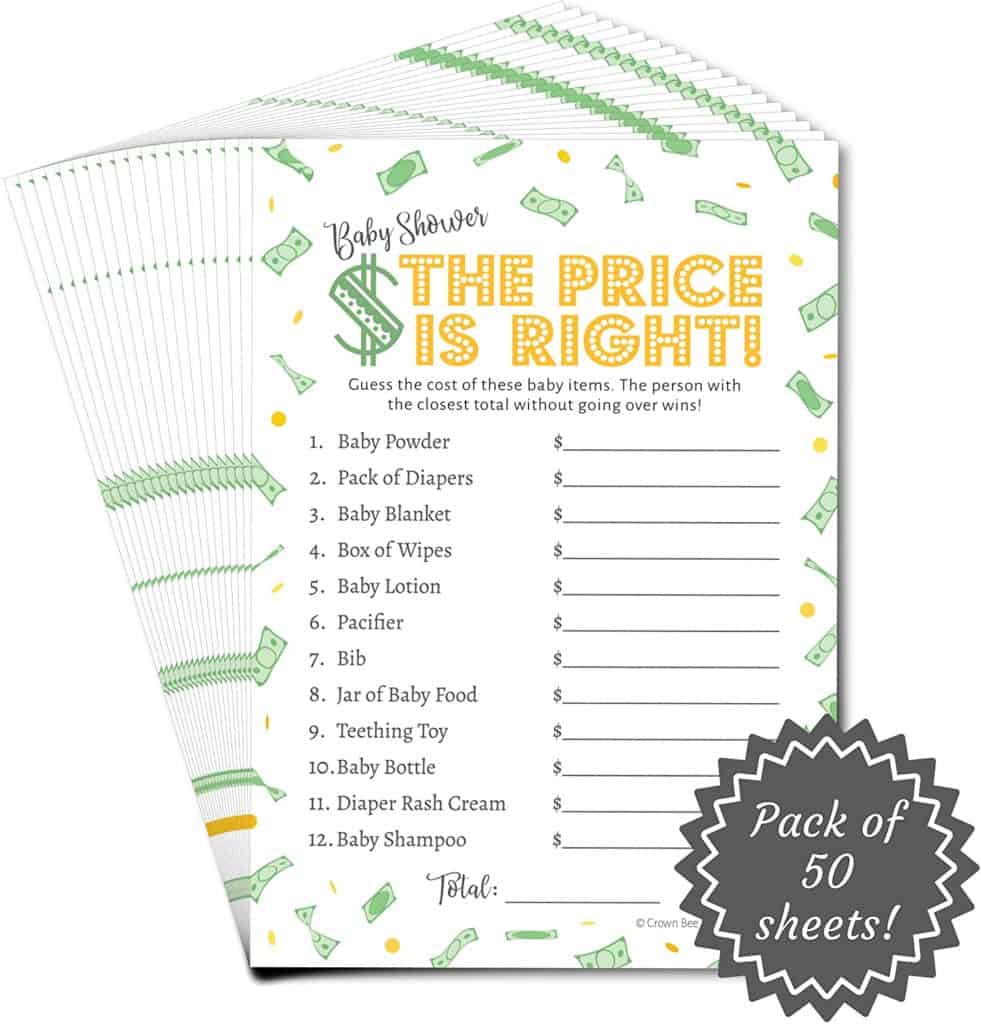 The Price is Right from the all-time favorite game shows is popular and it has four different pricing games packed into the bundle for a whole lot of fun. It's up to you if you'd want it to be a team game or one for individuals.
I purchased everything off of the list and put the items in a basket for display. Then the baby shower guests could play or not play. We didn't want any forced baby games. It was a hit! The person who guesses without going over won a nice prize. One thing I noticed is that most people just guessed, they didn't put a price down for every item. Worked just fine that way.
Side note:I also purchased a clear baby bottle and filled it with light blue Jelly Bellies and let people guess how many were in there (135.) Another "you don't have to participate" game and it was a hit.
– Trixi T
I bought these for my sisters baby shower as one of the games and it went great! It arrived quickly and in good quality with plenty sheets for all of the guests. My only drawback would be that it didn't have a place for the persons name but that was easily fixed as most people just wrote there name on the back or top. Happy with this purchase!
– mbecker
For more product reviews visit Amazon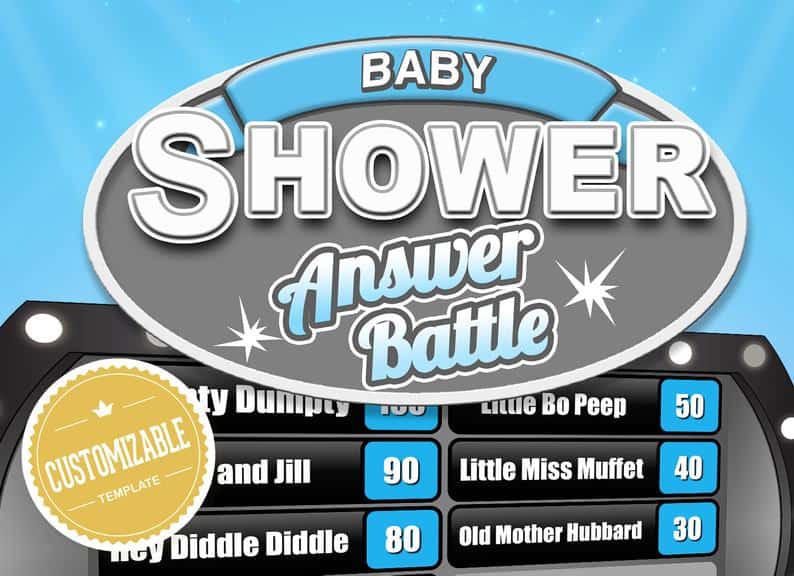 Also from a popular game show, the Answer Battle is perfect for an online setting. As per the reviews, the instructions are easy to follow and the guests are assured to have a blast playing it via the online baby shower!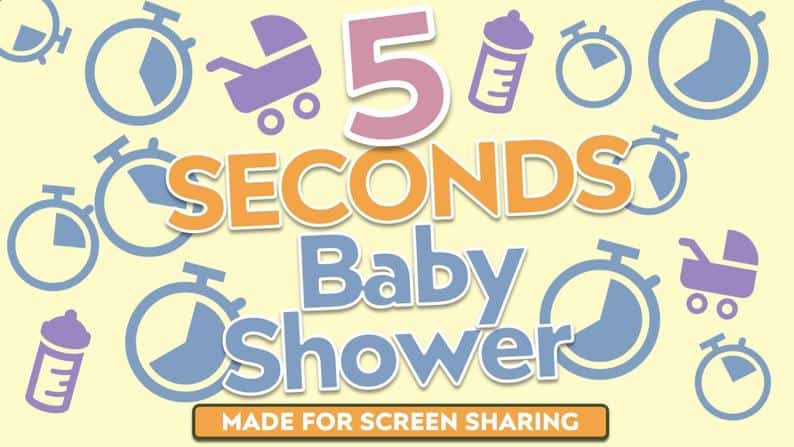 As the name suggests, it's a quick game! Here the guests will have to name things related to a baby (of course!) in just 5 seconds! For instance, The top three diaper brands! You'd be given a set of rapid-fire questions from Quizzology and also enhance your knowledge of the baby items.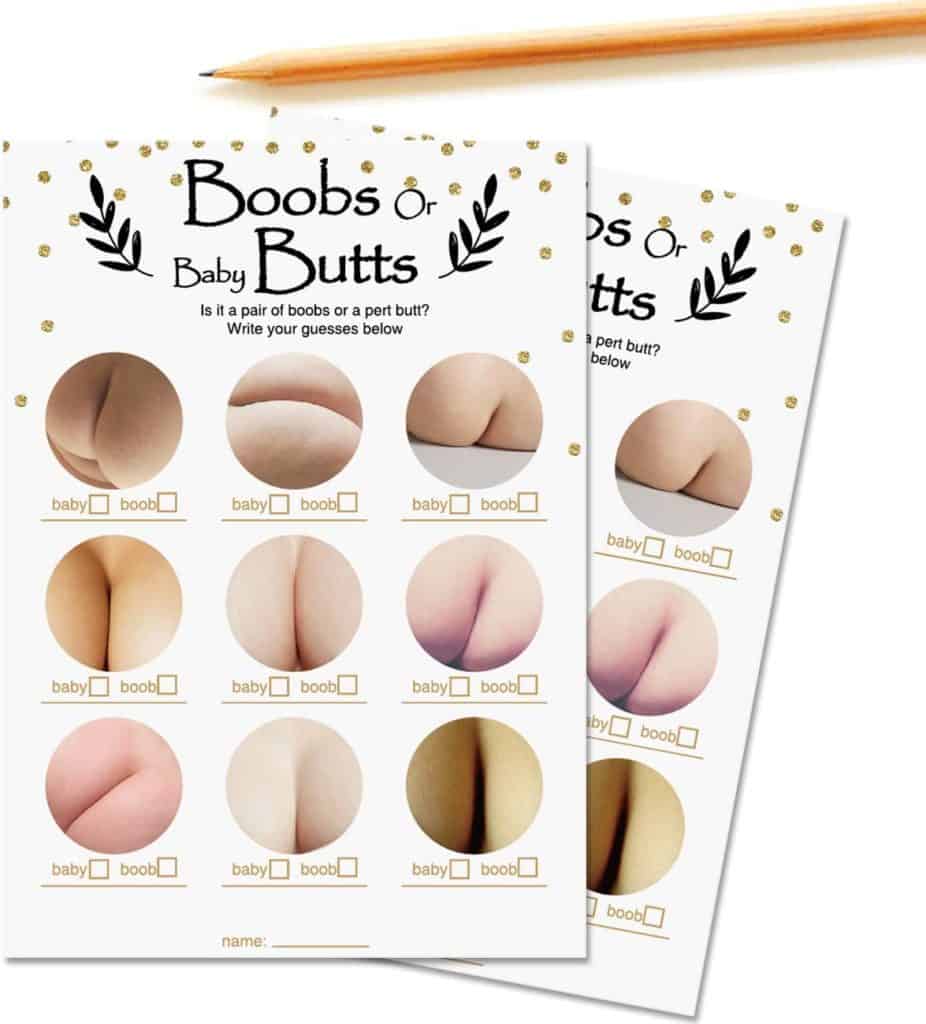 Boobs and Butts are considered to be the most hilarious game that one can play during a virtual baby shower, provided the guests do not get offended. So, grab this virtual boobs or butt game stat and see if the guests are able to determine whether it belongs to a pair of boobs or a butt.
This was such a refreshing change to all the typical shower games. It was a hit! I thought it was going to be super easy for a group of women, but only 2 of the guests correctly guessed all the answers.
Purchased for my daughters baby shower. People loved this game!
For more product reviews visit Amazon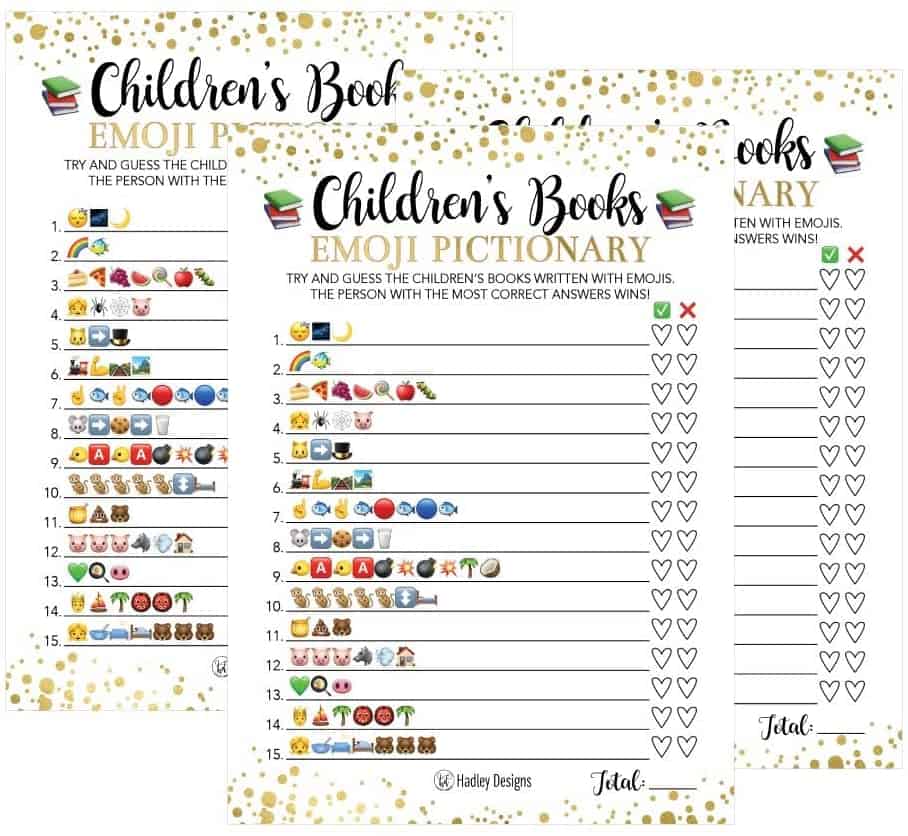 We are sure you might have crossed paths with this game while going through the nursery rhyme or books. However, this game shows different pregnancy and baby-related emojis for the guests to decode. The best part is that it is easy to set up and fun for everyone!
I ordered these for my daughter in law baby shower and the game cards are of high quality card stock and the colors are wonderful! It is exactly what I was expecting and not disappointed. I think the emoji children's books game theme is so different and not the normal ho hum shower game. I looked high and low for something different and these fit the bill. I highly recommend and I am totally happy with my purchase!
– Sue R
We had so much fun playing this game at a baby shower!! Game cards are good sturdy quality paper, easy to read, and come the answer key that some other games do not! Lots of laughs.
For more product reviews visit Amazon
9) Pregnant or Beer Belly?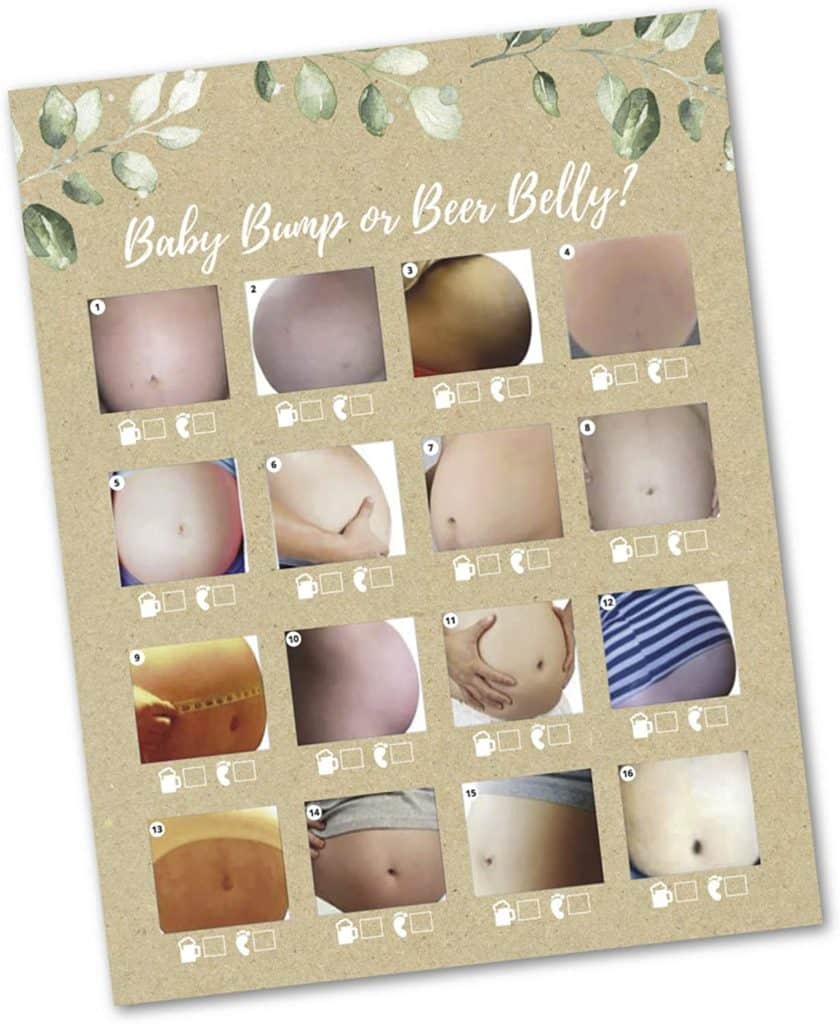 This game can be sent out along with the invitations as it is a part of a printable PDF with a funny appearance! When playing, you'll see the image of a belly on your screen while the others will have to guess if it is a beer belly or is of a pregnant woman!
Great game for a mixed group of people. Use this for a baby shower with both men and women and everyone enjoyed this game. People talked about the results for hours after the shower.
This was loved at my baby shower! It's not made to be super easy to figure out, which I consider a pro- out of 20 people, no one got 100% correct. Close to it though so it's not like it's impossible! It's funny and quick. I would definitely recommend this game!!
For more product reviews visit Amazon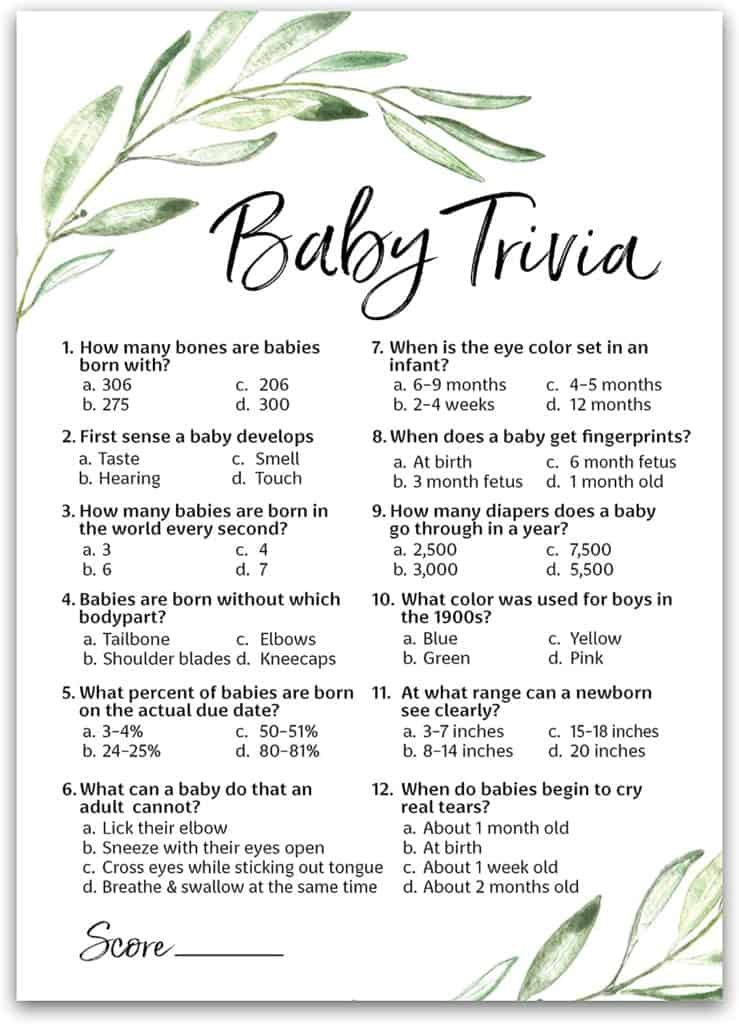 This is an updated version of the Family Feud-style game where there are names of different baby-related things and that of pregnancy, for instance, the baby registry. The best part is that you can also add your rounds to this game.
Make your baby shower games easier with this trivia! It's on a sturdy cardstock and is printed beautifully. Was a hit at the baby shower I threw!!
– Jordyn
Purchased for baby shower and the guests loved this game! Surprised us all with the answers. Good Fun!
For more product reviews visit Amazon
Parenthood Bliss hopes that the above-mentioned virtual infant shower past-time games will help you have the best online baby shower and provide a lot of entertainment and fun memories.
While you are also waiting to celebrate and welcome your new baby, we hope you have prepared and packed your baby registry!
FAQs On Best Virtual Baby Shower Games
1) How to throw a virtual baby shower that's fun ?
Here are 9 simple steps to help host the perfect virtual baby shower:
Understand the mom-to-be(s) expectations
Choose and test the online meeting platform
Send out digital invitations ahead of time
Make sure to include links to gift cards and online baby registry
Look what decorations you'd like to do and the food
Plan on the best virtual baby shower games
Include prize and party favors
Prepare a time slot for gift opening and guessing
2) How to open gifts at a virtual baby shower ?
The guests can choose to send their gifts across for you to open them on camera in front of everyone. Or, if you do not want any gifts considering the time, you can ask them to open them for you at their end while you see, virtually.
3) What are good baby shower prizes ?
Gift certificates
Baby shower candles
Baby lotions
Picture frame
A recipe box
A mug
Potted green plants
Newborn diapers
Cute baby clothes
Baby bottles
Baby bassinets