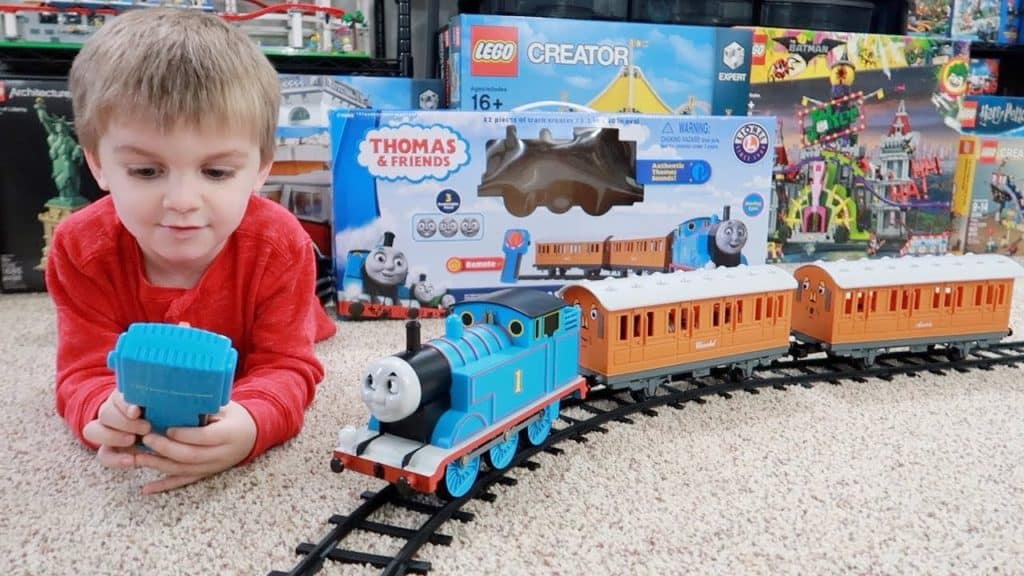 Best toy train sets have for generations been the favorites of most kids of all ages that even end up being a life-long inspiring hobbyist.
This is because this train toy not only helps the little one with hand-eye coordination but also builds the physical and cognitive benefits of grasping and pushing trains across the floor. They also encourage the little one within handling small objects such as trains and track pieces, developing their fine motor skills needed in day-to-day tasks. Adding on, keeping the trains on course, navigating the obstacles, and creating imaginative scenarios builds problem-solving skills and fosters their creative thinking ability. Therefore, in order to build the skills as mentioned, start by giving the toddlers a simple kid-powered wooden train set and gradually build onto the collection.
Speaking of which, the toddlers or older kids can pick their extensive sets with tracks as they are widely available in the market. As fun as it may sound, these made-powered or motorized trains can provide hours of fun but are quite hard to choose from.
Therefore, in order to make it easy for you, Parenthood Bliss has curated a list of the top 5 best toy train set that range from battery operated to kid-powered. So, pick the one that suits best for you from the list below!
5 Best Toy Train Sets For Your Little One
1) BRIO My First Railway Beginner Pack Train Set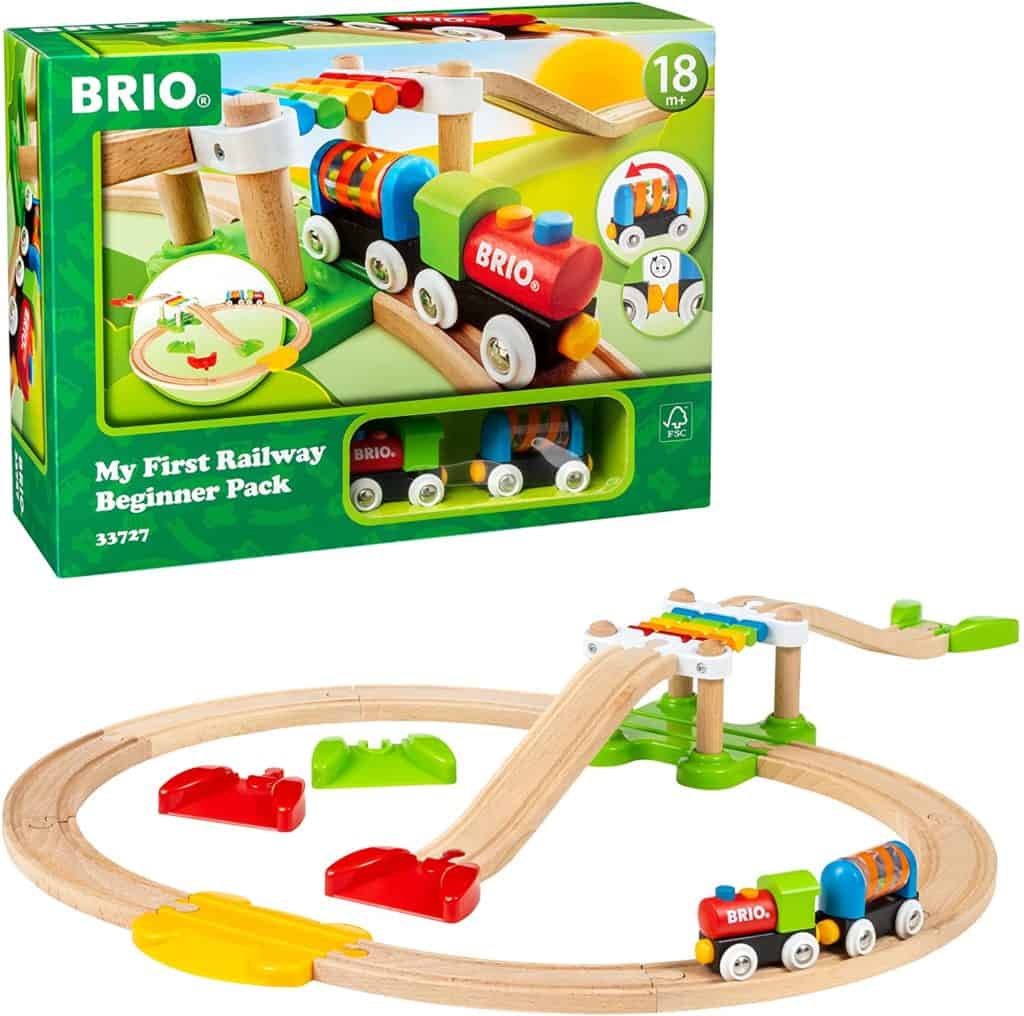 This is the oldest train track on the list and has been in business since the late 1800s, designed to be safe, fuels endless imaginative play, and has a small-scale track making it the best train set for any toddler. It is available in two colors, is connected magnetically, has a rainbow bridge, ramps and the set comes with the right amount of tracks for these little engineers. The wooden use of the train set is traceable, originating from responsibly managed forests, is simple to build, and quite durable in nature.
Additional Specs Include –
Ages 18 months+
The set includes 18 pieces: 1 train engine,1 tunnel, 8 curves, 1 rattle train car, 4 ramps, 2 ascending tracks, and 1 connecting track
2) Melissa & Doug Classic Figure Eight Wooden Train Set

This train set comes with two train cars made from solid wood and links to each other magnetically so that the kids can separate by scooting them individually. It features non-toxic, good quality, and durable in nature making it quite a perfect fit for a first train set for two-year-olds. We're sure the little ones will like these wooden trains, therefore, the company has also incorporated a much larger set that has about 130 pieces for older kids.
Additional Specs Include –
Ages 3 years+
It includes an engine, coal car, bridge, 20 track pieces
3) Fisher-Price Thomas and Friends Super Station Train Set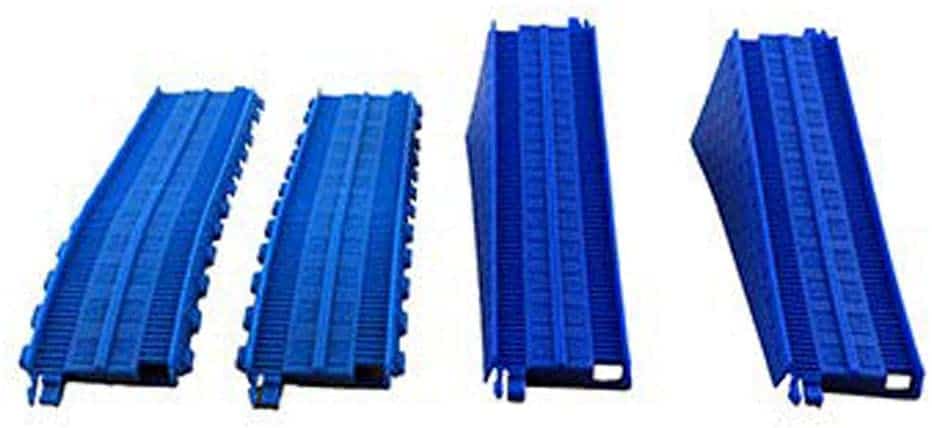 Is the toddler hooked on the theme song of 'Thomas and Friends?' If yes, then this train set is just for you. This is the kid's opportunity to gather friends as well as the crew and get on with the whole experience.
Fisher Price's Thomas and Friends train tracks' durable in nature that they grow with the child, it also features a small circular track, medium-sized figure eight, large two-level racing ramp, and lots of different configurations for the tracks. Also, the tracks are compatible with the trains from Thomas & Friends Adventures, MINIS, TrackMaster, and Wooden Railways, and can store over 100 engines!
Additional Specs Include –
Ages 3 years+
Includes over 35 ft of track, plus 4 engines: Thomas (TrackMaster), James (MINIS), Percy (Thomas & Friends Adventures), and Harold
4) VTech Go! Go! Smart Wheels Train Station Train set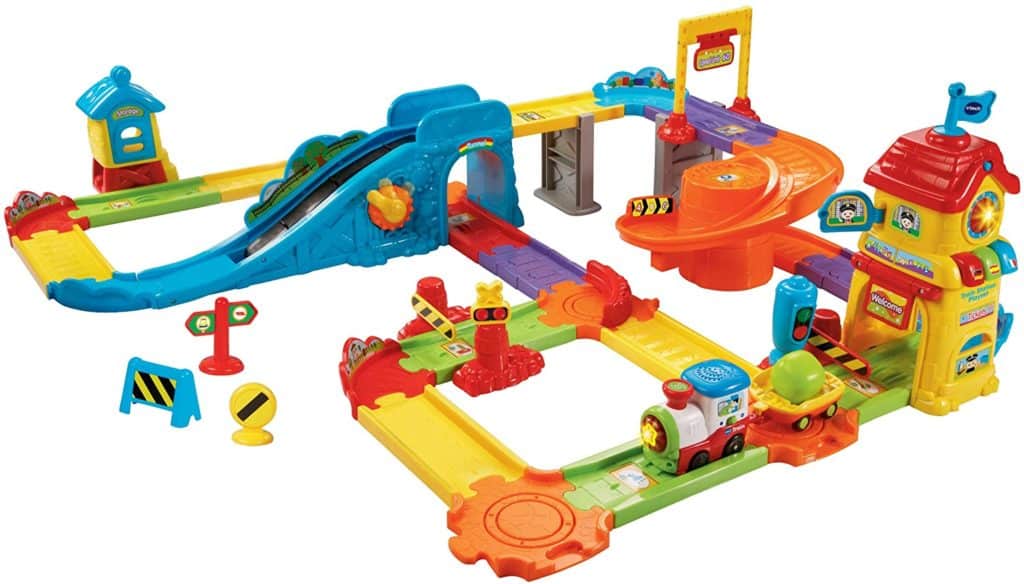 Battery-powered VTech can help you earn from qualifying purchases as it is a smart, customizable track for kids' who are experts or to be experts at VTech. This toy helps the little one learn the letters, colors, telling time, greetings in – English, Spanish, German and French, sing-along songs, and train-related phrases for the train-loving toddlers. Not only that, but it also has smart point sensors that trigger sound effects, music, and includes 32 interchangeable pieces to help kids customize the track as per their choice.
Additional Specs Include –
Ages 12 months+
The set includes 32 track pieces, 1 motorized SmartPoint train, 1 cargo car, and 3 AAA batteries
5) KidKraft Waterfall Mountain Train Set and Table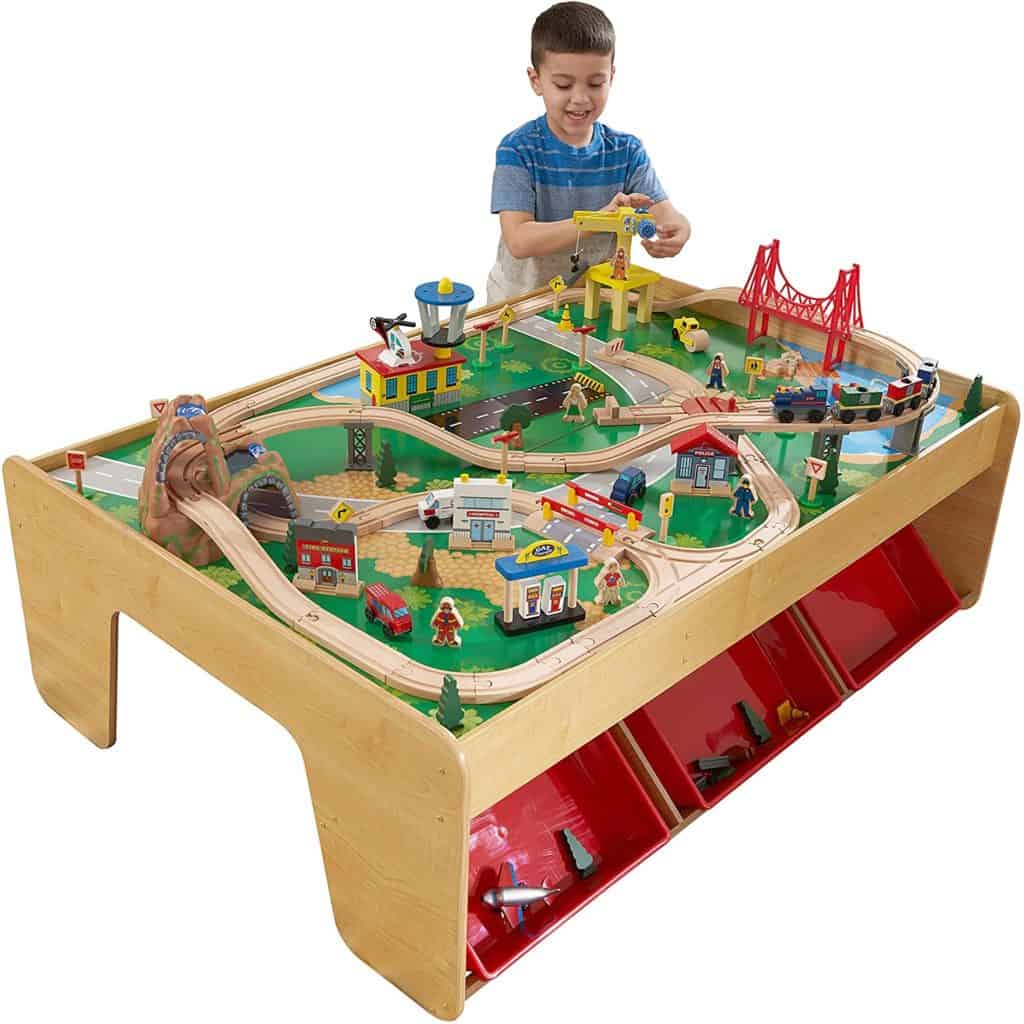 This is a great set for train enthusiasts as the set comes with 120 pieces to help drive the little conductor's creativity based on the multilevel tracks. Kidkraft features a two-piece board that is responsible for setting the stage for imagination and is designed with colorful grass, roads, and water. Adding on it also includes detailed accessories like the street signs, a helicopter, people, trees, and little buildings that are a great way to help the little ones put together a great city, and your tot's favorite trains from other sets can also be added to make it a lot of fun. This freight train table has three storage bins to be placed below the four feet table for easy cleanup.
Additional Specs Include –
Ages 3 years+
It includes 120 pieces, a table, and 3 storage bins
By purchasing a toy train set you may earn a lot more skills for that kid that comes along, such as,  hand and eye coordination, fine motor skills, building skills, shapes, colors, etc. Therefore, these are available in a wide range, that is, from wooden train sets, an electric train, one with remote control and on and on. This is why parents must make sure to pick the best sets that will help their little one build their skills, you could consider the top list for better picks as they are all reviewed!
On a side note – If you are looking for more such options for a baby's best first toy such as building toys, Montessori toys, Sensory toys, stuffed animals, etc, check them out using the links now!
Best Toy Train Sets FAQs
1) What are the best toys for a 2-year-old?
Here are a few toys that are great for 2-year-olds:
A Fun Fair Playset
Best Bilingual Toy
Tool Set
Zoo animals set
Ride 'n Chomp Croc
Mega Bloks
Laugh and Learn Pull & Play Learning Wagon
For more
best toys for 2-year-old girls
and
2-year-old boys
, click now!
2) How do you store a train set?
The best way to store a toy train set is to add paper and boxes to the entire box and keep it in the interior closet. Make sure to avoid storing in an attic, basement, or garage as the box can become damp and mildewed, and even rust its metal parts.
3) When can a baby start playing with train sets?
There is no hard and fast rule concerning this question, however, it is said that these must be given to kids of at least 3 years of age as they could cause choking hazards for the younger ones. Just in case your set has much larger parts, you could give them to the kids but under supervision to avoid any foreseen dangers.