Time to shop for a 2-year-old boy in your life?
With so many products in the market, the options could even stress out supermoms! Everyone wants to offer a present that becomes his new favorite, a toy that he doesn't want to keep aside.
Parenthood Bliss researched a lot and curated an amazing list for you to select gifts for a 2-year-old from.
These perfect presents for 2-year-old boys will add support to your darling 2-year-old's life and also assist him to grow up and figure out how he interacts with the world, but most of the time, toys will bring happiness and excitement to his face. With products ranging from remote control cars to mini guitars to the ideal nap bag, you're going to see some amazing ideas to give as an awesome gift.
1. Lego Duplo My First Cars and Trucks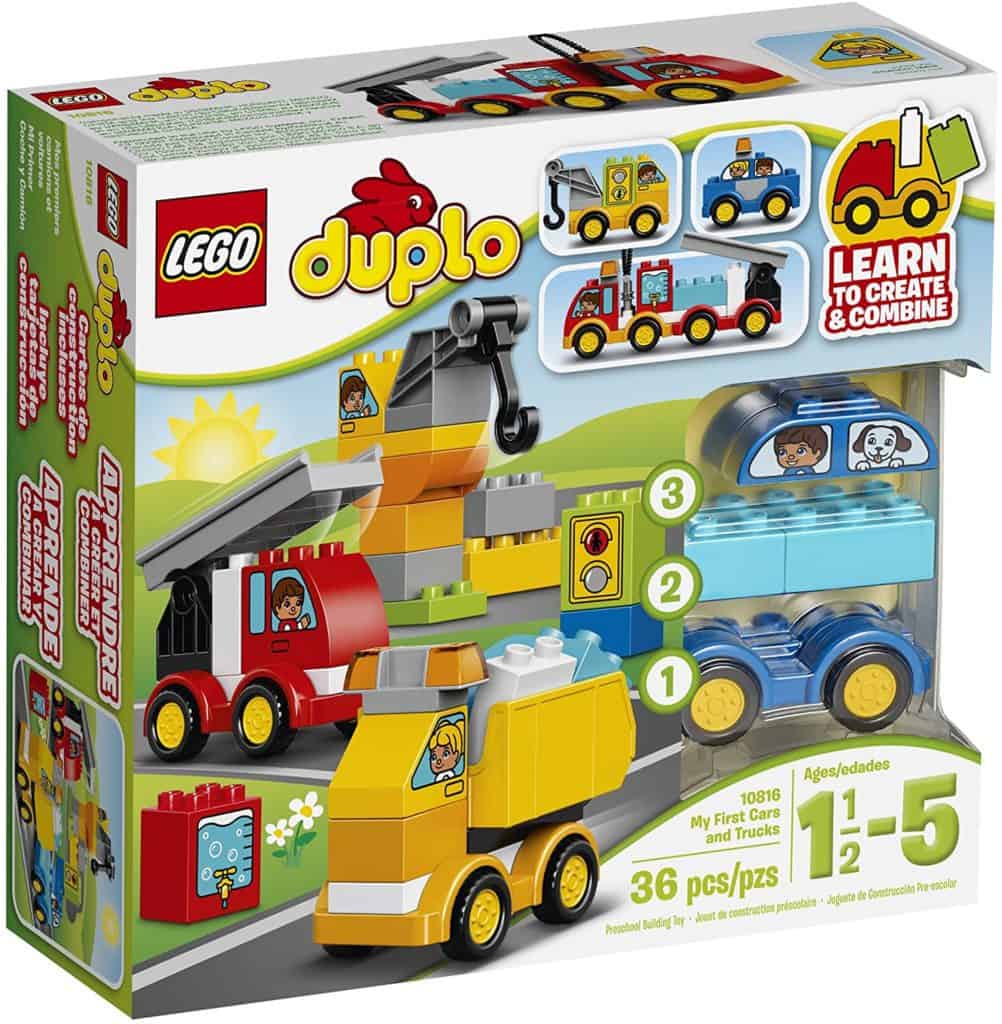 Get your child started on LEGOs with this LEGO DUPLO My First Cars and Trucks.  Little boys enjoy playing with cars, and nothing is better than a personalized car that he can build from scratch! You and your child will arrange and dismantle every time you want to re-start to create something unique and fun. Like other Lego toys, extend your Duplo collection later to incorporate other sets that can all be mixed together.
Lego developed the Duplo building blocks for small hands are a great source of learning. Better still this perfect 2-year-old toy can be played with and mixed up to spark your baby boy's innovation. Put them in a little bag and take anywhere you feel they would want to play with it. This is the ideal present.
2. TOP BRIGHT Tools Toy Set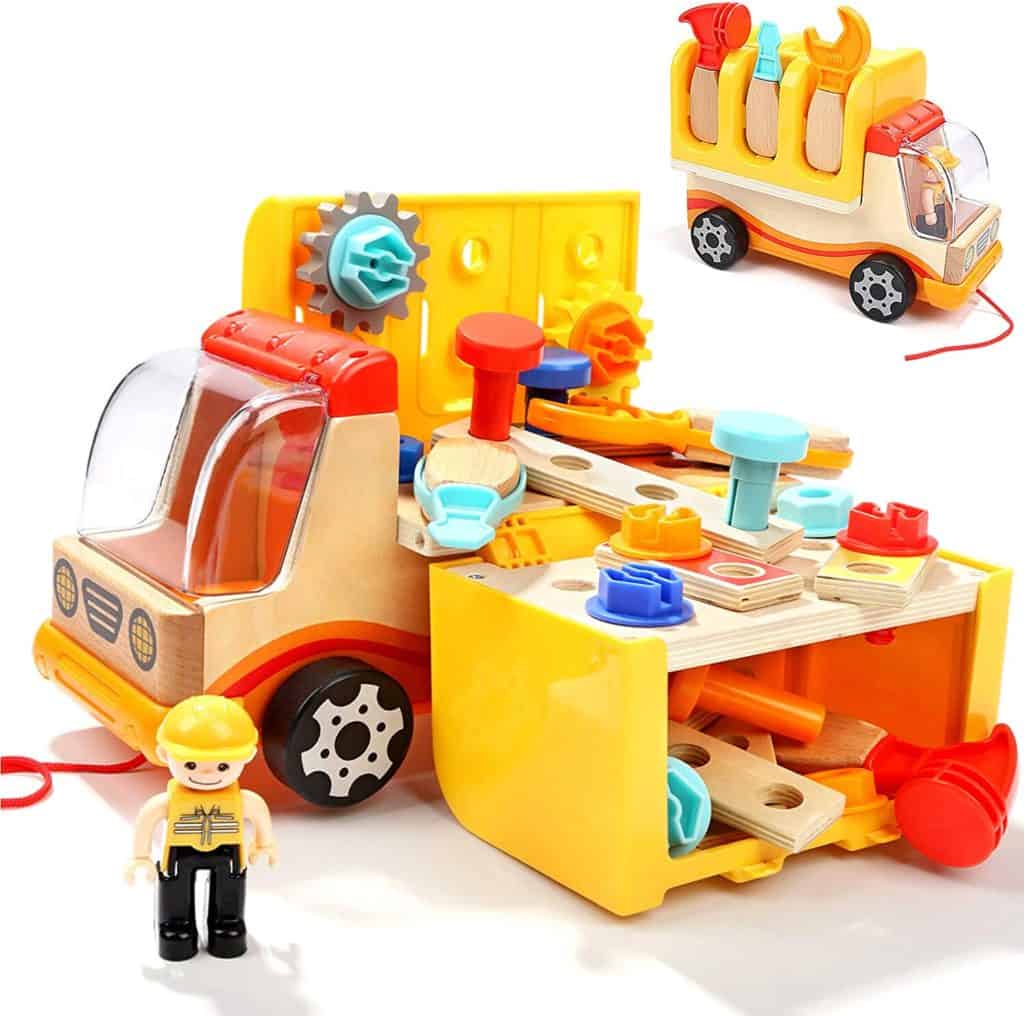 The TOP BRIGHT Toy Collection is absolutely amazing! It's filled with wrenches and screws and other equipment for a long amazing game time. Not only does the truck hold all the materials, it also breaks apart to transform itself into a workbench. Babies will twist screws, pound plastic sticks into the workbench, and there are even gears to spin on it. The truck can also be pulled back with a cord tied to it.
Better still this toy doesn't make any noise to annoy the parents or make them crazy.
3. Kid Trax Disney Cars 3 Tow-Mater Electric Ride On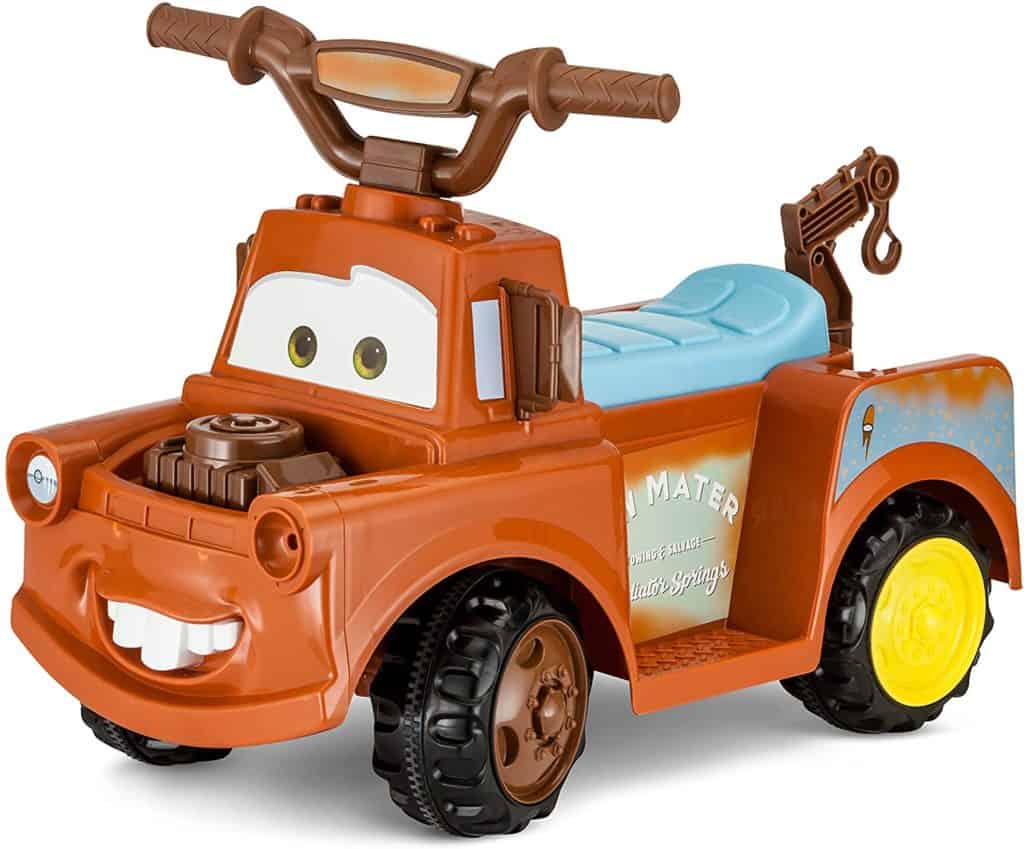 Offer them the gift of their first toy ride with this exciting Kid Trax Toddler Disney Cars 3 Tow-Mater Electric Quad Ride On Toy. Push-button action makes it very simple for them to find it out, and because it's a novice, it doesn't go above 2 mph and it has a lot of fun tunes and other things. This would certainly be a favorite gift for any baby boy! Offer them the gift of their first toy ride with this exciting Kid Trax Toddler Disney Cars 3 Tow-Mater Electric Quad Ride On Toy. Push-button action makes it very simple for them to find it out, and because it's a novice, it doesn't go above 2 mph and it has a lot of fun tunes and other things. This would certainly be a favorite gift for any baby boy! 
4. VTech Smart Shots Sports Center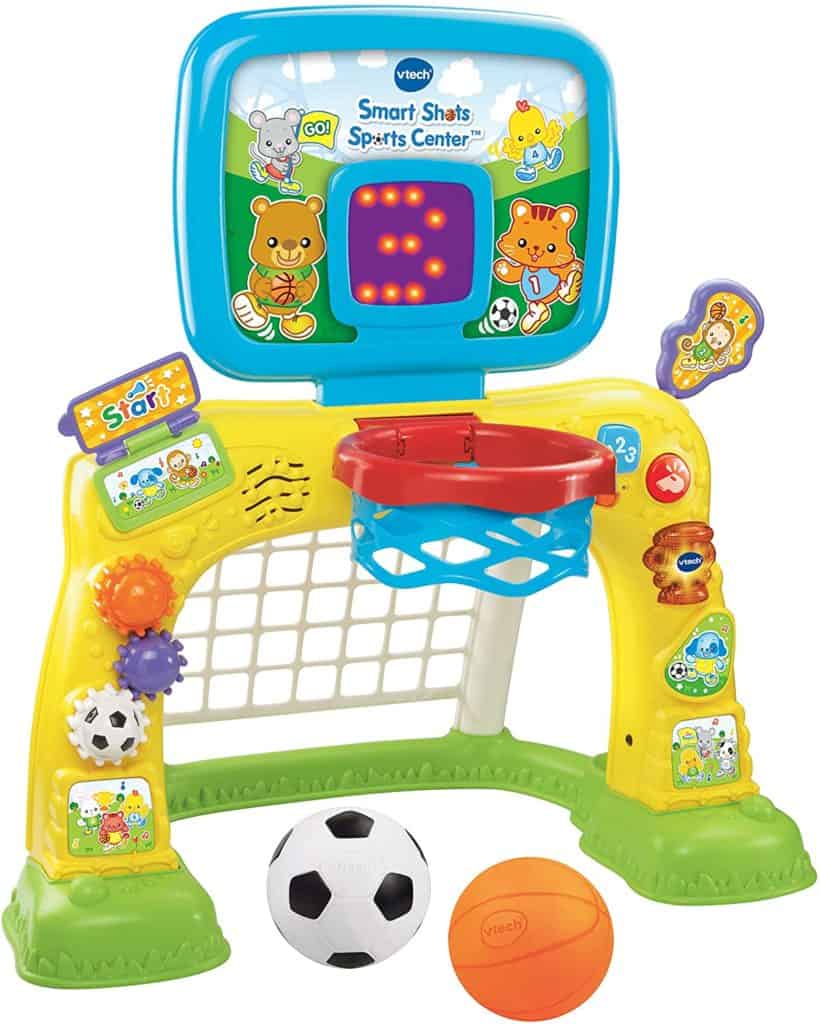 With this groovy VTech Smart Shots Sports Center, they can also be an amazing boy while playing soccer or basketball. The LED scoreboard monitors and keeps a count of basketball scores up to 10 and inspires a toddler with encouraging words. They can play basketball or score goals.
 Boys love to play sports and this very engaging game can even be played with their friends. They're going to enjoy the light-up scoreboard, the various buttons, and of course, the game itself. The stunning style is intended to stay unique!
5. Melissa and Doug Chunky Puzzle Set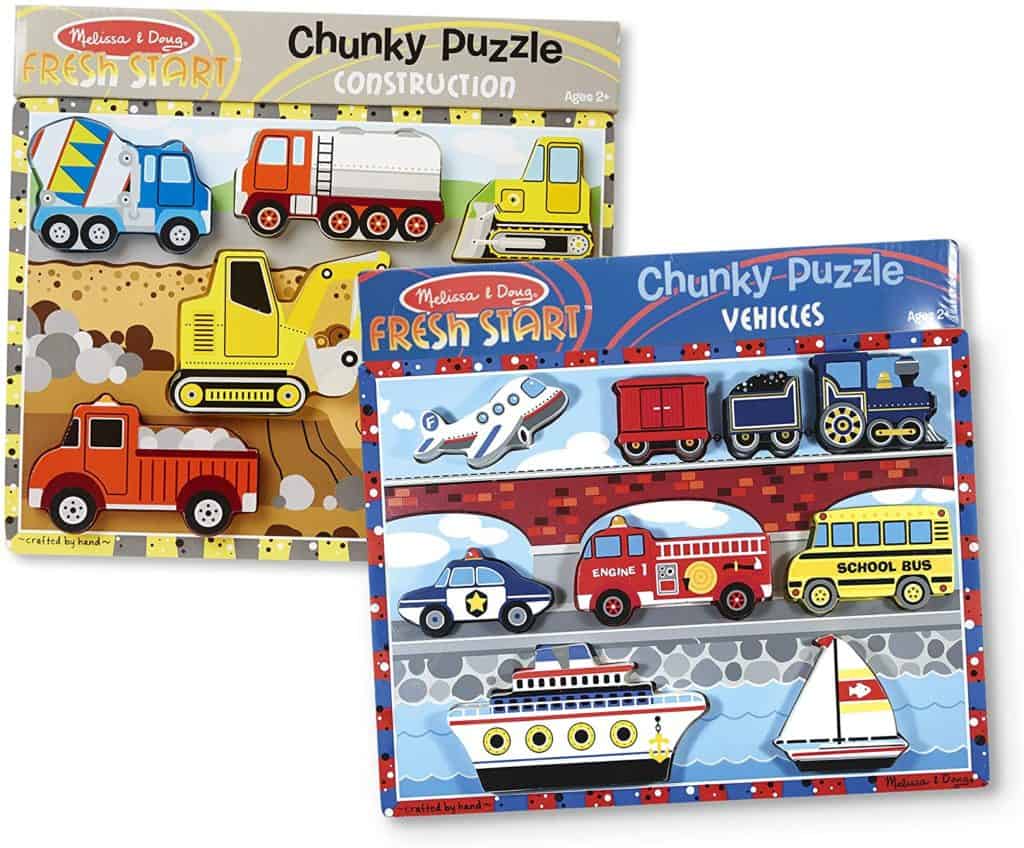 Small children enjoy doing puzzles! So why don't you support their love of learning and get some of the amazing puzzles out there? The Melissa and Doug Wooden Chunky Puzzles Package is not only reliable but also cute.
The theme of building and vehicle is definitely going to make your baby boy engaged and happy. Puzzle pieces are big and simple for rising hands to catch. Puzzle parts slide into little pieces to press on the spot. The puzzle pieces have full-color images underneath so that your younger child can quickly find where the pieces are going. With just seven pieces for each puzzle, you don't have to think about keeping a track of a dozen tiny pieces.
6. VTech Touch and Learn Activity Desk Deluxe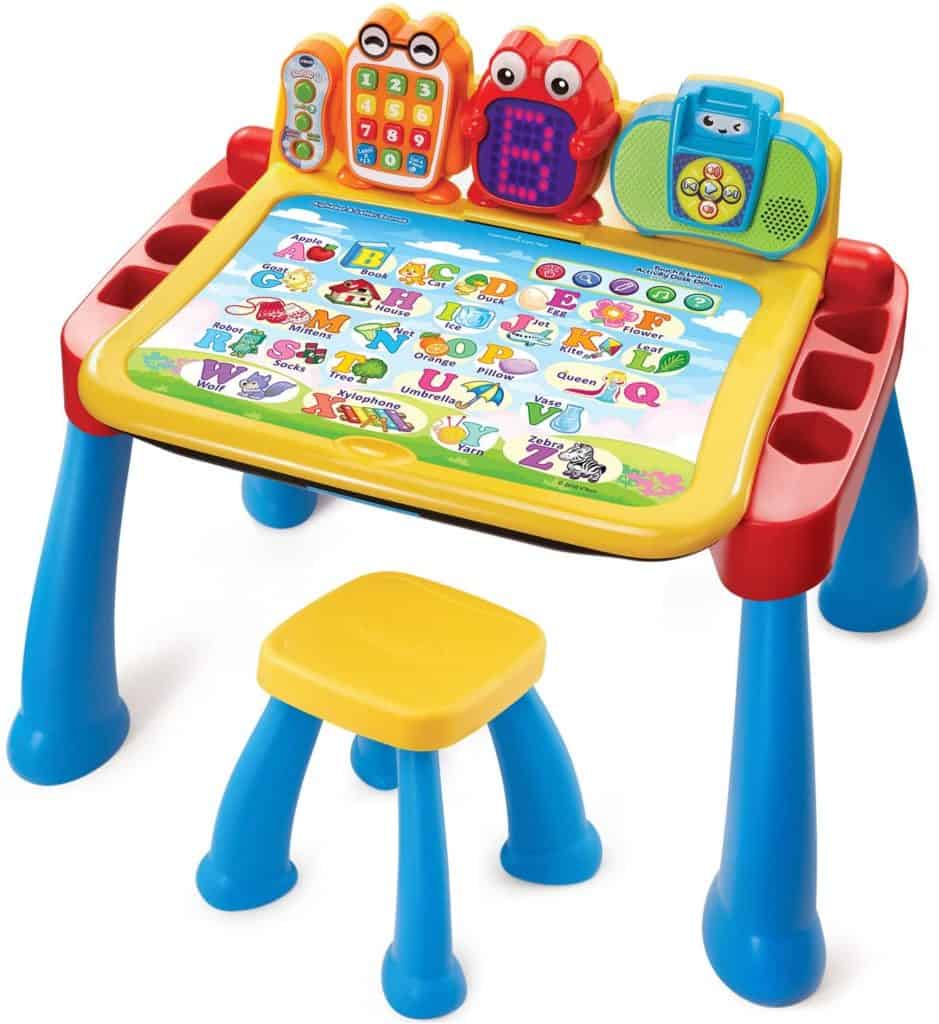 The VTech Touch and Learn Activity Desk Deluxe is perfect for the playroom! It incorporates 5 activity sheets, each with a specific theme: Numbers and Counting, Fruits and Colors, Alphabet and Letter Sounds, Human Body and Music Jammer. For even more interactive, exciting, additional expansion packs can be purchased whenever you need it!
The desk flips to uncover a chalkboard, and the paper can be clipped to make it an art cavalier. And it's got a toy phone attached from which they can "call" people. The desk is spacious and comes with a chair. Supporting and motivating young art allows children to discover their inner creativity and not be afraid to reveal their early styles. One of the best toys for 2-year-olds to improve self-esteem and exercise imagination
7. Radio Flyer Red Rider Trike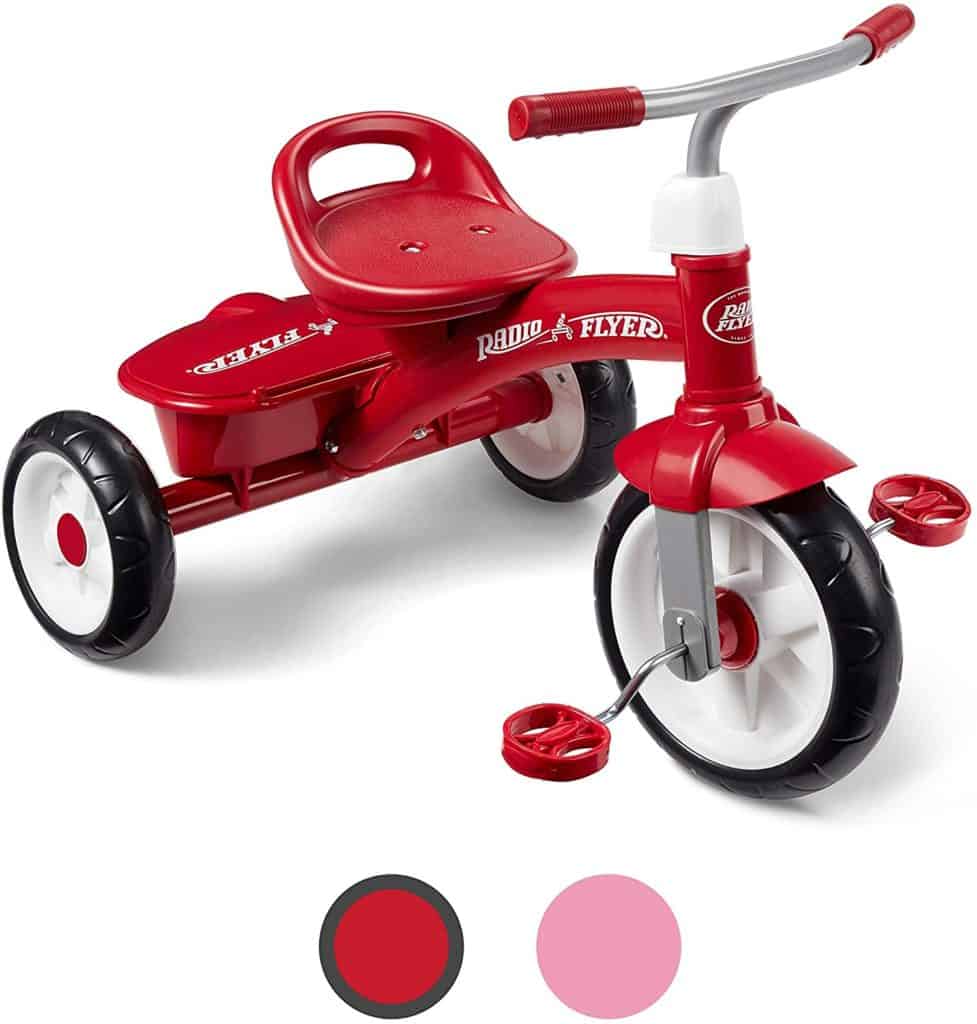 Radio Flyer Red Rider Trike is a name not only familiar to every parent, but also to the generation of parents, and even grandparents. It is a company that has been around since 1914 and is known for the quality of the goods that have been manufactured in the last century and have a limited warranty through the company. Parts are reliable, customer support is efficient and the FAQs section of the website is simple to manage in case of issues.
Given the fact that the components of this tricycle are made of lightweight plastic instead of all-metal, user reviews are extremely positive that it is fairly efficient. The seat is customizable, so even if your baby's legs are just a little too short to pedal at the beginning, he can develop into it and keep riding for a few years. Plus, a bonus for parents is that all you need to put together is a screwdriver, a pair of pins, and a bit of help, motivation, and confidence!
8. Monilon Water Drawing Mat with 2 Magic Pens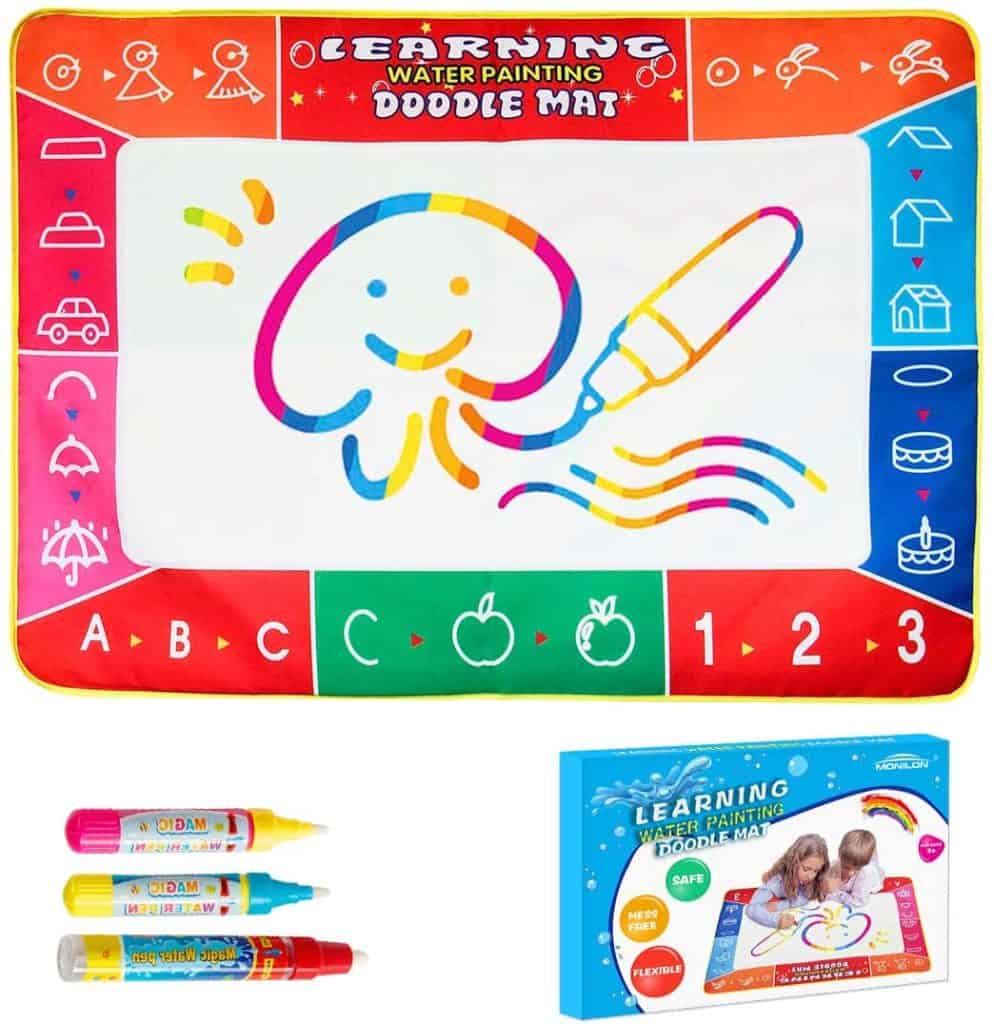 I love the resourcefulness that abounds in children's toys. Stuff like this Monilon Water Drawing Mat with 3 Magic Pens didn't exist 10 years ago, but what a brilliant idea! Without making chaos they can draw whatever they want. The pens have water inside them and the "art" disappears when the water dries. The mat is water-resistant and can be rolled up. It's also 40′′ x 28′′, sufficiently wide for many children to draw.
9. Top Bright Magnetic Wooden Fishing Game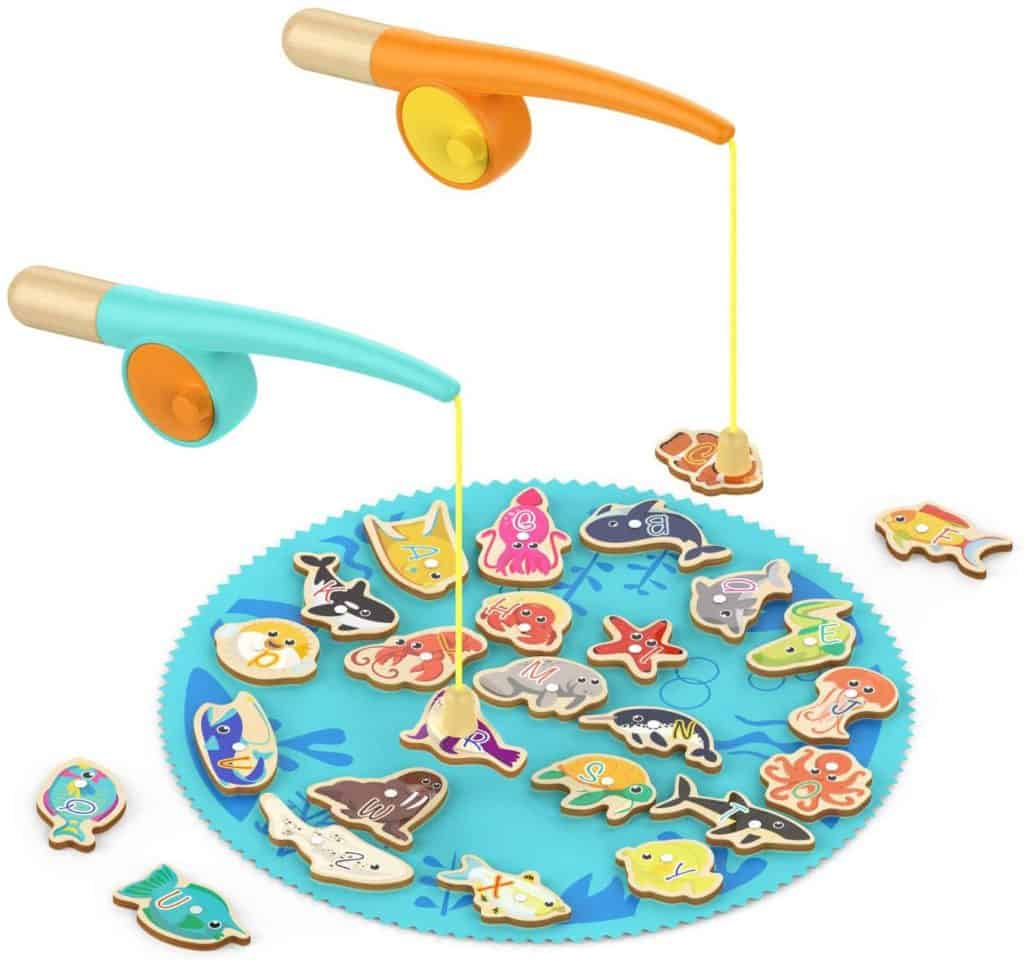 The TOP BRIGHT Magnetic Wooden Fishing Game is a magnetic and wooden game that's perfect because it's durable and expected to last for long (unlike the plastic one we've had). This package of toys has 26 ocean animals and 2 fishing rods, which are simply retracted by turning a handle like the real ones.
When the child gets older, this package can be used to play a math game, adding numbers to all the fish he's caught to see whether he has a better score. Parents would love it as this comes in a comfortable round box that can be used to store the game.
10. Green Toys Car Carrier Set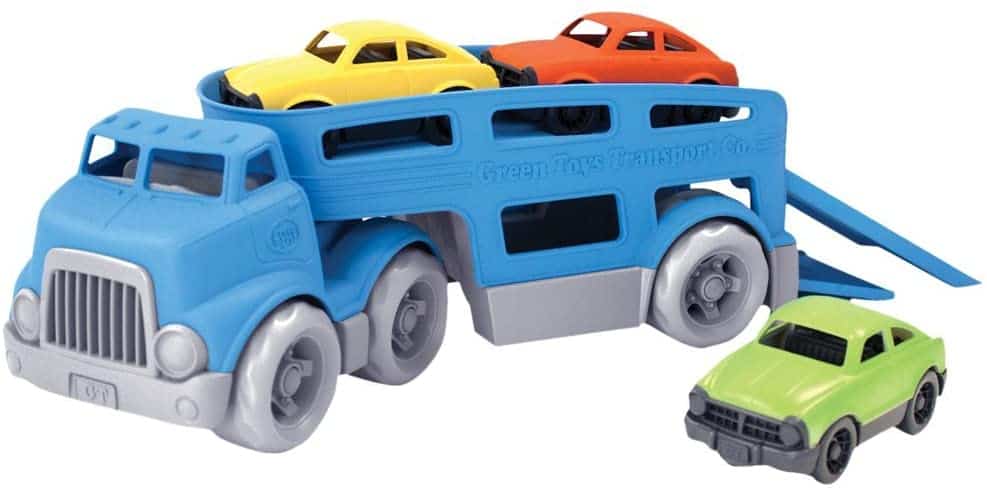 Little boys are in love with everything that goes "vroom! "And parents enjoy something that's sturdy and quick to clean. This collection is made of 100% recycled plastic in the USA, therefore the name Green Toys. But don't get it twisted, they're not made of creepy or junky plastic. Plastic, thick, durable, and simple to clean. The best part of being all plastic is that you don't have to keep thinking about rust or rot while your little one plays with this car kit. It's a healthy product which is dishwasher friendly too!
Each car has a different color and home on board the trailer. The colors come from natural inks, too, so they're absolutely non-toxic.
As your loving son dedicates himself to speech, walking, and fine motor skills, most toys concentrate on these three sections of growth.. Many toddlers enjoy watching things move, like cars, or spinning objects, which is why a majority of toys have wheels. Books are extremely necessary to help them learn words and develop.
Speak to your child often and read too often because reading is a wonderful period of engagement and the best way to improve your language skills.
Try to hold a wide variety of toys to encourage new abilities.
FAQs- Best Toys and Gift Ideas for 2 Year Old Boys
(Q1) Will my two-year-old play with toys separately in his room ?
Yeah, but be cautious about the toys he's got in his room. Do not leave any toys needing adult supervision. By now he's in a toddler's bed, and he can get out of bed by himself, so all the toys need to be protected. Don't let him play alone for long periods of time. A silent child can be a very disturbing thing.
(Q2) Is my son able to ride a big boy's bike instead of a scooter or a trike ?
For now, just limit him to a scooter or a trike as balance is one of the skills he's always working on. If he or you really desires to give a ride on the bike, make sure he gets a short bike with training wheels.
(Q3) Is my son developed to go on a playground ?
By two, your kid is ready for smaller playgrounds which are away from a lot of elder kids. He's allowed to navigate the stairs and slides. He's definitely going to need a lot of guidance, but he'll be thrilled about the opportunity. Make sure you pay your full attention to the specified ages of each playground as you don't want it to get injured.