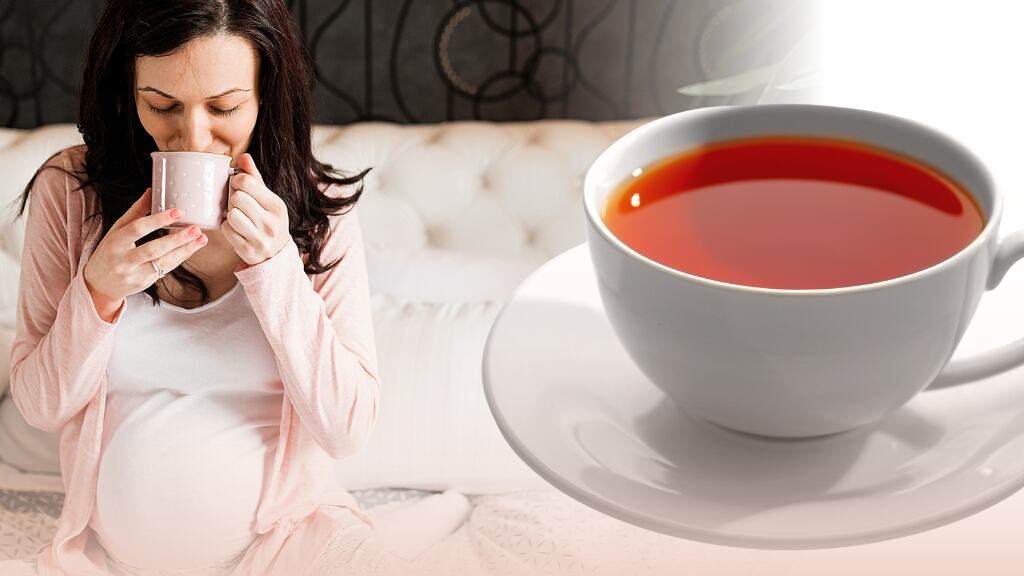 What changes should you consider to protect your health and that of your new baby? Especially when it comes to hydration and tea. We have come up with some great options to try and some to avoid during pregnancy to give your body and your newborn the best nutrition.
As you may know, raising a little human inside you is not an easy task. Your body has changed a lot and is taking on more responsibilities than before. A common recommendation from doctors is to cut down on your caffeine intake (and possibly a late-night glass of wine). Your first thought as a tired mama is to grab a matcha tea or a brewing cup of coffee.
Studies show that caffeine readily crosses the placenta, making it difficult for the growing liver in newborns to break down normal amounts of caffeine. Real teas made from the Camellia sinensis plant, such as green tea, black tea, and matcha, always contain varying amounts of caffeine. In fact
Matcha has the highest amount of caffeine, averaging 60-80 mg per cup

Black tea has about 47-53 mg

Green tea has 29-49 mg per cup
Flower tea is a great alternative as it is naturally caffeine-free and deeply relaxing, especially at night.
Is It Safe to Drink Tea During Pregnancy?
Yes, it is safe to drink pregnancy teas. But, you must remember that black tea, green tea, and white tea all contain caffeine. The American College of Obstetricians and Gynecologists (ACOG) advice to pregnant women is to limit their daily caffeine intake to less than 200 milligrams. There are many reasons why you should drink a cup (or two) of tea during pregnancy. It can even fight heart disease.
Is It Safe to Drink Herbal Tea During Pregnancy?
Herbal teas have a healthy halo but are not always safe for pregnancy. Therefore, always calculate the caffeine content and consult your doctor before drinking herbal teas. It's best to have tea instead of coffee in the morning, especially if you're watching your caffeine.
And if you're craving sugar, herbal teas are the way to go. There are many drinks to avoid during pregnancy – anything with too much alcohol or caffeine – and tea can be a good substitute.
The Best Tea for Pregnancy
Caffeinated teas are safe to drink in moderation, but you may want to consider these top 7 most popular tisanes, herbal, or flower teas during your pregnancy:
Do not drink more than 4 cups of herbal or green tea per day, as there is not enough evidence for its effects on the growing baby. According to medical research, you must avoid teas containing ginseng or echinacea.
Ginger is commonly used to relieve morning sickness during pregnancy, and studies have shown it to be safe and effective for this purpose. It also reduces pain and inflammation and may contain anti-cancer properties.
You should not take ginger tea close to your EDD as it may cause bleeding. Women with a history of miscarriage and uterine bleeding should avoid taking ginger tea, how much ever tempting it is.
Peppermint tea is often used to calm tummy upsets during pregnancy and is considered safe. For example, one study found that peppermint oil aromatherapy was as good as a placebo in treating nausea and vomiting in the first half of pregnancy. Peppermint tea has also been related to heartburn which is already a recurrent symptom of pregnancy. So do not indulge them but intake them in moderation as it has been shown to relieve bloating, stomach cramps, and nausea in pregnant women.
Lemon balm has long been used by pregnant women to relieve irritability, insomnia, and anxiety. It contains both beta-caryophyllene and geraniol, which have intestinal antispasmodic and anti-bloating properties. You could also use lemon balm to relieve symptoms of nausea and tummy discomfort associated with pregnancy.
Rose tea during pregnancy is known to contain high levels of vitamin C and anti-inflammatory, antibacterial, and antiseptic properties. There are no studies on the safety of rose tea in pregnant women. Too much vitamin C in your diet can cause heartburn, diarrhea, headaches, nausea, and kidney stones in some people.
Raspberry Leaf tea has been shown to shorten labor and prepare the uterus for childbirth. Pregnant women inching towards their EDD or past it have long turned to raspberry leaf tea because it is believed to be a uterine tonic that increases blood flow to the uterus and strengthens the muscle fibers of the uterus. is then thought to initiate the birth process by causing contractions.
Green tea, including the popular matcha green tea, is considered safe during pregnancy. It also has much less caffeine than coffee, about 25 grams per cup per 100 grams, but limit green tea to less than 3 cups per day. Green tea is rich in catechins, substances that prevent cells from fully absorbing folic acid. During pregnancy, the body needs a lot of folic acids to prevent neural tube defects.
Drinking 4 cups of black tea provide 200 mg of caffeine quotient per day, so be careful not to overdo it. Iced tea is often made from black tea.
Avoid These Tea During Pregnancy
This is not an exhaustive list, so always check with your provider if a particular herb is safe in pregnancy tea.
Fennel

Borage

Sage

Fenugreek

Vervain

Lovage

Pennyroyal

Thyme

Licorice

Motherwort

Chamomile
Pre-pregnancy, you may have been drinking chamomile tea to help you fall asleep. But that's not a good idea when you are carrying. Studies show that drinking chamomile tea regularly may increase your risk of miscarriage, premature birth, or low birth weight.
Here's a list of teas you must not be your go-to pregnancy tea:
Alfalfa

Dong Quai

Blue cohosh

Black cohosh

Comfrey

European mistletoe

Ephedra

Hibiscus

Goldenseal

Licorice root

Horehound

Nettle leaf (also called stinging nettle leaf)

Labrador

Kava

Lemongrass

Rosemary

Mugwort

Sassafras

Passion flower

Pennyroyal

Vetiver

Sage

Yerba mate

Saw palmetto

Yarrow
Note: You can eat foods that contain some of these herbs, such as rosemary and sage, but the amounts used in foods are generally much less than those used in tea and are not as potent. The brewing process that makes tea concentrates herbal chemicals.
The Bottom Line on Pregnancy Tea
Pregnancy teas typically contain ingredients such as alfalfa, fennel seeds, lemongrass leaves, lemon verbena, nettle leaves, red raspberry leaves, rosehips, and strawberry leaves. Not all of these are safe to ingest during pregnancy. For example, a nettle leaf can irritate the uterus and cause miscarriage.
Some midwives use raspberry leaf (also called red raspberry leaf) to aid childbirth, but its effectiveness has not been proven. It should only be used under medical supervision and advice. The same precautions apply to teas made specifically for pregnant women and sold in supermarkets and health food stores.
Pregnancy tea makers advertise their products as healthy for expectant mothers. However, there are no clinical studies to support these claims and the safety of the ingredients is not regulated.
FAQs: What Tea is Safe During Pregnancy?
1. Can I drink tea while pregnant?
Yes, you can have certain pregnancy teas but be mindful of the amount of caffeine in them. Excessive caffeine during pregnancy can be harmful to you and your baby. Also, be cautious while drinking herbal pregnancy teas as they are not regulated by the FDA.
2. What teas should I avoid while pregnant?
Experts will ask you to be cautious while drinking oolong, green, or black tea during pregnancy. Non-herbal teas have 50 mg of caffeine per cup compared to 0.4 mg of caffeine in herbal teas. Check FDA regulations to know more about non-herbal teas.
3. Which tea is best for pregnancy?
Here's a list of the best pregnancy teas:
Raspberry leaf
Rose
Peppermint
Lemon balm
Ginger
4. Is one cup of tea a day OK when pregnant?
You can have coffee or tea during pregnancy but limit your caffeine intake to 200 mg per day.
5. When should I start drinking tea during pregnancy?