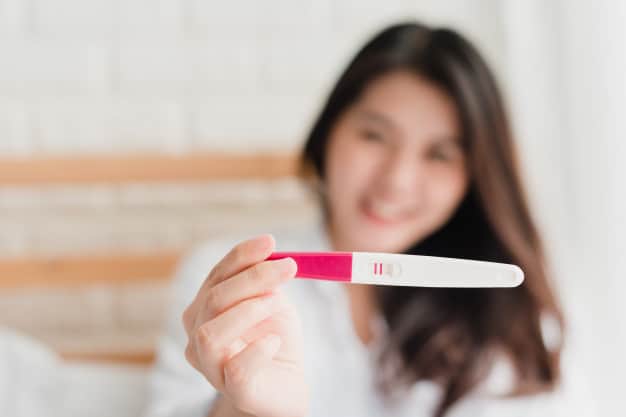 Parenthoodbliss selects the best products based on real-life testing conducted by our staff, members of our user community, the contributors, as well as through research and feedback by experts; here's more about our product review process. The details and prices are accurate as per the publishing date and we may earn commissions through the shopping links on this blog.
Motherhood and pregnancy are the most sacred and most exciting feelings a woman ever experiences in her life. The weeks or days of wondering if you have a mini-you inside you can feel like some of the longest in your life. With a lot of emotions during those times, you will have your life changed with a reliable at-home pregnancy test. The best pregnancy test kit can help you during this crucial time of anxiety and excitement.
So have you missed your periods and are hoping for some good news? Well, congratulations could be in order! We have curated a list of the best pregnancy tests available and help you find the answers to the questions like, 'where to buy a pregnancy test' and 'when to take a pregnancy test.'
But before we get to that, let us also answer some of the other most common questions about pregnancy and the best early pregnancy test.
How Do The Best At-Home Pregnancy Tests Work?
Home pregnancy tests are designed to detect the hCG hormone in your body. It stands for human chorionic gonadotropin which is produced in high quantities when an egg is fertilized by a sperm. The cells that produce hCG eventually turn into the placenta. If you are in the early days of pregnancy, your body will show high levels of hCG.
So, to take a home pregnancy test
Hold the stick in your stream of urine (first thing in the morning because that is when your hCG is most concentrated) or pee in a cup and stick the test stick in it
Lay the strip or stick flat
Wait for the time mentioned in the box (generally 1 to 5 minutes)
For more accurate results it is ideal to wait to take the test a week or a day after your period was due to begin. Before this time, you might not have enough hCG to be detected. Results may be falsely negative and that is an unnecessary disappointment you want to take. Also, the best time to the day to take a pregnancy test is early morning right after you wake up.
When is The Best Time to Take a Pregnancy Test?
The best time to take a pregnancy test is if you have been sexually active for a while even with contraception or if you have missed your periods. There might be other reasons for your late period but an at-home pregnancy test is a good way to start finding out the reasons. You may also be wondering if you can get pregnant with irregular periods. Everything amounts to a pregnancy test result. Also, check out of you the following symptoms of early pregnancy:
Heightened sense of smell
Even if you get a positive result on your pregnancy test you may still experience the symptoms of pregnancy without conceiving. Here's more about this bizarre experience.
Do Pregnancy Tests Review Accurate Results?
These best over-the-counter pregnancy tests, even on their box, claim only to be 99% percent accurate. There always is that 1% chance of your test results being inaccurate. Also, expecting moms need to understand that the tests are even more accurate if they wait out for some time before actually taking a test. If you test right after your ovulation days, it would be too early for the tests to determine pregnancy, yielding a potentially false negative.
Here are The Top 7 Best Pregnancy Tests in The Market
For this list of the best pregnancy test kits, we have brought together several expert opinions from research studies. Particularly, the brands listed here claim 99% accuracy depending the kind of test you are taking. A study conducted in 2011 showed that the accuracy percentage could be lower for some of the mainstream tests. So what does matter when you are taking a home pregnancy test? Here are some of the answers:
Ensure the test hasn't expired
Test when you have missed your period
Follow the instructions on the package
Call your midwife or doctor if
You get a positive result
You don't get your periods even with a negative test result
You have other symptoms of concern such as nausea, abdominal pain, etc.
1. First Response Most Sensitive Pregnancy Test ($12.98): Best Pregnancy Test For Early Detection
The First Response Pregnancy test claims to detect pregnancy six days earlier than when your period is due. One of the most sensitive and best early-detection pregnancy tests out there, it comes in a digital and a stick-pee version. The stick-pee version is designed with a curvy handle, making peeing easier without creating any subsequent mess on your hands.
The most sensitive pregnancy test stick version reports results with the traditional single or double pink lines, while the digital version uses words to report the results.

Thank you, First Response, for this easy to use, affordable test that I took at home to help me understand information about my body and my baby! Thank you, First Response, for dispensing accurate information so that women can make informed decisions to care for their bodies and the new precious growing babies they are carrying. I also want to give five stars for the quick shipping to my NORTH DAKOTA residence where actual health care rights are protected for both expecting mothers and their babies!
One person found this helpful
Very satisfied with the First Response tests! They're super sensitive and don't give you false hope – no evaporation or indent lines just accurate and clear results. These are my tests on 9 days post ovulation, 10dpo, and 11dpo. I got my first positive result 11 days before my expected period since I have 30-32 day cycles, super early to be finding out, I'm over the moon!!
2. The Natalist Test Pack ($36): Best Pregnancy Test + Ovulation Kit
Natalists say that their tests are 99% accurate with each kit, including seven ovulation tests and more than four pregnancy tests. In addition, you can use the Natalist test for five days before your period making it the best pregnancy test to detect early gestation. Every box of the Natalist comes with easy-to-understand instructions in English and Spanish.
The pregnancy tests are reviewed and reported like any other regular test. The ovulation tests in this kit can measure the level of the luteinizing hormone in the body. The hormone is released in your body around two days before ovulation. A positive ovulation test means that you will be ovulating within the next 24-48 hours. The ovulation test will make planning pregnancy easier, and the test helps confirm it!
Natalist is a relatively new brand, but it has gone a step forward by including a sweet little note in each box. The brand is also woman-founded and is a 100% plastic-neutral brand. The brand also offers a subscription and save option if you shop on their website.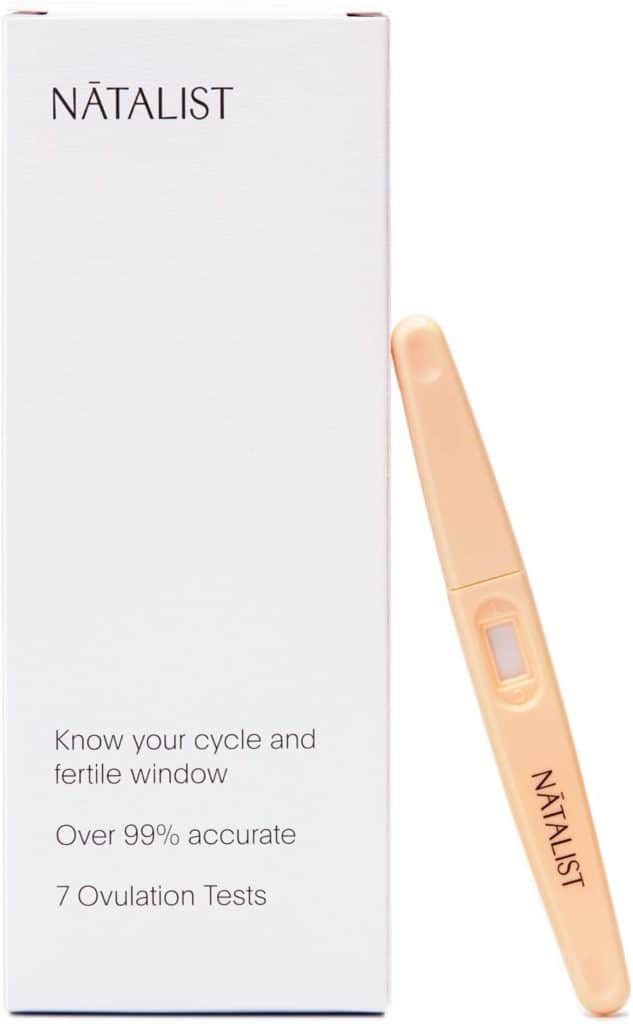 3. ClinicalGuard HCG Pregnancy Test Strips ($7.89): Most Economically Priced Best Pregnancy Test
You will get the Clinical Guard to best early pregnancy test in humble and simplified packaging. There aren't any fancy boxes with much text to read. This pregnancy test is designed in a simple strip format, unlike the generic plastic stick tests. You only need to dip the strip in the urine, and the test will report the results with the pink lines. This pregnancy test is one of the most economical ones out there at under a dollar per test!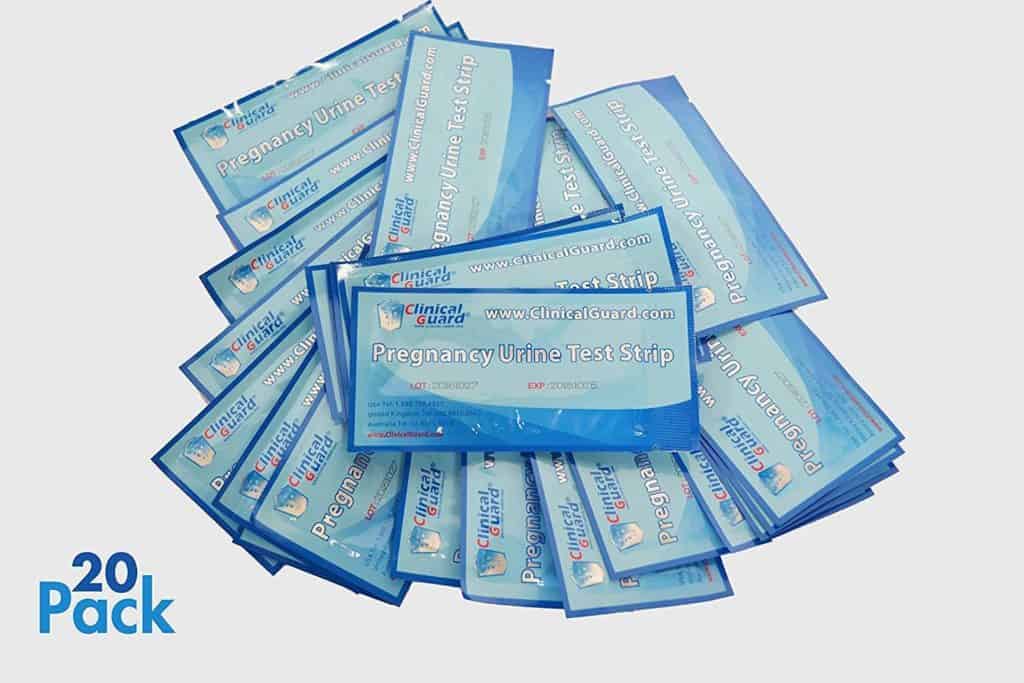 These have saved me so much money over the years. I have struggled with getting pregnant and tested often out of pure excitement that It would happen after seeking medical care. They do work and are accurate. I even tested early and got a faint positive. I suggest leaving it longer if you have not missed your period date. Just know it will be faint so look closely. This is a great value that helps you have a ton at your disposal when needed. Don't waste your money on expensive tests that do the same thing as these are also easy to use and read. I would recommend using a cup instead of peeing on the stick itself as it's less messy and helps with validating the test.
Highly recommend these. Especially for the amount you get at this price. These are handy to have around just incase or if you are trying to conceive. They are quick, convenient, and have been very accurate for myself. Definitely will purchase again in the future.
– Shaina
For more product reviews visit Amazon
4. Clearblue Digital Pregnancy Test With Smart Countdown ($15.24): The No-confusion Best Pregnancy Test
How often have you well-understood the instructions on the most accurate pregnancy test only to later forget what one line v/s two lines meant after reporting results? You would also have, perhaps, then taken the box out of the bin to cross-confirm what your result means.
Clearblue Digital's most accurate Pregnancy Test with Smart Countdown saves you that trouble. This digital pregnancy test gives you the answer in clear, definitive words. What's better still? It also comes with a flashing light that will work as a countdown time indicator until the answer appears!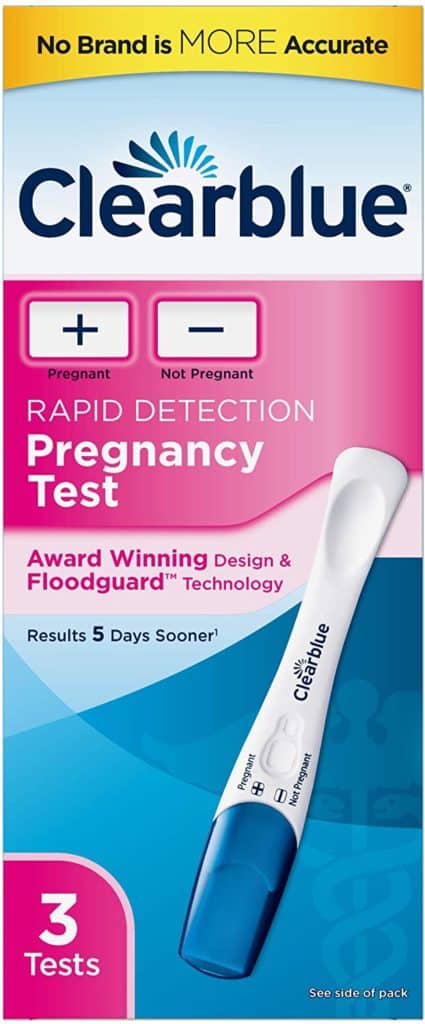 Now, in the booklet the earliest it goes is 4 days before your next period with a 75% accuracy. I took mine 5 days prior to my expected period date because the nausea I had been having for a week was suspicious but, honestly, I expected the test to be negative and to carry on with my life lol. The test did work a bit longer than they had in the past (when I was pregnant with my daughter and had tested day of missed period it was almost an immediate positive) so I was getting ready to walk out the room and wait to come back to check, mid pulling up my pants it came back positive! I'm currently in my 6th week of pregnancy.
– Naomi
I decided to get these ovulation tests because they were easy to read. I took two when I expected to be ovulating and the second one had the smiley face. Did the dirty and a couple weeks later had a positive pregnancy test! I'm 33 and this is my first pregnancy. I definitely don't think this would have happened so quickly if not for these little tests.
– MMK
For more product reviews visit Amazon
5. First Response Triple Check Best Home Pregnancy Test ($14.39): For Expecting Moms That Like To Triple-check
1. Let us address the elephant in the room first things first- this pregnancy kit has three variants in one pack:
2. Test 1 that lets you determine pregnancy 6 days before your period
3. Test 2 is a digital-report test stick
4. Test 3 is a rapid-detection test and can report your results in less than a minute!
If there is a test kit that is specifically made to address the compulsive need of being double, triple sure, this kit has to be it!

the first response early result is the most sensitive test on the market!! it works really well and its very very easy to read as there's no evap lines or confusing tilts to it causing mixed readings. the line can be faint but it will definitely have a pink color to it like the control line does. now…. the rapid result is very conflicting to me. i loved it for giving a very quick result but on every single test ive used with this exact type of test- i got the tiniest slightly pink slightly grey second line. it was VERY faint but still noticeable, especially if i altered the picture to black and white. this made me so so so confused- so i did the digital. i got a "no" as i expected with the FRER reading saying no as well…. but, the rapid result made me kind of go into a panic of confusion… the digital needs much more pregnancy hormone to give a accurate reading- so with my line being so faint on the rapid result, i was expecting a no. ALSO!!!!!! REMEMBER WITH THE DIGITAL TEST YOU ARE TO DIP IN YOUR URINE UNTIL YOU SEE THE CLOCK START BLINKING, WHICH IS APPROXIMATELY 20 SECONDS I BELIEVE. THIS INSTRUCTION IS MISSED BY MANY CAUSING FALSE READINGS. THEY NEED TO MAKE THIS INSTRUCTION MUUUCH CLEARER. sense it needs more hormone it needs to be dipped longer to get all hormone in urine for best reading. try to remember this!!!!! i personally love the FRER, you will never get a false reading with this test, even if its faint it will be pink and clear as day. i recommend this one especially for early pregnancy testing for those POAS freaks like me when they think they could have conceived and just need to know asap! lol. good luck guys!! worth it for the price and accuracy, just beware of ghost line on rapid result and don't take the digital until enough hormone has built up, if you get a faint positive on the FRER, then do the digital 3 days later and your preg hormone will have doubled and you should get a fat yes. dip for the right amount of time also, read instructions!!!!
– FRED L.
The 3 bottom test are the first response.
The digital did come out already have (yes+\no-) then the timer was a solid. But that's how it's supposed to be! (Says in directions) all my test came back in the time they were supposed to!! I would definitely be using these again if I decide to have a 3rd baby!!
– Lura c.
For more product reviews visit Amazon
6. Clearblue Rapid Detection Pregnancy Test ($7.98): Fastest Pregnancy Test
If you are pregnant, you can find out as soon as one minute after taking the test using the Rapid Detection Pregnancy test. The color-changing, wide tip on this manual test makes it super easy to use. It'll change color from pink to white when you use it correctly, and the special "FloodGuard" feature will help to prevent any user errors. This Clearblue product can be used up to five days before your missed period.
People who have tried this test praise its speed of results and accuracy. They also love that it is easy to read so they need not worry about the findings. And quite a few women mentioned that it only took a small amount of urine for the test to work—a fact that comes in handy if you're trying out multiple tests!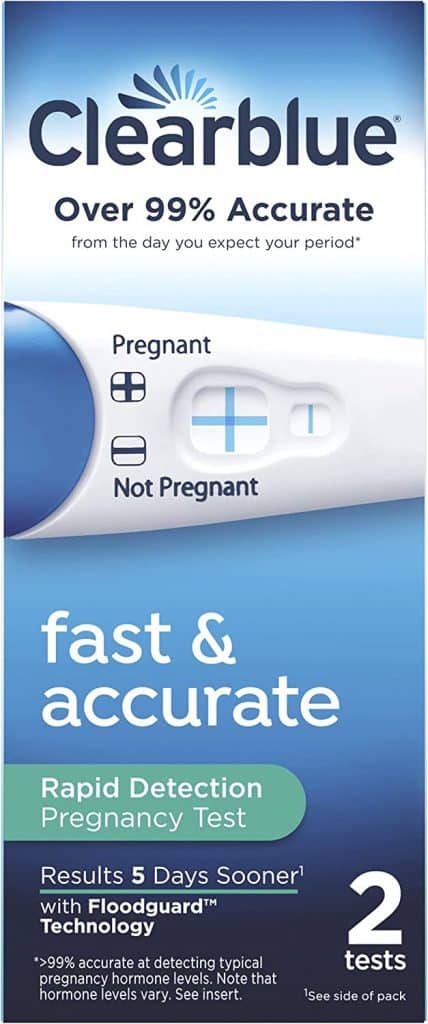 Definitely don't cheap out when it comes to buying pregnancy tests! I tried two different brands and this was my preferred choice (also uses the Clearblue ovulation tests and liked those too!).

I got these when my husband and I decided we were going to officially start trying. It was just as easy to order them on Amazon… and we love in a small town. With my luck I would have ran into someone and then we'd get hounded with "are you pregnant yet?" Typically I probably wouldn't mind that, but with this being our first we had no idea how long it might take or if any issues would arise.

Luckily we were pregnant after a couple months of trying. The three pack is perfect because I had used one earlier on (not pregnant) and then had the two left so I could double check the first positive I got.

The handles are easy, the reading was super clear and I definitely recommend these. If you are actively trying, I'd say to get a box to have on hand for when you suspect it's happened!
– Jess
I took the first test in the evening 6 days after my missed period (I received them in the evening and couldn't wait until the morning). I had a very light blue vertical line, but my boyfriend was convinced it was negative so I decided to take another in the morning.

I took the second in the morning during my first urination, and surprise, the vertical line was slightly darker but more obvious (in your face boyfriend, when a woman knows, she knows).

Anyways 🙂 I took the third several days after that and the vertical line was even darker and showed up within 5 seconds.

This is my first pregnancy so I haven't had any experience with other brands of pregnancy tests, but these were inexpensive and worked fine. At the end of the day, the tests all work the same way.

I am now almost 9 weeks pregnant (confirmed with my internal physician) and still going strong.
For more product reviews visit Amazon
7. Pregmate Pregnancy Urine Test Strips ($12.79): Best Pregnancy Test Strips
These no-frills test strips will get the job done quickly (and are often used in doctors' offices) if you don't want lots of bells and whistles on your pregnancy test. In order to use this, you would have to pee into a cup first, then dip one of the strips in your urine for just three seconds, and then lay it flat. In five minutes, you will have the answer. The test can be used up to five days before a missed period.
Users were really impressed by the high-quality materials, accuracy, and affordable price of these strips. Plus, these strips come in discreet packaging with fairly little waste, which makes them a slightly more eco-friendly choice. These strips are an ideal option for those who are actively trying to conceive since you may go through a lot of tests over a period of time, which can be costly.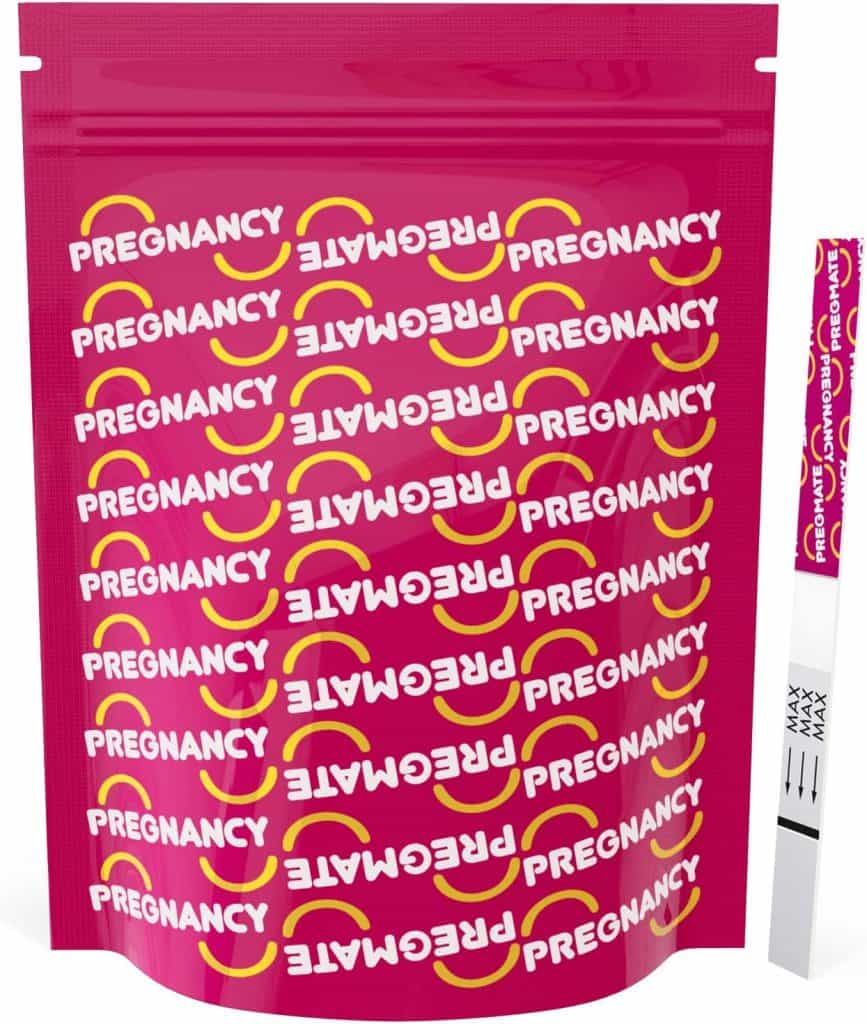 Product works great. I recently found out I was pregnant on the IUD and unfortunately miscarried. When we were unsure of if that was actually happening these pregnancy tests gave me more insight while I waited for blood tests. The lines were very dark when we first found out then got lighter as my HCG diminished, confirming for me earlier than my blood tests had come back that I had in fact miscarried.

It's also a great price for as many as you get, I took one every morning for 4 days and was able to see line get progressively lighter in comparison to the last. It was a relief to have so many on hand to releive the anxiety of not knowing or having any idea what's happening.
– Rhiana
I love this product! Beside the occasional dye run, I love these tests. I've always gotten positive results with pregmate faster than any other brand and have never had any inaccuracies with pregmate. I love how affordable they are and that it makes testing every single day possible. Sometimes I feel like I'm addicted to taking these tests but pregmate makes everything possible, from getting peace of mind sometimes, to finding out the best news of your life. Thanks pregmate!!!
For more product reviews visit Amazon
Final Thoughts: What is The Best Pregnancy Kits?
All said and done, please remember, that at-home pregnancy kits are only indicative and 99% sure. That 1% chance is never worth the risk. You must visit a gynecologist around your pregnancy to confirm and get further information. We hope you have the big, happy news to share with us (at Parenthood Bliss) soon!
That's all, folks! These were the top 7 best pregnancy test kits to take in 2022 and beyond, along with where to buy a pregnancy test and which is the best pregnancy test. In addition, they were consulted by a medical advisor, which makes it even more perfect just for you to grab onto and welcome the happy news that is perhaps on its way to enlighten and bring newness into your lives.  
Best Pregnancy Test - FAQs
1. Does smelly urine indicate pregnancy?
hCG, the maternal hormone we discussed earlier, is responsible for generating a strong odor in your urine when you are pregnant. This is usually noticed and reported by pregnant women in the early days of pregnancy. However, consumption of certain foods and other various factors can also develop an unusual smell in your urine.
2. Can I be pregnant while the pregnancy test kit reports negative?
Most likely, you are not pregnant if your test has reported so. However, this is true only as long as you have not taken your test too early in your cycle, that is, right after ovulation. Pregnancy tests rely on the hCG hormone to detect pregnancy and it takes some time after conceiving for your body to start releasing the said hormone.
3. Can precum lead to pregnancy?
Precum also has sperms as the cum does, however, the number of sperms in precum is lesser- albeit present. Hence, it is possible to become pregnant from precum. The safest way to avoid pregnancy is by using condoms or other preventive methods.
4. How soon can one take a pregnancy test if they see signs of it?
It is recommended to jump into the purchase of a pregnancy test in order to take it only until the week after you have missed your periods. This helps the test to turn out more accurately avoiding any interpretations and falsely alarming you in the first place. However, if you are getting impatient and refuse to wait until you've missed your monthly cycle, you must then at least wait for one to two weeks after you have had sex to take the most accurate pregnancy test. And, if the results are positive, your body would need time to develop the detectable levels of HCG.
5. Which week's pregnancy test is most accurate?
Most at-home best early pregnancy test(s) claim to (almost) accurately determine pregnancy through a urine sample up to five days before the period is scheduled to begin. A female body typically starts releasing hCG as soon as an egg is fertilized and these levels double every two to three days, eventually peaking around the first trimester.