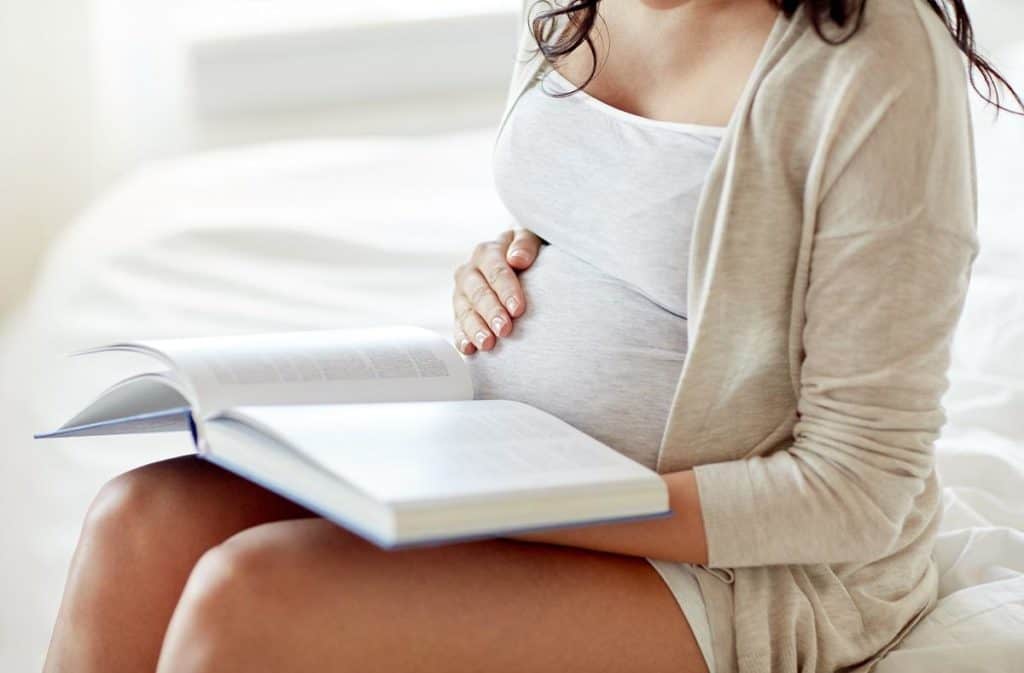 Pregnancy books are the best escape for bookworm mamas. Not only do they keep the mother positively entertained but it also is a means of gathering a lot of candid, verified information as the baby bakes in one's stomach. While the internet could also help you with possibly everything you might want to know, pregnancy books are always more recommended because books, at large, don't run a risk of flawed information.
On that note, having our nerdy mama's back, we read tons of reviews to compile this list of some of the best pregnancy books to read during pregnancy!
1. Nurture A Modern Guide to Pregnancy, Birth, Early Motherhood - and Trusting Yourself and Your Body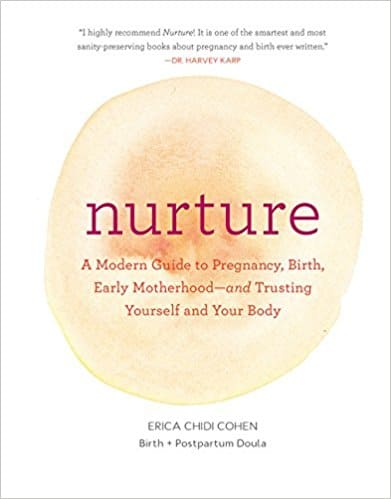 Priced at $15.95, this best pregnancy book for first time moms is written by Doula Erica Chidi Cohen, a doula herself. Each page of the book holds your hand and acts as your companion through your pregnancy. Apart from comforting information on pregnancy right from the early days of conception, all the way to the early postpartum phase, it also includes some easy recipes and physical as well as spiritual exercises to keep your spirits up high.
I can't say enough good things about this book! I highly recommend to all pregnant women (especially first time mamas). It really helps you from beginning to the end when preparing for labor. You don't know what you don't know, and this book gave me so much confidence and filled in tons of gaps I didn't even know I had! For example, questions to ask your doctor/midwife and pediatrician. I also love that it isn't biased and talks about each type of birth journey (medicated hospital birth, unmedicated hospital birth, and home birth). There is so much information overload out there, and this book hits it all while also being digestible.
– ErikaS
THIS BOOK IS EVERYTHING. While pregnant with my first child I took a several week course with Bradley Method and also read every book I could. I was left with a ton of knowledge but pieces were missing. I ended up with 40 hours of back labor that looking back I don't think I needed to endure had this book come out back in 2015. Fast forward to baby #2 and I saw this book come out. I decided to give it a read terrified of doing it all over again but eager to have a natural birth I was happy about. Her book was such a delight to read. It gave me AND my husband the tools we needed to give this a second go. I ended up having the most magical labor in a birthing center and was home hours later feeling great. I recommend it to everyone I know and hope to pass the book on to my 2 daughters some day (if they choose of course) because I know this book will continue to be modern for years to come.
For more product reviews visit Amazon
2. The Girlfriend's Guide to Pregnancy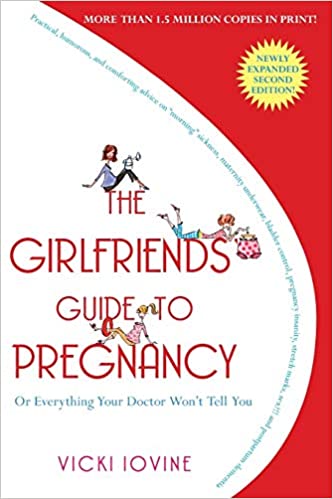 A rather witty and untraditional pregnancy guide, The Girlfriend's Guide to Pregnancy could be regarded as a brutally honest and one of the best pregnancy books for first time moms. Written in an unabashed, unapologetic, and unfiltered tone, this book helps you look at your pregnancy in a fun yet reassuring way. For mothers who have been feeling the pressure of having the 'perfect' pregnancy, think no more, add this to your cart, and thank us later! Priced at $10.48.
As the cover suggests "All the Things Your Doctor Won't Tell You" this is extremely true in this book! I have read "What to Expect" cover to cover numberous times, called friends on MANY occasions that have already been through this-and yet I wished that I had one book that had all of those things that I had been trying to put together piece by piece. "What to Expect" is a great book, don't get me wrong-but it seemed to "scientific" to answer all of my questions. I had resorted to texting friends in the middle of the night, asking if certain things that were going on were "normal" or not. The answer to all of those questions you want to ask, but are embarassed-and heck, even some I never thought to ask are inside this book.
It covers everything from finding out you are pregnant, hormonal changes that somehow make you feel a LOT more normal with the stories, as well as everything you always wanted to know about labor/delivery (including the infamous/never old question of "how much does it hurt?" If you are looking for a no holds barred book that will go over (in depth) the good, the bad, and the just plain ugly truth of pregnancy-look no further.

As a first time pregnant mom, I have a lot of anxiety about what to expect, when to expect it, as well as what is going to happen after the baby is born. This book offered honest insight with a side of major humor that really has comforted me. It has helped remind me that "Psycho Pregnant girl" is not that abnormal, and that there are many other changes that are going to happen, so be ready for a bumpy ride. I hope every other soon to be mommy finds this book as enjoyable as I have!

The ONLY thing I wish this book did was break up the pages/chapters a bit more. At times, the words seemed to run together a bit. Definitely didn't take away from the quality of the book at all though.
– Hannah
This book is incredible and helpful. As the author clearly states at the beginning, this is a "girlfriend's" point of view, not a "doctors/medical's" advice. I found it helpful, humorous, and very needed. Yes, there are 1,000 of medical books with an accurate explanation of mechanisms/procedures/etc, but I just wanted a relaxed and informative read and this book provides exactly that. I read many criticisms about a certain "girlfriend's philosophy" about being pregnant and give birth. Yes, Vicky has a strong opinion about absolutely everything and I found that very refreshing and needed. If you just don't agree with this perspective that's also fine, but it doesn't make most of the book useless. I wasn't sure if I was going to get an epidural or not, but I do agree with the author's perspective that "epidurals are great, and c-sections save lives." Let's be good to each other and don't judge others' based on how they decide to deliver a baby. This is just one opinion/perspective and it should be taken as such. She's not speaking as a representative of all the girlfriend's in the world, but hers. I really loved this book and I would recommend it to anyone with an open mind and a good sense of humor.
For more product reviews visit Amazon
3. Mayo Clinic Guide to a Healthy Pregnancy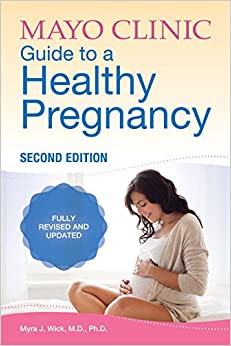 Parents absolutely love this book for how accurately it guides parents through the three trimesters of pregnancy. Since it comes from the Mayo Clinic, you need to have no doubts about the authenticity and genuineness. It also includes a fun 40-week pregnancy calendar activity! At just about $10, this arguably is the most reliable guide to pregnancy you can find.


Would highly recommend for a first time Mom. Has so much information about each week and milestone, even chapters for Dads. I found the tables they included very helpful along with the tips and tricks they include to alleviate things like nausea and fatigue. Overall great read!
I liked how informative it was while being simple and to the point. Didn't feel overly science-y but also not "dumbed down". I felt like it was exactly what I needed. It was nice to have chapters on child birth and breastfeeding as well.
– bg
For more product reviews visit Amazon
4. Ina May's Guide to Childbirth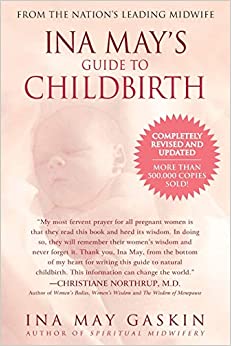 Authored by a seasoned activist and priced at $13.69, Gaskin in this book guides you through childbirth but does so while criticizing the traditional medical establishments and doctors. However, when some readers rightly pointed out that mothers should not be made to feel guilty if they end up needing a medical birth, Gaskin did address the issue on one of her podcasts and clarified how that was not her intention. Though controversial, it also is an interesting read as it vividly describes the physical sensations women could expect while giving birth. One of the reviews we clearly remember said "helps you feel more optimistic about labor," now is that not a viable selling point?


This book is an easy read with lots of great information. The first part of the book is filled with positive birth stories and really gives you an idea of what's possible in natural birth, even when things don't go exactly according to plan. I was planning to give birth with a midwife in the hospital, but we didn't make it and I ended up giving birth in the bathtub at home with my husband running around calling the ambulance! The wealth of different experiences told in this book definitely gave me confidence to know that my body could do it. (Baby came out happy and healthy!)
– Kethrim
This book is AMAZING! Any expecting mothers should read this! Not just first time mamas either. I'm pregnant with my third child right now, and planning home birth and this has wonderful, empowering stories that will help you feel confident in being a woman and the power of our bodies.
– Kayla R.
For more product reviews visit Amazon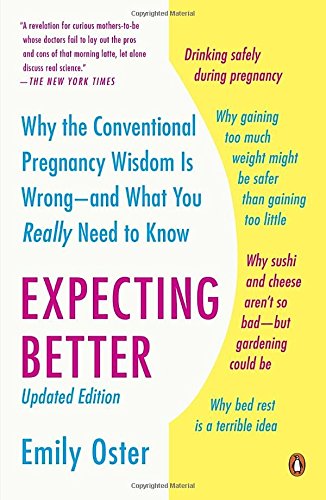 Well, you already know the kind of a positive experience a book would be if it is titled 'Expecting Better!' Written by Emily Oster, this book is authored in an unconventional approach and It reviews pregnancy health studies, evaluating the quality of their methodology at the end of each review. Emily's goal, essentially, is to help the readers make informed decisions through the pregnancy.  A data-driven book, this one also smashes some common misconceptions about foods to eat and foods to avoid during pregnancy. For example, Emily actually shares viable evidence to prove that very light drinking is fine during pregnancy! While some people absolutely love this book and some others heavily criticize it, in our opinion, you definitely should give at least the sample chapter a try! Priced at $12.79.
If you are finding the conflicting answers to your google results confusing, this book is for you. The best evidence I can find for all things pregnancy related.
Unlike other books who try to doctrine you, this is just giving you data and you make the call from it. There are references at the back for you to visit these research papers on your own if you wish.
– Samey
For more product reviewsvisit Amazon
6. The Womanly Art of Breastfeeding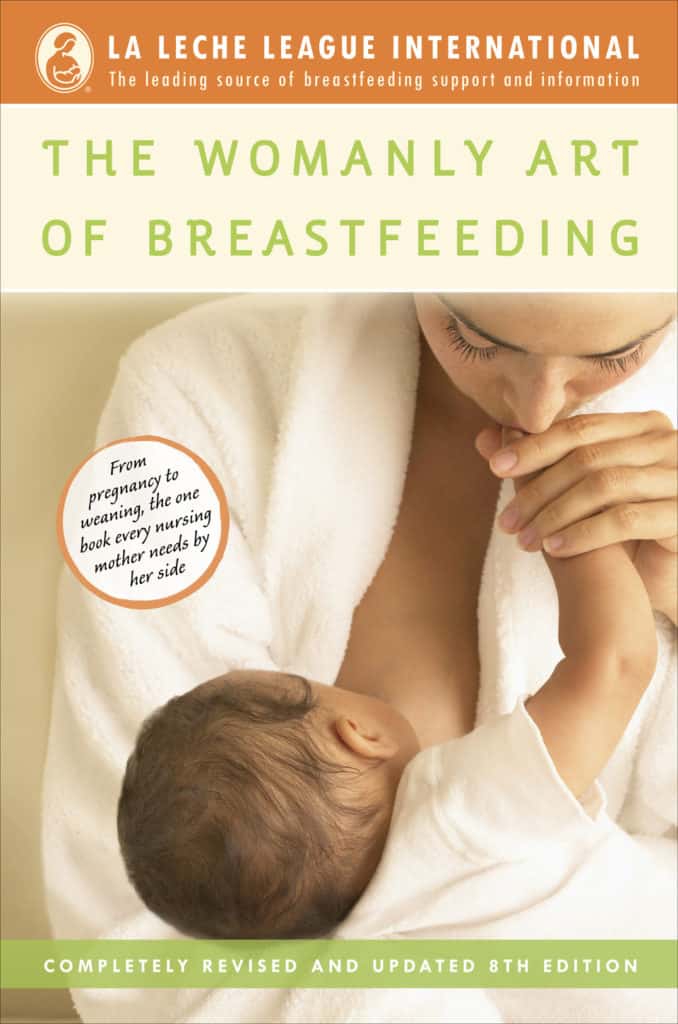 Focusing on a particular niche, as the name suggests, Womanly Art of Breastfeeding could prove itself as an ultimate guide to breastfeeding, especially for parents who wish to exclusively breastfeed. At about 19$, it does not just provide in-depth information on the nuances and recommended techniques of breastfeeding but it also goes a step ahead to empower new mothers and reassures that all will fit in just right.
Bought this book on a recommendation from a friend, for our first child! It is more than just breastfeeding info! It is a pretty big book but you don't have to read it from page one to the end, in fact it's recommended to bounce around as you need it. As a FTM, pregnancy, laboring/ delivering, and breastfeeding was a whole new journey for me. I started reading this in my 3rd trimester and it helped me be prepared for all the previously mentioned topics! Plus it had a section to help you "troubleshoot" with breastfeeding issues. I would highly recommend this for any new momma!
– CG19
This book is chok full of essential information for nursing women. Highly recommended for first timers and those with experience, as every baby is different and a multitude of different obstacles could arise. This book helps you through the challenges.
– Mmo6
For more product reviewsvisit Amazon
FAQs On Best Pregnancy Books For First Time Moms
1. What is the best book on pregnancy for lesbian women ?
The Ultimate Guide to Pregnancy for Lesbians by Rachel Pepper is one of the most applauded books on pregnancy for lesbian women. Apart from the fact that it has information on everything right from choosing a donor to tracking fertility and to navigating legal paperwork, we particularly like this book for one more reason: it has been updated. Though written in 2005, Rachel later updated the book to ensure that it resonates with the (in most countries and regions) evolving legal status of gay couples.
2. When should you start reading to your baby in the womb ?
A mother can start reading to the baby whenever they feel like and there is no definitive timeline to it. Reading to your baby not only builds a connection between the mother and the baby as it gives them some quality time on their own but since language learning begins in utero, it can also promote early literacy skills and language development.
3. What is the best pregnancy book for an expecting father to read ?
Dads, admirably, often are not paid a lot of attention when it comes to pregnancy. Everybody just wants to know what is up with the mother and though this might not sound like a big deal, one should always account for the fact that pregnancy is a joint affair. For dads who want to know more about how they can help their wives ' pregnancy, we recommend Expectant Father: The Ultimate Guide for Dads-to-Be. This book can help expecting dads navigate their way through the emotional, financial, and physical aspects of fatherhood.Written by Armin Brott and Jennifer Ash, it comes in a month-by-month guide format and recommends how expectant fathers could look after their expectant wives during the 9-month tenure. Having been in circulation for the past 20 years, it already has helped tons of fathers become more active parents and also features some easy-recipes daddies can try their hands at!