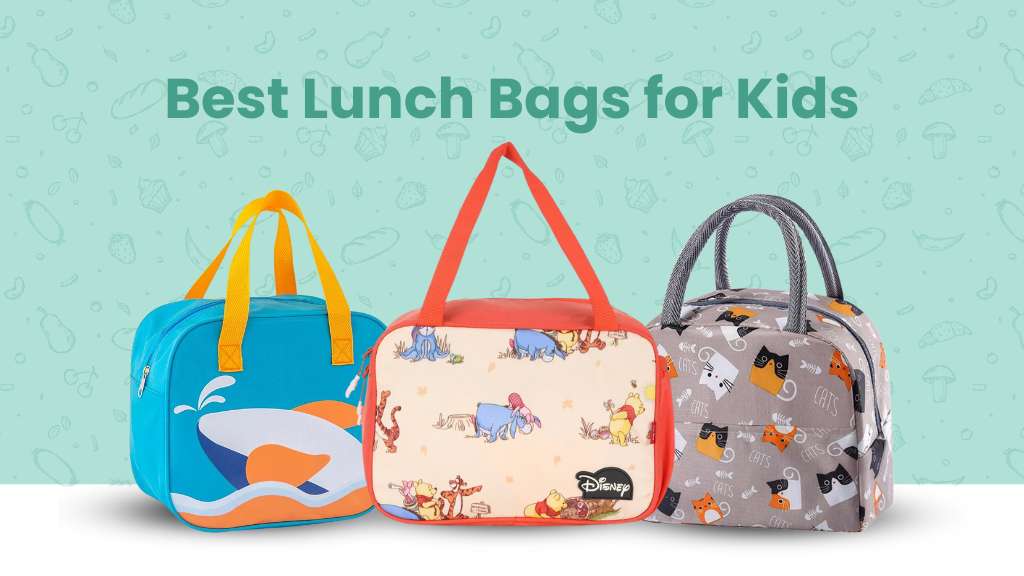 When it comes to your kid's lunch, you want a trusty companion that'll stick around for years. With the back-to-school season, it's time to find the perfect lunch box or bag that can hold your awesome homemade lunch without squishing it. These top performers in our list will keep your sandwiches, snacks, and fruits safely tucked away throughout the morning. Plus, they come with cool features like thermoses for soup or built-in ice packs to keep things fresh and chilled.
After putting a ton of lunch boxes to the test, we've determined that the Bentgo Lunch Bag is the best-insulated lunch bag for kids that'll last the whole school year and beyond. And guess what? It's not just for kids—it's one of our favorite lunch boxes for adults too! If you're more into bento-style boxes with separate compartments, we've got some recommendations for you.
Check out the L.L. Bean Lunch Box and the Bentology Lunch Bag & Box Set! And if you're up for a bit of a splurge, the PlanetBox Rover Stainless Steel Lunchbox is totally worth it.
10 Best Lunch Bags for Kids in 2023
1. PackIt Freezable Lunch Bag ($20)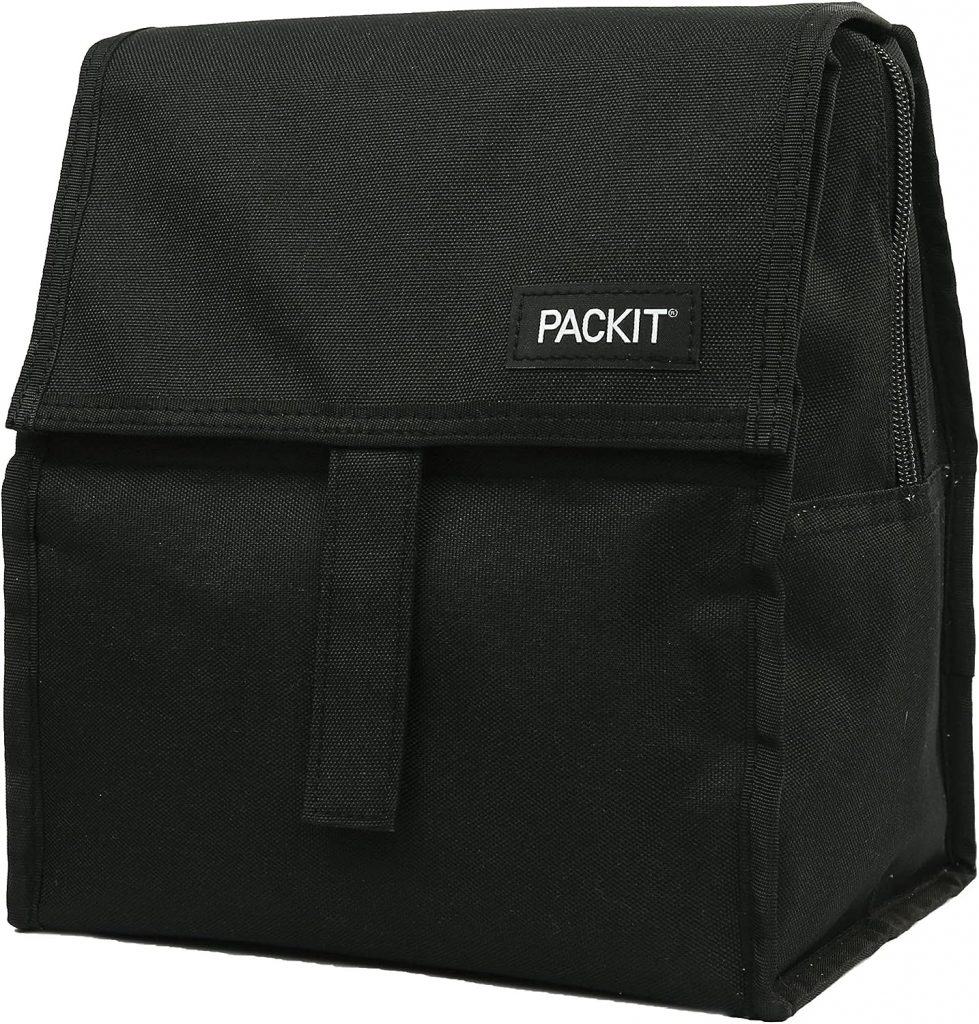 Who needs an ice pack when you've got a bag that does the job all by itself?
With PackIt's cool built-in gel liner, you don't have to stuff an ice pack alongside your food anymore. Just toss the whole bag into the freezer and let it chill directly. This bag can keep its contents below 40˚F (which is a safety standard for perishables) for a solid 5.5 hours! You can simply store the bag in the freezer overnight, and it'll be good to go in the morning.
Plus, it's super easy to fit among your frozen goodies since it folds flat. When you open it up, you'll see how spacious it is for packing lunches. And it even comes with a long strap option for carrying and comes in a bunch of cool colors and patterns. This Polyester, PEVA made is one of the best lunch bags for kids even though its gel liner makes it a bit heavier (but no need for an ice pack!)
2. L.L. Bean Lunch Box ($19.95)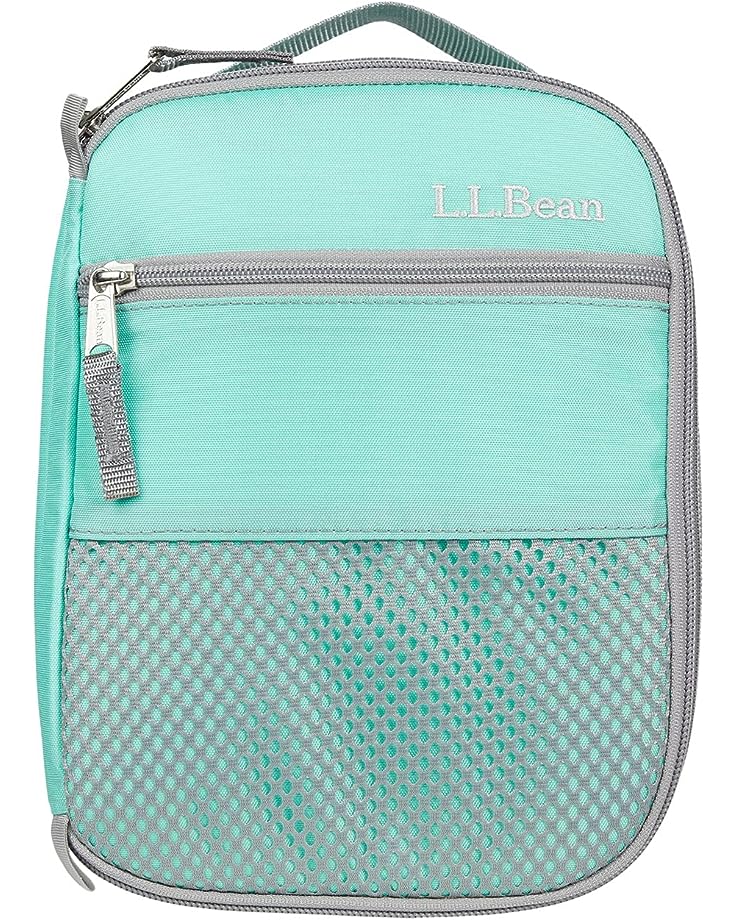 The L.L.Bean Lunch Box is our top pick for a sturdy, reliable insulated best lunch bag for kids. It's made of the same tough nylon material as their popular backpacks, so you know it can handle some wear and tear. Plus, it's super easy to clean with its smooth interior, unlike other lunch boxes that have tricky seams and corners that food and gunk get stuck in.
You can fit multiple containers and a food thermos inside, and there's even a mesh pocket for an ice pack to keep everything cool. And if you need more space, you can unzip the expandable version to get a couple of extra inches of depth. L.L.Bean stands by its products, so they offer a one-year satisfaction guarantee on this lunch box.
Now, it's not perfect. The soft sides don't provide much protection for delicate foods, it can be a bit tricky to remove tough stains, and the mesh pockets might catch on things and tear. But overall, it's a reliable lunch box that gets the job done.
3. Bentgo Lunch Bag ($25)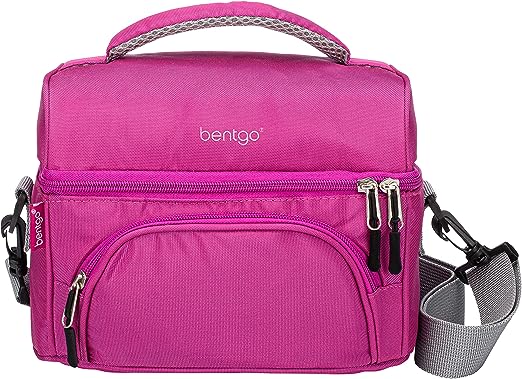 You can use this tote bag to store all your favorite bento boxes. It's made specifically to fit different types of bento boxes, but you can also use it on its own. You won't have to worry about washing your kid's lunch box every morning because you can swap it out with other rectangular boxes that fit in the bag.
The is one of the

best-insulated lunch bags for kids

that can keep food warm or cold for up to 4 hours.

There's a pocket inside the bag where you can keep extra things like a drink or an ice pack, and there's also a pocket on the outside for napkins and utensils.

The bag has a long shoulder strap, which makes it easy to carry, but it's a bit bigger and bulkier than some other options, so it might not fit in a small backpack.
It's made of materials called ethylene vinyl acetate, nylon, and polyester. Store all your pregnancy weekly meal plans in one of these best lunch bags for kids from Bentgo!
4. Pottery Barn Kids Mackenzie Classic Lunch Box ($22)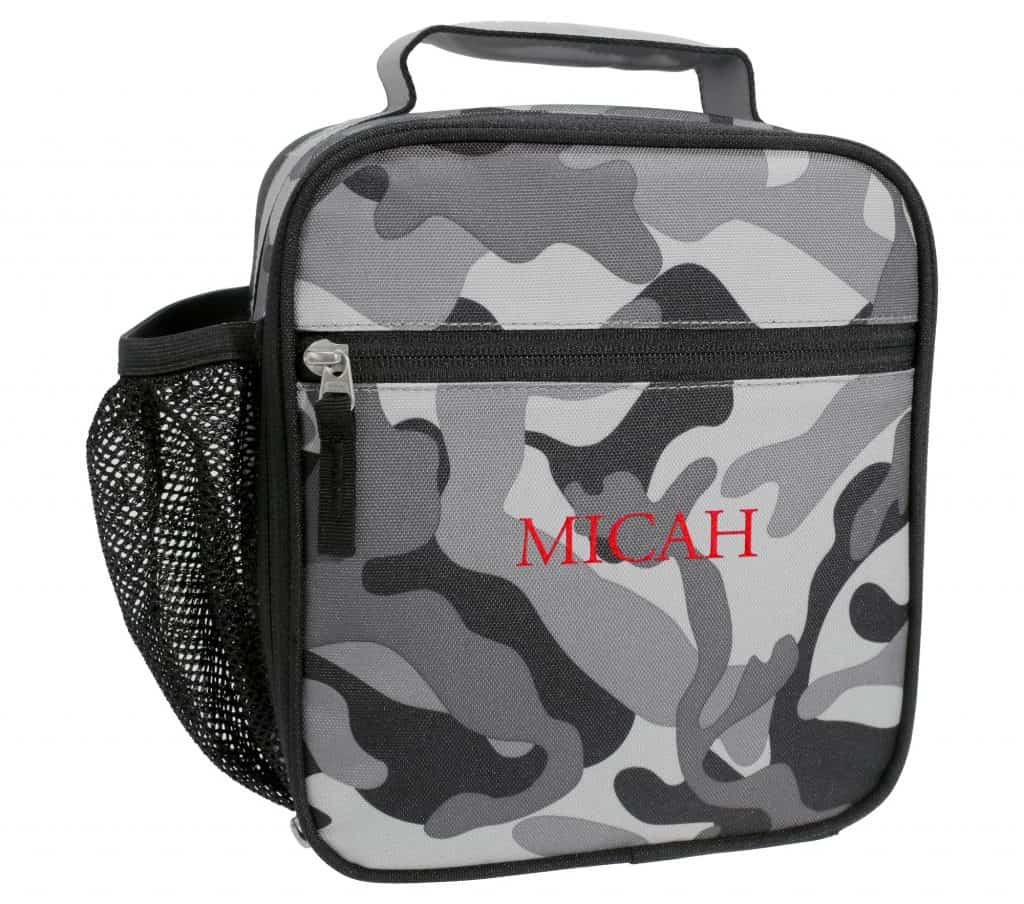 The Pottery Barn Kids Mackenzie Classic Lunch Box is kind of like the L.L.Bean Lunch Box when it comes to how it's made and how good it is. But the cool thing about the Pottery Barn bag is that it has a bunch of different designs that your kid might really like, like Disney princesses, action heroes, and dinosaurs.
It's got stronger sides than the L.L.Bean one, so it's better at protecting stuff like soft fruit and crunchy snacks. The only downside is that the sides can get dented pretty easily. Oh, and one more thing, this lunch bag doesn't come with a warranty, unlike the others we looked at.
5. Yumbox Presto Stainless Steel Bento Box ($46)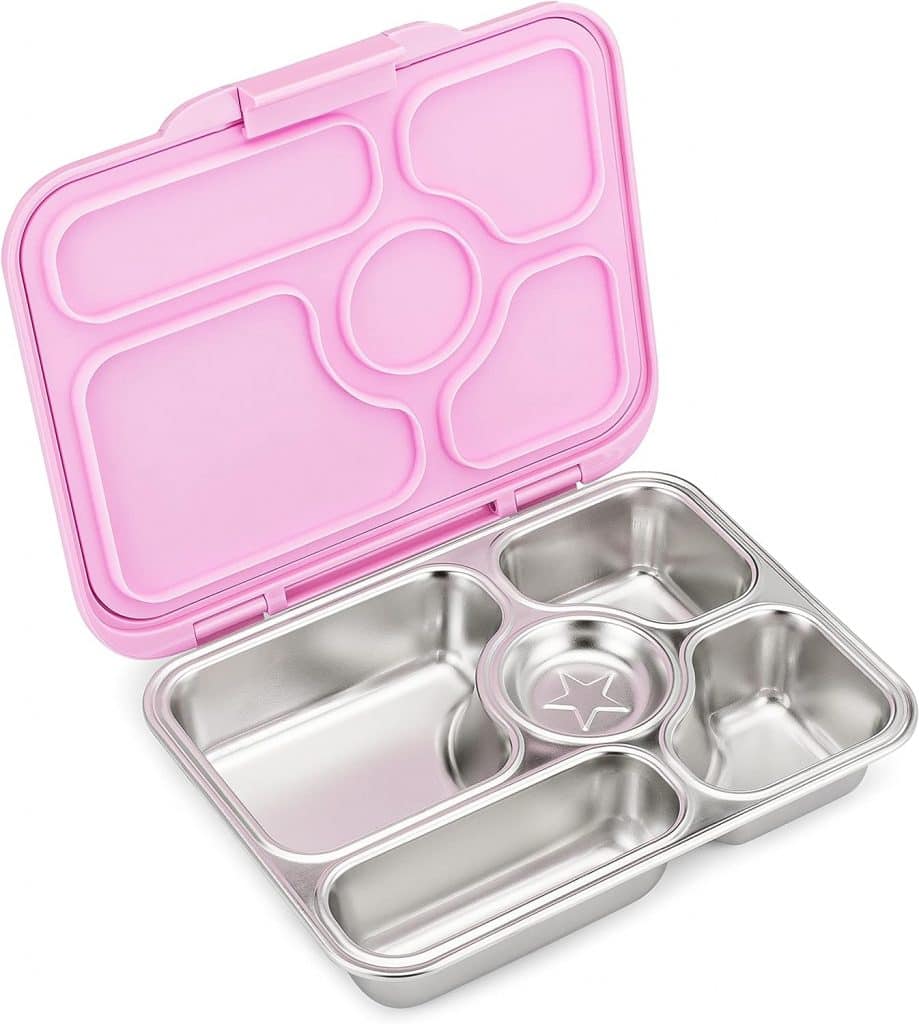 This stainless steel is one of the best lunch bags for kids because it lets them try a variety of foods without them touching each other (which is important for some kids!). The Yumbox has just one latch, so it's easy for little hands to open. It has four sections and a round spot for a dip or a cookie.
This version is made of strong stainless steel that's easy to clean, and it comes with a silicone lid in different colors. Keep in mind that because it's made of stainless steel, it's a little heavier than the plastic ones.
Check out these healthy meal ideas for your kids!
6. PlanetBox Rover Stainless Steel Lunchbox ($60)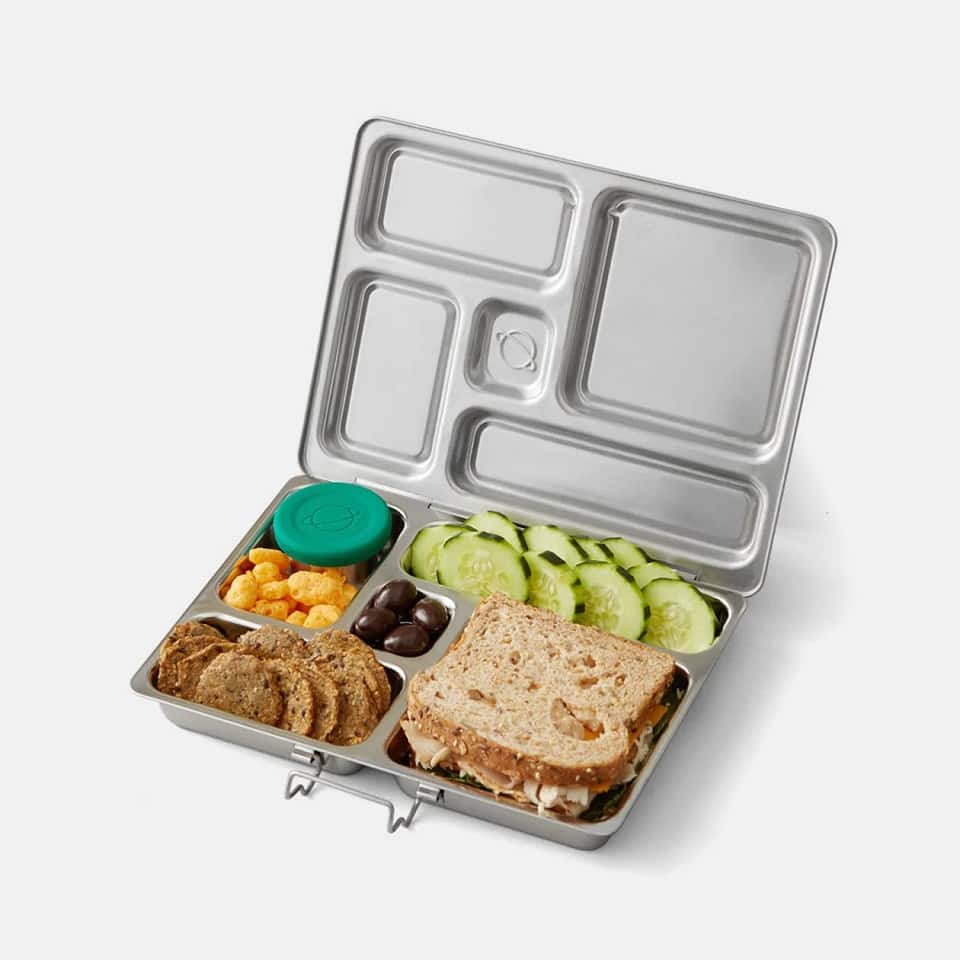 A lot of folks who bought the PlanetBox Rover Stainless Steel Lunchbox were like, "Whoa, this thing costs more than I expected for a lunch box!" But here's the cool part: it's super tough and lasts for years without looking beat up. Plus, it's a breeze to clean because you can just toss the whole thing in the dishwasher.
The Rover comes with two round containers that have lids and fit nicely inside, one big and one small. And if you want more options, you can buy different sizes. Oh, and for easier carrying, you can get one of their best-insulated lunch bags for kids that has pockets on the outside for a thermos or water bottle, and even more food containers. They've got different styles of bags too, in case you're into that.
Now, the tray of the Rover doesn't have seals, so it's not totally leakproof. But no worries, the lidded containers that come with it are leakproof. And get this: the PlanetBox Rover has one of the longest warranties compared to other lunch boxes, five years!
7. Sistema Bento Box ($10)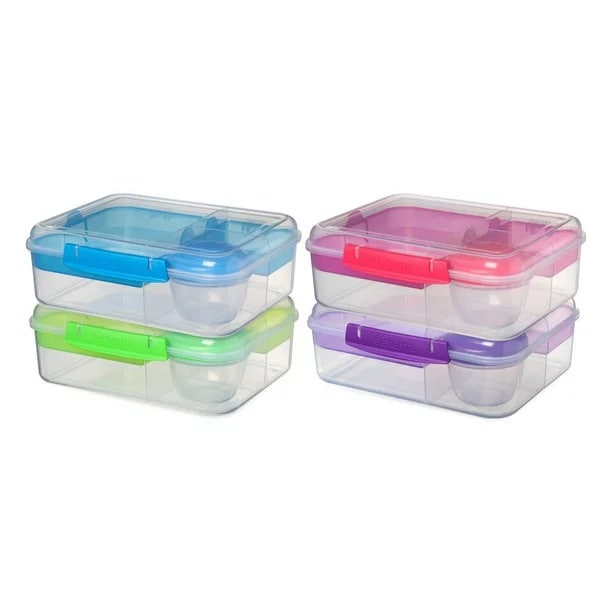 Got a picky eater at home? This awesome box is just what you need to keep their favorite foods separate and avoid any mingling flavors. It's super convenient too! The removable trays fit snugly together, creating a compact and lightweight bento box that costs less than 12 bucks. With this set, you can easily pack your kid a sandwich and four sides.
The round container is perfect for storing things like yogurt, hummus, or fruit salad – it can hold up to 5 oz of food. Plus, it has a screw-on lid to keep everything nice and contained. The best part? You can stick this tidy box in the freezer, pop it in the microwave, or clean it in the dishwasher. It's all good to go for the next day!
Now, here's the deal. The outer box has a closure to keep everything in place, but it doesn't have a spot for drinks. So your little one will have to carry their drink separately. Oh, and just a heads up, some folks who bought this online mentioned that they couldn't choose the color of their lunch box in advance.
8. Bentilogy Lunch Bag & Box Set ($23)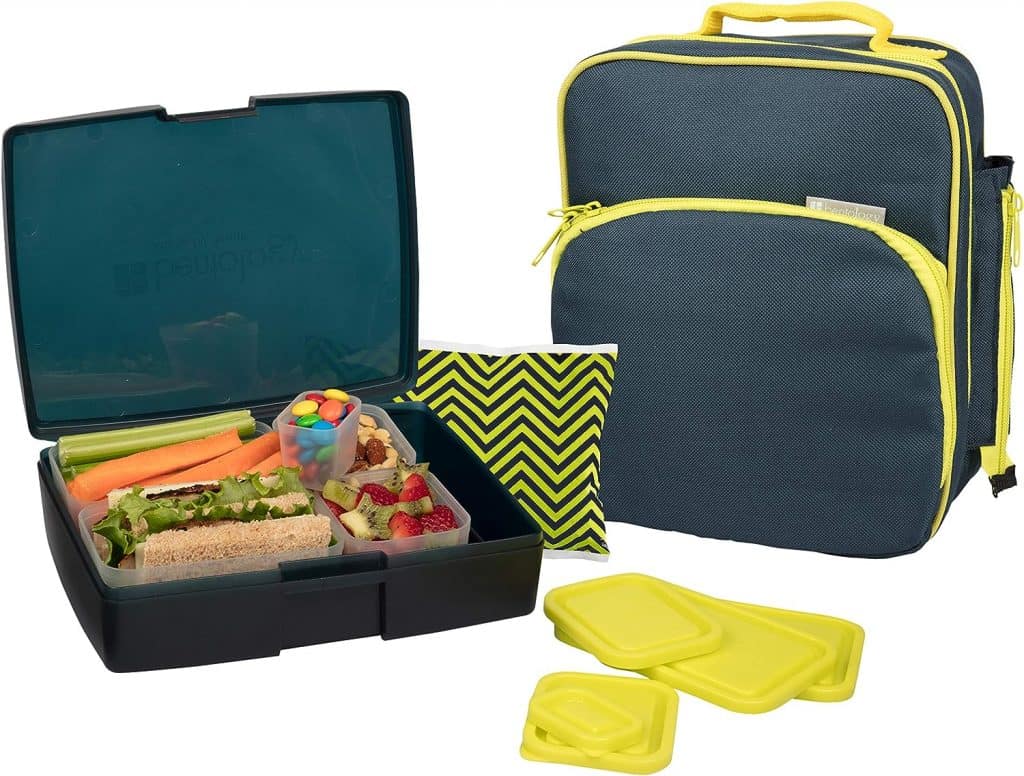 This cool 2-in-1 choice gives you the best of both worlds: a bag and a box to keep your kid's food fresh and separate from the rest of their stuff in their backpack. It's also great because it stops everything from getting squished before lunchtime!
The Bentology lunch bag set is one of the best lunch bags for kids who like different kinds of food for lunch: it comes with five plastic containers, each with a lid, so you can choose between solid and saucy foods.
You can put the bento box inside the bag along with an ice pack that matches, but if you don't have room, you can use the box on its own. There's a big zippered pocket in the front where you can pack napkins, utensils, or a note. Just a heads up, some younger kids might have a little trouble opening the containers.
9. OmieBox Bento Box ($45)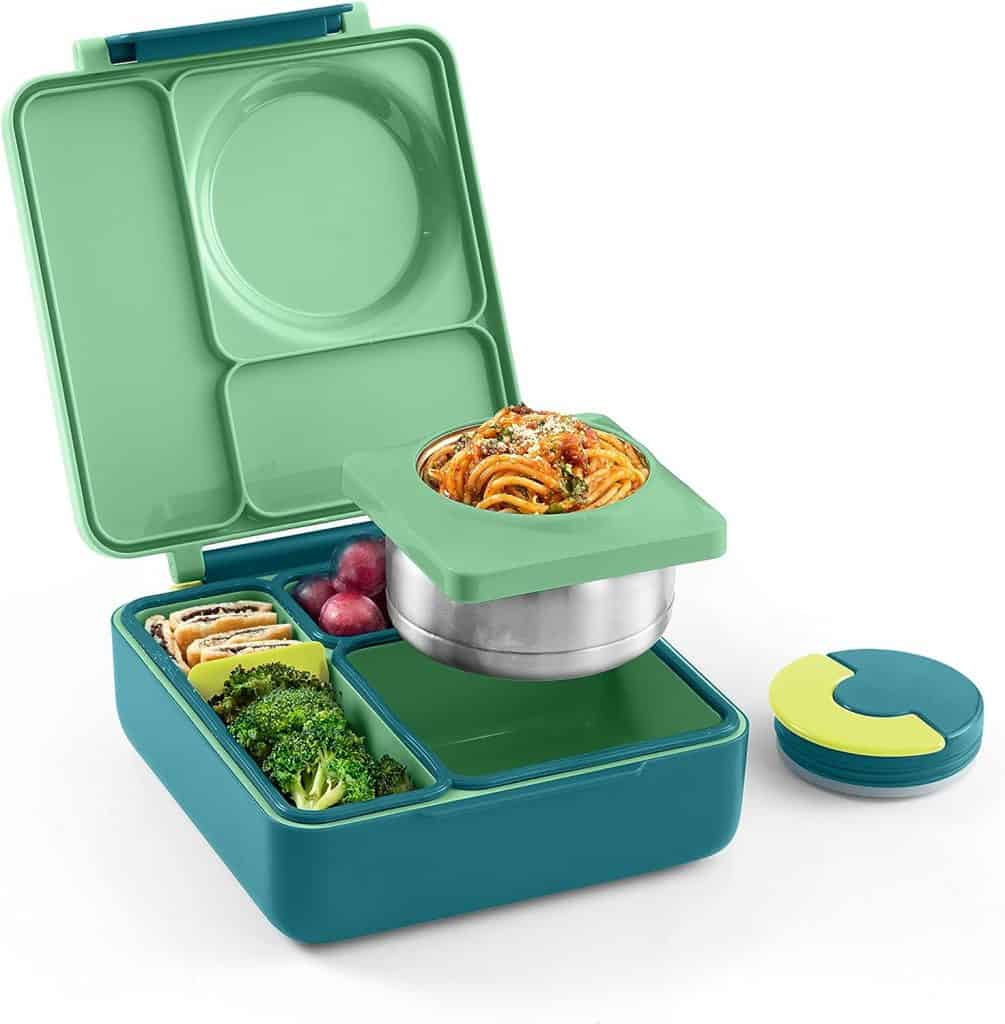 This cool lunch box from OmieBox is designed like a bento box and has insulation to keep the food warm or cold. The best part is that it comes with a container that works like a thermos, so you can pack hot or cold foods without any worries. It's perfect for bringing last night's leftovers or keeping milk and juice chilled in the fridge.
Just a heads up, when you use the thermos, it might be a little heavier compared to other options. But if you don't need the thermos, you can use the square compartment for a sandwich. The rectangular compartment has a divider that you can move around to fit your food just right. Win-win for the best-insulated lunch bags for kids, right?
10. Flatbox Lunch Bag ($22)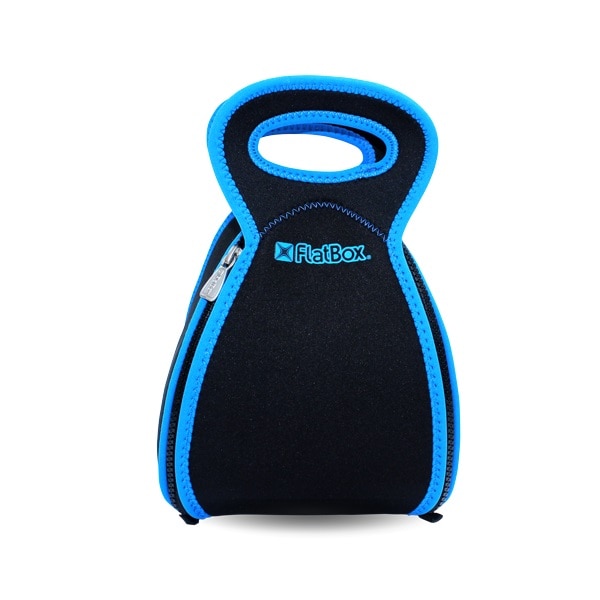 If you have kids who tend to make a mess while eating, this lunch bag is perfect for them. You'll like the fact that it can be fully unzipped to turn into a placemat. This feature is especially great for little ones because they can easily open zippers with their small fingers instead of struggling with hard plastic boxes. The bag is also lightweight and easy to store since it can be folded flat once your child is done with lunch.
However, keep in mind that because it's soft, it doesn't provide as much protection as a hard box, so sandwiches may get squished. On the bright side, the Flatbox has strong and comfortable handles on top. Another bonus is that it's machine washable, making cleanup a breeze.
When you're picking out a lunch box for your kid, think about whether it should fit inside their backpack or if they'll be carrying it on its own. If it's going in the backpack, go for something small and light that won't get squished. But if your child will carry their lunch separately, you can get a bigger bag or box. And if they don't have to walk too far with it, like if you drive them to school, the weight might not be a big deal. Happy lunching!
FAQ's: Best Lunch Bags for Kids
1. Which material is best for a lunch box?
The best choices for lunchboxes that are good for the environment and safe for food are steel and glass. Plastic is the worst option in terms of eco-friendliness. Steel and glass are also great for keeping things clean and hygienic. If you're looking for a sturdy lunchbox, go for steel, and if you prefer something lightweight, plastic or bamboo would be better. The different materials offer different levels of versatility, so you can choose what suits your needs.
2. How do I choose a lunch box?
Here are a few things to consider when choosing the best lunch bags for kids: BPA-free - Make sure the lunch box is safe for storing food. Keep it fresh - Look for a box that can seal tightly and keep food fresh, even if it's not wrapped. Simple to clean - It's easier if the lunch box has just one lid, so you can clean it easily and store it while it dries.
3. Is a plastic lunch box good?
Using plastic lunch boxes is not a good idea because they can release tiny bits of plastic into your food when you wash them in the dishwasher, boil them, or keep them in the fridge. Instead, it's better to go for stainless steel lunch boxes, which are a greener choice for the environment.