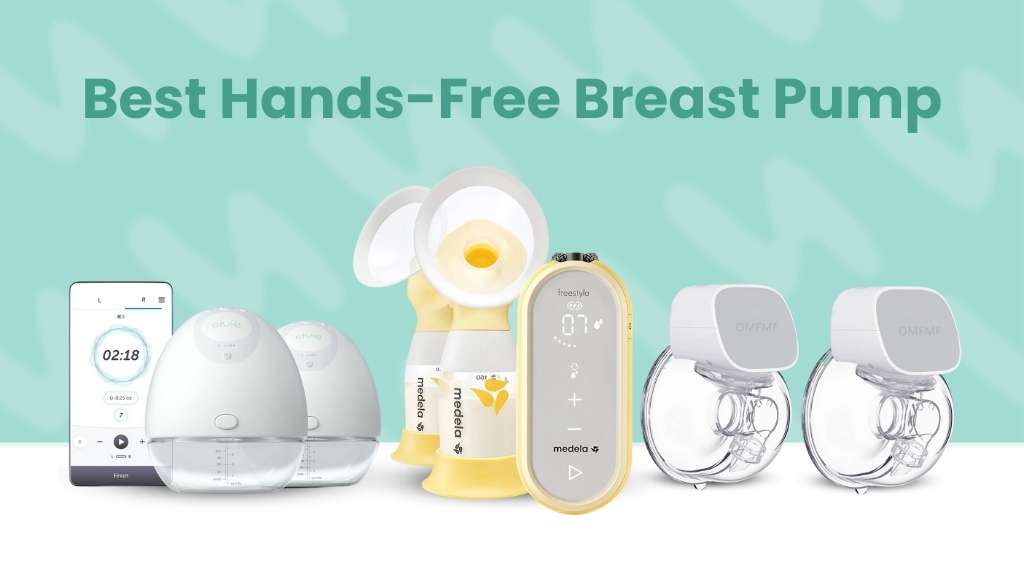 Wearable breast pumps are great, but they're not all the same. When you try them out at home, think about how comfy they are, how easy they are to use, how strong they pump, and if you can carry them easily. Also, check their prices. They can cost anywhere from $13 (for manual ones) to $500. That's how we made this list for you.
What is a Hands free Breast Pump?
Hands-free breast pumps are like regular pumps, but they let you do other things while you pump milk. Regular pumps have a motor, flanges, and containers. You usually have to hold them in place, but with a special bra, you can make them hands-free. However, hands-free pumps are made to be easy to use without any extra bras. You can also do other tasks while using them.
Some hands-free pumps can fit into your regular bra or shirt, and others are wireless. Wireless ones don't need to be plugged into the wall or a battery pack, so you can move around freely without worrying about cords. You can even use it without a special bra. Some can be put in your regular clothes, and others don't need cords, so you can move around easily.
Also read: What To Do With Old Breast Pump?
8 Best Hands Free Breast Pumps of 2023
1. Best Portable Breast Pump Hands-Free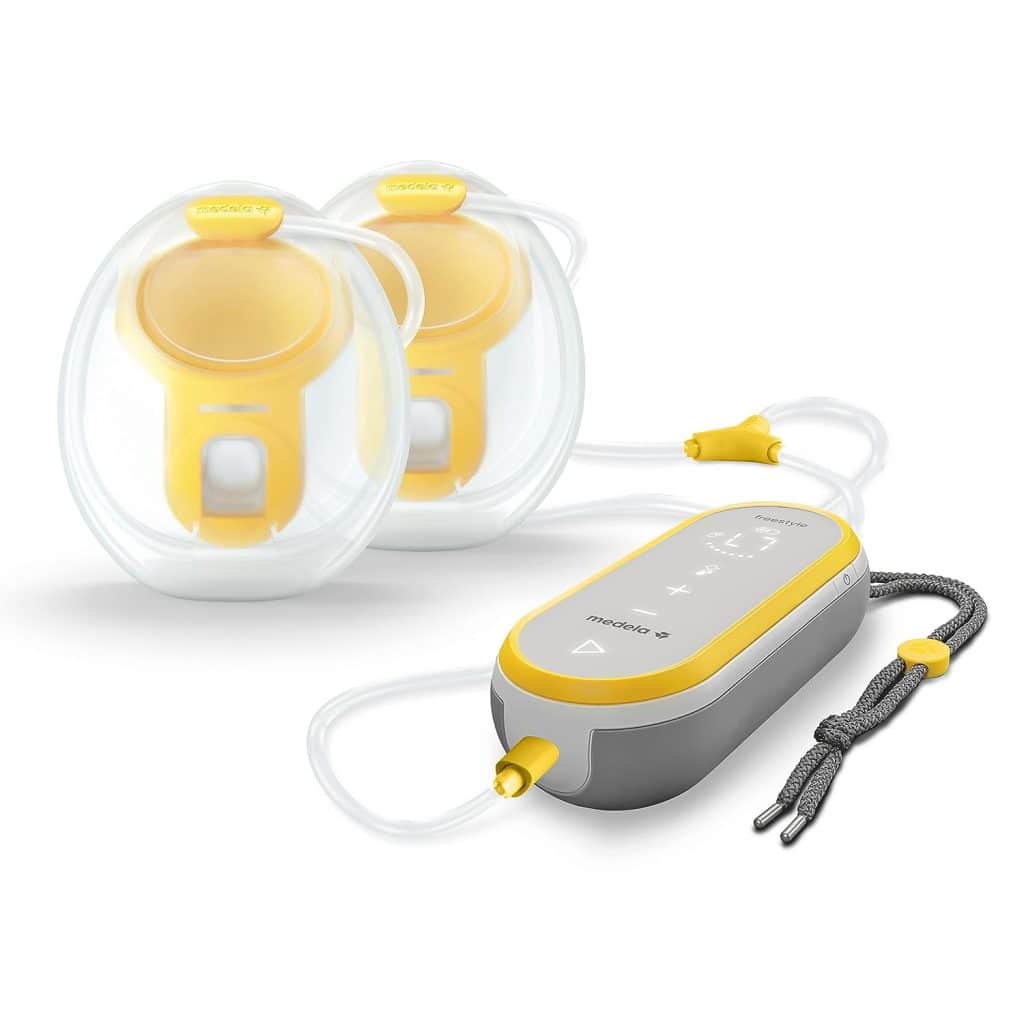 Medela Freestyle Hand-free Breast Pump ($349.99)
We liked some smart things about this breast pump.
This breast pump is easy for you to carry because it's not heavy, and it's also not very loud when it runs.

It has a mode that helps you get milk out easily.

It has special ice packs that go around the bottles, making it safe to carry your milk.

The charger is slim and doesn't take up too much space.

The pump makes a soft noise, but you might not want to use it during a Zoom meeting unless you put it on your lap or hide it in a pocket.

We also liked that you can see how much milk you're getting because the pump is clear. If you don't like that, you can use a free app from Medela to track your pumping.

The best part is that this pump only has three pieces on each side. This makes it easy to set up and clean.
Are There Any Cons?
Sometimes, you may have to hold the power button for 10 seconds to fix the pump speed or mode or if the screen stops working.

It's not as strong as some other pumps we tried.
I've been using this pump for almost 6 months now and I absolutely love it. I mainly use it while I'm in the car, but I've used it at work before too! (Server) the battery life is decent, its not loud at all in my restaurant, I'd imagine it'd be slightly noisy for an office setting but not outrageously so. It's good for about 90 minutes before needing charged again, which for me is three 30 min sessions. Cleaning process is super easy too, only 6 pieces total!! I've had three children and breastfed with all of them, but this pump is the first one I actually have had success with pumping. It's so easy to use and it barely shows while you're wearing it! In my picture I have just a sports bra on and even with just that it's visibility is minimal. The price is a bit high but totally worth it in my experience. I'm glad I bought it and 10/10 recommend!
– jennifer
I was so excited to receive this pump, and I was definitely not disappointed. All the other hands free pumps I've used are super painful and uncomfortable to use. The freestyle compares really well to my pump in style. I love that some of the parts are interchangeable between them. I especially love the new breast shield cups. Definitely worth the price.
I got almost 4.5 oz after pumping for 30 minutes. This is my standard pump amount for pumping every 3 hours. I definitely don't get results this good with other portable pumps. It was also super easy to pour the milk from the wearable collection cups into a storage bottle. I found this pump super easy and comfortable to use. I had no spills while pumping which I literally always do when using the regular pumping bottles/flanges. The timer on the pump was super nice too. I'm a huge fan!!
One person found this helpful
For more product reviews visit Amazon
2. Best Wearable Breast Pump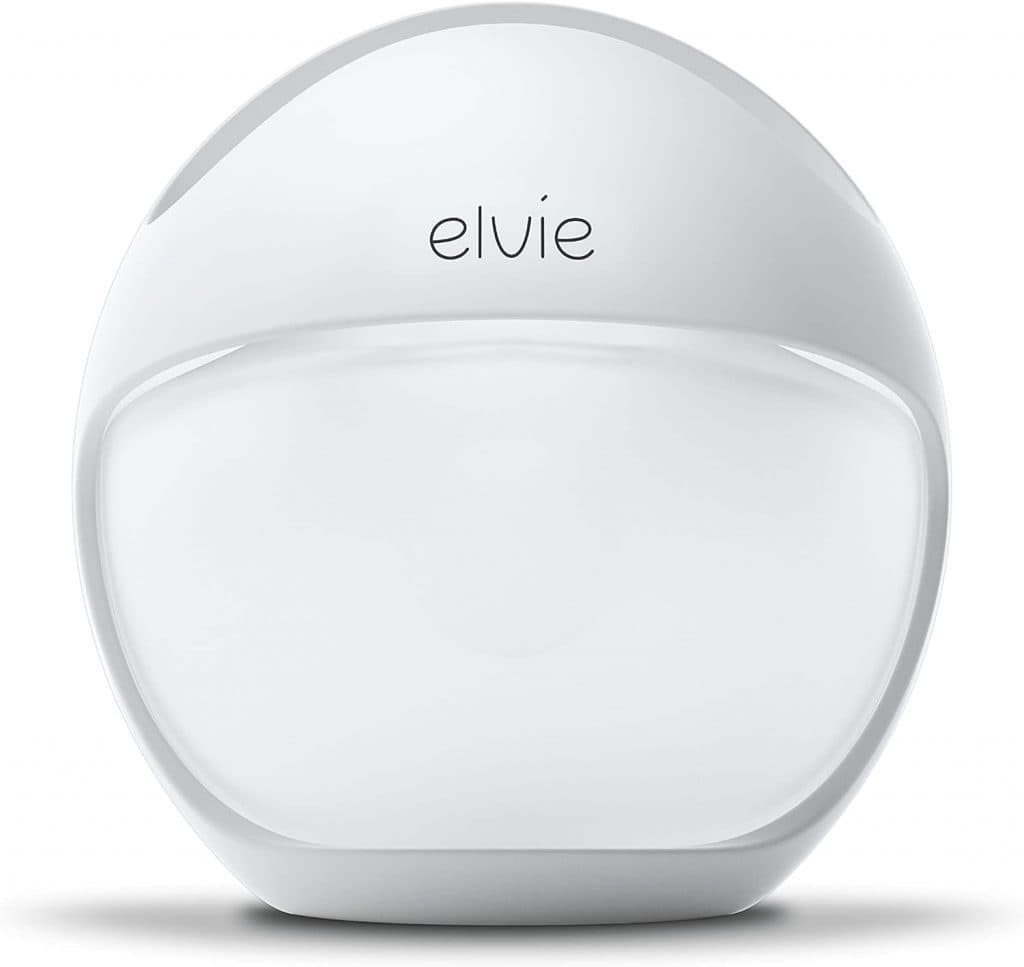 Elvie Curve Wearable Breast Pump ($ )
This is one of the best hands free breast pumps that is super easy to use.
It's made up of just two parts that you can wash in the dishwasher.

It works by using suction to get breast milk out so you have to squeeze the bottom part, attach it to your breast, and it will suck out the milk without needing electricity.

It fits right into your

nursing bra

.

There's a valve you can press to make it suck harder or softer, depending on what feels right for you.

We also like how easy it is to carry around, and it's tough too.

It's designed well so that the milk won't spill out even if you put it down in a hurry.
Are There Any Cons?
It's not an electric pump, so it's not as powerful.

The price is just for one pump. If you want to pump from both breasts at the same time, you'll need to get a second one.
From a husband's perspective…. These are down right awesome. I listened to my wife be absolutely frustrated and in love with its direct competitor's model. I sat by, sometimes running by, to support in anyway I could. Transferring pillows to support the perfect body support only to be kicked off by a feisty infant. This model provides the same catch, support, and suction of others with the added comfort/ convenience. This is the superior option….
– Nuxoll
So I can't speak to actual manual expression of milk with this thing, but it's so perfect for putting on the boob that's not getting currently nursed to collect all the extra milk instead of losing it to a breast pad. I do this around the clock with every feeding, and I have a 4 ounce bottle at the end of the day that my husband can feed the baby without having to pump. Indispensable. Best purchase I've made for this new baby! I'm going to recommend it to everyone. The only thing I wish is that it had some kind of cover for when you're out and about. you have to put milk into a bottle for moveable storage. But that's ok, just one more thing to carry.
– C. Allen
For more product reviews visit Amazon
3. Best Hands free Breast Pump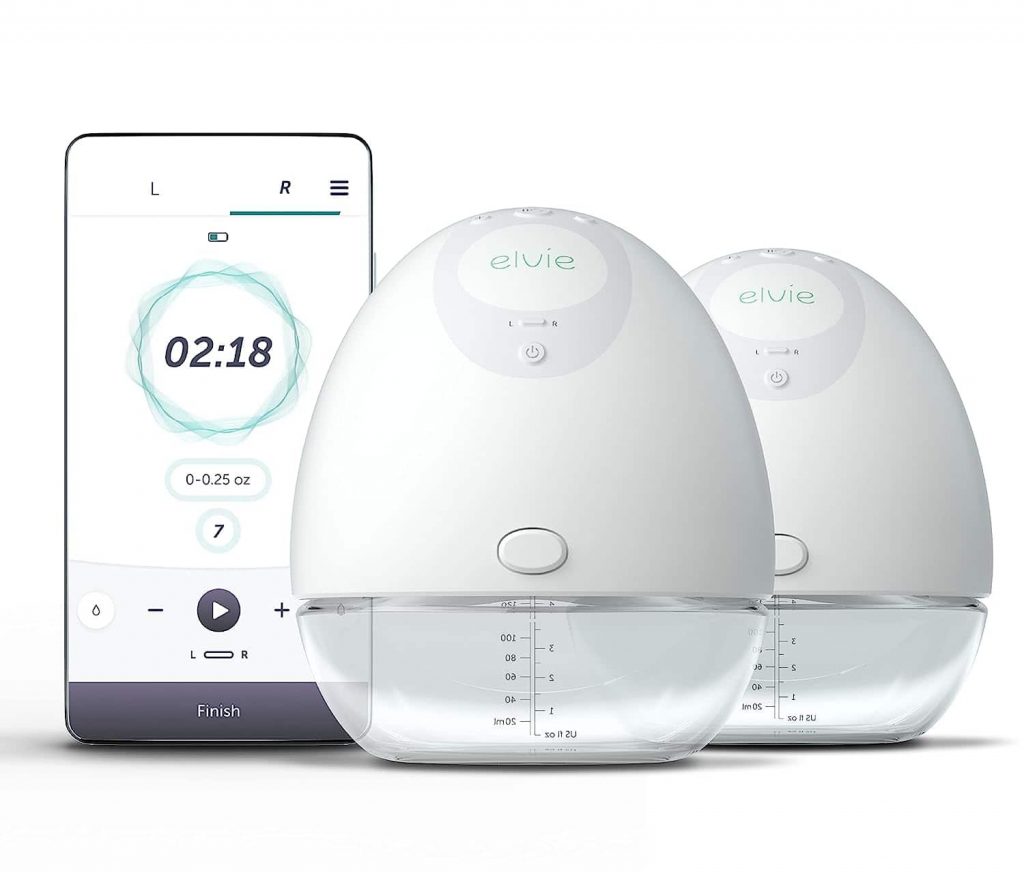 Elvie Pump ($375)
This is one of the best hands free breast pumps that's all in one, meaning the motor and the parts that make it work are in a single shell.
You can easily put this into your nursing bra or top.

It's great because you can take it anywhere; just put it in your bra or shirt and you're good to go.

It's small and quiet, so you can even use it during Zoom meetings or on your way to work.

This pump can figure out when you've filled up to 5 ounces of milk and turn it off by itself.

You can also keep track of how much you've pumped using the app that comes with it.

You can put the milk straight from the pump into the fridge using the lids they give you, so you don't have to pour it into another container.

In the app, you can pick different ways the pump works: one that starts slow and then goes faster, one that switches back and forth, one for when your milk is coming out a lot, and one that's gentle and slow.

If you have any problems, you can get in touch with them through email or phone, and they have lots of helpful information on their website.
Are There Any Cons?
It might not be the best if you're pumping all the time because how much milk it gets can be different for everyone.

It's a bit expensive.

The only downside to this pump is that it has a lot of parts, and cleaning them all can be a bit of a hassle.

You also need to make sure everything is completely dry between pumping sessions, or the pump might not work as well.
Also: Let's Take a Look at The Top Best Breast Pumps in 2023!
I purchased like 5 total pumps including the elvies . These are 100% my favorites. They are not overly bulky and you don't spill milk. Oh and their customer service! I warped one of the shields and they sent replacements under the warranty! I love these.
– SMiranda
I was hesitant to buy because obviously it's very expensive and some reviews were negative. I'm so glad I did. I have a Velcro baby so it is extremely difficult to be able to sit down and pump with my spectra, because he needs to be lying on me constantly. With the elvie I can't pump while he's napping on me. It has been such a game changer for me. I've also used it a few times while out of the house. My only thoughts on this are be careful if you live in an area with a lot of potholes, like I do. I think it'll be extremely handy for when I go back to work.
For more product reviews visit Amazon
4. Best Hospital-Grade Strength Hands-free Breast Pump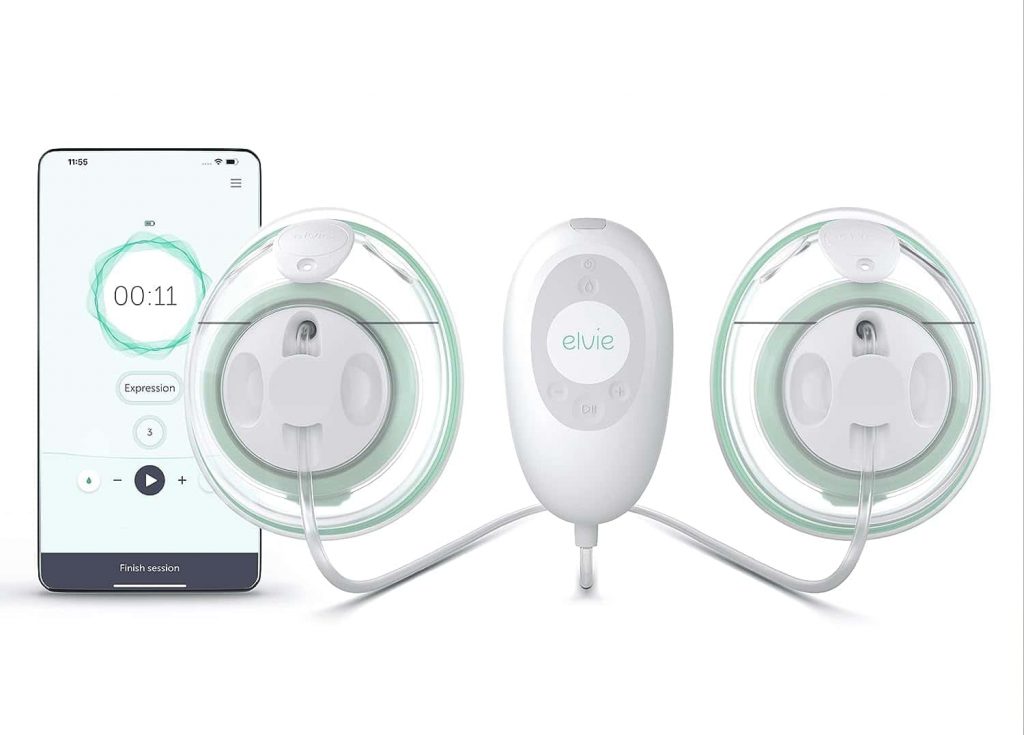 Elvie Stride Double Electric Breast Pump ($250)
If you often have Zoom calls or meetings during your workday, the Elvie Stride is the best hands free breast pump for you.
It has a strong motor like those used in hospitals, so it pumps milk efficiently.

It's a wearable pump that you can wear inside your bra.

But what's cool is that it has a separate motor that can hang between your breasts, outside your shirt, fit in your pocket, or clip wherever you want.

You can turn it on and off using an app: change how strong it sucks (there are 20 different modes for different needs), and check how much milk you've pumped and your pumping history.

You can even set your favorite settings or change them each time you pump.

It comes with two different cup sizes (21 mm and 24 mm), and if you need a bigger one, you can buy a 28 mm cup separately.
Are There Any Cons?
You can't use it while it's charging, and you need to make sure all the pump parts are completely dry between pumping sessions to make sure it works well.

Be super careful when you take the pump off after it's full of milk because it can spill.

One more thing, it comes with a USB cord for charging, but you'll need to get your wall plug.
Some stores sell the Elvie Stride Plus, which comes with a carrying bag, a cool bag, a wet bag, and other extras for about $40 more.
Already loving this pump more than my mom cozy. Got two extra ounces my first time using it. So easy to work and wear it. Only downfall is you have to pump both sides at the same time and sometimes I like to do one side and then the next. See pros and cons below. With a few tweaks this product could be one of the best wearables on the market.

Pros:
Good suction so far
Less bulky than other wearables
Dishwasher safe/easy to clean
Get almost every last drop out of container (my other device always had some left I couldn't get out)

Cons:
Doesn't display the pumping time on device
You have to pump both sides at the same time
A little tricky pouring the milk from the spout
– emily
I bought this strictly for travel but now I use it all the time. I'm an exclusive pumper for my 8 week old. I get great suction from this (had to buy 17 inserts). My spectra does a slightly better job so I usually do that morning and right before bed. I was able to pump while driving, making the bed, getting ready for bed, doing dishes ect. I feel like I have more time to do things and that mentally has been great. Yes the parts are a little pain to clean and dry. I wash mine once a day. My location consultant told me to just put the pump (not the tubing part) in a ziplock and store in the fridge or a cooler during the day and it's fine. I also LOVE the app you use with it. I finally can easily track how long and how much I'm pumping.
For more product reviews visit Amazon
5. Best Affordable Hands-free Breast Pump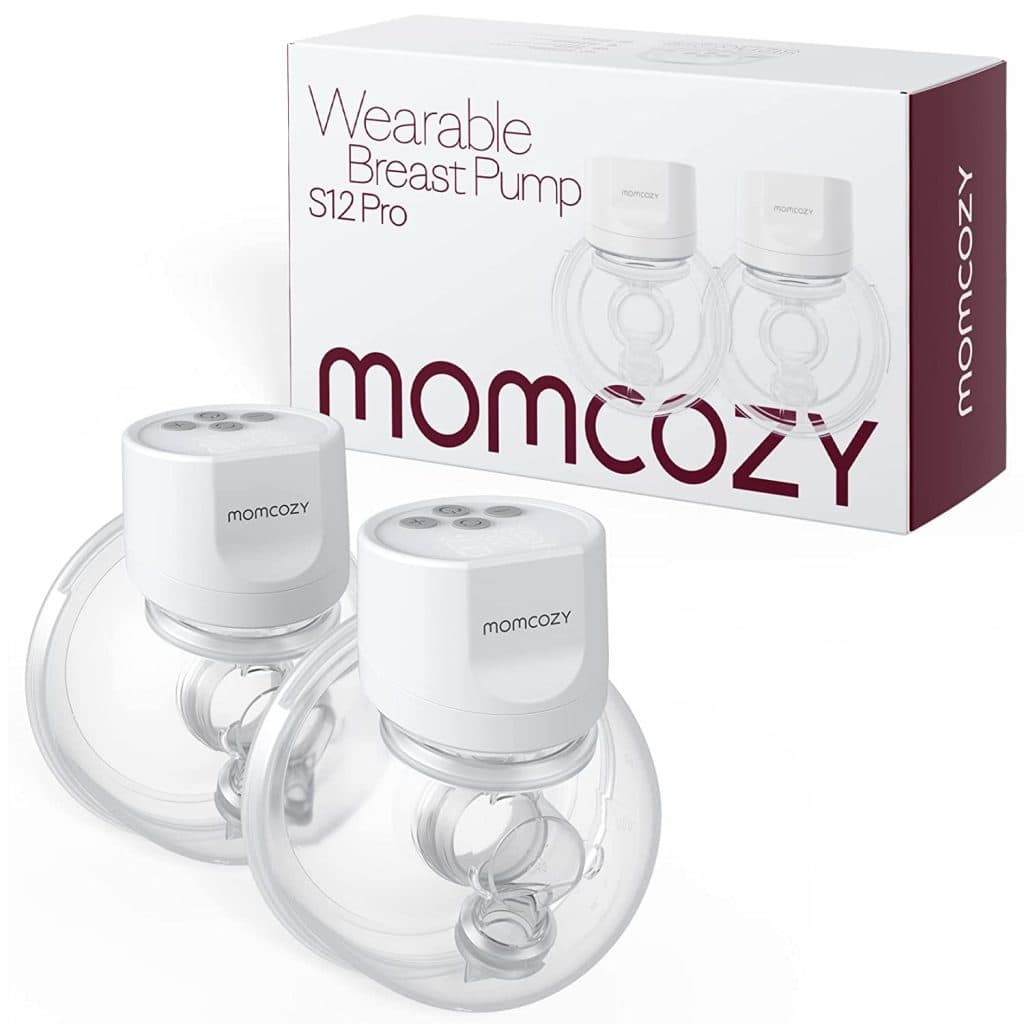 Momcozy S12 Pro ($140)
You could almost say it's like having two pumps because you get one for each breast, just like the Elvie Pump.
You might like this pump because it's got a handy pour spout for storing milk after pumping.

The suction power of this pump is comparable to the ones they use in hospitals.

We also liked the features that are great for parents, like a buckle to adjust it to your bra size without buying a new one, a chart to find the right flange size for your nipple, cleaning tools, and buttons that light up for easy pumping at night.

It's also clear, so you can see how much milk you're getting.

It charges up fully in an hour and a half and can be used for five to six pumping sessions, each lasting 30 minutes.

This pump is lightweight and easy to carry around.
Are There Any Cons?
Be aware that putting it together might be a bit tricky at first.

You'll need to wash the parts by hand, not in the dishwasher.

It's not as discreet-looking or quiet as the Elvie Pump, so you might not want to wear it outside or during video calls.

Be careful not to fill the containers too much; the maker suggests only pumping four ounces to avoid spilling.

Plus, you'll need to replace certain parts every few months, so consider that extra cost when deciding if it's the right choice for you.
The suction on the s12pros is phenomenal. I use the spectra s1 when i am at home and the s12pros while im out of the house and it empties me the same if not better than the spectra does. I do not regret this purchase at all. I have had it for a month and have not had any motor issues. The biggest thing about this pump is making sure that it is 100% dry. It does come with a cleaner for the plastic piece that attaches the cups to the motor to make sure that area is 100% dry before use. It does sound a little noisier than other pumps partly because the motor is close to your face. Make sure you have a snug bra when using or you may encounter leaking.
– Tasha C
I love having a portable pump! I was in a wedding six weeks postpartum and I used this every 2-3 hours while getting ready and during the reception. I was able to wear it while I was getting my make up done and even in some of the bridesmaids getting ready photos (it isn't very discrete but my top was very loose fitting so I was able to position myself/my top so that it wasn't noticeable). I also use this if I need to pump and it's just me and my baby at home because if he wakes up or starts crying, I'm able to get up to get him. I love the flexibility a portable pump allows.

This pump is very easy to use. I think it works better if you are wearing a more supportive nursing bra. I usually get the same amount of milk using this pump as my spectra wall pump, although some people say they have to wear it longer than a usual pumping session. There are a few more small parts than other pumps so cleaning it is a little more work, but I don't mind that since we all know washing any pump parts is a struggle. Overall, I wouldn't use this as my primary pump, but it is great for on the go.
– Kelly
For more product reviews visit Amazon
6. Best Mobile Hands-Free Breast Pump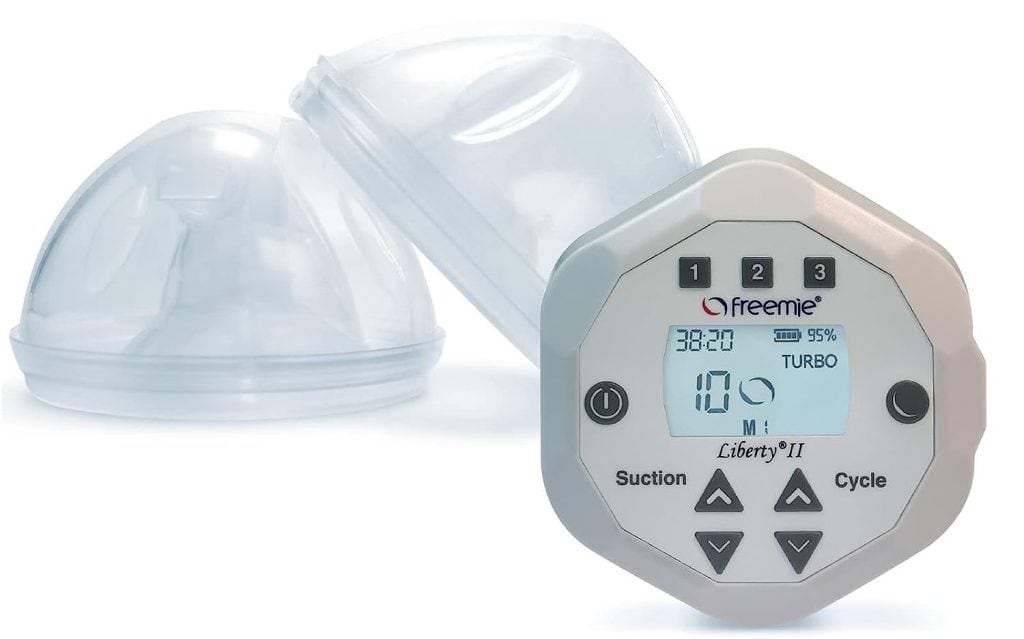 Freemie Liberty ($200)
The great thing about the Freemie Liberty is that it's really quiet when it's on. It's also very light (if you're thinking about the Nuk, it's the same pump with a different name).
Cleaning it is easy, and it's not too expensive.

You can move around while using it, and it works with any nursing bra you have (although a clip-down nursing bra is handy, a stretchy sports bra might work too).

One nice thing is that you can charge it with a regular micro-USB charger, which is easy to find even when you're tired.

When you're done pumping, you can pour the milk directly from the pump into a bag or bottle.

It can hold up to eight ounces of milk on each side.

The pump comes with flange sizes of 25 and 28 millimeters, but you can get silicon inserts if you need a smaller size.

And the best part is that you can use the tubing to connect it to almost any other pump that uses tubes.
Are There Any Cons?
Setting it up might be a bit tricky, and you might need to call customer service for help.

The tube that powers the pump is quite long and might get in your way. This also means it's not very discreet under your clothes, unlike pumps without tubing.

The control panel isn't very easy to figure out, with the strongest suction being at the 0 setting, which doesn't make much sense.

If you're wearing a dress or jumpsuit, you'll have to hold it, which isn't ideal.

The shape of the pump is a bit odd, being both too round and too conical.
My experience was way better than the reviews. Love it. In fact, sometimes I use it more than the willow gen 2 pumps I have because it's a bit easier to see if it's positioned right (you can see the milk filling up without pulling them off). Just wanted to add this review in case anybody was wavering and got scared by the reviews. I've had a great experience, super happy with them
I received the freemie liberty II when I was feeling most defeated in my breastfeeding journey. My son was diagnosed as Failure to Thrive at 6 weeks old. After being discharged from the hospital, upon recommendation of our doctors I began pumping. Freemie gave me the independence and Freedom from being confined to a plug and wall. I use the pump religiously and have increased my supply by over 20oz a day! Totaling between 32/40 oz a day! My son is THRIVING! I give all the credit to freemie and their products. Without these great pumps and cups I would have totally given up. They are easy to use. The battery life lasts me 3 full pumps and they are easy to clean. Thank you Freemie!
For more product reviews visit Amazon
7. Best Hands free Breast Pumps for Busy Parents
Willow 3.0 Breast Pump ($399)
The Willow 3.0 is a super smart pump that's better than the other wearable pumps we tested.
An app tells you how much milk you pumped each time so you can see how much you've pumped in a day.

You can even change how strong the suction is, and it shows you how long you've been pumping.

There's also a handy Apple Watch app that does the same thing. This is useful if you have a job where you can't take long breaks.

This pump is also the only one that won't spill.

You can pump two ways with it: either into special bags, it comes with or into reusable containers.

Cleaning is easy if you use the bags.

If you're pumping in a tough spot like on a plane or at work, you don't have to move the milk from the bag to a bottle. You can just store it right away.

The reusable containers are less convenient, but it's nice to have options.

This pump can hold four ounces of milk on each side.

You can kind of make it hold five ounces, but it's not perfect.

It comes with a 24 mm flange, but you can buy 21 mm or 27 mm sizes if you need them.
Are There Any Cons?
One thing to note is that it can't be used with other pumps.
We'd recommend this pump if you work in healthcare, teaching, or any job where taking pump breaks is hard, and finding a good place to clean and store your pump parts and milk is tricky.
I struggle with breastfeeding to begin with and was considering quitting because I hate being connected to tubes and flanges all day. I did a TON of research and was very nervous about this purchase but decided to invest in the Willow. I am so glad I decided to get one and I credit it for me still breastfeeding.

Slight negatives- There are learning curves to using this pump but the company provides how to videos on their app that are super helpful! The pump is STRONG! It takes some getting used to. It is HUGE…. I wear a B cup and these make me look, as my husband puts it, like I had really bad plastic surgery. But I don't care about how I look when using it, and if I'm using it around someone I actually care about I just tell them what it is and they're totally amazed by it!

Positives- I have a hospital grade pump as my primary pump and this honestly is as strong if not stronger! I often get more and out of the willow than I do out of my main pump! I LOVE being able to be hands/tube free and live my life. I use this on the road, while visiting people, out to dinner, walking around Costco… it's great. I also have both the sealed bags and the reusable containers… both are super helpful depending on the situation I find myself in.

Honestly this pump is one of the best purchases I've made as a new mom. I would highly recommend it! Good luck out there mama's!
– NomadCj
This is my second time using willow! I've used the hospital grade medela with freemie cups previously. This pump is a life saver for me! I'm a registered nurse and finding time to pump is difficult. The assembly, the transfer of milk, the cleaning, etc. with traditional pumps added so much more time to my pump breaks (if I even got one) I purchased my first willow in 2020 and was very happy. I honestly would throw my pumps on and chart or other tasks! The bags are very sturdy and don't leak and once I got the hang of things, flip mishaps were very rare. The pumps always have me feeling like I was able to empty fully. I would highly recommend! The parts were also very durable and even though the price might be a shock, I was able to resell my last willow for 60% of what I paid originally for it (and I had for almost 2 years), so it's a good investment!
For more product reviews visit Amazon
8. Best Hands Free Breast Pump For Large Breasts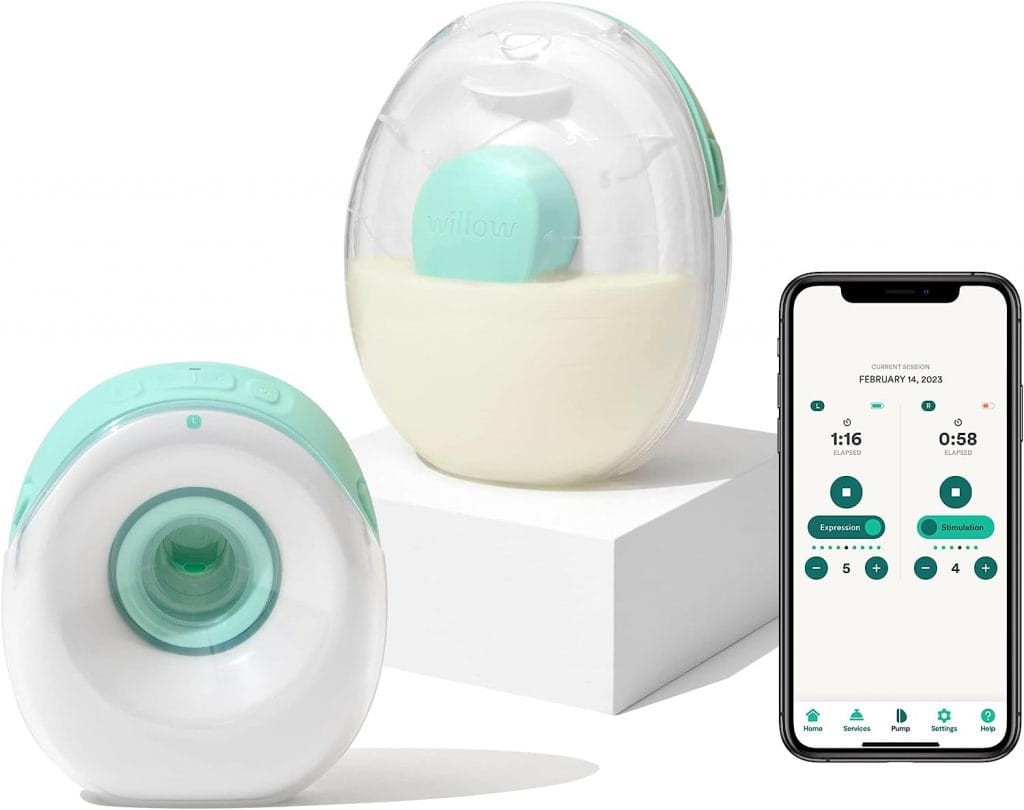 Willow Go Wearable Breast Pump ($255)
This is your favorite wearable among all the best hands free breast pumps for large breasts in the market. You think it's a big improvement over the 3.0 version. It feels more comfortable, and it works just as well as your S2. Plus, it doesn't vibrate like the S2.
While it's not as quiet as some other pumps, it's still quiet enough for most activities. You can even move around, do chores, and brush your teeth while wearing it (just be careful when you bend over; it's not spillproof like the 3.0).

The app that goes with it has been upgraded, so you can adjust the suction and see how long you've been pumping and how much battery is left.

It charges with a micro-USB.

The default container holds 5 ounces, but if you produce a lot of milk, you can get 7-ounce containers.

It's also cheaper than the 3.0. If you want a wireless, hands-free wearable pump, this is the one to go for.

The 3.0 is better suited for people who can't take a proper pump break at work.

The pump comes with containers that hold five ounces of milk, but if you need more, you can get seven-ounce containers.

The pump includes two different sizes of flanges: 24 mm and 21 mm. If you need a different size, like 27 mm, you can buy it separately. There are also silicone inserts available if you need a 19-mm size.
Are There Any Cons?
Unfortunately, this pump isn't compatible with other pumps.
LOVE this pump. I used a Spectra during my maternity leave and thought I had a nursing/pumping schedule down pat. Then I went back to work full time and said schedule became worthless in a heartbeat. I work in healthcare and despite having a private office AND an extremely breast-friendly environment I just could not get my act together. Baby woke at a different time every day, some days I didn't have time to pump before work, and I'd arrive to my first patients with two full boobs and nothing I could do about it for four+ hours. My supply dropped from plentiful to barely there to insufficient in the space of two weeks.

Willow Go saved me. Day one I didn't have time to pump before work and — BOOM popped these ladies in and saw my first three patients while pumping. Snuck away for five minutes to empty the milk into a bottle and rapidly disassemble everything (I keep the dirty parts in the fridge until lunchtime, when I wash them), then got right back to work. I could have cried, I was so happy.

I can now pump 2-3 times during normal business hours and it's been a game changer. Cleaning the parts is a pain in the ass but I can do that over lunch. I use my Spectra at home since it's easier to clean. But I've come to prefer the Willow Go between the two.

I'd heard from other users that the wearables don't empty you like a Spectra or Medela but that thankfully has not been the case for me. I actually just use stimulation mode for the entire 25 minutes and that seems to work best for me for some weird reason. Anyhow my supply has now rebounded and mommy's stress level is soooooooo much better. Yes you look like Dolly Parton wearing them and yes your boobs click and vibrate while they're on BUT it's so worth it. Five stars.
To not have to hunt for a place where I can plug in, then be tied to the wall…. I literally pumped in the restaurant bathroom, dancing to their pipes in music the other day. I did not expect not be in g plugged into the wall to be such a game changer, but it is.
I use the pump on its strongest suction (9), and rarely use the app, but it's a world of difference from the 1st gen Elvie I couldn't use with my first daughter bc of the lack of suction.
– Amanda
For more product reviews visit Amazon
If you ever need to pump milk from your breasts when you're not with your baby, like when you're at work or away from home, the best hands free breast pump can be really helpful. It lets you do other things while pumping. Now, you might wonder if the size of your breasts makes a difference when you're pumping milk. Well, the simple answer is no. Whether your breasts are big or small, doesn't affect how much milk you can make. Even parents with small breasts can produce just as much milk as moms with big breasts.
FAQs: Best Hands-Free Breast Pump
1. What is the best wearable hands-free breast pump?
We tested several portable and wearable best hands free breast pumps, as well as the regular double electric ones, to see which one was the best. And if you're looking for a wearable pump, we found that the Elvie Pump is the best choice. But if you're on a budget, the Willow Go is also a good option.
2. Is it worth it to get a hands-free breast pump?
The best hands free breast pumps offer better support compared to other types of pumps. They fit comfortably into most regular or nursing bras, and they make moms feel more comfortable when they have to pump milk in public places. So, they're a great choice if you want more freedom and flexibility while breastfeeding
3. How do I choose a hands-free breast pump?
Here are a few factors to consider while choosing the best hands free breast pumps: Suction speed Flange size Weight Noise Cost