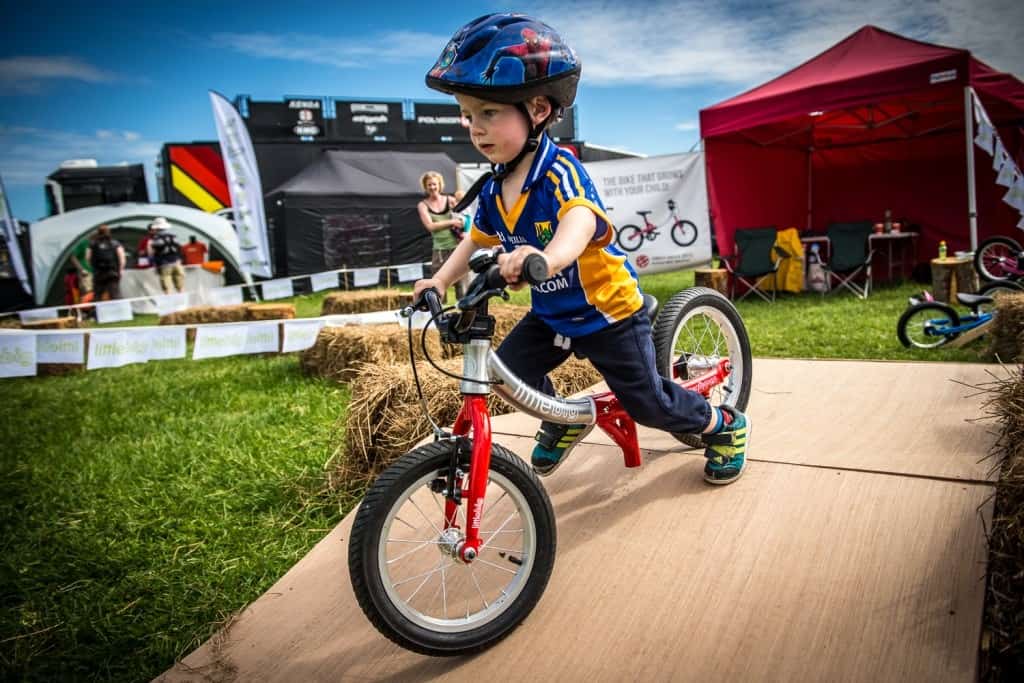 A balance bike is a bike that is pedal-free with two wheels attached and is mostly loved by kids while they choose to ride on them almost regularly, powered by their running legs, unlike the others that are run via pedals.
But why must a parent choose the best balance bikes? The reason behind why parents must opt for these bikes for their 2-year-olds plus children is because they do not have training wheels as the kid might have had in the past and also helps the toddler learn to balance on their own, just like their parents! The other names through which these are known are, of course, strider bikes, glider bikes, or running bikes.
Nonetheless, purchasing these best balance bikes for 2-year-olds is quite tricky due to the large availability of all kinds. Therefore, Parenthood bliss has curated a list of things you must keep in mind while buying the best balance bikes for your toddlers, below, followed by our top picks with their ages as per the recommendation. Read on to know more!
Things to keep in mind when buying the best balance bikes
Make sure to measure your toddler's inseam and then compare it with the height of the seat of a balance bike. This is important as not every balanced bike fits all toddlers, so look for those that have a minimum seat height or may be equal to the child's inseam.
While looking for your best balance bike, make sure to choose the air tires over the foam tires, this is because the foam tires do not offer any cushioning and also attractions less as compared to the air tires.
Always and always look for the bikes for toddlers that have hand brakes, it's not a recommendation but a must. Hand brakes help to stop the bike faster as compared to stopping their bikes with their feet.
Parenthood bliss's top 10 best balance bike for toddlers
Here are the best balance bikes for toddlers that you can choose, however, also make sure that you buy a bike helmet as well for safety. THIS is the list that will lead you to the best helmets for toddlers.
1. WOOM 1 Balance Bike- Ideal for ages 18 months to 3 years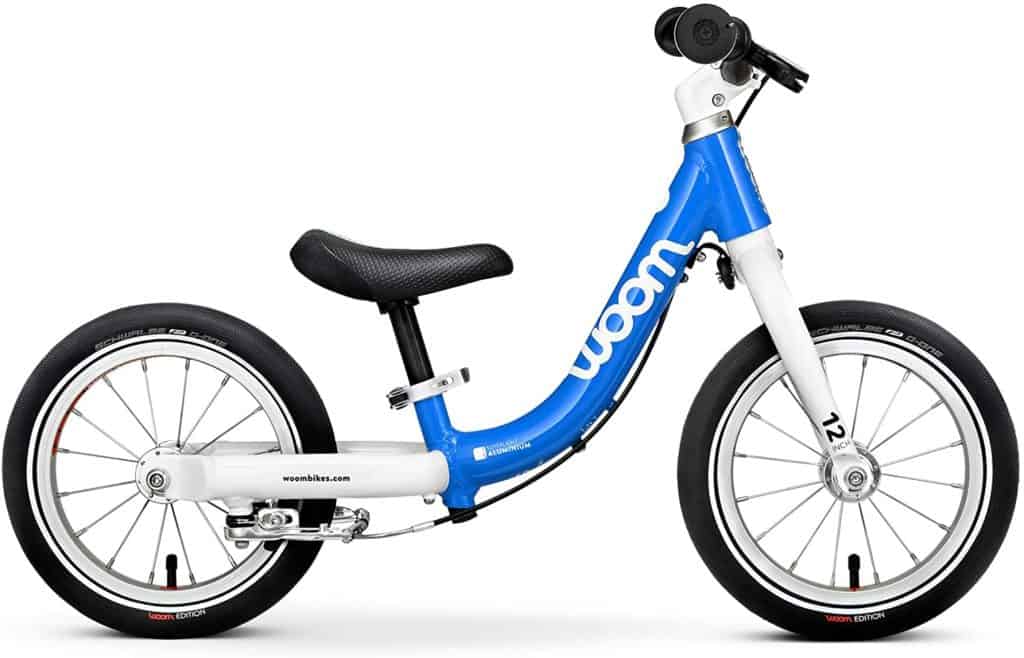 Cost – $199
Height of the seat – 10″ to 14″
These best balance bikes from WOOM 1 feature to be smooth and are easy-to-ride for young toddlers at their early start and are available in a range of 5 colors to choose from. They feature handlebars that help the little riders to be placed at a natural, upright position with centered weight, enhance balancing skills, are lightweight, have a low step frame, minimum seat height, air tires, and an easy-to-use handbrake.
Pros:
Helps to naturally upright the position of the body
Is easy to balance
Low step frame
High-end components included
Cons:
Doesn't have a great range of seat heights
We purchased our 18 month old daughter a GT balance Bike. The seat was too high for her and she had a hard time holding the bike up due to its weight.
The Woom bike is freakin awesome, the seat can drop very low and it's super light. She was able to pick it up and mount it on her first try. The Woom bike was double the price of the GT but it is so worth buying a bike that is the perfect size and weight for our daughter.
 I'll start with the fact that I rarely leave a review… It has to be so amazing or so awful that I feel compelled….I definitely feel compelled….I was searching for a balance bike with a brake after my 2.5 year old started going too fast down hill on his Strider and had a good wreck… No damage but I knew that he'd not keep pushing limits if he had no control and I didn't want another near heart attack! Just some stats..He's 35″ tall, 30lbs, with 100lbs of attitude! He learned on his Strider and the moment I pulled the Woom out of the box he was jumping up and down about his new bike….I was too! Serious quality…I'm a gear junkie….I'm big into biking….I have 5 bikes and they are all quality bikes…. The difference between Strider and Woom is like the difference between a razor scooter and a motorcycle….I have both of those too…. Every part on the Woom is a real bike part…bearings in the hubs and headset, no bolts sticking out on the handle bar, pnuematic tires that offer significantly improved traction, a real hand brake that he can reach and will teach him from the start how to hand brake, wide handlebars that makes it easier to control steering better, a steering limiter, a real seat with a little padding and the perfect shape for sitting, which is important on a balance bike since they have to sit to move…there is no standing on pedals to give the toosh a break. I've already researched the next size up for his transition to pedaling….love that they offer freewheel on the pedal bikes….I don't want him to have a bike with coaster brakes since it's not what he will ride when he's older. It came with a bell that he loves and it works really well…again, every component high on quality…all for only a little more money than a Strider…worth every penny. With all of this said….he's only ridden it for one evening…so if anything changes and I find the quality not lasting to my expectations, I will definitely update my review.
For more product reviews visit Amazon
2. Prevelo Alpha Zero Balance Bike- Ideal for ages 24 months to 3 years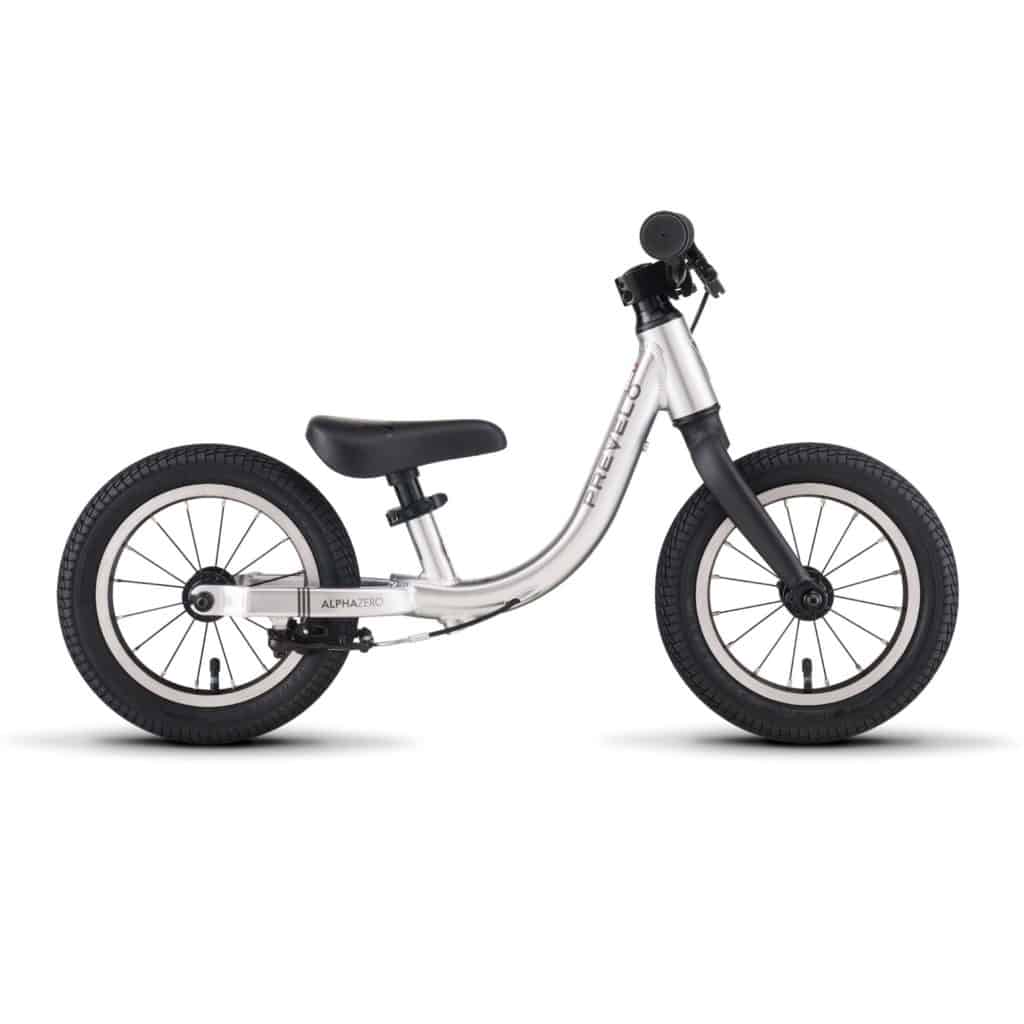 Cost – $199
Height of the seat – 11.4″ to 14.6″
This best bike for 2-year-old kids is the top choice for most parents, they do not have any bright and busy graphics and are of a perfectly proportioned balance bike. They feature high-end components, have a long wheelbase for better stability, and are smooth and effortless to ride on.
Pros:
Have a low seat height
Easy step-through frame for young riders
Include threadless headset, Kenda tires, and Tektro brakes
The rounded bolts prevent any scratches
Cons:
Have a small seat height range
3. Pello Ripple Balance Bike- Ideal for ages 18 months to 4 years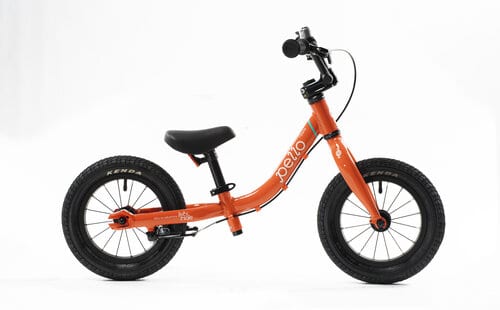 Cost – $198
Height of the seat – 11.25″ to 15.5″
Pelli Ripple offers a versatile, best-in-class component bike with a unique design. They feature wide air tires, a Cane Creek headset, a caliper hand brake, an extended seat post, and offer centered rotating handlebars that are of an ideal fit as your toddler grows.
Pros:
Includes rotating handlebars
Have a durable frame
Easy-to-reach hand brakes
Wide air tires with extra cushioning
Cons:
Is comparatively heavier than the other high-end balance bikes
4. Strider 12 Sport Balance Bike- Ideal for ages 18 months to 5 years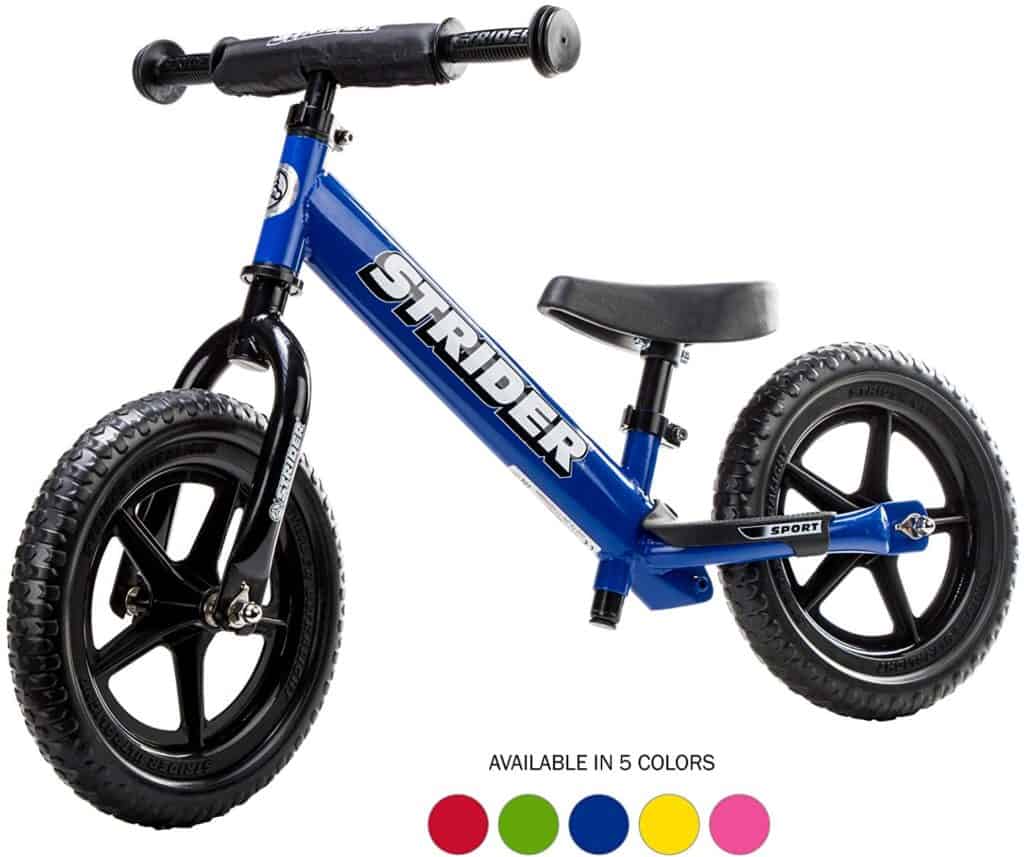 Cost – $110
Seat Height – 11″ to 19″
Strider sportbike has a well-designed frame that can be easily adaptable to fit kids from 18 months to 4-year-olds. They feature an extended seat post, have adjustable-height handlebars, affordable, and can manage kids as per their weight.
Pros:
Is lightweight
Easy to maneuver
Have foam tires that never go flat
Include adjustable height handlebars
Cons:
The exposed bolts on the balance bike could attempt to scratch the legs
Our Grandson turned two and wasn't sure how he was going to do with this bike…. He loved it! Perfect size with great options to grow with him. Well made too
If you are looking for a bike to help your child to progress from training wheels . This is a must!
This strider will help your child with balance and control of speed. Not only is it safer , it's durable and high quality. Ditch the training wheels and buy your kid this bike. I promise once they master the strider they will master a bike in no time
For more product reviews visit Amazon
5. Swagtron K3 Balance Bike- Ideal for ages 24 months to 5 years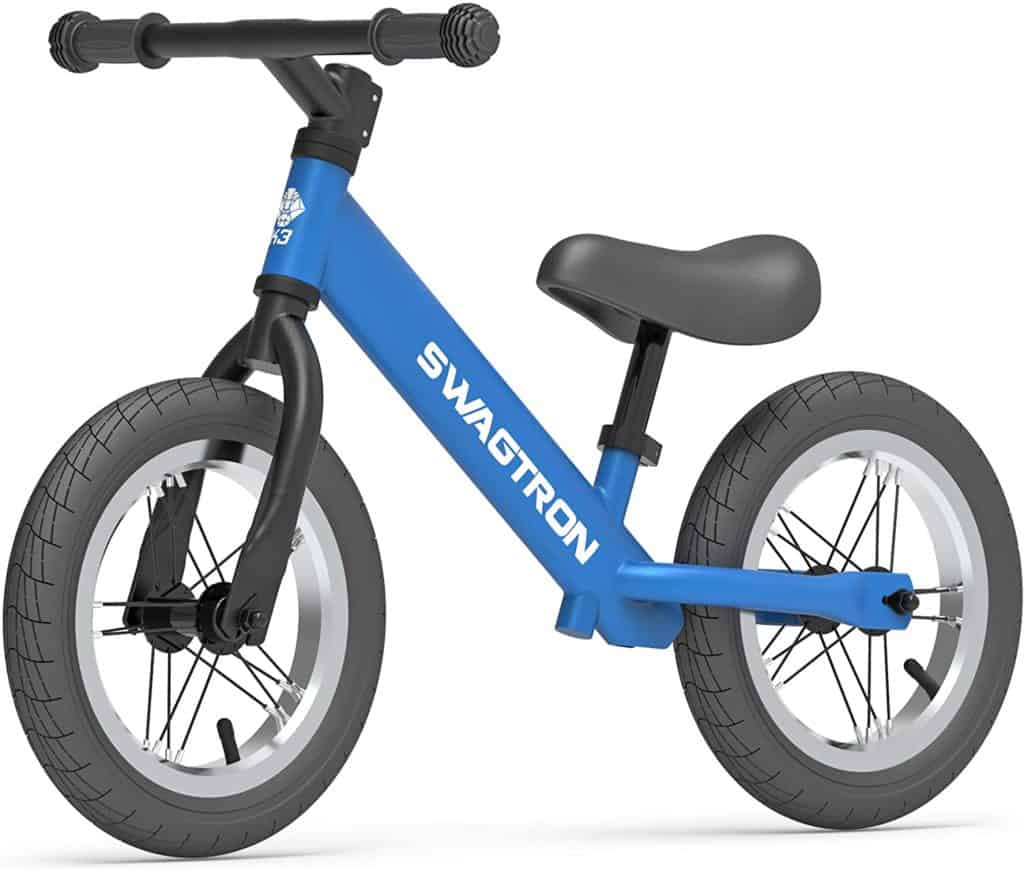 Cost – $59
Seat height – 12.25″ to 15.25″
The kids' balance bike from Swagtron has a well-designed frame as for its price and has a longer wheelbase that makes it stable for the child. It features a solid-quality air tire, a sleek aluminum set-through frame, a headset, and budget-friendly.
Pros:
Features a good design
Is easy on the pocket
Has air tires
Is lightweight
Includes a headset
Cons:
In order to adjust the height of the seat, tools are required
I purchased this balance bike for my 3-year-old daughter and overall, I'm happy with the product. The pink color is cute and not too flashy, and the design is modern and sleek. While the screw holding the handlebar in place wasn't perfectly centered, this was only a cosmetic issue and didn't affect the functionality of the bike.

The assembly process was a bit frustrating as the instructions included were incorrect, but I was able to figure it out by looking at the picture on the listing. It's also important to note that the tires come completely deflated, so you will need to fill them with air yourself. Once the bike was assembled and the tires were inflated, it worked great and my daughter loves it.

I want to be clear that the assembly experience should really earn this bike a 4-star rating. However, I'm willing to overlook the frustration because the assembly was ultimately simple enough and the end product is great. Because Amazon doesn't allow for in-between ratings, I'll be giving this bike a 5-star review.

In conclusion, I would recommend this balance bike to any parents looking for a quality product for their child. While the assembly process may be frustrating and the instructions incorrect, the end product is definitely worth it. The bike is well-made, sturdy, and looks like it will last a long time.
We did a lot of research before buying a balance bike for our 3.5 year old son, and this one seemed to be the best bang for your buck. Not sure I have a single complaint about it. Works just as well and looks just as nice as a Strider, and in my opinion, the tires on these seem even more durable (was comparing to his friend's Strider the other day!). My son loves it and it has been easy to adjust for his height. The blue color is really nice looking. He's ridden it about every day for the past 2 months and it still looks brand new. Would highly recommend for a kid who is too big for a tricycle but not quite ready for a real pedal bike yet. We tried a pedal bike with training wheels first, and he was too scared and couldn't figure out the pedals…this one has really boosted his confidence and helped him get down the basics of balance. Great value for a product just as good as the high-dollar brands!
For more product reviews visit Amazon
6. Yedoo Too Too Balance Bike- Ideal for ages 24 months to 4 years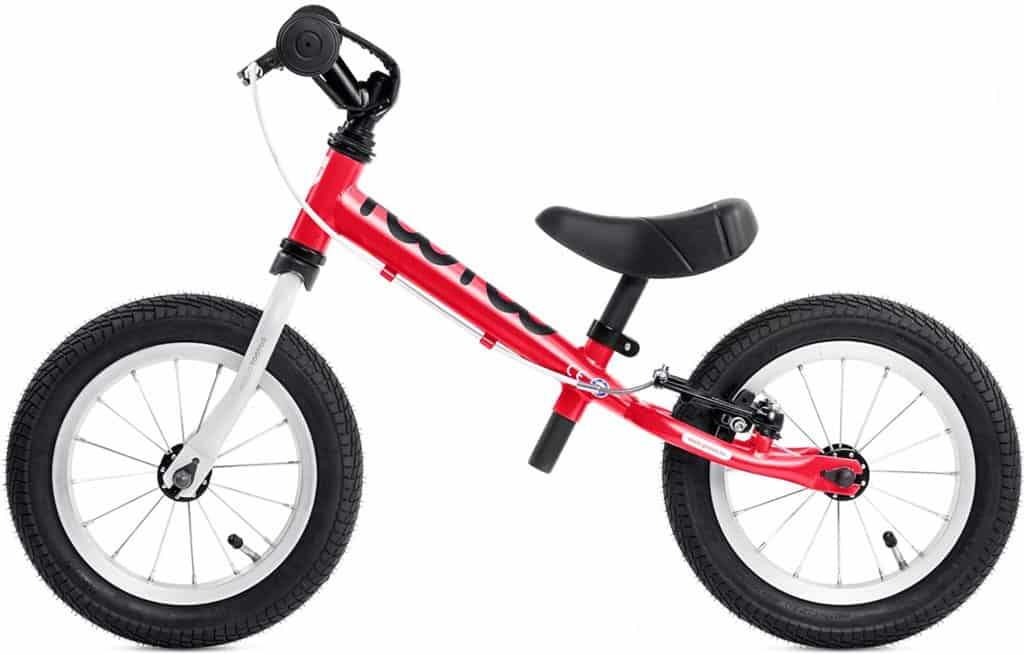 Cost – $160
Height of the seat – 12.5″ to 16.5″
The Yedoo Too Too offers cute designs and is available in a wide range. It features nimble, lightweight, cushioning air tires, headsets for increased maneuverability, a handbrake, and an angled tire valve for easy pumping.
Pros:
Includes a hand brake and a turning limiter
Is lightweight
Air-filled tires
Have wide handlebars for better stability
A 7″ adjustable seat height range
Cons:
The exposed bolts could potentially scratch legs
I got this for my 2 year old son and he loves it. I have the seat all the way down and there is plenty of room between sitting and standing. I wanted a bike with a hand brake as most balance bikes do not have this feature and even though he is not using it now, I know it will come in handy when he starts riding more and going faster. We live in a hilly neighborhood so after seeing our neighbor with a brake, I knew he needed this too. Our neighbors have the other brand with a hand brake which was double the cost of the Yedoo and even though the geometry is quite a bit different between the bikes, the quality on both is the same. Plus the Yedoo is a little bigger so he will not outgrow it as quickly as the other one. I struggled spending this much on a bike for a toddler who will outgrow it in a few years, but for an Xmas present it was worth it. It was relatively easy to assemble too.
My daughter LOVES this bike! Czech quality! Very well made. I am sure it will serve us well for many years to come!! Skvělé kolo!!!
For more product reviews visit Amazon
7. WOOM 1 Plus Balance Bike- Ideal for ages 18 months to 3.5 years
Cost – $269
Height of the seat – 14.8″ to 18.7″
WOOM 1 Plus offers balance bikes for toddlers that are designed to be big with mostly all upgraded benefits. They feature to be comfortable, maintain the upright body positioning, have large 14″ air tires, include a removable footrest, turning limiter, and dual hand brakes.
Pros:
Include a large aluminum frame
14″ tires
Is lightweight
Has removable turning limiter
Includes removable dual hand brakes
Cons:
The footrest might come across too big for the tiny toddlers
8. Banana Bike GT Balance Bike- Ideal for ages 24 months to 5 years old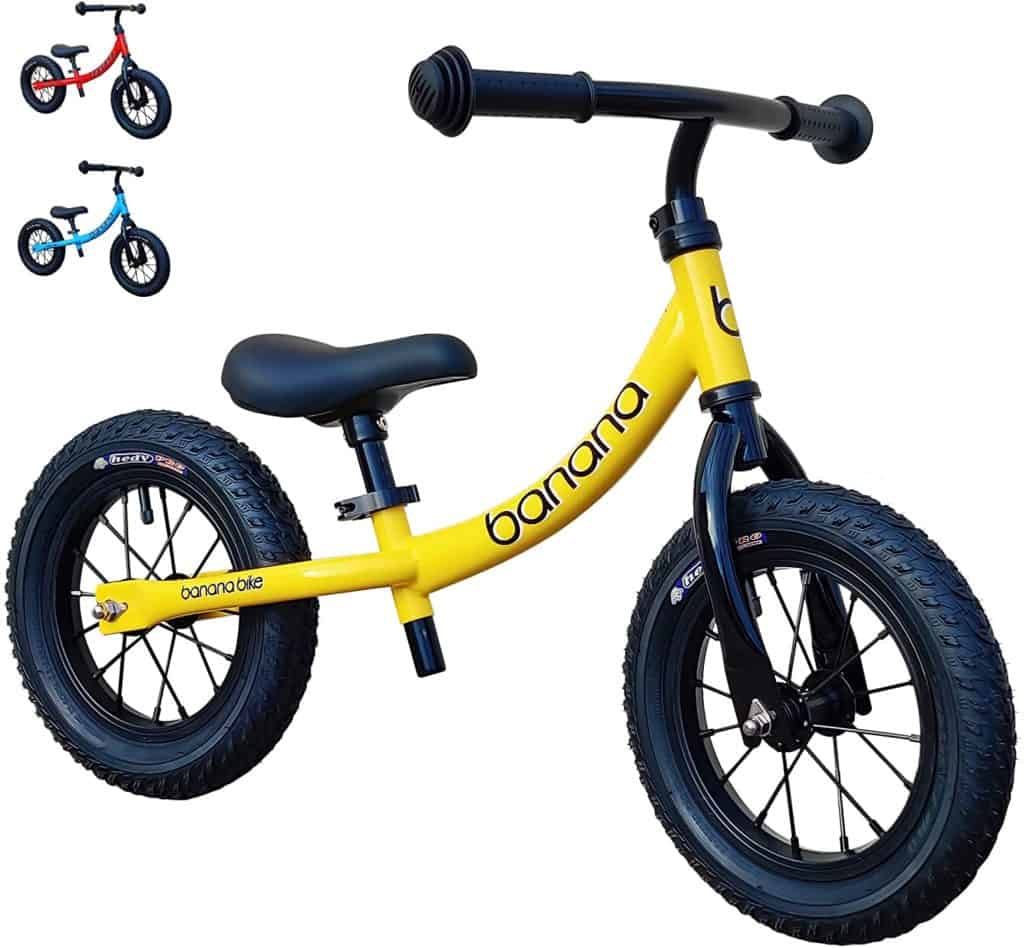 Cost – $69
Height of the seat – 12.5″ to 17″
Banana Bike GT is quite affordable and has a larger wheelbase so the toddlers aren't cramped up in the space. They feature a seat post that boasts 4.5″ and provides much room for your child. Nonetheless, the only downside of this bike is that it doesn't have the two key features: one, larger 14″ wheels, and two, a handbrake.
Pros:
Has a comparatively good design for its price
Has a headset and handlebars that are likely to twist
Includes a quick-release seat post
Fitted air tires
Cons:
Not quite durable
Would require to be assembled
I looked at several models before settling on the Banana GT for my son's 2nd birthday. I liked the design, features and price. After over a year and a half of frequent use indoors and outdoors on varied terrain, it has held up great and performed well. The only improvement might be a handbrake, but that is a judgement call on added cost. Now he's just starting up on the Woom 2, and the transition to pedals was pretty smooth.
Bought for my son and he loves it. Rides it all over the house and any park we go to. Super easy to assemble and adjust
For more product reviews visit Amazon
9. Ridgeback Scoot Balance Bike- Ideal for ages 3 to 5 years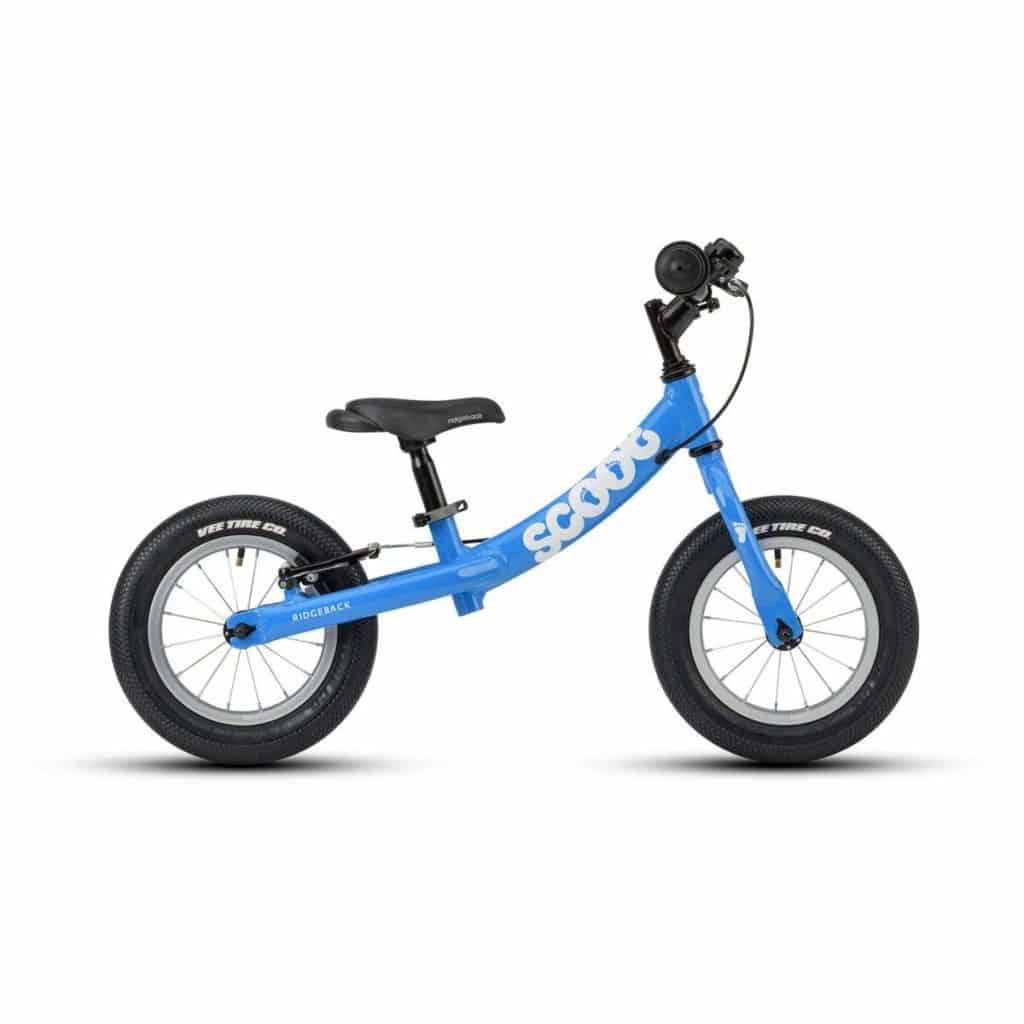 Cost – $215
Height of the seat – 14″ to 20″
They offer a top-quality balance bike that is a bit heavier as compared to the other bikes on the list. It features air tires, a handbrake, a quick-release seat post, a kid-shaped saddle, and durability.
Pros:
Has air tires
Includes good-quality hand brakes
Has wide handlebars
Includes a long wheelbase for good stability
Offers good and high quality
Is durable in nature
Has a 6″ adjustable seat height
Cons:
Is quite heavy
Has exposed bolts that might stretch the legs of the little rider
10. Ridgeback Scoot XL Balance Bike- Ideal for ages 4 to 7 years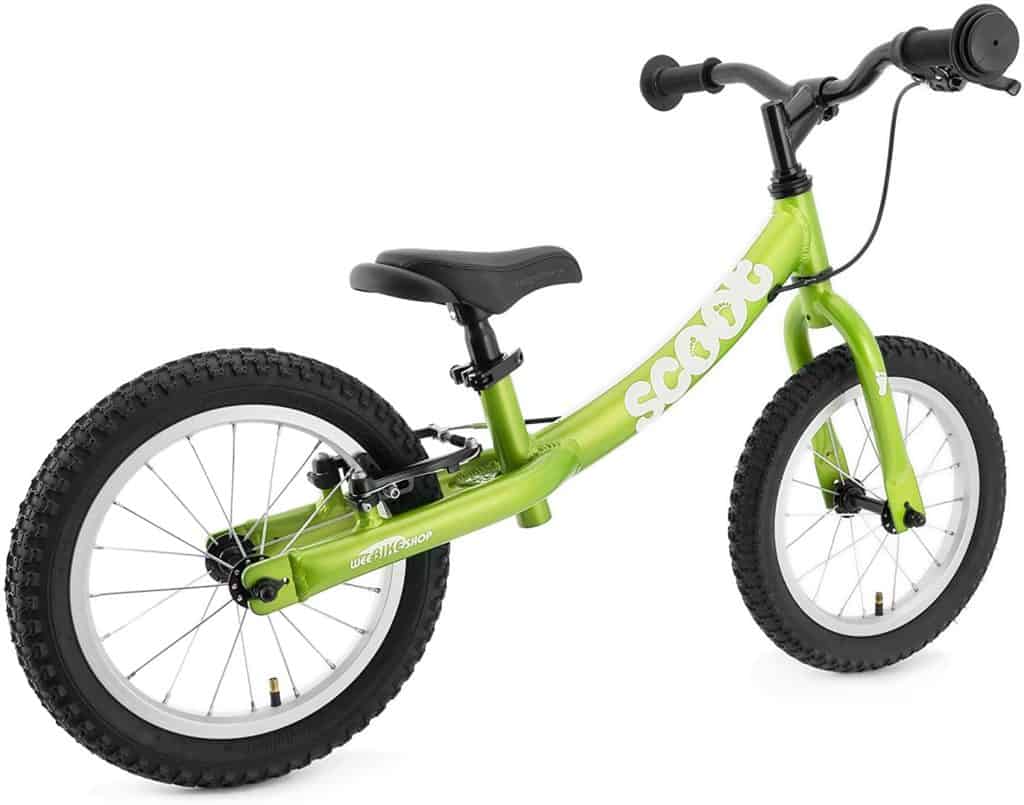 Cost – $225
Height of the seat – 16″ – 21.5″
Ridgeback Scoot XL bikes are perhaps quite identical to the Ridgeback Scoot bike except for their size. The Scoot XL features a much larger and taller frame for taller toddlers and an adjustable handlebar that is placed at a good height that is a plus for kids who are 6 or 7 years old.
Pros:
Has a 14″ tire
Include wide and stable handlebars
Has a long wheelbase that offers stability
Is durable in nature
Has a 6″ adjustable seat height
Cons:
Is quite heavy
Has exposed bolts that can stretch the legs of the little riders
It is important for parents to choose the best balanced bikes for toddlers as it helps them enhance their skill sets, encourage their social skills, and also helps build good physical strength. With each balance bike offering its highlights, parents must make sure to choose and pick the one that would suit the little rider the best, in terms of their height, weight, and choice.
FAQs - Best Balance Bikes For Toddlers
1) Should 2-year-old toddlers ride on a balance bike ?
Yes, absolutely! Balance bikes are ideally designed for the little riders or in other words, for those who are now comfortable in walking confidently. As they ride on the bike, they learn to move and balance side-to-side, without pedaling, building their fundamental skill as riders.
2) At what age can a toddler ride a balance bike ?
Before a pedal bike, these must be introduced to the rider. You can purchase one for the kids as early as when they are only 18-months-old, this will help them build their motor skills and also balance!
3) How important is a balance bike ?
The primary purpose of these balance bikes is to help teach the toddler how to balance while in motion. This is one of the most difficult skills to get their hands on. The other thing it teaches them is to learn how to use the steering and its limits.