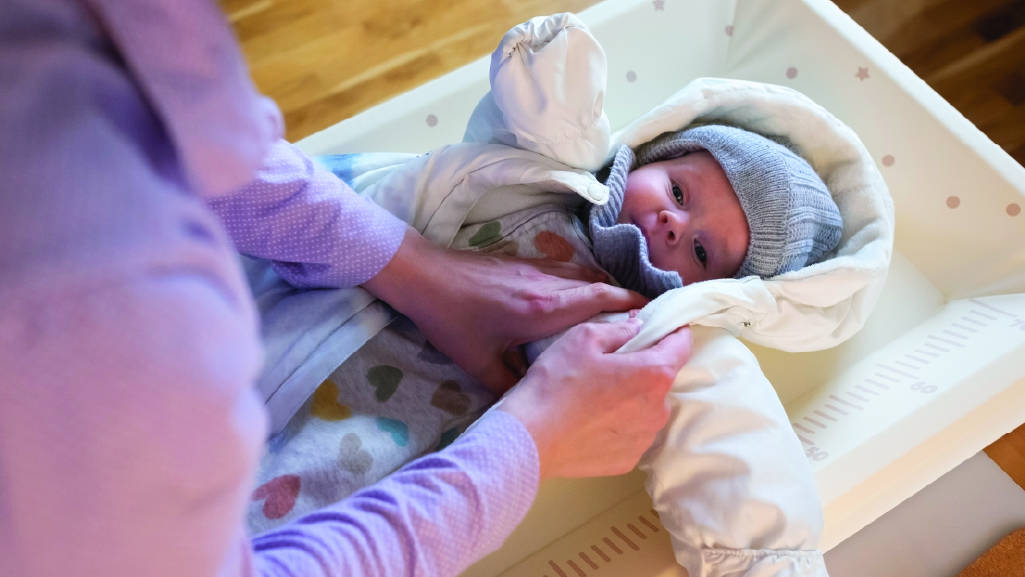 Winters mean fun walks in the snow, skiing trips, and other outdoor activities in the snow but is your baby dressed warmly enough to catch a cold or a fever? It can be tricky to find the right clothing for your child since your little one can't exactly tell you how warm he or she is. There are a ton of different baby snowsuits for winters that will blow your mind away making it even trickier to find the right gear for cold weather.
Young children and babies tend to lose their body heat faster than their bodies can make when they are outside in cold weather. If not properly dressed to tackle the cold elements then they can contract hypothermia or frostbite. Let's first check out the dos and don'ts when you are with your baby outside in the cold.
Dos And Don'ts When You Take Your Baby in the Snow
It's always better to not take your baby outside in cold weather as their ability to retain or produce heat is unstable. A wind chill of -15 degrees will cause hypothermia within minutes. Even with no extreme temperature, a person can be affected by hypothermia. A 40 degree Fahrenheit temperature is when hypothermia sets in.
You should always make your kids take breaks indoors away from the harsh cold and snow while playing outside. Keep an eye out for pale gray or white coloring on your baby's nose, toes, ears, and fingers as it can be the early signs of frostbite.
Do not dress your child or baby in large snowsuits or coats while putting them in their car seats. This will impede the straps from being secured tightly. It's best if they wear thin layers while In their car seats.
Making Sure Your Baby Properly Dressed For Cold Weather
Make sure your baby is comfortable in whatever you make them wear. A warm layer of clothing plus an additional layer of winter suit is what is recommended. Look out for certain features in their winter gear such as,
Breathable, loose fabric (such as cotton), and moisture-wicking fabric (such as those made of polyester or nylon)

Multiple layers of clothing so that you can add, remove, or adjust any piece when need be

Waterproof fabric that includes Gore-tex and vinyl that will keep moisture from lowering your kid's body temperature, especially in the chest and feet

Water resistance

Accessories for cold weather like hats and mittens to keep in the warmth
Most baby snowsuits look similar in their make but there are a few important differences that you need to know. Read on to learn more about these subtle differences.
Puffer:

Puffer snowsuits are filled with extra-lining to insulate the baby perfectly. The extra-lining could be down in certain snowsuits.

Waterproof:

Most snowsuits are waterproof that will keep your baby from getting wet from snow and wetness.

All-over:

All-over type snowsuits cover the baby from his or her arms to the feet acting as a jacket and as a pant combo.

Overalls:

These snowsuits are basically pants with a bib. They have suspenders to protect the baby's lower half and are typically worn with another jacket over them.

Fleece:

Fleece jackets are not waterproof and will make your child wet if he or she is in actual snow. It's however comfortable enough in chilly weather away from the wetness of course.
Here are the best baby winter clothes consider snowsuits before committing to one. The list here has been curated by reviewing all the winter needs of a parent.
1. Columbia Snuggly Bunny Bunting (Best Baby Snowsuit Overall)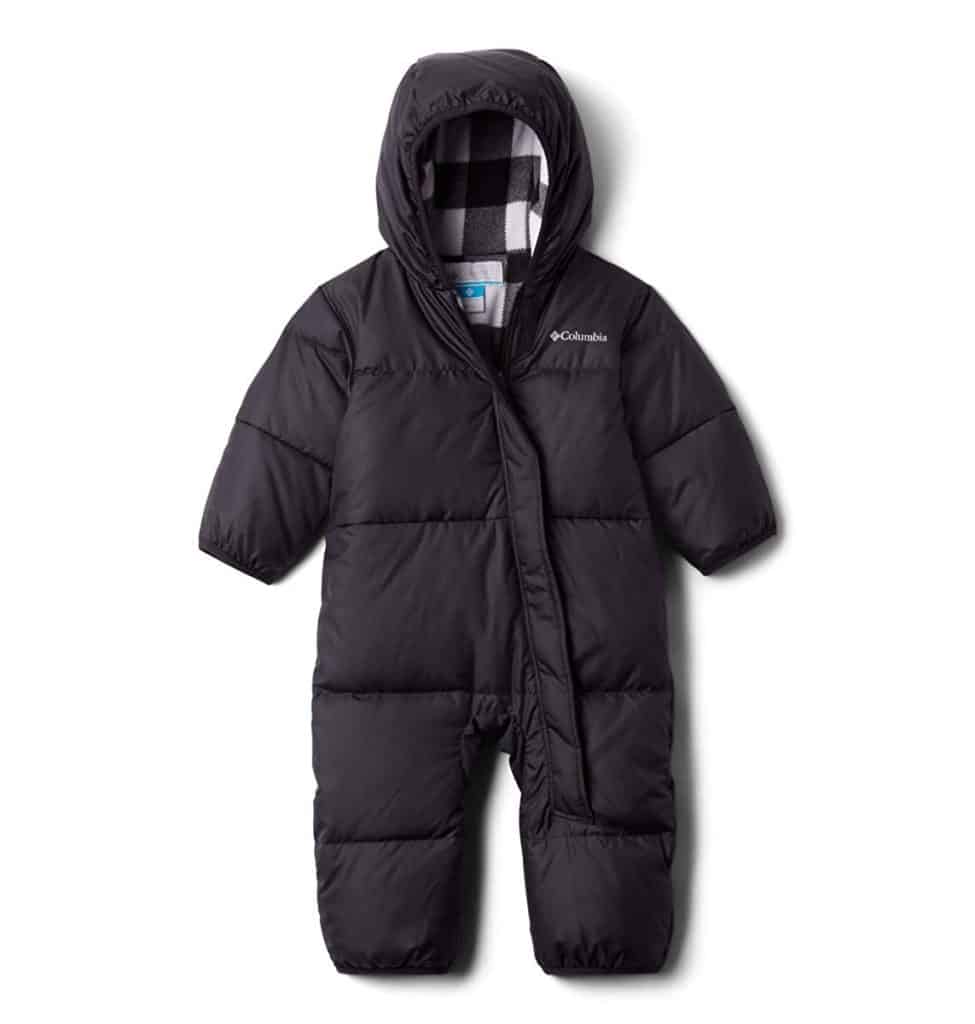 From classic black to bright red and critter patterned picks, Columbia Snuggly baby snowsuit is available in different sizes and patterns. It comes with soft downs that will guarantee you warmth and comfort via its soft microfleece hood, foldover cuffs, and duck down. The exterior of the suit is made of water-resistant fabric that ensures your little one is dry even in the snow.
Size range: 0/3 months to 18/24 months
Price: $95
Pros: water-resistant, ultra-warm, different sizes and colors available
Cons: some say it runs large
2. The North Face Infant ThermoBall Eco Bunting (Best Eco-Friendly Snowsuit)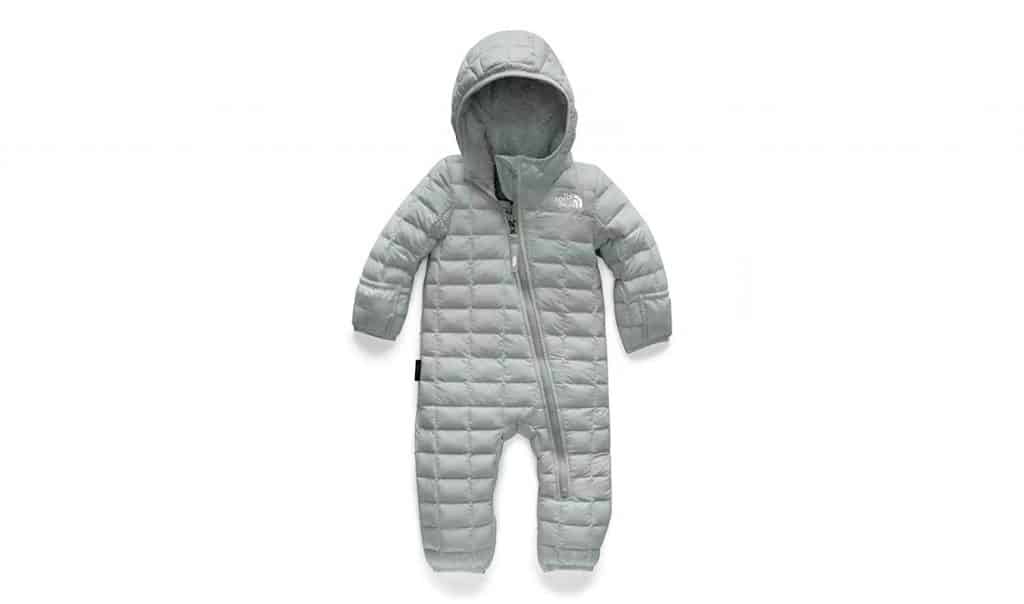 The North Face infant snowsuits are eco-conscious. The foldover mittens are made of recycled synthetic down fill that will keep your little one's tiny hands warm. The product is sleek and packable, i.e., lightweight that makes it super easy to store away once winters are over. It comes with built-in foldover mittens and boots that will save your money from buying them separately.
Size range: 0/3 months to 18/24 months
Price: $119
Pros: built-in mittens and lightweight
Cons: Expensive when compared to other snowsuits and comes in limited colors
3. Columbia Infant Double Flake Snow Set (Best Two-Piece Baby Snowsuit)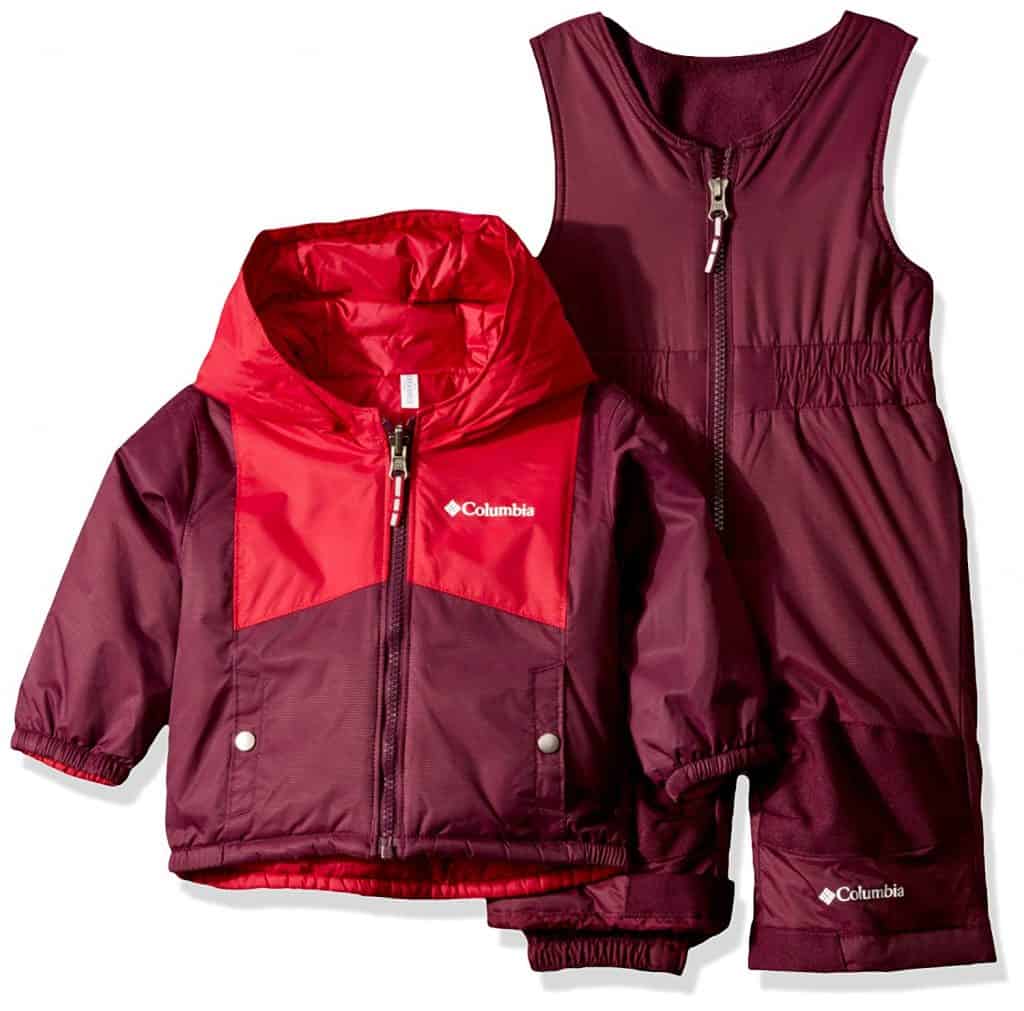 A Columbia infant double flake snowsuit is basically a waterproof jacket and bib for both the sexes that come with an extra inch and a half of material on the jacket and the pants to allow the baby room for growth. It's perfect for snowy or rainy weather and is reinforced in the bum area in case your baby takes a tumble.
Wear the jacket by reversing it and you have a whole other jacket that is as good as new. As a parent, you would love the adjustable straps that hold the gear in place. However, some might want an even thicker fabric.
Size range: 6/12 months to 18/24 months
Price: $130
Pros: offers room for growth and is reversible
Cons: no sizes for young babies
4. Patagonia Infant Hi-Loft Down Sweater Bunting (Best Baby Snowsuit For Total Warmth)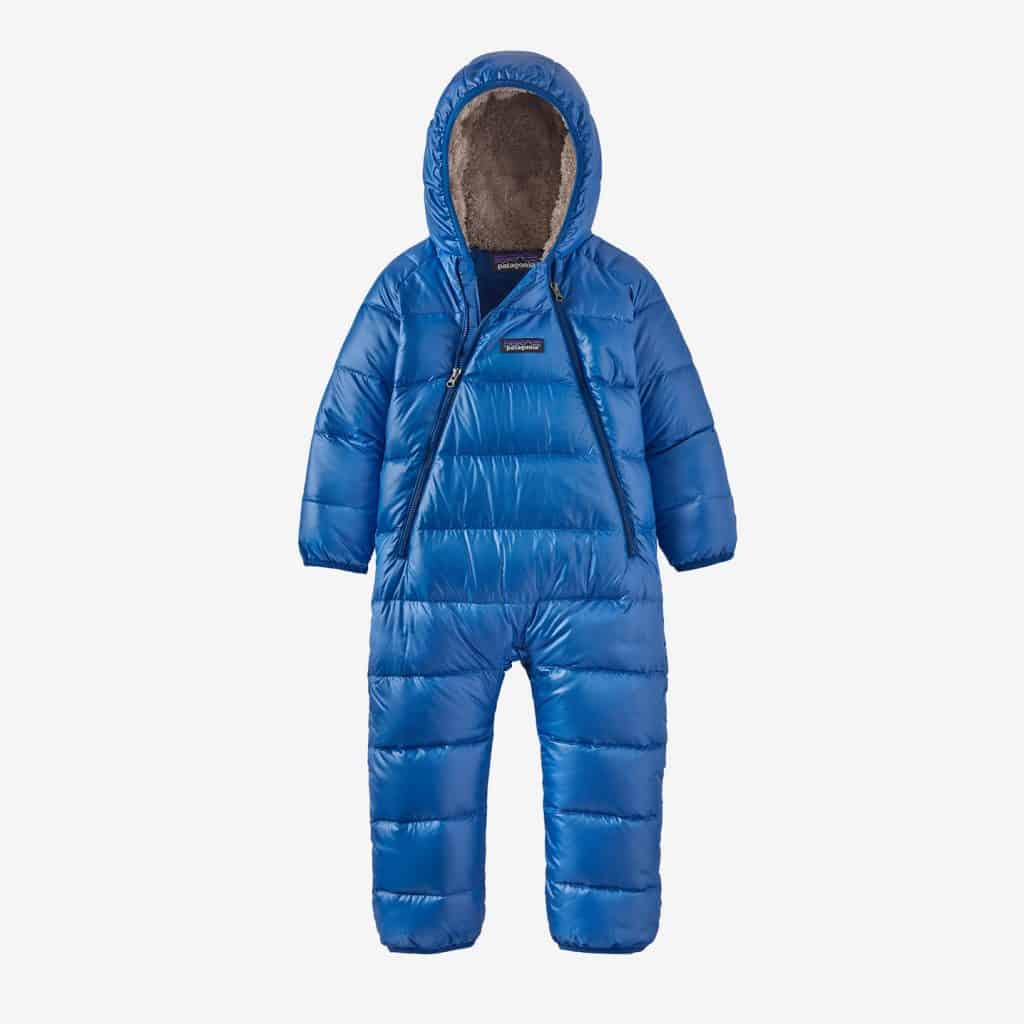 This suit is heavy-duty without making your baby feel that it's heavy. It is filled with recycled 700 down goose and duck fill and comes with a furry and soft hood making sure your baby is perfectly warm. There are two down the side zips to make getting your baby in and out easier. Plus, Patagonia snowsuits come with a lifetime warranty so that you can repair, replace, or refund them as and when you need them.
Size range: newborn to 18/24 months
Price: $149
Pros: Dual front zippers that assist in easy take-off and wear, ultrawarm
Cons: limited color options and expensive
5. Obermeyer Kleine Bunting (Best Baby Snowsuit For Active Tots)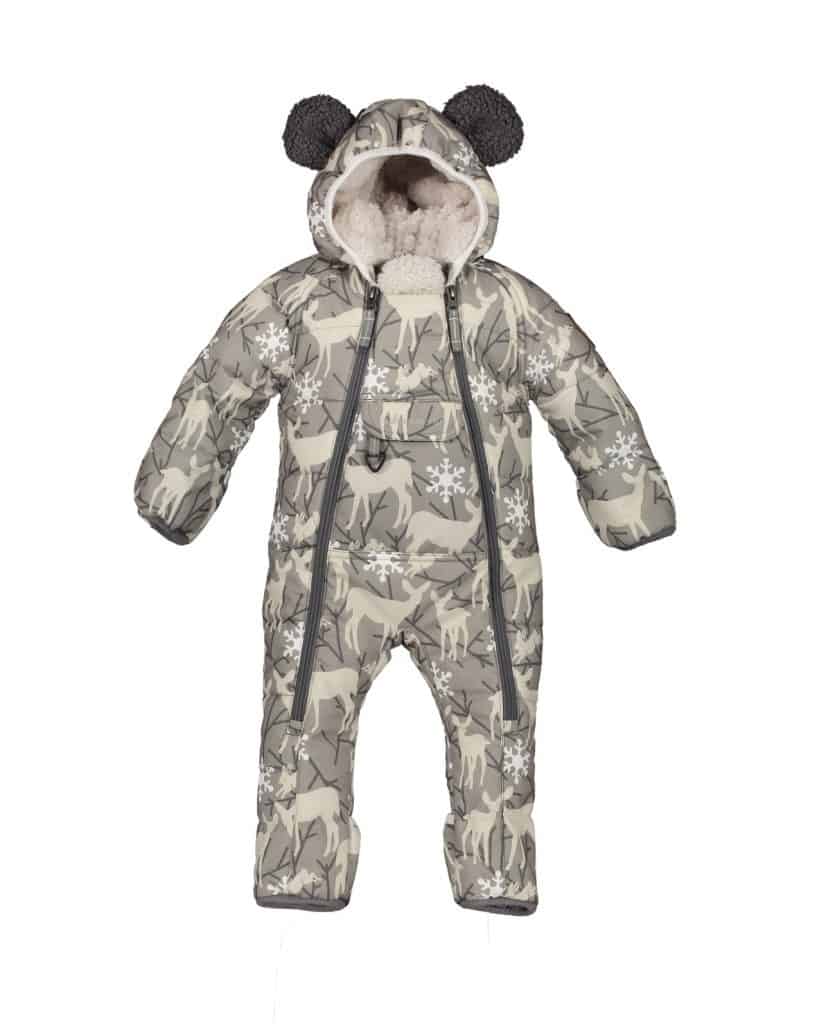 Parents love Obermeyer gear for their kids' winters. The brand offers bold wind and waterproof bunting along with adorable animal ears and super fun patterns. Sherpa fleece lining, fold-over hand and foot warmers, and fleece chin warmer are some of the features of this particular brand. There is also a tiny chest pocket and an accessory ring that can hold a binky. It also has long double zippers that will make it easy to get on and off.
Size range: 0/3 months to 12/18 months
Price: $110
Pros: Dual front zippers, fold-over mitten, cute design
Cons: size not available for bigger toddlers
6. Gap Baby ColdControl Ultra Max Down Snowsuit (Best Cute Baby Snowsuit)
Gap's super warm puffer will make the baby cozy in its warmth and comes in different colors such as Elysium blue, grey, and silver. It is made of recycled polyester and is equipped with a soft inner hod to keep the wind away from the baby's ears. The double zippers ensure that they can be taken off and put on easily. The favorite part? The elastic around the hood helps the hood to stay on firmly. Adorable ears are another fun addition that keeps making your kid look cute as a button. The affordable price range is a plus point for many mommies.
Size range: 0/6 months to 18/24 months
Price: $88
Pros: cutest design, warm, good price
Cons: no foldover mittens, some say it runs large
7. L.L.Bean Infants' Cold Buster Snowsuit (Best Baby Snowsuit For Growth Spurts)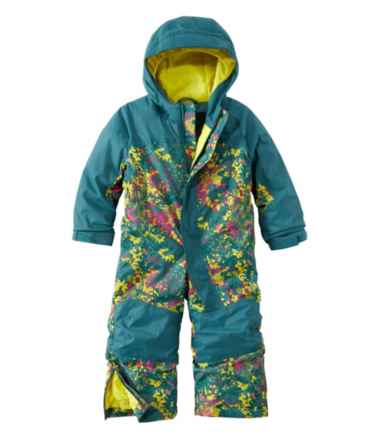 One usual setback of snowsuits is that babies usually outgrow them and you have to begin your hunt again for toddlers or bigger kids. L.L.Bean  snowsuit has hidden cuffs that can lengthen its height by 1.5 inches and accommodate a growing baby for more seasons. A full front zip makes the suit easy to get on and off. The inside of the jacket is provided with gaiters to keep the snow out which is a plus. It is non-restrictive and weather-resistant enough for the baby to have fun-filled days out in the snow.
Size range: 6/12 months to 18/24 months
Price: $79
Pros: warm and long-lasting
Cons: no sizes for younger babies, two colors only (Purple and blue)
8. Old Navy Frost-Free Hooded Snowsuit For Baby (Best Baby Snowsuit At Low Cost)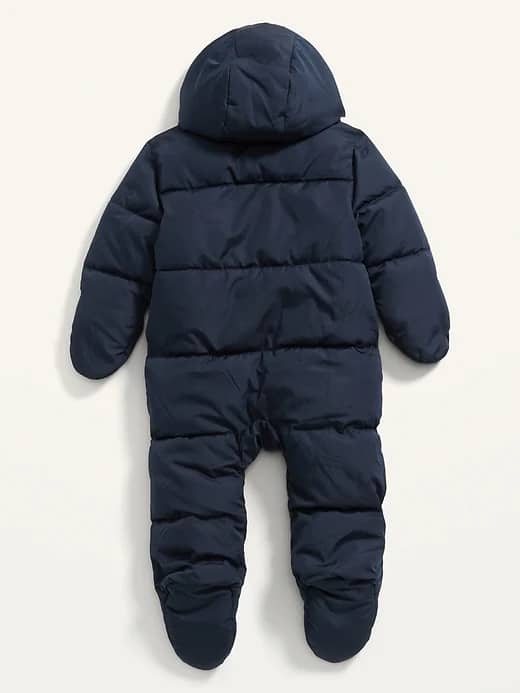 Low cost? Check. Puffer style? Check. Built-in footsies? Check. Attached mittens? Check. What more do you need for the perfect baby snowsuit? This brand offers you the cozy microfleece lining head to toe and a full-length zipper at the front for super easy changes. This snowsuit will be your baby's best friend for many seasons to come.
Size range: 0 to 24 months
Price: $45
Pros: cheaper when compared to other snowsuits, stylish
Cons: limited color and size options
9. L.L.Bean Infants' Hi-Pile Fleece Bunting (Best Fleece Baby Snowsuit)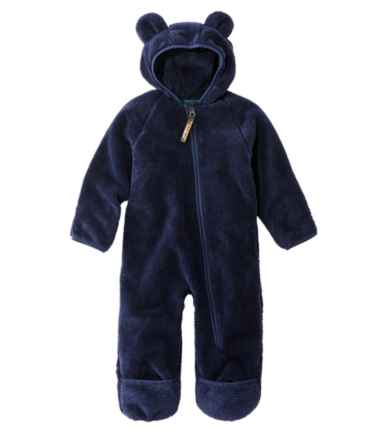 Do you live in a place that is not really cold but wants to keep your baby cozy and warm? This snowsuit is the perfect pick with its soft fleece layer. It comes with all the top-notch features like rollover cuffs, long zippers for easy changing. And those bears are definitely irresistible.
Size range: 0 to 24 months
Price: $50
Pros: soft, cute, perfect for warmer climates
Cons: limited color options, not waterproof, less warmth
10. iXtreme Boys' Insulated Two-Piece Snowsuit (Best Baby Snowsuit For Skiing)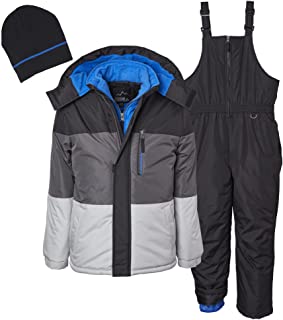 Sledding or skiing is a must-do winter venture for kids and for which you need the best outerwear that allows free movement seamlessly. The iXtreme two-piece set is water-resistant and insulated keeping your child warm and cozy out on the slopes. Numerous color combinations and sizes are available in this brand so you can choose the best one for your kid.
With the pants being dungaree-style, your kid will be covered over the chest and the adjustable straps will hold them in place. The hood of the jacket is warmly insulated and the jacket has two pockets along with a zipper. This is the perfect suit for babies to enjoy all the winter activities.
Size range: 8 to 24 months
Price: $45
Pros: cheaper, easy on and off, long sleeves
Cons: not warm enough say some parents, the hood doesn't fit properly
Best Baby Snowsuits Final Words
Selecting the perfect baby snowsuit can be a daunting process since your baby can't tell you if it is warm or not. Hence we have curated this list with each brand's pros and cons and the size range so you know which is the best for your little one. Remember to consider the climate conditions under which you live so that your baby doesn't feel too warm or too cold. Go for waterproof ones and those having great hoods as it is important to keep your kid's ears covered all the time. Other extra features have been mentioned above. Happy hunting!
Best Baby Snowsuits FAQs
1. When should babies wear snowsuits?
Babies can wear snowsuits by the age of 6 months. The emphasis of newborn baby winter clothes is that the baby should stay dry. A waterproof snowsuit with attached feet is a must. A snow jacket or waterproof pants and boots are also recommended.
2. Can babies wear snowsuits in car seats?
No, your baby should not be wearing a snowsuit when strapped to a car seat as the straps would not fit properly and your baby is at risk. Snowsuits are bulky and puffy so it is not advisable to put him or her in a car seat with a snowsuit on.
3. At what temperature should a child wear a winter coat?
At about 40 to 50 degrees a child can wear a jacket or a winter coat. In about 30 to 40 degrees take out your mittens, jacket, and hat. For temperatures below 30 degrees, have a full snow gear handy.