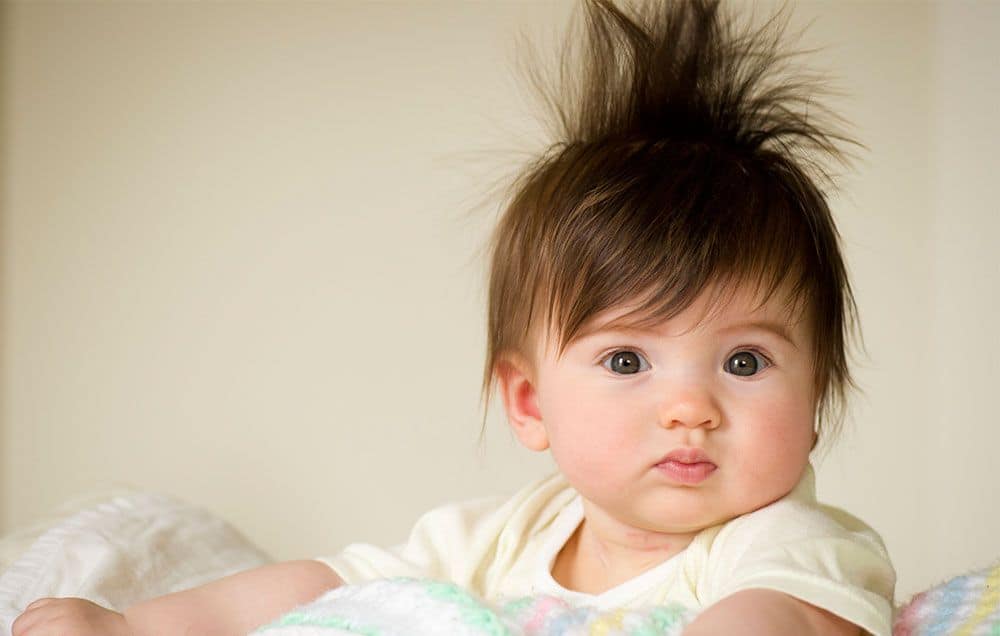 Is your little one blessed with a beautiful mane that is now becoming a menace for you to tame? Baby hair gels to your rescue!
Baby hair gels might sound like a funny idea but trust us on this, they have been around for quite some time and with the kind of advancement we have seen in baby products in general, baby hair gels are no exception.
However, having said that, before we get to the list of the best baby hair gels, we'd also like to make sure you know what to look for in the right gel for your baby.
What to look for in a baby hair gel?
Ideally, since this is a tiny human being in question, you, as the parent, should take extra precautions and read the label in-depth to understand the ingredients in the bottle.
The baby hair gel should be free of toxins
The hair gel should only have natural ingredient to avoid a scalp allergic reaction
Some natural ingredients to look for in baby hair gels include-
Aloe vera
Witch hazel (offers hold in the gel along with natural vitamins)
Chamomile (clarifies and maintain the natural tones in the hair while offering a natural gel hold)
Jojoba (moisturizes and soothe the scalp)


Another thing to keep in mind when resorting to baby hair gels is that it will never offer the kind of support or hold an adult hair gels does – and that is absolutely okay. Since baby hair gels are typically made from natural ingredients and lack artificial or chemical ingredients, they are only meant to make the baby's hair safely manageable.
On that note, here are the top best five baby hair gels to buy for your little one-
1. Little Roseberry Hair Gel with Organic Aloe Vera: Best Baby Hair Gel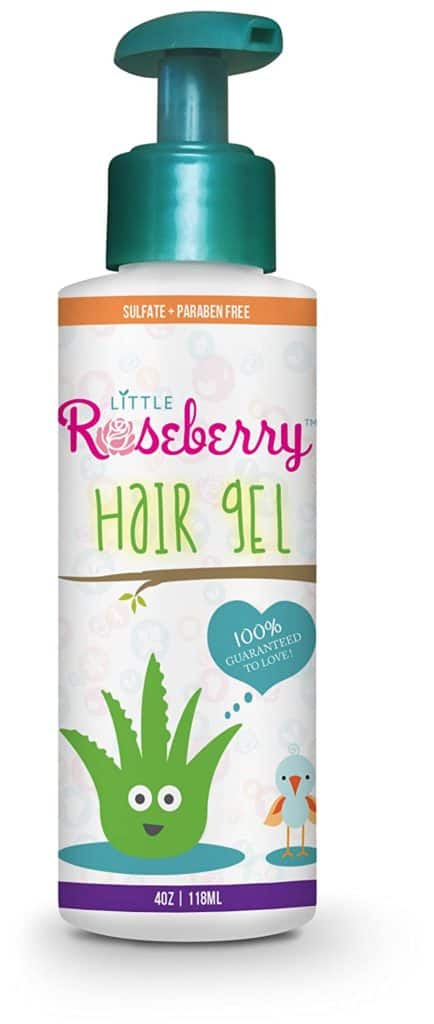 Made from Roseberry and loaded with organic aloe vera juice as against water in most other hair gels, this baby hair gel is a 100% vegan baby hair gel, sure to keep your baby's hair smooth and in place. Also free of additives like dues and artificial fragrances, it also gives your baby a healthy dose of antioxidants, minerals, and vitamins, owing to the presence of witch hazel. The presence of Roseberry gives the hair a gel-like hold while not making the hair feel sticky or wire-like post-application.


Pros-
Vegan
Power-packed with hair-enriching nutrients
Non-sticky
Cons-
Might not keep the hair as styled for too long
2. Fairy Tales Rosemary Repel Daily Kid Styling Gel: Best Baby Hair Gel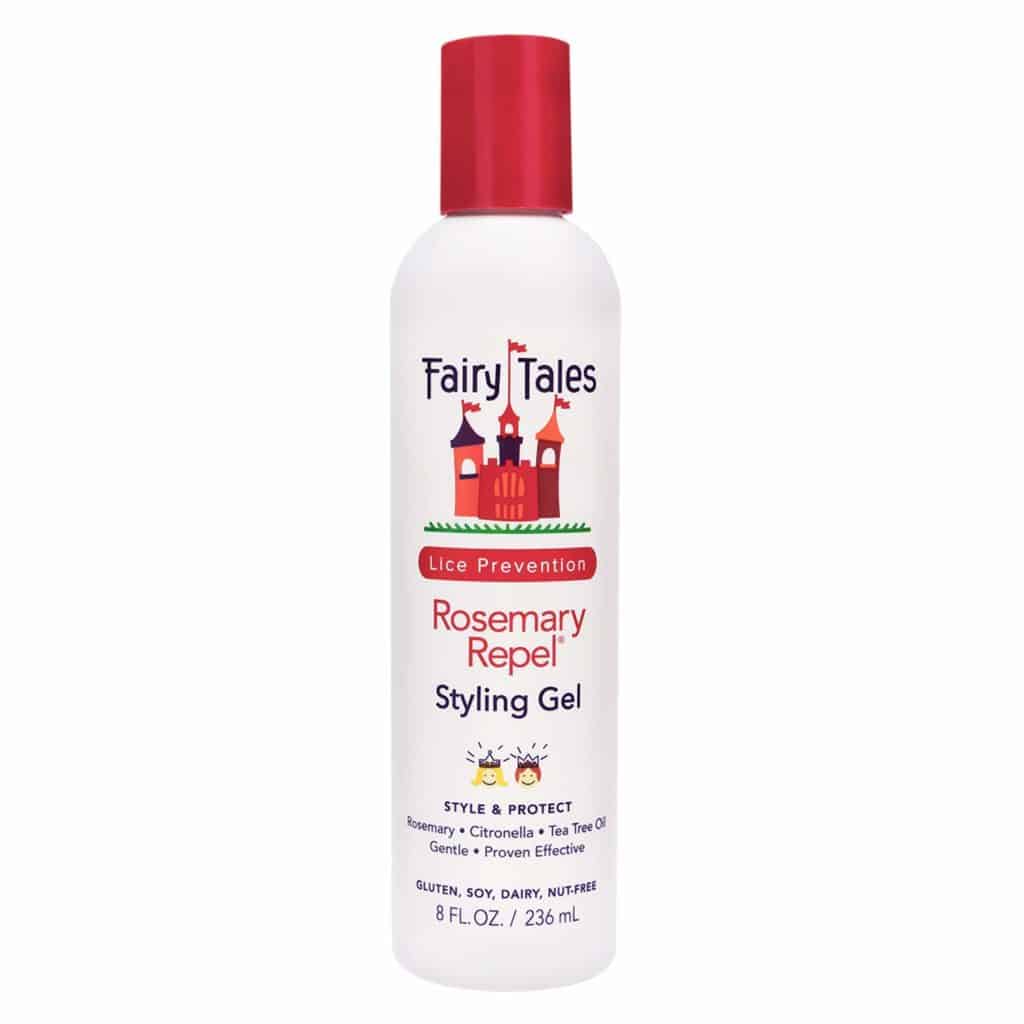 More than just a baby hair gel, this one also doubles up as a lice prevention gel due to the presence of a natural lice repellent as one of its ingredients! 100% organic and free of any harsh chemicals, this baby hair gel is made from a fine blend of rosemary, peppermint, tea tree, and geranium oil, citronella, and lavender. In order to keep the baby's scalp hydrated, it also has jojoba, chamomile, and aloe vera.
Pros-
Prevent lice in baby hair
Ideal not only for styling but also detangling, cleansing, and conditioning.
100% organic
Smoothens baby hair
Cons-
The fragrance might be a little too overbearing


3. Africa's Best Kids Organics Smooth and Style Gel: Best Baby Hair Gel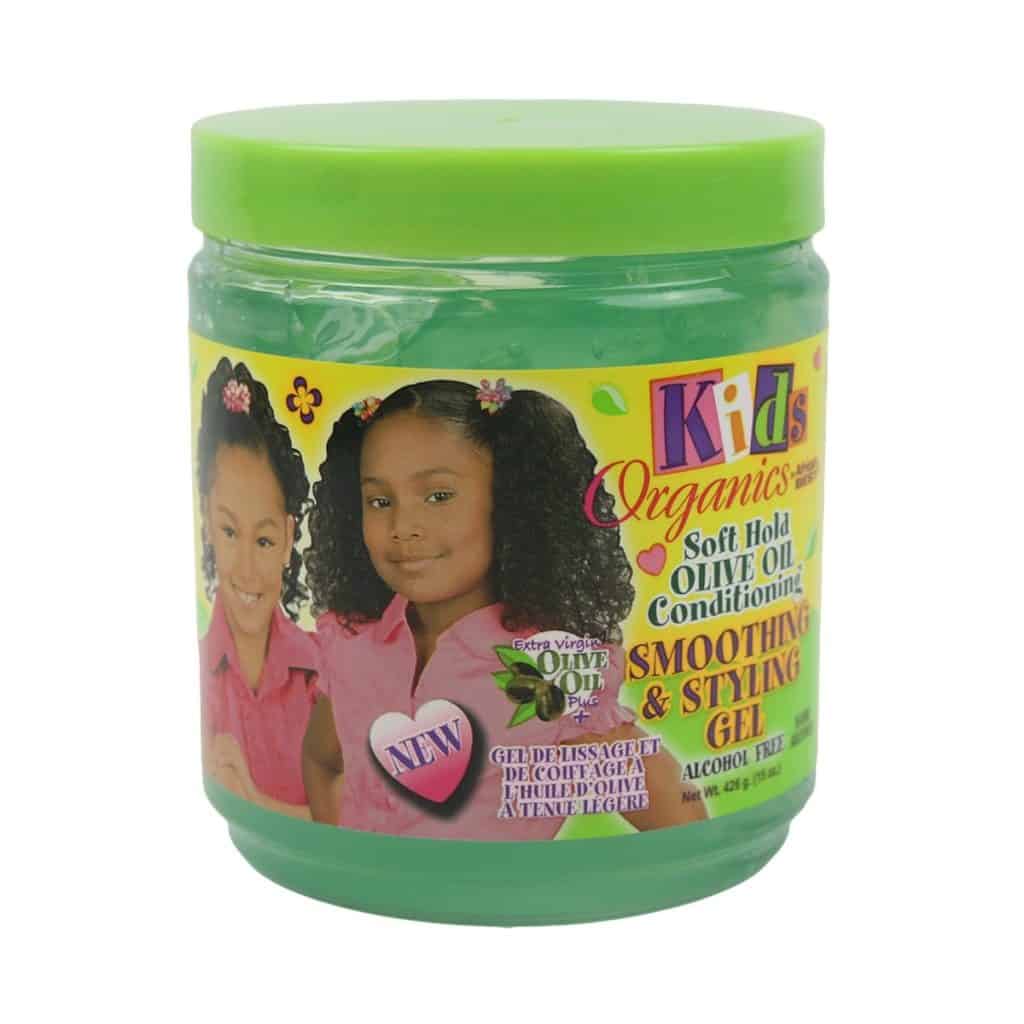 Made for African American hair that does not naturally produce enough oils to keep the baby hair in place, this gel can make your hair brushing and primping sessions so much easier. Made from organic olive oil and free of alcohol, or other harmful chemical additives, this baby hair gel enhances baby curls without leaving behind any residue. It also is very easy to wash and typically keeps the hair in place for at least 1-2 days after application.
Pros-
100% organic
Easy to wash
Leaves no residue
Ideal for African American curls
Cons-
Thick consistency
Might make the hair a little too stiff if liberally applied
4. Bonsai Kids Hair Care Power Hair Gel: Best Baby Hair Gel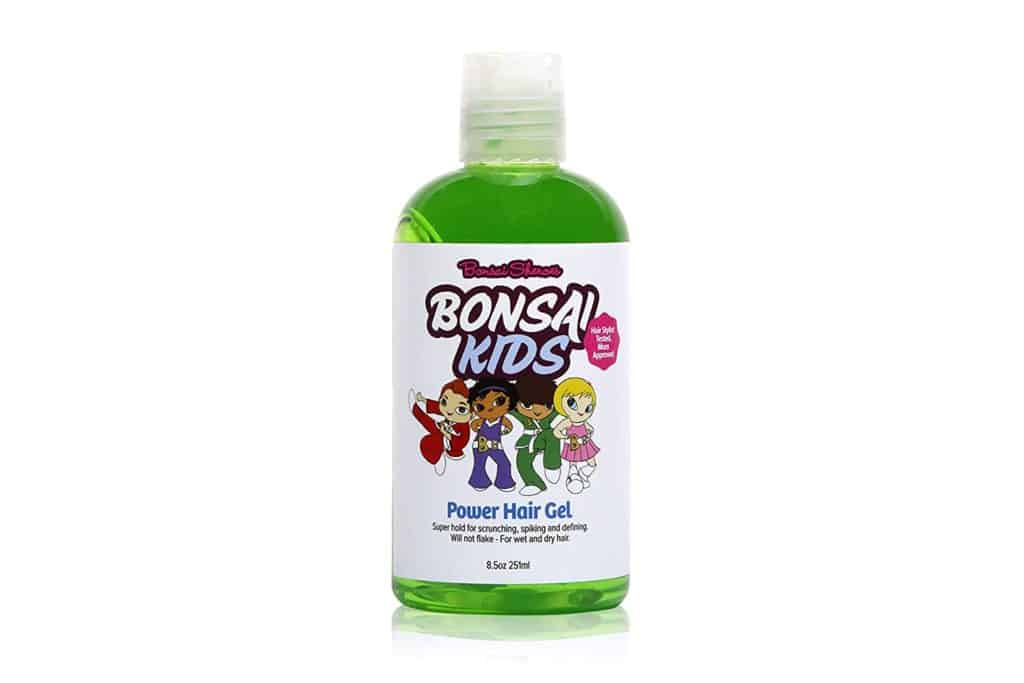 Offering a hold that is very close to an adult-gel hold, this baby hair gel does so while being free of chemicals and is absolutely baby-safe. Ideal for application on damp as well as dry hair, it leaves no residue behind and also has a very nice, sweet yet subtle fragrance.
Pros-
Excellent hold
Lets you style your baby's hair as desired
Free of chemicals
Cons-
The list of ingredients is not easily findable on the website
The hair gel might feel sticky
5. Snip-Its Silly Slicker Ultimate Sculpting Hair Gel: Best Baby Hair Gel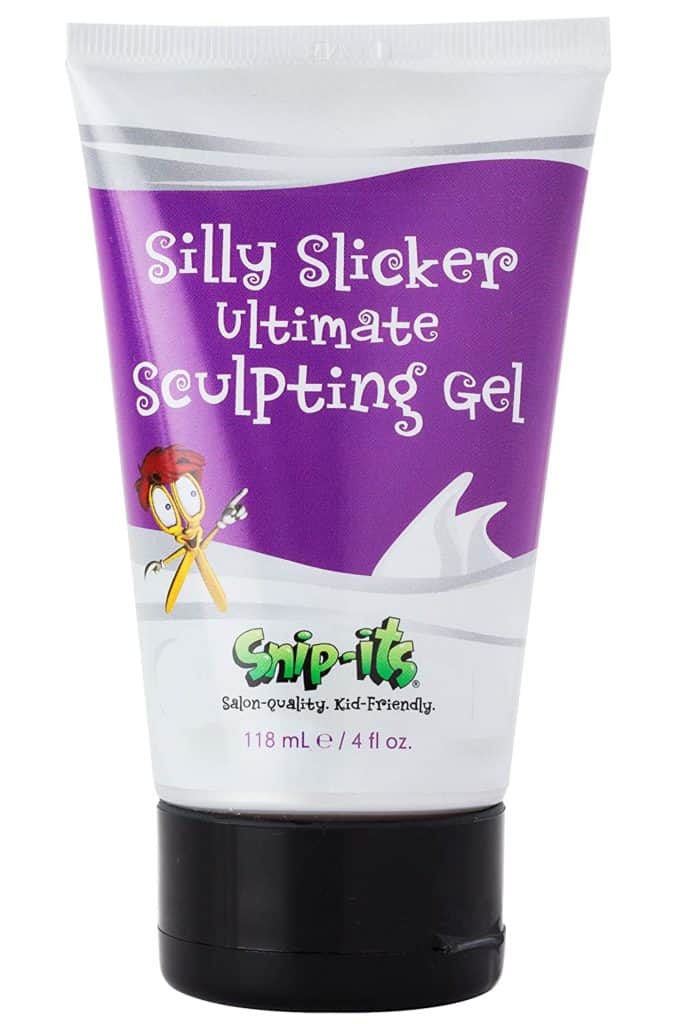 Made only from renewable ingredients, this baby hair gel is free of chemicals, is cruelty-free, smells fantastic, and yet offers a mindblowing hold to the baby's hair. Also very easy to wash out, it's tropical fragrance makes it a natural unisex baby hair gel- so you do not need to buy separate gels for your boys and girls! It should be noted that Snip-Its recommends adding a little water to the hair gel prior to application for best results.
Pros-
All-natural
Beautiful tropical fragrance
Easy to wash
Cons-
The hold does not stay for too long
Best Baby Hair Gel Final Conclusion
An all-natural baby hair gel could be the ultimate redemption from unmanageable baby hair. However, always keep in mind that you conduct a patch test on the baby's arm before going all-in and smothering their scalp with the gel.
Also, if you already are using another baby gel, not mentioned in the list, that you could totally swear by, hit us up in the comments and let our community of mammas know!
Best Baby Hair Gel FAQs
1. When Is It Safe to Use Baby Hair Gel ?
Since a baby's skin is extremely sensitive and can get easily irritated or inflamed, it is specifically recommended to never use hair gel on infants. This is because an infant's skin is very thin and can readily absorb anything that comes its way. Also, make sure that you always do an arm patch test prior to applying the gel on a baby's scalp for a double-check. If the area becomes warm, red, or swollen, you know it's time to toss it in the bin; if not, you should be safe to proceed.
2. I don't want to use baby hair gel. What else can I use to style my baby's hair ?
If you are not sure about baby hair gels, you can also use water, oil, and a small brush to style or manage your baby's hair. Spray water on a bristled baby brush (you could also just use a soft toothbrush) and brush the baby hair forward. Once done, use a few drops of any natural oil and brush their hair for wonderful management plus style!
3. How can I make my baby's hair grow faster ?
Here are some tips to safely stimulate a baby's hair growth-
Generously massage coconut hair oil into their scalp
Regularly brush the baby's scalp
Regularly shampoo their scalp to keep it clean
Always use a soft towel on their sensitive scalp
Use a baby hair detangler post-shower
Ensure your baby takes a balanced diet