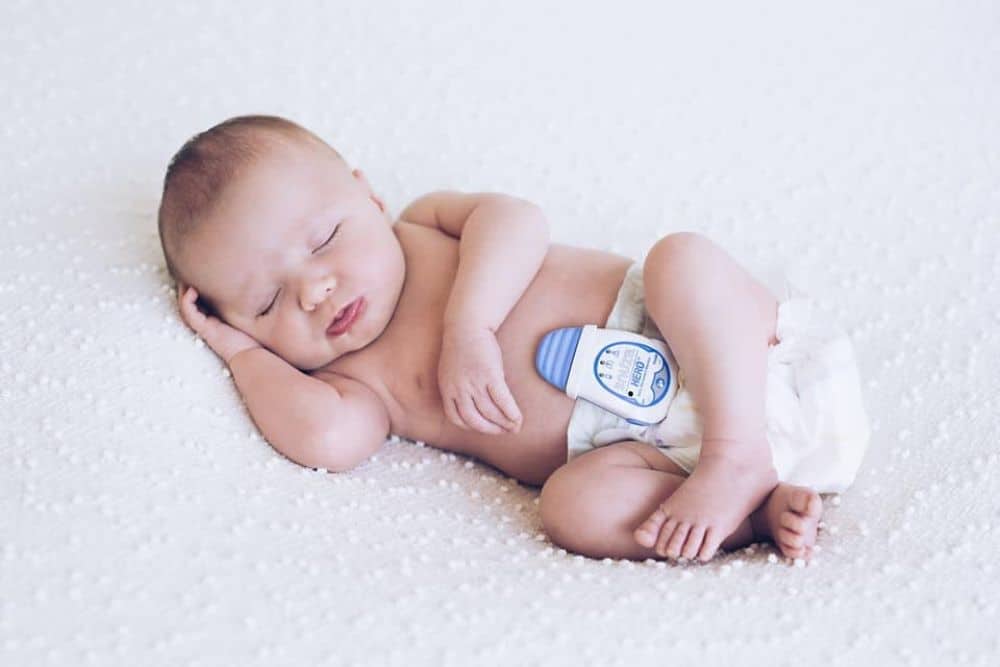 Erratic breathing patterns while sleeping is a common factor for both premature as well as healthy babies. Hence, in such cases, it's always better to have the best baby breathing monitor handy with you.  According to AAP (American Academy of Pediatrics), periodic breathing often occurs when the breathing pattern pauses for 5 to 10 seconds, this is normal.
However, on the contrary, some infants can experience serious periodic breathing conditions. The reason is that technology has stepped in to help us all out with the use of breathing monitors, which are available in the market that helps to track the breathing pattern of babies.  
What Then Do These Monitors Do?
These monitors can track the respirations of the baby by taking into consideration either the levels of oxygen or the movement. The best baby breathing monitor is available in three kinds:
1. Wearable
These monitors can be easily clipped onto the diapers or the clothes of the baby.
2. Worn around the foot
This breathing monitor can be worn around the baby's foot, and it gathers data on the heart rate as well as levels of oxygen in the blood. 
3. Do not make any contact
These kinds of monitors track the motion through the video monitor.
When Does A Baby Need A Breathing Monitor?
Although it is mentioned earlier that healthy as well as premature babies can face periodic breathing, it is also said that parents of healthy babies may not have the urge to breathing monitors. Because attaching a baby's breathing monitor can just be an extra ache for the parents who can get worried due to any false alarm. 
However, premature babies who are born with serious medical conditions may need additional monitoring. These can be rented from any medical supply store or local hospital on the result of the pediatrician of the child. If a monitor is not recommended, there is no requirement to purchase one until and unless you want to and are comfortable.
Top 10 Best Baby Breathing Monitors of 2023
1. Owlet Smart Baby Monitor Duo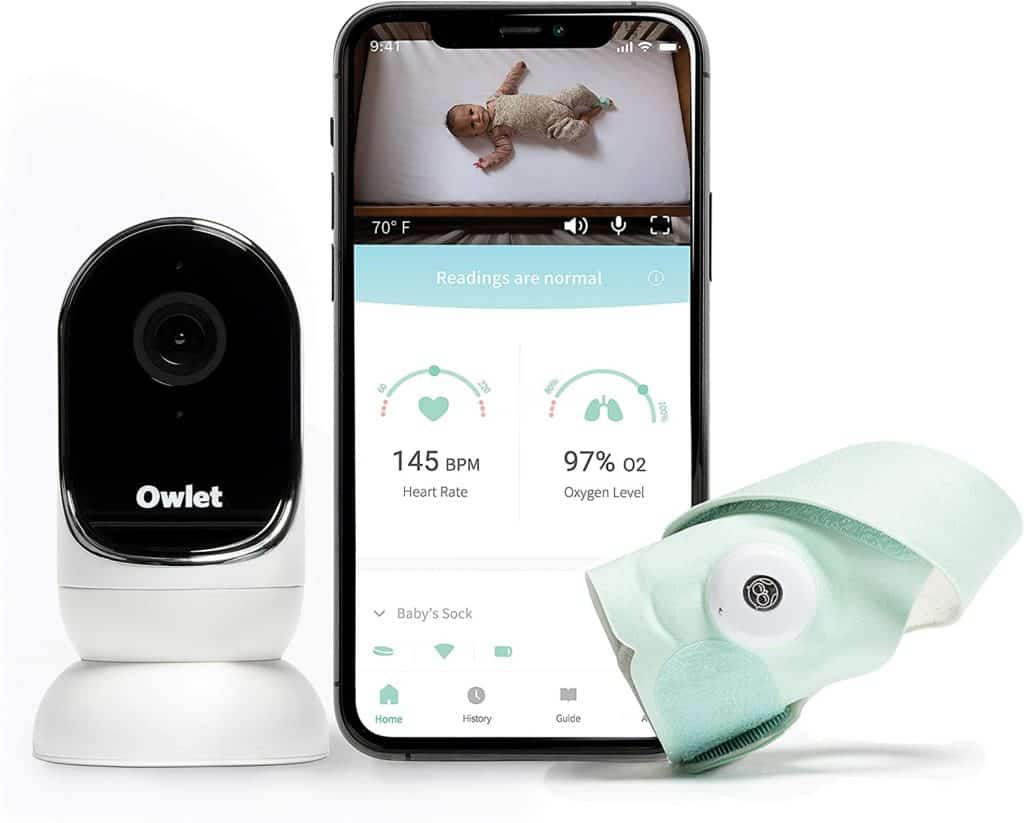 This breathing monitor has a camera included that helps track the oxygen of the baby as well as the heart rate that can be viewed on the encrypted HD video, and communicated through two-way audio via the Owlet app. It slipped through the foot of the baby with a sock-like device connecting the base, glowing in green indicating no danger.
Initially we used this sock to keep an eye on our baby's heart rate and oxygen levels which brought us a lot of peace of mind and eased our new parent nerves at bedtime. After several months and still using it, we tend to use the sock more to track sleep cycles than oxygen. I highly recommend this to new parents!!!
Good reviews: long battery life in the sock and it recharges so fast! The picture quality on the camera is pretty good! The camera and the sock were easy to set up. There are multiple fabrics for the sock included, so when baby grows you don't have to buy a new sock!
Bad reviews: the app is pretty lousy considering how much you have to pay for this monitoring system (the App itself is free though). 9 times out of 10 we have to open the app and close it and then open it again in order to refresh the data and get up to date information on our sleeping baby. Lots of glitches on the app but definitely still usable, you just need patience sometimes! Also, you have to clean the sock pretty frequently otherwise it will smell really bad like feet and give your baby's precious soft feet a stinky foot smell too.
You should understand that this product isn't for everyone. You have to accept it for what it is. It tracks heart rate and oxygen levels and the camera is good quality however this is not a medical device. You can't freak out every time the alarms goes off. Also you can't trust the quality of sleep indicator. My baby is extremely fidgety so it will say he's awake when he's not which makes the app think he is having terrible quality sleep. But it gives us peace of mind and therefore it's worth every penny:
For more product reviews visit Amazon
2. Snuza Baby Hero Movement Monitor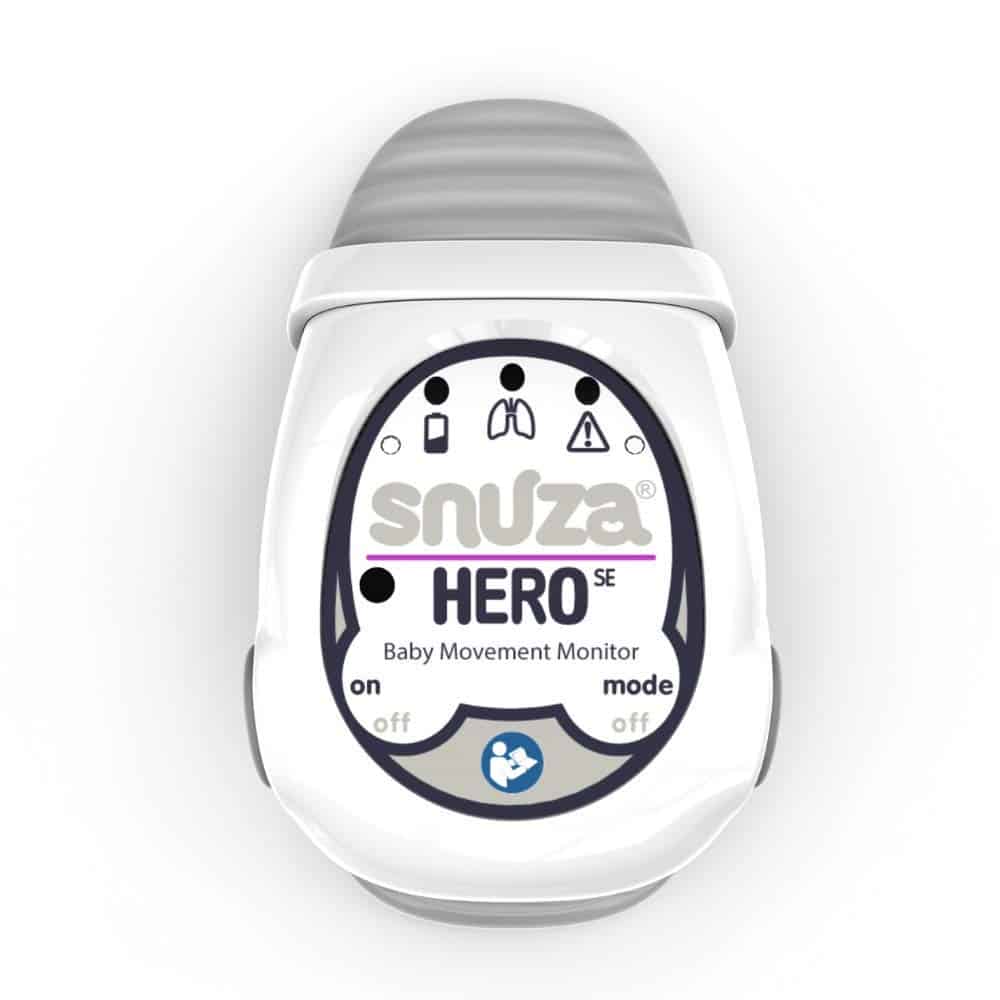 The Snuza movement monitor has no cords, wires, or sensory pads attached. All you need to do is simply clip this small device to the baby's diaper that vibrates every 15 seconds and alarms after 20 seconds when no movement is noticed. The best part is that it is portable, and doesn't need to be synced to the smartphone.
A little long, but hear me out. I had never actually heard of Snuza before. I found it on a Reddit thread during a desperate search for support and how to relieve my PPA. I did a little research and was very drawn to the fact this little device was only measuring the breaths my baby took. Everything else on the market has too many extras that seem appealing to worried parents, but really don't matter in the end – not as much as just BREATHING. Not to mention, this is at a much lower price point. On NIGHT ONE, I actually fell into REM sleep for the first time in weeks. The Snuza has a "ticking option" that you can hear every time your baby takes a breath, which I thought would annoy me, but it put me right to sleep. In fact, I even turned on my other side away from bassinet for the first time in weeks! I didn't realize how much I missed sleeping on my left side… I am trying not to "rely" solely on a device, but it certainly allows me to be human for a few hours during the night between feedings. I put the clip on a stationary table before clipping to the baby, and I was pretty shocked at how loud the alarm was, the strength of the vibrating, etc. It works exactly as it should have. I will update if any changes should come regarding battery or function.
This little thing is awesome. We bought the owlet on sale before baby was born. This was the "dream sock" version. It just wasn't doing what we wanted it to do honestly… know that it would alert us to him not breathing.

I started researching and found the snouza on tik tok! And I'll say, it's so much nicer. No false alarms. I can hear the little ticking and the green light of him breathing and I can test that the alarm works easily!

I read a review of the clip getting stuck on their private parts so I never put it on his diaper. It goes on the waist band of his little pants or shorts and then in the sleep sack he goes!

This little thing makes my mama heart rest a little easier!
For more product reviews visit Amazon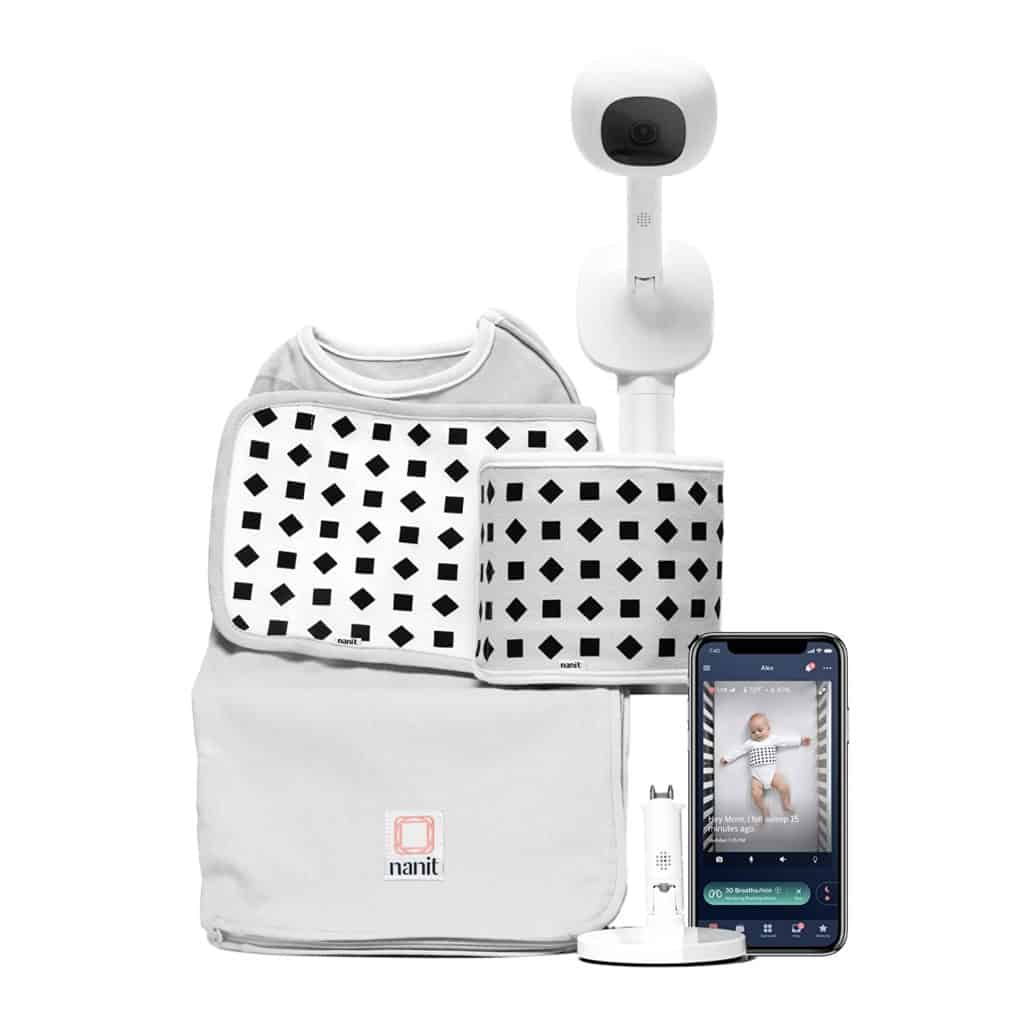 It is specially designed as a swaddle that tracks the breath in a geometric pattern to show the breathing motions via a camera. It is also a versatile monitor that also helps track the sleeping patterns, watch and listen to the baby, and Livestream everything to the smart devices through its app.
I can't say too much about the camera and app yet as the baby isn't born yet. But the installation was very easy. Take the steps with a grain of salt. They provide a paper measure to hold with your foot, Just use a tape measure. The instructions also say to find an area in-between studs. I found my own screws and centered it on a stud. I know its sturdy that way. There is also about 4 feet of cord that isn't covered by protective covers. I called and they send out replacements for free. App set up and features are very easy to use.
We LOVE this monitor. I love that I can have it ony ipad in the living room or phone. I love that it has the backround audio so if I am upstairs It is on my phone so I can hear him. Quality is decent. I also wish the band and swaddle were just a tad bigger. Hes 6 weeks and outgrew it already and theyre so expensive.
For more product reviews visit Amazon
4. Wellue BabyO2 Baby Oxygen Monitor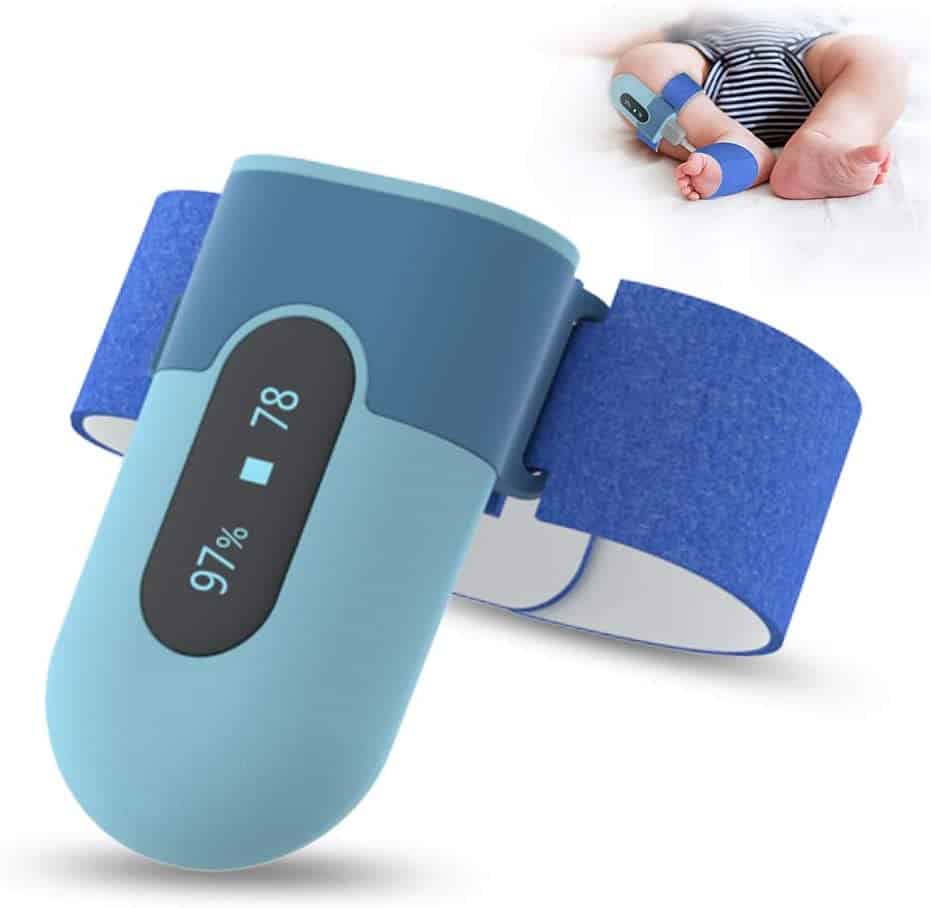 This breathing monitor helps you to track the heart rate, oxygen level, and movements, all at an almost half cost in comparison to the other monitors. This comes with computer software and a free app just in case you need a print. 
Whenever our babies are congested, we place this on them for peace of mind. It must not irritate because they don't mess with it. Only negative- the connection is weak/disconnected unless you're close to the device with your app.
Got this when my granddaughter came home from the hospital with RSV. Gave us the peace of mind to catch a few hours of sleep. Worth the money.
For more product reviews visit Amazon
5. AC337 Angelcare Baby Breathing Video Monitor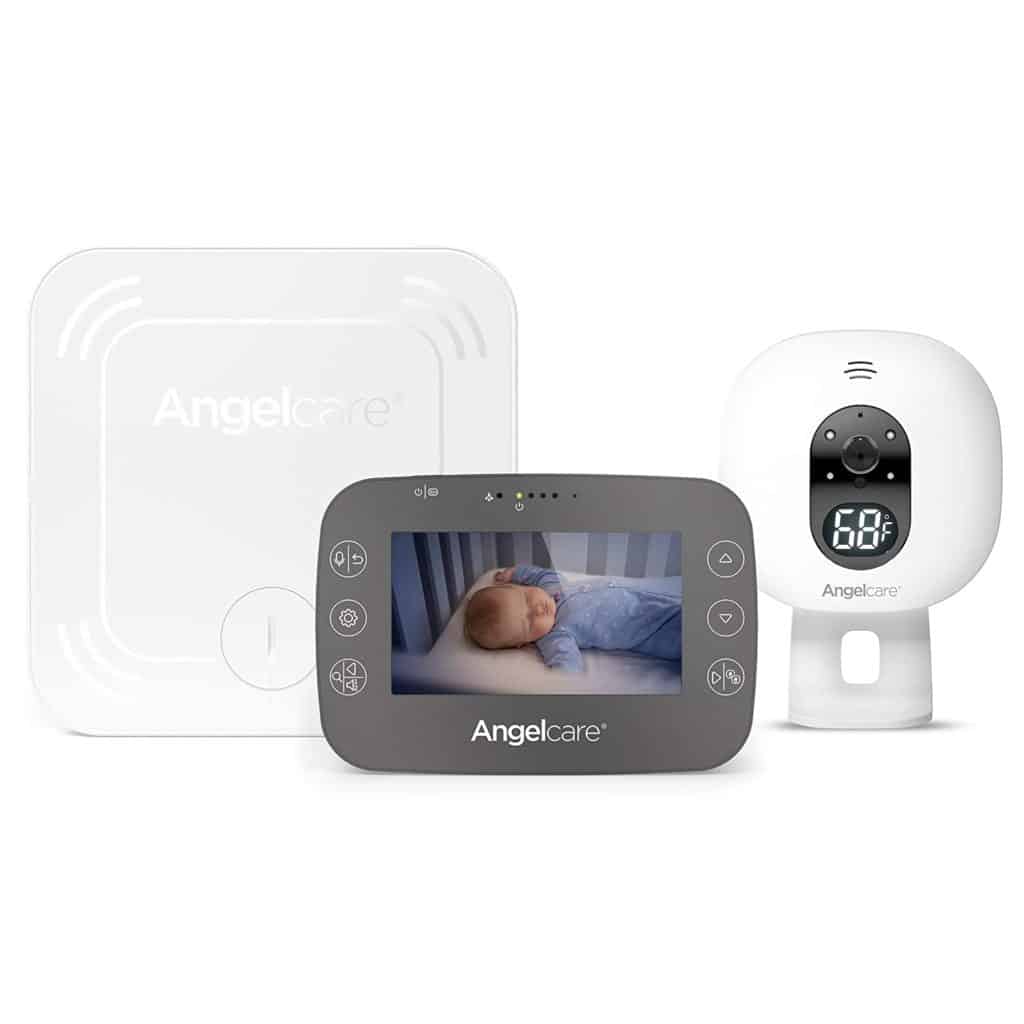 This could be used by just placing the sensor pad beneath the mattress of the bride or the baby. This even includes a camera that measures the temperature of the baby's room. It also has an alarm clock that will alert the parents in 20 seconds when it detects no motion, with impressive battery life. 
I love how simple it is to use and the peace of mind it gives me.
This monitor allowed us to move out newborn into her crib. When she was sleeping in our room we were listening to her ever move, and obsessed over her getting quite, so we couldn't sleep. Before using this I wanted to test it. I tapped into the actual motion sensors with my multimeter so I could 'see" detected movement via a small DC voltage discharged from each load cell during movement. With the pad under the mattress resting on a 1/4" dry erase board materials which rested on the metal sprints, I slowly lowered the corner of a pillow case towards the mattress. As the first 1/4" of pillow case touch the mattress, boom I get a reading. So yes, it can definitely detect a breathing baby.

Bottom line, after making it through two newborns, when I wake up I KNOW my child is still sleeping soundly, no reason to run and repeatedly check their breathing.

Buy this and thank me later.
For more product reviews visit Amazon
6. Miku Smart Baby Monitor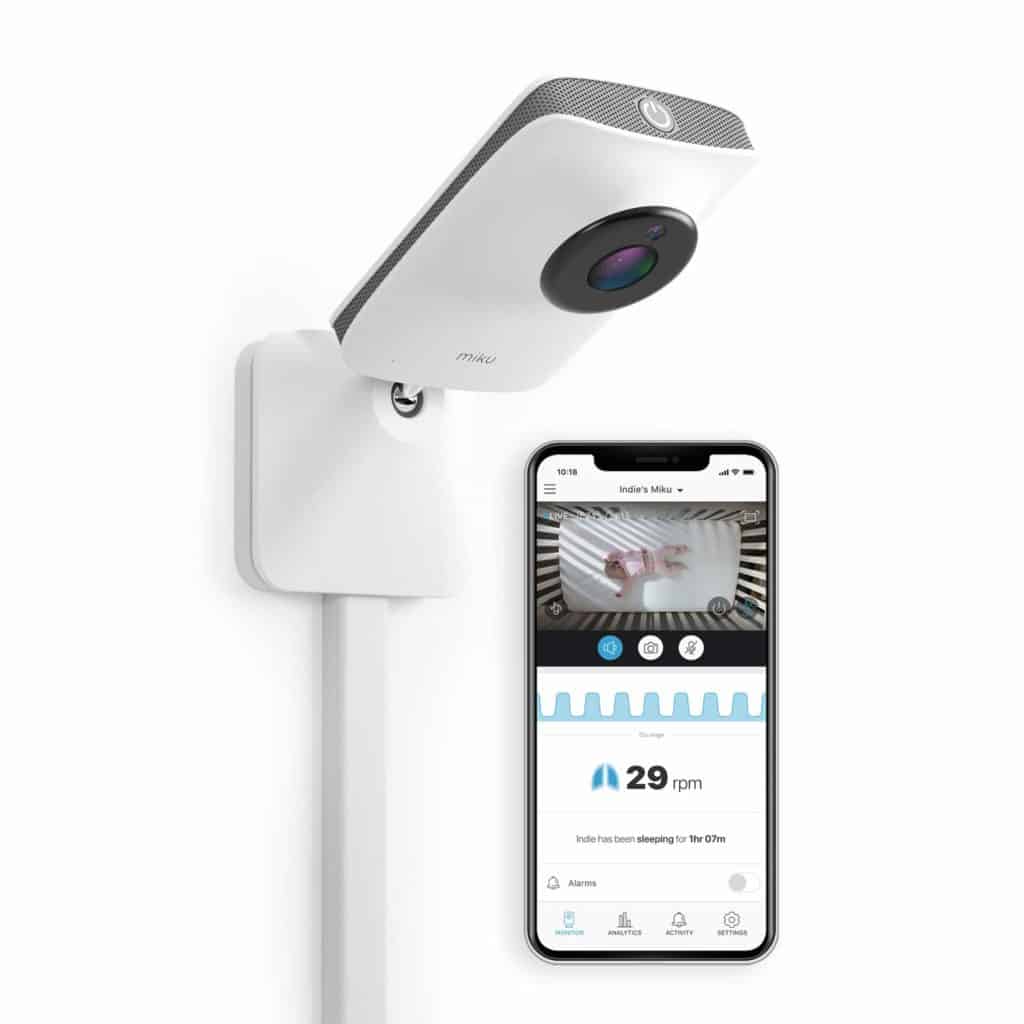 The Miku smart baby monitor allows it to track the breathing, sleeping, and body movement patterns of the baby. It comes with a detailed app that can also take the temperature of the little one without any contact made to the body. This monitor could also come in handy when you aren't around by playing music, downloading as well as sharing photos and videos.
After searching and reading through the multitude of reviews on forums, Amazon, and the likes, the Miku Smart Baby Monitor kept coming up when we were on our search for the best baby monitor. We decided to make the purchase after our first newborn came, and there's not a single regret. This baby monitor is absolutely amazing!

First – the packaging: Pristine, with the aesthetics similar to opening up a brand new Apple product. The package includes EVERYTHING (which is not a lot) to get up and going. Also, a bonus – they include a small wooden pencil. I've never seen that before, and I thought it was cool. Again, you don't need ANYTHING else apart from what they included in the box to mount this.

After the physical mounting of the baby monitor, the installation and the initial setup of the App was as straightforward as can be. ANYONE can set up and use this monitor and app, and that's what I love. Miku makes everything as simple, yet sophisticated, as can be.

I'm not sure how it works, but the Miku accurately monitors your baby's breathing and sleeping habits. The app is sensitive to noise (not too sensitive), so you're notified when your baby is awake from his/her nap. HD quality is a bonus.

We received a different baby monitor from our baby shower, and the Miku baby monitor stands far above it in comparison.

My recommendation? Spend the money with Miku and make sure that your child is sleeping safe and well with no concern. We've had no issues thus far, and the sleek design will look good in any room. Five star purchase.
After months and months I'm searching for the perfect monitor and asking other mothers around me I am enthused to say we have finally found our perfect monitor. We were really stuck in between the sock monitor And the MIKU , But from doing further research, we realized that the other company did not work for everyone as some babies would kick the socks off, some had allergic reactions to the sock and most would outgrow the monitoring sock too quickly.

To start off, the quality of the camera itself is absolutely fantastic. The images shown through your cell phone are super clear so that you have no doubt whether you are seeing anything incorrectly in the middle of the night due to being blurry. My husband is a huge fan of cameras and I am happy to say he is extremely satisfied with its features .
The live breathing is a huge plus and comforts any parent that their little one is have a good night's rest. Another reason we went with this monitor is The fact that if your baby is a belly sleeper or sleeps under a blanket you can still monitor the breathing and heart rate.

For a couple that always has issue building things this was pretty simple in regards to setting up. The instructions are step-by-step and very easy to follow .
Shipping itself was super fast; our monitor arrived only two days after ordering it. Packaging was very clean and simple.
I am extremely happy with my decision in choosing the Miku , As it was recommended to me by family and friends and now I look forward to recommending it to other mothers, especially new mothers like myself who need that little peace of mind with the first bundle of joy.
For more product reviews visit Amazon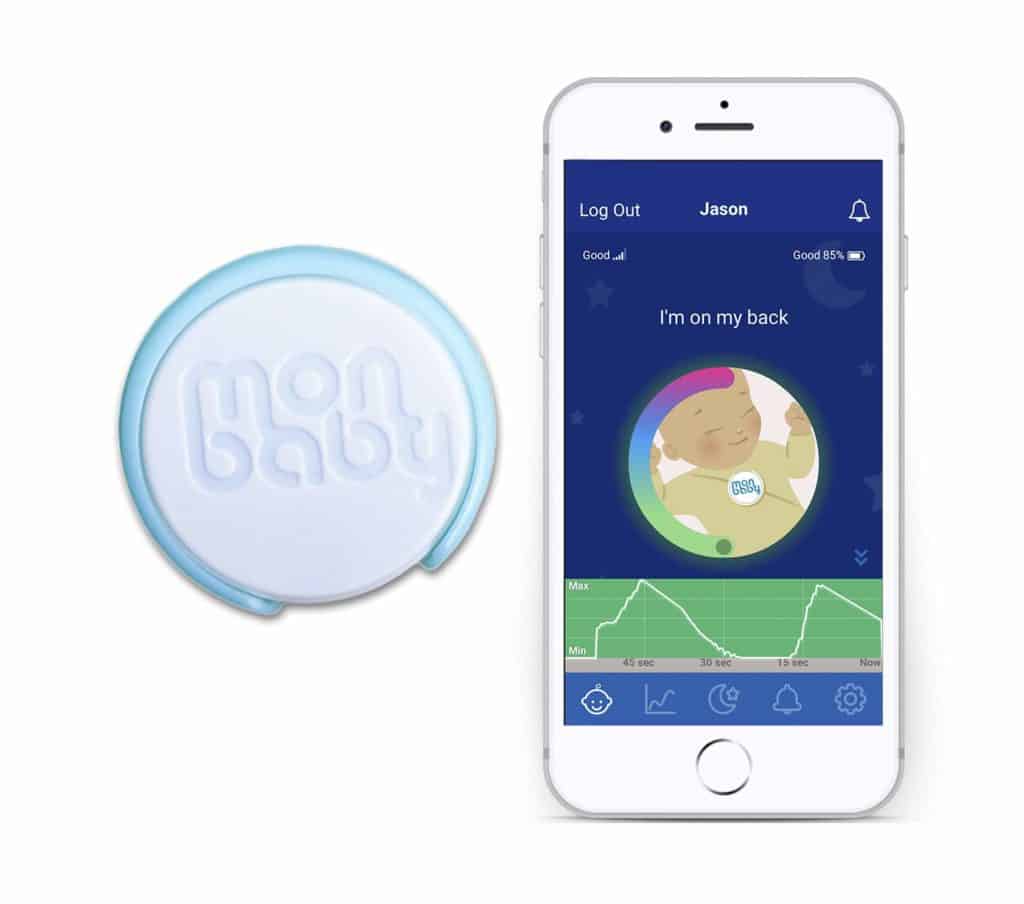 This allows to track the breathing, movement and take the temperature of the baby in just at $50. It is a popular choice being pocket friendly, all parents need to do is snap it onto the clothes of the baby and you'll know of the breathing patterns, when they roll to their stomach, setting off the alarm.
This product has been so amazing. As someone who struggles with the normal worries of life and all of the scary things that come with being a parent, this device has helped me sleep better. Of course this can't be used as a medical device, but it is so helpful. The alerts are real time also! Great product from a great company! (This was my second time buying this device!)
I got this because I wanted to monitor my baby while she was sleeping and I was doing other things at home, and it was really helpful with this! It'd alert me when she was moving, so I could go and check, and the good thing is that it did not bother her at all, so 5 starts 🙂
For more product reviews visit Amazon
8. Bebcare Digital Audio With Breathing Mat Baby Monitor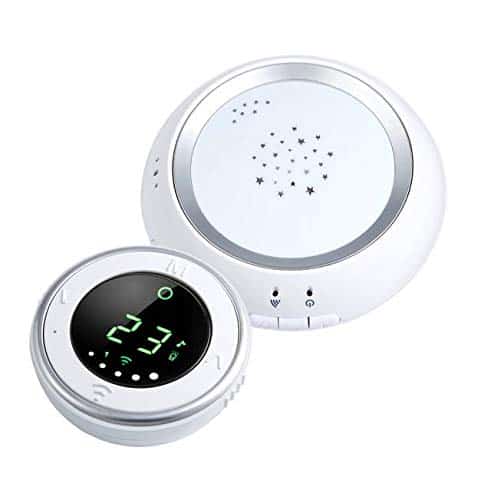 If you have a large house, and if you want to monitor your baby's breathing from anywhere in the house, you will need to choose monitors with a longer range. The advertised range of monitors refers to a tested unobstructed range in the open area. This is an extra-long-range baby movement monitor that comes with an impressive 2,000 feet range in the open area and alerts you when out of range.
Since houses generally have walls and furniture that will cause disturbances in the signal, it becomes difficult to know exactly how much range we will get from a monitor. If you have a large house, it is better to buy a monitor that has the longest range, to ensure it won't lose signal.
I got this baby monitor for my cousin who recently had a baby. I got it because it advertised low power tech, but my cousin and his wife are loving it for all the other features!

The VOX white noise silencer is such an awesome feature because it removes the white noise that you'd hear on other monitors. And the starry night feature is really fun to play with. I like putting it on when I'm visiting.

The coolest thing is the sensor mat which can alert me when something isn't right. It hasn't gone off yet, thankfully!

Anyway, my cousin is loving it so far and recommends it! It's one of the better gifts I've given for sure 🙂
Works great! Love that it is designed to be low EMF.
For more product reviews visit Amazon
9. Sense U Baby Movement Monitor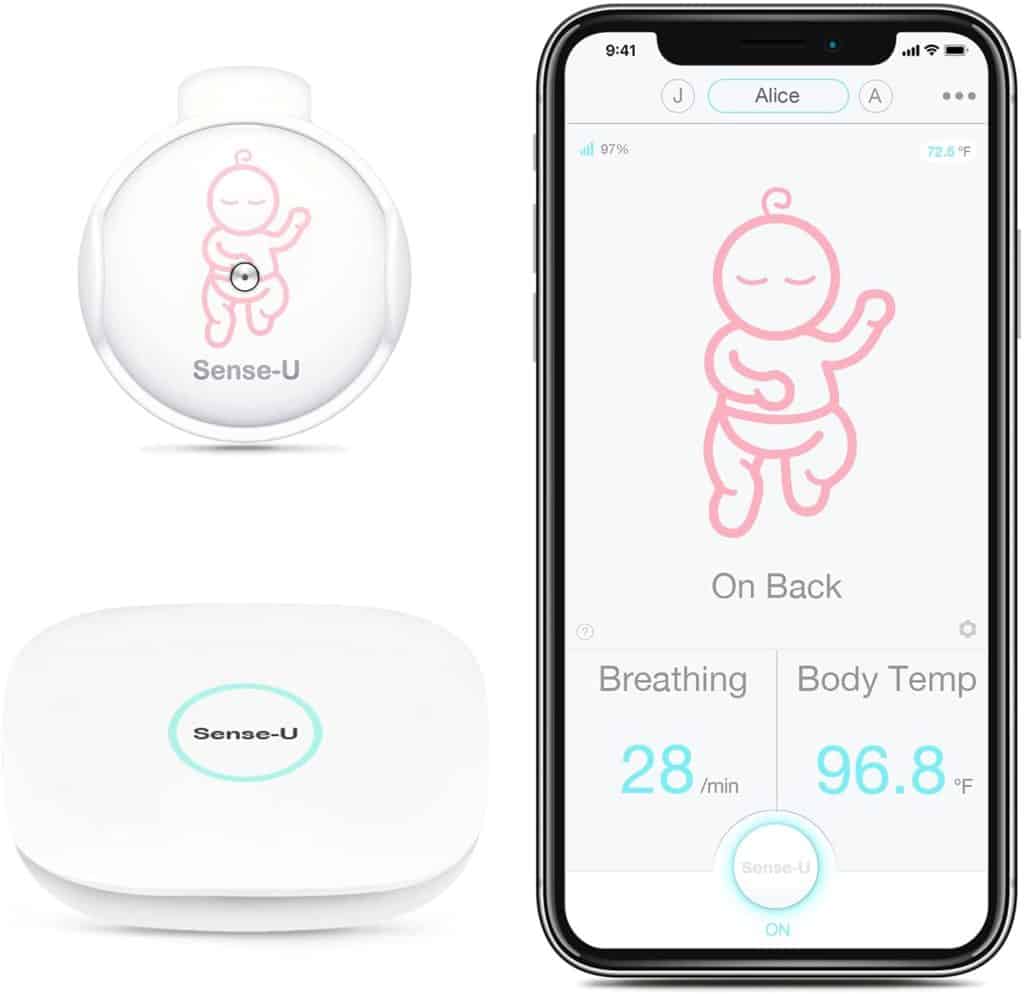 This baby movement monitor has won awards for its capability and can be easily clipped onto the diaper to track the movement of the baby's abdomen.
If your baby's movements slow down, or no movement is detected, you will immediately be alerted via your smartphone. According to safe sleeping practices that help to prevent SIDS, babies should be sleeping on their backs. This baby movement monitor also tracks your baby's sleeping position and notifies you as and when the baby rolls onto their stomach, this will help you know when to reposition them to a safer, back-sleeping position.
I am a hard of hearing mom and this helps me know when my baby wakes up at night. Keeps track of the room temperate as well as the baby and helps me keep my baby comfortable and safe.
This is a dupe for the owlet monitor! I couldn't afford the owlet price tag and when I found this one by Sense-U I knew I had to buy it. I love it so much! I'm able to sleep without worry and I no longer wake up every 5 minutes to check on my baby because there's a loud alarm that goes off if anything is wrong. The only issues I have with this device is updates, it says to not have it on baby but when doing that the alarm will go off because it doesn't detect a temperature. My other issue is the fact that the device and alarm need to be in the same room. If I take my baby out of the room it will no longer monitor her vitals. Right now baby is sleeping in our room so it isn't a huge issue but when she moves to her room it would be nice to keep the monitor in our room
For more product reviews visit Amazon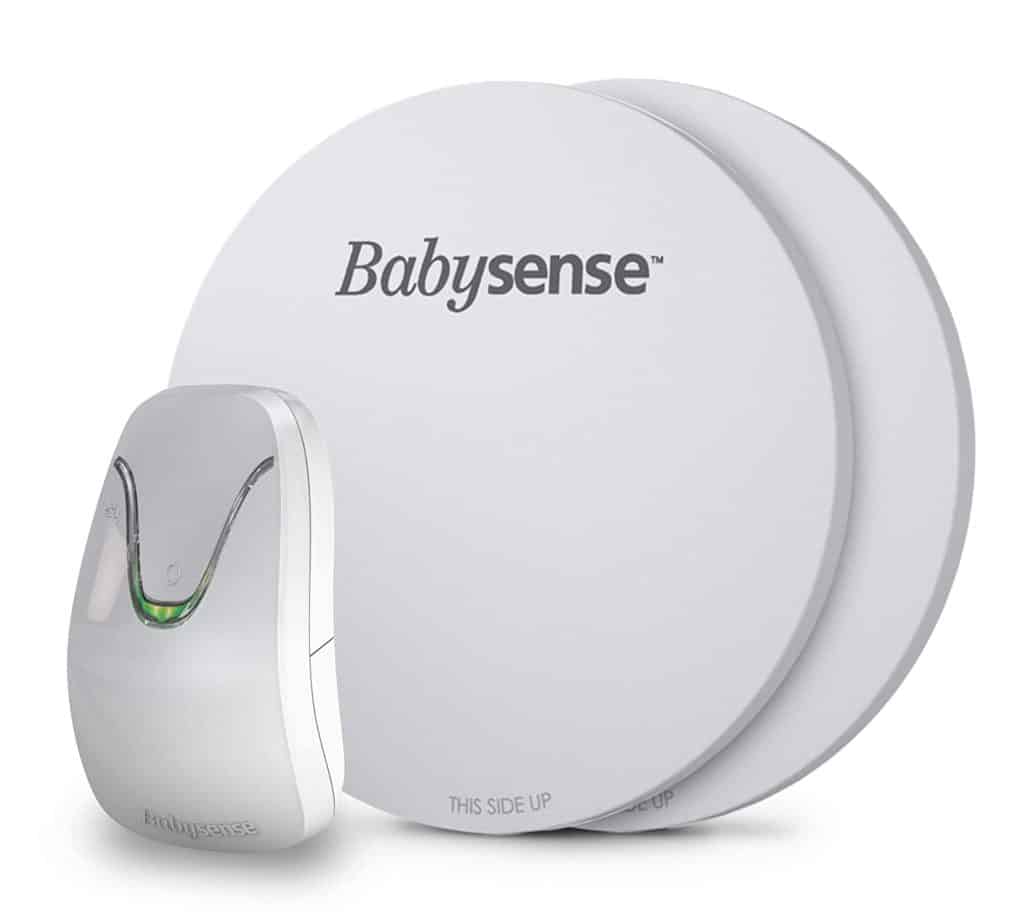 The Babysense 7 is the under-the-mattress movement baby monitor which has two-plate sensors that will help you track your baby anywhere on the crib mattress. In case the movements slow to less than 10 micromovements in a minute or even stop for 20 seconds, the Babysense makes sure to alert you with the help of the flashlight too.
I LOVE THIS PRODUCT! After having my son I quickly became worried about SIDS and checking on his breathing during the night. I was not fond of wearable devices to monitor him, so a friend suggested this product. I ordered it right away.

He's now 6 weeks old and I haven't had to change the battaries once, and this device is used everyday, every time he is sleeping.

This I had eased my anxious mom heart so much!
I recommend this product or any and everyone who has a baby!!! This thing is super accurate and I read all the instructions to know that you can't put the bed under vents or ceiling fans because it can cause false alarms etc but if we forget to turn it off when getting him out of the crib this thing will go off and I LOVE how loud it is!!!! I sleep great knowing my baby is still breathing when I wake up. I give this 10 stars ⭐️ if I could!! The owlet monitor is a huge waste of money!!! Their false advertising should get their product removed in my opinion but this thing, this is the best thing I've ever purchased and I highly recommend it to others!! Our baby was in the nicu for 4 weeks and I was terrified to bring him home because i was confused about this monitor at first but when the owlet monitor didn't work I was upset and decided to try this out anyways and I'm so thankful I did!!! I can't say how much battery life it has because it's only been 4 weeks but I will say I'll update if I remember in 6 months!!! This one is so easy to install as well 🥰
For more product reviews visit Amazon
The Best Baby Breathing Monitor
Parents, in the beginning, need to know that breathing monitors are for their help and they should not get paranoid. These help you by letting you keep a close watch while you aren't around the baby with their tracking of periodic breathing patterns. According to research, there can be times when breathing monitors will not always be reliable or consistent. Also, just in case your baby goes through serious breathing conditions like sleep apnea, immediately talk to the doctor.
FAQs: Top 10 Best Breathing Monitors for Babies
1. Are baby periodic breathing monitors important ?
When it comes to a healthy premature baby, the breathing condition rarely occurs in more than 5% of their total sleep. However, if it occurs to be exceeding it could be considered as periodic breathing, or is accompanied by a change in the oxygen saturation.
2. Do babies sleep keeping their mouths open ?
Babies of age 3 to 4 months have not developed the reflex that may help them breathe except while crying. According to researchers, breathing from the mouth during sleep will only develop when a kind of blockage in the upper airway is experienced in either the throat or the nose.
3. How do you know if a baby is finding it difficult to breathe ?
The best baby breathing monitor must have:Grunting while trying to breathe
The muscles under the ribs start to suck
The baby starts to breathe faster
Detect when No breath for more than 20 seconds
Regular shorter pauses in breathing
Baby's mouth or feet are bluish in color
4. Which is the best baby breathing monitor ?
There are several baby monitors available in the market, however, some of the best-rated baby breathing monitors are Babysense 7, Sense U Baby, Owlet, Bebcare, and Miku.
5. Is Miku better than Owlet ?
The Miku smart baby monitor allows you to track your baby's breathing, sleeping, and body movement patterns. It comes with a detailed app that can also take the temperature of the little one without any contact made to the body. On the other hand, the Owlet breathing monitor comes included with a camera that helps track the oxygen and the heart rate of the baby which can be viewed on the encrypted HD video, and communicated through two-way audio via the Owlet app.