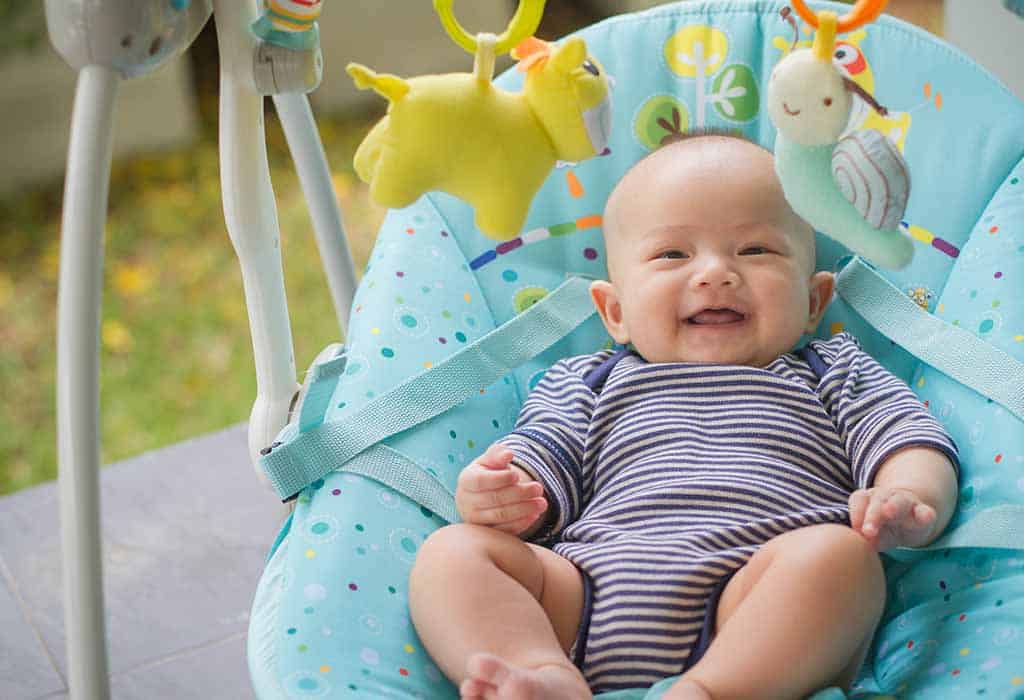 We all know the hardest part of having kids is to give them full-time attention. The best baby bouncer is an innovative product in the market right now to eradicate this problem. It's mainly because of the comfort and portability it gives.
The benefit of a bouncer is the wide range of facilities it provides. Mainly, it gives the parents a secure spot for the infant while they are busy with work. We all love to hold babies close to your body and give them the proper care but it's almost impossible to hold them for a long time, Bouncers are such an effective substitute which gives them both safety and comfort.
Bouncers are not just chairs which make the baby freeze in a particular position, it's designed in a way to support their rapid movement and can be adjusted in various positions. The bounce it provides makes the baby thrilled and energetic.
Having a baby bouncer is such a relief for the parents who are engaged in any form of work. These bouncy seats make them entertained when you fail to do so. It almost reduces your workload in half with all the facilities in-built. Many parents find Bouncers to be a necessary product that engages and calms fussy babies with its regular movement.
Although Bouncers are so helpful, it doesn't follow the American Academy of Pediatrics' safe sleep recommendation so it's not suitable for long-duration naps.
Almost all the bouncers are designed with soft seats with 3 or more buckles attached for the baby's safety. The thing that differs a Bouncer from another is the facilities it provides:
1. The toy bar is one such facility that consists of certain toys with which the kids can pass time while in their baby bouncer.
2. Bells or whistles are attached in some of the Bouncers which is a way through which the parents get to know whether there's an emergency.
3. Most of the Bouncers have a music facility that chills the baby's mood.
4. Some of the Bouncers are of dual-use which can bounce and swing in both directions (back and forth & side to side)
How to find the Best Bouncer for you?
Every Bouncer doesn't suit everyone as their livelihood, budget, usage of the product, etc..varies from one to another. So here are some factors which help you to find your Best Bouncer:
1. Room: – Bouncers are of various sizes so according to your comfortability you can choose the best one compared with the room you have.
2. Portability: – Usually parents love to have baby's around them so they can watch them even though they are busy. In such cases an easily portable Bouncer is perfect.
3. Rate: – There are a number of Bouncers available in the market of varying price range so the user can choose the best one considering their budget.
4. Longevity:  – If you are planning to extend your baby gadget's shelf-life from infant to toddler, then Bouncers of longer usage is preferred.
5. Power source: – The vibration produced by the bouncer can be either of batteries or electricity or both. It may result in a high price point for the product
6. Easy to clean: – It would be great to have covers that are machine washable as spit-ups and dirt will be regular visitors.
7. Looks: – Some Bouncers are simple in design while there are others that vary in attractive colors and printed with pictures of animals, flowers, rattles, etc..
8. Extra facilities: – If you are ready to spend more money on Bouncers, then you can have more efficient ones with Bluetooth technology, slot for connection of smartphones, built-in music options, etc… which entertain babies
Our Top 11 Best Baby Bouncer Picks
There are a variety of bouncers available in the market, among that the best 7 are shortlisted here:
1. Baby Bjorn bouncer (best overall) - Best Baby Bouncer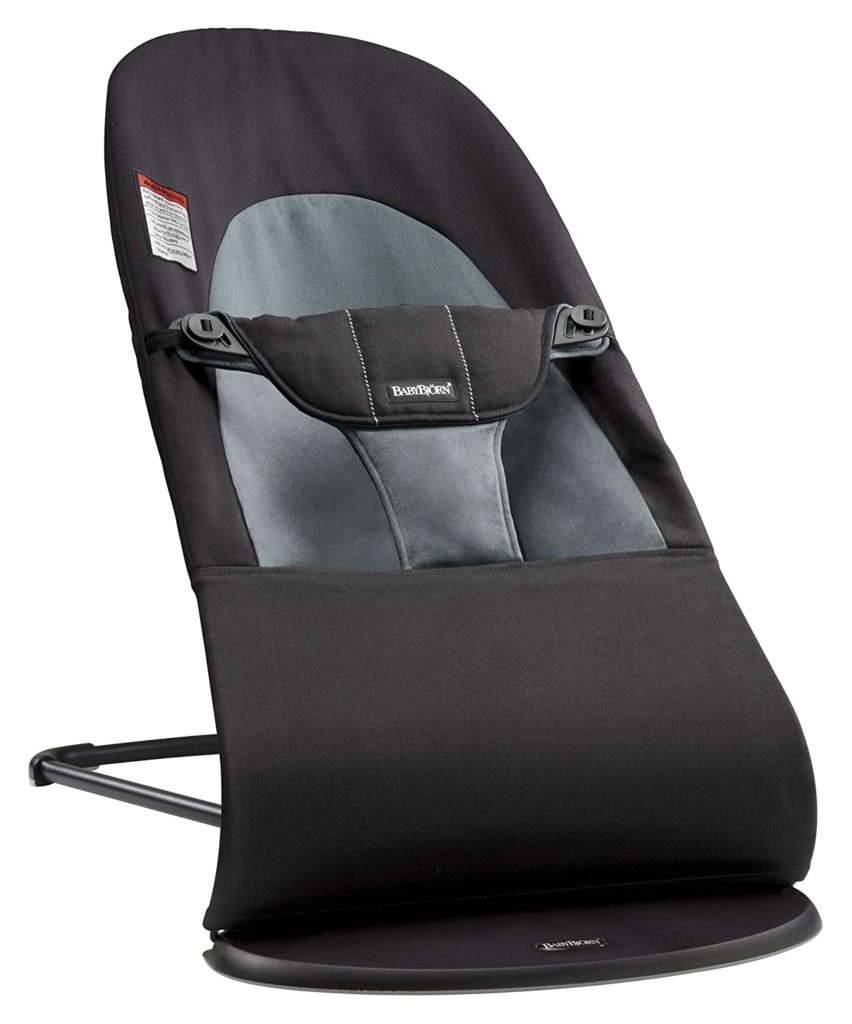 It's the best of all bouncers developed and is designed in a peculiar way to soothe babies. Bjorn can be used for babies up to the age of 2 and is not a temporary one which lasts for a few months. It can be folded up into various positions according to the purpose whether it's food time, playtime, naptime, etc. It guarantees safety with JPMA certification. Its covering is machine washable so spit-ups and dirt can be washed off. It is available in 9 different colors. It's expensive but it has enough features which justify the rate
2. Bright starts Playful pinwheels bouncer (best budget) - Best Baby Bouncer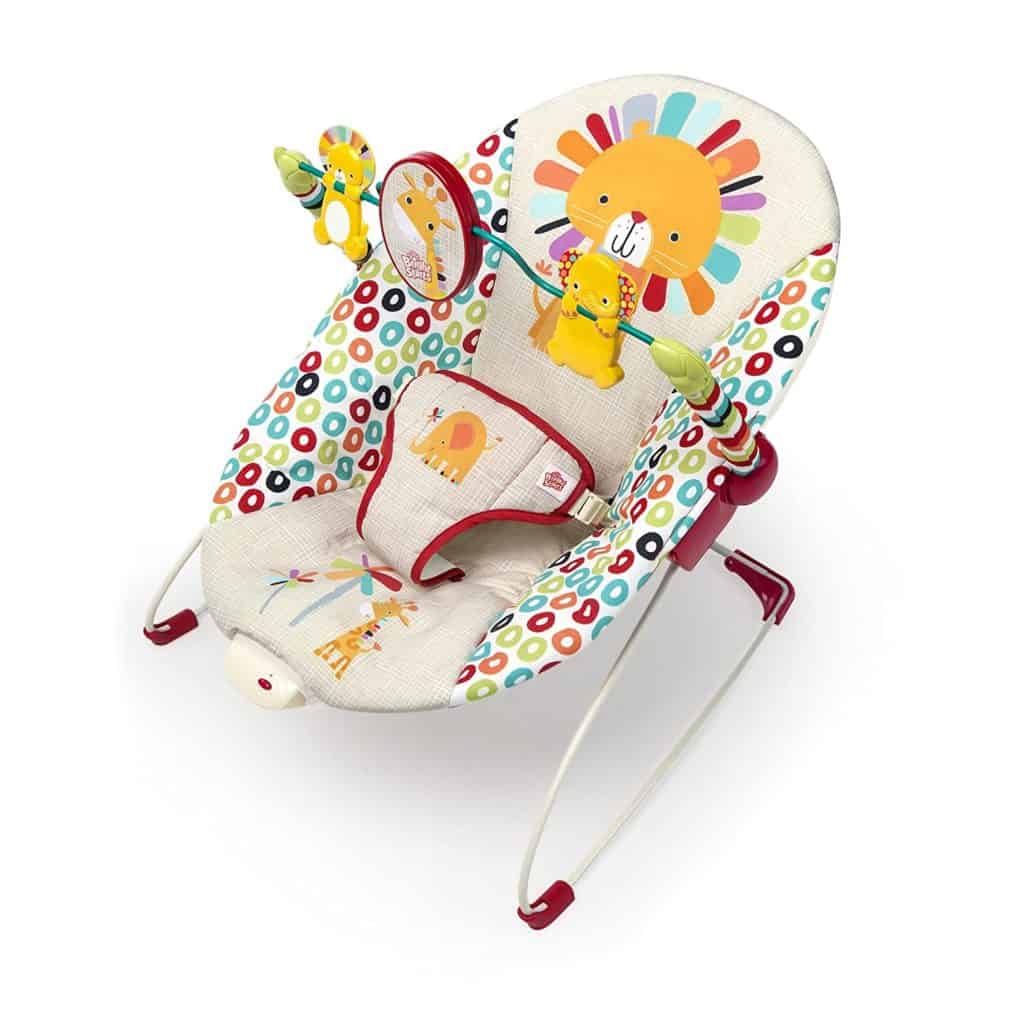 It's one of the cheapest effective Bouncers available in the market. It is battery operated which vibrates to soothe babies. The variety of colors and attractive features make the babies engage in them. Its cover is also machine washable so it can be kept clean. It assures safety with the help of a three-point harness to hold the baby. Comparing the rate to the potential benefits, it is a great option for the customers.
3. 4mom's rockaRoo Classic infant seat (best high-tech bouncer) - Best Baby Bouncer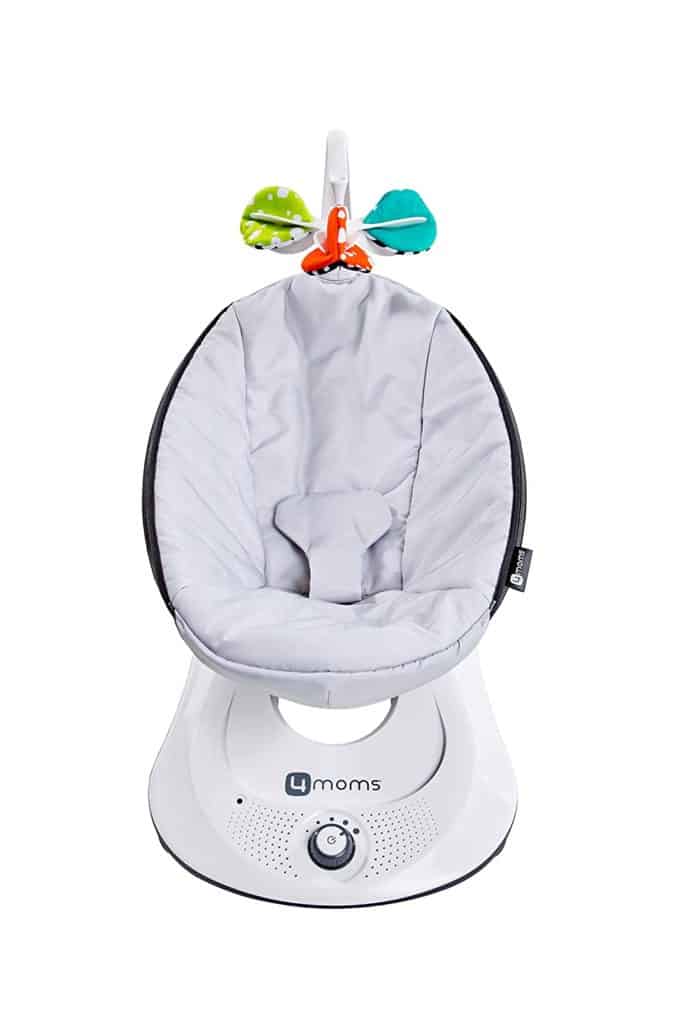 It's designed in the form of a space-ship with all forms of highest technologies incorporated into it. Its motion can be set up in five different ways namely car ride, wave, tree swing, rock-a-bye, and kangaroo. The built-in sound keeps the kids entertained throughout the bouncer ride. Smartphones can be connected with the bouncer so that you can play your baby's favorite music. The seat can be adjusted to both rest and sit-up positions. It's a 3-dimensional product that can be used as a seat, bouncer, and swing. It needs to be plugged into a power supply as no batteries are used in this bouncer. It can hold up to 25 pounds. It's a product of high quality with the best features on offer.
4. Fisher-Price My Little Snugapuppy Deluxe Bouncer (Best cozy bouncer) - Best Baby Bouncer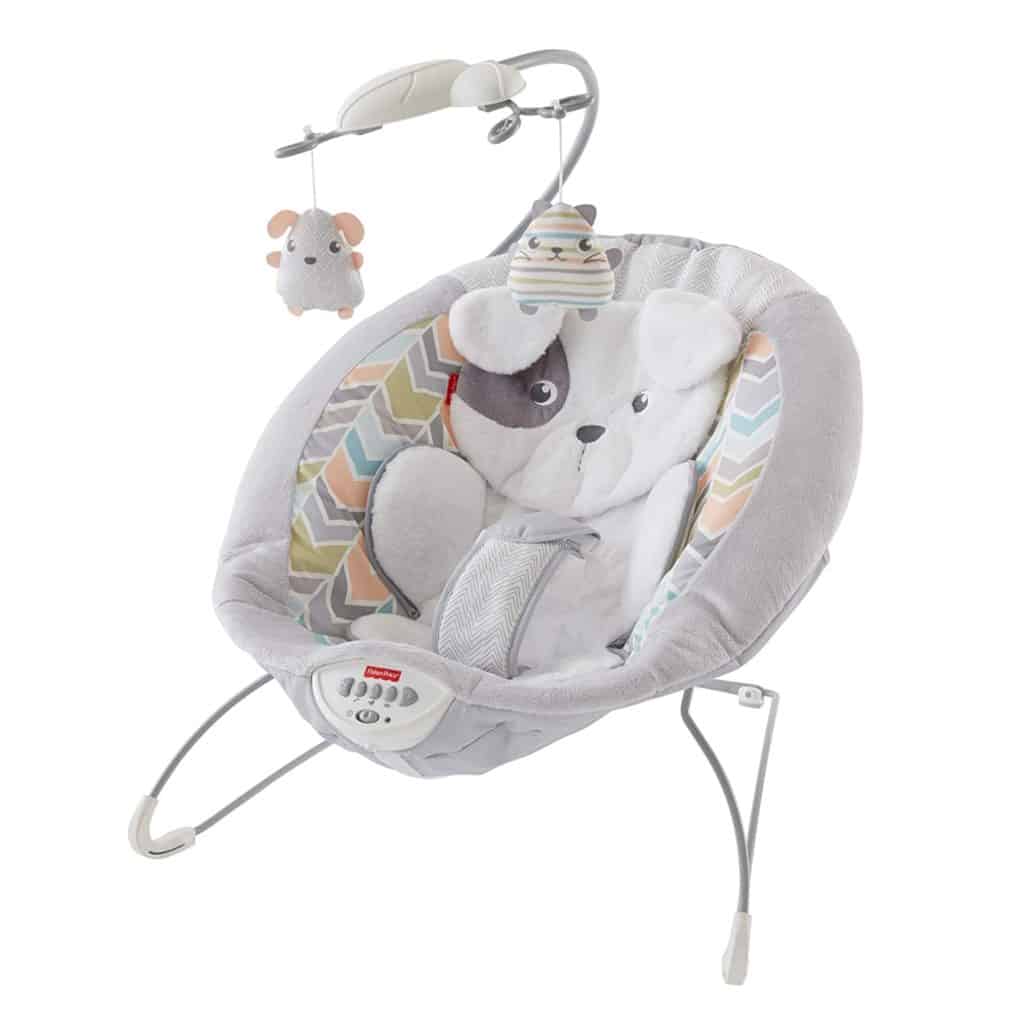 Its main attraction is the coziness it provides to the kids. It's battery operated. As the name suggests, it is designed to be a snug fit for the baby giving them a sense of safety and security. It has a deep plush seat with a supportive headrest. The gentle vibration, built-in music (up to 20-minute duration), and removable mobile with a kitty and puppy are all the equipment you need to keep your baby engaged. Its weight limit is 25 pounds. It is better to take them out of the bouncer when the baby starts to sit-up independently as a more active baby may result in accidents. Snugapuppy requires some form of arrangement so it's better to be set-up before your use. Snugapuppy is comparatively large and so it requires a sufficient amount of space for its smooth functioning.
5. Fisher-Price Infant-to-Toddler Rocker (best for Long haul) - Best Baby Bouncer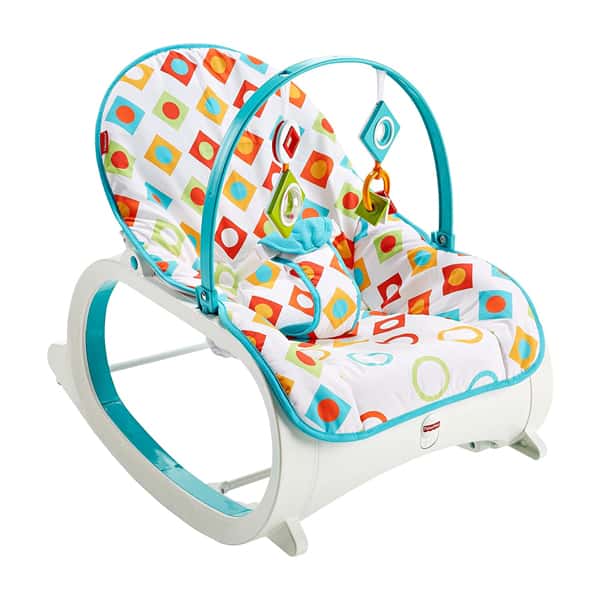 Its main attraction is the longer shelf-life it provides, which saves both money and storage space. It is battery operated which vibrates and comforts the baby. The toy bar can be removed as the baby grows and you can still use it. Its weight limit is 40 pounds which is considered good. The babies get engaged and entertained by the toys included in the toy bar. The built-in music helps to keep your baby's mood fresh at all times. It's covering is machine washable. If you are looking for a bouncer for long term use, this rocker is a great choice.
6. Garco DuetSoothe Swing and Rocker (best swing and bouncer) - Best Baby Bouncer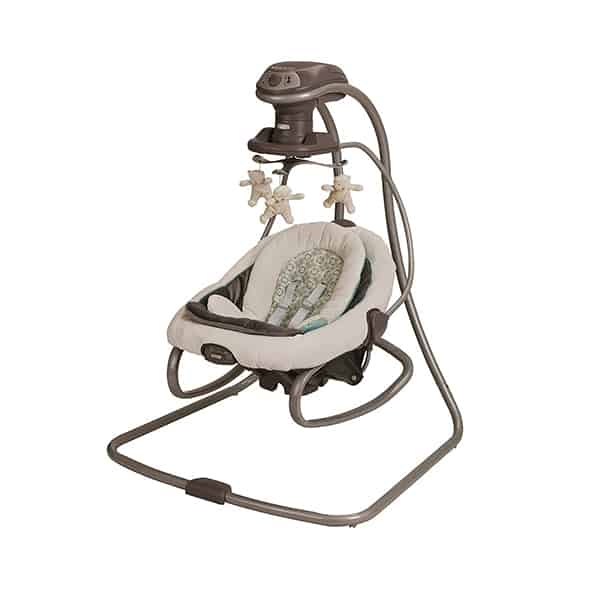 As its name implies, it's both a swing and a Bouncer. Since it's a multi-purpose Rocker, babies don't get bored with the continuous bounce. The swing can be operated either front to back or in a side-to-side fashion. The vibration and sound effects help in soothing the baby. It also provides the dual feature of either plugging in or using batteries as your interest. The rocker part of the swing can be removed so that the baby could soothe themselves with a rocking motion. Garco gives out a large number of facilities which makes it very useful at an affordable rate.
7. Charlie Crane Levo Walnut Baby Bouncer (Best Design) - Best Baby Bouncer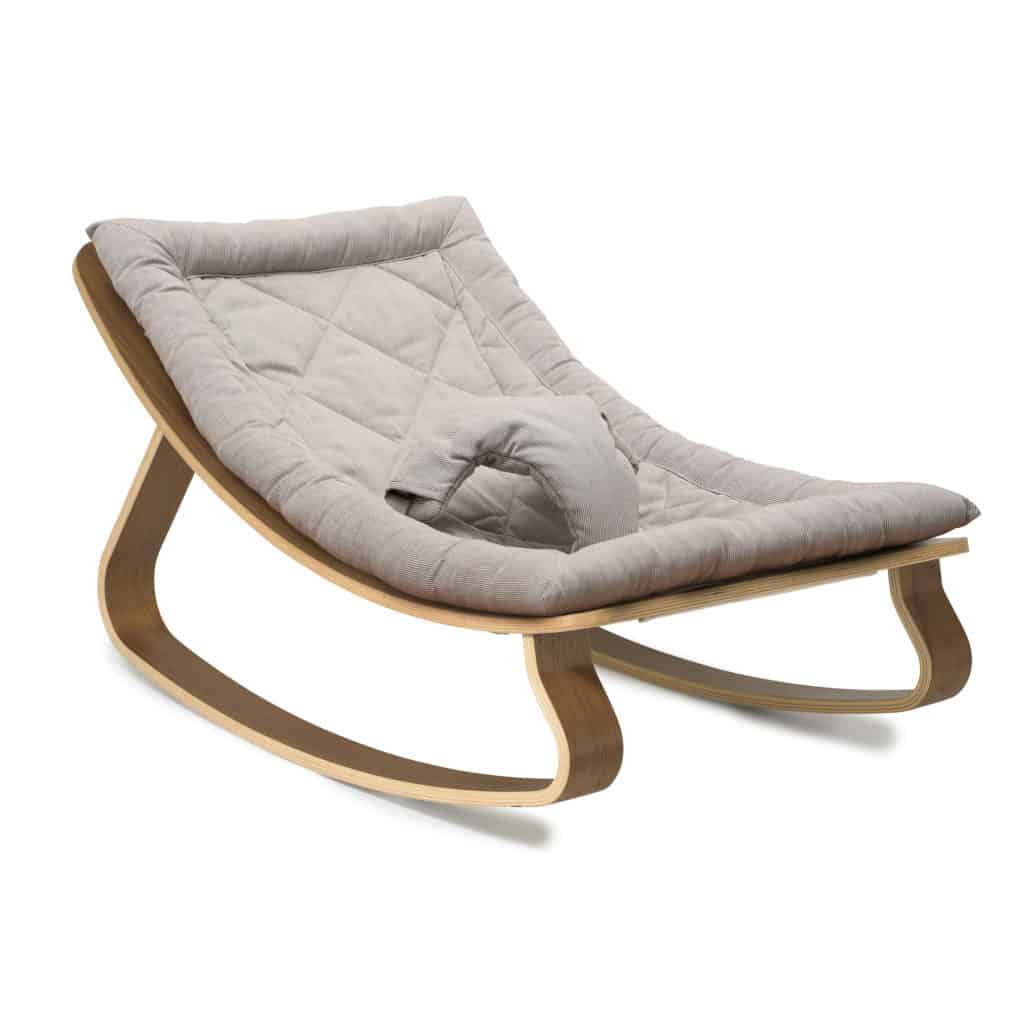 It's a super-stylish bouncer which gives an elegant look. It looks perfect for any room decor. It's constructed of Walnut wood. Its outer covering is of cotton and is available in various designs. If the baby gets bored just rock the bouncer to chill them up. If babies need to go for a ride on their own, they can pump their legs and move it. Its assembly should be done by yourself with all the tools and guidelines provided. Its shipping is a bit slow as it's imported from the United Kingdom. For those who are looking for a bouncer of efficient design and classic look, Charlie Crane Levo Walnut Baby Bouncer is the best of all other choices.
8. Kidco BouncePod Travel Bouncer (best for small places) - Best Baby Bouncer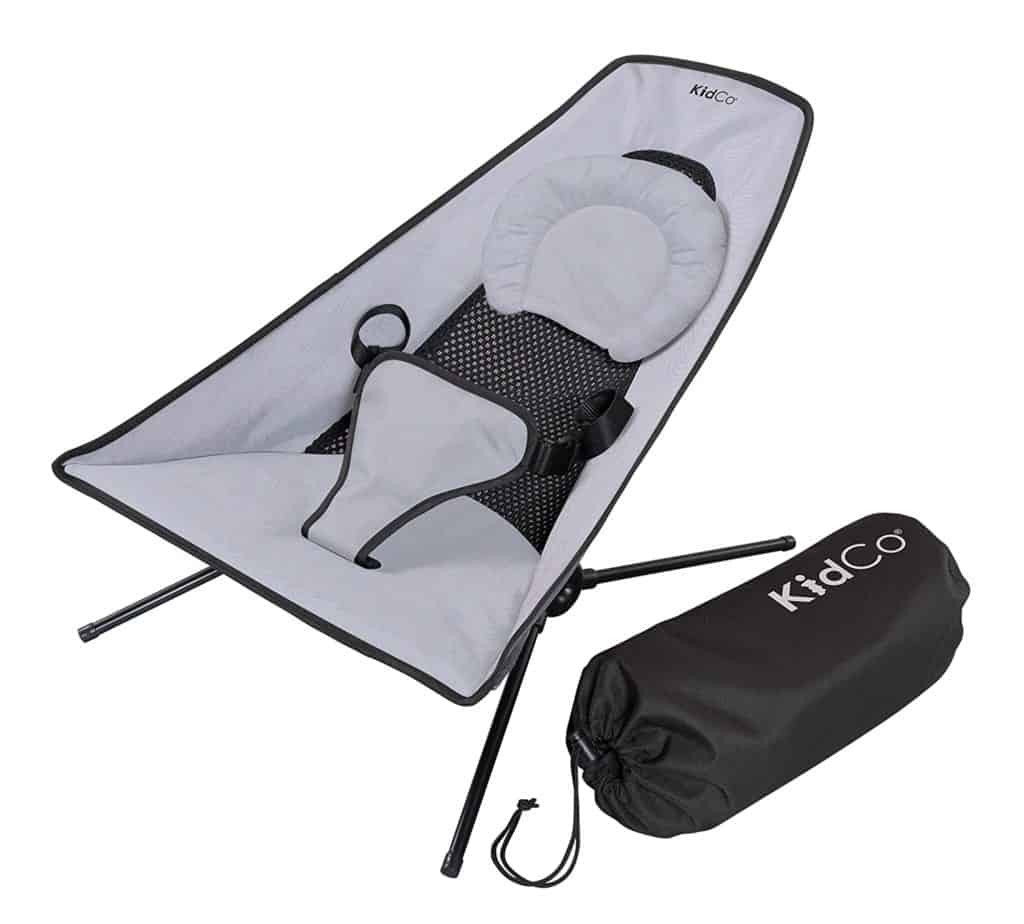 Kidco BouncePod Travel Bouncer gives the baby a safe and secure cushion. Its main advantage is that it has no assembly and can be folded up after use. It consists of a bag so that it can be transported if needed. You can call it nearly weightless (almost 3 pounds) so carrying them anywhere doesn't make it a burden. It can be used either indoors or outdoors. It is designed in a peculiar way so the baby is able to see and explore everything around him/her. Kidco BouncePad provides shelter up to the age of 6 months and it has a weight limit of 15 pounds which is considerably good.
9. Fisher-Price Comfort Curve Bouncer - Best Baby Bouncer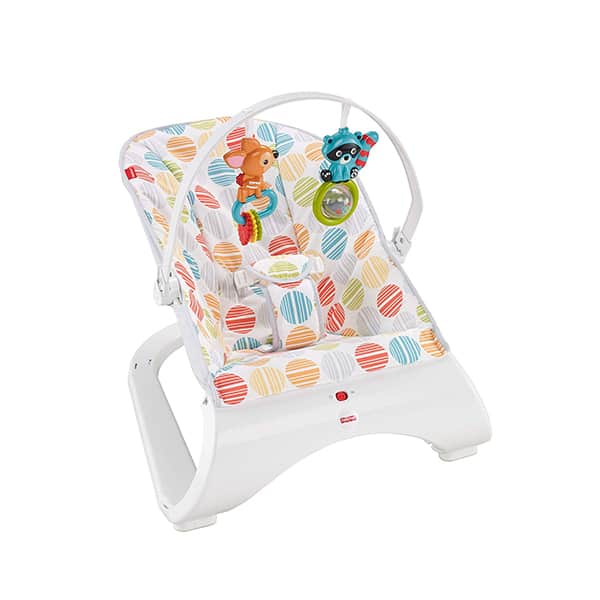 The striking feature of the Fisher-Price Comfort Curve Bouncer is its solid plastic base while most of the other bouncers have thin ones. As a result, the bouncer continues to be steady on the ground even though the baby makes any hyper movement. The toy bar over the baby's head has an owl with clacker rings and a fox with a rollerball to keep the baby engaged. Its vibrating feature keeps the baby dynamic. It's available in a variety of colors which is gender-neutral and it can be gifted to someone after the use or reserved for upcoming siblings. It has a weight limit of 20 pounds above which the bouncer will be rendered unsafe.
10. Nuna Leaf Grow (best luxury baby bouncer) - Best Baby Bouncer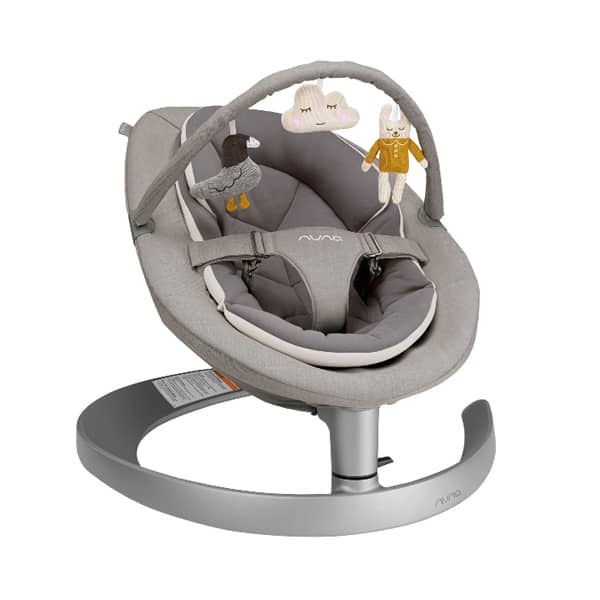 If you are looking for a sleek, no-frill bouncer, Nuna Leaf Grow is the best among the lot. Its main attraction is that it requires no electricity or batteries to soothe the baby with its gentle motion. It has the dual-feature of swing and bounce. The removable toy bar is another attractive feature of Nuna so kids could engage with those toys and can create their own play world. It has a weight limit of 130 pounds which is way greater than other ones. Although it's expensive, the strength it possesses and the safety it ensures makes it a perfect purchase for your baby.
11. 4Moms MamaRoo4 (Best overall bouncer) - Best Baby Bouncer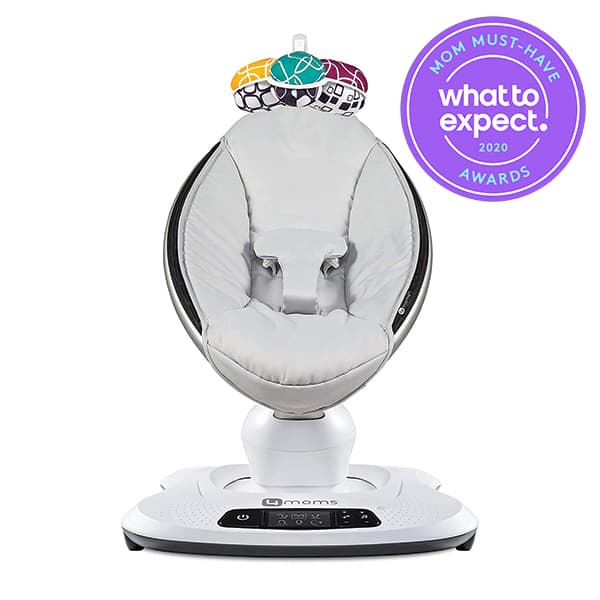 The capability to make the bouncy seat move in five different motions with five different speeds make 4Moms MamaRoo4 the best among all of them. This sleek bouncer has won the "What to expect " award for the year 2019 which shows how good it is. Bluetooth connectivity is another main feature so that you could connect your smartphones with the bouncer. This connection helps you to operate Bouncers through your phone while you are busy cooking or doing anything else, thus saving a number of trips from the kitchen to the room. You can also play your favorite songs through your phone which keeps the baby active and enthusiastic. It's risky to give our mobile phones to them as they may cause damage, so to overcome that toy bar gives us a toy mobile as a substitute with interactive and reversible toy balls.
On the other hand, there are certain disadvantages of 4Mom MamaRoo4
It's really heavy so transportation would be difficult.
It cannot be folded up so it takes up more area and so storage is also an issue.
Compared with its rate, the weight limit of 25 pounds is rather low.
Best Baby Bouncers Final Conclusion :
As a whole, having a Baby Bouncer is a great option for anyone who is looking for a safe, secure, and comfortable seat in which their babies can reside. The 11 top picks that we have given here will serve the purpose really well. Hope we have been able to help you make a viable decision. Using a better baby bouncer that is not on the list? We would love to hear your thoughts in the comments section below!
Best Baby Bouncers FAQs
1. What is the appropriate age when I can put my baby in a bouncer ?
You can start putting your newborn in a bouncer for short periods, however, your baby will enjoy the bouncer most once he/she is between 3 to 6 months.
2. What safety precautions should I take while using a bouncer ?
The most important thing to remember while using a baby bouncer is to never put it on an elevated surface, babies are known to bounce right off work tables and dining tables.
3. Will bouncers cause "shaken baby syndrome" ?
No. Gentle bouncing, swinging, or rocking will do no harm.