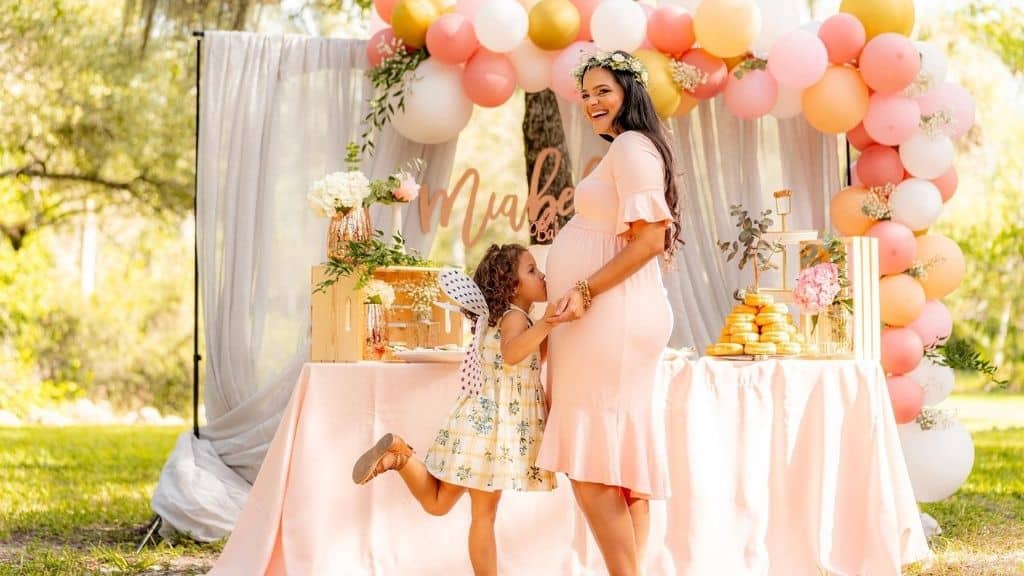 A Baby Sprinkle Party or Baby Shower Party is one such celebration that is looked forward to by both, friends and family, and especially by the parents-to-be. These baby showers or baby sprinkle parties are considered to be the best time to tick off their baby registry as well, but also come with a lot of fanfare, baby shower games, a guest list, etc. Therefore, it is essential for the pregnant woman and the spouse to make sure of everything they need and to know about the new baby shower arrangements as every time is a first time.
But why are these baby showers important? What are the things we need to know about these baby sprinkles? How to make the party perfect, fun, and entertaining for the people? After all, there's always something special about an intimate shindig for a mama's growing brood or in her pregnancy. Let's find out in the article below based on the showers baby celebration themes!
What Is a Baby Sprinkle or a Baby shower?
Despite a baby shower being a new concept, there is always a contraction considering whether you must ask anyone to throw it for you ideally or to host one yourself. Nonetheless, it is completely ok to host one as it all boils down to the celebration of the new baby after all. Having said that, just in case a friend or family member offers you a baby shower, do not turn them down! 
It is typically a smaller gathering hosted in an inner circle as guests and only consists of a menu, fewer baby shower games, gifts, and generally a lower-key vibe.
To point out a few favorites, Parenthood bliss has curated a list below with the top best baby shower themes for you to choose from for your little bundle of joy!
9 Best baby shower themes with baby shower games to choose
Even though these sprinkles tend to be simpler celebrations, there are many themes available to welcome the new baby into the world. Read on for the best ideas:
1) Donut Display Sprinkle Party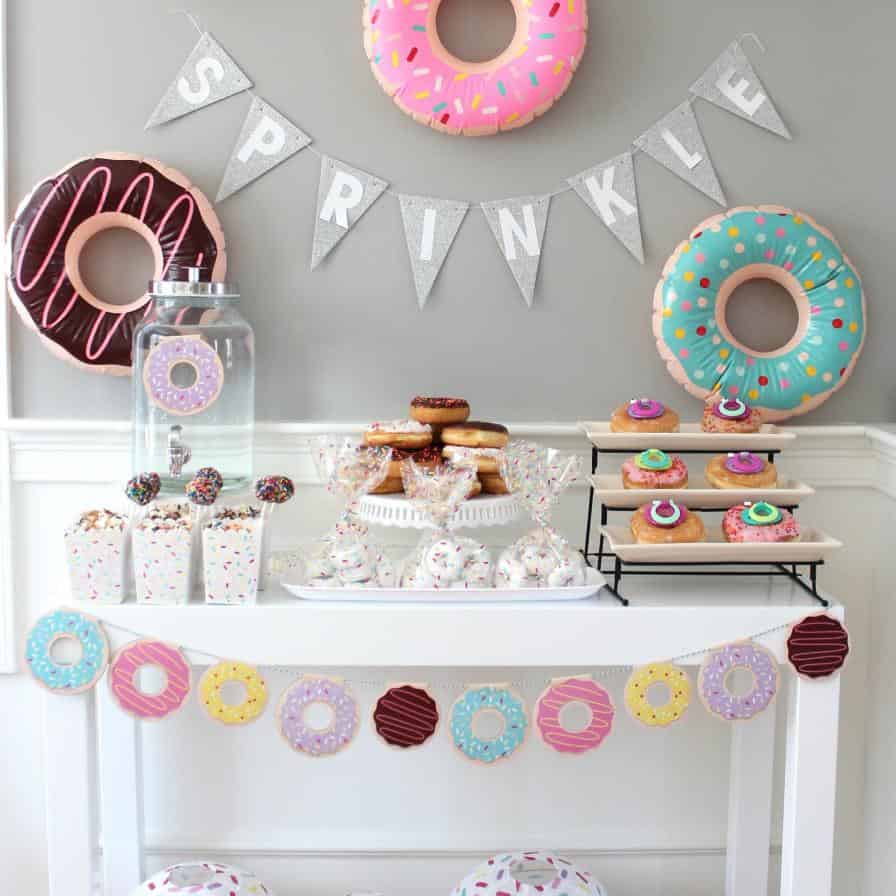 Looking for a baby sprinkle that is both sweet yet still enduring, then this might be the one for you. The donut display baby sprinkles party, as the title suggests is a party around the theme of 'donuts'.
You can have Donut towers on display that are perhaps an edible installation art that "sprinkle" onto the mother during the celebration. isn't this just amazing? You can also send out donut-shaped invitations or choose donut shaped balloons to go with the theme.
2) Beers and Babies Sprinkle Party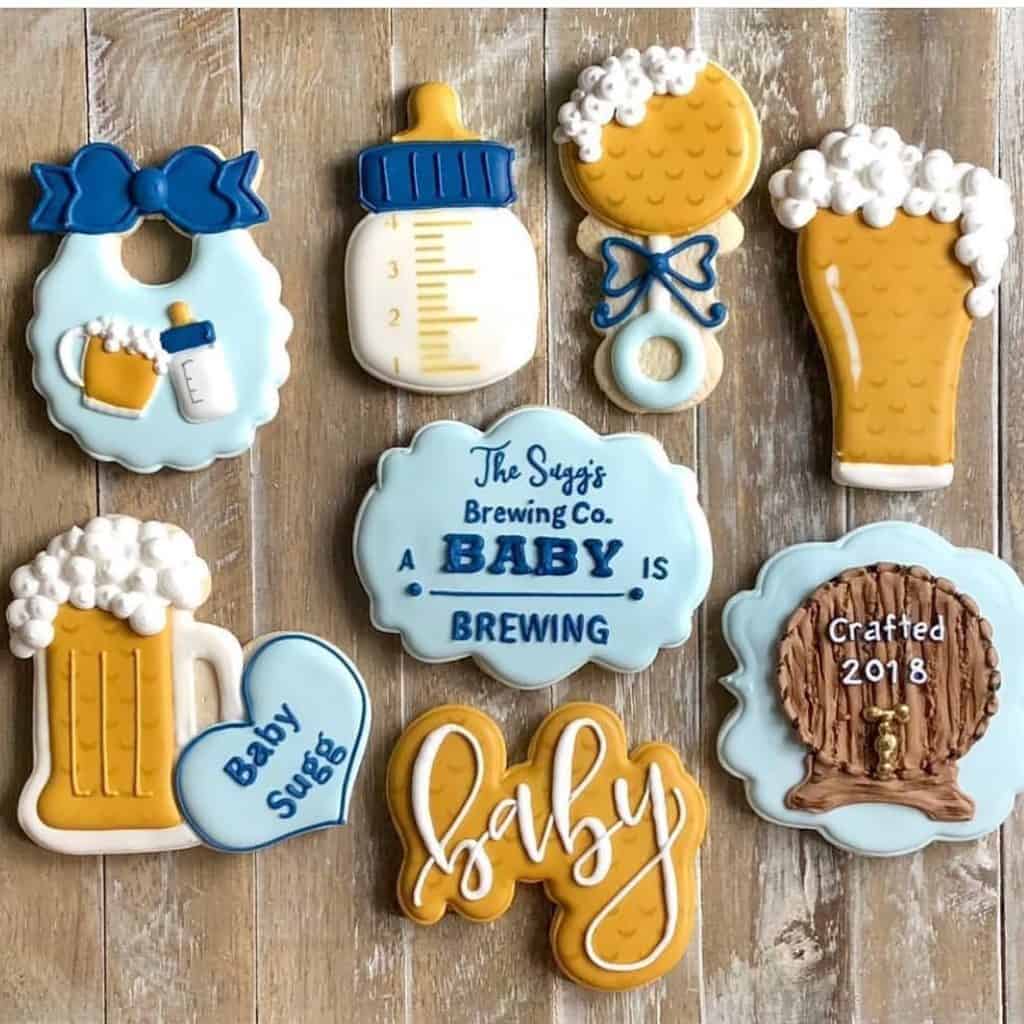 Warning, we aren't mixing the two as the title may have suggested. But as generally seen, parents who are expecting their second or third baby usually end up in the backyard with beers to celebrate, while the guests bring a pack of diapers or wipes as gifts.
You can of course choose to have decorations that are baby-themed, with games for the sprinkle, or even choose to stick to a chill vibe. As understood, it seems like the most chilled yet etiquette themed party.
3) Toddler Table Sprinkle Party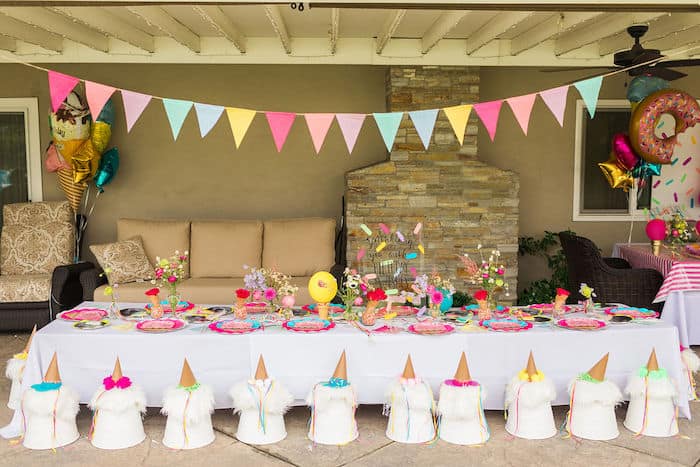 If you already have children around, this baby shower idea may seem to be the best-picked even for the moms. The toddler table is a kid-friendly party, so all you need to do is prepare a low table with coloring sheets, stickers, juice boxes, paints, snacks, and munchies while the grown-ups relax and chat nearby. Yes, that's all the nostalgic planning you need to do, and who stopped you to gel and draw along?
4) "Sprinkle" Mama With Love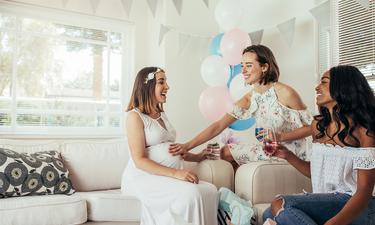 This themed party is a 'literal' meaning of a baby sprinkle. All you need to do is, deck out the entire space in sprinkles, like using sprinkle decorations, cupcakes, and games. A literal sprinkle party as you want and choose to celebrate in.
5) A Night at the Movies Sprinkle Party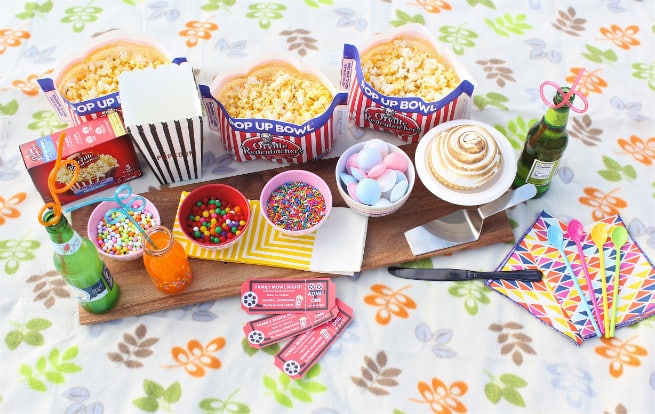 In order to host this baby shower, you will need to book and set the celebrations in a movie theater. Have your own private screening or just have the friends and family purchase their tickets in advance. Adding on, arrange a few sodas and popcorn with pizza, and allow the mama to put her feet down and enjoy the show!
6) Brunch Baby Sprinkle Party
This arrangement requires the whole set to be placed outside the house and under the sun. The best part about this is that it does not require any clean up, has a limited setup, and a variety of food choices for the guests. Have a few cushions set with a lower table, some music, and a game if you want.
However, if you would like to throw a baby sprinkle at a restaurant instead, book and notify the owners in advance about it being a special occasion and what they can agree upon in terms of the decoration so you know and are well prepared. As there are places that will let you bring your own floral arrangements and some balloons, while the other only allows you to have a corner spot for an intimate celebration.
7) Flowers and Showers Sprinkle Party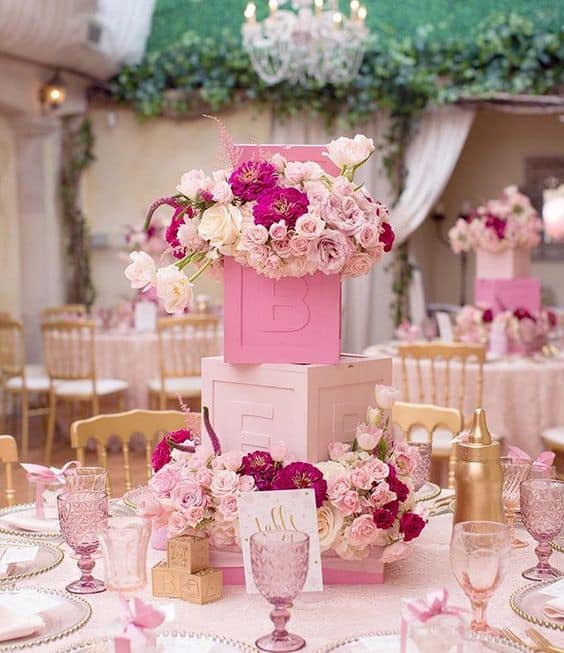 This one is a super-sweet theme baby shower that has everything that makes it a great choice, like the sunshine, rain, and florals.
The mom can make use of upside-down miniature umbrellas as a bread and pastry display, a paper banner of little raindrops, and scatter fresh blooms everywhere. Or, you can add on to the fun and get actual flowers for the celebration of the new baby.
8) Taco 'bout' Sprinkle Party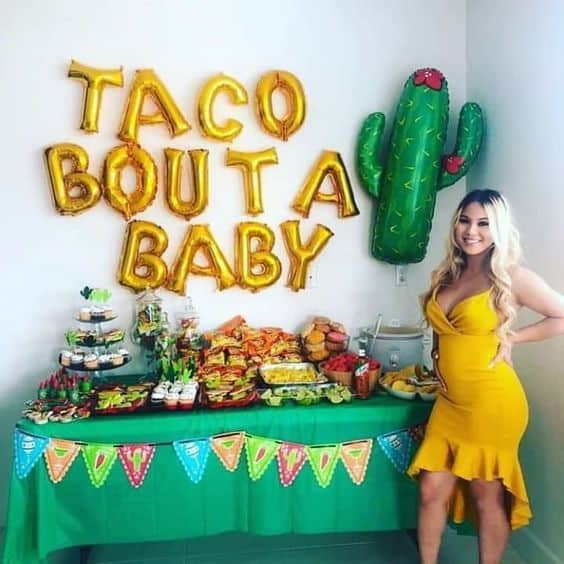 This is an easy, affordable baby sprinkle that works best even for second-third or fourth-time parents. Personalize the "taco 'bout" verbiage, such as is it a girl, "Taco 'Bout a Baby GIRL!"
In order to get the party ready, all you need to make and serve is a virgin and regular margarita to the guests with some snacks to munch on. As far as the party decorations are concerned, pick a punny banner from the store and you're good to go.
9) A Simple Sprinkle Party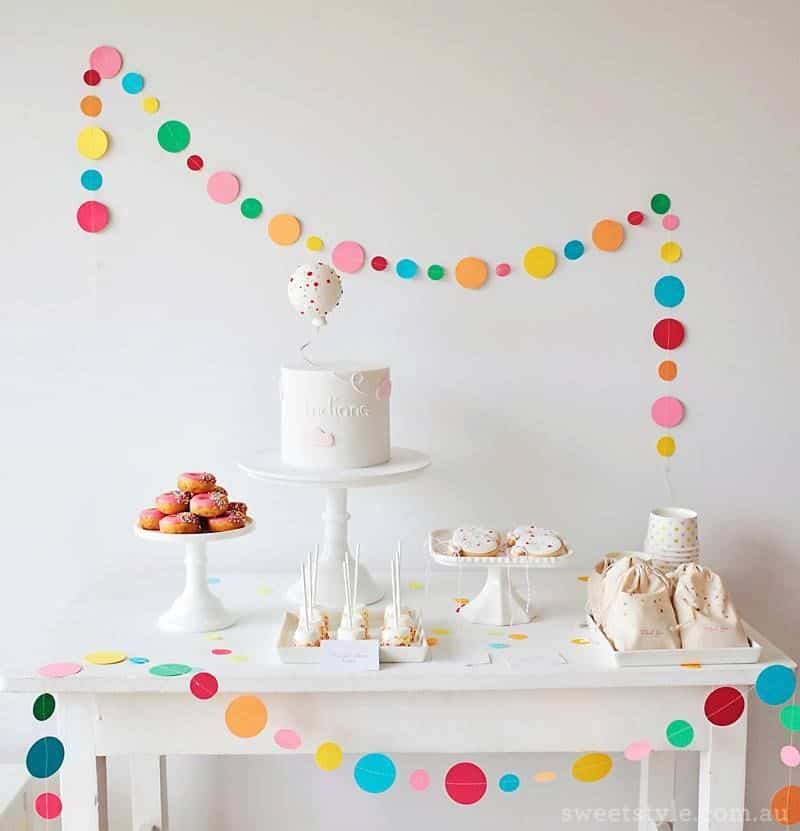 When it comes to planning the perfect baby sprinkle for second or third-time moms, going elegant and easy is the way to go.
Prepare chic tablecloths, simple decorations like muted pastels flowers, and good and healthy snacks with fancy touches that she doesn't get to enjoy otherwise.
10. Sprinkle Themed Backdrop with a Dessert Table
There cannot be anything perfect that sprinkles to add up and make any baby shower decoration the best. 
It is the cheapest solution, quite cute, and the most loved decoration idea for any party, especially the baby shower. You may want to use it on the wall as a backdrop of any event or on the dessert table as a decoration. The simplistic theme, cozy, and a quick fix for parties. 
11. Jungle Themed Baby Sprinkle Party
What better than a green with gold sprinkle jungle theme baby shower? 
Make use of some green balloons with a backdrop made using gold fringe as décor. Add it up with a tiered cake with customized animal toppers – a delight for all and save yourself from the headache of appropriate cake.
12. Twinkle-twinkle Little Star Baby Shower Theme
Welcome your would-be star with this twinkle-twinkle little star baby shower theme. The theme is the best sign of the celebration of the little one. 
Choose to decorate your house with balloons, metallic stars, and silvery strings to add to the baby sprinkle shine and also the delight of the guests. 
13. The Starry Baby Shower Night Theme
If you plan to decorate your baby shower using this theme, we'd suggest adding blue, silver, and white balloons to the space with a few elegant candle stands. This will add to the elegant theme and make the baby shower starry and bright. 
You may also add a starry backdrop using mood lighting for an added effect.
14. Confetti Balloons Sparkle Baby Sprinkle Party
Confetti balloons make perfect decorations for a baby sprinkle party. 
All you need to do is add large white and golden colored balloons with confetti. Paste them on the ceiling, floor, or anywhere you'd like it to be with the help of a few string lights and metallic stars to make it more sparkly.
15. Blue and Pink Baby Shower Theme
The Blue and pink baby shower theme is the best and most popular pick for those throwing a baby shower, especially if the gender of the baby is not yet revealed. 
It is a gender-neutral themed baby sprinkle, with half-and-half blue and pink wall background with decorations and tableware, adding  to its uniqueness. 
16. Baby Blue Baby Sprinkle Party
If you are informed about having a baby boy in a few months, why not go all blue instead? 
Add a few balloons with confetti, white-and-blue cake, blue ribbons, and tableware – viola! The party is set!
Baby Sprinkle Party Final Conclusion
A Baby Sprinkle Party or a Baby Shower Party is one event during the pregnancy where a mother-to-be looks forward to the guests and the gathering, but what adds on to it is the theme. To know of the best ideas look at the article above and surprise the expecting mom, or if it's the mom-to-be reading this, why not have a little gathering and chill?
Baby Sprinkle Party FAQs:
1) Who must throw a baby sprinkle?
As far as the planning of sprinkles is concerned, ideally, it can be done by a co-worker and the best friend, in fact, any close relative for that matter. However, the pregnant woman herself can throw one too!
2) How do you plan a perfect baby shower?
select a date and time that is suitable for all
Prepare the list of guests and the budget
Finalize a venue
Send out the invitations
Plan the decorations and the menu as per your theme
3) Do you bring a gift to a baby sprinkle?
Yes, you do! The whole reason behind the party is to help the couple prepare for the new baby's homecoming, So, pack diapers, wipes, or even feel free to ask the parents for an idea or things they would like.