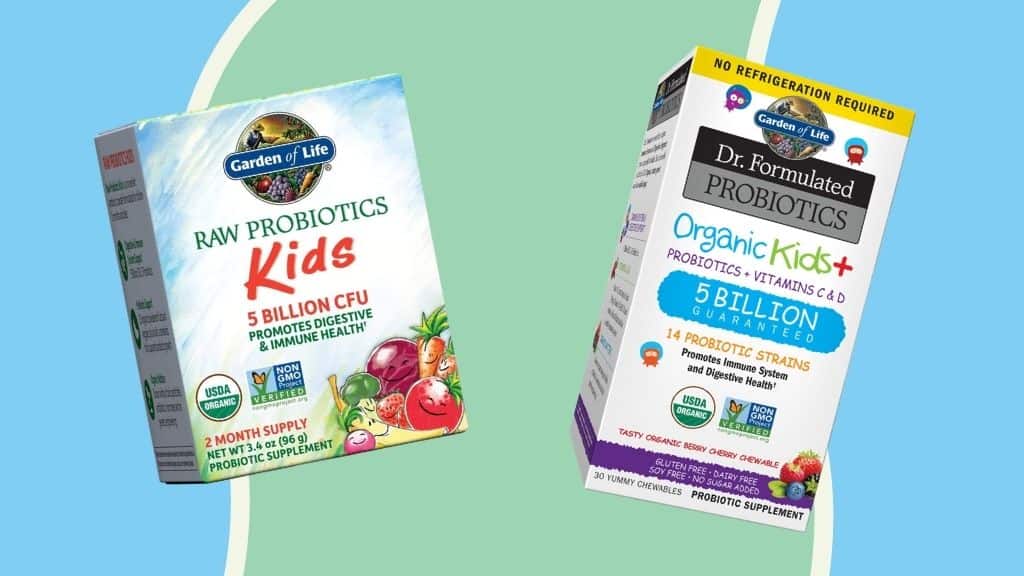 You might want to take a look at these kid-friendly probiotics if you want to strengthen your immune system or increase the good bacteria in your gut. Probiotics are often said to be good for adults, but research has also shown that they might be good for kids.
Probiotics may support a child's digestive and immune health, just as they do in adults, or address specific issues like acid reflux and constipation. However, the best probiotic for kids will largely depend on their requirements.
In the event that you're thinking about probiotics for your children, it's vital to talk with their pediatrician first. Consider these seven alternatives once you and your child have decided that probiotics are appropriate for them.
What Are Probiotics & Why Do You Need Them?
Probiotics, often nicknamed "good bacteria," are supplements that aim to support digestive health and a healthy gastrointestinal microflora or microbiome in individuals of all ages. A microbiome is a colony of bacteria that lives within your body. It's made up of both beneficial and harmful bacteria, viruses, and fungi. 
These good bacterias are present in your gastrointestinal tract and urogenital tract as well as in your saliva and skin.
But what is the need for probiotics for kids?
Probiotics are fed to newborns during their first three months of life to reduce digestive disorders,
Acid reflux

Colic

Diarrhea

Irritable bowel syndrome (IBS)
Apart from digestive issues, gut-healthy bacteria may also help to avoid allergies and treat skin conditions like eczema. Good bacterias aid digestion, nutrition absorption, and the fight against infections that make your toddler ill. Intaking probiotics has been lowering frequent respiratory tract illnesses in youngsters as well.
Probiotic Food Vs. Probiotic Supplements
Certain foods, such as cultured cottage cheese and yogurt, contain probiotics. Fermented foods including sauerkraut, kefir as well as buttermilk contain these naturally. Another option is raw cheese prepared from unpasteurized milk.
Although some experts believe that raw milk and products made out of it have health benefits, they should not be offered to kids and toddlers. Raw milk may include germs that are harmful to your health. It has the potential to induce life-threatening diseases.
Probiotics are also available in the form of supplements as well. Naturally, the next important question you might have in mind can be can you replace probiotic foods with probiotic supplements?
Well, the answer to this question isn't very simple. The greatest way to get nutrients is to eat complete meals. However, your toddler may not be able to acquire enough probiotics from diet alone. In that case, you have to get your hands on the best probiotics for toddlers available in the market.
When you buy probiotic pills, you should check if it contains exactly what they claim. It is best to consult a pediatrician to inquire about the best probiotics for toddlers.
How To Choose The Best Probiotic For Kids?
Now that we know what probiotics are and why your toddler needs them, we must learn about a few essential parameters to consider when buying the best probiotic for kids:
When selecting a probiotic supplement, it is critical to evaluate the strain as well as the amount of CFU (colony-forming units). Certain bacterial strains may be advantageous for various health conditions. Consult your child's pediatrician to determine the strain and number of CFUs are acceptable at your child's age.
Probiotic supplements are available in a number of formulations, such as chewable pills, powders, flavored gummies, and liquids. Consider getting a liquid or powder supplement if your kid does not want to chew probiotic tablets or pills. 
Chewable pills and gummies could be more suited to older youngsters.
Probiotics are categorized as dietary supplements in the United States. Look for products that have been approved by ConsumerLab, US Pharmacopeia, or NSF International, to assure safety. Always consult with your doctor to confirm which probiotics are suitable for their specific requirements.
We have listed the top 11 safest and best probiotics for toddlers.